Glide over the snowy trails on your fat tire bike, cross-country skis, or snowmobile. Boost your instagram game with wildlife shots against pristine snowy backgrounds, and colorful waterside cliffs. Or, get crazy with dog sledding, snowkiting, luge, ice skating in the woods, or Great Lakes surfing. Then, cozy up at a world-class brewery for craft beer and comfort food. Winter camping in Michigan is all about experiencing the outdoors in new ways, and connecting with the unique Midwest charm of Michigan's vibrant recreation and leisure lifestyle.
If you're able to tolerate the snow, or better yet, if you love the snow, winter camping in Michigan is one of the best ways to see the state in its rawest form. The weather can be harsh, ever-changing, and unforgiving. However, it can also be a catalyst for some of the best experiences of your life.
The Guide to Winter Camping in Michigan
The crowds of tourists go away, and the locals come out to play. To join them for the best winter camping in Michigan, you have to know what the locals know. That's where we come in. When you're looking into some winter camping in Michigan, you'll need to know what to do, and where to do it. The Upper Peninsula of Michigan is teeming with beautiful waterfalls and towering, rocky cliff shorelines, all magnified in the winter. In the lower peninsula, the small towns normally bursting with tourists, become havens for relaxed holiday shopping, casual fine dining, and plenty of craft beer, wine, and spirits to taste.
Things to Do When Winter Camping in Michigan
In Michigan, the Great Lakes whip up large, sloshing, icy waves on the coast, creating spectacular scenery and extreme adventure opportunities. Inland, the snow-covered stretches of flatlands, rolling hills, and large dunes become playgrounds for the winter warriors. It's a large, sprawling state with a plethora of landscapes, varying weather patterns, and activity options ranging from easy and relaxing, to extreme and dangerous.
Trail Trekking Near Traverse City
When winter camping in Michigan, you're never far from a recreational trail. Some are well groomed for cross-country skiing and fat tire biking. Others are left open, but untouched, great for snowshoeing, or backcountry style cross-country skiing. In select places, motorized vehicles like snowmobiles can rip it up on miles of trails through forests, over dunes, and across frozen lakes.
If you're winter camping in northern Michigan around Traverse City, the Leelanau State Park has trails for cross country skiing that lead to the beach, and groomed trails for fat tire biking. New trails are popping up at Palmer Woods Nature Reserve in Leelanau County, with cross-country trails and potentially new fat tire bike trails, so stay tuned to their website for updates.
On the east side of Grand Traverse Bay, about 15 minutes from Traverse City, the VASA trail system has a web of world-class cross-country skiing options, plus some of the best fat tire bike trails in the region. Also, check out the TART trail system that follows the old railroad from Traverse City to Suttons Bay. When snow-covered, cross-country skiers and fat tire bikers can find seclusion quick, escaping the cities and small towns into the rolling countryside.
After hitting the trails, warm up at one of the Traverse City area's amazing breweries, wineries, or cider houses. Hop Lot is right on the TART trail in Suttons Bay, and has heated, clear igloos outside in their unique camp-themed space, where you can sip your beers in comfort, watching the snow fall. Little Fleet in Traverse City erects a yurt in their parking lot, normally chock full of food trucks. They'll bring in great bands for yurt-enclosed outdoor parties.
Lantern Lit Trails for Winter Night Adventures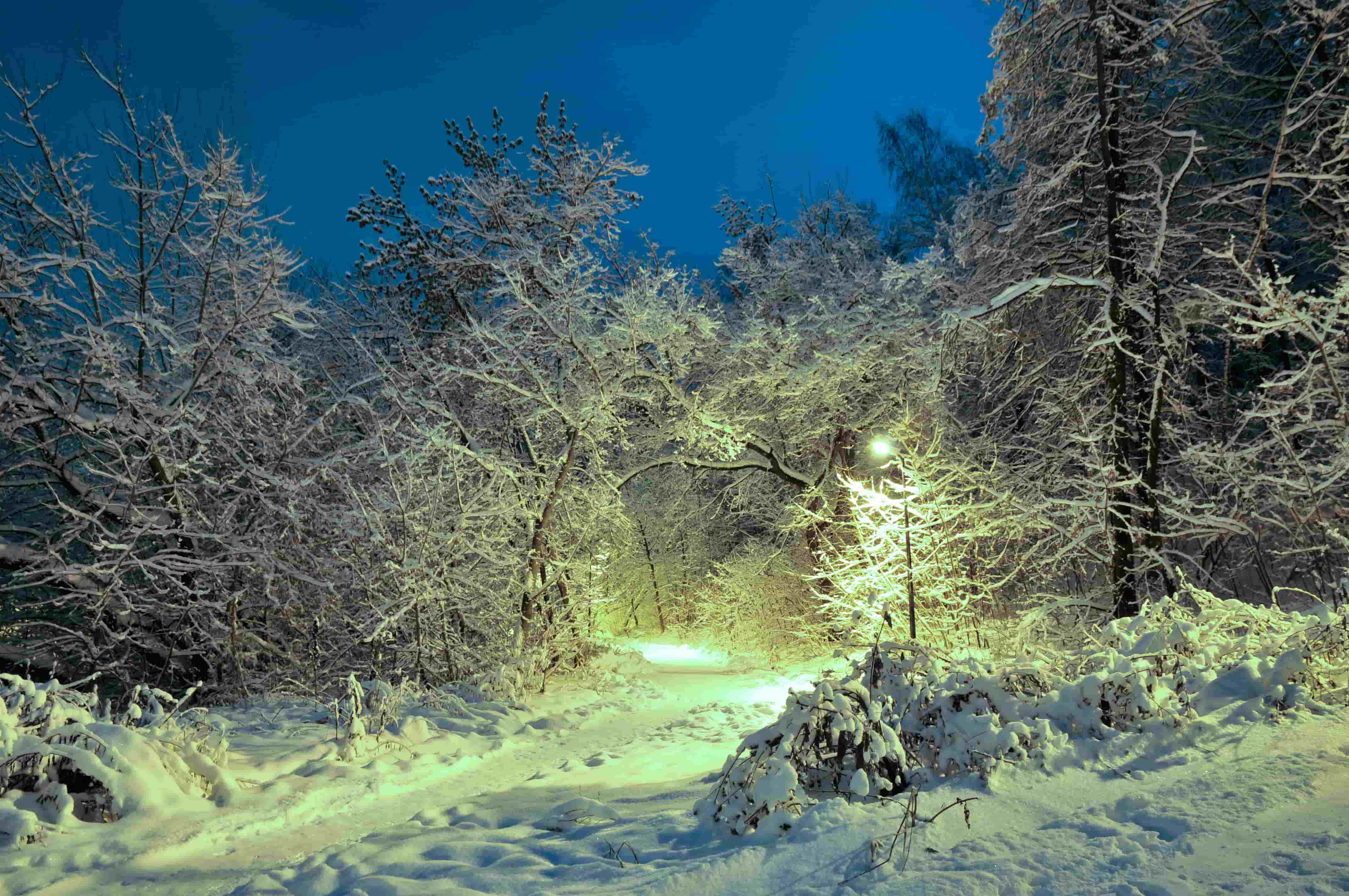 One of the coolest things you can do when winter camping in Michigan is go on a lantern-lit cross-country or snowshoe adventure. Every Saturday in February, a 1-mile stretch of the Nature Trail at Tahquamenon Falls State Park is lit with lanterns for nighttime cross-country skiing, snowshoeing, or hiking. In fact, other state parks across Michigan do lantern lit trails, including Wilderness State Park, Van Riper State Park, Fayette Historic State Park, Ludington State Park, and the Wolf Lake State Fish Hatchery. Check their websites for their lantern lit trail schedules.
Snowmobiling in the Middle of the Mitten
The middle of Michigan's lower peninsula is a true snowbelt, receiving 150-250 inches of a snow a year. Plus, more open, gradually rolling terrain combined with massive protected forests make the area prime for snowmobiling.
Cadillac has 200 miles of trails. When the lakes freeze over, many will criss-cross the lake, or ride out to ice fish. Check with local experts on ice conditions, and where to ride. In addition, Gaylord is also an excellent place for snowmobiling, with large amounts of snow, and plenty of trails.
Downhill Skiing in Northern Michigan
While you might not think of Michigan as a downhill skiing paradise, with the daily fresh powder from lake effect snow, accommodating family and high-end resorts, plus surprising backcountry options, the mitten state has some true downhill skiing game.
Starting in northern lower Michigan, some of the best four-season resorts are short drives from the hub of Traverse City. To the west, Crystal Mountain is all about the family, with plenty of skiable terrain for all levels, kid ski parks and terrain parks, and a full spa. Up near Petoskey and Harbor Springs you'll find two of the areas premier ski resorts, Boyne Mountain and Boyne Highlands. They are the two largest resorts in lower Michigan, and include the largest vertical in lower Michigan.
If you're looking for more challenging terrain, head north across the Mackinac Bridge to Mount Bohemia near Copper Harbor on the Keweenaw Peninsula. Mount Bohemia boasts the longest runs with the highest vertical and the "deepest powder" in the Midwest. It's considered an extreme ski resort, focusing on backcountry skiing.
Mush!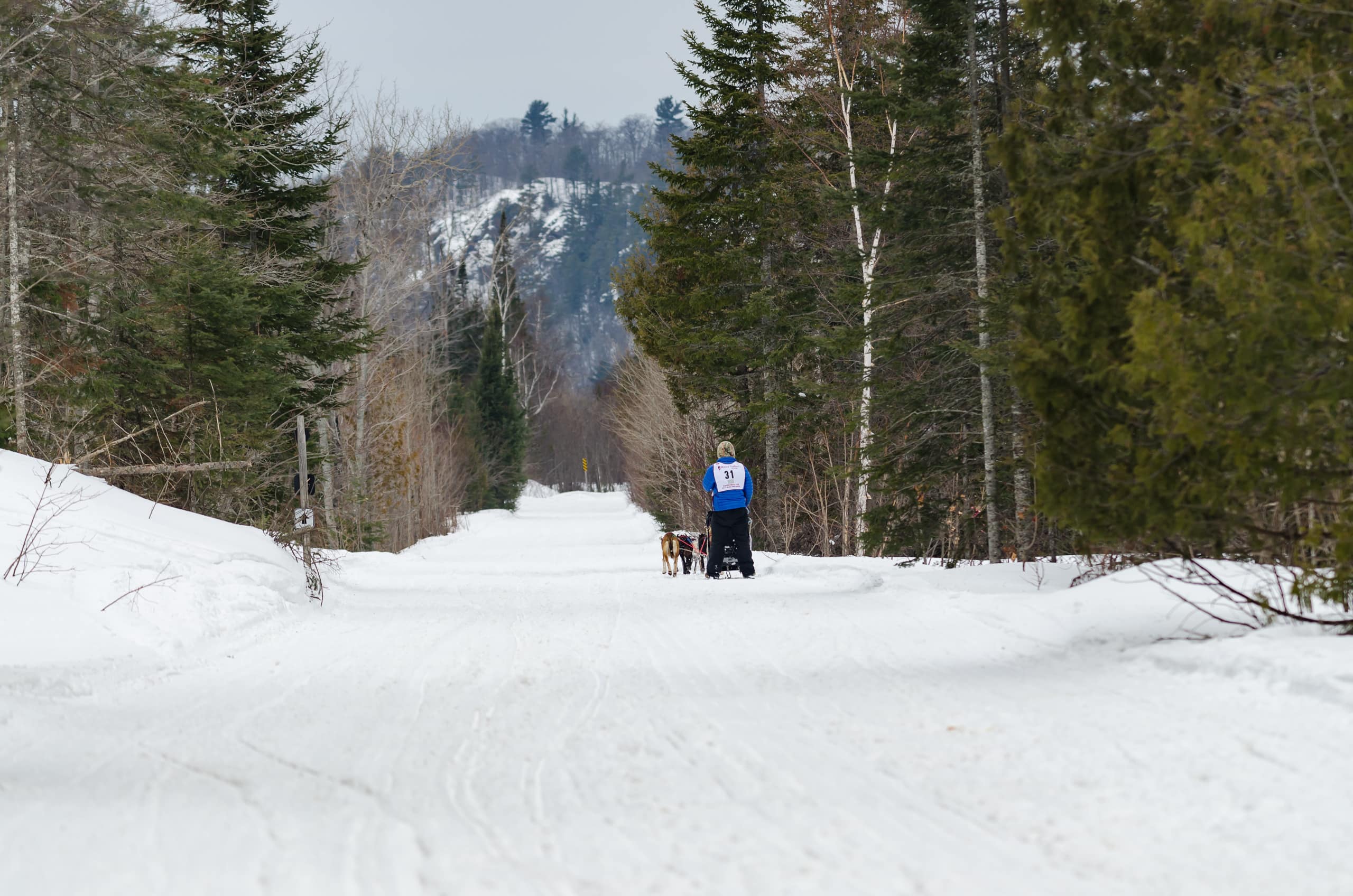 Besides snowshoeing and cross-country (or Nordic skiing), one of the oldest winter activities we still enjoy is dog sledding. In Michigan, there are several options for dog sledding tours, training, races, or even the chance to take your own team out for a spin. Nature's Kennel in McMillan, Michigan is where you want go to experience some of the best dog sledding in Michigan. They do tours, overnight trips, and more. If you want to see the pros in action, check out races like the UP 200, or the CopperDog 150.
Kite + Snow = Awesome
Snowkiting is getting more popular, and Michigan has plenty of inland lakes and wide open spaces for ripping it up. If you're unfamiliar, think kiteboarding on ice or snow. It can be done with a board, or skis. Near Muskegon, Michigan, Little Black Lake is a good spot because it's shallow and freezes over quickly. There are outfitters nearby if you need to rent, or gear up. Plus, the limited ice fishing keeps the surface more open.
Try the Luge, or Ice Skate Through the Woods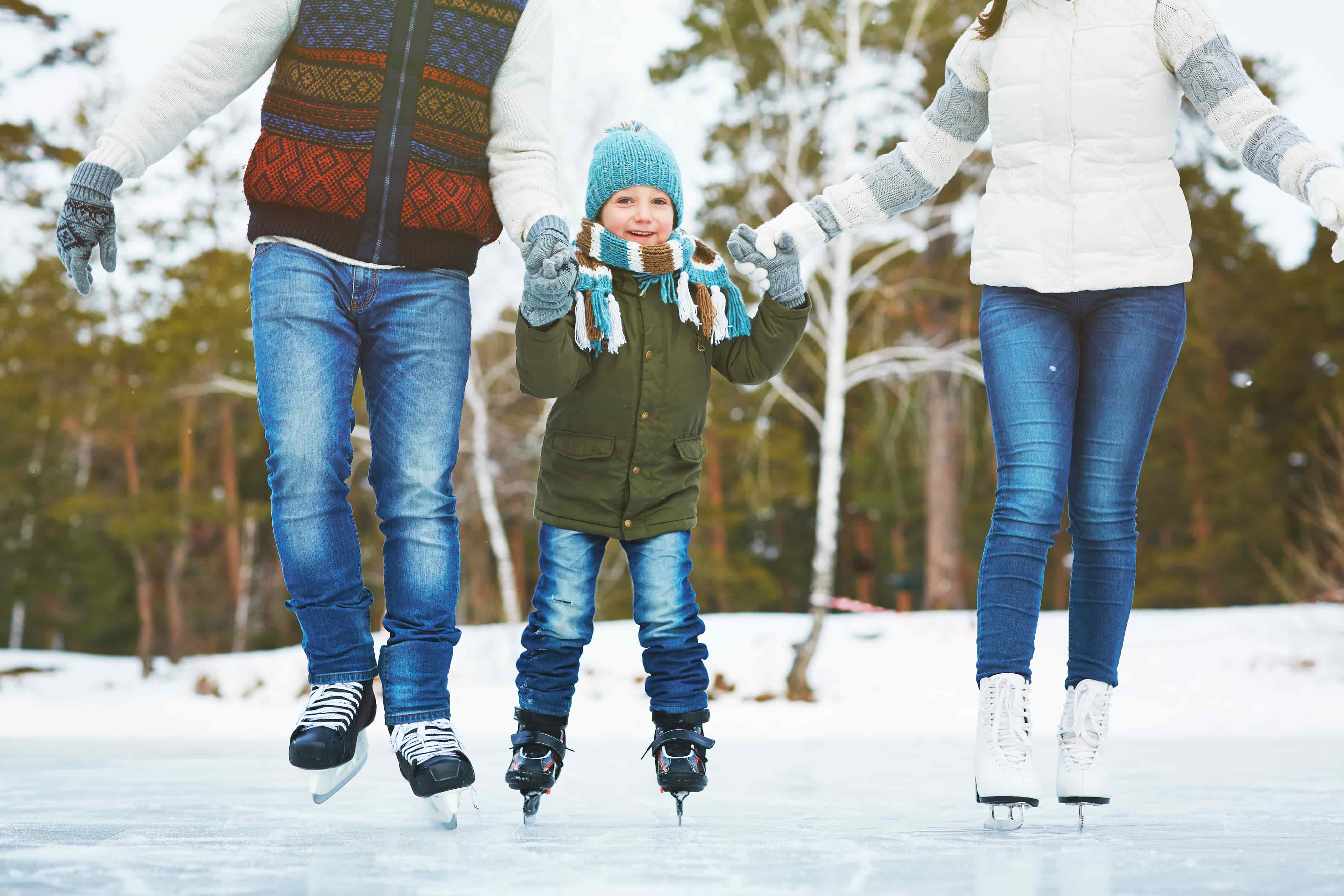 Feel like a winter olympian by trying the luge track at the Muskegon Winter Sports Complex. It's one of only four luge tracks that exist in the United States. It offers the thrill of olympic luge, but with the safety of the participant in mind.
The Muskegon Winter Sports Complex also offers an amazing ice skating trail through the woods. The quarter mile lighted trail is a unique experience, combining ice skating with trail trekking. For more of what the Muskegon Winter Sports Complex offers, check out their website.
Winter Surfing on the Great Lakes
If you're an advanced surfer looking to conquer a new frontier, the best Great Lakes surfing is available during the winter. The waves kick up and curl, and let's face it, you won't be battling for a parking spot. Think drysuits, a buddy system, and inquire with the locals about the best safe spots and techniques, because while you might be used to big ocean surfing, winter Great Lake surfing is a different animal. Recommended locations for winter surfing include Presque Isle near Marquette, Van's Beach and Empire Beach in Leelanau County, and South Haven Beach in Southwestern Michigan. Winter camping in Michigan is one of the best ways to get close to excellent Great Lakes surfing.
Icy Waterfall Hopping in the Upper Peninsula
While visiting Michigan's raw and beautiful Upper Peninsula for skiing, snowmobiling, or any of the array of extreme options available, don't forget to stop off at some of the region's most spectacular waterfalls. Most of the falls in the area become exceptionally stunning in the winter, with frozen sculptures forming amidst the rushing water and piling snow.
The Munising area has several waterfalls within striking distance. Plus, its proximity to Marquette, one of the main cultural hubs in the north, makes it a great destination. Also, Bond Falls (pictured above) is an impressive cascade in the winter.
However, the snow queen of the winter waterfall world in northern Michigan is without a doubt Tahquamenon Falls. Don't worry about trying to pronounce it, just get there.
Where to go Winter Camping in Michigan
First of all, not all campgrounds in Michigan are open in the winter. Thankfully, there are several camping areas that cater to winter camping in Michigan. For the ones that are open, the activities available can vary, so it's important to know what you're getting at each spot.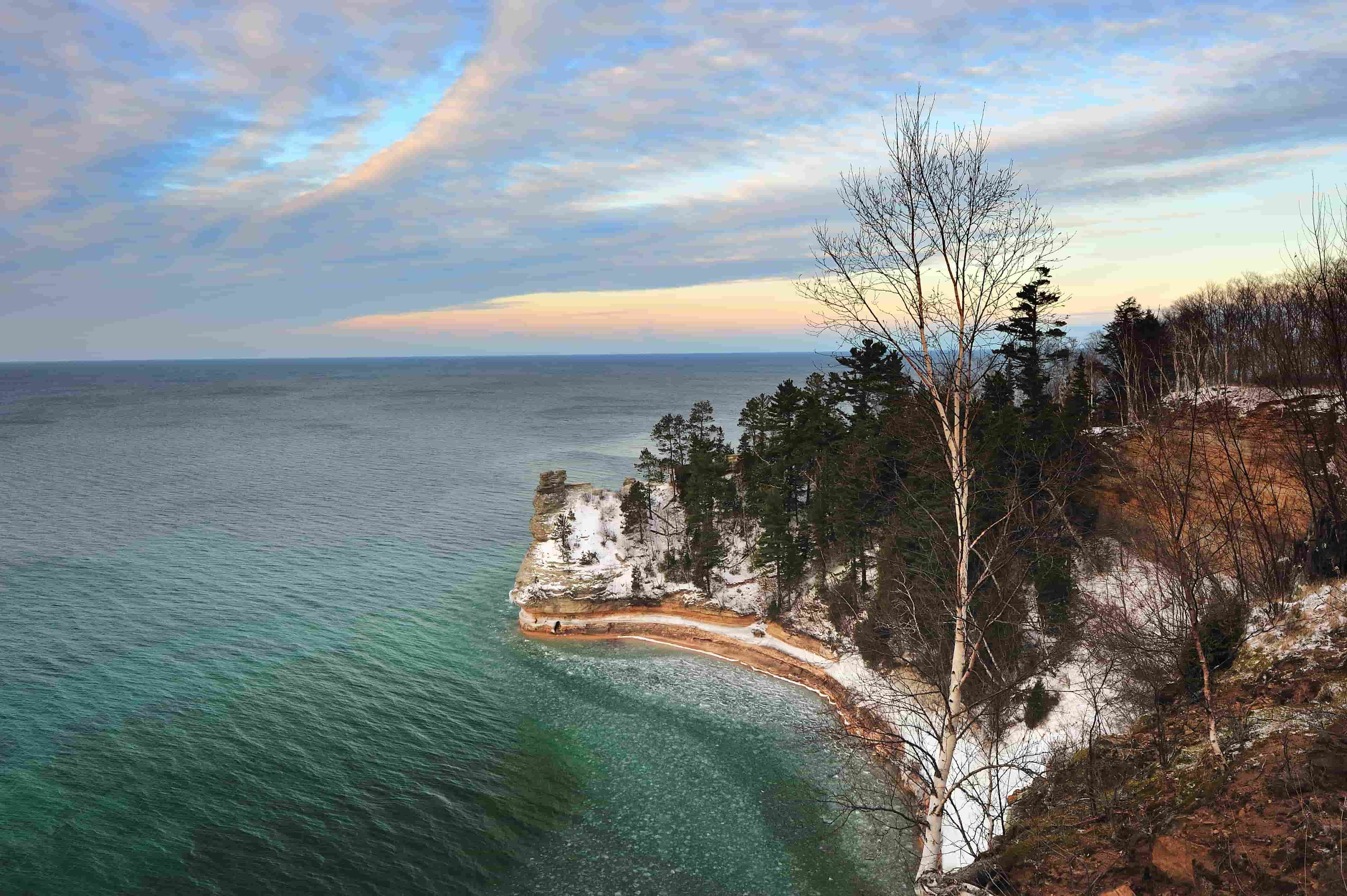 Lake Superior's rage creates beauty and danger in a single frame. There's no better example than Pictured Rocks National Lakeshore, with its iconic vibrant rock cliffs, carved and brushed by mother's nature's most powerful Great Lake. In the snowy winters, the colors and sculptures come alive against the stark white background. The area is beautiful, yes, but the National Lakeshore is also home to some of the best winter camping in Michigan. That's simply because the park offers true, raw winter camping, with unplowed roads to the drive-in campgrounds, and plenty of backcountry winter camping for the hardier, advanced campers looking for the accomplished solitude of blazing the first tracks in the snow.
It's important to keep in mind the specific regulations implemented for winter camping at Pictured Rocks National Lakeshore. Winter rules engage when there is 6 inches or more of snow. Winter camping at the designated campgrounds is permitted with no charge or permit needed. However, backcountry camping requires a permit, and campers must choose a site more than 100 feet from park roads, rivers, lakes, and creeks. Also, campfires are not permitted unless built in an established metal fire ring. There are some metal fire rings at backcountry sites, but others must use a stove for cooking.
Here's some insight and warnings about backcountry camping at Rocks National Lakeshore from The Dyrt camper Dan N. "Absolutely amazing park but some of the drop-offs are a little scary…don't drink alcohol & camp here. Since it's backcountry you have to bring water purification methods (or your own water) and don't expect bathrooms or cell service. Camping on the bluffs is like nothing else, highly recommended!"
For more information on winter camping rules, regulations, and suggestions at Pictured Rocks National Lakeshore, see their winter camping page.
Centered around the Tahquamenon River, and the famously beautiful Upper Falls, one of the largest waterfalls east of the Mississippi, Tahquamenon Falls State Park is a choice destination for winter camping in Michigan. Whether you can pronounce the name or not (ask a local), the beauty of the falls in the winter will bring you there, but the winter camping and array of activities will keep bringing you back. The 50,000 acre state park has a massive amount of trails for cross-country skiing, plus plenty of options in the area for snowmobiling, fat tire biking, snowshoeing, and more.
The state park is near McMillan, so it's a great hub for folks looking to go dogsledding at Nature's Kennel (see above). Lower Falls-Hemlock camping area is open in a semi-modern facility format. Inquire with their offices about backcountry camping available year round.
The beauty of the falls in the winter is something you really need to see in person, but here's what The Dyrt camper Alexxus S. said about the falls and the state park. "Go here in the winter when it's frozen, it's one of the most beautiful sights. Love this place, will continue to go back. Always really clean!"
Located along two miles of Lake Michigan shoreline, Muskegon State Park has a ton of winter camping options, plus convenience. You can get campsites, mini cabins, or yurts. Plus, they have modern restrooms. There are also RV and trailers spaces without water or sewage hookups, but electricity is available.
When winter camping in Michigan, you can always find a great cross-country trail or hiking trail, and it's no different at Muskegon State Park. However, for true winter sports fans, the reason you come to this area is for the Muskegon Winter Sports Complex. The campgrounds at the Muskegon State Park are the most convenient way to enjoy all the amazing activities at the Muskegon Winter Sports Complex.
The Lake Michigan campground is open in the winter, with semi-modern facilities available. Plus the mini cabins are open.
Here's more of the story on the Muskegon State Park from The Dyrt camper, Nick S. "We camped at the Lake Michigan Campground. Tons of tall trees, HUGE campsites with electrical hookups, picnic tables, and fire-rings. The downtown area is about a 20-25 minute drive around the lake, but it has some cool military museums including a WW2 submarine and a transport ship that was used in D-Day. Also, pretty solid breweries. This campground is right across the street from the Muskegon Winter Sports Complex. The park has cross-country skiing trails, a permanent luge track, a roller-luge track, and an ice skating track through the woods."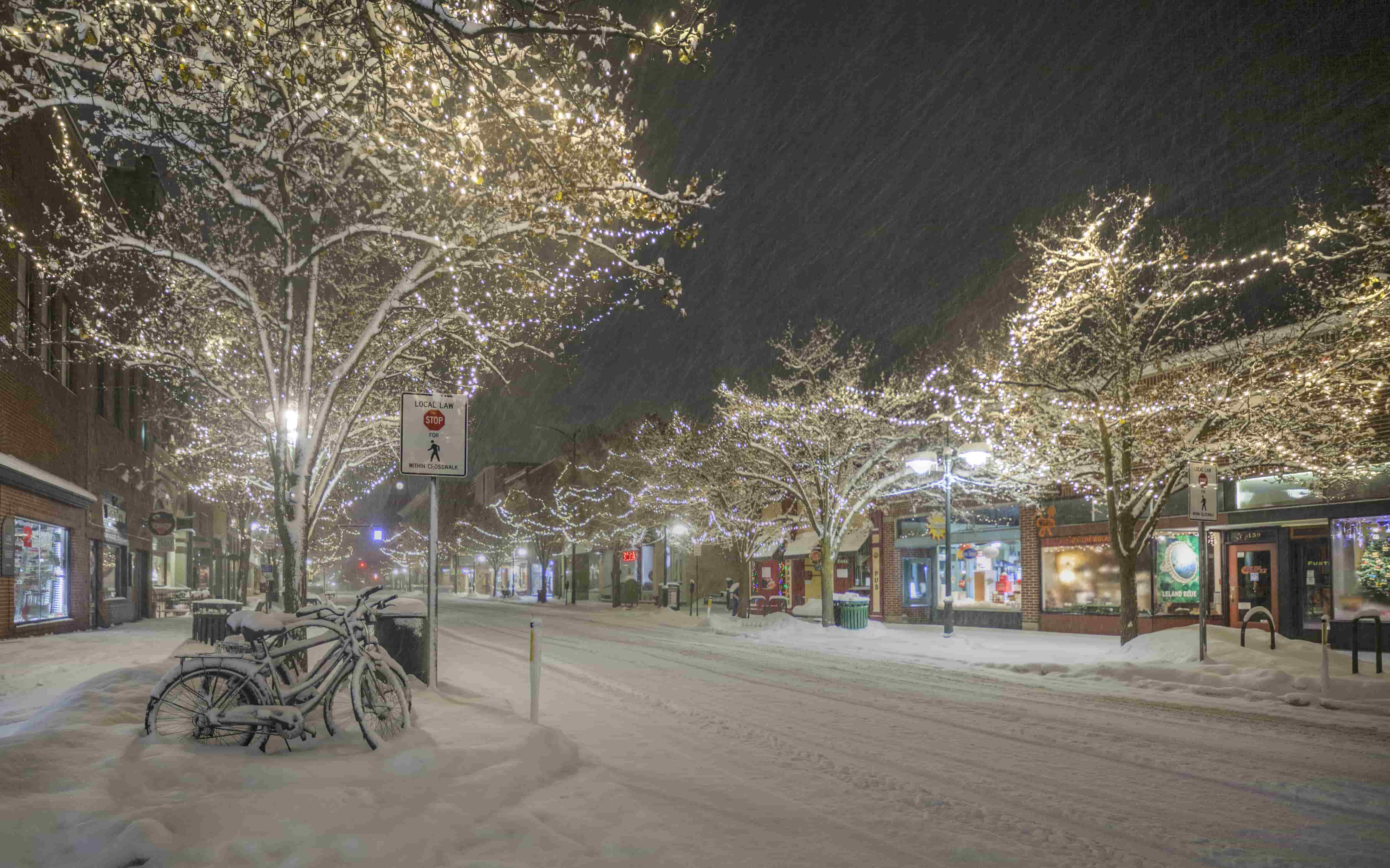 The Keith J. Charters Traverse City State Park is all about convenience. The campground is open year round, with modern facilities and hookups available, including heated restrooms. RV camping at the Traverse City State Park is excellent. It's one of the relatively few spots in the state with hookups available year round.
The main reason to camp here is to experience what the Traverse City area has to offer in the winter. Several premier downhill skiing resorts are within an hour of the city, including two smaller ski hills right in town, Mount Holiday and Hickory Hills.
From your campsite, you can walk to the beach for winter views of Grand Traverse Bay. For a truly unique experience, bring the fat tire bike, or rent one nearby. You can bike the TART trail into town for shopping, wine and spirit tasting, and breweries. Plus, there's a wide range of quality casual and fine dining. If you're not up for the bike ride, shuttles and cab services are available as well.
For more, here's some insight on the Traverse City State Park from The Dyrt camper Erin H. "Location location location! Showers and stalls are fairly clean and well kept, as are the sites in general. Very convenient to stores, restaurants and nightlife downtown. I've never been to a campground that felt like you were in the woods near the beach, was quiet, yet nearly in the middle of a bustling town!"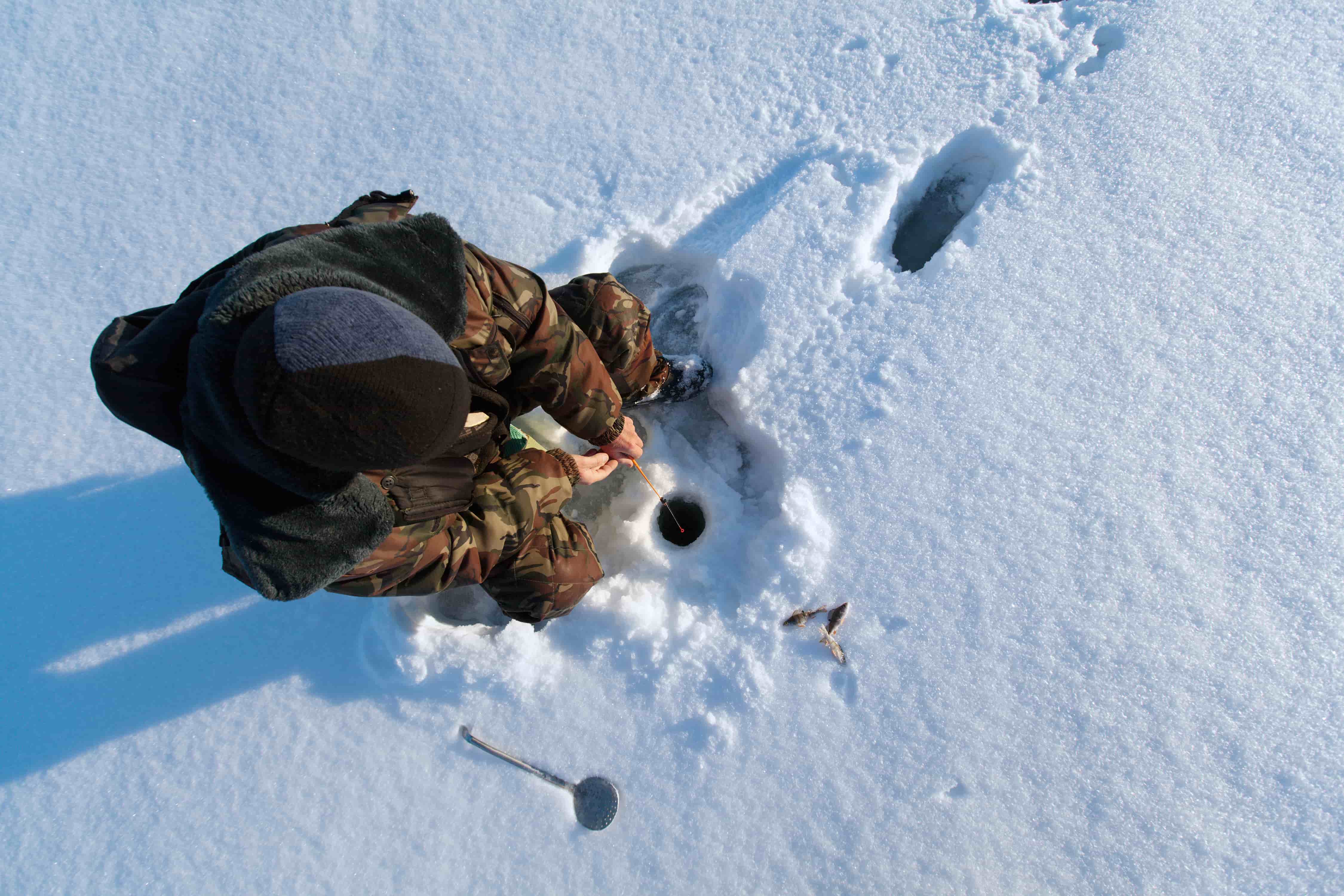 The William Mitchell State Park is located in Cadillac, Michigan. For the middle of the mitten, Cadillac is one of the more versatile outdoor recreation centers. Two large inland lakes, Lake Mitchell and Lake Cadillac bookend the state park. When the lakes freeze over, they're excellent for ice fishing, ice sailing, and snowmobiling. The area also has several trails for snowmobiling, and serves as a main hub for the sport in the area.
Also, the park has cabins, electricity available, RV and trailer spaces without water or sewer hookups, and modern restrooms.
William Mitchell State Park is also very close to the town of Cadillac. There you can easily find restaurants, shops, and gear outfitters. For skiers, Caberfae Peaks is just minutes away, one of the oldest ski resorts in the country.
To find more winter camping in Michigan, check out these operating schedules for state parks and state forests.
Located off the grid on Bois Blanc Island, Island Good provides a unique camping experience. The yurts are located in a cedar forest with water and forest views. There are bountiful amenities in the yurts, including solar lights, an outhouse, a heated shower, a fully screened outdoor kitchen, a grill with burners, and seating for meals.
And once you're there you'll have the opportunity to explore the island by hiking, fishing, kayaking and biking.
To find more winter camping in Michigan, check out these operating schedules for state parks and state forests.
---
Related Campgrounds:
Twin Oaks Campground, Wellston, MI
Pine Haven Campground, Walkerville, MI
Muskegon Campgrounds, Muskegon, MI
Leisure Lake Campground, Sumner, MI
Island Good Yurts, Bois Blanc Island, MI
Popular Articles: