Did you know you can camp for free in many public land areas in the US? It's relatively easy, but it can be hard to know exactly where you can (and can't) set up camp. That's why we built Map Layers — a tool that lets you overlay multiple map boundaries onto one map.
Here's what one camper has to say about their experience using Map Layers:
"On my last road trip to the NW coast, there were several days where we had no plan. Just wanted to see where to road took us. And this app was AMAZING for finding places to stay in a time crunch. Now I'm using it to plan my next trip. Highly recommend always having this app handy while traveling. It's a lifesaver."
We love Map Layers too! Here's how to use it (it's easy).
How to Find Free Camping with Map Layers
Map Layers are great for finding free, dispersed camping across the US. Dispersed camping is camping outside of a designated campground. Sometimes this looks like individual marked campsites along a forest road, and sometimes it looks like camping on the forest floor away from roads and streams.
With millions of acres of public land in the US, it's a great option for last-minute, no-frills camping.
Step 1: Turn on the Layers You Want
Here is a step by step guide to turning on Map Layers:
Go to the map on The Dyrt app or website
Tap the Map Layers icon in the corner of the map
Select the Map Layers you want to see (Note that to turn Map Layers on you must have The Dyrt PRO, but you can try PRO for free to see if you like it)
Free camping is available almost everywhere on Bureau of Land Management (BLM) land and U.S. Forest Service (USFS) land.
Permit camping only is available on National Park Service (NPS) land. Obtain permits at the website for each National Park.
Here is a visual of these steps:
Step 2: Zoom In and Look for Roads (Not Just Pins)
Once you have your map layers selected, make sure you look for roads. Because USFS and BLM land areas allow camping almost anywhere (with some restrictions), just looking at the map pins does not give you the whole picture.
Sometimes you will find map pins within the map area. These can be a helpful indicator that others have found good camping in this area. Exploring the roads around existing map pins is a good place to start if you are new to camping in USFS and BLM land.
Many campers use Map Layers by finding a road they want to explore, packing up, and hitting the road. If the road is inside a National Forest or BLM land, you are likely to find free camping. And if you don't find something, as long as you have The Dyrt app you have all campgrounds at your fingertips.
Step 3: Check Restrictions and Go!
USFS and BLM allow free camping in most locations, but depending on where you are in the US, restrictions may apply.
Bureau of Land Management Free Camping Guidelines
Here are guidelines from the US Bureau of Land Management for dispersed camping:
Camping on public lands away from developed recreation facilities is referred to as dispersed camping. Most of the remainder of public lands are open to dispersed camping, as long as it does not conflict with other authorized uses or in areas posted "closed to camping," or in some way adversely affects wildlife species or natural resources.
Dispersed camp sites are located along most secondary roads and may not be marked. Popular locations can be recognized by the telltale flat disturbed area that has been used as a camp site before. Not all flat spots are sites. If possible, please use existing sites to avoid creating new disturbances. To further protect your public lands, campers must not dispose of any refuse, hazardous materials, sewage, or in any manner pollute the surrounding area.
Read more from the BLM here.
US National Forest Free Camping Guidelines
There is no overarching guideline from the US Forest Service about dispersed camping. Rather, guidelines are stipulated on a forest-by-forest basis. That said, most forests follow the same guidelines, so we are supplying a link from Fishlake National Forest in Utah below.
Here are guidelines from the US Forest Service guidelines for dispersed camping:
Groups of over 75 people who wish to use the forest, need to obtain a special use permit. There is no fee and permits can be obtained at the nearest District Office.
You need to be self-contained. No amenities are provided; such as water, restrooms or trash cans.
You may camp in a dispersed area for up to 16 days. After 16 days, you must move at least 5 road miles for camping in another dispersed area. Campers may not spend more than 16 days of any 30 day period at the same dispersed area.
Please place your campsite at least 100 feet from any stream or other water source.
Keep a Pack-In Pack-Out camp. Follow Leave No Trace guidelines.
Contact the local Forest Service office to see if any restrictions, especially fire restrictions are in place.
Be Bear Aware. There are bears on the National Forest, so camp accordingly.
Read more from the US Forest Service here.
---
Map Layers let you see all USFS and BLM areas in the U.S., and you can download entire map regions along with their Map Layers before you hit the road. With PRO Map Layers you can:
Find free camping areas

Layer USFS and BLM boundaries on maps

Toggle your downloaded map areas on or off, even when no WiFi is available
As a camper I feel so much safer driving miles-deep into the woods knowing I have every campground in America, plus downloaded USFS and BLM maps, right in my pocket in The Dyrt app.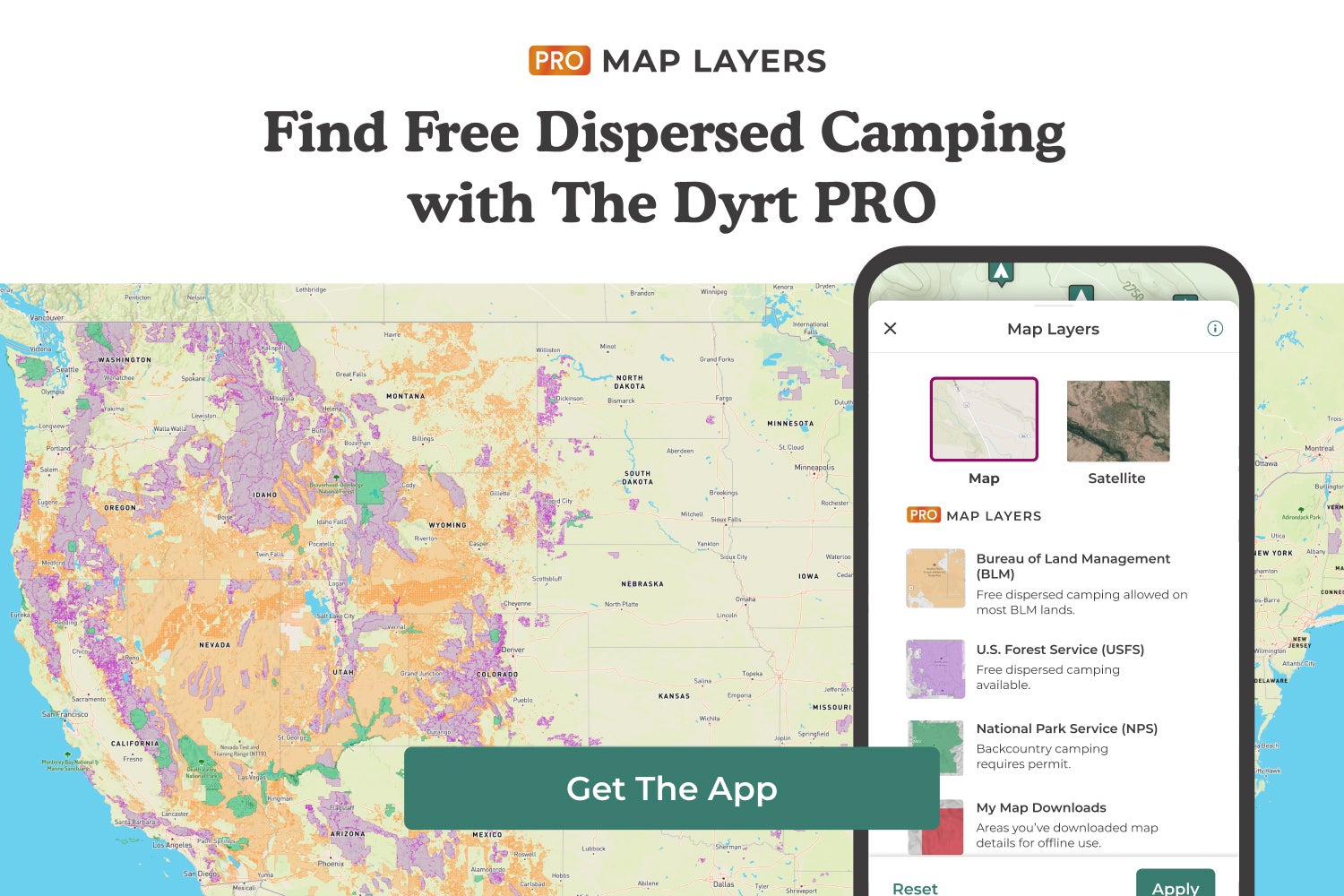 Note: Map Layers works on the mobile website, but the experience is much more seamless in the app — for this reason, we recommend downloading the app.
---
Want to know more about dispersed camping? Here's our full beginners guide on how to find free dispersed camping in National Forests.