In this collaborative article, 5 women share the joy and the challenges of solo female camping. 
---
"Are you really going to park your van there?"
I couldn't see the man behind the gruff voice, hidden by the shadows of trees and his RV.
So I froze, eyes scanning the forest edge for a figure.
I was heading to the Oregon Coast and I hadn't booked a campground. So for about an hour, I'd been scanning the edges of the road as it twisted and turned through a state forest, looking for access to dispersed camping. When I came upon a campground that was full, the owner suggested I check out a clearing, just a little further, after the pavement turned to gravel. "Free camping!" he offered.
Just one RV was parked there, and I chose to park my van on the same side of the clearing, but with what I thought was a respectable distance between us. He clearly felt otherwise.
"I… I can move I guess."
I was irritated. And a little scared. I'd angered a strange man in the shadows, and now it was getting dark and I'd never find another place to camp tonight. So I pulled my van to the other side of the clearing and faced the headlights away from his corner of the woods. I took my dog, Jackson, for a walk and ran into a woman who was also camping with the grumpy man. She was much friendlier.
"Cute dog," she offered, as if trying to make up for the tense encounter.
I went to sleep that night feeling uneasy — but relieved that it wasn't just him and I out here. I also felt frustrated. Solo female camping is meant to feel empowering, and one grumpy camper had made me feel scared, instead.
As a female who embraces solo outdoor adventures, I'm often torn between addressing the challenges and focusing on the positive to encourage women to just get out there.
Because for many women, the reward outweighs the potential risks. And for others, the thought of solo camping is truly scary. (It's truly scary for many men, too.)
But at the end of the day, women are capable of facing the additional challenges we face when pursuing outdoor experiences, because by and large, we've been facing many of those same challenges in classrooms, board rooms, bars, and city sidewalks for most of our lives.
For those who hesitate, the best motivation might be in other women: Meeting other women; adventuring with other women; sharing stories of our solo female camping trips with other women. Through our shared and intersecting stories, we find inspiration and courage. So we asked four women to share theirs by asking: Why do you go camping solo? — Britany Robinson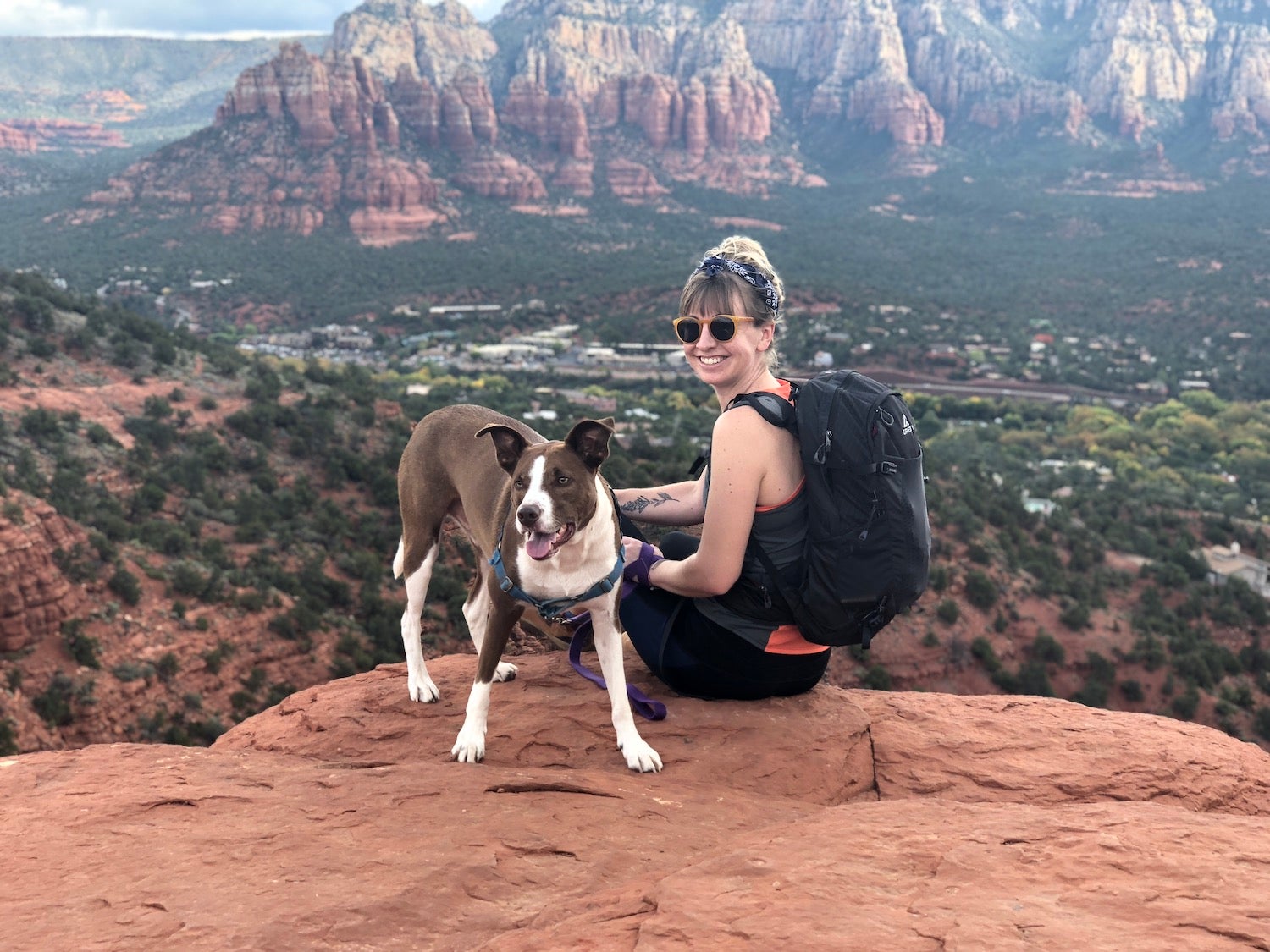 Because company won't always be available.
When Toni Allison moved from Alaska to the East Coast of the United States, she didn't know anyone who would join her for backpacking trips. So she decided to try exploring on her own.
"At first it was single overnights on the Appalachian Trail, then a couple nights in the Dolly Sods, then in September 2016 I booked a ticket to Iceland for an eight-day solo backpacking trip."
Toni is married, so one might assume she has a built-in partner for these types of activities. But friends and family don't always share in our drive to explore outside.
"My husband isn't passionate about backpacking," Toni tells The Dyrt. "Instead, he is my fierce supporter when people question the wisdom of a woman backpacking alone, especially one who leaves her husband regularly to do so."
Since those first overnights on the Appalachian Trail, solo backpacking has become a big part of Toni's life. Last September, she spent eleven days on the Northville Placid Trail with her dog.
"I had to bushcraft wet wood to make fires and sew my dog's backpack. I had to hike through injuries and drink unfiltered water. It was an incredible time to learn what I'm capable of—that I don't need to push myself to the max of my capabilities to prove anything to anyone."
To show myself that I can.
Leah Jakaitis took off from Denver with her Jeep and a bunch of books. First, she drove to Great Sand Dunes National Park, followed by Oljato-Monument Valley, and the Kolob Canyon section of Zion National Park.
"I woke up on Thanksgiving morning 2017 nestled in my down quilt at the foot of Boot Mesa outside Oljato, AZ. It wasn't a full layout of turkey and mashed potatoes, but freeze-dried beef stroganoff enjoyed in the remote solitude of the great American Southwest was a happy, perfect substitute."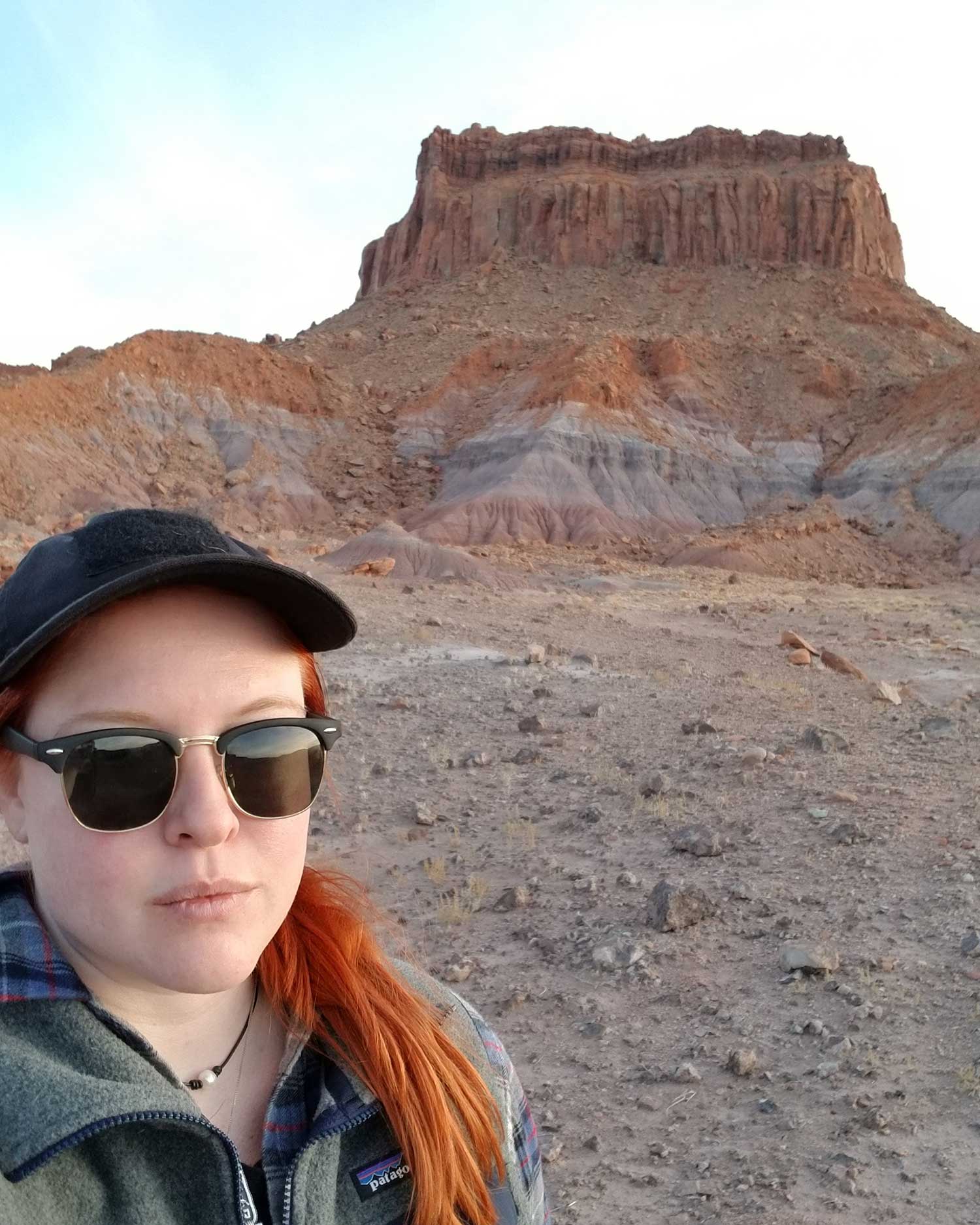 When asked Leah what inspired her to spend Thanksgiving by herself in the remote desert of Arizona, she replied: "That's a complicated question. But my most honest answer? To show myself I could do it!"
Leah notes that she isn't just proving something to herself. "Women are fed an overwhelming, fear-driven cultural narrative about the dangers of the world, and often rightly so. It's made me recognize how the mere act of being a single woman on the road (or in the desert) is, in and of itself, a political act; People just aren't used to seeing women traveling alone, camping alone, backpacking alone."
While some people are curious or questioning of women who travel alone or embrace solo female camping, meeting fellow solo women can remind us that we're not really alone out there.
"The last night was in Las Vegas for a hot shower and a decent meal. When I got on the elevator at the Luxor, surrounded by the glitz and glamor of Vegas nightlife, another woman got on with me. She was also clearly coming in from camping: filthy, wearing hiking boots and carrying a backpack. We gave each other that kind-of nod of recognition. It was very cool."
To reclaim the experience for myself.
Meghan O'Dea packed up her life in Chattanooga and headed West to start a new job and life in Portland, Oregon. She didn't know a soul in her adopted home, so camping by herself was the only option at the time. But for her, a solo female camping trip was more about reframing what camping looks like for her as a woman.
"…my decision to solo camp was out of necessity. But part of the impulse was to kind of reclaim camping for myself. Most of the camping I've done was with my male friends and relatives, as well as with my former partner. I don't feel that a man is necessary in any other area of my life, so I questioned why I had limited my camping experiences to when a guy was down to come along."
Meghan camped alone for the first time in southern Oregon's Thielson View Campground and her experience reminds women how empowering it can be to rely on yourself.
"I've been camping with a buddy or in groups since I was seventeen, so I think I know my way around a campground pretty well. Still, it was lovely to really discover firsthand that when it comes down to it, I can camp well on my own. I got all the chores taken care of, had to remember all the little extras in my pack, and talk myself down when I got nervous the first night."
And she notes how fun solo camping is and should be, too.
"I had my camp setup down pat, I'd picked up a pizza from the South Shore Pizza Parlor near Diamond Lake, and I was just swinging in my hammock, watching the fire I built myself. I had spent the day at Crater Lake and Umpqua Hot Springs, two big bucket list destinations I'd been dreaming of seeing someday."
To be selfish, and make my own itinerary.
Emily Gallegos here, a writer for The Dyrt, and a guest writer on this piece.
I am a huge backpacking nerd. And some of my favorite backpacking experiences have been all by myself. Don't get me wrong, I love sharing experiences with others. Friends often enhance a camping trip, and adding another brain into the mix never hurts. The caveat though, is that both people have to make some compromises.
My recent solo backpacking trip in Olympic National Park was almost a disaster, and I could have benefitted from having someone with me, but still, I left feeling happy I did it by myself, exactly the way I wanted to, without adjusting to someone else's itinerary.
The night I got to the park, my bank mistakenly and irreversibly deactivated my debit card (I didn't have cash or a credit card), and my tent pole broke. I had to ask a stranger for cash to buy a wilderness permit, my dad had to wire me money to a Walmart in Port Angeles to get into the park, and I had to get creative with my rainfly to make a shelter.
Although the trip was initially a headache, I felt empowered by my decision to keep going and lean in. But even more so, the moments alone made up for the chaos.
I woke up and ate breakfast on my own time, listening to a babbling river and watching a doe and fawn hop around in morning dew. There was no pressure from someone else to keep walking when I watched the seven black bears scarfing down juicy, alpine huckleberries along different parts of the trail. An alpine lake was my sanctuary for an evening meditation on self-love, with a rare peace and quiet that I don't give myself enough as an extrovert. Walking on the trail in solitude gave me some clarity about life at the time, and as much as I believe in the power of being a good listener, I didn't have to hear someone else's complaints. I was just there for myself, by myself and planned each moment in a way that was best for me.
Solo camping is rewarding for women in so many ways. And we hope those who are curious about solo female camping will prepare themselves with the knowledge and skills to stay safe and comfortable—then get out there and embrace the wilderness on your own!
---
Related Campgrounds:
Popular Articles: