In the northwest corner of Zion National Park lies Kolob Canyons, where trails are quiet and the views are yours to enjoy.
---
Zion National Park can feel more like Disney World than a wilderness experience, with nearly 3 million visitors arriving each year. Cars back up for miles, waiting to pass through the main entrance to Zion Canyon during the summer months, and clammer for spots at the two main campgrounds.
But Zion National Park is much bigger and wilder than most people realize.
A 40 mile scenic drive north of that main artery of traffic lies Kolob Canyons a section of Zion National Park where the commotion is hushed, and the overwhelming beauty of the landscape takes center stage.
Escape the Crowds of Zion National Park at Kolob Canyons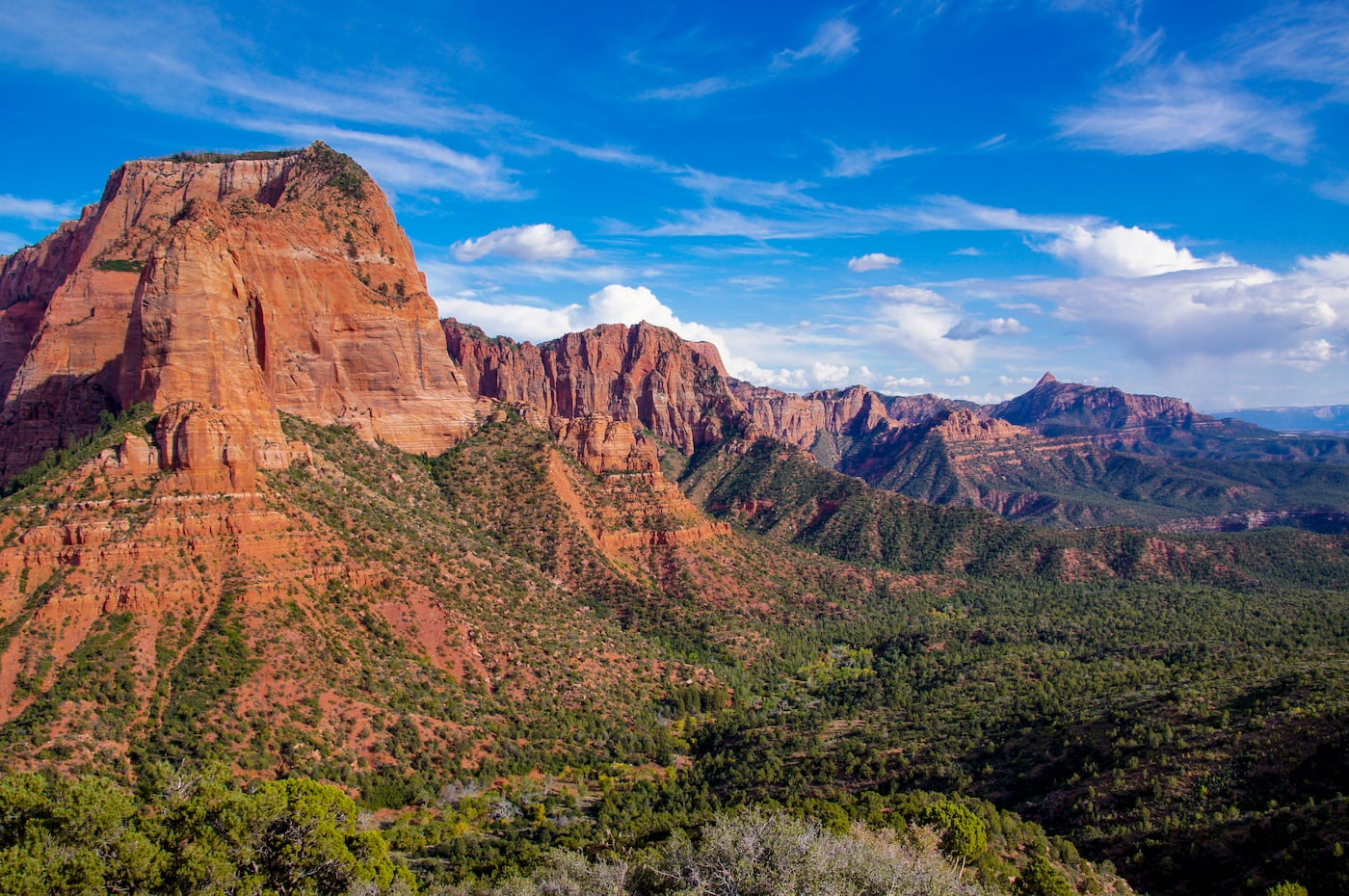 The heart-pounding thrill of Angel's Landing and the unique wonder of wading through the Narrows in Zion Canyon are experiences that shouldn't be missed. But they won't be quiet ones. If you're looking to enjoy a more peaceful section of the park, Kolob Canyons is where you'll want to be.
The unique sandstone slots of Kolob Canyons reach up to 2,000 feet tall, providing gorgeous panoramas of the surrounding red rocks. There are sandstone cliffs, slow canyons, waterfalls, and miles of quiet trails. I visited last summer and found the emptiness almost eery — but also invigorating.
What to See and Do in Kolob Canyons
Climbing at Kolob Canyons
While there are only a handful of climbing routes hidden in Kolob Canyon, the 45-minute hike is more than worth it. Southern Utah's sport climbing jewels are found at Namaste Wall, home to 5 steep, hueco-riddled routes (rated 5.10+ to 5.13a). Be warned, after climbing a line as aesthetic as Namaste, your standards may never be the same again.
Hike the Timber Creek Trail
If you're looking for a quick-and-easy jaunt take the Timber Creek Trail to the Overlook. With an elevation gain of just 260  feet and a distance of one mile, you can easily bring the whole family for this hour-long outing. With restrooms and picnic tables available you can hike to the overlook, enjoy lunch and head back on the well-maintained pathway.
Visit the Kolob Arch via La Verkin Creek Trail
This main trail through Kolob Canyons is nearly 11 miles long with campsites along the way. Most people follow La Verkin Creek Trail on day hikes to visit the Kolob Arch, a natural sandstone formation, but you could also thru-hike it with a backpacking permit for a more rugged experience.
Canyoneer at Beartrap Canyon Loop
A strenuous, 18 mile hike brings you through a remote wilderness of dense vegetation. Beatrap Canyon Loop requires canyoneering, and will take you by the isolated Chasm Lake. Rappelling over the 30-foot Beatrap Canyon Falls is a highlight of this typically 3-day backpacking trip.
Backpacking Permits for Kolob Canyons
Kolob Canyons is a vast expanse of peaks and slot canyons. You won't find a shuttle bus on this end of the park, and some of the highlights are best reached by multi-day hikes. If you're spending the night in the wilderness, anywhere in Zion National Park, you'll need a backpacking permit.
Here's what you need to know to go backpacking in Kolob Canyons:
Backpacking permit reservations for all of Zion National Park are available up to two months in advance.
You'll need to know your route and where you plan to camp. If you'll be stopping at multiple campsites, you'll need to make reservations at each one.
Groups are limited to 12 people, in order to preserve the wilderness of Kolob Canyons.
Reservable wilderness permits are available beginning the 5th of every month.
Nearly one-third of all backpacking permits are not reservable through the online system. These walk-in permits can be reserved at either the main visitors center or the Kolob Canyons visitors center, at least one day before you start your hike.
Where to Camp in Kolob Canyons
All campsites within Kolob Canyons are backcountry sites. This map shows all reservable backcountry sites: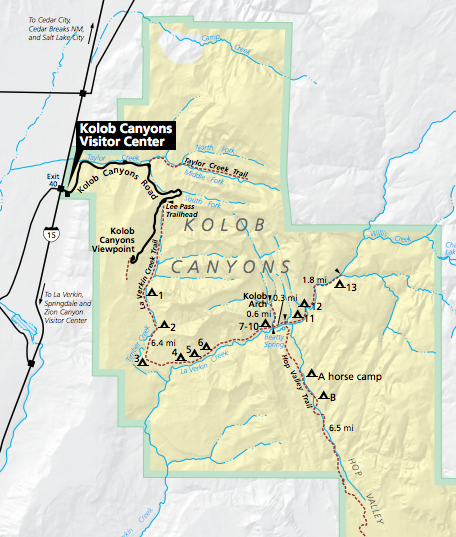 View the complete map of backcountry sites at Zion National Park.
If you're looking to access Kolob Canyons from an established campground, these ones are nearby:
Water Canyon Cliffside Campground
Just 45 minutes from Kolob Canyons, Water Canyon Cliffside Campground is tucked behind Zion National Park with stunning views of the Canaan Mountains. There are six tent campsites with a fire pit and picnic table, as well as one site that can accommodate a small RV, a canvas campaign tent, and a mini cabin. There is a restroom on site now, but you'll need to pack in your own drinking water and all supplies except for firewood— that's available for a $10 fee, as much as you need.
The Water Canyon Trail and Squirrel Creek Trail are both easily accessible from the campsite, each no more than a mile away. This is also a great basecamp for mountain bikers, who will enjoy zipping along the single track crisscrossing Gooseberry Mesa. There are lots of opportunities here for beginner as well as intermediate riders, with a few advanced, more technical trails thrown in for good measure.
In addition to being so close to Kolob Canyons, Water Canyon Cliffside is also near Coral Pink Sand Dunes State Park, Sand Hollow State Park, and Snow Canyon State Park— all but the later are just 20-30 minutes drive from your site. And with rates starting at $25 a night, you don't have to compete with the crowds in Zion National Park itself.
Book Now
Red Ledge RV Park
This picturesque, year-round campsite offers fully hooked-up RV sites, tent sights and mini cabins. Located 9 miles away from Cedar City this spot is perfect for dirtbags to recharge after a day of hiking and canyoneering or for families to rest and recharge before driving through – they have a playground perfect for little ones!
Use the 24-hour laundry to wash the sandstone dirt out of your socks and upload your latest adventure photos to social media thanks to the free WiFi. You'll love camping away from the road and major tourist spots.
"We lucked into this private campground on a quest to see the Kanarraville Falls. It's a small lot right on the main drag and only three blocks from the Falls trail head. Gail, the host and owner, put us on a nice grassy patch under a couple of pines and invited us to make use of the free showers (the bathrooms are coded for guests only), the hot tub, and the communal grill and patio." — The Dyrt camper Annie C. 
Camp Here
Lava Point Campground
If you want to snag a free primitive campsite with few visitors head to Lava Point Campground. This little gem is open from spring to fall, conditions permitting, and does not allow vehicles longer than 19 feet. Those looking to avoid the more crowded, busy sites will enjoy the quiet of Lava Point Campground. Make sure to get here early as spots are first-come, first-serve and offer gorgeous views thanks to 7,890 feet of elevation.
Camp Here
La Verkin Creek Campsites
If you plan to hike La Verkin Creek Trail you'll want to sign up for these 13 backcountry campsites so you can spend the night along the way. Enjoy the mix of ponderosas and cottonwoods that provide shade and windbreaks. Some campsites are small and allow space for only 2 people (Oak Point Camp) while others can host as many as 12 hikers (Flat Rock Camp).
"This very primitive camp ground is a perfect location for beginning the West Rim hike in Zion National Park." — The Dyrt camper Shannon C. 
Camp Here
---
Shameless plug:

The Dyrt is a FREE app solving the pain of finding campsites online. Like Yelp for camping, you can find the perfect campsite for you with photos and reviews from real campers across the country. And if you write reviews, you can WIN free outdoor gear all summer long.
Popular Articles: