Great Sand Dunes National Park one of the most popular in the United States. That being said, camping here should be an experience uniquely special to you. Look no further for some of the best camping in Great Sand Dunes National Park, and check out reviews from real campers just like you.
Unwind Below the Stars Camping in the Great Sand Dunes National Park
Great Sand Dunes National Park is a desert marvel located in South Central Colorado, right in the heart of the Sangre De Cristo range. Great Sand Dunes camping has become an extremely popular activity due to the massive sand dunes sprawled throughout the park. These sand dunes are among the tallest in North America, some towering above the arid landscape as high 750 feet. The dunes themselves lie atop a sand sheet covering more than 30 sq. miles. Camping in the Grand Sand Dunes is unique in that there are large amounts of desert flora and fauna found throughout the region. Consequently, this makes for a great destination spot.
Last year, there were almost 500,000 people visited the Great Sand Dunes. As a result of the popularity, many of these campsites in this National Park are busier than other areas. However, that doesn't mean you have to raise your nose! Finding awesome camping is still totally possible, even if campgrounds are well-frequented. These three campsites are some of the most popular in the park, and for good reason: each provides an A+ base camp for adventure.
Getting to Great Sand Dunes National Park
Directions from the North
1. From Denver, Follow I-25 S to US-160 W for 160 miles. Take exit 50 to US-160 W.
2. Follow US-160 W. for 57 miles. Then, turn right onto CO 150 N.
3. Follow CO 150 N for 19.4 miles. Great Sand Dunes Visitor Center will be on the left.
Directions from the South
1. From Antonito, take US HWY 285 N for 28 miles. Turn right onto 6th St.
2. Follow 6th St. until it becomes US-160 E/Denver Ave. Continue for 14.5 miles and go left on CO 150 N.
3. Follow CO 150 N for 19.4 miles. Great Sand Dunes Visitor Center will be on the left.
Directions from the East
1. From La Junta, take CO-10 W/US-160 W for 150 miles towards Alamosa County.
2. Turn right onto CO-150 N. Follow for 19.4 Miles. Great Sand Dunes Visitor Center will be on the left.
Directions from the West
1. From Grand Junction, follow US-50 E for 90 miles and exit South to CO 114 E
2. Follow CO 114 E for 61 miles, then Continue onto Gunbarrel Rd/US Hwy 285 S.
3. From Gunbarrel, continue for 15 miles then take a left on to Co. Rd. 16.
4. Turn right onto Co. Rd. 60 for 15.4 miles through to Moffat. Take a right onto CO-17.
5. Follow CO-17 for 23.4 miles. Stay left towards Ln. 6 for 12 miles to CO 150 N.
6. Keep on CO 150 N for 5.9 miles. Great Sand Dunes Visitor Center will be on the left.
Bring Everyone Along for a Dune Camping Extravaganza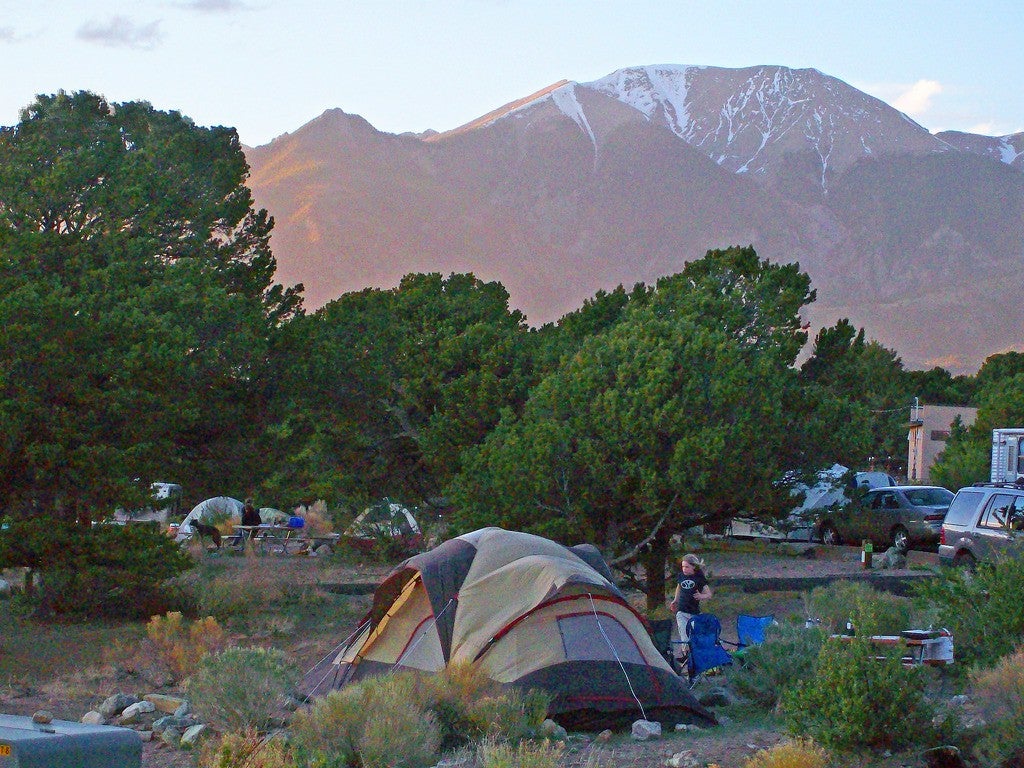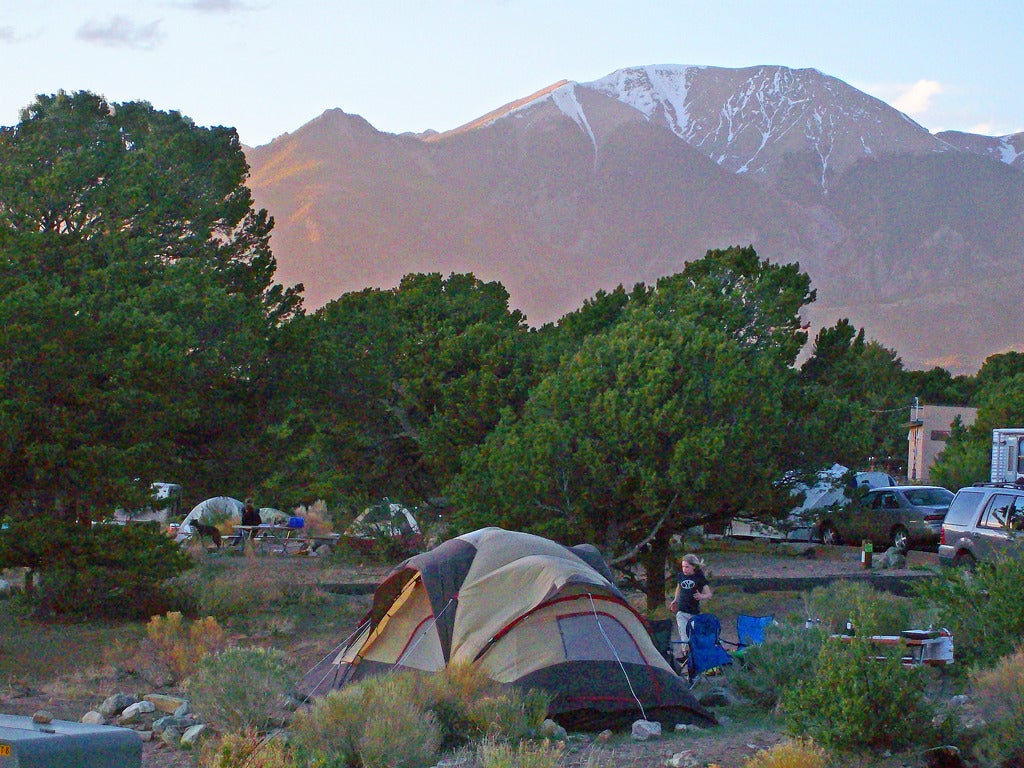 While many of our campers prefer to go by themselves or in a small group, others like to hold large group camping trips. Pinyon Flats Campground is a great way to get out into the wilderness with your friends. With group sites holding up to 100 people, you're sure to have the camping party you've dreamed of. There's multiple access points to the dunes within 1 mile, panoramic views of the stars at night, RV sites, and full amenities throughout.
If you're an avid stargazer or are simply after some excellent views of the dunes, then Pinyon Flats Campground is for you. And if you consider yourself a bit of an adventurer, then you'll find walking the trails, cooling off in the river, and riding the dunes perfect for getting your kicks! However, like all national parks, this place fills up fast, so be sure to arrive early or make a reservation.
Enjoy the Freedom of the Backcountry Dunes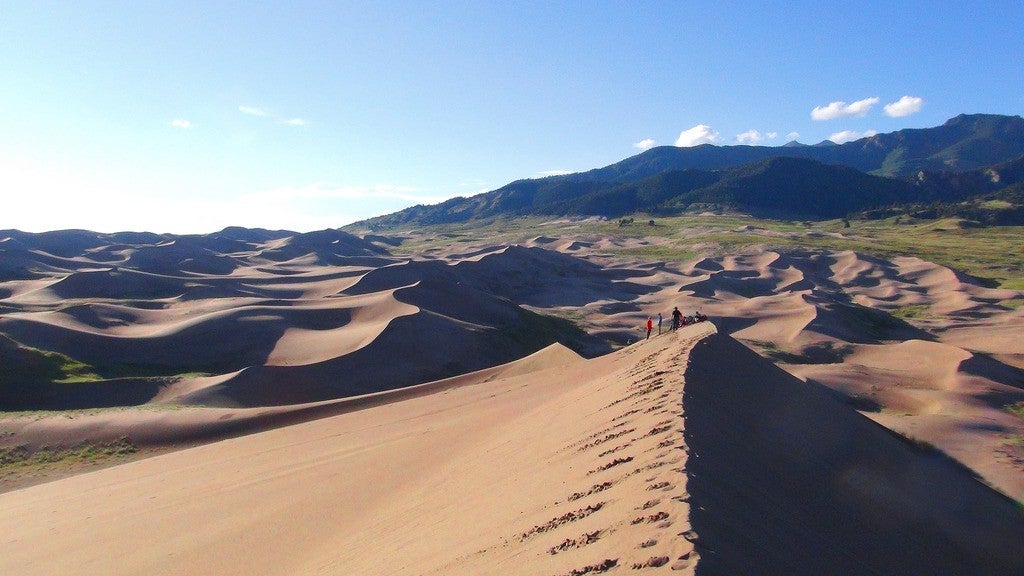 If you're a lone-wolf who likes to see nature on your own terms, then back country camping the Great Sand Dunes National Park is going to be your new go-to. First and foremost, camping in The Dunefield requires a free permit from the visitor center (which are limited). But one you've acquired this, you're free to enjoy a serene and unique, back-country camping experience. And because this site has no amenities, the stargazing is even more, well, stellar.
Bring your RV and Access Full Amenities Outside the Dunes
Nestled right on the edge of the Great Sand Dunes National Park, the Alamosa KOA offers an outdoor camping experience without the struggle.  With a heated outdoor pool, weekend pancake breakfasts and an on-site Hunt Brothers Pizza that delivers, you'll be able rough it on the dunes and still live like a king. KOA also features a number of RV sites with full hookups perfect for travelers wanting to stay and explore more than a few days. In addition, this campground offers tent sites and camping cabins, however, RVers will far outnumber the crowds here.
What is There to do While Dune Camping?
Camping and exploration go hand-in-hand and nowhere is that more true than Great Sand Dunes National Park. Nature's magic is on full display in this sea of sand, and even though it's the country's youngest national park, it doesn't hold back in being one of its most diverse.
"Hike up to High Dune, a popular climb, as early as you can in the morning. We were the second group up, and we had the most peaceful time watching the soft sunrise over the rest of the dunes." -The Dyrt Campers The Switchback Kids
The "High Dune" is the tallest sand dune within Great Sand Dunes National Park. Towering in at 700 feet above the base, you'll enjoy unique one of a kind views that can be only had from the top of High Dune. While it can often be busy, doing the hike early in the day or towards dusk will provide the best lighting as well as more moderate temperatures if visiting in the Summer or Winter.
The Dyrt has put together this incredible video to document their firsthand experience with Great Sand Dunes Camping in hopes of improving the visit of future campers like you.
And, in case you still (somehow) need convincing to fit this park in your summer itinerary, we present Great Sand Dunes National Park by drone:
Get the Complete Scoop on Great Sand Dunes Camping
The Great Sand Dunes is one of America's treasures, and one that absolutely deserves more recognition that it gets. If you're considering a trip out to camp in this National park, don't hesitate any more. With endless expanses of stars as far as the eye can see, and miles of mysterious dunes looming over you in majestic splendor, you're going to be in awe the whole way through.
The Dyrt is dedicated to providing high-quality campsite reviews for outdoor enthusiasts all over the world. We focus on bringing you the best camping activities, recipes, gear, and sites so that you don't have to spend extensive time looking. If you're wanting to know more about camping within Great Sand Dune National Park, check it out in the camping database.
Popular Articles: