Corinna Buchholz grew up watching a pile of materials turn into a home. Her parents lived in a trailer on a two-acre plot of land in Northern California, and when Corinna was born, they started building a 3,000 square foot house — with zero experience in construction.
"I grew up with that attitude; just figure it out as you go," Corinna told me. Corinna's parents have continued to build on their construction experience, and recently built a teardrop trailer by hand.
Her parents' fearless approach to trial and error has clearly stuck with Corinna, who decided to build her own camper out of almost entirely used and free materials, most of which she's finding on Portland Craigslist. She and her two young boys love camping and are tackling this project together. Her husband is less enthusiastic about sleeping outside, but what he does love is modern design and cabins. So the camper will incorporate his interests as well, with sleek lines and a modern cabin vibe.
New Adventures for Found Materials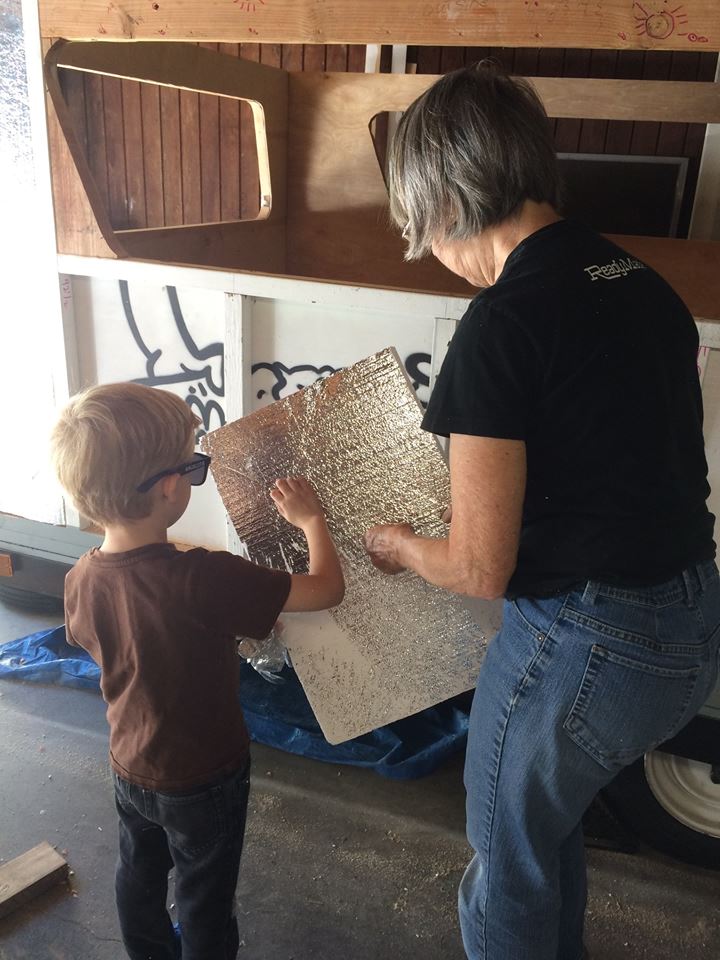 Corinna makes a living out of finding beauty in old images and found relics as a commercial artist, specializing in vintage and historic art work. She spends many hours scouring archives and antique stores, searching for postcards, photos, letters, and designed pieces that already have a story of their own. And then she gives them a new one.
"It's been a fun challenge. We didn't know how we'd build the walls until I found someone who was tearing down the railing on their porch." — Corinna Buchholz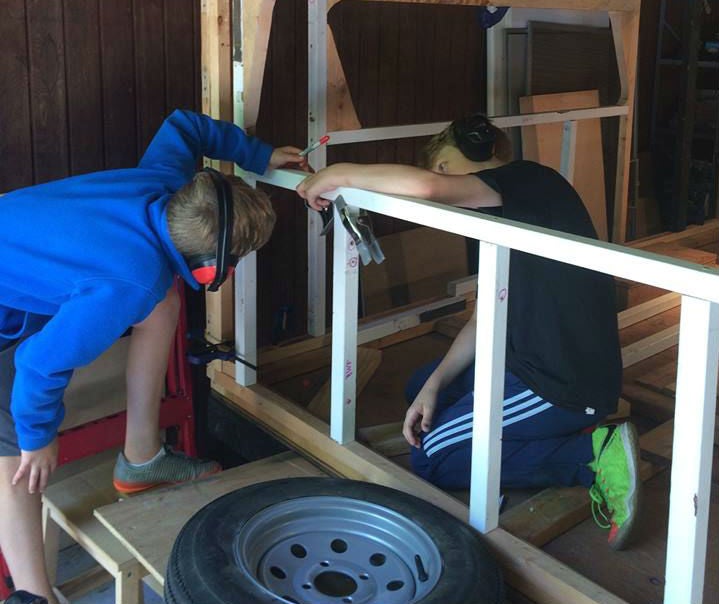 Her company, Piddix, is a library of found images which artists can purchase to reuse. Corinna uses many of them in her own art, too.
While most of Corinna's images come from archives and vintage stores, her camper has been sourced almost entirely from Portland Craigslist. But she's applying a similar approach in giving new life to pieces that come with history.
"I hit 'Refresh' on Craigslist's free section a few times a day," she says.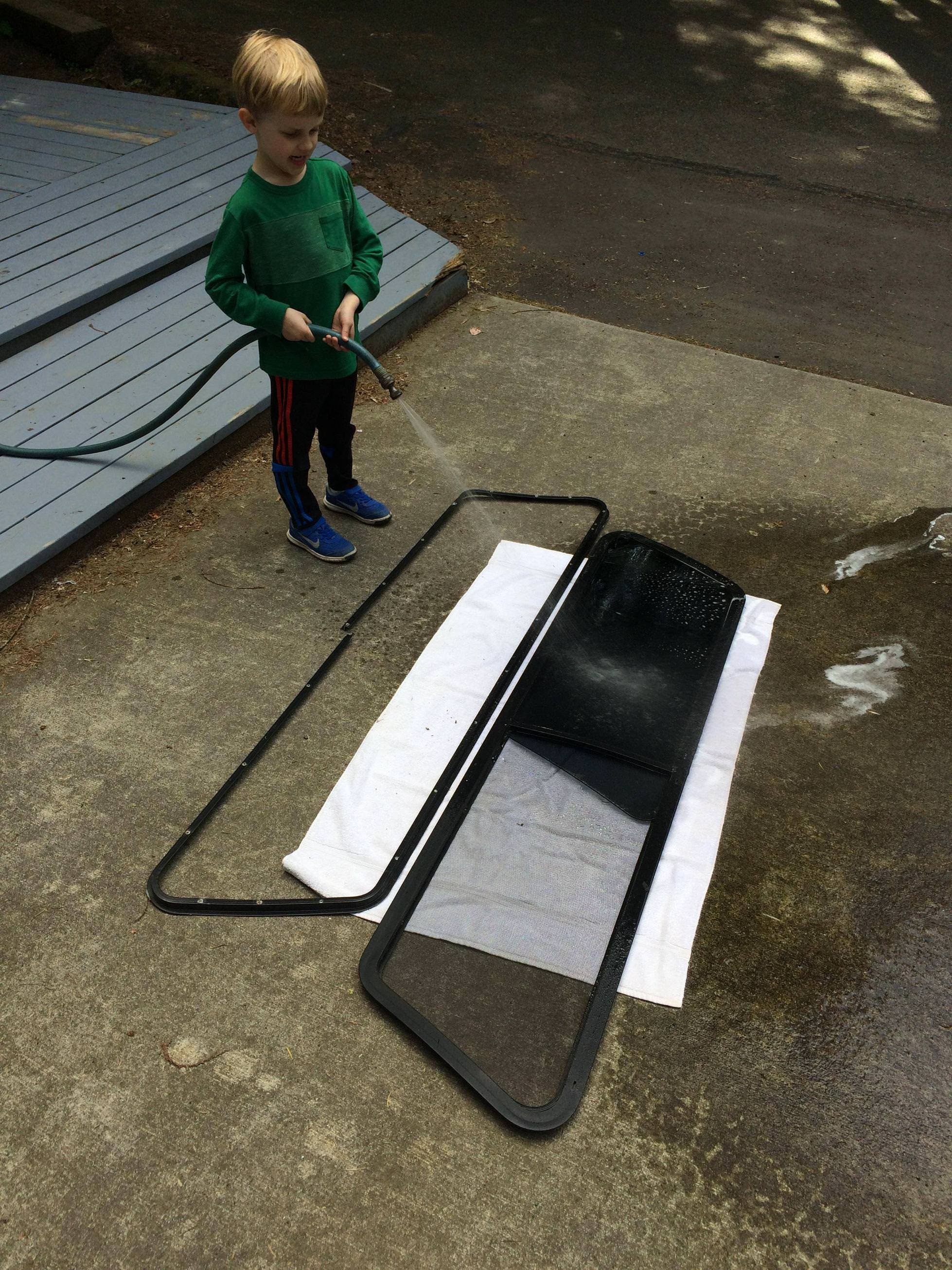 Building a camper from found materials presents many challenges. While similar projects would be carefully planned before construction begins, Corinna is making decisions and deciding what works as she stumbles upon useable pieces, from Portland Craigslist or elsewhere.
"It's been a fun challenge," says Corinna. "We didn't know how we'd build the walls until I found someone who was tearing down the railing on their porch."
Some of Corinna's favorite elements of the trailer include the interior, which was once a Nike presentation board, painted with ice cream cones and shoes. And the vertical grain fir they've used for the siding, which came from the Rebuilding Center in Portland.
The plywood on the pop-up interior will come from a cabinet maker who uses 7.5 foot sheets and always has eight inches left over. "So I'm getting a bunch of eight inch strips and he won't have to waste them."
A Project for Two Passions
The camper project is a marriage of Corinna's passion for found materials and her family's love for the outdoors.
Corinna and her two boys covered 4,000 miles around the U.S. last year, camping in tents along the way. (Her husband joined them for portions of the trip.) They'll be hitting the road again this month to camp in Yosemite National Park, and then making their way to Los Angeles.
As rangers on The Dyrt, Corinna and her family have reviewed many campgrounds along their camping adventures.
Their favorite camping discovery last year was at the Painted Hills in Eastern Oregon, where they stayed on BLM land and camped for free.
"It was absolutely beautiful," she recalls. "There were just enough people to feel safe but it didn't feel like everyone was on top of each other. Plus there's lots to do."
The camper is still a work in progress. Corinna and her family will be adding a pop-top to the roof, but they won't begin work on that until they've finished the parts they've started. The camper is being built in their garage, and they only have so much room to work with.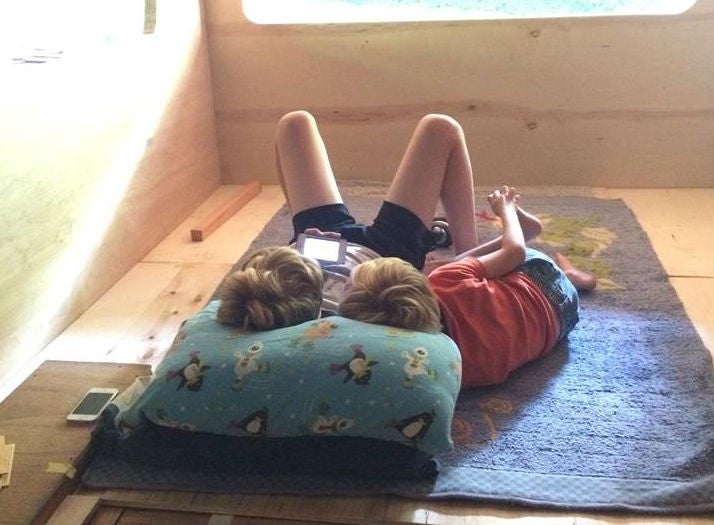 Soon enough, Corinna and her family will have plenty of space to enjoy their camper at campgrounds and on the open road. We're excited to see where it takes them.
Popular Articles: