Shari and Hutch live on the road full-time in their vintage "canned ham" trailer. This week they're sharing their bikepacking adventure on the Towpath through Cuyahoga Valley in Ohio. 
---
The alarm goes off at 6:30 am for another day of bikepacking. We deflate sleeping pads, brew coffee and pull on more layers. Despite forecasted highs in the 90's today, I'm freezing.
The valley is filled with a low hanging, heavy mist, making me crave my sleeping bag as we prepare for the day's ride. Our start is a two-mile winding climb out of the river gorge where we camped for the last two nights. As we climb, the chill wears off and we spin our way up the road, cutting a path through the green forest canopy.
We surprise ourselves by reaching the top before exhaustion forces us to dismount and push our bikes. We're loaded down with camping gear, and the incline isn't easy, but we make it.
Another surprising aspect of this climb? It's located in Mohican State Park in central Ohio. The midwest isn't exactly famous for hilly cycling, but this part of the Buckeye State is full of surprises.
We're heading to my 25th college reunion at Kenyon College, making an extended adventure out of the trip. Because why drive when you can bikepack?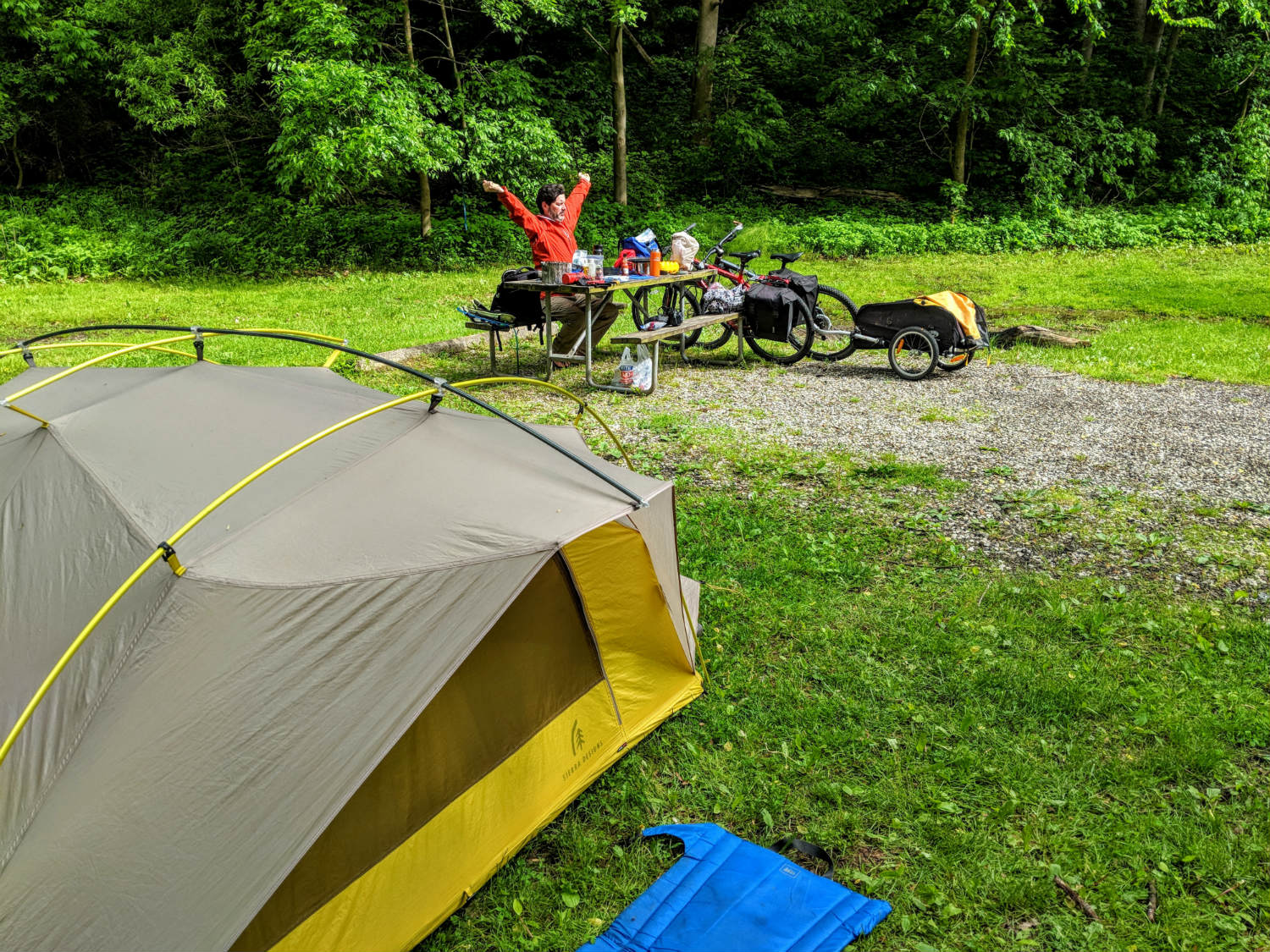 Since friends in Cleveland will be joining us at the reunion, we leave our truck parked at their house and bike through urban Cleveland streets to reach Cuyahoga Valley National Park, where the Towpath follows the river southward.
We plan to hit lots of bikepacker friendly campgrounds along the way, so we give ourselves 9 days to cover the nearly 200 miles.
Bikepacking Along the Towpath in the Cuyahoga Valley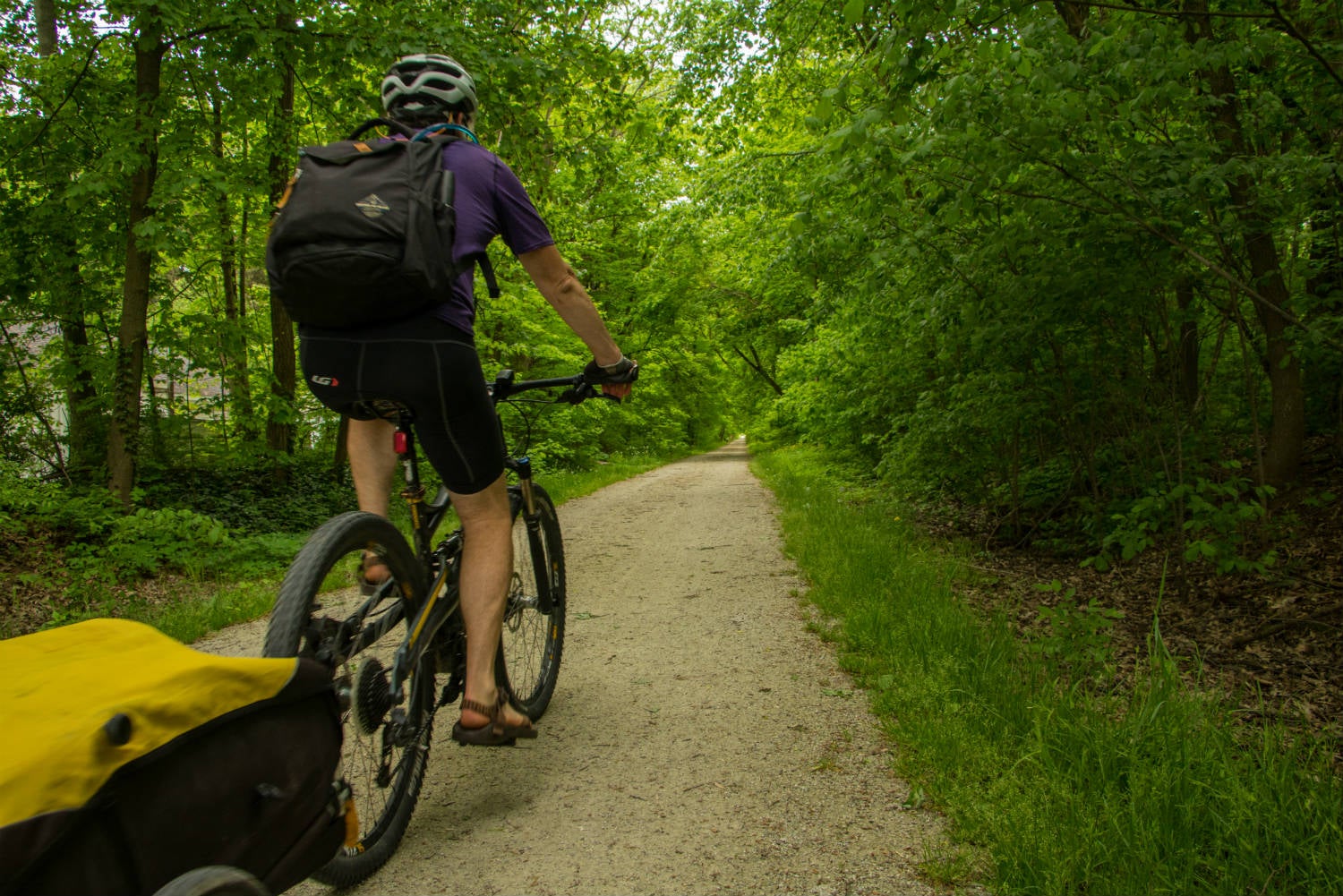 This area is extremely bike-friendly; paths get you from downtown Cleveland to Cincinnati along the Ohio Erie Trail. May is the ideal month for this trip with wildflowers and casually tended perennials blooming everywhere — the route we've chosen simply couldn't be more beautiful.
The Towpath follows the Ohio & Erie Canal, climbing ever so gently to a minor north/south Continental Divide. Each river to the north of Akron flows into Lake Erie, and eventually into the Atlantic. Similarly, water falling to the south flows into the Ohio River, which leads to the Mississippi inevitably washing into the Gulf of Mexico.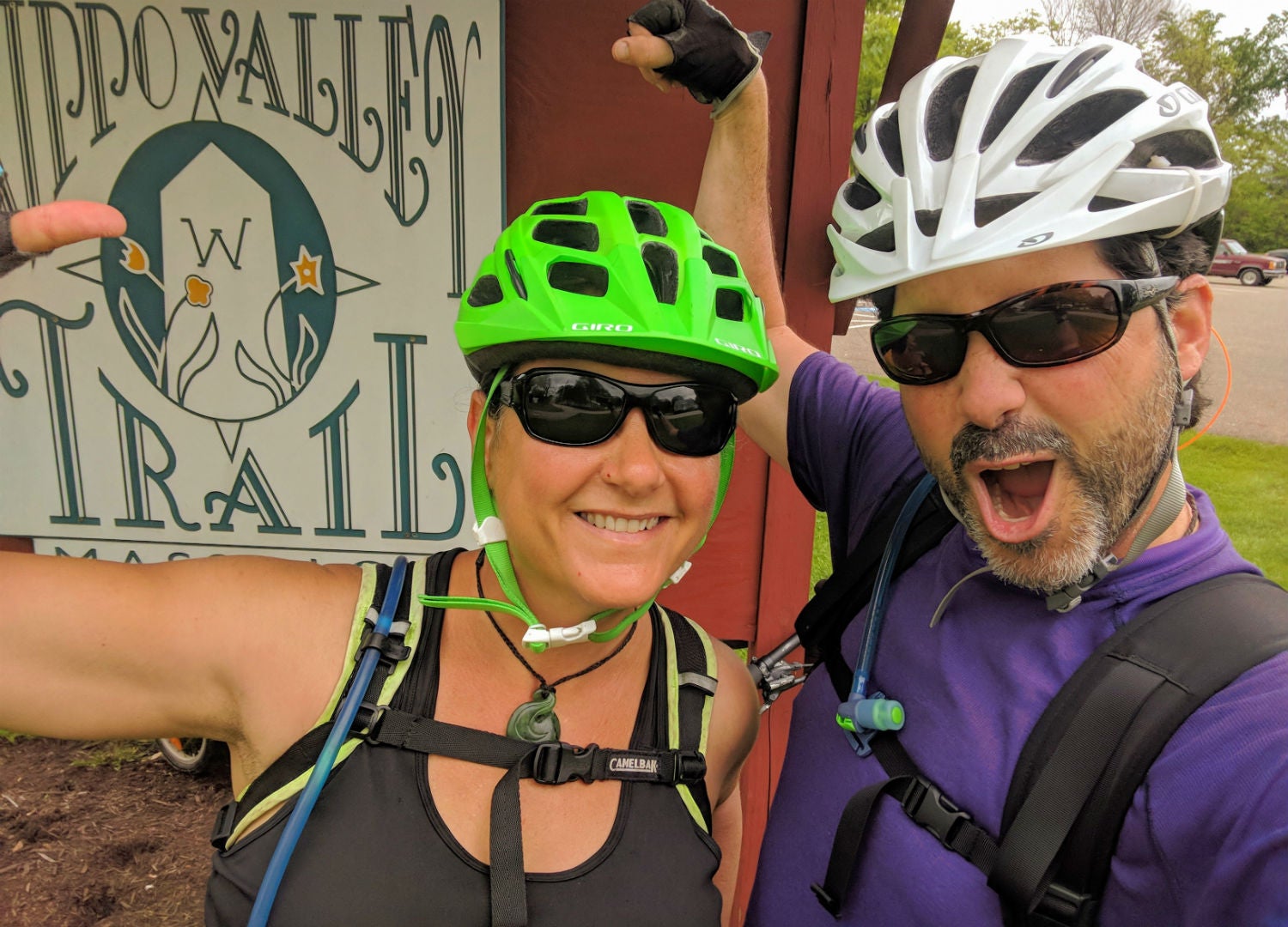 I have driven across this divide literally hundreds of times on my way from college and home, but I never knew about the complexity of the watersheds. The park which preserves the valley, river, and major sections of the canal, brings my attention to what I've seen all my life but never really cared to understand.
This isn't the first time a national park has educated me — education being just another valuable service they provide.
The locks along the canal, which lowered and raised the boats along the route, were key to the transportation of goods and people before the turn of the 20th century. We gobble up history lessons along the ride, stopping at interpretive displays and examining locks in various states of decay, with a few that have been fully restored for education. This canal system was the interstate highway of its time and as we pedal through reclaimed wetlands dammed by beavers, I wonder what will become of our highways in another 100 years.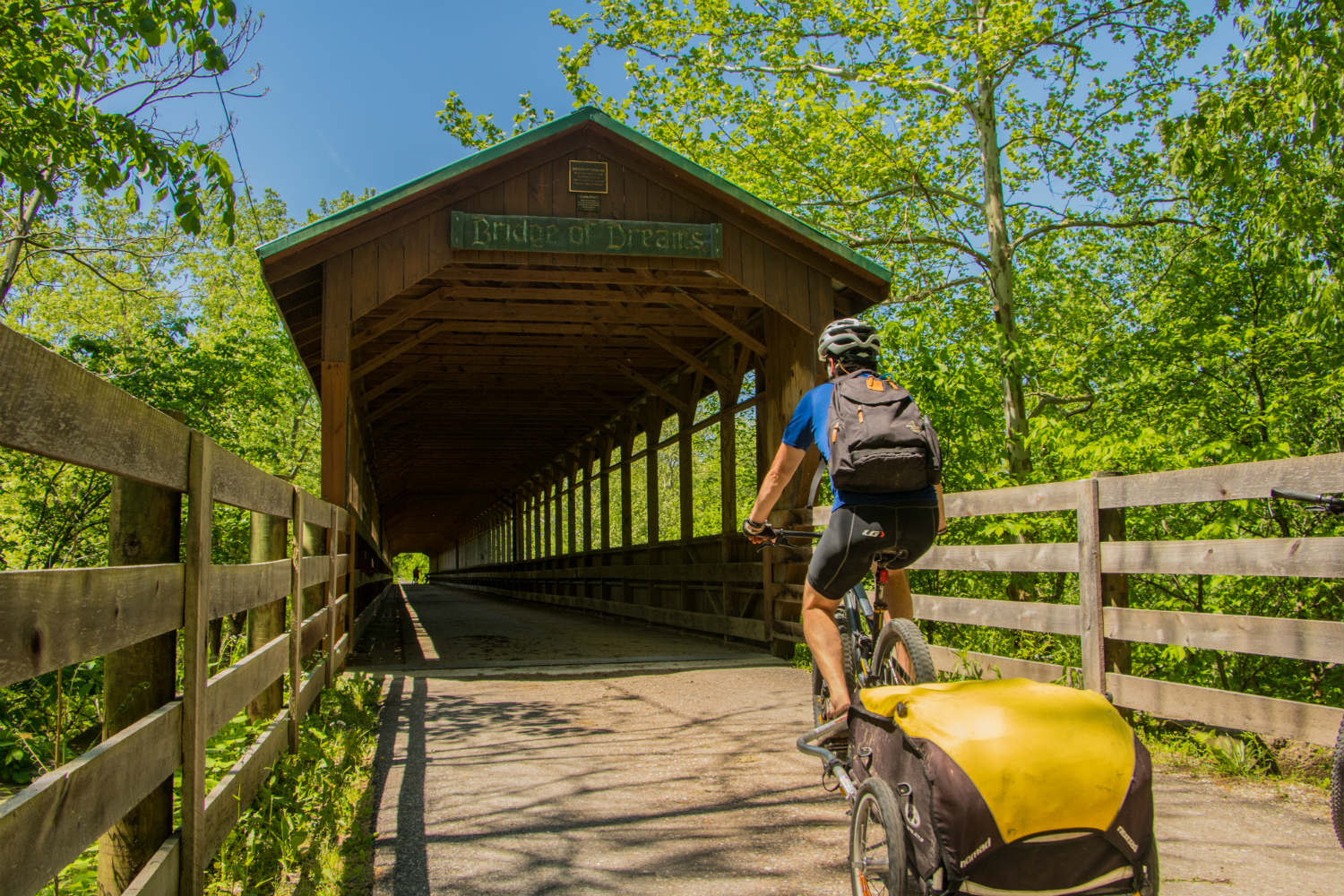 Camping along the path seems unlikely at first blush because the park only offers one campground with a scant 5 sites reserved for cyclist or walkers – and it wasn't opened yet. However, Century Cycles in Peninsula, Ohio offers a valuable resource for camping along the path and we found our camping locations easily each day. These gems might just be the best kept secret of the route.
Departing the path, the back roads of Ohio offer mostly paved surfaces and sparse traffic. Sharing the road with a horse and buggy clopity-clopping behind you in Amish country is incredible, so long as you manage to dodge the gifts left by horses.
Rolling hills add a nice diversion to the uniformity of the path, and we find ourselves grinding up hills in our lowest gear more than once. Our increased caloric needs lead us on a 5-mile detour for donuts – one of the best benefits of cycle touring.
We roll up to the Lerch's Donuts trailer (a Wooster icon for over 80 years) minutes before they close. Another benefit to bike packing this route is my 81-year old aunt's house is in Wooster. We love that we can sneak a family visit (and a shower) into this bike packing pilgrimage.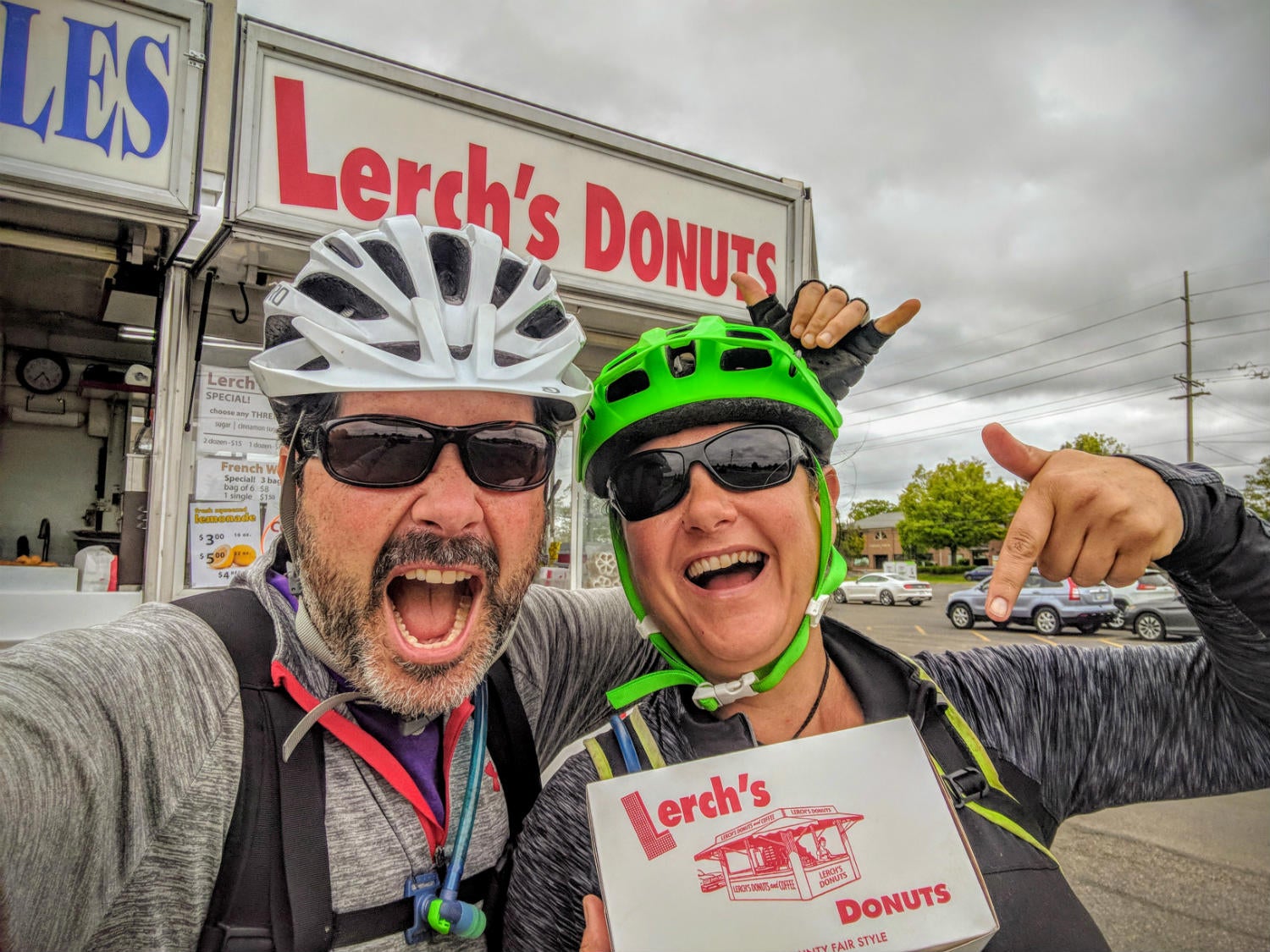 More discoveries await us on our last day – 42 miles of some of the most scenic back roads along the Mohican River, a "rails to trails" cycling path boasting the longest covered bridge in Ohio, and another leading us right into campus. Much of the place looks just as it did 25 years ago, while some has changed drastically, just like me.
Back in my day, the bike path didn't go all the way into campus, and you couldn't get ice cream cones from the Bookstore; those are some changes I can get behind.
Shari and Hutch's Cuyahoga Valley Bikepacking Path
Shari and Hutch created a Saved Campground List to map their bikepacking trip in Ohio. You can view the campgrounds they stayed at to get a feel for their adventure.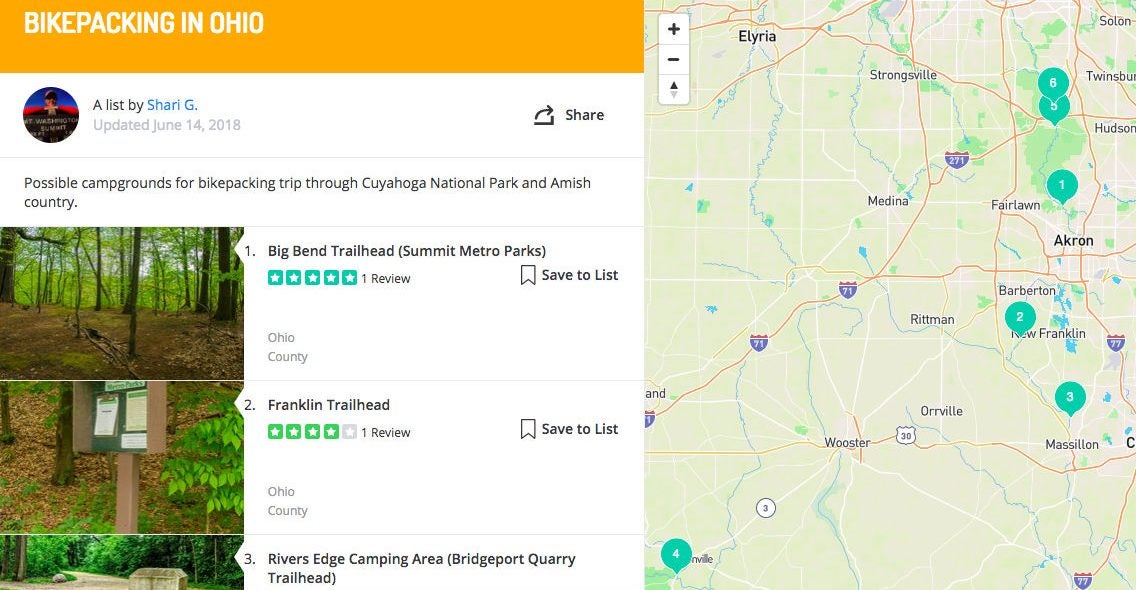 [button style='black' url='https://thedyrt.com/list/bikepacking-in-ohio' target='_blank']View the List [/button]
---
Stay tuned next week for more from full-time campers. And don't forget to check out their blog, Freedom in a Can. 
Popular Articles:
---

---