This adventure racing guide is brought to you by Aftershokz, whose bluetooth sport headphones are the best (and safest) way to stream your pump up jams during your upcoming adventure race.
---
Adventure racing is a popular activity often confused with the also-popular sport of ultramarathon running. While there are similarities between the two types of races (such as distance and the time taken to complete them), the two racing styles are unique in what they demand of those who try to complete them. Ultramarathons require solo participants to conquer a grueling course through running alone, while adventure races often provide a mixture of skills more relevant to the outdoors.
Don't worry though, endurance-race-phobes—adventure racing doesn't have to involve 100 miles of running through the backcountry. In some cases, there isn't any running at all.
What Is Adventure Racing?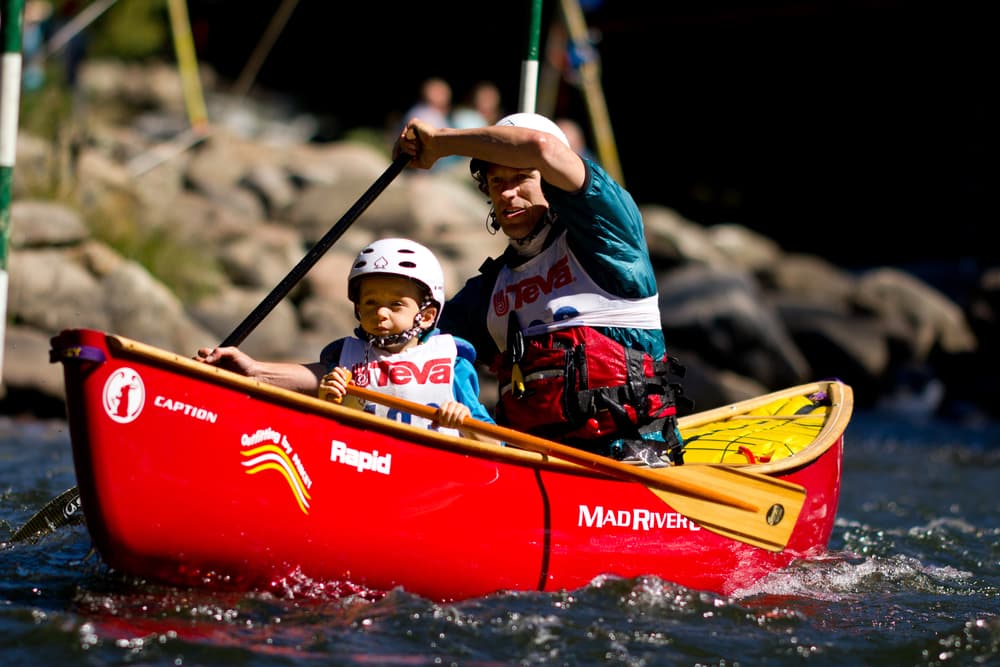 Adventure racing at its core is centered around more technical activities such as kayaking, biking, canoeing, hiking, climbing, and stand up paddling (otherwise known as SUPing). Each race, while varying in length and timeline, is usually based in a wilderness area, and provides racers with the chance to explore a bit while making their way through the course.
Is Adventure Racing Only for Extreme Athletes?
Contrary to what its name might suggest, adventure racing is not just an extreme sport reserved for the adrenaline junkies. There are races all over the country (and world) that offer different levels of races for both teams and individuals hoping to get their adventure on! Unlike more traditional races like marathons or triathlons, Adventure Races are set on a case-by-case basis according to the terrain and region they're located in, so no two races are the same.
Given the variety of races that exist and the wide range of activities they incorporate, adventure racing is the perfect way for both ultra-athletes and beginners to enjoy a friendly and competitive event.
Do I have to Race Alone?
Not at all! In fact, the majority of adventure races out there have options for team competition, and many, because of their length and difficulty, require everyone to participate as part of a team. In the team sense, most adventure races function like long-distance running relays, where individuals complete sections of the course, depending on the activity at which they excel.
What Do I Need to Participate?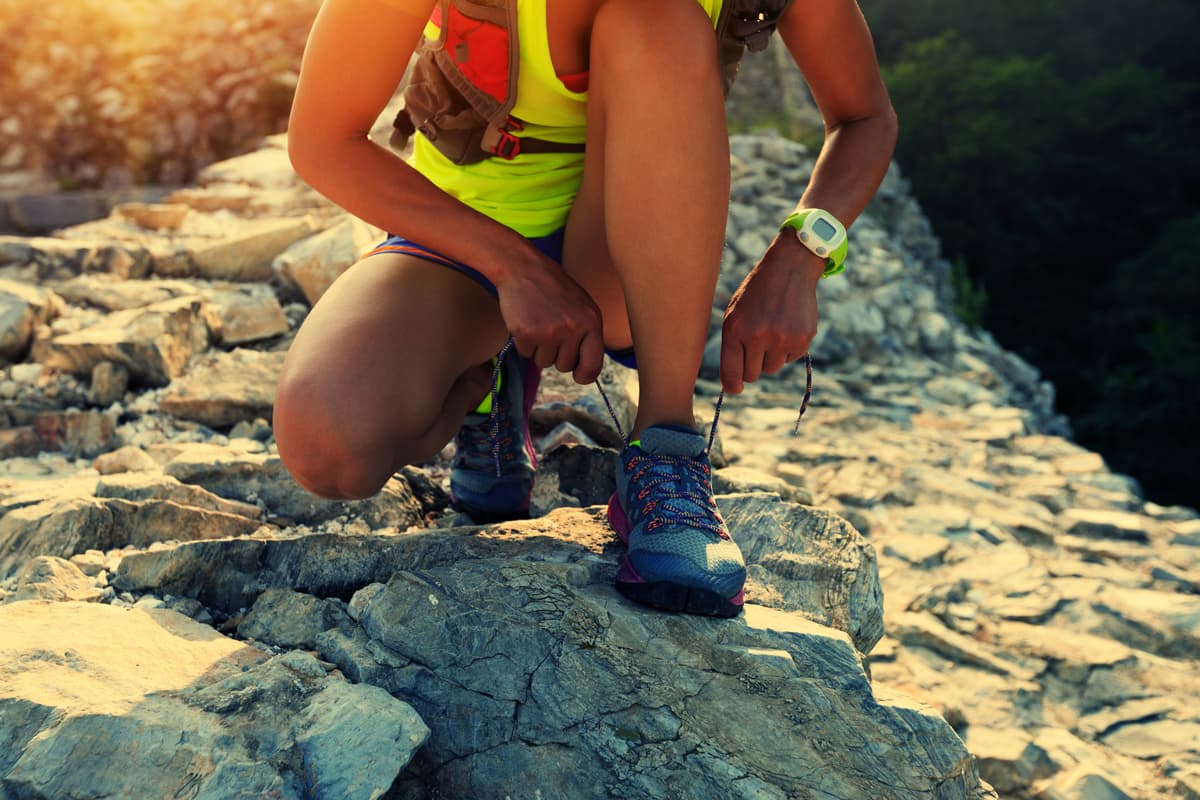 Since most races require strenuous activity in the outdoors for an extended period of time, you'll want to make sure you have all of the traditional gear on deck: exercise clothing, a couple layers, sunglasses, sunscreen, and sturdy shoes that fit the types of activities you'll be participating in.
Beyond that, any other essential gear depends on the type of race you're competing in. If there's mountain biking involved, you'll obviously need some wheels. If there's kayaking or paddleboarding, you'll need that too! But if you don't have any of these items, don't freak out. Several races, including a couple profiled below, offer free gear rentals to race participants, making it much easier to enter if you don't yet have all the necessary tools.
Be sure to double check with your specific race prior to entering, to make sure you're aware of what's offered and what you might need to buy before the race. As far as additional items you'll want to bring along, check out this article featuring one of the most accomplished racers in the world, Kyle Peter, on his must-pack survivial kit for Adventure Races all over the world.
Where are some Non-Running Races I can participate in?
Looking for something other than a marathon to get you training and out of the house? Adventure racing could be the perfect sport for your to indulge your competitive side without getting caught up in the running game. We've compiled a list of a few of the top races from around the country that are offered to beginners and advanced racers alike.
1. Howl At the Moon: Florida
For beginners, a fun and family-friendly adventure race is the Howl At the Moon Adventure Race, held in June in or around Orlando, Florida. This race offers a one-hour family race, a four-hour sport race, and a twelve-hour "elite" race for teams consisting of two or three members. Each race includes a mix of paddling, mountain biking, and hiking, with the "elite" race consisting of two hours of each activity in more difficult, upstream conditions.
2. Island Quest: Washington
In the slightly more intense category is Island Quest, which boasts both a 3-hour race and a 12-hour race, each of which encompass a variety of activities, including navigation, mountain biking, trekking, and kayaking. In the 3-hour version, which is the most appropriate for those that are new to adventure racing, teams are allowed from 1-4 people, and the course is staged with checkpoints in both of the disciplines. For those looking for a less competitive atmosphere, this race allows for teams to simply complete the course without hitting the checkpoints, making it ideal for racers of every style.
3. Wilderness Traverse:  Ontario
For more experienced racers, the epic team race Wilderness Traverse is a 24-hour trek covering almost 100 miles of terrain. Teams of three or four racers, each team is required to participate in challenges involving backcountry navigation, trekking, mountain biking, and canoeing.
4. Untamed New England: Maine
This team race is another advanced course, covering 200 miles over the span of four days of ongoing racing. Considered a top endurance race in the world of adventure racing, teams are required to navigate the 100-mile wilderness section of the Appalachian Trail, widely considered one of the most challenging sections. The course includes trekking, mountain biking, navigation, paddling, packrafting, orienteering relay, whitewater rafting, and rope courses.
5. Stubborn Mule: Wisconsin
Stubborn Mule is popular for its mix of land and navigation and the fact that it provides a 5-hour race as well as a 30-hour race for AR vets. The race allows for solo competitors as well as teams of up to four people, and involves road/mountain biking, hiking, and lake paddling. This is an excellent race for first-timers, as the race provides watercrafts (canoes and kayaks) for all competitors.
6. Bend-AR: Oregon
This notoriously secret race is kept under wraps until just before the race, but is always held in the vicinity of Bend, Oregon. Solo racers and teams of up to 4 are permitted, and the course incorporates mountain biking, whitewater paddling, trekking, orienteering, a ropes challenge, and backcountry navigation. For information on Bend-AR and other Oregon adventure races, check out Bend Racing's website.
---
This post was brought to you by Aftershokz, whose open ear headphones are the perfect pairing for your next AR. 
Bill Kimball, Aftershokz's COO shows off the Trekz Titanium open ear headphones to Kevin Long, The Dyrt's CEO at the Consumer Electronics Show (CES) in Las Vegas.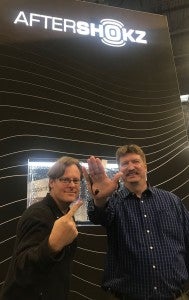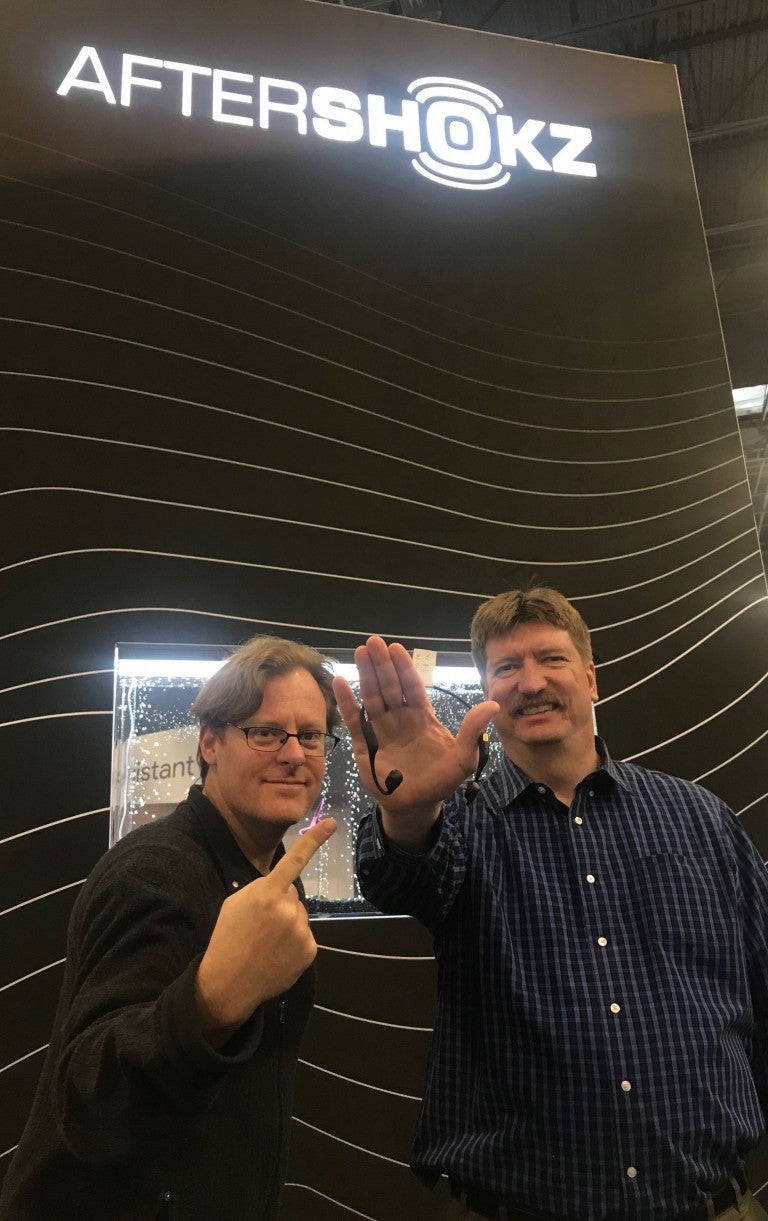 CES is the world's largest gathering place for all those who thrive on the business of consumer technologies. Check out the Trekz Titanium from Aftershokz here.
Popular Articles: