Oil leaking in your camp bin? Full ketchup bottle won't fit in the cooler? Humangear has a solution: the GoToob+. Their new and improved silicone travel bottles are perfect for taking the right amount of condiments, oil, or your favorite salad dressing to the campground.
---
We love a good camping recipe–one that satisfies the belly after a day of trekking and preferably, one that takes less than 30 minutes to cook. After years of hot dogs over the campfire and runny oatmeal at 8:00am, it's time to step up the camp food game. Humangear's line of silicone products make the entire experience worry free–you can chop, mix, and measure before heading to camp, without double and triple checking if your containers are leaking. Novel!
This easy Pad Thai recipe is equal parts delicious and quick. With most of the prep done before you even leave for camp, you'll spend less time cooking, and more time to elbow around the campfire, savoring a taste of Asia in the Badlands of South Dakota or The Ozarks of Missouri.
30-Minute Easy Pad Thai Camping Recipe
My husband and I tested this recipe at a dirt pullout in Mt. Hood National Forest. We left our camp stove at home, and decided to semi rough it with a campfire and dutch oven. Turns out, a dutch oven can do double duty as an iron skillet if it's the only piece of equipment you have.
In fact, we made Pad Thai at night, and dutch oven cinnamon rolls in the morning. When cooking with a dutch oven, you'll need a bed of coals to start. We used charcoal briquettes, and charcoal lighter fluid to get the briquettes nice and toasty. A layer of coals beneath the oven is ideal (roughly 14-16), and too many can lead to a burnt meal. Additionally, you can start an open fire in your fire ring and wait for a bed of coals to set the oven on.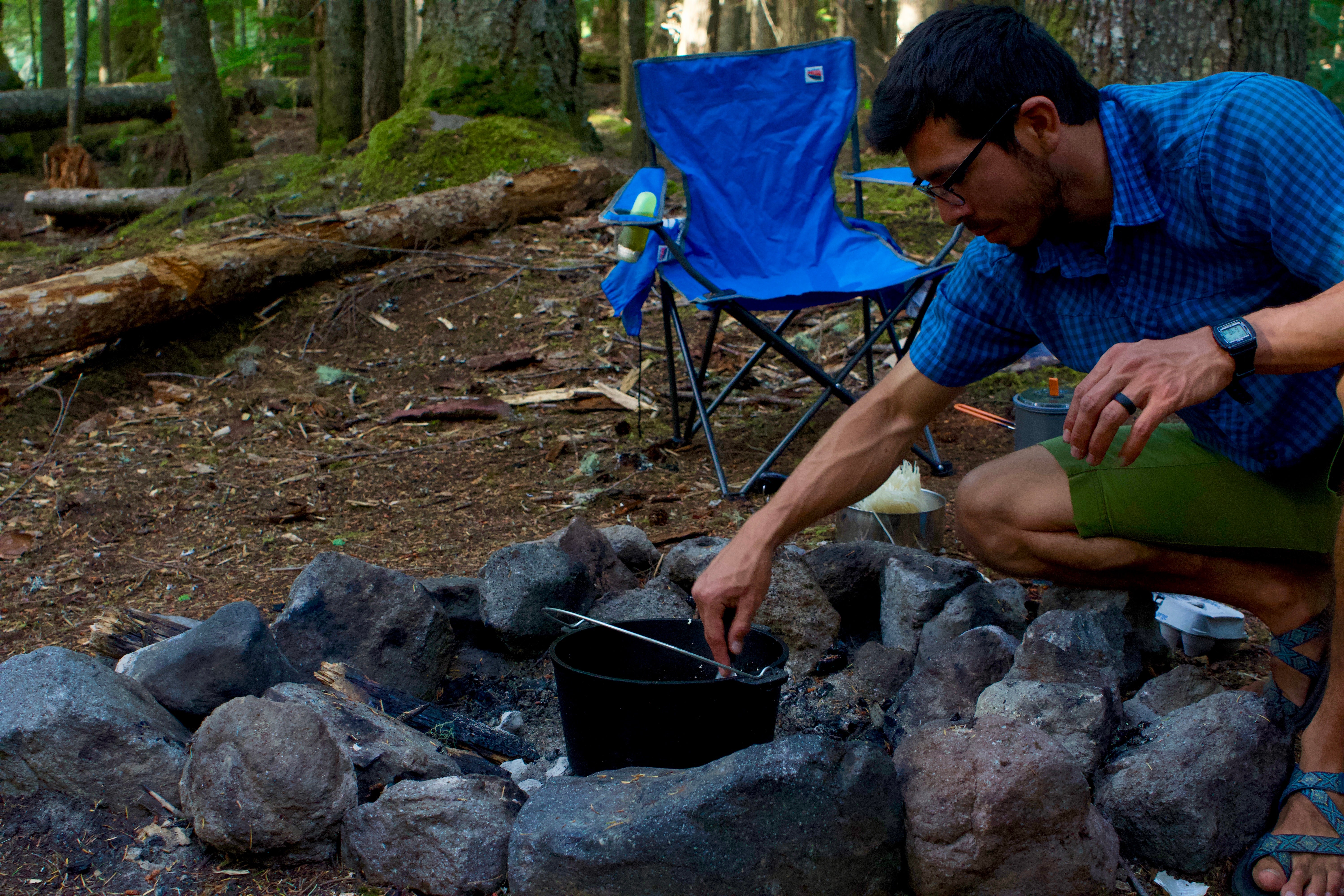 Between the two of us, this recipe took about 20 minutes start to finish. Technically, you could make this in one pot by cooking the noodles first, then move them to a separate dish until rejoining them with the onions and protein of your choice. Don't forget the garnishes! We tried to go a little too low-key when trying out this recipe, and while our dish was tasty, we missed the pop of green from cilantro and green onions.
Our Easy Pad Thai Camping Recipe:
*Adapted from Food & Wine Magazine
8 oz rice noodles
2 Tbsp fish sauce
3 Tbsp light brown sugar
1/4 cup fresh lime juice, plus wedges for serving
2 Thai bird chiles, stemmed and thinly sliced
1/4 cup + 1 tbs canola oil
3 large shallots, thinly sliced (1 cup)
3 large garlic cloves, minced
12 ounces shelled and deveined medium shrimp (can also use Chicken or Tofu)
2 large eggs, beaten
4 scallions, thinly sliced
Roasted peanuts, chopped cilantro and bean sprouts, for serving
*Serves 4
Directions:
Prepare the sauce ahead of time: mix fish sauce, brown sugar, chilis, and lime juice together and pour into humangear GoToob+
Dice onion and garlic and store in a humangear GoTubb
At camp, boil enough water to cover the noodles. Pour boiling water over rice noodles and let sit for 5 minutes
Add 3 tbsp oil to non-stick skillet on medium-high, and sauté onions and garlic, about 3 minutes
Shake the noodles a couple times to reduce excess moisture and add to the pan. Fry for 2 minutes
Add the shrimp, chicken, or tofu, and cook until heated through
Move noodles, shrimp, and onion over to one side of the pan and eggs to the other side. Cook until set, about 1 minute
Add fish sauce and scallions until entire mixture is coated
Remove from pan and add bean sprouts, peanuts, and cilantro. Serve with lime wedges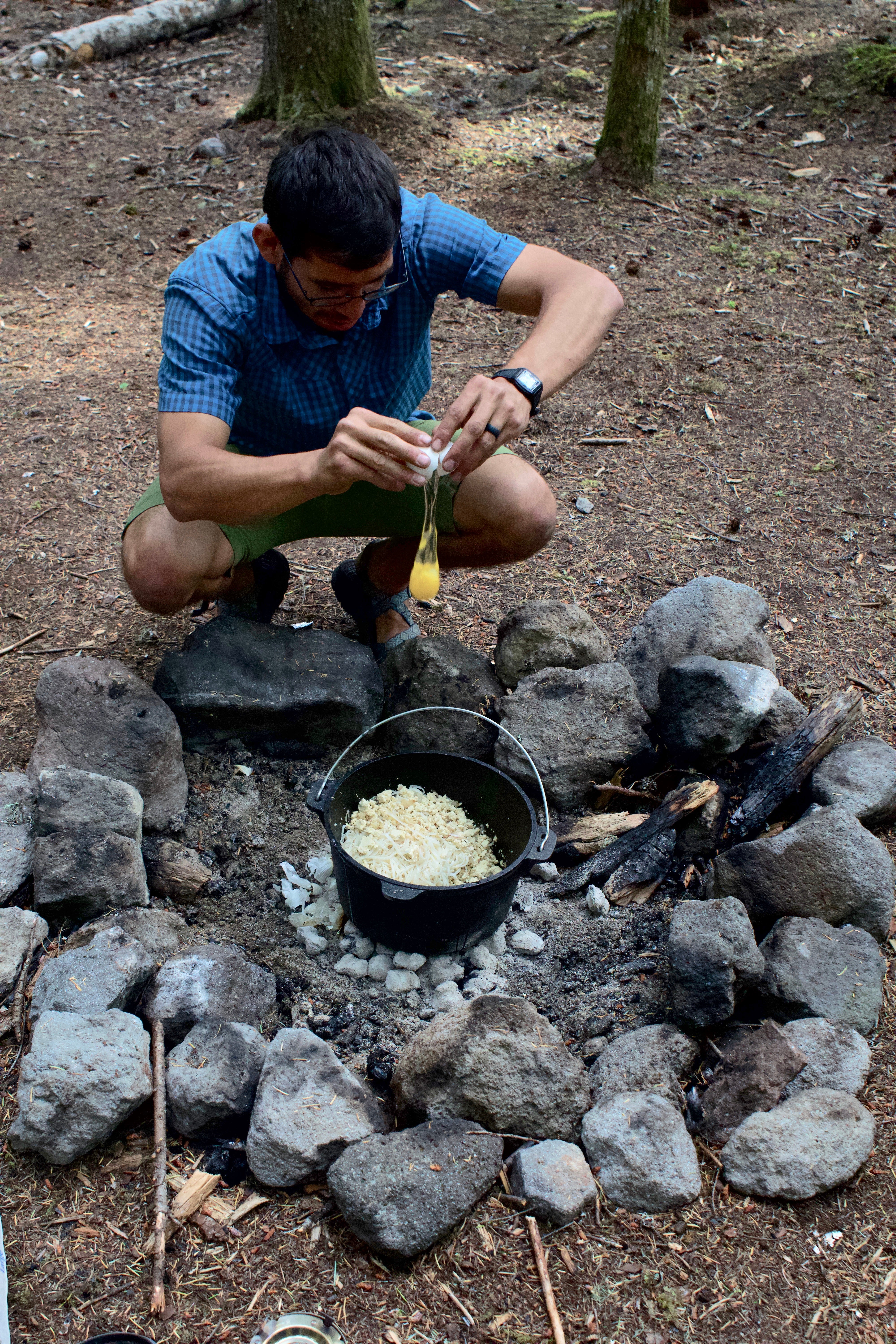 In total, this easy Pad Thai recipe requires a pan (or dutch oven), and a pot for boiling water. With such little prep, and low clean-up, this dish will easily become a go-to on your next camping trip!
Popular Articles: