Rivers and lakes are features that we often seek out when camping. It is nice to have a place to cool off and spend the day. But what about using the water as your trail? Enter: kayak camping.
Kayak camping is similar to backpacking. You are camping and exploring long distance. The difference is, you don't have to physically carry all of your weight on your back. Instead, you pack your kayak full of camping gear, and paddle away. You get the opportunity to enjoy the ebb and flow of the water, and explore places that might not be as easily accessible via a land route.
The Gear You Need for Your Next Kayak Camping Trip
There are still risks to using a waterway as your trail, but as long as you have the right gear, you can lower your risk, and increase your fun out on the water. With the help of my fellow Dyrt-bags, here's a gear list to ensure that you have a great time on your kayak camping adventure.
For the Water
The Kayak ($1,099)


You can't kayak camp without a kayak. Though, full disclosure, and probably not much of a surprise, boats are not cheap. Kayaks built for touring or camping are no different. However, they are well-worth the investment if you plan to camp with your kayak often. Wilderness Systems' Tsunami 125 is a kayak built for touring (long distance travel). This watercraft has two relatively large storage compartments, as well as bungies located on the top of the hull so you can tie extra cargo down. Whether you're planning to embark on the open ocean, local stream, mountain lakes, or winding rivers, this kayak can handle it. If you're just getting into kayak camping, and you aren't ready to invest in your own kayak yet, try renting one from your local gear store first. Buy Now: $1,099
---
Prepare for your next adventure by downloading maps. The Dyrt PRO lets you download maps and campgrounds without cell service. "My alternative to using pro would be to drive back out to cell service".
---
Kayak Paddle ($30)

No one wants to be up a creek, river, or lake without a paddle. This is why it's important to purchase a floating paddle for your kayak camping trip. The SeaSense X-1 kayak paddle is buoyant and affordable. You won't find a better paddle for this price. Regardless of how long your trip will be, don't forget to pack a spare paddle ($36) as well, in the event you lose your primary one. We're pretty sure that getting stuck in the middle of a lake isn't on your camping itinerary.You can easily store a spare paddle by bunging it on the kayak's deck. Buy Now: $30
Deck Compass ($55)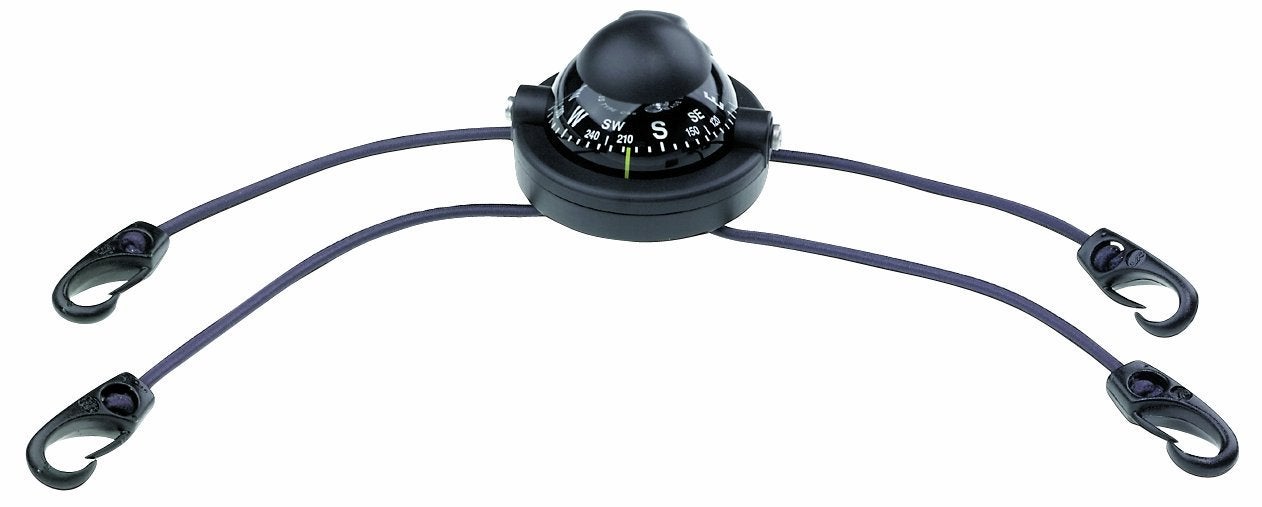 Whether you're backpacking on dry land or kayak camping on waterways, you need to have a keen sense of direction, and a compass is often the key to that. Brunton's kayak deck compass is waterproof and comes with straps so you can mount it on to your kayak deck. This is great to use on a foggy lake, a dim waterway, or if you're ocean kayaking. Buy Now: $55
Dry Pack ($135)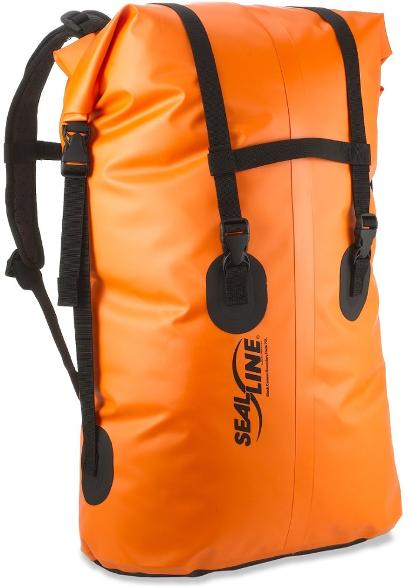 Dry clothing is a must on any camping trip. First, there's the safety aspect — you need to be dry to stay warm. Second, wet clothing sticks to your skin like salt-soaked seaweed. It's itchy, weighty, and most of all uncomfortable. A dry bag is an absolute must for kayak camping, and the SeaLine Black Canyon Boundary does not disappoint. Made with thermoplastic urethane encased nylon, this bag is perfect for long-distance paddling and camping. The straps also make it easy to transport when you're on land. Buy Now: $135
Bilge Pump ($27)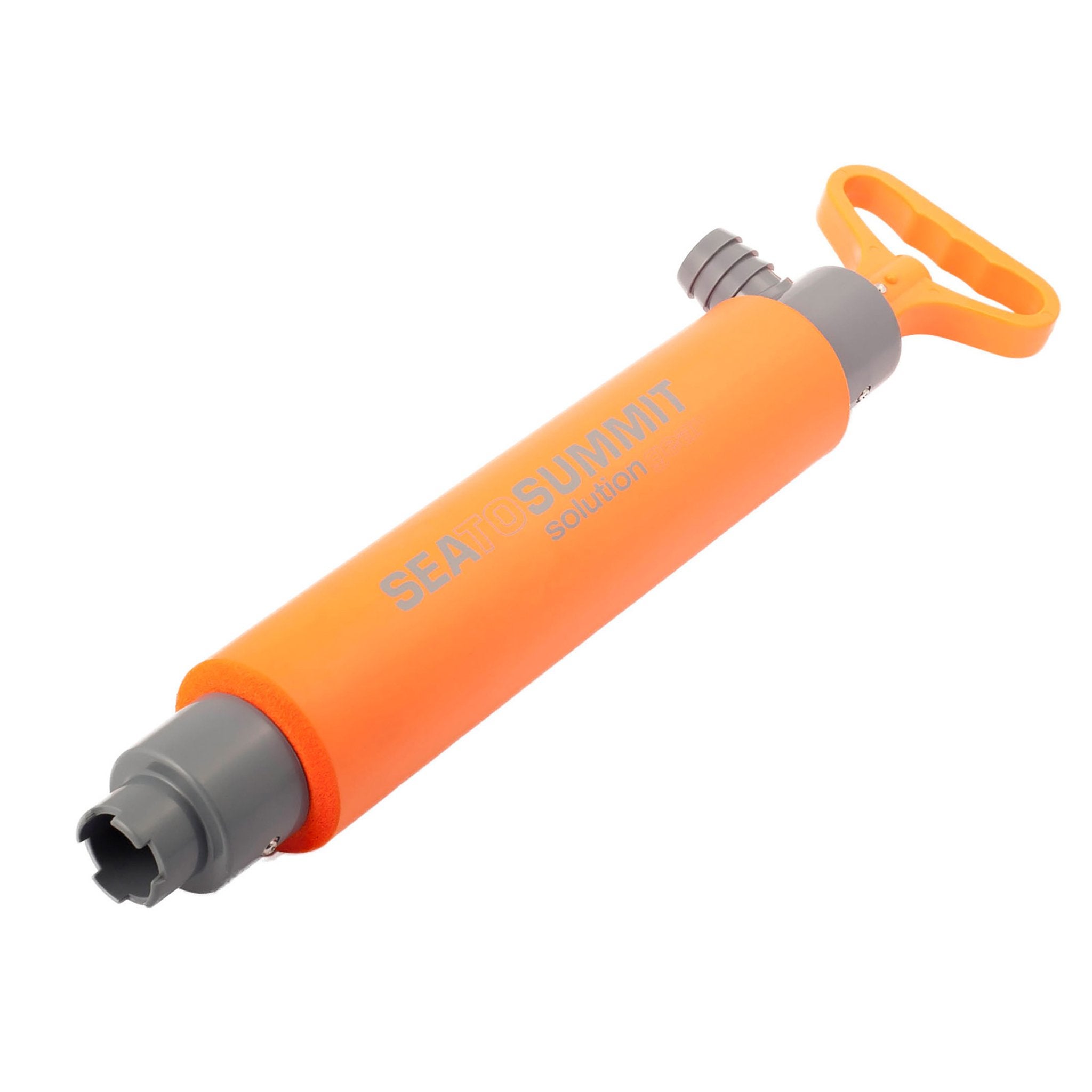 In harrowing tales of boats taking on too much water, (and yes, we're still sad about Rose and Jack in Titanic…) water in the hull is generally a bad thing. A swamped kayak can be uncomfortable, scary, and lead to a dangerous situation out on the water. Avoid that while kayak camping and get yourself a bilge pump. In kayaks and canoes, it can be quite common to get some water in the hull, given that the act of paddling can cause water to splash into the boat. This is why a bilge pump can be handy. Sea to Summit's Solution Bilge Pump can extract almost half a liter from your kayak with its double action pump. Buy Now: $27
Kayak Repair Kit ($12)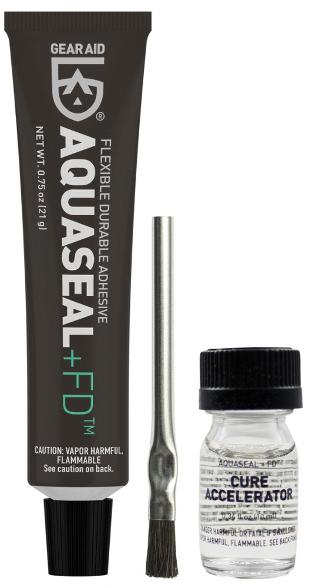 A bilge pump can help you bail out water, but it can't repair a crack or hole from an unforeseen river rock. Good repair kits can help you get out of some rocky (pun intended) situations and get home safely. You can build your own repair kit using replacement rudder parts, bungie cords, static cord, bailing wire, a multi-use tool, sealant, and duct tape. Most of these kit items can be found easily at a local gear shop. As for a sealant, we recommend Gear Aid Aquaseal to keep repairs airtight. Buy Now: $12
For the Campsite
Waterproof Headlamp $50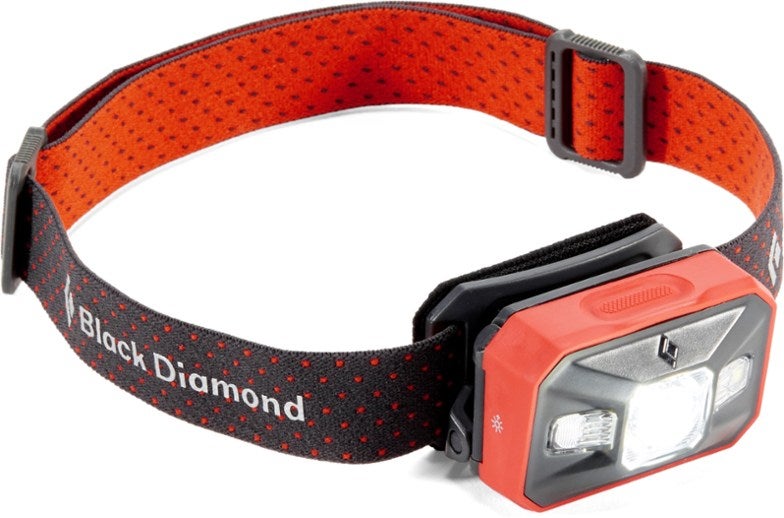 Most of the time, you kayak while the sun is out to play and head on land to set up your campsite before night rolls in. But just because the sun sets, doesn't mean the fun have to stop. Black Diamond's Storm Headlamp provides a bright beam to navigate the shoreline and the campsite. This headlamp is also waterproof, which is perfect for time spent paddling in the kayak. Buy Now: $50
Water Resistant Down Sleeping Bag ($299)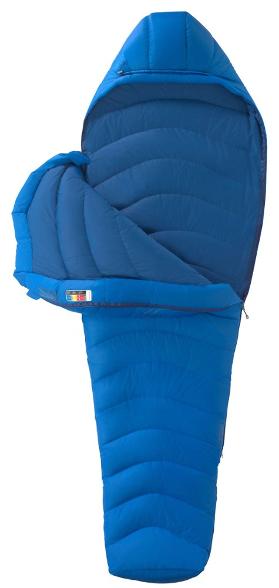 Wet sleeping bags are worse than wet blankets, that's why the Marmot Helium Down Sleeping Bag is ideal for packing down in the kayak, and sleeping in at the campsite. The outer nylon has a water resistant finish, and the goose down has a Down Defender treatment so its more likely to resist water in wet conditions (like a boat). Plus, it maintains its warmth while still being lightweight. You'll want to take this sleeping bag camping even if you're not kayaking. Buy Now: $299
Lightweight Sleeping Pad ($130)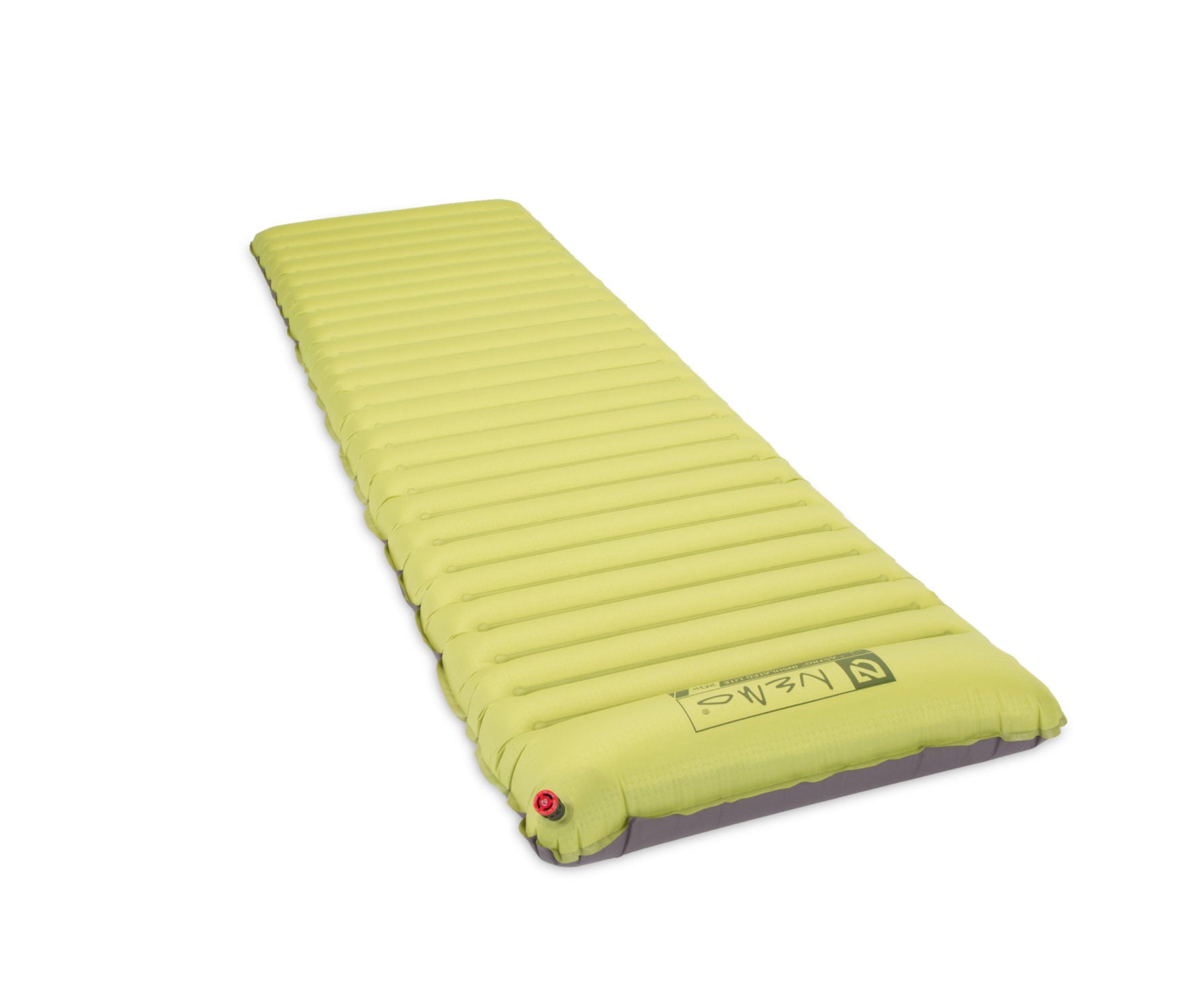 This sleeping pad is desirable for two reasons. First, it's lightweight while still being comfortable. Second, it can be used as a lake floaty — we're only half kidding. In all seriousness though, the Nemo Astro Lite Sleeping Pad comes with a built-in pillow, allowing you to pack one less thing. This sleeping pad also comes with a micro-adjust valve, which can help you reach your optimal inflation. With this pad, you'll be dry, warm, comfortable all night long. Buy Now: $130
Multi-purpose Tent ($150)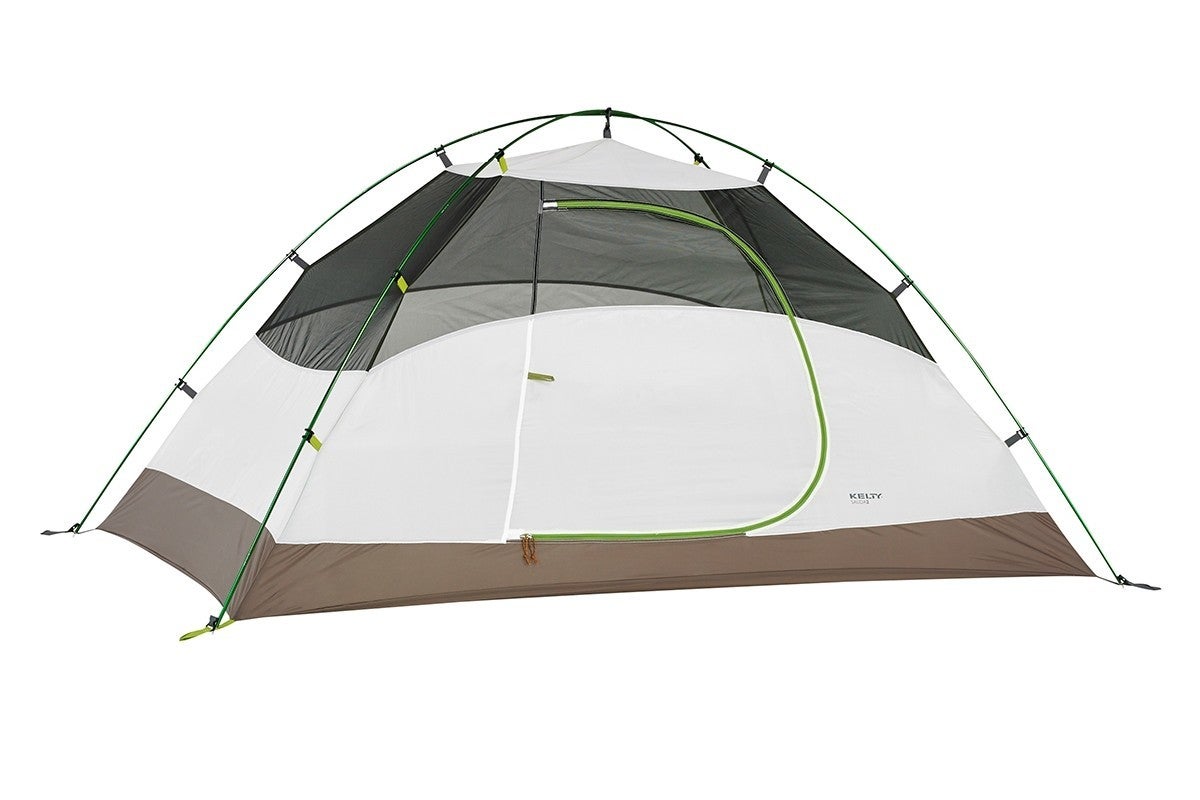 A good tent can serve you anywhere–especially when you're kayak camping. The Kelty Salida Tent is perfect for both the backcountry and for kayaking. It is easily packable, and so light you might forget about it altogether. This tent is ideal, whether you choose to kayak, backpack, or lay back and kick it at a campground. Buy Now: $150
Outdoor Water Filter ($40)
When you're on a kayak camping, you are surrounded by water. But it's not a wise idea to drink straight from the source. This micro-water filter is packable, simple, and essential for any backpacking or kayak camping trip. Given some space restrictions in a kayak, it's not always feasible to bring enough water for the trip. Renogy's water filter ensures that you will be able to hydrate safely, so you won't have to worry about giardia or cryptosporidium. This filter is designed for heavy use, so you can count on it lasting for plenty of kayaking, or backpacking trips, in the future. Buy Now: $40
Camping Stove ($115)
A full two-burner camping stove can be a little much to bring for a kayak camping trip. The Primus Lite+ is a sturdy and compact, all-in-one camping stove that is easy to pack, and can whip up really quick dishes. This stove is built more for the solo backpacker or kayak camper, so if you want to share a stove, check out the Lite XL camping cookstove. Buy Now: $115
Food Utensils ($3)
Unless you plan to get your hands real dirty, you probably want to pack some utensils. That way, you can enjoy your camp cooking without the mess. GoBites can go from your home, into the backcountry, or to your kayak. They are versatile, BPA-free, and have a lifetime warranty. That means you can twirl endless amounts of spaghetti, right? Buy Now: $3
Soft-Sided Dry Bag Backpack Cooler ($100)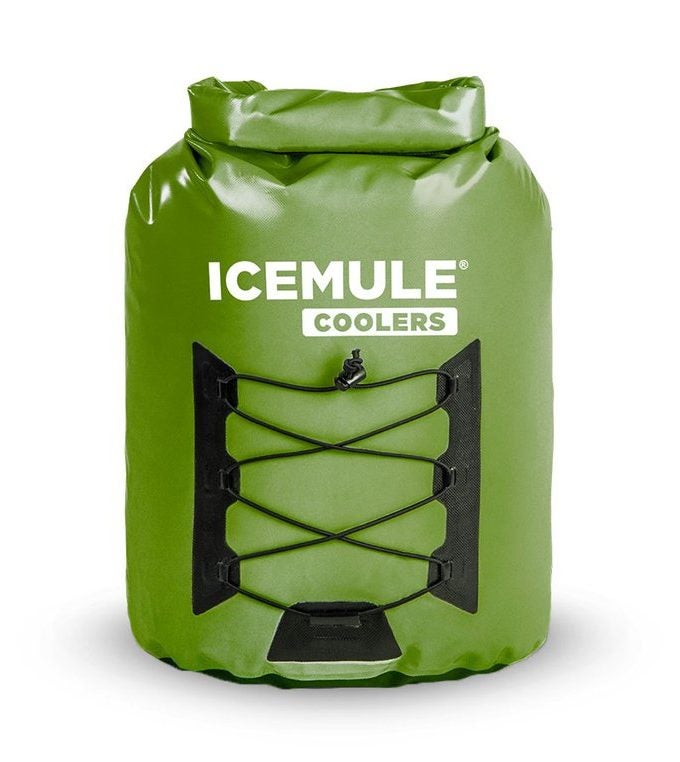 Coolers aren't always the most mobile cargo, but it's vital that you keep your perishables cold if you're not opting for freeze-dried meals throughout your camping trip. The ICEMULE Pro backpack cooler is a handy backpack cooler that keeps your delicious food fresh, and you can just toss it on your back when you portage or hike to your campground. So, if you can manage the weight, don't forget to pack the beers. Buy Now: $100
Water Resistant Duffel ($120)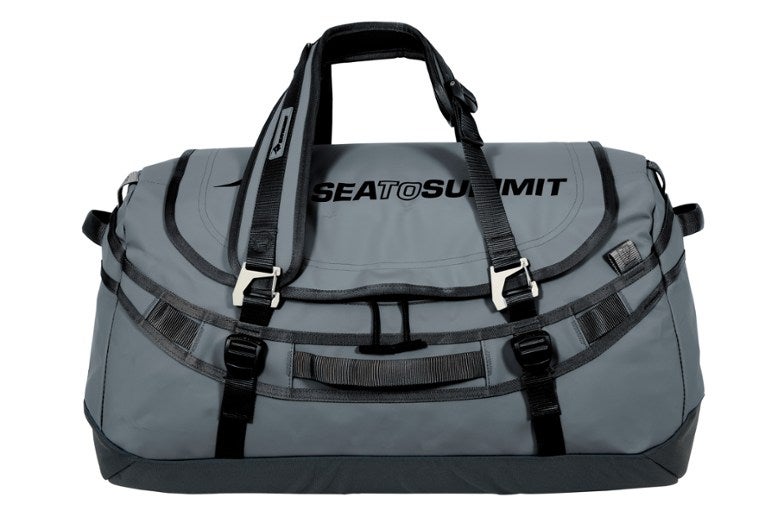 Whether backpacking or kayak camping, no one wants to get their clothes wet–though in kayaking, it's a real cause for concern. This Sea to Summit duffel is perfect for kayak camping thanks to the waterproof material (though the zipper is not, so hopefully you and your cargo won't be taking a swim). You can convert it into a backpack, too, which will make it easier to portage with your kayak and cargo. If you're really getting after it on a river trip, and are concerned with water seepage, check out YETI's Panga 75L Submersible Duffel, which is completely waterproof. Buy Now: $120
For Your Safety
Paddle-Friendly PFD ($55)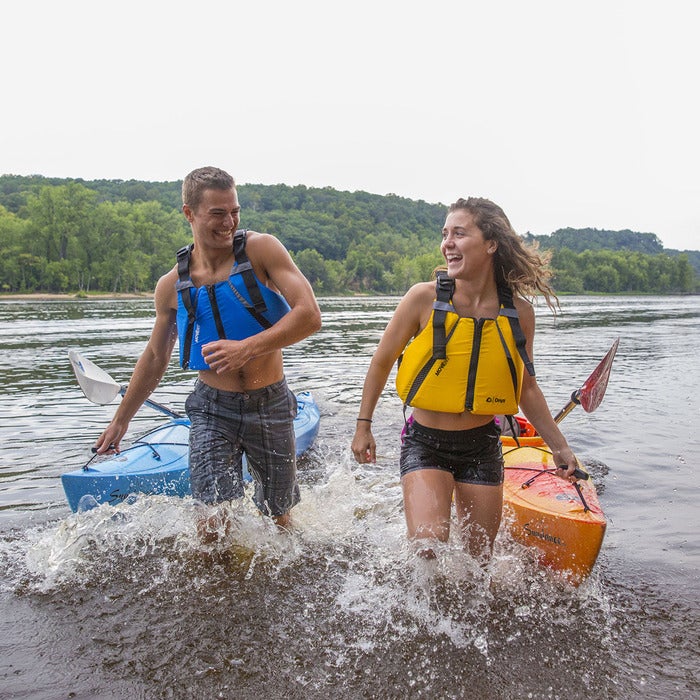 If you're kayaking or canoeing on any type of water-way, you need a personal flotation device to ensure your safety. The Onyx MoveVent Curve Vest is made with the kayaker in mind, as it provides breathable mesh in the back so you don't get too hot against the seat. It's soft, lightweight, and flexible, which ensures that you're comfortable, while staying safe– which is what really matters. Buy Now: $55
Waterproof First Aid Kit ($50)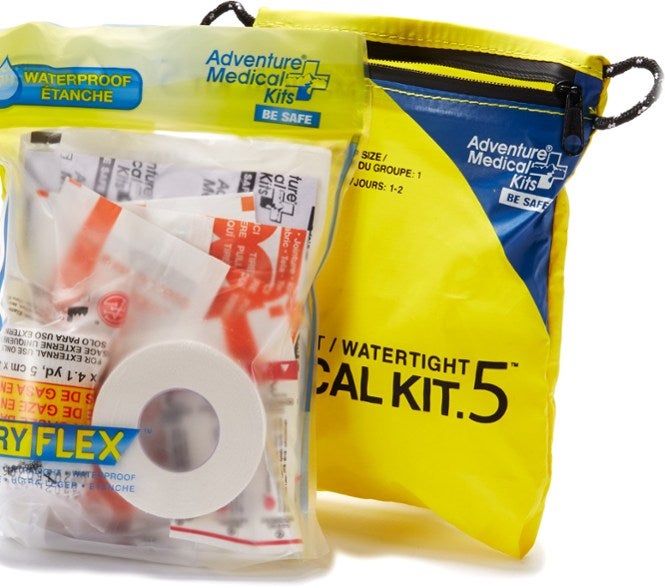 No matter what kind of hiking, camping, or backpacking you do, you should always carry a first aid kit. After all, you never know when something unexpected will happen. Most first aid kits should cover the basics: bandages, gauze, topical cream, and various medication. We recommend Adventure Medical Kits UltraLight / Watertight .5 First-Aid Kit. It comes with a waterproof case, which is perfect for days spent on the water. Buy Now: $50
Rescue Signal ($261)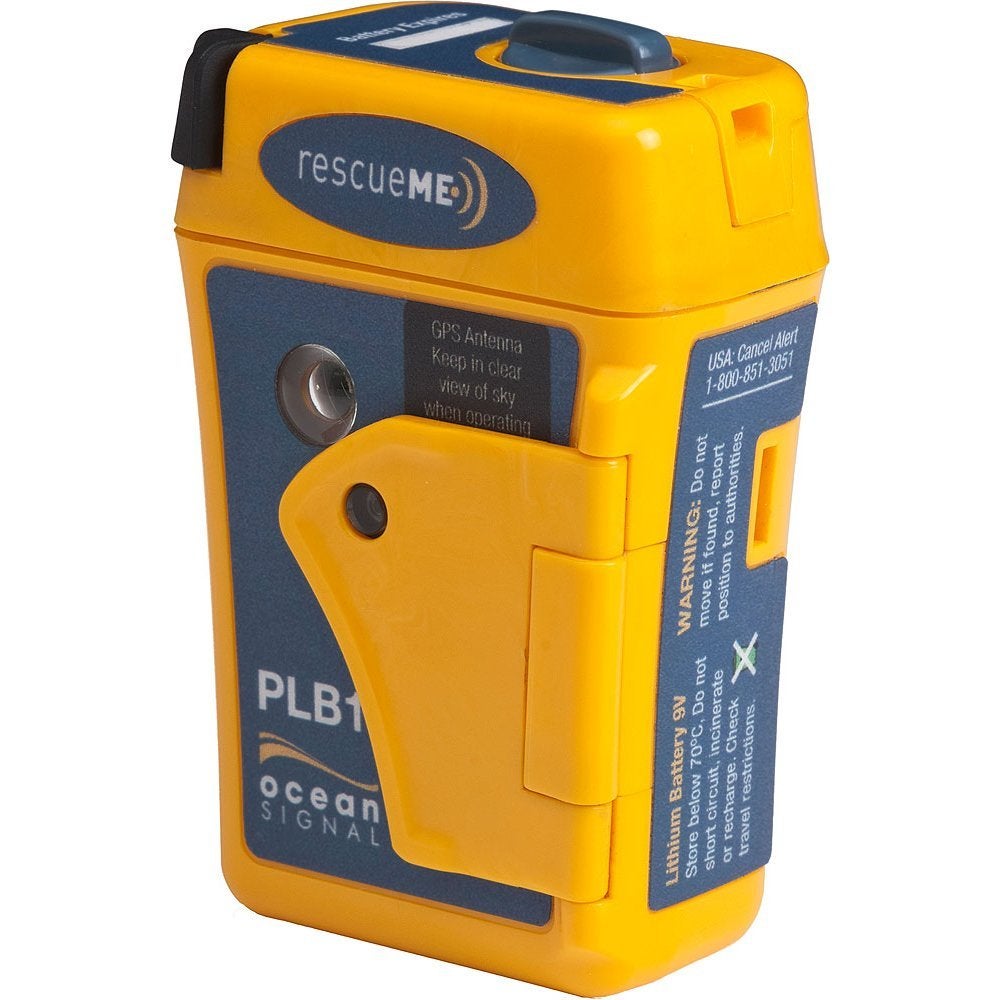 Situations sometimes come up when you need outside help, and you need it fast. A personal locator beacon can help you or a friend contact help even if cell service is not available. The Ocean Signal rescueME PLB1 has an emergency button that you can press if a situation is dire, and a signal will be sent via satellite to a rescue crew with your location. This PLB also floats–making it ideal for marine environments. The rescueME PLB1 is purely for SOS signals and does not enable two-way messaging. If you want the ability to message others, consider the Garmin Inreach Explorer+ at a much heftier price. Buy Now: $261
Knife ($45)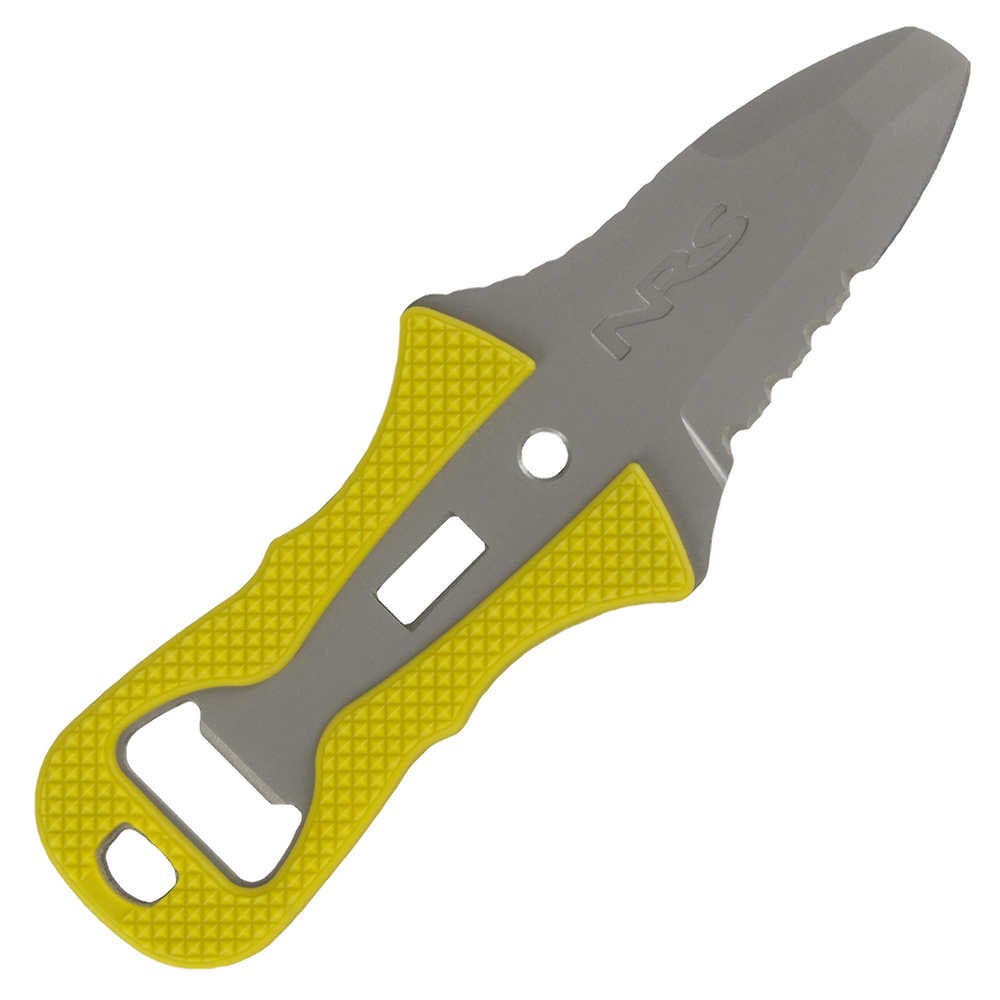 While a personal flotation device is a likely choice for safety, a paddling knife can easily go overlooked if you're not a seasoned kayaker. Especially if you are participating in a river trip, a paddling knife is crucial. You never know if  a situation might come up where you have to cut yourself away from your kayak. The NRS Co-Pilot Knife can clip onto your PFD with ease, and has two blunt sides, ensuring that you don't get injured if you're in a bind. The sharp side is serrated, so that you can cut through anything. If you plan to ocean kayak, be sure to get the titanium version so rust won't be a problem. Buy Now: $45
Walkie Talkies ($70)
If you're kayak camping with friends in a remote area, there is a chance that you might get separated on or off the water. Midland's X-TALKER T61VP3 walkie talkie can help you stay connected with your fellow kayak campers. These walkie talkies can also alert you and your party to what kind of weather might be rolling in. Buy Now: $70
Sunscreen ($36)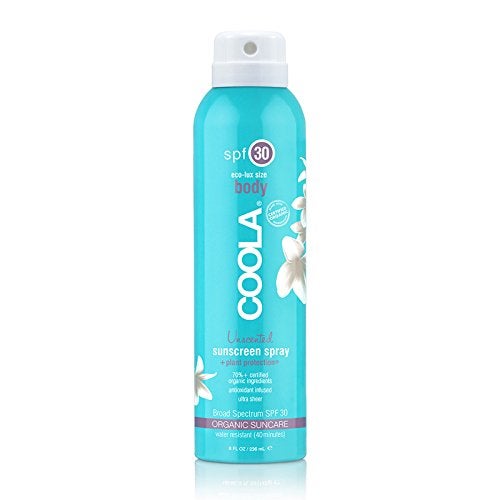 Plain and simple: UV rays are dangerous and being sunburned can ruin a camping trip. Lather up! COOLA Sport Continuous Spray keeps the grease off your hands, has a high SPF, and works while you sweat. Buy Now: $36
For Your Body
Rash Guard ($78)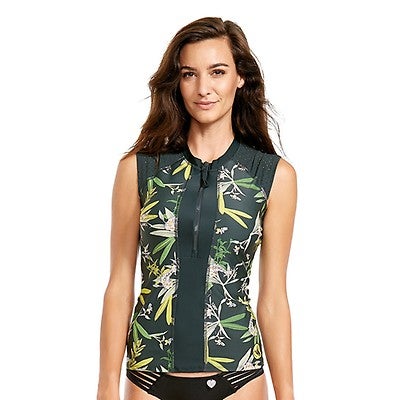 Though it might be the first thing that comes to mind, your bathing suit isn't always the most practical item for a kayak camping trip. We definitely understand that you want to wear something that can easily get wet and dry off quickly. Body Glove's Guava Exhale Rashguard is a great compromise–you can get wet, stay stylish, and be protected from the sun while you're paddling. They offer a men's version, too. Buy Now: $78
Rain Jacket ($189)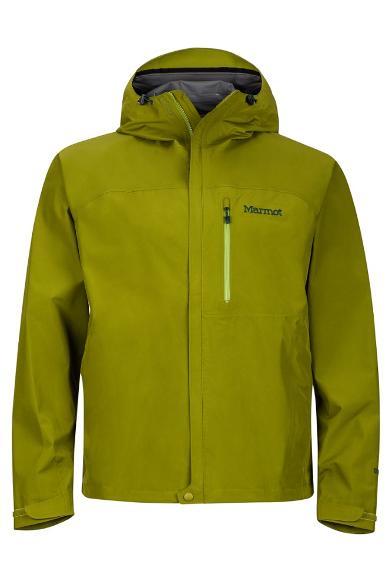 You should always prepare for a chance of rain in the forecast. Some places this might be less likely, like Death Valley, but you know what we mean. Being on or by the water means you can easily run into a rain storm that was not expected. The Marmot Minimalist Rain Jacket is great for staying active in the rain thanks to the waterproof, breathable shell. This rain shell is also perfect for backpacking given that it's lightweight and tailored for movement. Don't forget the Marmot Minimalist Pants for a full set. Buy Now: $189
Water Shoes ($80)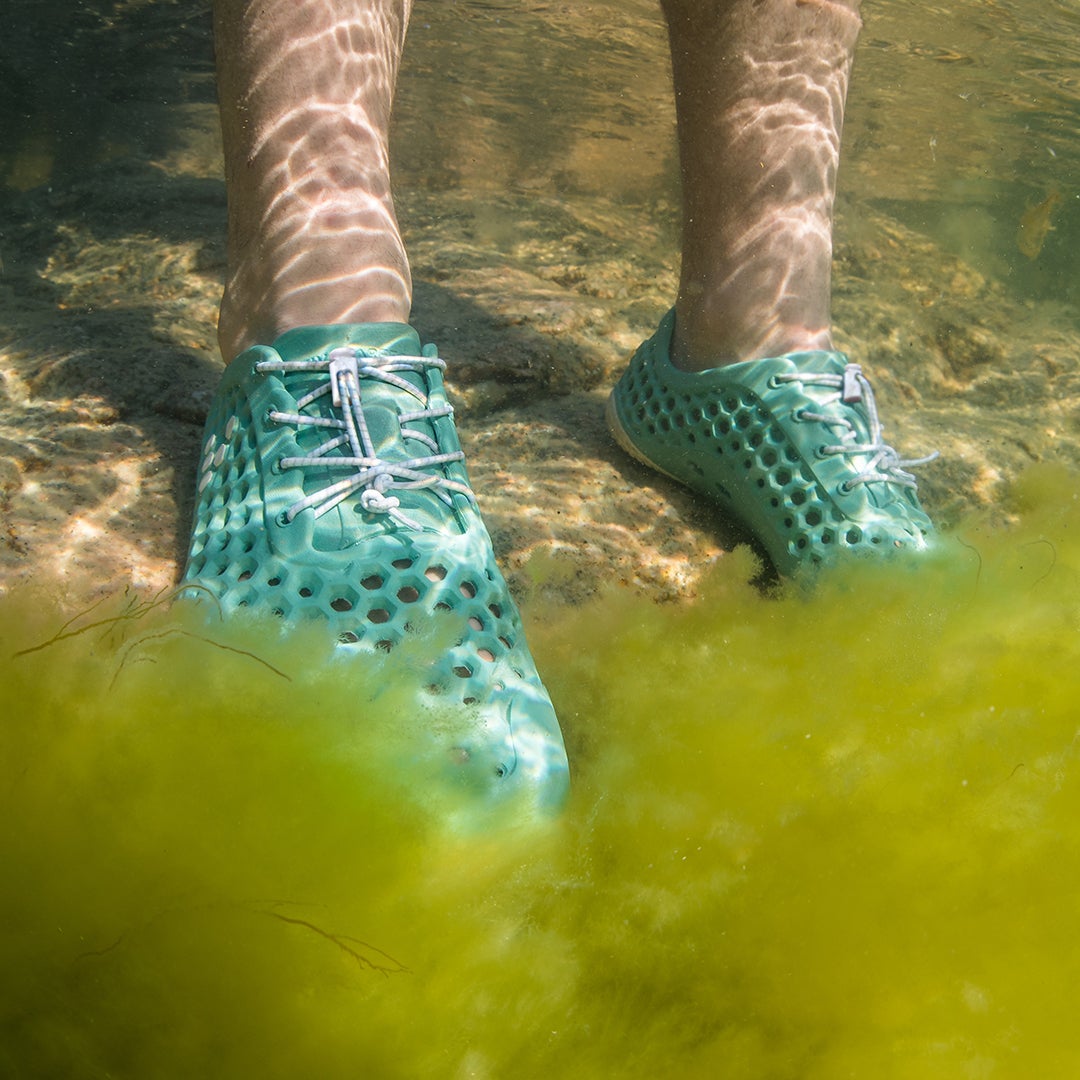 Hiking might be on your itinerary when you get to your campsite, but a lot of your time will be spent in your kayak or around the water. It's important to have a comfortable, waterproof shoe that can transitions from land to sea. Vivobarefoot's Ultra 3 Bloom is flexible and has great traction when they are wet or dry. These amphibious shoes are made using an algae, which also contributes to their sustainability, so you can feel good while wearing them. Buy Now: $80
Adventure Hat ($39)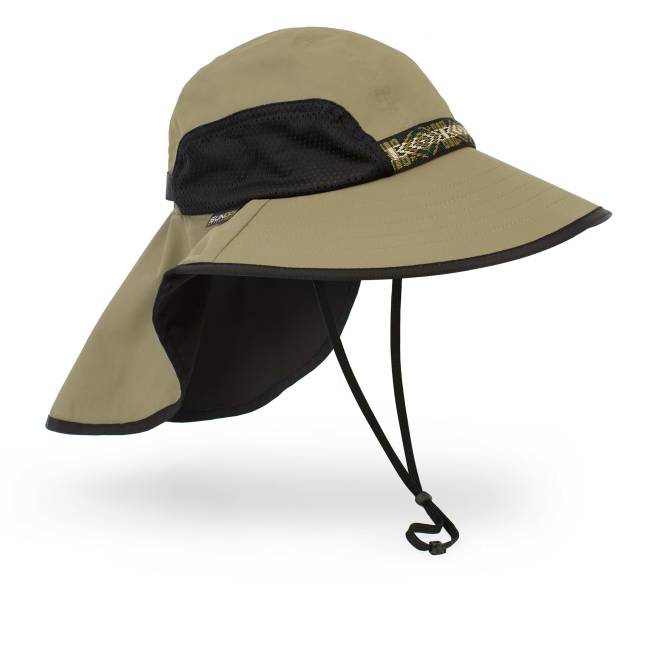 We've covered that sun protection is super important. A hat can also help protect you from strong UV rays. The Sunday Afternoons Adventure Hat has a four inch brim, and a flap back to keep you protected. It is also made out of lightweight material, so it is comfortable to wear. The best part of this hat for kayak camping? It floats. So if a gust of wind catches it, you won't be in need of a replacement. Buy Now: $39
---
You can win free gear from Brunton and 19 other outdoor brands by reviewing campgrounds on The Dyrt. Share past camping experiences, photos, and videos to earn points towards monthly prizes in The 2018 Great Camping Giveaway!
Popular Articles: