This roundup of year-round state parks is brought to you by Midland – they are the industry leader in walkie talkies, two-way radios, and weather radios. Their products keep you connected and safe, no matter where your travels take you.
---
The sprawling network of state parks across the country are often overshadowed by their national park siblings. However, that didn't stop state parks from receiving 807 million visitors in 2017, versus 330 million for national parks. And with an incredible 8,565 total state park areas to choose from, us Americans are truly spoiled for choice.
But now that winter has officially arrived, we wanted to take a moment to remind you that some of the best state parks in the country remain open to visitors all year! Whether or not you're in winter sport, cold weather warrior or a sun-only outdoorsman—this list has something for you. So fight off those winter blues, and stay active this holiday season at any of these outstanding year-round state parks.
10 Popular State Parks That Are Open Year-Round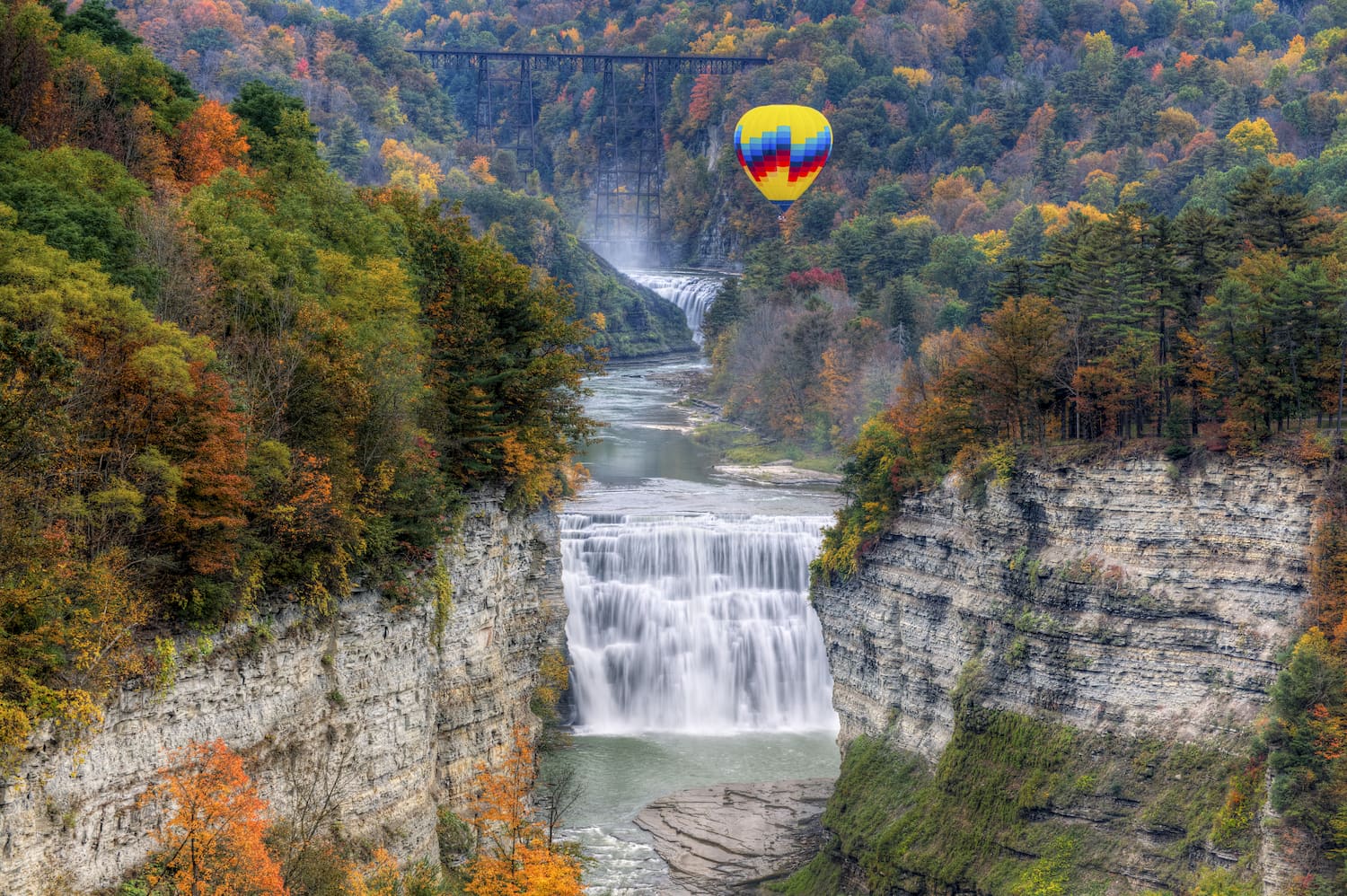 Not to be outdone by the previous entry, Letchworth State Park has long held the moniker of the "Grand Canyon of the East". This well-earned reputation was inspired by the park's scenic 17-mile stretch of land, which straddles the Genesee River. Letchworth's 14,000 acres in western New York are covered in deep river valleys and dense forests.
Winters in this part of the country can be trying, but if you're the type to seek out winter camping in year-round state parks, then Letchworth has a variety of winter activities waiting for you. There are 66-miles of hiking trails you can enjoy year-round, some of which take you right to the edge of the gorge's 550-foot rock walls. Plus, once the snow starts falling, other winter activities like snowmobiling, cross-country skiing, snowshoeing, and even horse-drawn sleigh rides become available to visitors.
There's also tons of camping options for visitors. Letchworth is home to 270 tent, trailer, and RV camping sites, which are spread over eight different loops. All campsites come with electrical hookups, and the campground itself has amenities like flushing toilets, hot showers, recycling stations, RV dump station, several picnic areas, playgrounds, swimming pool, sports fields, and a nature center.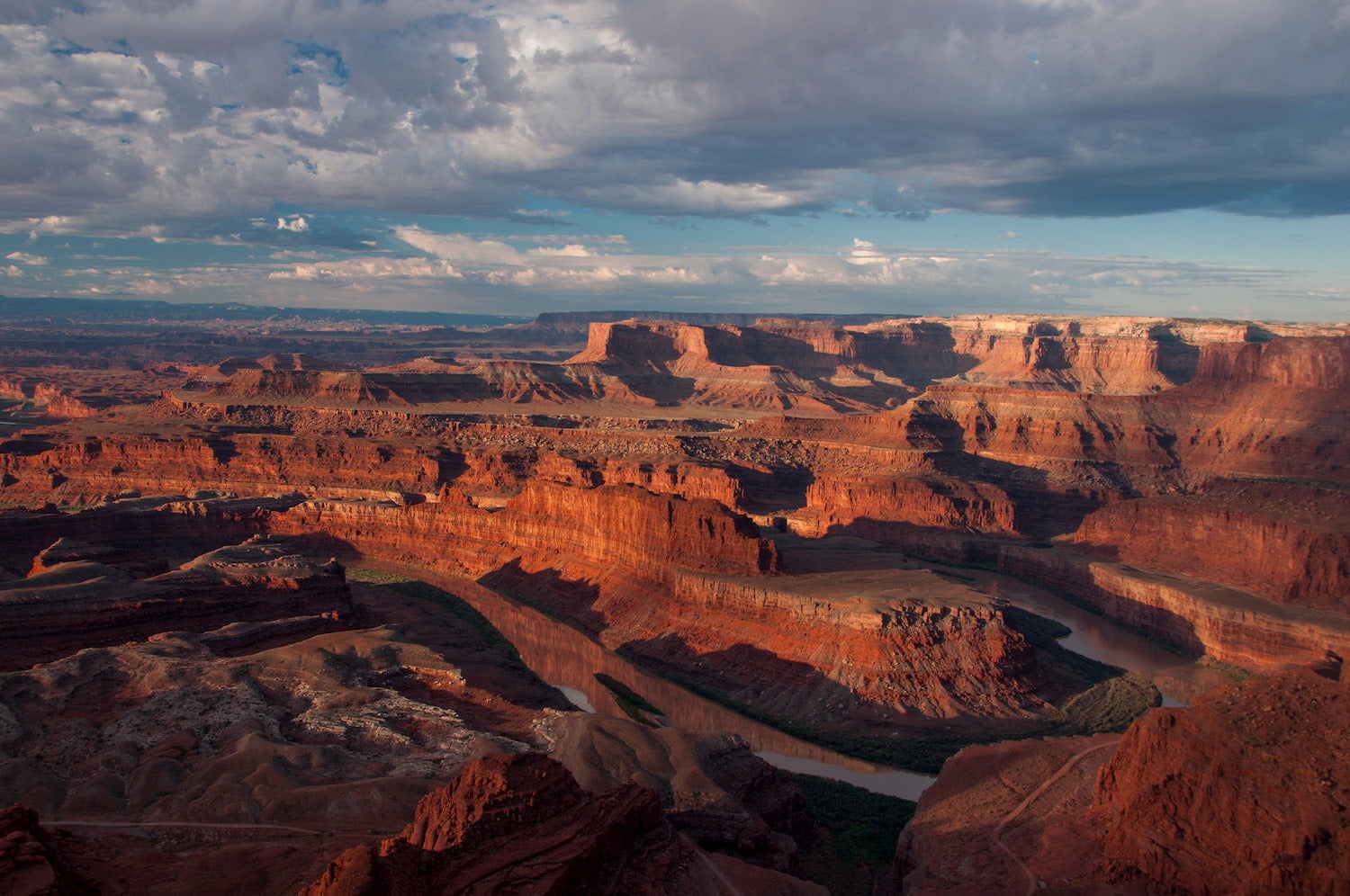 If you could piece together a pastiche of Arizona's top natural destinations, but put it in Utah, you'd almost certainly end up with something similar to Dead Horse Point State Park. This picturesque Utah destination is nestled between Arches National Park and Canyonlands National Park, in the southeast portion of the state. At more than a mile above sea level, and 2,000 feet straight down to the Colorado River, Dead Horse Point offers absolutely staggering views of the surrounding canyon-covered landscape. The eight overlooks that dot the canyon rim are connected by a seven-mile hiking trail that is dog-friendly and relatively easy for all skill levels.
There are 21 campsites available for either tent or RV camping. Each site has a covered (2-walled) shelter with a picnic table, a lockable cabinet, fire ring, designated tent pad, and electrical hookups. The campground also has four pull-thru RV sites, with the remaining sites having large, 40-70 foot, parking spots. Additionally, there are five "Moenkopi" yurts on the property, for a seriously comfortable camping experience in the middle of the desert. Each yurt can sleep six people, in the form of a bunk bed with a queen mattress on bottom, a full mattress on top, and a separate pullout futon couch. The yurts also have an outdoor propane grill (propane provided by the park), large tables inside and out, plus heating, air conditioning, and electrical outlets.
Disregard any feelings of deja vu during this introduction to Palo Duro Canyon State Park. Because, as the "Grand Canyon of Texas," Palo Duro Canyon takes exception to all other Grand Canyon imitators. And to be honest, they have a compelling argument. As the second-largest canyon in the United States, Palo Duro Canyon is the jewel of the Texas Panhandle.
Visitors can explore the canyon from more than 30-miles of hiking, biking, and horseback riding trails. Plus there's an incredible 1,500 acres specifically designated for horseback riding. Yet that makes up just a fraction of the park's 27,000 total acres. Campers are able to choose from a total of 111 campsites across the park, 97 of which have electricity, another 12 are primitive or for tent-only camping, and the two remaining sites are for large groups of up to 32 or 72 people, respectively.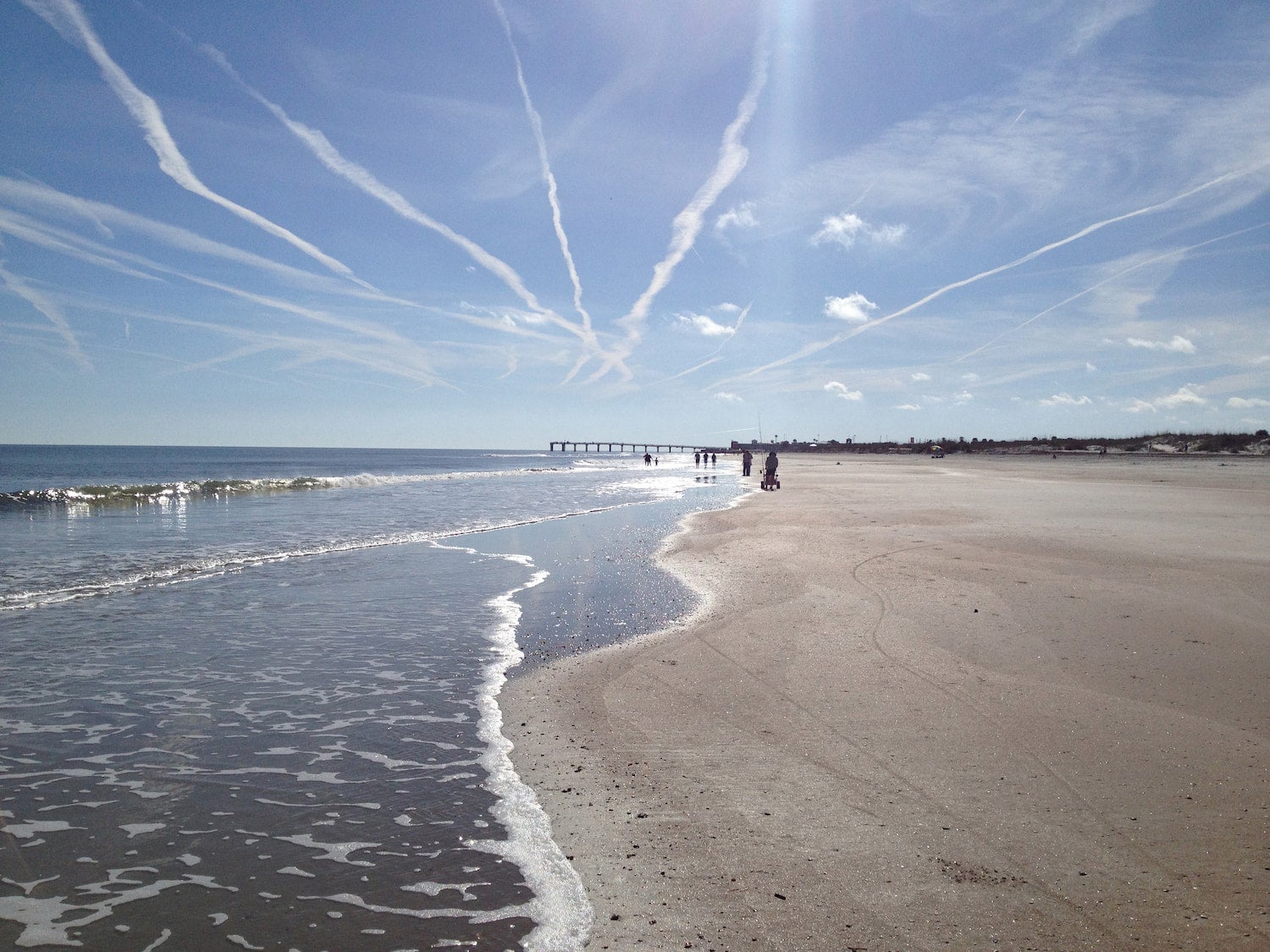 In the northeast corner of Florida, Anastasia Island rests as a 14-mile long barrier island, where you'll find the 1,600 acres that make up Anastasia State Park. Renowned for its pristine white sand beaches and tidal marshes, this relaxed beachfront park is a great escape from the cold, winter weather elsewhere in the country. A haven for bird-watchers, beach-combers, or anyone looking to ride out winter weather in a year-round state park.
With 139 campsites just a short walk from the beach, this year-round state park offers visitors great kayaking, canoeing, fishing, surfing, and hiking opportunities 365 days a year. Average winter temperatures hover around 70°F, which means there's no off-season for outdoor activities on Anastasia Island. This is a state park that has a true "getaway" feel to it, and it's a perfect place to warm your bones during the coldest months of the year.
At more than 3,000 acres, Cloudland Canyon is one of Georgia's largest state parks open year-round. Sitting in the far northwest corner of the state, Cloudland Canyon is less than 20-miles from the Alabama and Tennessee state lines. The park also neighbors Lookout Mountain, which is a hub of climbing, rappelling, and spelunking spots. Sitton Gulch Creek has carved a 1,000-foot gorge in the mountain, making it, and the several nearby waterfalls, a sight to see.
The park is also covered in a network of hiking, biking, and horseback riding trails. There's a variety of lodging opportunities too; including 72 tent and RV sites, 30 walk-in sites, 13 dispersed sites, 16 cottages, and 10 yurts! No matter what activities you want to do or how you prefer to camp, Cloudland Canyon has you covered.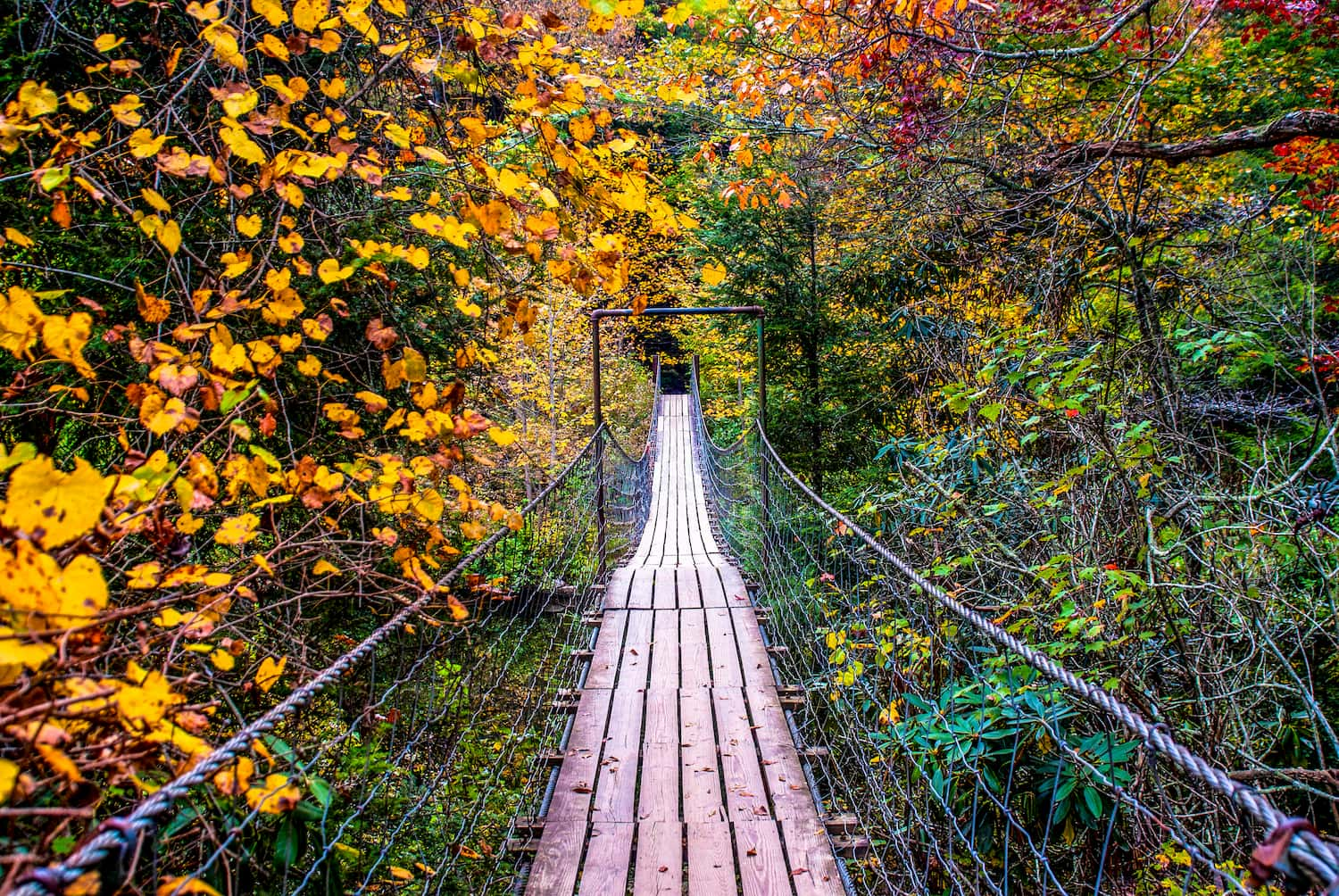 Fall Creek Falls State Park is Tennessee's largest and one of its most visited state parks. At nearly 30,000 acres, this park is covered in forests, waterfalls, streams, and gorges, with tons of activities throughout, available year round. One of the best ways to explore this sprawling area is to utilize the more than 56 miles of multi-purpose trails throughout the park. It's also seriously camping friendly with 222 campsites and 30 cabins spread across the landscape.
Don't forget to visit the waterfall that shares its name with the park itself, Fall Creek Falls. The 256-foot drop makes it one of the highest waterfalls in the eastern United States. And for the thrill seekers, we recommend you check out The Canopy Challenge Course that lies within the state park. It has zip lines, rope swings, cargo nets, balance beams, and more than 75 wobbly bridges to get some adrenaline flowing.
Just a one-hour drive from Las Vegas, the aptly named Valley of Fire State Park couldn't feel more distant from the bustling energy of the Vegas strip. The 42,000 acres of this desert state park are renowned for the gorgeous red sandstone rocks that cover the landscape. Sunsets here are particularly awe-inspiring, as the rocks appear to glow an incandescent, fiery red when the setting sun reflects off of them. And even though temperatures can drop into the low-30s during the coldest winter months, the daytime weather almost always remains dry, and rarely sinks below 60 degrees.
In fact, the winter may actually be one of the best times to visit the Valley of Fire, because for nearly six straight months the high temperatures regularly reach or exceed triple digits. Within the state park you'll find two campgrounds with a combined total of 72 campsites to choose from. The RV sites even have electric and water hookups; quite a luxury in the middle of the Nevada desert!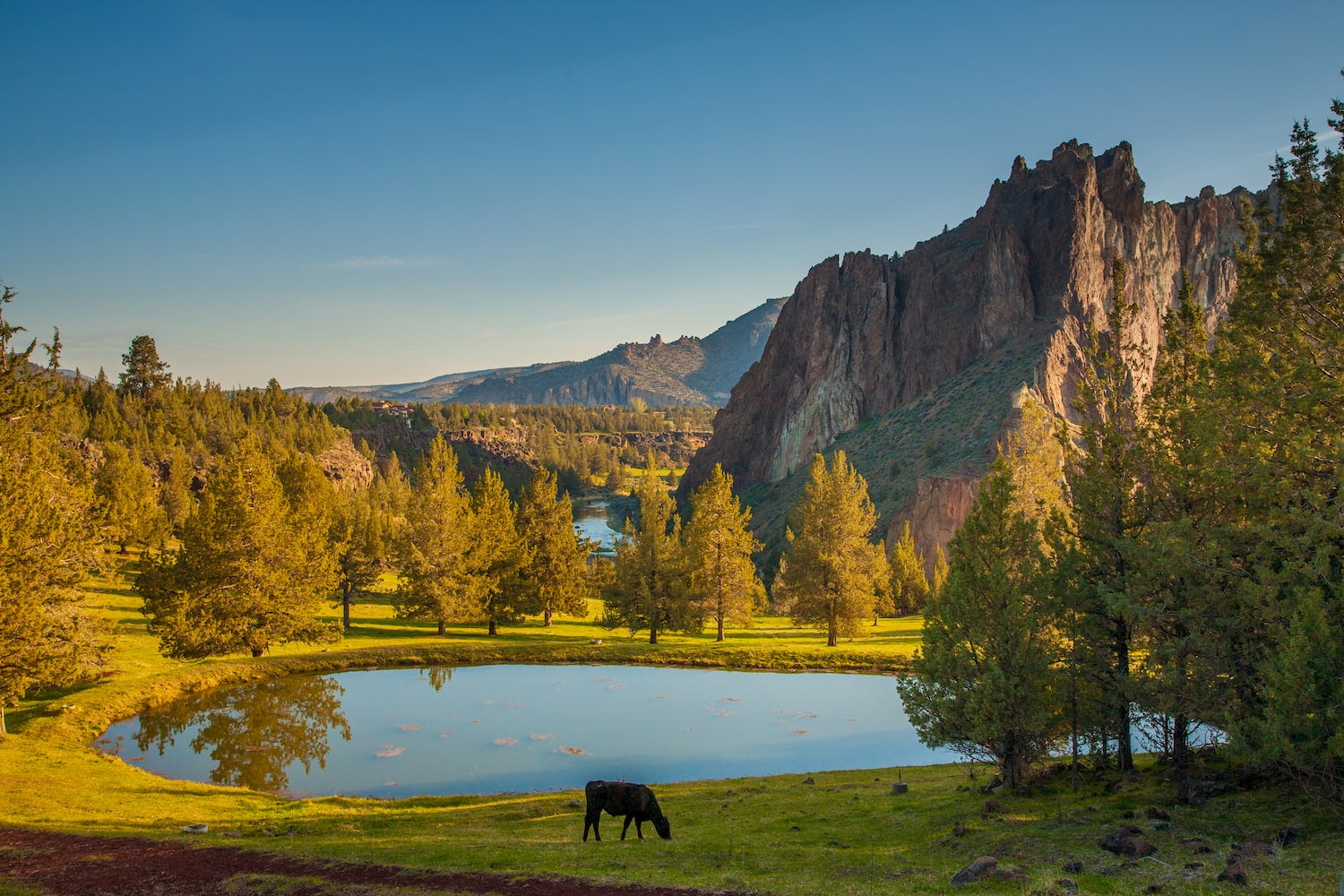 Smith Rock State Park is downright puny compared to some of the other parks on this list. At just 650 acres, Smith Rock's diminutive size doesn't hold it back from being one of the most famous rock climbing destinations anywhere in the country. There are "several thousand" known climbing routes in the park, with more than a thousand of them being "bolted" routes. If you're a hardcore climber, this year-round state park offers what you're looking for.
While the climbing alone is worth the trip, it's the views from the top that make this state park so beloved. The remarkable scenery is highlighted by the Crooked River, as it winds through deep canyons of volcanic basalt rock. After seeing pictures of Smith Rock and it's 600-foot sheer cliffs, you'll understand why nearly 800,000 people visit this state park each year!
Check out Skull Hollow Campground, a few miles outside of Smith Rock, for some of the area's best camping. Skull Hollow has 28 standard campsites, some of which are large enough to accompany small travel trailers, but larger RVs will want to look elsewhere. The minimalist campground has a picnic table and a fire ring/grill combo at each site. There are two vault outhouses on-site, but no utility hookups or drinking water available. The town of Terrebonne is just a few miles down the road, so you can easily restock on drinking water and food supplies there when necessary.
Wisconsin's largest state park has plenty to boast about. The 360-acre lake that gives the park its name, is just one of the highlights. There's also the stunning 500-foot quartzite bluffs, the 30+ miles of hiking trails, four miles of mountain biking trails, two miles of paved bicycle trails, dozens of rock climbing spots, two sandy beaches, and tons of water activities on the lake. And the fun doesn't stop when winter rolls in. Cold weather activities include cross-country skiing, snowshoeing, ice fishing, dog sledding, and more. And perhaps most impressively of all, Devil's Lake State Park has three expansive campgrounds with a combined total of 423 available campsites. So, whether you're an RVer or a tent camper, you'll have a wealth of year-round options to choose from.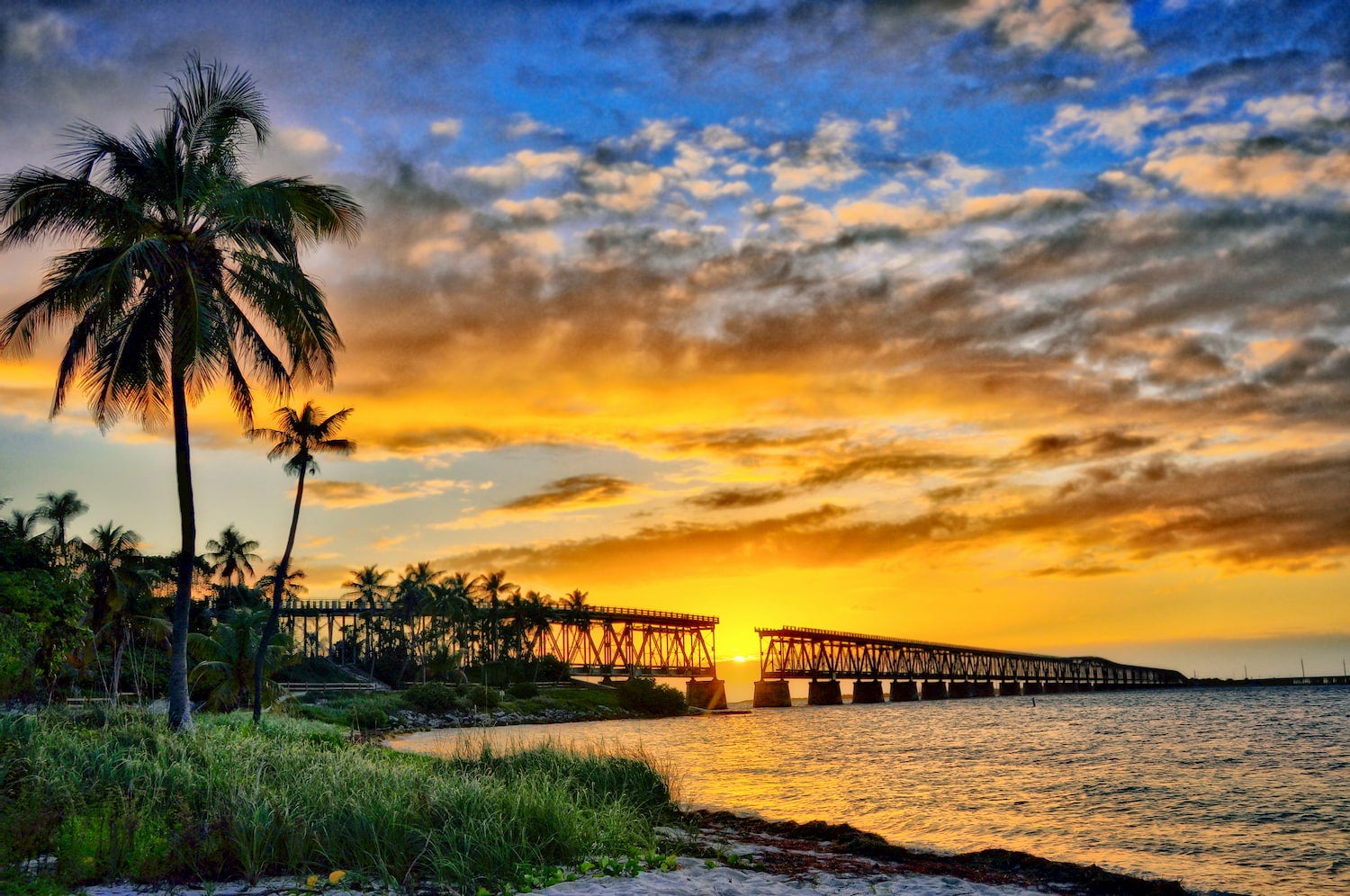 Another fantastic warm weather escape, Bahia Honda State Park is located about as far south as you can go, without leaving the country. Winter temperatures in this picturesque Florida Keys island rarely drop below 70°F. The island itself is almost entirely uninhabited by year-round residents, which helps make the eye-popping white sand beaches even more relaxing. It also helps maintain the pristine natural beauty and health of the state park and surrounding areas.
The island packs an impressive 72 campsites and 6 cabins to choose from; 30 sites are for tent camping only, while the remaining 42 are available to RVers or tent campers alike. The Buttonwood loop houses 48 of these sites, and all of them are equipped with electrical hookups, drinking water, a picnic table, and a grill. The remaining sites are spread across two other loops, but these are more primitive, and don't offer electrical hookups. Choose your favorite campsite and then spend the rest of the day lounging on the beach, swimming in the warm waters, snorkeling, scuba diving, kayaking, or birdwatching the huge variety of species that are native to the keys. Winter state park vacations don't get much better than this.
---
This article was brought to you by Midland Radio.

---
Related Campgrounds:
Popular Articles: