This article is brought to you by Banner & Oak, a company with deep expertise in headwear. Their mens' snapback trucker hats are the perfect addition to your next camping trip. 
---
There's nothing quite like waking up in a quiet forest that's sparkling with morning dew — the world is nearly silent, besides the birds and maybe some morning raindrops falling on your tent. If you camped there for free, the experience is even sweeter. This is dispersed camping in a national forest.
Those who are willing to forgo a few luxuries will find extra solitude and scarcely touched wilderness in our national forests, where you can often find free camping. "Dispersed camping," as it's called, is legal camping in undeveloped campsites, often just off of forest access roads.
Dispersed camping in national forests requires a little more effort than pulling up to an established campground. Forest access roads aren't always easy to find, and you'll have to be willing to search for a good spot to park. But finding that perfect slice of wilderness to call home for the night is a truly special kind of camping.
The Dyrt PRO Map Layers are great for finding free, dispersed camping across the US. Sometimes this looks like individual marked campsites along a forest road, and sometimes it looks like camping on the forest floor away from roads and streams.
With millions of acres of public land in the US, it's a great option for last-minute, no-frills camping.
Everything You Need to Know About Dispersed Camping in National Forests
Dispersed camping in national forests is a great way to save money on your outdoor adventures. But it also protects more popular places from overcrowding and damage (assuming you practice Leave No Trace principles and leave your site as you found it). Similar to backpacking, you'll have to be self-contained (there are rarely toilets, sinks, or running water when dispersed camping) and you almost definitely won't have nearby neighbors.
That being said, dispersed camping in national forests typically means parking at a primitive campsite or in a pull-off, just off of a forest access road. So unlike backpacking, you will have your car nearby and you won't have to hike far to set up camp.
If you're interested in exploring a wilder side to camping, this is a good first step. Dispersed camping in national forests might become your new favorite way to sleep outside.
What is a National Forest?
At first glance, national forests and national parks appear to be similar, since they are both public, protected landscapes. However, there are a few differences to be aware of. First and foremost, they are managed by different government entities. National forests are managed by the Department of Agriculture. The USDA Forest Service is charged with upholding the mission of National Forests: to sustain the health, diversity, and productivity of the land.
National parks often have stricter rules about pets and dispersed camping. The National Forests allow both pets and dispersed camping throughout most of their land holdings.
What is BLM Land?
BLM, or the Bureau of Land Management, is an agency within the US Department of the Interior. They support several different programs on their land holdings including grazing, mining, and recreation. Since we're talking about camping, we are going to focus on the recreational holdings within the BLM land system.
Most of the information about dispersed camping in national forests also applies to BLM land, but we'll be focusing on national forests in this article.
Where Can You Find Free Dispersed Camping?
Free camping, or dispersed camping, is allowed in all national forests, unless noted otherwise. You can find places to camp on the side of main roads, or follow forest access roads (often gravel or dirt) to more remote sites. There's also the option to backpack in for several miles and find a quiet site away from any roads or people. These "sites" are available on a first-come, first-serve basis and cannot be reserved in advance. If you're in a pinch you can use the offline maps and campgrounds of The Dyrt PRO to find the BLM land near you.
The general rule is to camp 100-200 feet away from any road, trail, or water source. If a previous campsite is visible, using that site will minimize impact to the area.
What Can I Expect From Dispersed Campsites in National Forests?
Dirt. Trees. Bugs. Views. What more can you ask for?
Free camping in National Forests, or dispersed camping, is about enjoying nature without all the fuss and clutter of amenities, like toilets, showers, and fire pits. (These amenities are great sometimes. We also love developed campgrounds. But dispersed camping is a different kind of camping experience.)
This means you need to arrive fully self-sufficient, and prepared to clean up after yourself thoroughly.
If you're in bear territory, remember that dispersed camping won't come with bear lockers. Bring odor-proof storage for your food, and store food away from your camp.
Since you're camping in a place that hasn't been altered for camping, it typically won't be as flat or clutter-free as traditional campsites. If you're pitching a tent, you'll probably want  a sleeping pad for added comfort.
How Do I Find a Dispersed Campsite?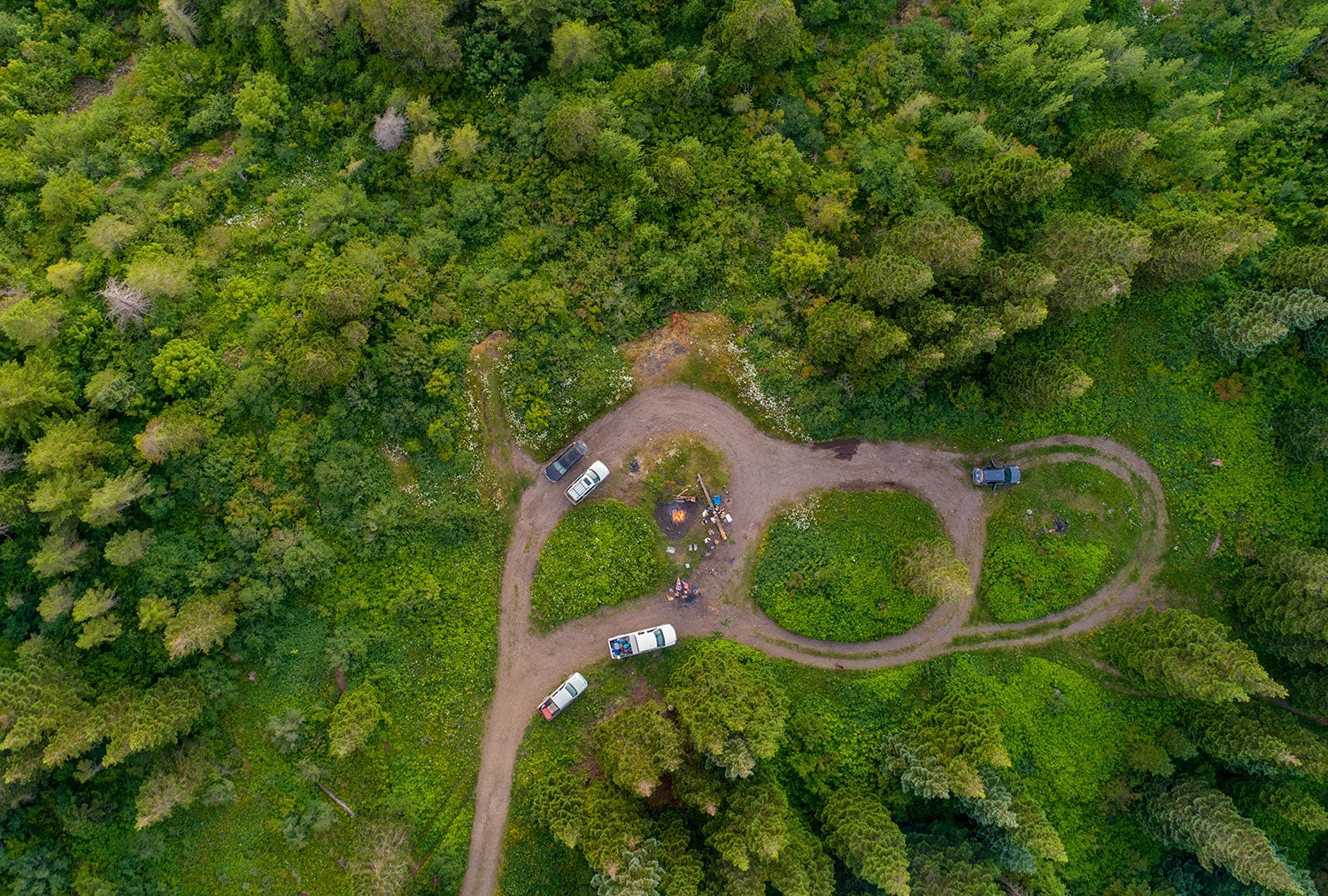 Finding a campground is easy when you're looking for developed areas. Here at The Dyrt, we specialize in helping you find campgrounds. Finding spots for dispersed camping is a little different.
Select an area of interest within National Forest Land and use Google Earth in satellite view to check your route for pull-offs. A great idea is to pick a trailhead and look nearby. A dirt pull off or small clearing in a forest is an indicator of an existing camp spot.
Once you have an idea of where you'd like to camp, check with the local ranger station on any local camping or fire restrictions. Sometimes, especially during the off-seasons, forest access roads are closed, so check in advance to be sure that your route is clear.
---
Find BLM campsites from your car without WiFi. The Dyrt PRO lets you download maps and campgrounds without cell service. "My alternative to using pro would be to drive back out to cell service."
---
It's also extremely helpful to have a hard copy map of the national forest you'd like to camp in. These are difficult to find online, but you should be able to pick them up at local gas stations, grocery stores, and ranger stations once you reach your destination.
Part of the beauty of dispersed camping is that it isn't advertised on big "Camp Here!" signs. Finding your spot can take some work, even if you do your research. It's especially difficult to find unmarked camping spots in the dark, so leave yourself plenty of daylight to find your campsite and settle in.
How Do You Camp Responsibly in National Forests?
Many people are drawn to dispersed camping over developed campgrounds because it allows them to feel closer to nature, without the noise, distraction, and potential damage caused by other campers. It's our responsibility to maintain this "untouched" nature by treating it with respect.
Make sure you can actually camp in the National Forest area you plan to visit.
Always check with local ranger station in the area you will be traveling for any specific regulations. In drier areas, fire bans are typically the most common.
Use a camping stove or fire pan rather than building a fire from surrounding resources.
For fires, ensure you only use deadfall for firewood. Never cut and burn live trees or bring firewood from another area.
Come equipped with a bucket, an axe, and a shovel for properly distinguishing fires.
Don't create a new campsite if there's one already available.
Be aware of any overnight permits and road conditions before heading out.
Follow any laws and regulations regarding pets in these wild spaces. Keep your dog on a leash if required.
Expect to pack out all of your trash and waste.
Do not camp within 200 feet (70 adult steps) from lakes and streams.
Always bury human waste in a cathole six inches deep and 200 feet away from any water source. Follow these guidelines for your pets, as well.
And of course, follow all Leave No Trace principles. We've touched on most of those above, but everyone can use a refresher.
You should also read up on the USDA guidelines for dispersed camping in national forests.
---
This article is brought to you by Banner & Oak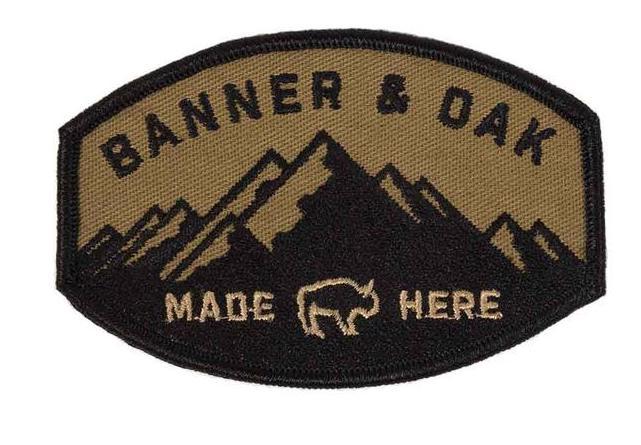 Their ladies hats are the perfect addition to your next camping trip.
---
Related Articles: