This guide to Wisconsin snowmobile trails is brought to you by Primus, whose outdoor stove is the ideal item to tow along on your next icy snowmobiling adventure.
---
Rarely is the intensity of winter so broadly on display than in the wilderness of Wisconsin. With sub zero temperatures, icy winds, and a sparse yet beautiful scenery, this midwestern state offers a unique (if freezing) winter outdoor experience.
Given Wisconsin's climate and the lengthy winters, snowmobiling is one of the most popular winter activities, both for the ability to explore a large amount of scenery in a relatively short period of time and the exhilaration of traversing snow and ice at 60 mph. For beginners and expert sledders alike, Wisconsin's snowmobile trails offer easy access to a large network of comfortably groomed paths, and while camping in Wisconsin during the shoulder season sounds frigid, there are a variety of cozier, upgraded accommodations that allow you stay on or near the trails themselves.
Wisconsin Snowmobile Trails + Cabin Camping
To help you find the perfect place for your next snowmobiling overnighter, we've compiled a list of some of the top destinations in the state, along with cozy, trailside cabins near each of them.
1. Thousands of Miles of Winding Trails in Minocqua
With over 1,600 miles of terrain, Minocqua is one of the most prolific snowmobiling destinations in the state. Along with gorgeous, tree-laden terrain, the 233,000 acre forestland also features 1,300 (you read that right) frozen glacial lakes.
Due to its size and abundance of outdoor offerings, Minocqua features a number of camping cabins in close proximity to this network of Wisconsin snowmobile trails. If you're looking for a way to wet your feet in the local winter camping scene without sleeping in the snow, these places might be the perfect fit for your next trip:
Cabin Camping Near Minocqua
Island Cove: Island Cove offers cabins and lakefront access to Minocqua lakes. Each cabin is located on the main snowmobile trail, and offers full amenities.
The Beacons: The Beacons offers log cabins that are as beautiful as they are convenient. Though the property itself features additional condos and units for other guests, The Beacons cabins are secluded, with excellent access to the Minocqua network of trails.
A&M Northwoods Lake Retreat: Another popular option for winter adventurers is this small cabin, located on the shore of Little Muskie Lake, with a private pier and top-rate access to the Minocqua trail network. During the winter months, reservations can be made on a 2-night minimum basis.
2. 1,000 Miles of Snowmobile Trails in Hurley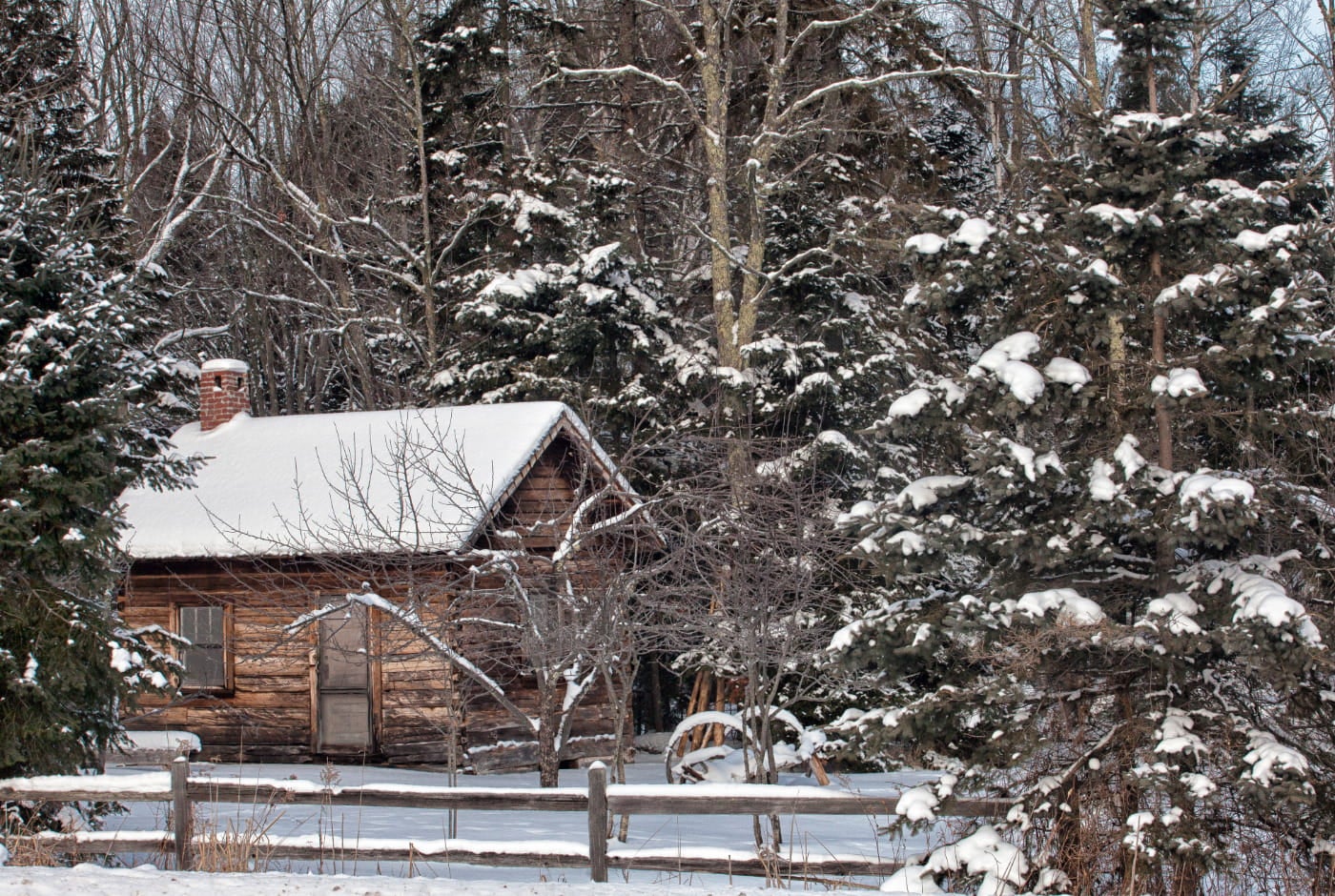 A quaint, antique-feeling little town, Hurley is the statistical leader in snowfall for the State of Wisconsin, with season averages hovering around 160 inches. The trails directly surrounding the town are regularly groomed, and the nearby public land provides an unparalleled 175,000 acres of off-trail sledding opportunities. In addition to that, given the snowfall levels, visitors often enjoy the trails into early April, making Hurley a premier destination for riders hoping to access to Wisconsin snowmobile trails throughout the lengthy winter.
Cabin Camping in Hurley
Eagle Bluff Condominiums: While technically not cabins, Eagle Bluff is a top-tier destination for winter adventurers, thanks to the ability to snowmobile to and from your front door. Located on the shores of Lake Michele, Eagle Bluff is a must for hopeful and experienced snowmobilers.
3. Over 600 Miles of Maintained Trails in Eagle River
Eagle River has earned the title of being a snowmobile capital of the world due to its well-groomed network of trails, which span over 500 miles. Where Minocqua offers a backcountry escape, Eagle River offers a fantastic backwoods experience with the convenience of a more populated region. Nicknamed "The Eagle River 500," this snowmobile trail network offers an excellent range of scenery, and is accommodating to riders of all levels.
Cabin Camping at Eagle River
Eagle Waters:  This quiet, lakeside lodge offers a wide variety of cabins for campers looking to escape the cold after hitting the trails. The lodge boasts wood view cabins, lake view cabins, and lake front cabins, each of which vary in size and amenities.
Wild Eagle Lodge:  The Wild Eagle Lodge offers cabin-style lodging right on the edge of Duck Lake and Lynx Lake, part of the Chain of 28 that span the Eagle River region. The lodge is open year-round and provides prime access to snowmobiling trails as well as an onsite snowmobile shop.
Pitlik's Sand Beach: This unique resort and lodge offers cabins of all sizes, from simple 1-bedrooms to 3-bedroom units large enough to host bigger groups or families with children. Pitlik's is located on the shores of the Sugar Camp Chain of 5 lakes. The resort has been open since 1928, and is a hallmark of the Eagle River area. While open all year, it should be noted that Pitlik's occasionally requires minimum stays around the holidays and the popular snowmobile derby, which occurs annually in mid to late January.
4. Hundreds of Miles of Snowmobile Trails in St. Germain
St. Germain is another highly popular snowmobiling destination, with a massive network of trails extending in almost every direction from the town. Located almost directly between Eagle River and Minocqua, St. Germain is an excellent access point to the best of Wisconsin's snowmobile trails.
Cabin Camping at St. Germain
Black Bear Lodge: One of the premier places to stay in St. Germain, Black Bear Lodge offers quaint cabins to accommodate groups of small and large sizes. Located on the Bo-Boen Snowmobile Track, the lodge is a haven for snowmobilers, thanks large-in-part to The Black Bear's warm and welcoming atmosphere. The property includes a heated garage for snowmobilers to make repairs and modifications to their sleds.
Fath's Big Woods Resort:  The cottages at Fath's Big Woods Resort provide year round comfort on the shores of Big St. Germain Lake. Family owned and operated for almost 50 years, the resort itself lets visitors stay on the edge of the Bo-Boen snowmobile trails while still maintaining a close proximity to the town of St. Germain.
Whether you're a die-hard sledder or just looking for the perfect place to stay to get your feet wet, these cabins along the best of Wisconsin's snowmobile trails are bound to make your adventure a memorable one!
---
This post was brought to you by Primus

Pickup Primus' camping cookstove to keep warm on your next subzero snowmobiling trip.
---
Related Campgrounds:
Popular Articles: