The funhouse that is Las Vegas, Nevada is built on contrast. Set up in the middle of the desert, Las Vegas is intended to be an island of indiscretion, created to be artificially beautiful. But as anyone can tell you, the surrounding region is not just desert, but a vast array of natural beauty that remains untouched despite being so close to the state's largest city. Any savvy RVer or canyon camper will tell you that Las Vegas camping the best way to experience both big city lights and serene desert landscape.
Up the Ante with 5 Great Spots for Camping Near Las Vegas
Whether you're into mountains, desert oases, rivers and lakes, and all the silence you need, or if the bright lights of the "entertainment capital of the world" are more your speed, you can have it all while camping near Las Vegas and still be home for Sunday dinner.
1. For a Mars-Like Landscape: Atlatl Rock
Atlatl Rock is an amenity-packed campground in Nevada's Valley of Fire State Park. You may be sleeping in the desert, but you're going to do it with shaded tables, grills, flushing toilets, and access to showers. If you take a look around after you set up your tent, you'll see why the park is called Valley of Fire. Everywhere you look, you see red rock ablaze in the radiant sun. Twisted formations that have puzzled campers for years and pictographs from cultures of yesteryear. Sleep in peace knowing you can get to exciting Las Vegas quickly, but be sure to take the time to appreciate Nevada's largest and oldest state park.
"Absolute Silence at night. Even when the campground is full. Stars so bright. Longhorn everywhere. If you can sleep in the desert, this is the place to stay. It's perfect."  —The Dyrt camper Melissa N.
Red Rock Canyon is a rock climber's utopia. It has one campground, offering single and group campsites. Group sites can be reserved online currently, while single sites will be reservable in 2019, but for now are first come, first served. The campgrounds provide shaded tables and some of the friendliest campers around. It can get busy in the summer, as it's one of the more popular places to go camping near Las Vegas. But there is an overflow area nearby for an influx of campers. Besides the climbing, there are hiking trails and plenty of photography opportunities.
"This place has nice campsites and well-maintained bathrooms. The rock walls sweep straight up to the sky and look as if they've been stroked by a paintbrush. There are also a ton of climbs here both trad and sport, from single pitch to multi! If you want to just plan a day trip escape from the city this is well within reach." —The Dyrt camper Alan B.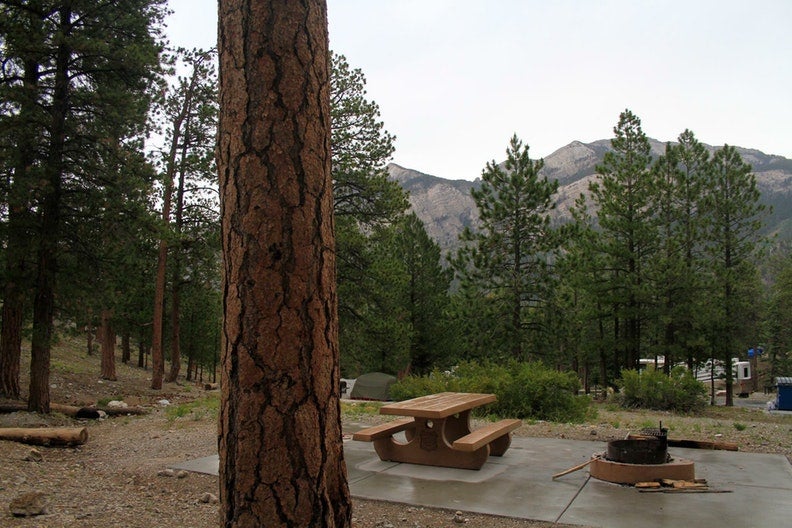 Once you've had your fair share of sitting in casinos and testing your luck, head to the Spring Mountains National Recreation Area for some fresh air and stunning views of the greater Las Vegas Area. Here you'll find mountain biking and hiking along the 6.2-mile BristleCone Trail, rock climbing at Mt. Charleston and enough solitude to balance the staggering amount of people along the Las Vegas Strip.
McWilliams is recently renovated and while the sites still lack electrical hook-ups, they do accommodate RVs. Of the 75 sites, 14 are open all year-round and the bathrooms are heated so you can stay comfortable when the temperatures drop. The sites are well spaced so you don't have to worry about imposing on your neighbor and the surrounding pine trees and sagebrush will make you forget that Vegas is just 50 miles away.
"Something I loved about this site was the set up for campers with the fire ring and table. The slab around the ring gives you a flat surface if you have camp chairs and also allows you to better manage your space and keep debris out of your fire." – The Dyrt camper Crystal C.
The Willow Beach campground and marina sits on the banks of the Colorado River, feeding into Lake Mead. It's a great place to bring a boat, raft, kayak, or canoe. It's just 45 minutes from Las Vegas, so it's also a good day trip for fishing or water activities like SUPing or swimming. The campground has a 24-hour laundry facility, showers, a restaurant, convenience store, and WiFi.
"Great place to camp on the Colorado River. They have a 24 hour showers (clean) a nice marine with a dock and marina and some great fishing. Perfect place to camp for some boating and fishing and If you want a little night life Las Vegas is only about 45 minutes away. Keep your eyes opened for wild Burros and Big Horn Sheep!" —The Dyrt camper Sandra K.
If you're traveling in an RV and heading to Las Vegas, there's good news. You don't have to pay exorbitant prices to stay in town. The Oasis Las Vegas RV Resort is in walking distance to the Vegas Strip. This doesn't mean you're just camping near Las Vegas, you're camping in it. You'll have access to classic Las Vegas Entertainment entertainment for a fraction of the cost. They offer many of the same amenities you'd get at a Vegas hotel. Fancy waterfalls, a pool and spa, a fitness center, a golf course, horseshoe pits, a restaurant and store, laundry facilities, free showers, and of course wifi.
"Great location right off the freeway. Large, manicured spots. Many pull through. Bathrooms and free showers. Walked in with no reservations and they easily accommodated us. Full hookups. Lots of amenities and services." —The Dyrt camper Rhonda S.
---
Related Campgrounds:
Popular Articles: