This article on scuba diving in Florida is brought to you by OOFOS, whose flip flops with arch support are made with revolutionary Oofoam technology that absorbs 37 percent more impact than traditional foam footwear materials. 
---
Florida offers an eclectic range of activities and excursions to the common tourist. Between Disney World, countless beaches, and a wealth of stunning state parks, the Sunshine State is home to some of the best adventures for families and outdoor enthusiasts alike. For scuba divers of all levels, Florida is one of the top destinations in the world with hundreds of locations that offer unparalleled opportunities for underwater exploration.
To get you ready for the next time you go scuba diving in Florida, we've highlighted our favorite dive spots and where you can camp nearby!
Where to Go Scuba Diving in Florida
1. Biscayne Maritime Heritage Trail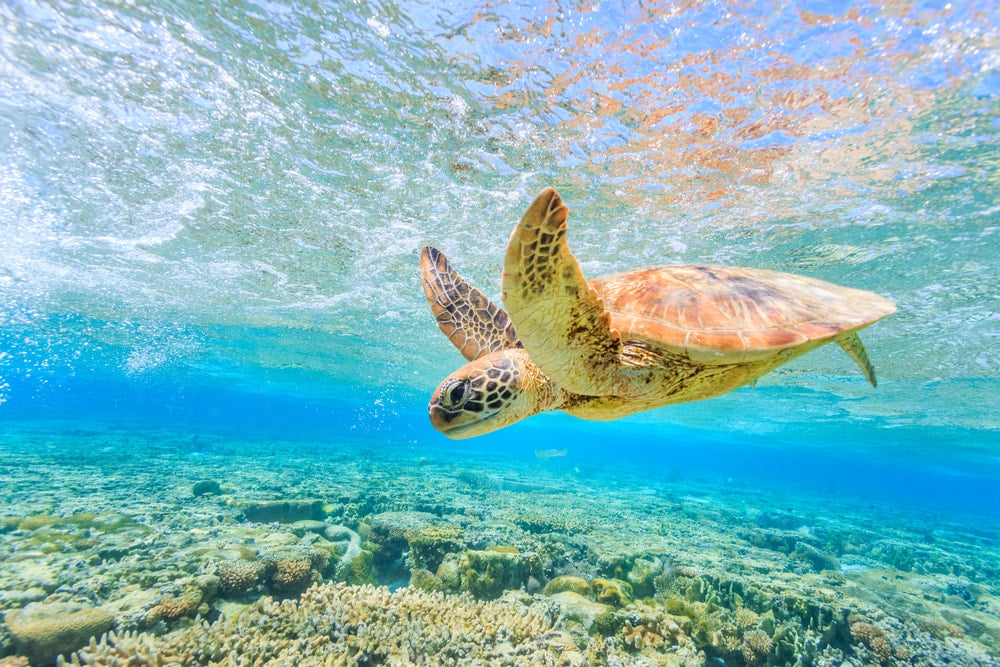 Biscayne National Park is a gold mine when it comes to scuba diving, and it won't be the last time it makes our list of the top spots for scuba diving in Florida. That said, the Biscayne Maritime Heritage Trail is a fully mapped, underwater trail that traverses six different wrecks, each of which contain different varieties of marine life and maritime artifacts. To add to that, like many of the places on our list, the water in and around the national park is extremely clear, making it a good spot for beginner to intermediate divers who prefer to view wrecks and other marine landmarks from slightly shallower depths.
The Elliott Key campground is located within Biscayne National Park, and is located on Elliott Key, accessible by boat only. Elliott Key is Biscayne's largest island. The campground includes fully functioning restrooms, picnic tables and grills. All campsites are reserved on a first come, first served basis, and camping is permitted in designated areas only.
"This park is all about the water. Awesome kayaking, snorkeling, and scuba diving. The water is beautiful, and the park itself is super relaxing!" —The Dyrt camper Sam D.
2. Molasses Reef
Easily one of the most popular locations for scuba diving in Florida, Molasses Reef is a shallow dive site perfect for beginners to the sport. Located in Key Largo just off of John Pennekamp Park, this is a prime location for many divers looking to test their skills and complete their all-important certification hours. Wildlife commonly sighted in the area includes eels, nurse sharks and several types of fish.
Finding great diving and camping in Florida is easy done at The Key Largo Kampground and Marina, an RV and trailer-friendly campground that offers visitors the chance to stay in close proximity of the water. Each site includes water and electricity, and there are two bathrooms at the campground with showers and full facilities.
"Nice campground all the way around; great staff, nice clean restrooms and showers, beautiful beach within the campground itself, nice pool, secure, and if I left anything out I didn't mean to. Loved this campground all the way around!" —The Dyrt camper Rhonda B.
3. Devil's Den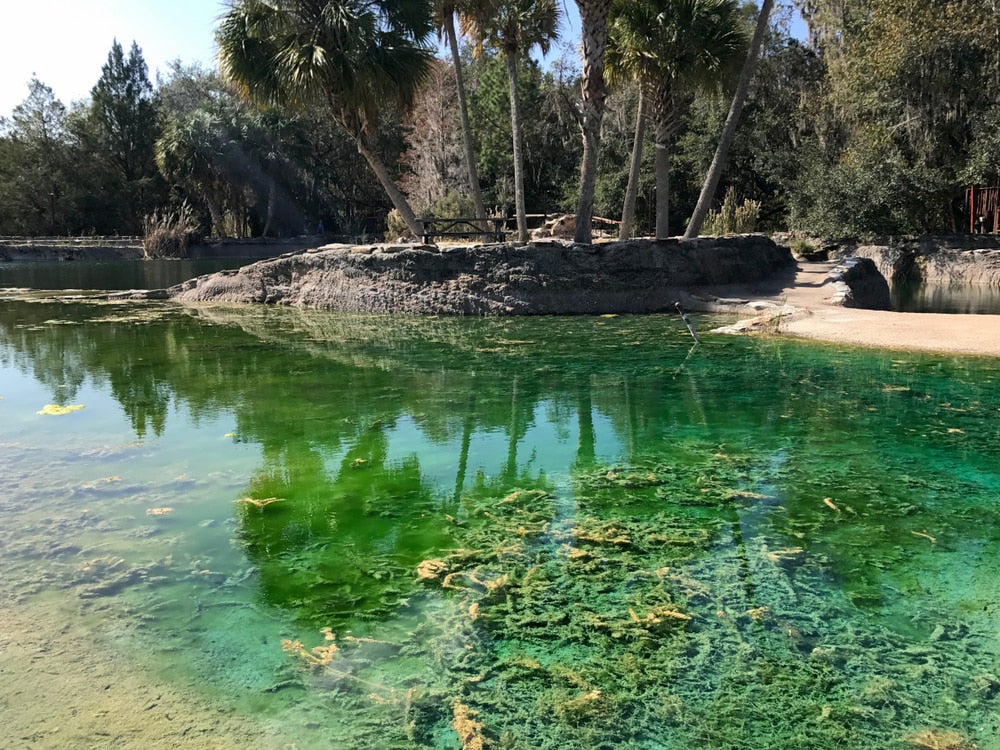 This unique scuba diving destination is a privately owned training center that owns one of the most unique dive spots in the country. Devil's Den is an underground spring that is set inside of a dry cave, which has resulted in the preservation of ancient rock formations and fossils dating back 33 million years. Since the diving area is contained, it's an ideal spot for beginners interested in exploring this prehistoric site.
The Devil's Den Spring offers camping onsite, with cabin, RV and tent sites. There are four cabins along with 32 RV sites, the majority of which offer electricity, water and sewer hook-ups. The tent sites also have water and electricity. Devil's Den offers bathroom and shower facilities to campers, as well. All accommodations are located in the tree-laden wilderness surrounding the spring.
"Beautiful grounds. Separate tent and RV camping. Beautiful cabins and pool. But the highlight of camping here is being able to explore Devils Den while snorkeling and or diving." —The Dyrt camper Jeanene A.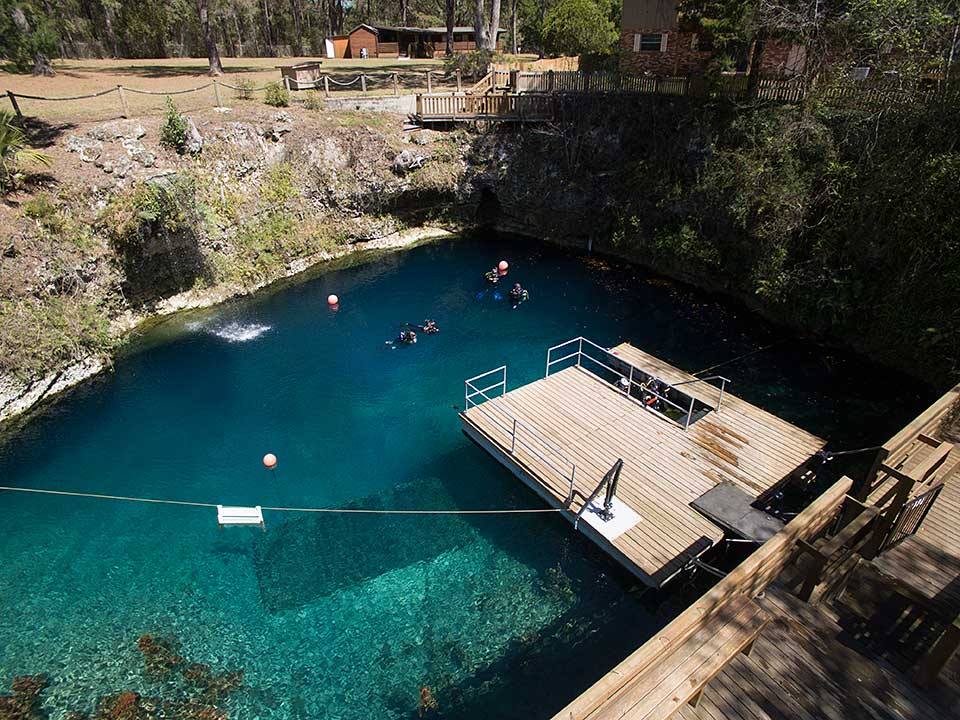 This dive resort is located on the largest clear water cavern in the country, with more than 100 feet of depth and extremely temperate waters (72 degrees) all year. Since it's isolated and well run by the team at the Blue Grotto, this cavern is a great spot for divers of all skill levels and lifelong snorkelers looking for an introduction to scuba diving in Florida. The Cave within the Blue Grotto is another must-see aspect of the underwater cavern, as its rock formations are completely undisturbed and visible in their natural, fragile state. An array of wildlife is also visible throughout the cavern, including several species of fish and the ever-loved Floridian sea turtles.
The Blue Grotto does offer their own cabins for rent for as low as $68 a night. Camping is also available on-site, with tent and RV sites available to guests who want to extend their Blue Grotto scuba diving vacation.
5. Copenhagen Wreck
Another popular diving destination, the Copenhagen wreck is located along the eastern side of the Pompano Drop Off. The ship ran aground in the early 1900s, and, after sinking, has become a flourishing artificial reef for several species of marine wildlife. Given that the wreck itself is well over 100 years old, this location serves as a point of interest for both historical and ecological reasons.
The Breezy Hill RV Resort is just minutes from the Copenhagen wreck site and offers RV-only camping perfect for families on their Overseas Highway family road trip. The campground includes a clubhouse, a swimming pool, Wi-Fi, a game room and even a library, making it a great place to relax after your daily scuba diving adventure.
6. Biscayne National Park – Half Moon Preserve
Biscayne's second-most popular diving destination, the Half Moon is a shipwreck formerly known as "the Germania." The Half Moon wrecked in the 1930s and spent more than 50 years underwater before being discovered in 1987. After being re-discovered, the region where the Half Moon lay was declared an archaeological preserve. Since the ship lies on its port side, its divability remains very high. Visitors to the region can explore solo or with guides to get the richest experience possible.
Boca Chita Key is the most popular island in Biscayne National Park and offers an array of excellent campsites, including a large, grassy area with waterfront views. Like Elliott Key campground, Boca Chita is reachable by boat alone. Boca Chita does offer toilets, although all other amenities (including water) need to be brought by guests ahead of their stay.
7. Dry Tortugas National Park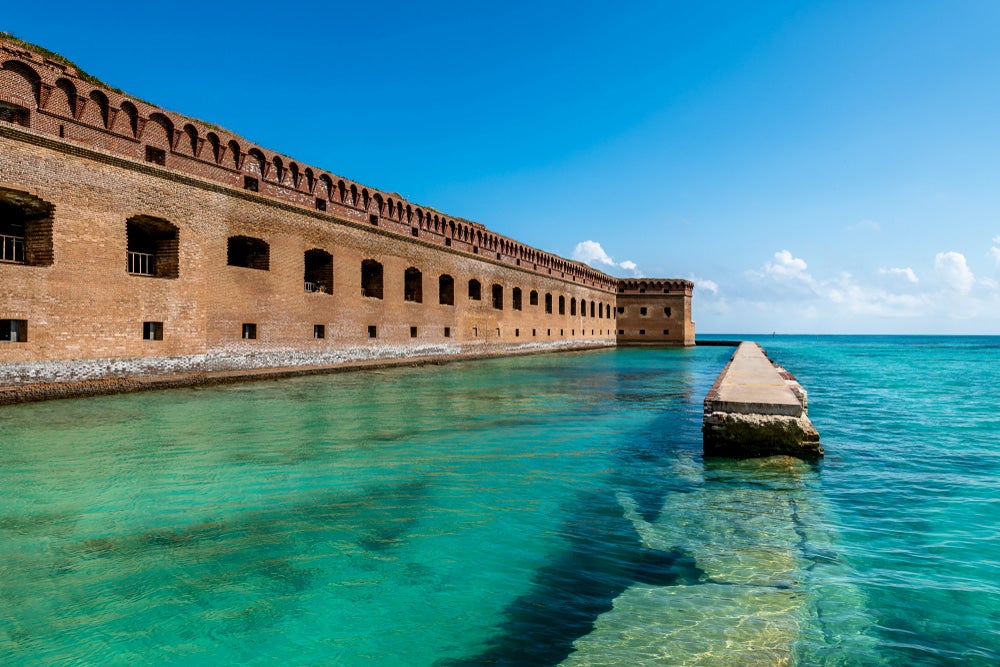 Located just west of Key West, Dry Tortugas is made up of the seven islands of the same name. Luckily for the diving enthusiasts among us, the coral reefs in this area are some of the best-preserved habitats in the country; they are also the least interfered with among all of the Florida Keys. There are several aspects of Dry Tortugas that make it an ideal scuba destination, not the least of which are the shipwrecks and beautiful coral reefs, which serve as a home to countless species of marine life. The park also includes a number of underwater trails, many of which offer excellent clarity and the chance to see both sea turtles and ancient ships.
The Garden Key campground, located within Dry Tortugas National Park, is the only way to camp in close proximity to the park's scuba diving trails. The Yankee Freedom Ferry transports 10 passengers per day, and the sites at Garden Key campground are all primitive. All supplies, food and water must be purchased in advance.
"What a unique experience camping on a deserted island! Overall, it's an amazing experience that I'd love to do again someday." —The Dyrt camper Melissa W.
8. DEMA Trader
Another of Florida's famous wreck dives, the DEMA Trader is a highly explorable wreck that offers great clarity and interesting wildlife. Although most wrecks off the coast of Florida can be explored with relative safety, this one in particular has holes cut into the side of it, making casual exploration as easy as it is safe. Visibility is often as good as 60 feet.
Bill Baggs Cape Florida State Park is almost directly in line from the DEMA Trader wreck. The state park doesn't offer organized campgrounds but does allow campers to tent camp at primitive sites complete with grills, fire pits and tent platforms. The park does offer restrooms and cold showers as well.
9. Looe Key – National Marine Sanctuary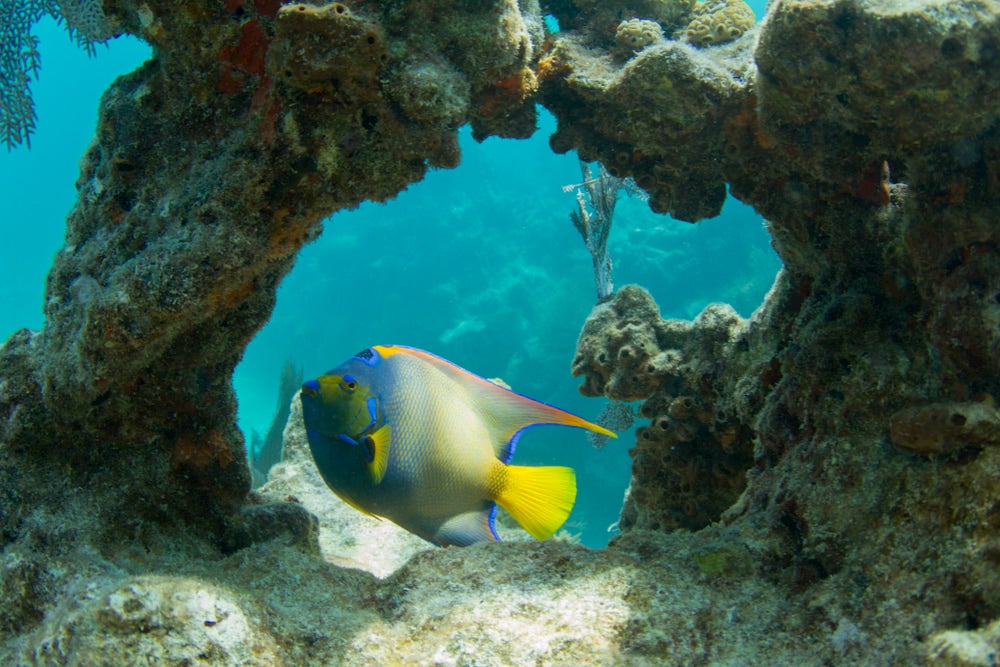 Looe Key Reef is a highly touted region for scuba diving in Florida that attracts divers from all over the world on a regular basis. Since it's labeled a National Marine Sanctuary, Looe Key Reef enjoys exceptional populations of fish as well as a well-preserved coral reef. The reef is a U-shape and stretches 200 yards long with an average width of 800 yards. The diving area is highly accessible and incorporates a wide variety of depths, making it friendly to both beginners to diving as well as advanced scuba divers. Widely regarded as one of the most beautiful reefs in the world, Looe Key Reef is a must-visit for anyone interested in scuba diving in Florida.
Bahia Honda State Park is located just 15 minutes from Looe Key Reef and offers three different camping areas within the park for a total of 80 sites (RVs and tents permitted on all sites). The state park also offers restrooms, hot showers and several other activities and amenities on-site, including kayak rentals, a hard-surface bike path, a pool, snack bar and seasonal guided tours.
"I love this place! I always go at the end of May (yes it is hot, but no it is not busy) and while the space itself is breathtaking, the location is great too and provides a lot of opportunity to explore all the keys. Be sure to catch the sunset on the bridge and get plenty of snorkeling in. The sand bar goes way out and there is SO much to see!" — The Dyrt camper Ronnie M.
10. Ginnie Springs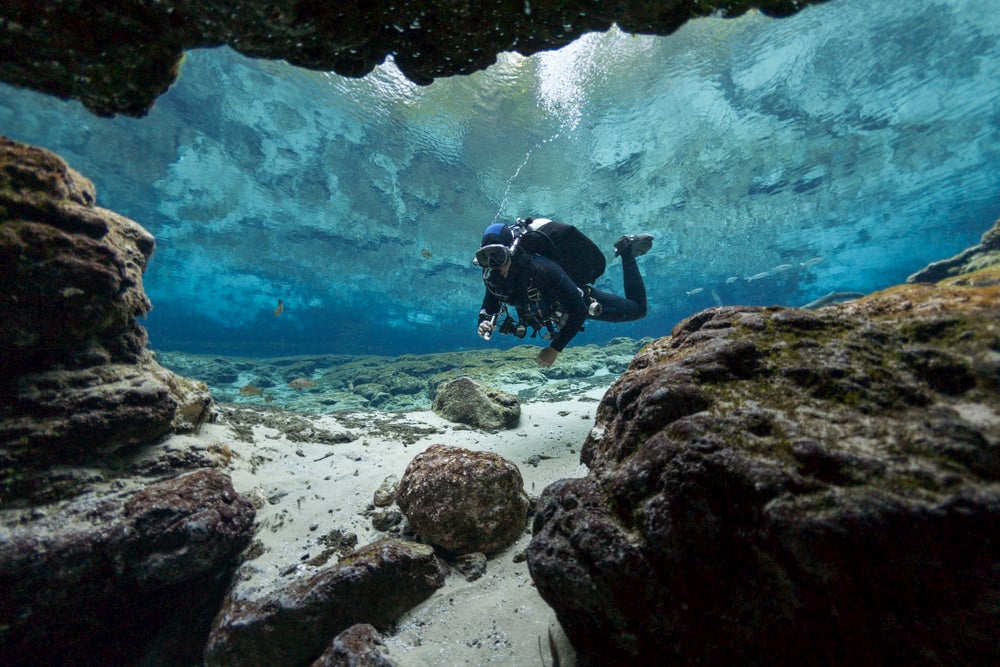 Similar to other springs in the area, Ginnie Springs is a gorgeous, multi-faceted region that offers a diverse range of activities for eager scuba divers and outdoor enthusiasts. The Ginnie Spring itself is more than 15 feet deep and 100 feet wide and is part of a line that leads into the Santa Fe River, a nearby destination that also offers some of the best scuba diving in Florida. Officially called "The Ballroom at Ginnie Spring," the foremost dive site at Ginnie Springs is a large, open cavern that's safe and spacious enough to accommodate even beginners to the sport of cave or cavern diving. Lights are given to divers to navigate the cavern, and "The Ballroom" itself offers incredible natural beauty with its reflective limestone walls and well-preserved geologic formations.
Ginnie Springs offers its own campground to visitors looking to expand their opportunities for scuba diving in Florida. For tent campers, no reservations are required, and all sites are occupied on a first come, first served basis. The campground offers 200 acres of wooded seclusion, including campsites that are in close proximity of both the springs and the Santa Fe River, which is popular in the summer for floating. In addition to the tent sites, there are more than 120 sites equipped with water and electricity. These sites can be reserved and offer spaces for tents or RVs.
"This is one of my favorite Florida campgrounds. It's privately owned so the rules are less strict than a state park. They have over 200 acres of camping, seven natural springs and you can camp in nature without feeling like you're in a campground. Great place for snorkeling, scuba diving, paddle boarding, tent and RV parking and day trips. I highly recommend this campground!" —The Dyrt camper Emily J.
---
This article on scuba diving in Florida is brought to you by OOFOS
OOFOS' sandals for plantar fasciitis offer the support and comfort you need for sport recovery and a pain-free life!
---
Related Campgrounds:
Popular Articles: