Not all camping is driving miles down a dirt road, secluding yourself from society, and singing Kumbaya around the campfire (although I wish it was.) In this age of hyper-connectivity, more campers are hitting the road full-time with their mobile RV WiFi, outdoor tech, and adorable dogs in tow, working remotely while checking off all 59 national parks or visiting long-forgotten state parks in far-off corners of North Dakota.
For many, it's the dream. And while it can be difficult to balance working on the road with visiting all the marvelous wonders along the way, RV WiFi makes it easier than ever to stay connected to your friends, family, or work.
With so many options, it can be pretty confusing to even know where to start. Between various cell phone carriers, satellite internet, and WiFi boosters, it's a labyrinth of connectivity options. We're here to break it all down and help you figure out what the best RV WiFi is for you.
You'll need WiFi for a lot of reasons. When searching for a campground though, you don't need WiFi with The Dyrt PRO. With the upgraded version of The Dyrt app, you can access campgrounds, maps, and photos for offline use.
Here Are Your Options for Setting Up RV WiFi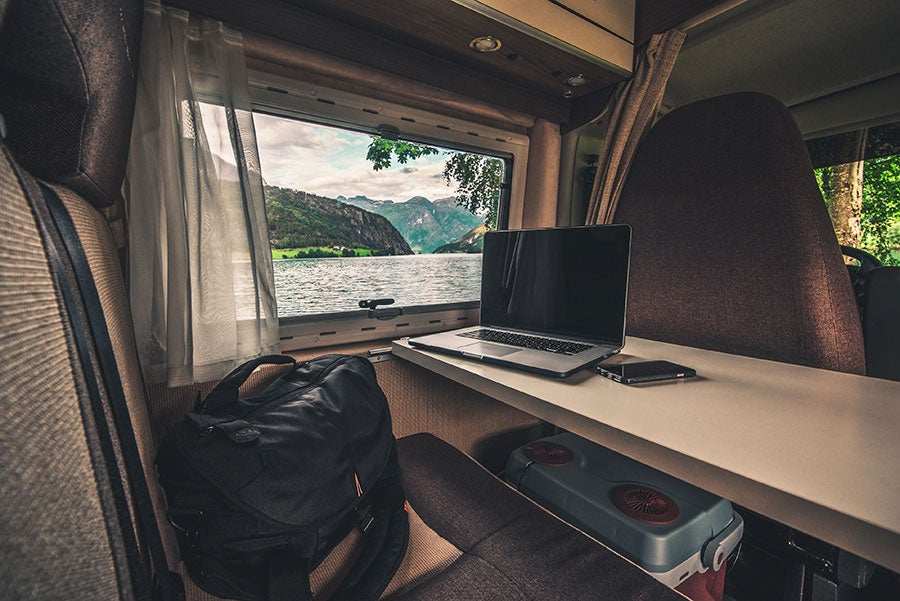 If you're wondering what your options are for RV WiFi, you're not alone. Our Facebook Campfire community created a thread to identify the best type of mobile WiFi—73 comments later it turns out some options work better than others, depending on your lifestyle and needs. While it's not surprising, it doesn't get you closer to a solution, either.
In order to figure out the best RV WiFi for you, determine your biggest WiFi use. Do you work remotely? Do you download documents? Stream Netflix? FaceTime your daughter in the Peace Corps?
Streaming Netflix movies in regular definition will pull about 1GB of data per hour (high definition videos average 3GB per hour). By contrast, uploading a photo to Instagram will use about 2-4MB of data. Over time, however, Instagram can pull loads of data from your plan (especially if you're obsessive like me and use upwards of 12GB on Instagram alone per cycle).
There are three main options for RV WiFi while you're living on the road: using your phone as a hotspot, adding a hotspot router to your existing mobile plan, or satellite internet.
Using Your Phone as a Hotspot
Using your phone as a personal hotspot is a great option for trips of a week or less, when having data isn't critical, but you would like to stream an episode or movie on Netflix. You're basically turning your phone into a wireless access point, making it possible to access the internet on other devices with WiFi capability, but it will use your phone's data.
Each carrier offers its own unlimited plan but not all carriers are ideal for mobile living, based on factors like text and call coverage, LTE coverage, and high-speed caps on data. Without a WiFi booster (more on that at the bottom of this page), you need to have the best data coverage possible if you're going to use your phone as a hotspot.
Depending on your mobile phone plan, you may also find that speeds are 'throttled' after you use a certain amount of data, meaning that the provider slows down your speeds.
It's also important to note that not all phones are capable of sharing a hotspot, however, most smartphones have the function built-in. Here's how to find your phone's hotspot:
iPhone: Settings> Personal Hotspot
Android: Settings> Network & Internet> Hotspot & Tethering
So how do major carriers compare for using your phone as a hotspot?
---
Prepare for your next adventure by downloading maps. The Dyrt Pro lets you download maps and campgrounds without cell service.
---
Verizon
Verizon is one of the most popular plans used by full-time vanlifers and RVers. Their unlimited plan offers three different tiers: GoUnlimited, BeyondUnlimited, and AboveUnlimited. On the GoUnlimited plan, users get unlimited talk and data plus an unlimited hotspot at 600 Kpbs. To test what that meant in real life, I tethered my computer to my Verizon phone and typed "Netflix" into my browser to test the signal. The page took about a minute to load (full disclosure, I had about 13 tabs open), but once it did the video streamed clearly—though nothing like HD.
GoUnlimited Verizon plan by the numbers:
$65/month + taxes and fees (roughly $8-$10/month) per line for two lines
Unlimited mobile hotspot at 600 Kpbs
Mexico and Canada talk, text, and data included
"I believe you would be satisfied with a Verizon jetpack at $65 a month (pre-paid.) I stream 1080 HD all the time and [have] never been throttled. It is UNLIMITED." — Lyle, Facebook Campfire member
T-Mobile
In their most recent push, T-Mobile stretched their coverage far and wide across the United States. Before switching to Verizon in the fall, I fangirled over T-Mobile. Their international plan blows every other carrier out of the water. If you're not looking to stream or surf the web in wild and remote places, T-Mobile provides coverage in populated areas and there's a good chance it will cover the campground you're staying at. They offer a simple unlimited plan that includes everything, even taxes and fees.
T-Mobile One plan by the numbers:
$60/month per line for two lines
Standard Netflix included with 2 or more lines
Unlimited mobile hotspot at 512 Kpbs
Unlimited texting and 2G data in 210+ destinations
Free texting via Gogo when you fly
AT&T
Many of the users in The Dyrt's Facebook Campfire sing AT&T's praises; it offers enough coverage to go from California to Maine on an epic road trip. It's Unlimited &More Premium plan gives users live TV, unlimited talk, text and data, and a 15GB hotspot. Note that with the basic Unlimited &More plan, tethering is prohibited.
AT&T Unlimited & More Premium plan by the numbers:
$75/month per line for two lines (taxes and fees may apply)
Unlimited mobile hotspot at 15GB per line
Unlimited talk, text, and data
Subscription to HBO, Cinemax, Showtime, Starz, YRV, Amazon Music, or Pandora
"Get [Nighthawk LTE Mobile Hotspot] and a prepaid account. No contract, no throttling. Works great." — Patrick, Facebook Campfire member
Sprint
Sprint and T-Mobile recently joined forces to expand each of their networks. While the plan won't unfold until this spring and won't be fully functioning for another year or two, it's bound to make Sprint a more competitive RV WiFi option. Sprint offers three unlimited plans: Basic, Plus, and Premium. For $60 a month on the basic plan, users get unlimited talk, text, and data, as well as a subscription to Hulu, DVD-quality streaming (480p), and a 500 kpbs hotspot.
Sprint Basic plan by the numbers:
$60/month per line (taxes and fees may apply)
500MB LTE mobile hotspot (Plus offers 50GB, Premium offers 100GB)
Unlimited talk, text, and data
Subscription to Hulu
Cricket
Cricket is perhaps the least well-known provider on this list, but it is highly praised for its widespread coverage across the U.S., with nearly uninterrupted coverage east of Colorado. Our Facebook Campfire users sing Cricket's praises and by looking at their phone plans, it's easy to see why. Unlimited plans start at $55/month and are heavily discounted the more lines you add to the plan. In fact, they offer an unlimited plan for $100 that includes four lines. However, data speeds are limited to 3 mbps—by comparison, 4G generally operates between 5 and 12 mbps. While the unlimited plan doesn't automatically include a mobile hotspot, you can add it for $10/month.
Cricket Unlimited by the numbers:
$55/month, with additional discounts per added line (taxes and fees may apply)
Additional $10/month for unlimited hotspot (speed are slowed to 128 Kbps after 10GB of hotspot data usage)
Data access and unlimited calls from Mexico and Canada
"Best coverage and signal, Cricket… $60 EVERYTHING UNLIMITED." — Regiena, Facebook Campfire member
Mobile Hotspot Routers
Mobile hotspots are devices that recognize and retrieve cell phone signals without doing all the texting and scrolling that your phone does. It acts as a mobile modem, bringing WiFi into your RV without the cords and cables of a home office.
Mobile hotspots are essentially like having a cell phone plan for a standalone modem. The device receives the same signal as a cell phone, without the capability for incoming or outgoing phone calls.
Each mobile carrier offers its own version of a hotspot, so if you already have a mobile phone plan, they can likely add the hotspot onto your plan as an additional line. You will also have to purchase the hotspot device itself. But, it's important to keep in mind that your hotspot is only as good as the coverage of your carrier.
Signal Boosters and Satellite Internet
Campers in the Facebook Campfire and those I've met on the road all agree that remote working from an RV or van requires a signal booster. While the signal booster won't give you access to RV WiFi, which can only come from a cell phone, WiFi network, or satellite plan, it will amplify the signal to your phone service for increased WiFi speed.
Essentially, boosters like Weboost amplify cell phone signal up to 32x. The antenna bounces off other cell phone towers to bring your service closer to home. WiFi boosters are pretty pricey (Weboost Connect 4G costs $549.99), but if you're working on the road and need reliable RV WiFi, it's the best way to ensure you'll have service in remote places.
Amazon has a mix of cheaper options, some with good reviews. These boosters generally amplify the service by about half of what Weboost does; depending on how far you are from a signal, that might be all you need.
Another RV WiFi option is satellite WiFi, which offers internet in the far reaches of the desert or remote alpine locations. The benefit, obviously, is having the internet wherever you go. The downside? Exorbitant cost.
For tripod-mounted satellite WiFi, costs average around $1,000-$3,000 for installation. For rooftop mounts, anywhere from $6,500 to $16,000. If you're living in your RV full-time, it might be worth the initial investment. You'll also have access to other TV services when you're on the road, even in areas where the signal is hard to come by. In the end, your choice all depends on how you use your WiFi and where you like to camp.
---
Related Campgrounds:
Popular Articles: