This article on camping in the Florida Keys was brought to you by our friends at Liquid IV, the makers of electrolyte drinks that help you stay hydrated, even in the heat and humidity of the southernmost point in the continental United States.
---
When Tennessee Williams first visited the Florida Keys in 1940, he wrote to a friend, "This is the most fantastic place that I have been yet in America. It is even more colorful than Frisco, New Orleans or Santa Fe. There are comparatively few tourists and the town is the real stuff." While the latter half of Williams' Keys has changed—with an influx of tourists coming from all over the world annually—it's still a wild, colorful place unique to the United States..
Here, the waters that steadily drain through Marjory Stoneman Douglas' beloved Everglades leave that "river of grass" to mix with the Gulf of Mexico and the Atlantic Ocean. Before they reach the expanse of the Carribean, however, all that fresh water runs into massive lines of ancient, calcified coral reefs that have been called the Keys ever since Spanish colonists arrived in the 1500s.
Florida Keys camping puts you up close and personal with this place's wild mix of mangrove swamps, beaches, coral outcroppings, and backcountry channels where paddlers can take in the brilliant waters and even more brilliant flora and fauna. At night, you'll find yourself directly underneath a brilliant dark sky night show after Florida's famous sunsets have subsided, but by day you're in reach of easy snorkeling, fishing, boating, and hiking.
Where to Go Camping in the Florida Keys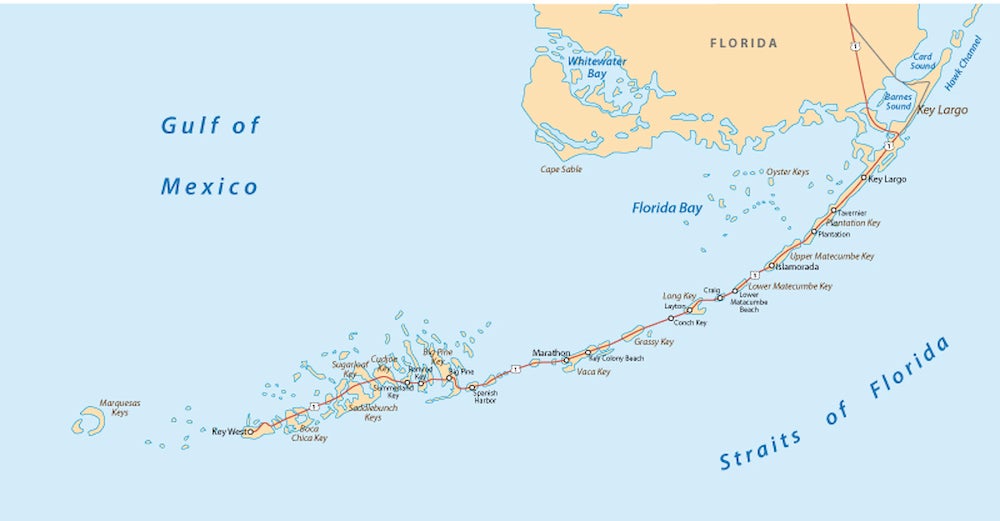 You do need to be careful about where you go camping in the Florida Keys, however. Like other Florida camping destinations, camping is prohibited on all publicly-owned islands in the various National Wildlife Refuges within the Keys, which cover about 400,000 acres. Unless you are one of the volunteer RV workcampers who dedicate a season or more to education, outreach, wildlife cataloging and other conservation tasks, you'll want to stick to one of many official campgrounds dotting the Upper, Middle, and Lower Keys.
Upper Florida Keys Camping Options
Biscayne National Park comprises the northernmost portion of the Florida Keys, and is an important conservation area for numerous Florida wildlife species, including sixteen endangered animals. This place protects Schaus' swallowtail butterflies, smalltooth sawfish, manatees, and green and hawksbill sea turtles, amongst many other fish, insects, birds, and mammals.
Originally Biscayne National Park was intended to be part of Everglades National Park. However, it took another couple decades for the success of the Everglades project and concerns about what the development of a second Miami Beach would do to the Keys for the conservation movement to reach the area surrounding Biscayne Bay.
Now Biscayne is a rare national park that protects more water than land, encompassing part of the Intercoastal Waterway as well as the Maritime Heritage Trail. The only underwater archaeological trail in the National Park Service system that follows the path of several shipwrecks dating back to the 1800s. On shore, however, Biscayne National Park also wows with boat-in Florida Keys camping for adventurous and water-loving campers..
The northernmost campground in the Florida Keys, Boca Chita is popular for its picturesque lighthouse and mellow boat-in vibe. It's one of the most trafficked spots in the Keys, though, so make reservations well ahead of time.
The camping is slightly primitive, with toilets but no drinking water, electricity, sinks or showers. Pack in your own water, plus electrolyte drinks to replenish lost salts that are also crucial to feeling your best. You'll also want to leave your #DyrtDog at home— pets aren't allowed on Boca Chita Key.
Tent sites run around $25 per night, with boat docking fee included, but only during the high winter season. During the summer, all camping and docking fees are waived from May 1 to September 30.
Do bring insect repellent to Boca Chita, and any other places where you might be camping in the Florida Keys. You'll also want a bear canister or other food locker— not because of any actual ursine threat, but to keep other wildlife out of your supplies. One nice trick you can take advantage of here in the Keys is to simply stow your food and beverages on your boat.
Elliot Key is larger than Boca Chita, meaning it also has extra room for campers and extra amenities like sinks and cold water showers. Beyond the island's 33-boat marina, there is a separate swimming area away from the fishing dock and marina as well as two trails that loop around the key for curious hikers. That's on top of all the fun you can have off-shore in the shallow waters surrounding Elliot Key, too.
Just don't forget to pack a reef-safe sunscreen; the Keys might be made up of a long-dead coral reef, but there are living ones in the vicinity, too, that need to be protected.
The Florida Reef, in particular, is partially within the bounds of Biscayne National Park, and is the third largest living barrier coral reef in the world, behind only the Great Barrier Reef in Australia and the Belize Barrier Reef in terms of size. It's a crucial part of the complex ecosystems that make up not only southern Florida, but the surrounding oceans.
"Great snorkeling. This park is all about the water. Awesome kayaking, snorkeling, and scuba diving. The water is beautiful, and the park itself is super relaxing!" —The Dyrt camper Sam D.
Not only is this prime coastal Florida Keys camping, John Pennekamp State Park also preserves one of the few living coral reefs left in the United States. Like some of Florida's other unusual state parks, John Pennekamp largely protects underwater spaces and species that you can explore by glass bottomed boat or scuba and snorkeling. This campground has gear to rent for a variety of aquatic activities, so don't worry about needing to pack in absolutely everything to have a good time.
The sites here can be a little tight for larger RVs and fifth wheels, however tent campers and RVers in smaller rigs will have no problem getting comfortable.
The park amenities include a boat ramp, two swimming beaches, a dive shop, and scuba and snorkel tours. Those amenities are also accessible to campers with disabilities, including the park's own wheelchair-friendly glass bottom boat and snorkeling vessel, an accessible dock and playground, and ADA-approved restrooms, pavilions, and campsites. There's a Mobi-mat for beach access, as well as a beach wheelchair upon request, too.
You will want to watch out for iguanas while you're here. They're an invasive species that is nevertheless a lot of fun for tourists to admire. Many of John Pennekamp State Park's iguanas took a hit following Hurricane Irma, and another when an unseasonably cold winter in 2018 caused numerous iguanas to drop out of trees when their body temperature fell to low. But they are certainly still around, causing mischief, and reminding campers of Florida's ongoing interchange with the Carribean and South America.
"Went there and loved it! Our site backed up to a swamp where the ibis were wading all the time. The iguanas were an issue and we had to make sure and put away all our food but they were neat. Great bathrooms and laundry facilities. Very neat places to swim and we even tubbed around the offshoots. Beautiful sunrise." —The Dyrt camper Charlotte F.
Convenient to the Adams Waterway, Kings Kamp is a great homebase for boaters and campers hoping to further explore the nearby Crocodile Lake National Wildlife Refuge, John Pennekamp Coral Reef State Park, and Dagny Johnson Key Largo Hammock Botanical State Park. The Adams Waterway is a short half-mile channel created in the 1950s to link Blackwater Sound and Largo Sound, so that boaters no longer had to circumnavigate the Keys to get from Florida Bay and the Atlantic Ocean.
That also provides boat-in campers an easy way to access Key Largo and everything there is to do nearby. Dagney Johnson State Park is home to numerous endangered species, as well as the largest tract of West Indian tropical hardwood hammock in the U.S. Hikers and cyclists of all abilities can explore much of the park thanks to paved trails.
At Kings Kamp, you can expect RV sites, tent sites, cottages, and motel-style rooms, as well as WiFi, marina with dockage ranging from daily to monthly, and a swimming beach. Nearby are numerous jetski, boat, kayak, and SUP rentals and boat charters that will help you get out on the water if you didn't boat in.
"Very close to John Pennekamp and everything else in Key Largo. Pretty standard tent sites, nothing glamorous. The campground is in The Keys, so you can't complain about anything! It actually has a small marina, so bring the boat or kayak and launch right there." —The Dyrt camper Amanda K.
Key Largo Kampground and Marina is a private outfit convenient not only to John Pennekamp and nearby parks, but to the town of Key Largo itself. There are a lot of different Florida Keys camping options here, from waterfront RV sites to full-hookups, 30/50/20 amp electric service, tent sites, and sites with private docks.
You'll also find all the private campground amenities you could want, including two swimming beaches, a heated swimming pool, wading pool for small children, horseshoes, shuffleboard, volleyball, bocce, and basketball. And because you're so close to town, it's easy to pop out to restaurants, grocery, the gym, or numerous rental and charter companies nearby.
"Nice campground all the way around, great staff, nice clean restrooms and showers, beautiful beach within the campground itself, nice pool, secure and if I left anything out I didn't mean to. Loved this campground all the way around!" —The Dyrt camper Rhonda B.
Middle Florida Keys Camping Options
Twice now, the land encompassed by Long Key State Park has been battered by hurricanes to the point of near total destruction, only to slowly bounce back. The first was the infamous Labor Day hurricane of 1935, which wiped out Henry Flagler's Long Key Fishing Camp, a destination loved by author Zane Gray. The second was Hurricane Irma, which so badly damaged the oceanfront campsites here in 2017 that all reservations remain closed through December 31, 2019 while the state works on restoration.
Florida Keys camping might not be available here for a few more months, but there is still a lot of fun to be had. Kayaks are still available for rent at the ranger station, hiking trails are still available, the Florida Keys Astronomy Club continues to meet on Tuesday nights, and ample wildlife can still be found along the portion of the Great Florida Birding Trail that passes through the park. And you can always camp nearby at other campgrounds that weren't hit so hard by Irma.
If you're torn between a love of camping and a love of easy-breezy tropical resorts, fret not. You can have the best of both worlds at Fiesta Key RV Resort, on a private key connected to the rest by a brief overlap with the famous Overseas Highway.
Originally developed as a rail line to bring commerce and easy tourist access to the Keys, the original transit connector was destroyed by the infamous 1935 Labor Day hurricane, one of the strongest on record in U.S. history. The age of the automobile was already on its way, however, and it's no surprise that the rail line was eventually redeveloped as Highway 1.
That paved the way— literally— for developments like Fiesta Key, where you can find easy access to Long Key State Park, the Dolphin Research Center where you can learn about and swim with our flippered friends, and Bud 'N' Mary's world famous fishing marina for chartered trips. There are RV and tent sites, rental cottages, and rental travel trailers. You'll also find a host of Thousand Trails amenities like hot tubs, swimming pools, marina and boat slips, a dog park, and an on-site tiki bar and restaurant.
"Tons of manatee hang out in the marina at the resort. You can get great pictures of them. We've met a lot of families and made some friends. We like the lobster pub on the property, they make good drinks and it's nice to sit under the tiki huts. We are coming back this winter. We love this place!" —The Dyrt camper Kirsten J.
Big rigs might have trouble squeezing into small beachfront sites at other destinations for Florida Keys camping, but not at Grassy Key. This private campground is freshly renovated with RVs of all sizes in mind, even monster fifth wheels and toy haulers.
Many of the sites face the Gulf of Mexico, and boat slips give you easy access to both the Gulf and the Atlantic. There's also free WiFi and cable, a pool, a white sand beach, and proximity to Marathon, Florida for events like their annual Seafood Festival and Lobster Season.
If you like to get out on the water but don't like to have your nature experience disrupted by loud motors, head to Curry Hammock State Park for some quiet Florida Keys camping. You can kayak and SUP here (and even rent a watercraft), and indeed the Florida Circumnavigational Saltwater Paddling Trail also passes through the park. However, you cannot launch powerboats, gheenoes (a type of flat-bottomed, stable boat ideal for shallow waters) or other motorized vessels from Curry Hammock State Park.
In addition to paddling, hikers and cyclists can also enjoy several trails in the park, including the Florida Keys Overseas Heritage Trail, which follows the route of the old Overseas Railroad that was eventually replaced by Highway 1. Birding is popular too, and Curry Hammock State Park is included in the South Florida Birding Trail. The park also hosts an annual Hawk Watch and the Florida Keys Birding and Wildlife Festival each year.
Curry Hammock State Park can accommodate RVs up to 70 feet in length, as well as tent campers— though not all sites have tent pads. There are also ADA-accessible facilities, including campsites and pavilions, and the solar-powered bathhouse and restrooms. Other amenities include a playground, picnic tables, grills, electrical hookups, and a dump station.
"Great campground halfway down the Florida Keys. Nice showers and restrooms. Small campground, so pretty quiet. Secured gate at night. Kayak and paddle board rentals available." —The Dyrt camper Mary C.
Lower Florida Keys Camping Options
Welcome to the Lower Florida Keys! Camping on this 75-acre island of Ohio Key, you'll find that Sunshine Key RV Resort and Marina is another Thousand Trails property full of nice amenities like rentable travel trailers, RV sites, tent sites, exercise classes (including water aerobics!), volleyball, and more. Plus you'll have a great shot at seeing the local wildlife (including the adorable manatees so famed around the keys).
"I spent a month there in my fifth wheel with my mother and my kids. There was something for everyone. Good fishing on the old bridge, nice little marina and pool. The manatee like to hang out in the marina. Large spaces. Electric golf carts only if you have one. Bring the bicycles." —The Dyrt camper George S.
A paradise for snorkelers thanks to its proximity to Looe Key National Marine Sanctuary, Bahia Honda State Park is one of the top Florida Keys camping destinations for anyone hoping to catch a glimpse of parrotfish, surgeonfish, barracudas, jacks, grunts, butterflyfish, and angelfish— not to mention the living reef itself.
That's not the only natural wonder that Bahia Honda has in store, however. Bahia Honda State Park is a well known dark skies location among locals offering unobstructed views of the southern night sky year around and hosts amateur astronomy gatherings.
The tent camping and RV sites here are nicely appointed with water at each site, restrooms, a camp store, boat launch, and not only gear rentals, but guided excursions to the reef. The scenery is extra gorgeous, too, thanks to the historic bridge near Bahia Honda. And thanks to the recent havoc wrecked by Hurricane Irma, campers can enjoy recent renovations.
"This is a must if you are visiting the keys! The beach is pretty typical Keys – gorgeous but nothing special. What sets this beach apart is not only the picturesque bridge and walking trail, but also the opportunity for snorkeling and guided tours to the reef. Be sure to pack reef safe sunscreen!" -The Dyrt camper Megan K.
If you want to see Key West without actually being in Key West, it's hard to beat Bluewater Key RV Resort. With easy access to both the Great White Heron National Refuge and less wild destinations like the Hemingway house and Shipwreck Museum, this is a fantastic homebase for Key West camping adventures.
You'll be close to 200,000 acres of small islands, mangrove forests, and shallow waters known to local Conchs as the backcountry, and which are home to frigate birds, white crowned pigeons, and of course magnificent white herons.
This luxury RV resort has spacious, private lots with their own tiki huts, water, electric hookups, and cable TV. The resort also has a heated pool, community room, dog park, private docks, and a propane exchange. You can also purchase lots so you always have your favorite site on lock.
"Gorgeous site with a canal on one side and the gulf on the other! All sites immaculately kept with their own tiki area. Garbage pickup daily as well as recycling pickup. The staff is incredibly helpful and professional." –The Dyrt camper Jen R.
Even closer to Key West proper is Boyd's Key West Campground, just minutes from the galleries and bars of Duval Street. Explore the Lower Keys by paddle board or kayak, go on a snorkeling tour, or hoof it through Key West in search of key lime pie, daiquaries, and a little history.
You'll find primitive tent sites, RV sites, and plenty of waterfront and wildlife. As a private, family-owned and family-operated campground, you can rest assured that this is a great place to bring children, while digital nomads will appreciate the WiFi connection even by the pool. And despite the ravages of Hurricane Irma that can still be felt throughout the Keys, Boyd's is back up and running and better than ever.
"This is one of the most beautiful campgrounds we have ever stayed at. It maintains the relaxed feel of Key West with excellent facilities, a friendly staff, all located in a lush tropical environment. It is located on the water with its own boat launch and dock. It is also conveniently located to the heart of all the activities that Key West has to offer."  — The Dyrt camper Rick B.
What to Pack for Florida Keys Camping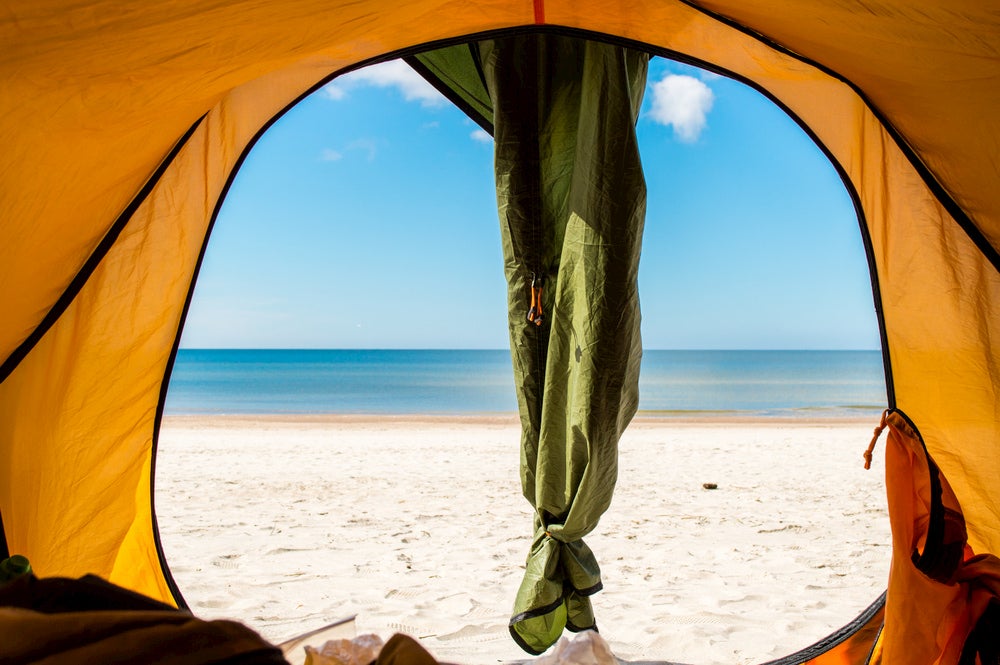 The Florida Keys are like a cross between the rest of the Sunshine State and its island neighbors deeper in the Carribean. That's part of what makes the Florida Keys so attractive for tourists, outdoor enthusiasts and a handful of travelers who simply never leave. Prepare for heat and humidity with:
Electrolyte drinks will help you stay hydrated despite the heat, humidity, and salt that are ever-present ingredients to the Florida Keys camping experience.
Insect repellant. Bugs are just a part of life in the tropics, but that doesn't mean you have to be a human buffet.
A long-sleeved rash guard or SPF-sun sleeves. This will help with the sun and the bugs, especially if you're going in and out of the water all day or plan on kayaking or SUPing
A sun shade or pavillion. Some like a larger pop-up canopy that can fit over a seating area or picnic table to help keep the bugs (and iguanas!) at bay. Others prefer a shaded beach chair.
Water shoes and beach toys
A heavy-duty wheeled cooler with fat tires to handle sand will help keep your water and sting-relief gel refreshingly cool. Plus many Florida Keys camping destinations have ice available for free or for sale as one of their amenities.
Leave-in conditioner to help your hair bounce back from the salt and humidity
Reef-safe sunscreen. 2.25 million tourists visited the Florida Keys last year, not counting permanent residents. Factor in how often you're supposed to reapply sunblock, and you're adding up to a lot of chemicals going into the water next to very sensitive reefs. In fact the National Parks Service estimates that up to 6,000 tons of sunscreen go into U.S. reefs every year. That's why the Florida Keys recently joined Hawaii in banning non-biodegradable sunscreen that could harm coral. Pack a reef-safe version and you'll be doing your skin a favor and practicing Leave No Trace principles.
History of the Florida Keys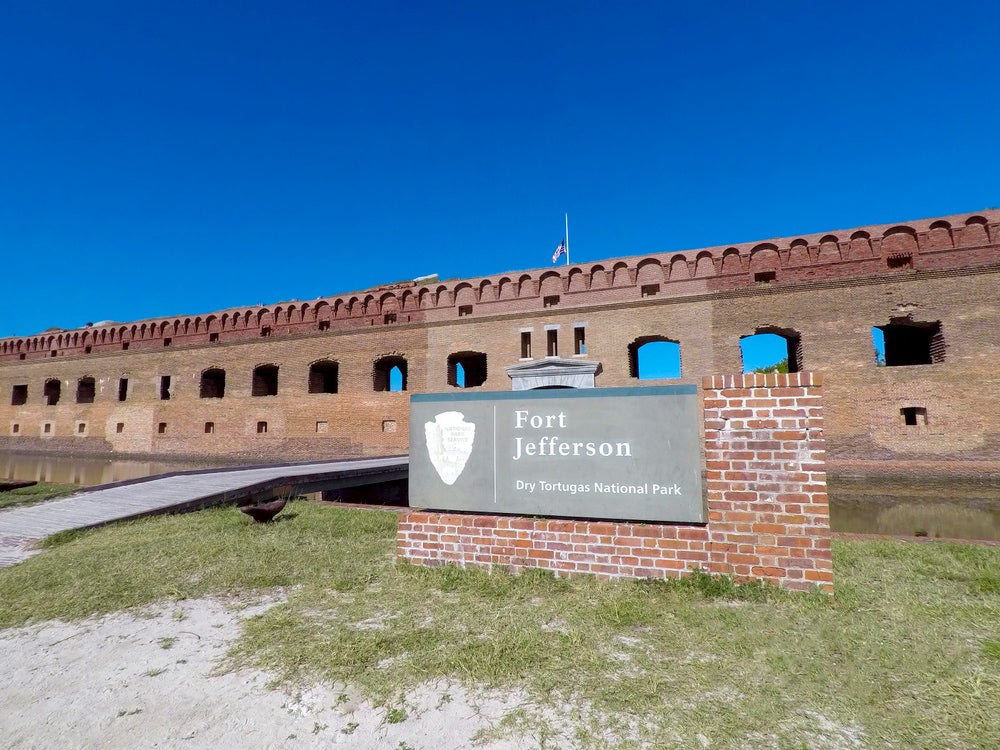 As you explore the Florida Keys through camping, you'll no doubt encounter reminders of the region's rich history. Long before they became a mecca for tropical tourists and outdoor enthusiasts, the Keys were home to the Calusa and Tequesta tribes. These indigenous peoples first encountered the Spanish in 1513 when Juan Ponce de León made a historic voyage to Florida, an expedition that earned him knighthood from the Spanish crown—and eventually a lawsuit with Christopher Columbus himself.
Despite the relatively early discovery of the Keys by European settlers, they remained largely undisturbed until the 19th and early 20th century. After hundreds of years of being little more than an outcropping used by pirates, the Keys became home to a booming industry of shipwreck processors, sponge collectors, and lime farmers. A railway was installed from the mainland, and later a highway. Pineapple farms and canning operations cropped up.
In the 1980s, Fort Jefferson, one of the largest forts in the U.S. was built to patrol the Gulf of Mexico and inlets of Florida.  You can still visit this coastal fort today at Dry Tortugas National Park.
In one of the more unusual twists of fate, a robust Cuban-American community emerged, prompting immigration crackdowns by the federal government in the 1980s and a brief secession attempt that would have reimagined the Florida Keys as the Conch Republic. In the face of all that development and in the midst of those rapid, colorful changes, it became clear that the Keys needed to be saved before they were loved, and built, to death.
Today, the Keys are a rich melting pot made up of the oldest Keys dwellers who call themselves Conchs, as well as Cubans, African Americans, a thriving LGBTQ+ community, and a bevy of transplants who fell in love with the Keys blend of American and Caribbean culture. Thanks to all that local love, plus a lot of help from state and federal conservationists, pieces of the Keys have been saved from development and kept wild for plants, animals, and human enjoyment since the 1930s.
That's a good thing because Tennessee Williams isn't the only person to become smitten with the Keys and what makes them utterly unique. This place inspires fierce loyalty and seems to cast a spell over many of its visitors. Other famous residents who made these old reefs their muse include Ernest Hemingway, Ann Beattie, Judy Blume, and many more.
You can see passages from many Keys writers stamped into the sidewalks around Key West, but one of the best ways to understand what it is about this place that compels so many artists and visitors is to take in the landscape for yourself with Florida Keys camping.
---
This article was brought to you by Liquid I.V.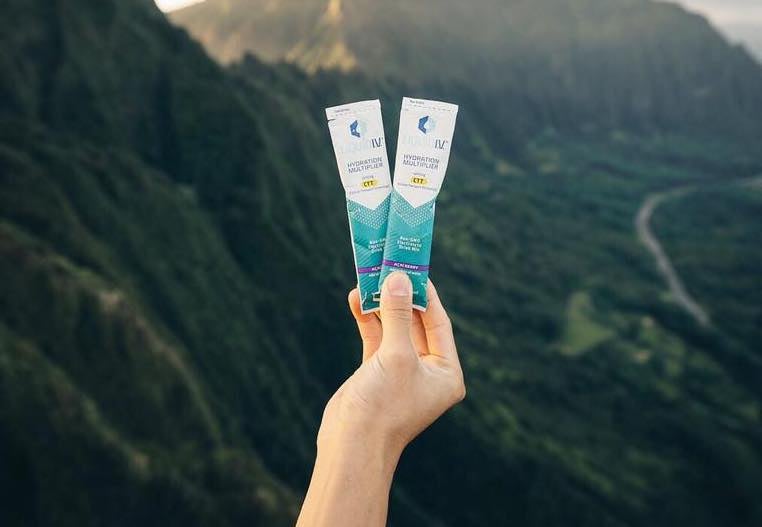 Make sure to pack Liquid I.V.'s Hydration multiplier variety pack for your next beach camping trip!
---
Related Articles:
---
Related Campgrounds:
Popular Articles: