Full disclosure here: I'm weirdly obsessed with Florida. I'm from Vermont but I've been camping at Florida State Parks since I was a kid, and I just can't get enough of the sunshine, soft sand beaches, and the extensive variety in landscape and wildlife to experience across the state.  And there are SO MANY state parks in Florida—175, to be exact.
While your mind might jump to golf courses and cruise ships when you think of Florida, the state parks are where you'll discover that it's really so much more—and camping in Florida is the best way to see it all. And this guide will introduce you to 54 of Florida's state park, each with places to camp.
Discover the Best Camping in Florida's State Parks
From the pristine beach of Cayo Costa to the vast night skies of Big Lagoon, Florida will surprise you in every state park. And despite what the development of the states' cities have done to the natural landscape, there is still plenty of wild Florida left to fall in love with for yourself.
Florida State Parks Table of Contents
Looking for something specific in this guide? Feel free to choose your own adventure:
[row]
[column size='1/3′]
[/column]
[column size='1/3′]
[/column]
[column size='1/3′]
[/column]
[/row]
---
Alafia River State Park was once a phosphate mine in Central Florida, and it features some of the most dramatic elevation changes in the entire state. Because of this, it's a hot spot for mountain bikers and equestrians wanting to explore Florida's landscape through 20 miles of forests, flatwoods, and rolling hills.
In fact, it's such a popular mountain biking spot, that there's a full service bike shop at the state park. There are freshwater swimming spots throughout the state park, and it's an excellent birding, canoeing, and hiking spot in a lush and varied landscape on Florida's central west coast.
Camping in Alafia River State Park
There are a wide range of options for camping in this Florida state park, from equestrian sites to primitive group sites. Camping here is quiet, peaceful, and relatively unpopulated…there are only 30 designated sites.
RVs are welcome, as are tents, and trailers. 12 of the 30 sites are designated for equestrian sites. There is a 12 stall horse barn available for equestrian campers.
---
Anastasia State Park boasts more than 1,600 acres of pristine, white sand beaches, dune trails, and abundant wildlife. There's also a fascinating history lesson within the state park found at the Spanish Coquina Quarries from the 17th century. St. Augustine is an old Spanish colonial town, and the buildings were formed from coquina, a variation of limestone consisting of sand and mollusk shells.
Camping in Anastasia State Park
A Florida state parks camping trip at Anastasia, means you'll have the chance to explore ancient sand dunes, tidal marshes, maritime hammocks, and a plethora of bird species (195 different bird species have been identified here!). One can also explore the coquina quarries, and learn of both Florida history as well as history specific to St. Augustine.
The 139 campsites at Anastasia State Park are within a short walk to the beach. RVs and tents are both allowed. Fishing is informative here for those that aren't familiar with native Florida fish: fishing on Salt Run features an informational kiosk for identifications of fish, as well as a bin for monofilament disposal and a cleaning station.
---
Note: As of March 2019, portions of Bahia Honda State Park is closed to the public, due to continued restoration efforts after damage from Hurricane Irma. Sandspur Beach and Sandspur campground are both closed. Check the park's website for updates on camping availability and future opening dates.
If you're wanting a tropical Florida destination that feels at once remote, pristine, and iconic, Bahia Honda hits the nail on the head. Sparkling sapphire waters lap gently against white sand that almost feels like velvet slipping between your fingers—perhaps that descriptions feels hyperbolic, but it's not. Bahia Honda is breathtaking.
Camping in Bahia Honda State Park
A Florida state parks camping trip in Bahia Honda affords both relaxation and adventure…spend the morning snorkeling among some of the world's clearest waters, kayak along the shore watching for ocean wildlife (sea turtles!) and birds darting overhead. The evening will bring some of the most stunning sunsets in the world. On land, there is a paved roadway for bicyclist or pedestrians.
---
If you're big on kayaking, you have probably heard of this state park. Big Lagoon is either the starting or ending point to the 1,515 mile Florida Circumnavigational Saltwater Paddling Trail, a kayaking trail that runs around the entire state. Moreover, Big Lagoon State Park is also a gateway to the Great Florida Birding and Wildlife Trail; the park is a common stopover for migrating and nesting birds.
Camping in Big Lagoon State Park
If you're an avid birder exploring within Florida State Parks, camping here is a must: there are more than 23 species of wood-warblers alone. If astronomy is of particular interest as well, the state park works with the Escambia Amateur Astronomers Association to guide stargazers to spot planets and constellations in the night sky above Big Lagoon.
There are 68 campsites in all, and the park welcomes RVs, trailers, and tent campers.
---
Florida is home to some pretty incredible ecological wonders, and one of them is within Blackwater River State Park: the largest contiguous longleaf pine/wiregrass ecosystem, one that is more rare than a tropical rainforest. Despite the name of the river, the water that comes from this forest is extremely pure, making it an excellent park for canoeing, kayaking, swimming, or even just floating lazily in a tube. There are a number of forested trails, excellent for walking or biking.
Camping in Blackwater River State Park
Florida State Parks camping can often come with nearby camping neighbors and perhaps a little less privacy. Blackwater River only has 30 campsites, and with this smaller number of campers, a chance at a more peaceful, quiet experience within Florida wilderness.
Tent campers are welcome, as are RV and trailers under 35 feet. Sites are spacious, clean, and gravel.
---
If you love manatees, Blue Spring is a must: it's the winter home to these beloved sea cows from November to March. In fact, due to incredible conservation efforts, there was a record number of manatees in the clear waters of Blue Spring…485 manatees were counted in 2018. In the spring, swimming, diving, snorkeling, and tubing are popular water activities. Blue Spring maintains a water temperature of 72 degrees, so in the summer it's a hot spot for cooling off.
Camping in Blue Spring State Park
Pro tip: this state park frequently reaches capacity, both during the week and on weekends, year-round. It's a popular park, and for good reason. If you're camping, you'll need to make a reservation months in advance.
Water sports, walking trails, and of course, manatee viewing, making this state park so popular. There are 50 sites available.
---
Cayo Costa is a secluded Gulf Coast island campground that features untouched, wild Florida coastline. Accessible only by boat, it's not hard to imagine what Florida's beaches must have looked like to the native Calusa Indians. The vegetation on the island is unique, and has remained virtually as it was 500 years ago.
There are kayak rentals to explore the calm waters of the coastline, as well as walking trails that meander around the island.
Camping in Cayo Costa State Park
The campground is small and, during peak season, it can be hard to get a reservation. If you don't have your own boat or kayak, there is a ferry that shuttles campers and visitors to the island. Bring everything you'll need with you, as there isn't much on the island. There is a tram that brings you and your gear to the campground.
There are 27 campsites and 12 cabins to choose from. All are a hop away from a gorgeous, secluded long stretch of soft white sands and that magical Gulf Coast water.
---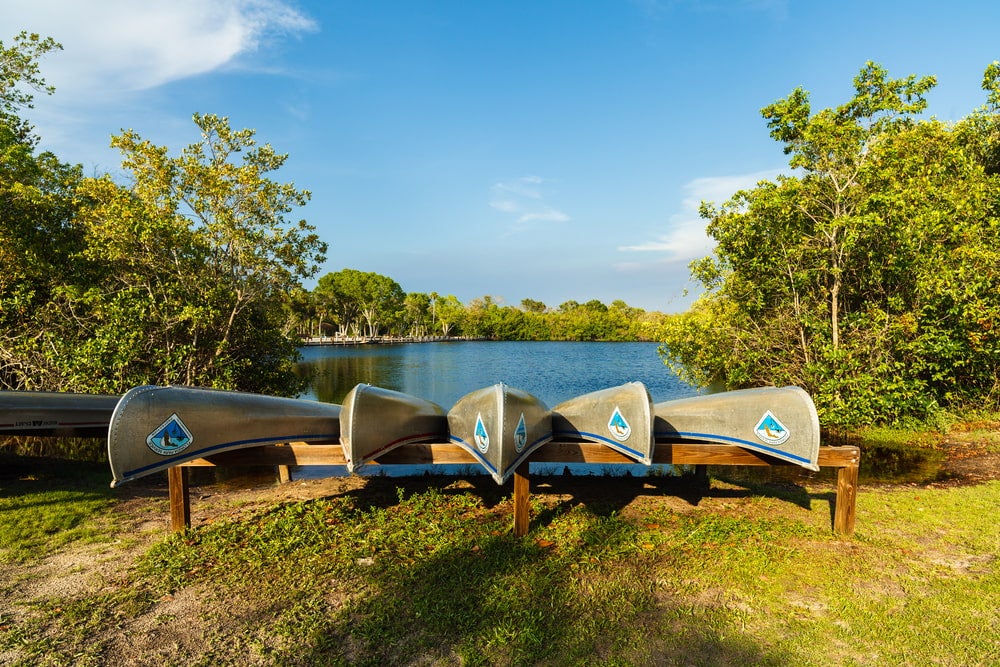 Located in one of the largest mangrove swamps in the world, this 7,000 plus acre state park is teaming with flora and fauna and an environment that's typical of the Everglades. It's less popular than the famed Everglades, however, so it might offer more chances at camping in solitude (unless, of course, you're backcountry camping).
Camping in Collier-Seminole State Park
Tent and RV campers are welcome. Each site has electricity, water, a grill, and a picnic table.
There are a variety of activities for campers to partake in at Collier-Seminole. A favorite? A guided canoe trip down the Blackwater River.
---
Colt Creek is a vibrant state park in central Florida, with 5,000 acres of natural habitat to explore. There are biking, walking, and equestrian trails within the park. Wildlife viewing includes birds, alligators, and the threatened gopher tortoise. Cypress domes, a personal favorite landscape, are found in this park.
Camping in Colt Creek State Park
There are 30 sites to choose from at Colt Creek State Park. Sites are in a loop-style campground, and each is spacious and offers privacy. Bring your kayak or canoe—there are waterway trails throughout the park that are a wonderful way to spend a day.
---
Exploring the Key West area often means you'll be exploring heavily developed areas of what was once pristine land. Curry Hammock offers a break. It's an untouched section of land 1,000 acres in size, set in between Key Largo and Key West.
Why has it been left undeveloped? The park is protecting a fragile environment and seagrass bed that is essential to the Florida Keys ecosystem.
Swimming, snorkeling, SUP, kiteboarding, and kayaking are all excellent ways to spend your time here.
Camping in Curry Hammock State Park
Camping at Curry Hammock is limited–there are just 25 sites. All can serve either tents or RVs, but none offer much in the way of privacy. What it lacks in seclusion it makes up for in views: you're camping on the water, with gorgeous views of sunsets, the ocean, and palm trees.
---
St. George is a barrier island in the historic Apalachicola Bay, featuring Gulf sunsets, wildlife viewing, and epic water adventures for the entire family…there are some warm, shallow waters perfect for young swimmers to splash around in safely.
Camping in St. George Island State Park
Florida state parks camping is at its best here: you're camping near some of the most unforgettable beaches in the entire state of Florida. There are 54 sites all relatively close together, leaving untouched barrier island to explore on your own. This park in particular offers excellent shelling on the Gulf side, so be sure to spend some time combing those silky soft white sand beaches.
---
This state park, based on the highest waterfall in Florida, is in North Florida and a popular stopping point for road trippers on their way further south. It deserves its own stay, however, as it's a migratory stopover for butterflies, as well.
A fun bit of trivia about the park? No one knows where the nearly 73 foot waterfall finally ends.
Camping in Falling Waters State Park
There are 21 sites at this small state park, and they fill up fast. This is a popular state park for hikes, as there are moderately sloping grades within the park that lead to truly beautiful vistas.
---
This is a stellar state park for kayaking being right on Pellicer Creek, a designated state creek trail with only an average depth of 2 to 6 feet. There are multiple hiking and walking trails, some of which are wheelchair accessible.
Camping in Faver-Dykes State Park
Camping at Faver-Dykes is shaded, offering reprieve from the sun and heat under a hardwood hammock. There are 27 sites in all, and reservations fill quickly on key holidays and weekends, so book well in advance.
---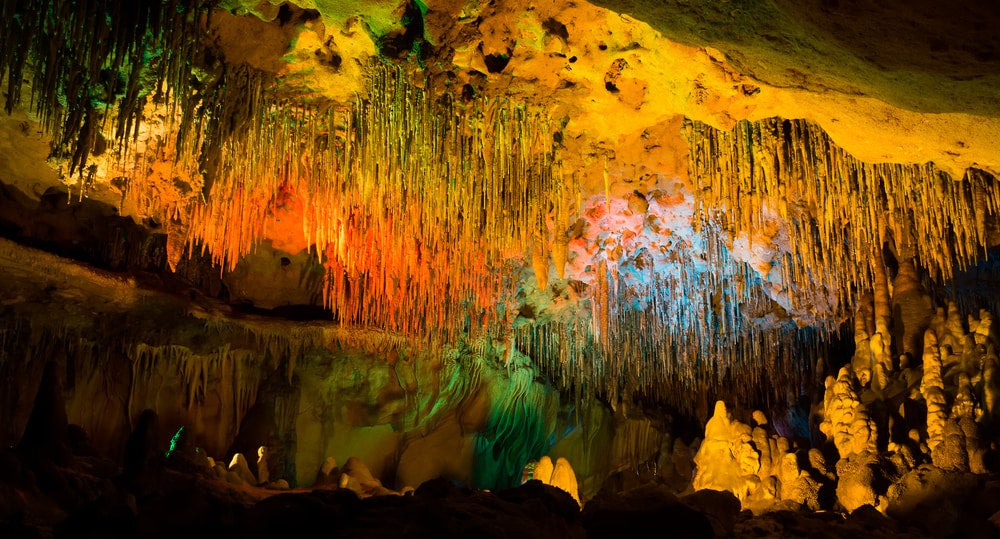 Note: This park is currently closed due to the effects of Hurricane Michael. Check the park's website for updates on camping availability and future opening dates.
Underneath Florida's floor lays a secret, hidden world whose depths are colorful, cool, and unbelievably beautiful. There are cave tours beneath the ground, and kayaking, walking trails, and more, above.
Camping in Florida Caverns State Park
There are 33 sites available for camping at Florida Caverns State Park. This park is next to the Chipola River and Blue Hole Spring, so bring both your hiking shoes and your bathing suit. You'll use both.
---
Fort Clinch has a rich history—during the civil war, this was a strategic fort for the Union. There are wide-palmed live oaks, maritime hammocks, and excellent opportunities for fishing. In all, there are 1400 acres of this Fernandina Beach park to explore.
Camping in Fort Clinch State Park
Bring your shell bags, this state park has a seemingly endless supply of shark's teeth on the beaches of Fort Clinch.  This is a popular park among history buffs for its historic fort, and camping here feels decidedly like you're taking a step back in time.
There are 58 sites to choose from, with two loops in opposing ends. The campground is open for reservations year-round.
---
What was once a WWII a gunnery practice site has now been turned into a beautiful Florida panhandle state park. If you or someone you're camping with enjoys saltwater fishing—this is the park to visit. Called the centerpiece of the park, Rocky Bayou of the Choctawhatchee Bay, is wildly popular among boating and fishing enthusiasts.
Camping in Fred Gannon Rocky Bayou State Park
The park is popular on Pioneer Day, in November, and on Estuary Day, in May. Other key holiday weekends typically fill fast, but otherwise it can be fairly easy to book a camping reservations with moderate advanced planning.
Make sure to walk amongst the pines; there are some longleaf pines that are estimated to be over 300 years old.
---
This small, 145-acre park, sits on the shores of Florida's Atlantic Ocean the the Intercoastal Waterway, where one can watch dolphins and manatees swimming up and down the river.  There is a butterfly garden at Gamble Rogers, as well as opportunities to view plenty of species of wildlife in their natural habitat.
Camping in Gamble Rogers Memorial State Recreation Area at Flagler Beach
There are 64 sites for camping at Gamble Rogers, a number of which are directly parallel to the Atlantic Ocean. Geocaching is popular among Florida state park campers, and this park is an especially popular spot in Florida.
---
The newest in Florida's state park system, this special spring has outstanding water clarity for swimming, snorkeling, and paddling. The spring produces an average of 44 million gallons of water per day, so its water activities are endless. The waters here gave the spring, and park, its name: they're baby blue in color.
Camping in Gilchrist Blue Springs State Park
There are 25 well-spaced sites, including 7 tent-only sites that are spacious and private.
---
If you like swimming in warm, Gulf waters and soaking up the sun on pristine, sugar-white sand, Grayton Beach is the place for you. This park consistently ranks among the top beaches in the US.
There is a rare gulf lake to explore by paddle boat, and hiking and biking trails meander throughout this 2,000-acre state park.
Camping in Grayton Beach State Park
In most Florida state parks, camping includes either spots for RVs and/or tents. Grayton Beach has the option of rustic tent camping, RV parking, or even a more glamorous camping experience with their cozy camping cabins.
---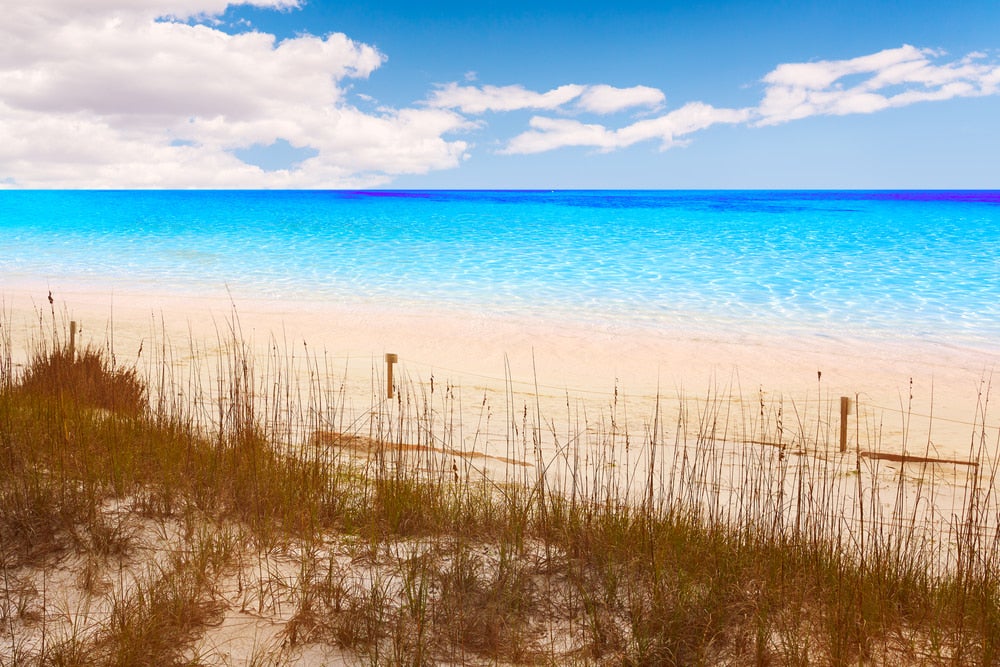 On a protected strip of the Emerald Coast, Henderson Beach State Park is known for its impressive 30 foot white sand dunes. The park was actually established for the preservation of the last remaining coastal scrub area in Destin, Florida. The trails that meander around the sand dunes and coastal scrub areas, make this spot a well-loved Florida state park.
Camping in Henderson Beach State Park
54 campsites spaced around 4 different campground loops, like most Florida state parks camping along the Gulf, Henderson Beach State Park includes incredible swimming in its warm ocean waters.
This is a popular park for weddings or family events; rent the campground and get married right on the beach in one of the most stunning areas of Florida.
---
Walk along trails built under an ancient hammock, and meandure on elevated planks that wind through a cypress swamp.  Photographers: this is a dreamy spot for that golden hour light. In late winter, light filters through the cypress trees that create an otherworldly amber glow only experienced this time of year.
Camping in Highlands Hammock State Park
This is a larger state park, with 143 sites available. There are a number of wilderness sites, as well that are tent-camping only. Black bears and the Florida panther are among the wildlife here, so protect them by practicing safe camping actions.
---
Hillsborough River has some rare class II white water rapids, so for river running enthusiasts, a visit here is a must.
Although not frequent, this state park is a well-loved locale for reenactments at Fort Foster, a Second Seminole War-era fort. As such, cannons and guns can and do go off. Otherwise, they're silent, a piece of history in the civil war.
Camping in Hillsborough River State Park
Featuring 100 camping sites, this state park is right outside of Tampa, Florida, making it a nice getaway for native Tampa residents. There are only 2 tent-only sites, and it's a popular park amongst RVers.
---
Nicknamed "Fort Lauderdale's Central Park", this green oasis in the middle of this dense city is a special place. Preserving this land meant preserving the flora and fauna that lives and frequents this area. Fishing is allowed, but with special regulations.
Camping in Hugh Taylor Birch State Park
Camping is only available for group/youth to organized groups. There are cabins with restrooms; as part of your youth group stay, there is access to the lodge which provides a kitchen and dining facilities. The cabins accommodate up to 68 people. Additionally, primitive tent camping as also available to youth groups of up to 50 people.
For general, non-camping use, there are pavilions available for rent for day-use; they are outfitted with water and electricity.
---
As it suggests in the name, this park is known for its underwater ecosystem, seen best by snorkeling and diving. This state park is known for being the very first undersea state park, and visitors have a chance at experiencing an entire world that's virtually unseen from above.
In addition to what lays below, there are above-ground walking trails and other land-lover activities.
Camping in John Pennekamp Coral Reef State Park
Because of Key Largo's mild climate, winter is the most popular time of year to visit this state park. Camping is along a single strip, with campsites directly across from each other. There are 42 sites, accommodating both RV and tent campers. This campground books quickly, and reservations are accepted up to eleven months in advance.
---
The largest state park in southeastern Florida is home to some spectacular, and rare, ecosystems. It's also a park of fascinating history, including a secret WWII training camp, a shipwrecked Quaker merchant, and the 1930's pioneer Trapper Nelson, the legendary Wild Man of the Loxahatchee.
High points for visiting this state park include a ranger-guided tour of Trapper Nelson's homestead, as well as off-road biking, equestrian, and walking trails. The river serves as a beautiful pathway for water exploration through some of southeastern Florida's landscape.
Camping in Jonathan Dickinson State Park
Hobe Mountain, an ancient sand dune, is home to some truly rare ecosystem: it's not found anywhere else in the world. While a day visit to is certainly worth it at this Florida state park, camping is highly recommended: there's simply too much to see and do in one day.
There are 132 campsites for RVs and tents; 10 of those are cabin sites.
---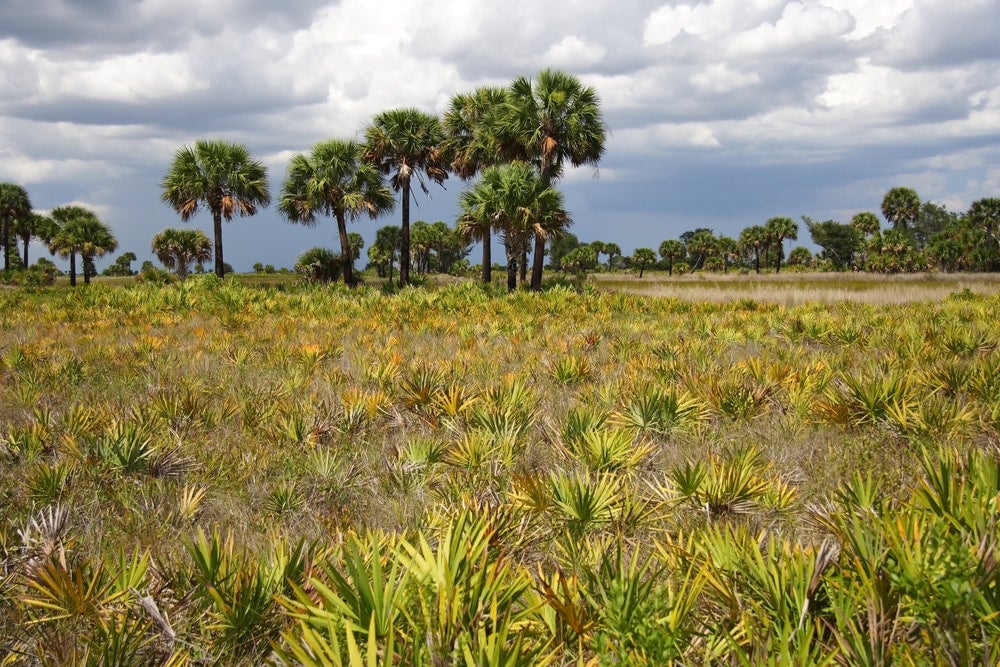 Central Florida is home to a vast expanse of dry prairie grassland, and its ecosystem is one of the most diverse, rich ecosystems of its kind of the continent. A unique experience to this park? A ranger-guided buggy tour that takes you into the heart of the prairieland.
Camping in Kissimmee Prairie Preserve State Park
In this Florida state park, camping isn't limited to just tents or RVs. There are equestrian sites as well, making this a popular horse-camping experience as there are a number of equestrian trails throughout the sprawling park as well.
---
Koreshan State Park is named for the Koreshans, a religious sect founded by Dr. Cyrus R. Teed. The Koreshans moved to this land, on the shores of the Estero River, in 1893. There settlement was based on communal living and an idea of an existing universe on the inside of the Earth.
The Koreshan settlement today is a slice of history within a peaceful state park. One can tour the restored buildings and houses, and even experience the cuisine of the Koreshan's at the Cast Iron Cafe, a part of the Industrial Area of the settlement.
Camping in Koreshan State Park
RVs, trailers, and tent camping are all welcome at Koreshan State Park. There are 54 sites available; this is a popular park that, like many state parks in the Florida State Parks camping system, fill well in advance. To camp here, you can reserve 11 months in advance. Koreshan State Park is on the Gulf Coast, and nearby beaches are wildly popular for shelling, swimming, and sunset-viewing.
---
One of the shining spots here is the 400-year-old Live Oak, the second-largest in the state of Florida, that stands proudly on the grounds of this 620 acre park. Although this is a smaller park, there is a lot that its grounds offer: freshwater swimming and water sports, and marshes, swamps, and sandhills. There are a variety of animals that call this park home as well, even including bears.
Camping in Lake Griffin State Park
This park is popular amongst anglers and birders. A smaller state park, this is a quieter park that's still close to nearby towns. There are 40 sites, each with water and electric.
---
In 1876, cow hunters roamed this area, pushing the wild Florida Scrub Cattle to Punta Rassa where they were loaded aboard ships and sent off to Cuba. This park features historical reenactments, cattle camps, and a chance to step back in history and enjoy food, cattle camp coffee, and a fire time reminiscent of the period of these cow hunters.
Camping in Lake Kissimmee State Park
Although Cow Camp hours are not year-round (October 1st-Mayst, every Saturday and Sunday from 9:30-4:30), it is available upon request year-round for groups of 15 or more. There are 54 sites available year-round with a maximum reservation window of 11 months.
---
Just a quick thirty minutes from Orlando, this park is popular for those seeking to escape the hustle of the city for a bit of serenity amongst nature. The park has a wide array of diverse opportunities to explore nature—it's referred to as 'a natural theme park' due to this diversity. There are miles of paved biking trails, freshwater swimming, boarding, and paddle-boating in three different ponds.
Camping in Lake Louisa State Park
In addition to 54 tent, trailer/RV sites, there are 17 cabins that overlook Dixie Lake that are among the most well-loved sleeping quarters in the park. Additionally, there are two primitive sites that are also pretty spectacular. These are carry-in, carry-out sites, one of which is tucked into slash pines that line Big Creek, while the other is sheltered by oaks. Both are sites steeped in solitude and beauty in Florida's wilderness for an unforgettable backcountry experience.
---
Sad fact: despite the name of this park, you won't have a chance to see manatees here. In the mid 1960s, a dam was built across Manatee River, cutting off access to the lake. The manatees disappeared from this area shortly thereafter.
However, there is excellent fishing, so for fishing enthusiasts, there is plenty of opportunity to cast a line directly from your boat or from the park's fishing docks. There are hiking trails, but the most popular area of this park is the beauty of Lake Manatee's fresh water.
Camping in Lake Manatee State Park
The campground at Lake Manatee is a short jaunt from the lake. Surrounded by both pines and oak trees, this Florida state parks camping area is a treasured spot for finding peace in an otherwise busy, populated area of the state.
---
This park is a hidden gem on the outskirts of Tampa. Little Manatee River has been designated as an Outstanding Florida Water, in addition to being a part of the Cockroach Bay Aquatic Preserve. What does this mean? Due to the quality of the water and the states efforts on preservation, Little Manatee River State Park offers visitors the chance to observe rare ecosystems found in this park.
There are superb hiking trails, full service camping, and over 15 miles of multi-use trails (equestrians, welcome!).
Camping in Little Manatee River State Park
Open year-round, serving both RV/trailer, tent, and Equestrian campers. There are just 31 sites available.
---
Although Florida is highly developed, the state has managed to preserve a fair amount of land, making access to green spaces possible even when within a developed, populated area. Little Talbot Island is one such space.
When you're visiting this state park, it almost feels impossible that you're in Jacksonville. Owing this seclusion the fact that Little Talbot Island is a barrier island flanked by ancient sand dunes, there are walking trails, kayaking waterways, and chances to explore an area that has remained undeveloped and untouched. This is also a critical stopping point for migratory birds, making this park a sensational spot for bird lovers.
Camping in Little Talbot Island State Park
32 well-spaced sites never far from the beach…this is perhaps Florida state parks camping at its best. And heads-up for RV/trailer campers: of the 20 sites available for you, only 4 allow a maximum length of 30 feet. If this is you, plan on reserving months in advance (and make sure to take note of this when making your reservation).
---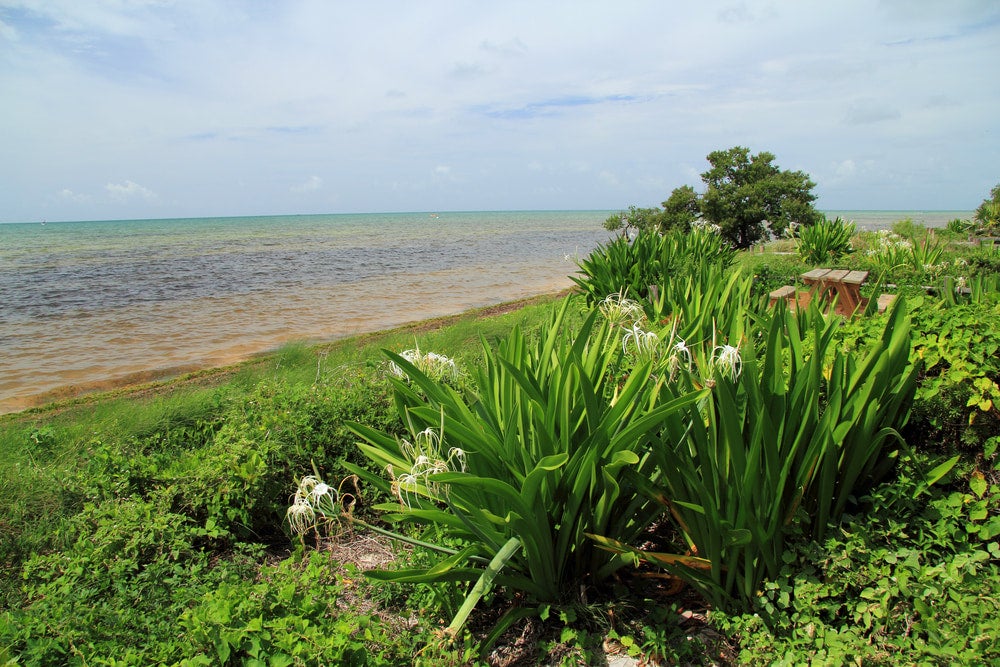 Note: due to campground reconstruction, reservations are closed through December 31st, 2019. Check the park's website for updates on camping availability.
Before the Labor Day Hurricane of 1935, Long Key was home to Henry Flagler's Long Key Fishing Camp. This was a popular spot for celebrities, celebrity fishermen, and even presidents. The hurricane destroyed this camp, however, and it was never repaired or reopened. Today, this space is one of the most serene places along the Atlantic coastline, where everyone is welcome to visit…not just the rich and famous.
Camping in Long Key State Park
Camping here means you'll be camping in one of sixty oceanfront campsites that gaze out of the Florida Keys. What's more, there is excellent paddleboarding along Long Key Lake, walking trails through rare Florida habitats, and a chance to fish the famous flats of Long Key.
While camping here is closed through 2019, when the campground reopens, be sure to book well in advance. This is a very popular Florida state park.
---
Although it might feel like you're among the first to discover this unbelievable cold water spring, the fact is people have been reveling in the beauty and rejuvenation of this spring for more than 10,000 years. Unbelievably, this spring releases 100 million gallons of water—daily.
There are boardwalk trails around the springs, as well as miles of biking trails. There is also a connector here in the park to the Nature Coast State Trail, a 32 mile multi-use trail.
Camping in Manatee Springs State Park
Campers, bring your kayaks. This is one of the best spots in Florida for a lazy, meandering kayak through a truly magical park. There are 73 sites, accommodating RV/trailers and tent campers.
---
36. Marjorie Harris Carr Cross Florida Greenway—Ocala, Florida
Not so much a state park as it is a trail, this awe-inspiring greenway spans from the Gulf of Mexico to the St. John's River. Boasting more than 70,000 acres of land and more than 300 miles of multi-use trails, adventure-lovers, thrill-seekers, and peace-finders can enjoy the ambitious Cross Florida Greenway. Not just home to a variety of trails, this Florida state park also offers camping options within its boundaries.
Camping in Marjorie Harris Carr Cross Florida Greenway
Camping in the Cross Florida Greenway is designated in these 4 spots:
Ross Prairie Trailhead and Campground:
Located along southern border of the Cross Florida Greenway, this prairie is diverse in wildlife and ecosystems. Camping here is limited to just 14 sites; there is an on-site host available year-round. There are stunning trails through Ross Prairie, offering visitors the chance at viewing its wildlife in their untouched, native habitat.
Shangri-La Trailhead and Campground:
Also located along the southern border of the Cross Florida Greenway, camping at Shangri-La is noted for its solitude, chances for true immersion in nature, and its history. Here, during the Great Depression, thousands of workers dug tirelessly toward the bedrock in hopes of creating a below-sea level canal. Sites do not have electricity, but generators are allowed (except during quiet hours).
Santos Trailhead and Campground:
Popular amongst both novice and elite mountain bikers for its proximity to some serious mountain biking trails, Santos is noted for being one of the best mountain bike facilities in existence. Camp here in the first weekend of March to partake in the Santos Fat Tire Festival—drawing top mountain bike manufacturers and riders from around the world. Just take note: it sells out virtually as soon as it's announced, so you'll have to jump on it if you want to partake.
Rodman Campground, Palatka, Florida:
Each of the 67 designated camp spots in Rodman Campground are typically filled with freshwater anglers: Rodman Reservoir is a top 10 Trophy Bass Lake in Florida. For other fun besides fishing, the Florida Trail Association and an ATV trail is less than a mile from the campground.
---
Home to an old growth stand of longleaf pines, this is a slice of history amongst one of Florida's first state parks—there are only a few old growth longleaf pine stands remaining. Swimming in the cool, fresh waters of Little Lake Johnson is a popular summertime activity among Floridians.
Camping in Mike Roess Gold Head Branch State Park
There are three campgrounds within the 2300 acre Gold Head Branch State Park, as well as primitive group sites, and 16 fully equipped cabins directly on the lake. In all, there are 81 sites available for a Florida state parks camping trip at Gold Head.
---
It's an appropriate river to have been the first-designated wild river, as Myakka River is a waterway that has been explored among humans since humans first inhabited this land. It's also a majestic river, with palm trees and live oaks in a lush canopy over the riverbanks. The river itself wanders through marshlands, prairies, hammocks, and pinelands.
Not just popular among paddle-boaters, there are bicycle trails that wander throughout the park, as well. And a personal favorite? The Myakka Canopy Walkway, the first public treetop trail in North America. It is 25 feet above ground, and extends 100 feet through the trees, providing a bird's eye view to the canopy of Live Oak and Sabal Palm.
Camping in Myakka River State Park
There are four designated spots for Myakka State Park camping staying a night or two (or more!) within Myakka River State Park's boundaries.
Big Flats Campground is a bit more off-the-beaten path, and coincidentally, also the campground located nearest Upper Myakka Lake. Aim to snag a campsite here if you enjoy peaceful nights on the water.
---
O'Leno is a quality state park among Florida state parks; camping is consistently rated among the top in the state, and there are enough outdoor activities to keep even the most indecisive camper pleased (from water sports, to equestrian trails, to fishing, to exploring an old abandoned lime rock quarry!). There are over 20 miles of hiking trails, including the ever-popular suspension bridge built by the Civilian Conservation Corps during the Great Depression.
Camping in O'Leno State Park
There are quite a few options camping at O'Leno, including 60 family campsites, 3 primitive group camping area specifically for youth groups, 10 primitive backcountry campsites at Sweetwater Lake, as well as primitive camping for equestrians. If you're wanting to backcountry camp at the lake, plan to arrive early for a permit: only 10 campers are allowed per night at Sweetwater.
---
A popular park among avid fishers, there are also a myriad of trails that weave throughout the park which offer visitors a chance to enjoy pristine Florida wilderness in a quiet part of the state (Sopchoppy, population 500).
Because of the darker night skies above this state park, visitors can enjoy a beautiful Florida night sky with a chance of some serious stargazing.
Camping in Ochlockonee River State Park
27 wooded, private sites make this Florida state park camping spot a dreamy southern getaway.
If you've come for a fishing and camping trip and you're out of bait–you're in luck. Sopchoppy is the worm capital of Florida. In fact, April holds the annual Sopchoppy Worm Gruntin' Festival, so if you want to partake, plan on booking a site in advance.
---
Oscar Scherer is a surprising green space in the midst of urban sprawl. Unbelievably, despite the nearby developments, birds nest here in the winter (bald eagles, among them), and other native flora and fauna call this slice of Florida wilderness home. Fishing is popular, as is biking (it's a stop on the Legacy Trail), kayaking, and hiking.
Camping in Oscar Scherer State Park
In all, there are nearly 100 spots for camping in loops along the South Creek. Notable campground and state park features include ADA accessibility, potable water, group camping facilities, and swimming and boating in the park's Osprey Lake.
---
A stop in this park and you'll think you've stumbled, somehow, into the plains of the west. Shockingly, wild bison and horses roam this diverse prairie, making it a unique experience only found in this Florida state park. Camping here is a must–there's so much to do in this preserve, you'll want at least a few days to take it all in.
There are over 30 miles of trails for equestrian, biking, and walking, and 23,000 acres of true Florida wilderness to take in. It's a spectacular prairie preserve with a rich and varied landscape.
Camping in Paynes Prairie Preserve State Park
To truly experience the backcountry of Gainesville, consider camping in one of ten designated backcountry camping spots only accessible by hiking. And if hiking isn't an option for you but you still want to experience the thrill of backpacking, site 019 is fully wheelchair accessible and yet still considered a backcountry site.
---
The waters of Rainbow Springs are emerald or turquoise or aquamarine, and impossibly clear. For 10,000 years, the colors of this spring water has been considered worthy of a voyage, a pilgrimage for when humans first visited this special place. Today, visitors still make their way to the springs of this state park for a swim in its healing waters–legend has it, the water of Rainbow Springs is magically healing and powerful.
Camping in Rainbow Springs State Park
Whether you're staying the night or just visiting, this park offers visitors tube rentals, as well as chances for snorkeling, kayaking, and swimming in the Rainbow River. Hikes along the park's miles of hammock-covered trails, take park-goers through lush tropical-like forests.
Camping options are relatively private and well-spaced, making this a truly peaceful Rainbow Springs experience. There are 7 hike-in only spots for backcountry campers who want to experience an even more private side to Rainbow Springs State Park.
---
Sebastian Inlet is best known for its surfing community…in fact, surfers from around the globe come to state park just for a chance to ride "First Peak" and "Monster Hole". However, there is quite a bit more to this park than just being a surfer's haven.
Offering museums, trails, fishing, and some pretty specatular beach, this state park on Florida's Atlantic coastline offers visitors a wide-range of outdoor activities.
Camping in Sebastian Inlet State Park
The Florida Pro Surf Competition is held in January at this park; so book a site many months in advance if you want to stay at this state park during the competition. Otherwise, camping here is more popular during the spring and fall months. There are 52 sites in loops on the inlet.
---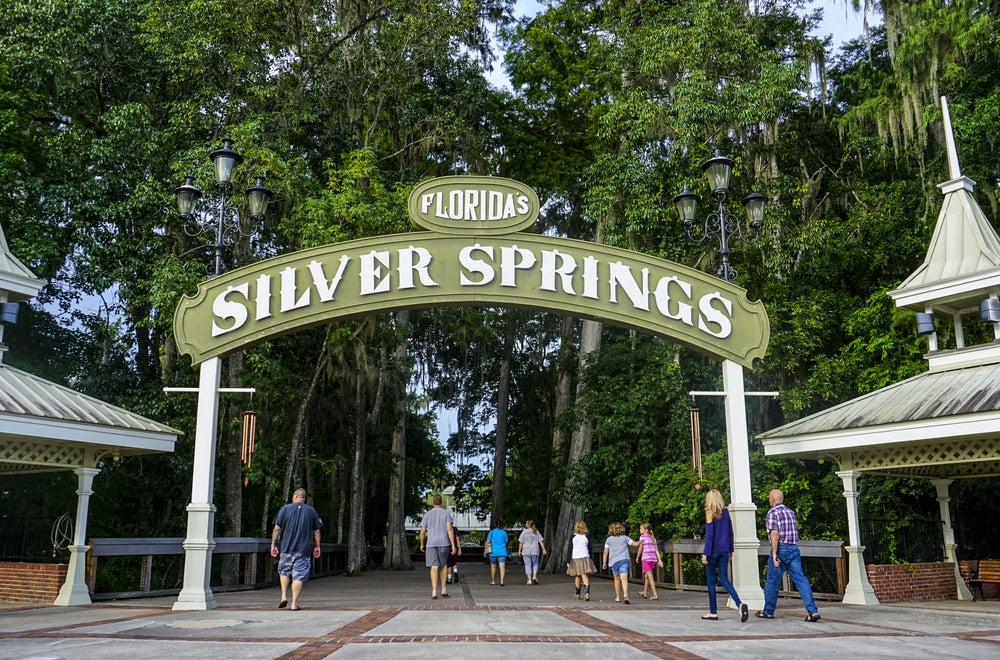 This crystal clear natural spring has been a popular tourist destination for a long time–in fact, it's Florida's oldest attraction. In the time-honored tradition of northerner's flocking to Florida in search of sun and warmth, steamboats used to carry passengers from northern states to Silver Springs for a chance to revel in the clear, blue waters via glass bottom boats, and basque under the sun in the surrounding botanical gardens.
Today, tourists still do much of the same. There are still glass bottom boat tours, botanical gardens, and now, even a museum. This is a historical park, with plenty of outdoor adventure to enjoy.
Camping in Silver Springs State Park
Campsites at Silver Springs are secluded, which can be tricky to find when enjoying Florida state parks camping. In all, there are 61 campsites, 52 of which accommodate trailers/RVs and tents, and 9 of which are cabins.
Silver Springs State Park is on the outskirts of nearby Ocala National Forest, making this a fine place to camp to enjoy both parks.
---
Note: Hurricane Michael was highly destructive to this area of Florida. As such, there are extensive and ongoing reconstruction efforts at the state park and surrounding areas. Closures are expected throughout the year, and beyond. Check the park's website for updates on camping availability, construction and hours.
More typically known amongst college students for its Spring Break scene, Panama City Beach is also home to St. Andrews State Park, a much quieter, more tranquil area of this beachside town.
The state park itself is tucked into a stretch of land with the gulf on one side, and St. Andrew's Bay on the other. Shelling, boating, swimming, and fishing are all popular activities at this park. Magnificent sunsets are a show-stopper here, too, as the sun sets over the Gulf.
Camping in St. Andrews State Park
A part of what is known as the "Emerald Coast", camping at this Florida state park means you'll be enjoying soft, impossibly smooth white sand beaches and shimmering, clear waters. It means you get to enjoy the amenities of a resort town during the day, while tucked into the oasis of natural Florida at night. You'll have access to trails, dunes, sun, and sand. There's even a shuttle boat that takes daily trips to Shell Island for further separation from civilization.
If you prefer campsites that are a bit more spaced from other campers, consider reserving a spot on Pine Loop.
---
The Suwannee River is a well-loved river. It's so loved, in fact, that a song was written about it…which is how this park got its name (Stephen Foster wrote"Old Folks at Home" to honor this river). There is a museum at the park honoring the musician, as well as Craft Square, where daily historical demonstrations of stained glass, quilting, and other crafts are scheduled.
Camping in Stephen Foster Folk Culture Center State Park
For a bit more privacy, book a cabin–with the added bonus that you're right near the banks of the Suwannee River. Otherwise, there are 39 tent or RV/trailer sites. The park is open year-round, and reservations can be made up to 11 months in advance.
---
As stated above, the Suwannee River is a well-loved, iconic river. It flows for 246 miles, from southern Georgia to the Gulf of Mexico. The highlight of this park is the chance to explore this wide, winding tributary through historical southern wilderness areas.
Camping in Suwannee River State Park
For a special experience camping on the Suwannee River, stay in one of five riverfront cabins. The cabins are outfitted with a screened-in porch, linens, cooking utensils, fireplace, and both heat and AC. It's an almost luxurious stay in the heart of one of the most beautiful wilderness areas of Florida.
If a cabin isn't in the cards, there is still a full-service campground accommodating tents as well as trailers/RVs.
---
Note: sadly, much of this park was extensively damaged during Hurricane Michael. There is no projected opening date at this time for camping or cabin stays. Check the park's website for updates on camping availability.
Jutting out 20 miles into the impossibly blue waters of the Gulf, this state park is teeming with wildlife native to oceanside habitats. Nesting birds, sea turtles, and aquatic mammals can all be viewed in this park. Swimming is popular at this park, as is of course fishing.
Camping in T. H. Stone Memorial St. Joseph Peninsula State Park
Although a popular spot for day-use, camping is available (and lovely!) at St. Joseph Peninsula State Park. The park is over 2500 acres of rolling dunes, white sand beaches, and a forested interior.
For a stay in this peaceful Florida state park, camping is available in three different zones. There are 8 cabins on the shores of St. Joseph's Bay, 1 camping loop in the shade of the inland forest, and one loop with waterfront sites facing the Gulf. In all, there are 115 sites to choose from for your stay.
---
Note: While open, this park is under reconstruction after the destructive path of Hurricane Michael. Check the park's website for updates on construction and hours.
In the southwest corner of Florida, this quiet, heavily forested state park is considered a 'Florida wild place': it has remained undeveloped, offering visitors a chance to experience a part of Florida's wilderness that is original to its foundation. These state parks are home to imperiled species that are native to this part of the world, such as the Florida Panther, American Crocodiles, a variety of species of birds, butterflies, and aquatic life. Native plant species can also be found in this area, as well.
Camping in Three Rivers State Park
This is a smaller state park campground, with only 28 sites available for booking. There is one cabin, which is wheelchair accessible–and with a stunning lake view.
---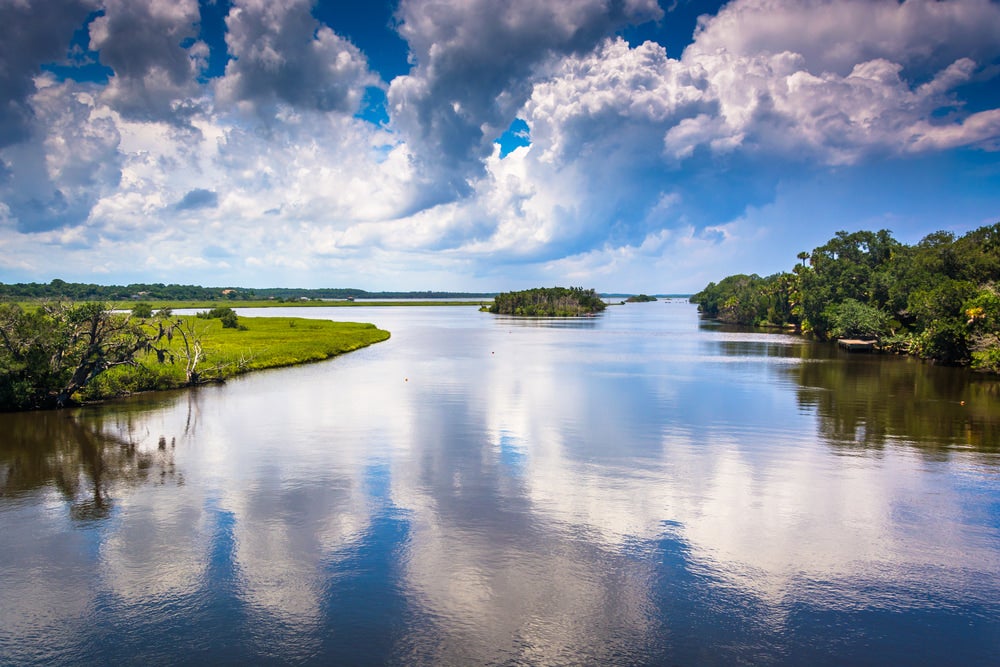 During the spring and fall migration, birders flock here for a chance-sighting of migrating birds. In this park alone, there have been sightings of over 160 different species. The endangered West Indian Manatee finds solace here, as well.
This park is rich in Native American history; the trails that one can wander throughout this park have been used for centuries as byways for both food and lodging.
Camping in Tomoka State Park
This is a popular park amongst youth groups experiencing Florida's history and wilderness; there is a youth group camping area in addition to the 88 sites for regular tent or RV/trailer campers.
Bring your bike, as the trails are wonderful for lazily discovering the park. Kayaking is also popular here among the lagoons and waterways.
---
Fun (and amazing!) fact of this park: there are 13 imperiled species that call this preserved land home. Furthermore, there are rare environmental habitats that also can be found at Topsail, including freshwater dune lakes.
The park is a full-service park, offering interpretive guides and programs, hikes (both self and guided), as well as gear rentals (bicycles, SUP, kayaking, just to name a few).
Topsail is a stunning park with a variety of outdoor activities in which to partake.
Camping in Topsail Hill Preserve State Park
Camping at this park means you'll be staying at one of the top 1% parks in the nation. It's a world-class state park and campground, with unbelievably pristine white sand beaches and that turquoise-colored tropical gulf stream waters.
Despite the fact that it's a larger state park campground, with 189 sites, its popularity and excellence means that it fills to capacity quickly. Plan on booking at least six months in advance.
---
Named for the Torreya tree, this state park is home to a rare species of this tree that only grows along the bluffs of the Apalachicola River. The park, then, is incredibly important to the preservation of this ancient tree (so ancient, in fact, that it is reported to be one of the oldest known species of trees on the entire planet).
Aside from the wonder of walking amongst an ancient tree species, this park is also popular for high, scenic bluffs, hiking trails, and river water sports.
Camping in Torreya State Park
There are 27 campsites in Torreya State Park, including 1 cabin. All sites have electricity. Currently, there are many long-term closures within Torreya as it recovers from the consequences of Hurricane Michael.
---
Just a few miles from downtown Orlando, this state park is a lush, tropical-like paradise with its emerald springs and verdant hammocks. Miles of trails within the park can be traveled on by foot, bicycle, or horse. The water is at a constant temperature of 72 degrees year-round, making it a popular hang spot during those sweltering summer months.
Camping in Wekiwa Springs State Park
In this special Florida state park, camping is the best of both worlds: you're close to Orlando and the city's sights and sounds, and yet you're able to fully immerse yourself in the nature that was native to this area long before the land was ever developed.
There are 53 RV or tent camping sites available. As it's a popular tourist destination for those visiting Orlando, plan on booking your site months in advance during key holidays and springtime vacation months.
---
Related Articles:
---
Related Campgrounds:
Popular Articles: