This about the Seven Wonders of Oregon article was brought to you by Red Ledge, the makers of stretch shell rain jackets that can withstand whatever climates you're passing through, from the rain and salt spray of the Oregon coast to the stiff winds of the Columbia River Gorge.
---
Oregonians are a lucky bunch. Drive a handful of hours in any single direction from Portland and you'll find yourself in a completely different ecosystem, from the silent rainforests of the Olympic Peninsula to the wild, grey Pacific Coast to the southeastern deserts carpeted in vineyards heavy with dusty pinot noir grapes. While the ancient world held seven wonders to share, scattered from Babylon to Giza, the seven wonders of Oregon are all its own, and easily reached in a single road trip.
Here's How to Hit the Seven Wonders of Oregon in One Road Trip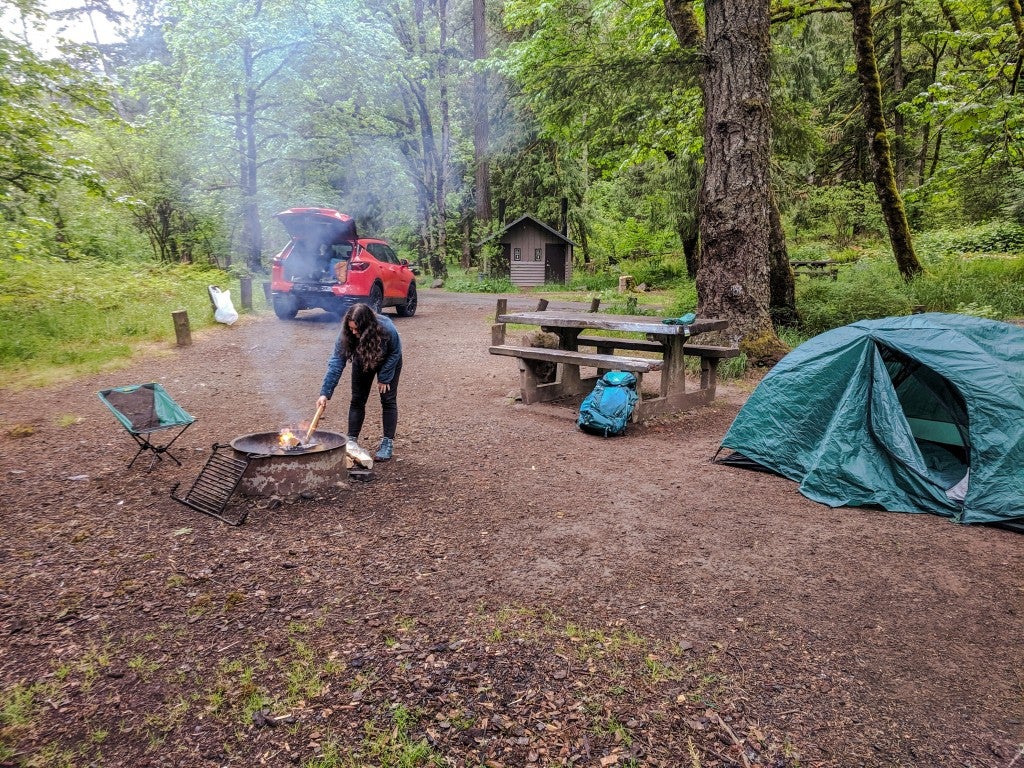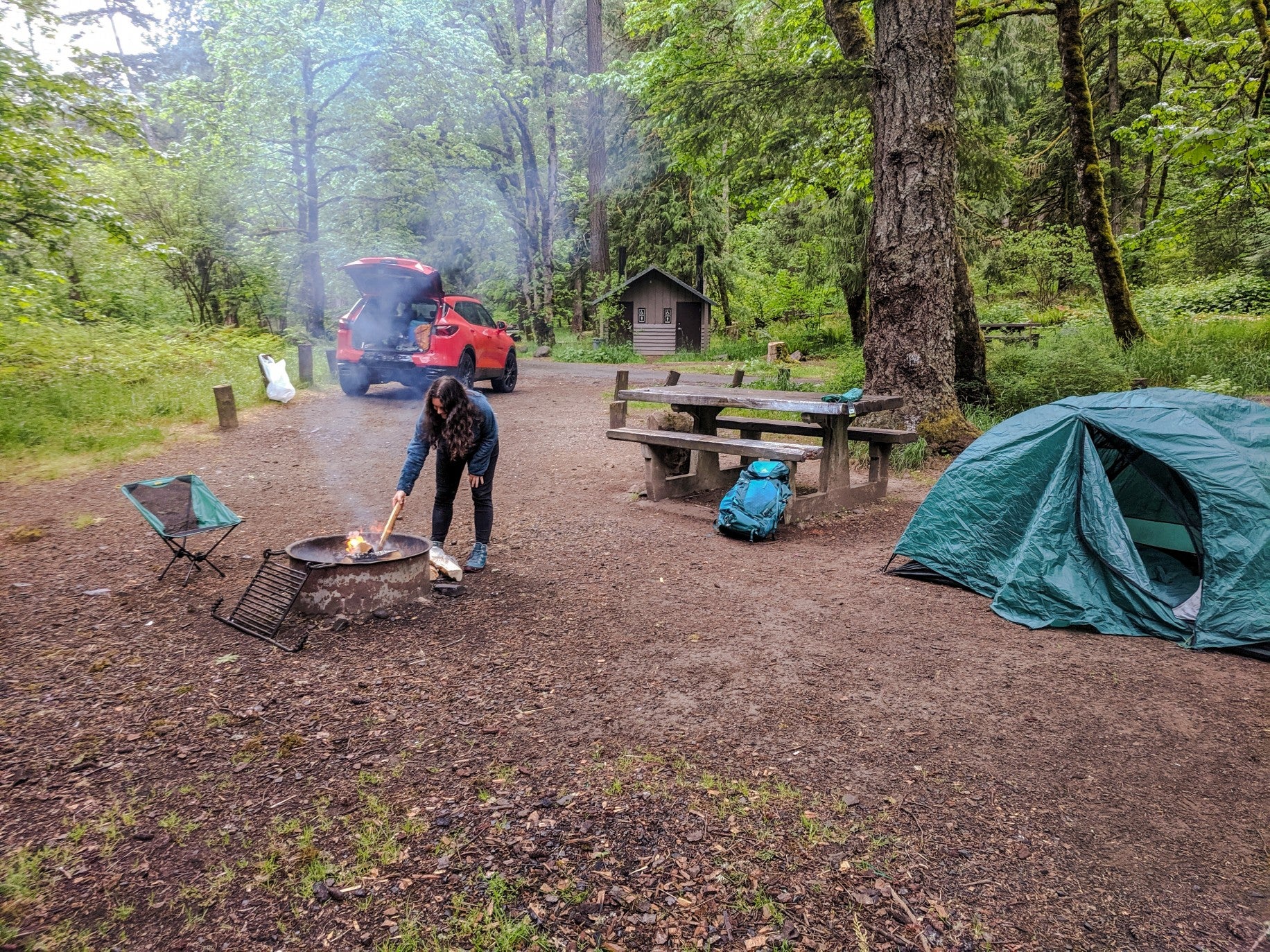 With a little time, a few tanks of gas, and a big sense of wonder, you can take in all this and more on your own road trip to the Seven Wonders of Oregon. We took a solid camping car, the brand new Chevrolet Blazer, out on the road to plot this flexible itinerary you can use you craft your own adventure. Whether you are breaking your wonders up for weekend excursions or going on one big wild adventure one wonder at a time, this guide will help you see some of the very best that the Beaver State has to offer.
1. Oregon Coast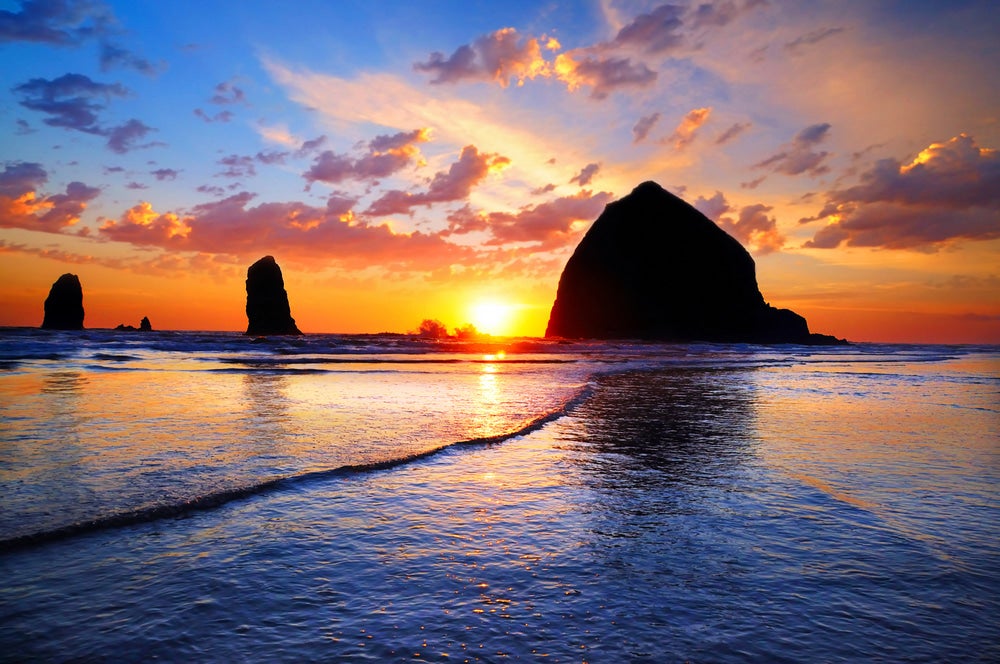 The splendors of Oregon's coastline are well-documented, from popular filming locations like Cannon Beach and Astoria that have shown up in The Goonies and Kindergarten Cop to cozy beach towns like Yachats, beloved for lighthouses and breweries. Appreciated by vacationing RVers, tide pool explorers, trail runners, and even shipwreck enthusiasts, the nearly 400 miles of coast line offers a lot to see.
Oregon Coast History
Thanks to several preservation bills since Oregon became a state, the entirety of the coast is preserved for the public, earning it the nickname The People's Coast. That means you can thru-hike the Oregon Coast Trail between beaches, headlands, and some of the biggest sand dunes in the country from the Washington border to California. Or, if you prefer to drive, the famous Pacific Coast Highway will take you from Astoria to Brookings, and every cute coastal town in between, with plenty of state parks and even free camping along the way.

How to Get There
Start your Seven Wonders of Oregon road trip with the best of the coast. Assuming you're starting in Portland, you can either drive or take the bus to Astoria or several other points on the People's Coast. You can do as much or as little as you have time and gas money to see, whether you want to take I-30 to the mouth of the Columbia River where it meets the Pacific and then work your way down the 101, take Highway 6 to Tillamook, or cut down through Salem on the 5 and 20 to Yachats.
What to Do and Where to Stay
Whichever route you take on your Seven Wonders of Oregon road trip, you'll have a chance to see lighthouses, sip beer at coastal breweries, and see how these seaside towns are finding new life since the canneries that once sustained them slowly shut down. Here are a few highlights you can check out along the way:
2. Crater Lake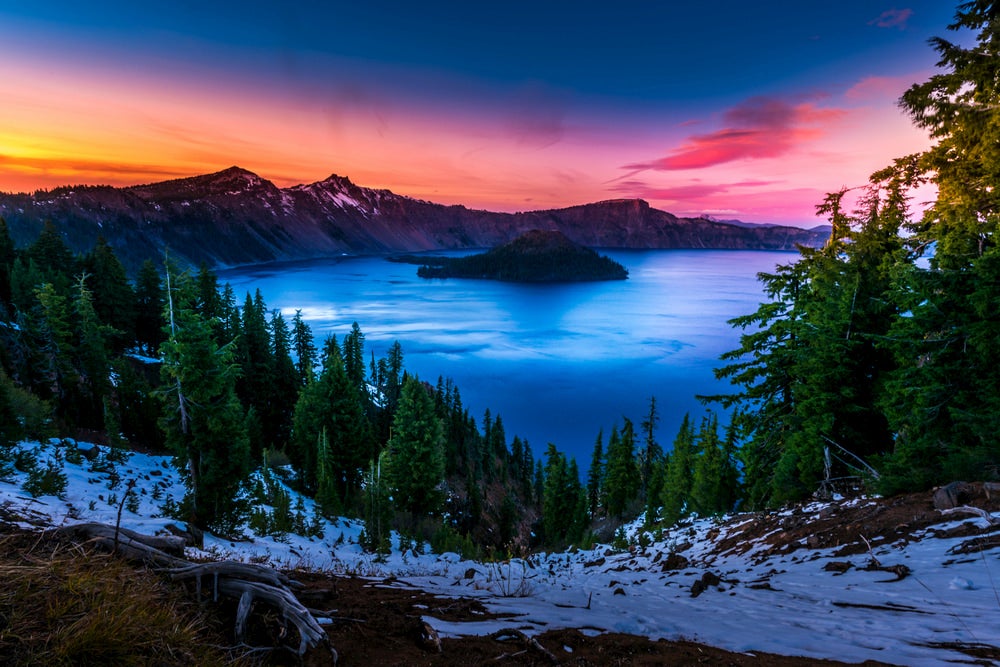 Crater Lake History
Deeper than the One World Trade Center in New York is tall, Crater Lake is the result of a catastrophic volcanic explosion eight thousand years ago. The event was so cataclysmic that the Klamath tribe who lived on and around Mount Mazama still remember the event in their oral history, and wove it into myths that were passed down to present generations.
The story goes that the god of the underworld fell in love with the daughter of the Klamath chief — not unlike the Greco-Roman myth of Persephone. This story has a different ending however, in which the young Klamath woman rejected the god of the underworld, causing him to threaten her people with fire spewing from the top of Mount Mazama. The chief begged another deity to help, one who perched atop Mount Shasta, in what is now California, and began hurling fire and rocks right back at the god atop Mount Mazama.
The Klamath say that the top of the mountain was used to seal away the god of the underworld and prevent his return, and a lake was placed over the seal as a symbol of the peace that would now prevail for the tribe. The version of the story told by geologists says top of Mount Mazama collapsed into a caldera as a result of the explosion. Over thousands of years, the caldera filled with rain, creating impossibly clear, deep waters that writer Stefanie Payne once described as "a lake so vibrant in color that it looks like a fine art painting."
How to Get There
If you're tackling this Seven Wonders of Oregon road trip in one piece, you'll want to eventually cut over from the southern part of the coast and head east to Crater Lake. Depending on whether you limited your time on the coast to its northern and central portions, you may drive down I-5 before passing through the Umpqua or Deschutes National Forests on your way to Crater Lake.
If you made it as far as the southern Oregon coast, however, you're in for a treat. Descending from Brookings, Oregon to Crescent City, California is a pretty little detour through quintessentially Californian canyons lush with redwoods before you pop back up to Cave Junction, home to Oregon Caves National Monument. The caves aren't one of the Seven Wonders of Oregon, but they are a very worthy runner up.
After passing through the Rogue-Siskiyou National Forest, you'll drive into the Umpqua National Forest and wind up into the mountains near Crater Lake. Make another little detour from your Seven Wonders of Oregon road trip if you want to pay a visit to Umpqua Hot Springs, one of Oregon's most Instagram-worthy places to take advantage of all that thermal activity bubbling under the earth's surface. Once you arrive at Crater Lake, however, it will certainly capture all of your attention.
What to Do and Where to Stay
There are a number of options for Crater Lake camping within the bounds of Oregon's only national park, as well as many scattered within an hour's drive, including some with views of other prominent peaks in the area, and free camping options. You can also stay in the famous Crater Lake Lodge, a beautiful example of the "parkitecture" style that emerged as National Park lodges were built throughout the west— which almost didn't survive to the present day. Thanks to preservation efforts and a hefty restoration, however, it's still an integral (and comfortable!) part of the Crater Lake landscape.
You can easily spend days exploring just Crater Lake National Park itself— biking or hiking the rim, taking boat trips to Wizard Island, hiking down the lip of the caldera. But there's lots to see nearby, too. Here are a few highlights to check out while you're in the area:
Camp outside the National Park at Diamond Lake for a blend of The Great Gatsby meets Dirty Dancing meets Twin Peaks. The vintage lodge was built in the 1920s, and the upstairs bar features a vast stone fireplace, fun fish tanks, and fairly poured drinks. The lakefront is a family-friendly area strewn with water toys, and there's a mix of tent camping sites and motel or cabin-style accommodations.
Grab excellent pizza pies and cold beers at South Shore Pizza Parlor on Diamond Lake. They're open seasonally since they rely on the resort crowds, but during their winter hours you can reach the Pizza Parlor via snowshoe, snowmobile, cross-country ski— or the Resort's own Pizza Shuttle Snowcat!
If you're looking for free camping within an hour of Crater Lake and also close to Umpqua Hot Springs, look no further than the nicely appointed Thielsen Forest Camp, built by the Civilian Conservation Corps in the 1930s. It doesn't boast the perfectly framed vantage of Mount Thielsen's crooked, pointy peak as the aptly-named Thielsen View Campground, but you also won't have to share with large loop crowds, either.
3. Smith Rock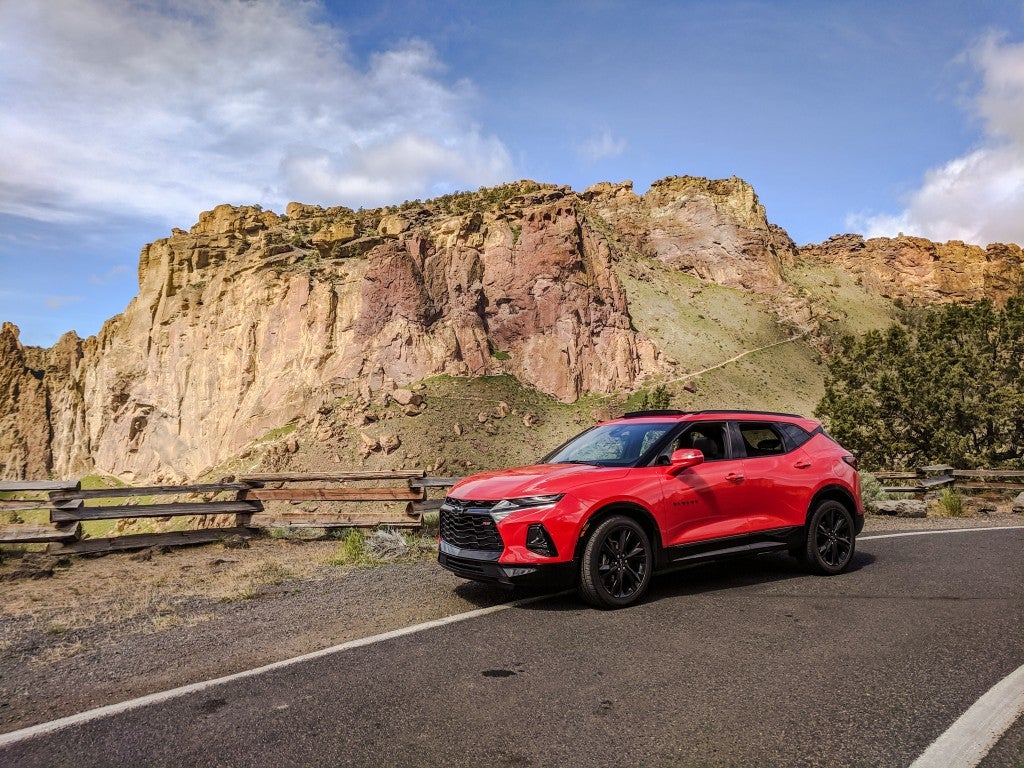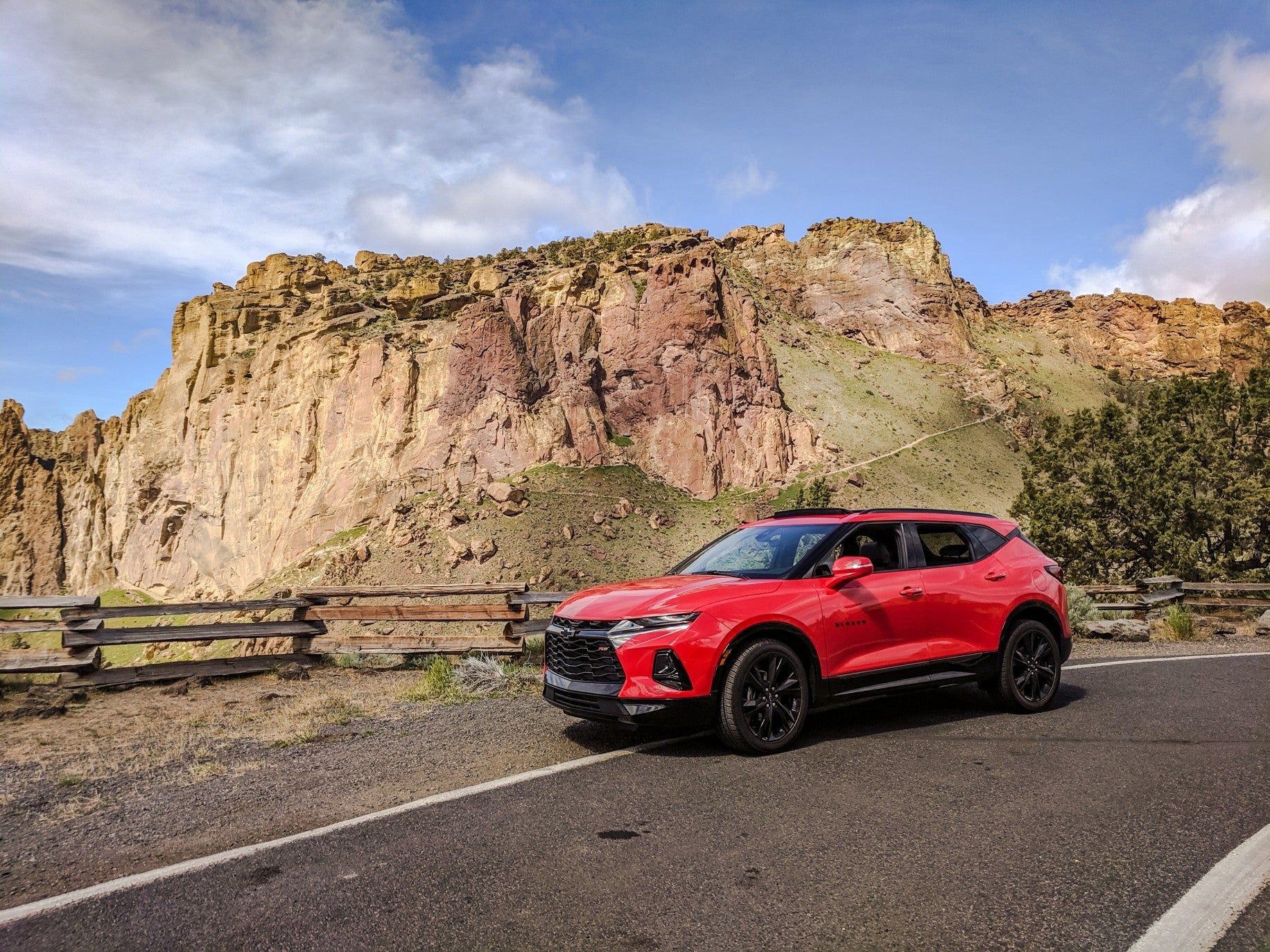 History of Smith Rock
Over the past several million years, most of Oregon has at some point been coated in thick flows of lava erupting out of various volcanoes and hotspots in the Cascades. Smith Rock is a towering pile of several layered lava flows since eroded down by the Crooked River until they stand almost like a group of skyscrapers far from the nearest major business district.
You'll certainly see more evidence of those flows as you continue to make your way through the Seven Wonders of Oregon. But consider Smith Rock a sort of gateway, not only to Oregon's tumultuous geologic past, but also from the more popular, well-trafficked sites in the state's western half.
Smith Rock State Park sits at the center of a jagged bow in the aptly-named Crooked River, which also carved the dramatic canyon you can peer into a few miles up I-97 at Peter Skene Ogden State Park. The way the river washed away the tufa until it formed sheer cliffs, ridges, and overhangs proved irresistible for rock climbers, who have established almost 2,000 routes since the mid 1980s, and established Smith Rock as a world-renowned right of passage. Hikers enjoy the Misery Ridge Trail and other routes in the park, as do tough trail and ultra runners. There's also no shortage of slackliners practicing their balance while waiting for a turn at the crag.
How to Get There
From Crater Lake, take I-97 up through Bend, Oregon, a fun place for outdoor enthusiasts to visit in its own right. If you're doing this Seven Wonders of Oregon road trip sections, however, Smith Rock is less than a three hour drive from Portland on US-26 East. Whichever direction you come from, it's hard to miss, jutting up suddenly out of the high desert plain south of Madras.
What to Do and Where to Stay
Here are a few highlights to enjoy while you're near Smith Rock:
The Dancing Bean coffee shop shares space with the Wild Bleu beer garden on Fifth Street in Madras. It's a cozy vibe with good eats, good coffee, and occasional live music.
Get an even closer look at the region's volcanic past at nearby at the lava tubes at Newberry Crater National Volcanic Monument and the lava caverns at Redmond Caves Recreational Area.
You can reach Geist Beerworks in Redmond, Oregon in half the time it takes to drive to Bend from Smith Rock, if you're pressed for time. That said, Bend is legendary for its blend of outdoor recreation and great beer, so it may be worth building time into your Seven Wonders of Oregon road trip to sample even more regional brews at Crux, Immersion, Deschutes, Sun River, Boneyard, Bend Brewing, and more.
Cyclists and bikepackers will enjoy the five scenic bikeways near Smith Rock, including Madras Mountain Views and Sisters to Smith Rock, as well as the challenging McKenzie Pass Scenic Bikeway that goes from an 1860s wagon route to barren lava fields strewn with snow near Sisters.
4. Painted Hills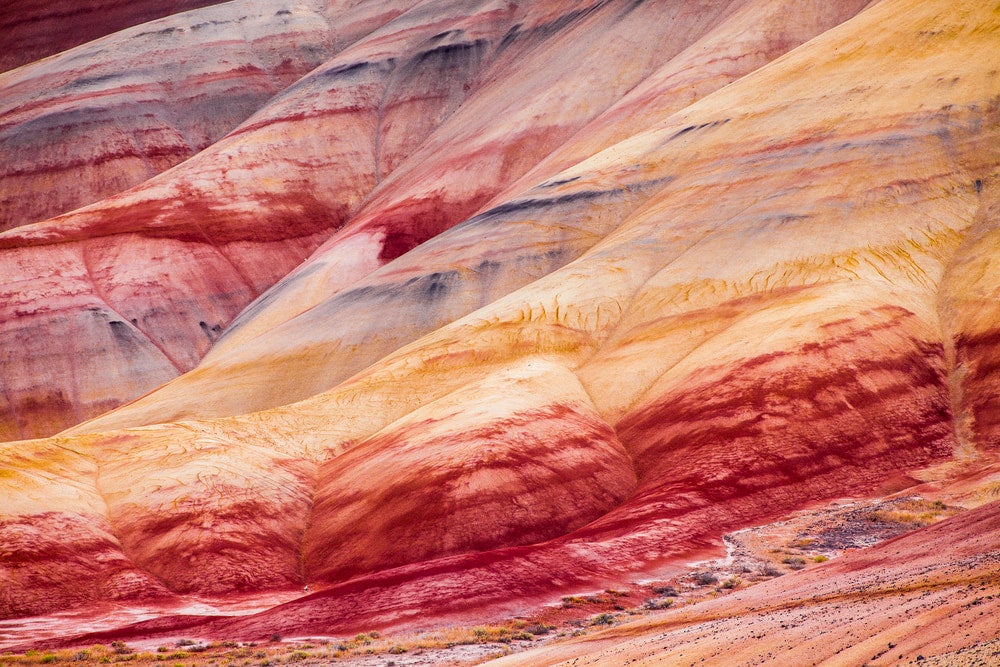 History of the Painted Hills
The the next stop on your Seven Wonders of Oregon road trip are the eye-popping Painted Hills tucked away in Oregon's bottom right corner. Here, you can plainly see the dramatic changes the Oregonian landscape has gone through over millions of years, a story written line by line on the soil itself.
The Painted Hills look like bed sheets on which someone spilled their watercolors and then rumbled everything trying to clean it up. The geologic reality is that epoch by epoch, different climatic conditions created different types of soil. Some layers gain their colors from the tropical plants that grew here when Oregon more closely resembled modern day Guatemala or Belize. Others are paler, from periods when this place was relatively cold and dry. Still more layers are distinct from when grasslands emerged, similar to the present-day flora.
How to Get There
Whether you're departing from Smith Rock or Portland, Oregon, US-26 East will get you to the Painted Hills. From Smith Rock, it's just an hour and a half drive to the Painted Hills, a drive that will pass Powell Butte and cross into the scenic Ochoco National Forest.
What to Do and Where to Stay
Just one unit of several within the larger John Day Fossil Beds National Monument, it's worth spending extra time meandering through the equally incredible sites around the Painted Hills. If you have extra time to build into your itinerary, plan a few days to see all three units of the John Day Fossil Beds, since each unit is at least an hour or two from the others and there's lots to see at each one. Here are a few highlights to enjoy while you're near the Painted Hills:
The Thomas Condon Paleontology and Visitors Center is a real treat for anyone interested in fossils. You won't find dinosaur bones here like other outdoor destinations for fossils, however. Instead, you'll have a chance to learn how mammals emerged and evolved, from the earliest Dawn Horse to enormous sloths, rhinoceroses, and the real-life equivalent of Game of Thrones' dire wolves. Admission is free, you'll have great views of Sheeps Rock, and if you're lucky, you can peek in at paleontologists in the lab gently cleaning their latest finds.
Blue Basin is a very special place indeed. At first, you might assume this unusual canyon gets its name from the Blue Mountains you see off in the distance, between the John Day Fossil Beds and the distant Wallowas. But as you continue you hike (really more of a gentle nature walk thanks to the boardwalk and frequent bridges), you'll quickly start to see that the rock walls, canyon floor, and even the streams and rivulets running underfoot at all a brilliant baby blue, thanks to heaps of volcanic ash that froze into rock long, long ago.
Fans of pioneer history and pretty old houses will love James Cant Ranch, where you can learn more about the region's rich ranching history and the community of Scottish immigrants who found themselves building new lives in Central Oregon.
Turn your road trip into a bikepacking trip with the Old West Scenic Bikeway, a tough 174-mile loop ride that will show you the very best of the John Day Fossil Beds.
While on your Seven Wonders of Oregon road trip, don't miss the Oregon Shoe Tree, a classic roadside attraction on Highway 26, east of Mitchell near mile marker 89. Grab a beer afterwards at Tigertown Brewing, where you get can cold ones named after some of the places you've just hiked.
5. Wallowa Mountains
History of the Wallowas
The Wallowas formed millions of years ago when a small tectonic plate off what was then Oregon's coast subducted under the continent, similar to what's happening now with the San Juan De Fuca plate, which could cause a major earthquake in the Pacific Northwest. Fragments of that plate snapped off and were uplifted over time and moved east as regional tectonics continued to play out.
That's a geologic process that creates incredibly high mountains— in fact, the Himalayas are still forming through similar uplift as the Indian subcontinent dives under mainland Asia. Subsequent volcanic activity, which also shaped the Painted Hills, the Cascade Mountain Range, and the rest of the Seven Wonders of Oregon, ultimately surrounded those fragments with new rock. That combination of ancient continental crumbs and igneous injections was in turn was eroded by glaciers, forming Wallowa Lake and other features.
The Wallowas eventually became the home of the Nez Perce tribe, who fished and hunted the countryside between the Wallowas and Idaho's Bitterroot Mountains, as well as further west towards the Cascades. In fact, US 26 is, like the Natchez Trace, numerous overlanding routes, and El Camino Royale, built on top of old Indian trade routes that were, ironically, later used by the military and white settlers to colonize the west. When the Indian Wars reached their sad climax in the mid to late 1800s, Chief Joseph and his people fought to retain their place in the Wallowas, but were ultimately forced onto a reservation in Idaho.
How to Get There
In between the Painted Hills and the Wallowas lie the Blue Mountains, a vast range that stretches from Pendelton to the Snake River in Idaho. Technically the Wallowas are one part of the range, but before you get there you need to cross the Elkhorn Mountains to the east. There are a couple different routes you can take.
One is to drive US 26 (aka the Sunset Highway and also part of the Journey Through Time Scenic Byway) between Malheur and Umatilla National Forests pass Sumpter and up to Baker City and on to La Grande. The other is to take 395 from John Day up to Ukiah before crossing the Umatilla National Forest on 244.
What to Do and Where to Stay
Once you get to Joseph, the gateway to the Wallowas, there's a lot to do. You're in the Alps of Oregon after all, with the Eagle Cap wilderness to explore, glacial moraines and lakes to play along, and Nez Pierce history to uncover. You can learn what occurred here during those thousands of years of history at a variety of different sites in the Joseph, Oregon area. Here are a few highlights to enjoy while you're in the Wallowas:
6. Columbia River Gorge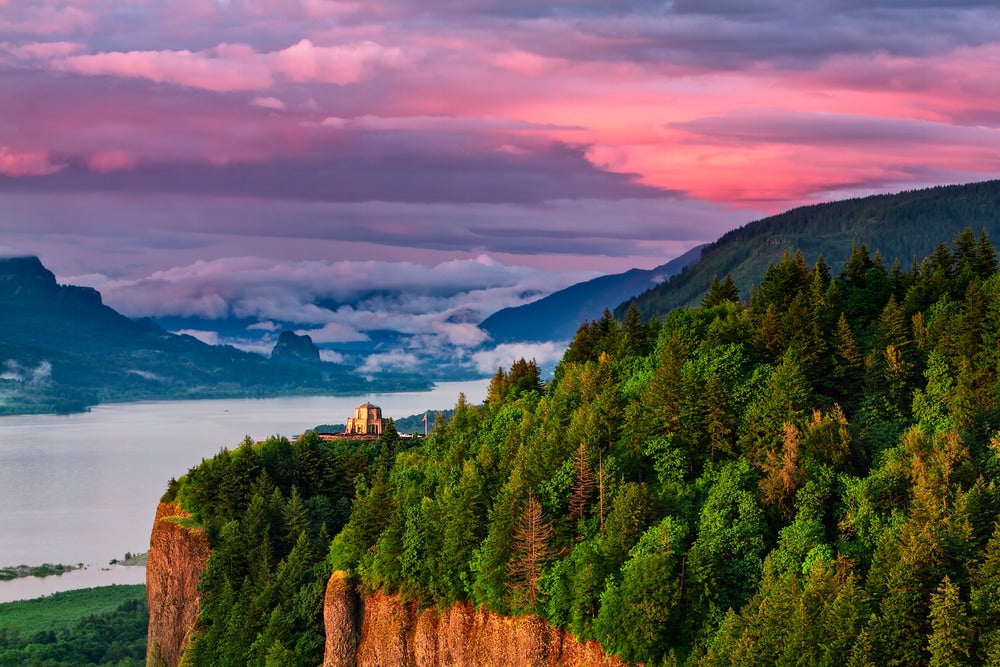 The History of the Columbia River Gorge
The Columbia River Gorge is a massive canyon that is rich in geologic and cultural history. As much as 4,000 feet deep in some sections, the Columbia River Gorge is almost twice as deep as Crater Lake, and half as deep as many of the peaks in the Wallowas are tall. While massive glaciers were shaping the moraines and lakes near Joseph, similarly vast ice flows were busting through the basalt that spewed all over Oregon (forming many of the Seven Wonders of Oregon) during the formation of the Cascades. Those ice flows eventually became rivers rushing towards the Pacific Ocean. Today the Columbia River meets salt water where you might have begun your road trip, near Astoria, Oregon.
Throughout the history of the Gorge, landslides have occasionally blocked or diverted the flow of the Columbia River. Geologists are still trying to precisely date the largest of these, the so-called Bonneville Landslide that was so enormous it temporarily dammed the Columbia, a river that today regularly discharges 265,000 cubic feet of water per second. That event may have taken place as recently as the age of exploration that lead to European contact with tribes native to the Pacific Northwest.
The Klickitat tribe named the natural dam that formed as a result of the Bonneville Landslide "Bridge of the Gods." Today, the man-made bridge spanning the spot where the Columbia eventually broke through that natural dam bears the same name. It was also made famous in Cheryl Stayed's Wild as the spot where she finished her Pacific Crest Trail Hike.
As you drive from the Wallowas through the Columbia River Gorge, you can take in the dramatic shift from eastern Oregon's dry grasslands to the lush temperate rainforest many associate with the Pacific Northwest. This eighty mile stretch is the windsurfing capital of the world, with those deep cliff faces funneling moving air as much as moving water. Pack your stretch shell to keep the breezes at bay while you explore.
How to Get There
At this point in your Seven Wonders of Oregon road trip, it's time to head west again. Take OR-82 West out of Joseph towards La Grande, where you can merge onto I-84 West. You'll reach the Columbia River itself near the Umatilla National Wildlife Refuge, and follow I-84 along its banks and the Oregon/Washington border, into the Gorge itself, and ultimately back to Portland.
Your other option is to take the Historic Columbia River Highway, one of the first highways in America designed with scenic drives specifically for newly minted motorists. Some of the best views in the area are along this route, especially from the overlook at the Portland Women's Forum and the Crown Point Vista House. You can hop on the CRH from exit 17 or 22 off I-84, if you'd prefer to take in the Gorge from the top of its cliffs, rather than its winding banks.
What to See and Do
There are six state parks lining the Gorge, including Ainsworth State Park, Viento State Park, Memaloose State Park, Rooster Rock State Park, Beacon Rock State Park, and Mayer State Park. These make for a decidedly easy portion of your Sven Wonders of Oregon road trip, as you'll have a lot of camping and recreation options, not to mention opportunities to return to the Gorge over and over again. Here are a few highlights to enjoy as your drive from the Wallowas back west and through the Columbia River Gorge:
7. Mount Hood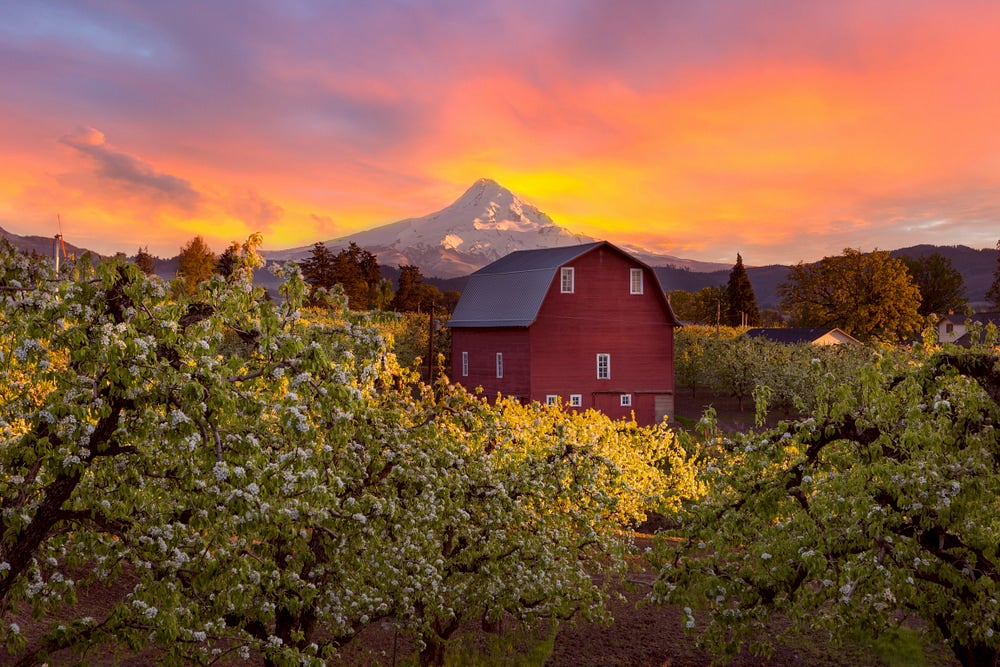 The last, but certainly not least, stop on your Seven Wonders of Oregon road trip, is Mount Hood, the most iconic peak in Oregon and right up there with Ranier for noted landmarks of the Pacific Northwest. An not-entirely-inactive volcano in view of the city, snow-capped year round and covered in ski slopes, hiking trails, and campgrounds, Mount Hood is one of the best outdoor playgrounds near Portland.
Mount Hood History
Originally called Wy'east by the Multnomah tribe, Mount Hood and its surrounding National Forest were formed by the same earth-wrinkling collisions of tectonic plates that resulted in the rest of the Cascades and, further east, the Blue Mountains and Wallowas. Here, that subduction results in rock melting deep under the surface of the earth as one plate dives beneath the other, pushing hot magma up to the surface, forming volcanoes like Hood.
Mount Hood last erupted as recently as two hundred years ago, but had been active for up to a million years prior, steadily growing from a series of explosions and slow leaks that built up the bulk of the mountain. One of those eruptions even further back in history resulted in a lahar, a kind of volcanic mudslide or avalanche of mixed debris and melted snow that shot boulders and rock so far from the mountain that they crashed into the Columbia River Gorge and created a natural dam— the original Bridge of the Gods.
How to Get There
Depending on how deep you go on your road trip through Seven Wonders of Oregon into the Columbia River Gorge before heading to Mount Hood, you have a few different options. Oregon Route 35 runs from Hood River, Oregon to Government Camp, a popular mountain town on the south slope of Mount Hood that serves as the gateway to the mountain's many ski resorts.
However, from the Dalles on the Columbia River Gorge's far eastern end, you can take East 10th Street and Old Dufur Road to US-197 South before linking up with Oregon Route 35. If you're coming from Portland or Troutdale at the Gorge's far western end, you'll want to take US-26 East to reach Government Camp.
That said, Mount Hood is a large region in northern Oregon. The route you take will depend quite a bit on whether you're hoping to ski, hike, or camp, and where on the mountain your ultimate destination lies— as well as where you're starting from.
What to See and Do
You would hardly know Mount Hood's tempestuous history from the thick old-growth forests, glaciers, and snowpack coating its flanks today. Here are a few highlights to enjoy while you're exploring Mount Hood:
You can join expeditions offered by the Mazamas mountain climbing school to learn a variety of alpine skills on Hood, from basics to family and ski mountaineering niches.
Trillium Lake is the most popular campground in Mount Hood National Forest, and it's easy to see why. Book far in advance to get your own little slice of heaven, complete with 'grammable views of Mount Hood itself
There are six ski areas on Mount Hood to choose from, including Timberline, Mount Hood Meadows, Ski Bowl, Cooper Spur, Snow Bunny, and Summit. Timberline is the only ski resort in North America to be open year round, and movie buffs will recognize the famous lodge there from The Shining. The others each have slightly different clientele and character, making it easy to find one that fits your ski style just right.
You can ski off-piste on Mount Hood, too, with numerous cross-country, back country, and snowshoe trails to explore, too. If you're new or visiting,
One of the oldest structures on Mount Hood is the Tilly Jane A-Frame cabin near the Cloud Cap area. Rent it out from a cozy, 'grammable retreat
Bagby Hotsprings, one of the most popular hot springs in Oregon after Umpqua near Crater Lake, is also within Mount Hood National Forest. You can soak in private or public tubs carved from forest logs. In the private soaking areas, you can even enjoy the hot springs au natural.
The Hood River Valley, in between Mount Hood and the Columbia River Gorge, is part of the rich agricultural Fruit Loop. That makes for pretty blossoms in the springtime, but also for a fun chance to pick your own apples right from the orchard.
---
This article is brought to you by Red Ledge
Every piece of Red Ledge rain gear is built with sealed seams and lightweight, breathable materials to make sure you get the best performance whether you're in the field or on the river.
---
Related Campgrounds:
Popular Articles: