If you love camping, and you love cannabis, it's only natural to be curious about combining those interests. But cannabis-friendly campgrounds are hard to come by. Although marijuana is now experiencing some form of legality in a fifth of U.S. states, there still aren't many outdoor spaces where you can legally consume marijuana.
That's because most states where medical or recreational marijuana is legal still have regulations not only limiting the amount of green you can possess, but stipulating that you can't partake in "public spaces." (For good reason — not everyone wants to catch a whiff while they're trying to enjoy fresh air.)
It doesn't matter if you and your pals are parked at a popular car camping spot or if you're the only people for miles deep in the backcountry. Technically speaking, you can't toke up or chow down on an edible in most public camping spaces.
How to Stay On the Right Side of the Law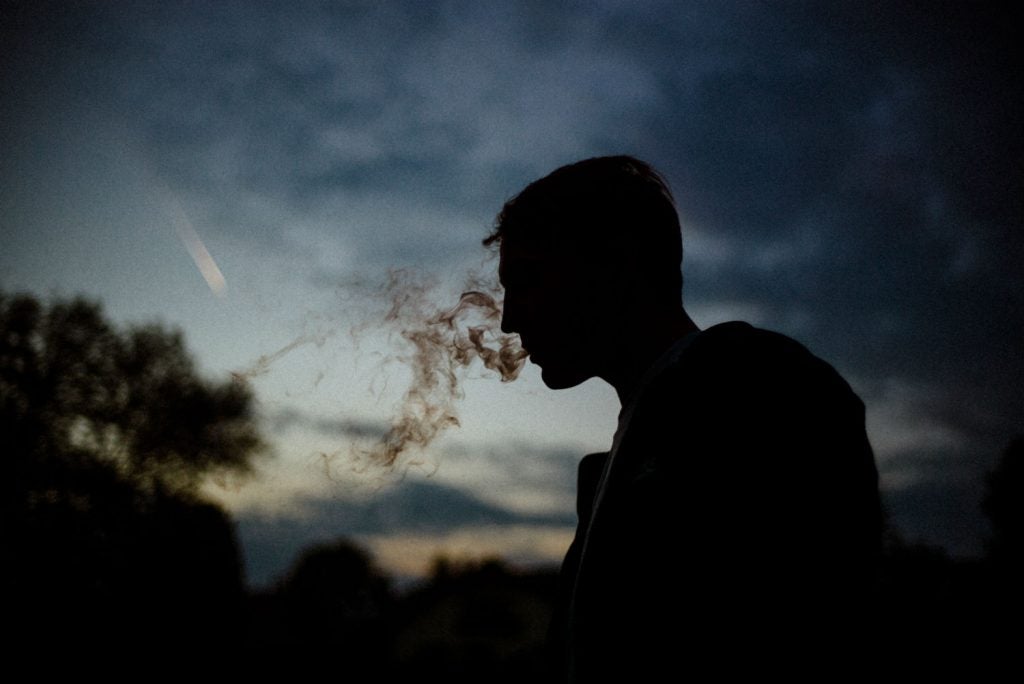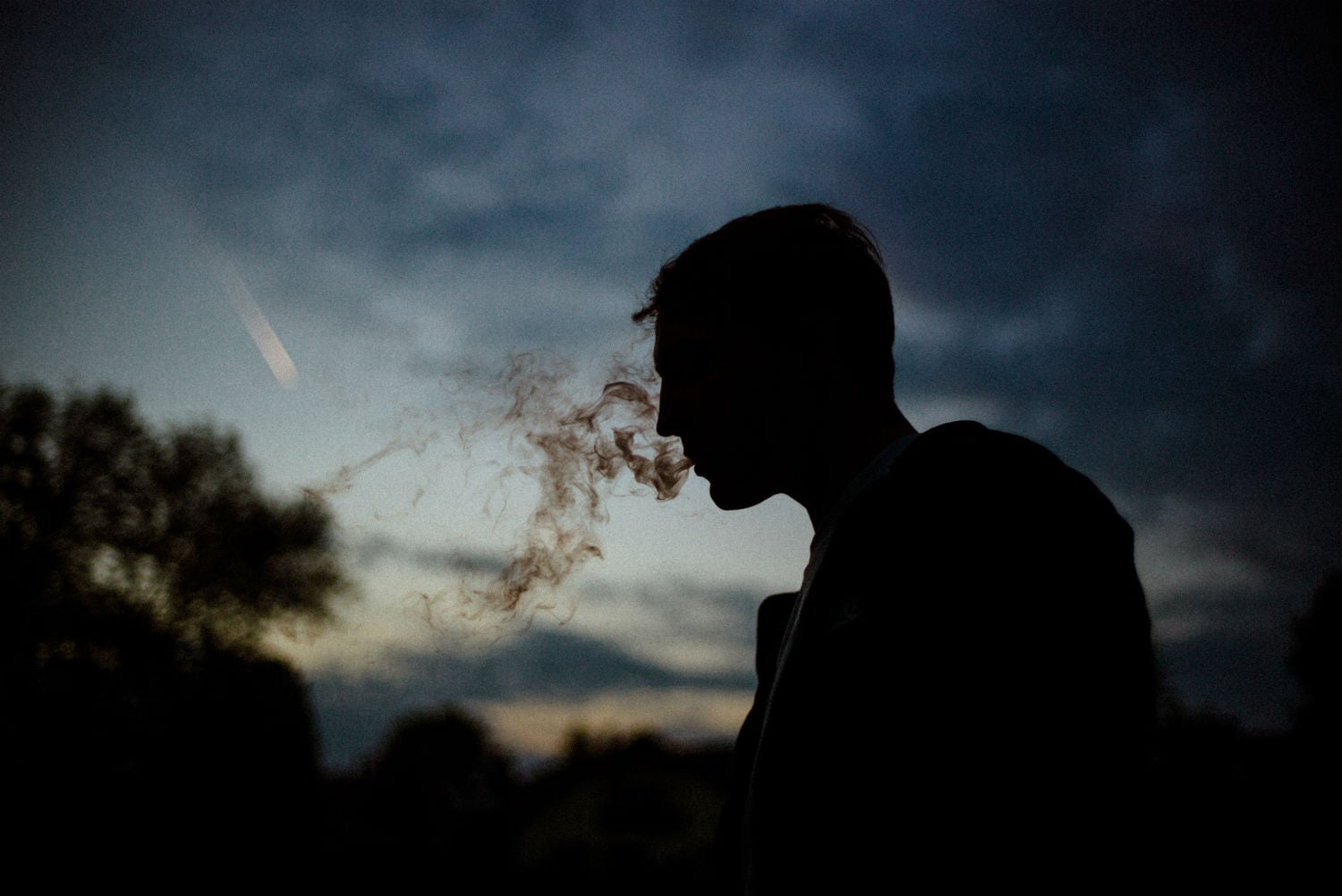 While it's definitely a bad idea to break the rules in a state park, you especially don't want to step out of line on federal property (reminder: many ski slopes and snowshoe or ATV trails criss-cross federal lands).
State parks in legal states might be more likely to give you a ticket or a fine (though you shouldn't count on getting off easy), but it's still illegal, and on federal land you're much more likely to face serious consequences like jail time.
Fortunately, if you are really committed to enjoying flower in the great outdoors, there are a few legal cannabis camping opportunities in every state that's opened up recreational sales. You just have to turn to private lands.
Cannabis-Friendly Campgrounds
When it comes to cannabis-friendly campgrounds, you do have options. And these options are becoming more plentiful as more states turn to legalizing recreational marijuana. Just since we first published this article in 2018, the number of campgrounds on this list has doubled. And we'll keep adding to it every time we hear of a 420-friendly campground. Here are some places where you can currently enjoy your cannabis at campgrounds coast to coast: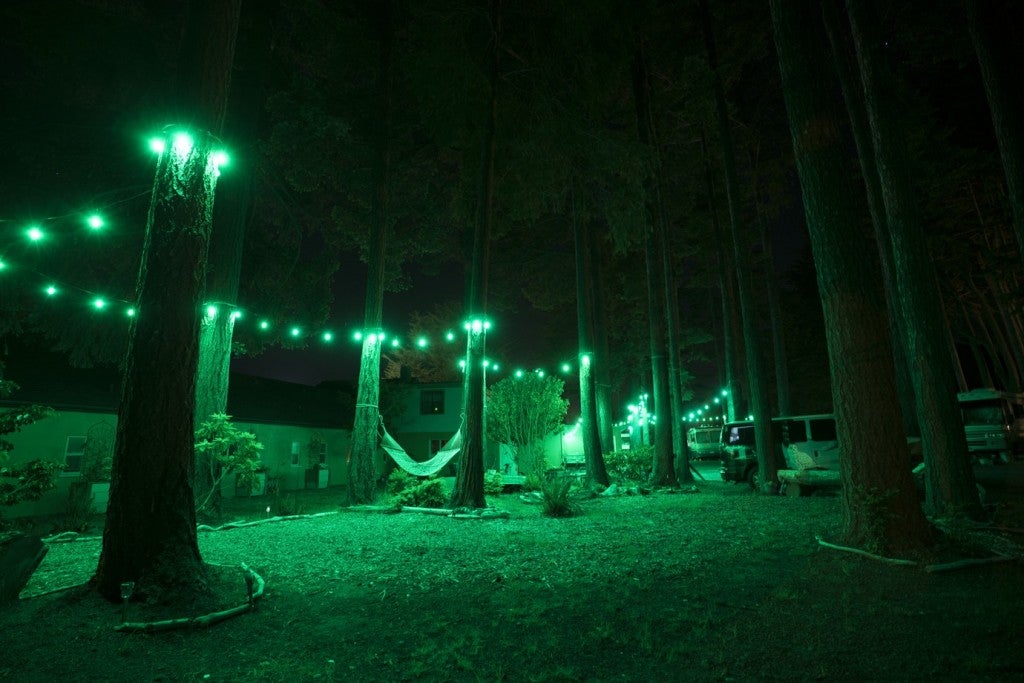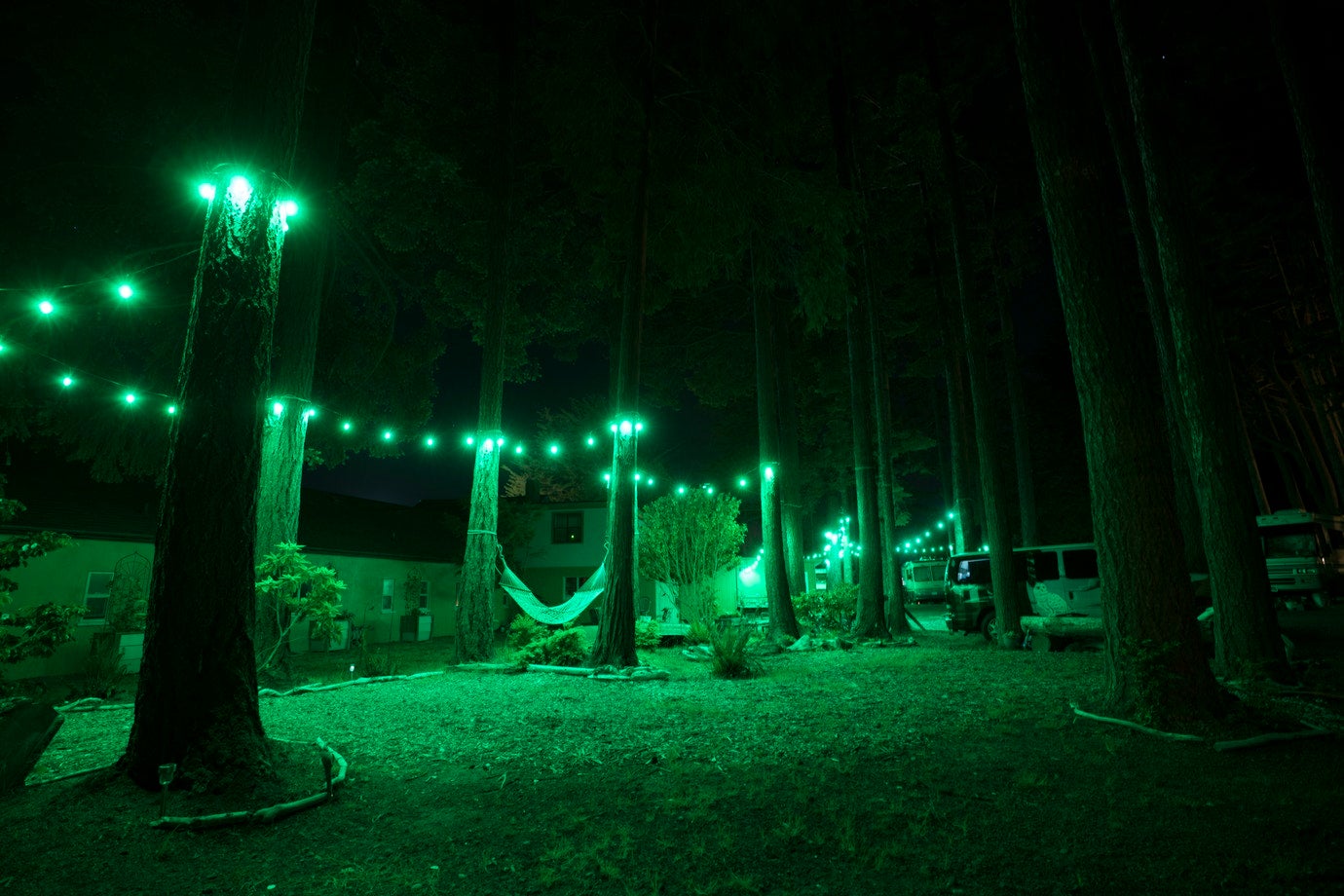 Right on the famed People's Coast, Bandon Wayside Motel + RV park is a cannabis-friendly campground with easy access to the beaches of southern Oregon. Whether you're making a stop on as you thru-hike the Oregon Coast Trail, are taking a sandy detour from Willamette Valley wine country, or are just looking for an excellent RV park in the region, Bandon Wayside will treat you right.
Not only is this a female-run campground, it's also veteran-owned, and because it's private you're more than welcome to bring your favorite flower along. Although smoking of any kind isn't allowed in the motel guest rooms or at the campsites, David and Nicole have built a beautiful smoking gazebo where both cannabis and tobacco users are welcome to burn— though they ask you keep it chill. "If you want to hotbox," they note, "this is probably not the space for you."
The hammock, tent, and full-hookup RV sites are just across the 101 Pacific Coast Highway from downtown Bandon, which was named one of the Coolest Small Towns In America by Budget Travel. It was chosen for its unexpectedly strong foodie scene, which not only includes Alloro Wine Bar & Restaurant —run by a relocated Italian chef, but also a cranberry festival and the cheeses out of community-minded Face Rock Creamery.
Those answers to your munchies come on top of natural wonders like the Face Rock scenic viewpoint the creamery was named for, the Coquille River Lighthouse, Kronenberg County Park, paddle expeditions from South Cost Tours (which are especially fun at low tide!), fat biking on the dunes, and even a round of golf. Book Now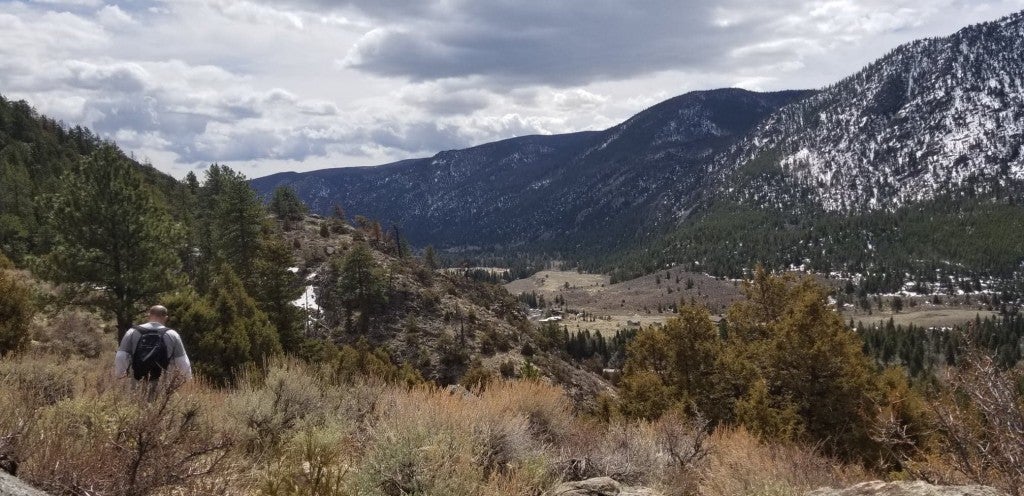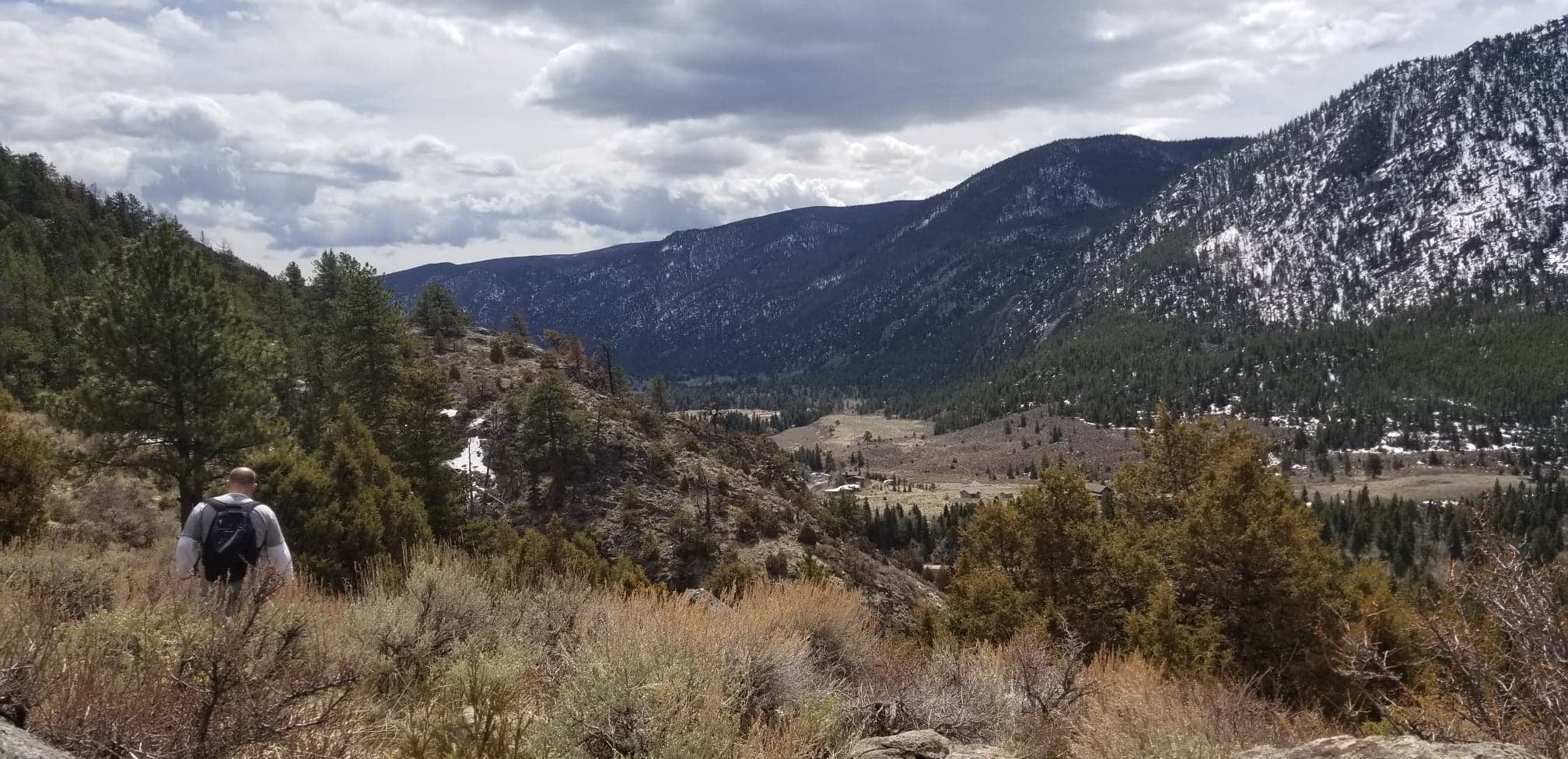 Canyonside Campground near Fort Collins, Colorado is proudly 420-friendly. Not only do they allow guests to enjoy Mary Jane on property, they also offer cannabis concierge services to create your perfect experience partaking. They also offer an introduction class to cannabis if you're visiting from a prohibition state or otherwise would like guidance on the world of vapes, glass, and how to dispose of any leftovers when you're trip is done.
That attention to detail carries over to other aspects of your stay, too, from the comfortable tent, cabin, and RV sites with complete hookups and room for big rigs to everything there is to do in the area. Canyonside notes, too, where the sites are located, what kind of views you can expect, and which amenities are available, making it easy to choose just the right site for your adventure.
Poudre Canyon and the Cache La Poudre River are both easily accessible from Canyonside Campground— in fact, the river is right across the street. You can stay busy with white water rafting, kayaking, fly fishing and horseback riding, as well as hiking and ATVing. For music fans, the Mishawaka Amphitheater isn't far off and features wide-ranging acts from bluegrass pickers to the BassProphets. Book Now
Although New Mexico stopped just short of full on recreational legalization this month, after a bill passed the House but failed to make it past the Senate, the Land of Enchantment did get a little more magical for marijuana users. New Mexico got ready for 4-20 by becoming the 24th state to decriminalize cannabis. That means that if you have less than half an ounce of weed, it's counts as a civil citation, not a matter for criminal conviction.
Jokers, smokers, and midnight tokers weren't the only ones who got their hopes up. So did proprietors of campgrounds that hope to soon be fully 420 friendly, like Mother Bosque Gardens near Albuquerque. This urban, permaculture-focused retreat is near the Rio Grande Nature Center, Petroglyph National Monument, and Cibola National Forest.
Mother Bosque Gardens is not only 420-friendly, they're also dog-friendly, open to work-trade in lieu of the standard $33 per night camping fee, and sometimes host special events, like shamanism workshops and other spiritually-focused activities. And thanks to the in-town location, you can experience a bit of Albuquerque proper in addition to the wilderness that surrounds it. Book Now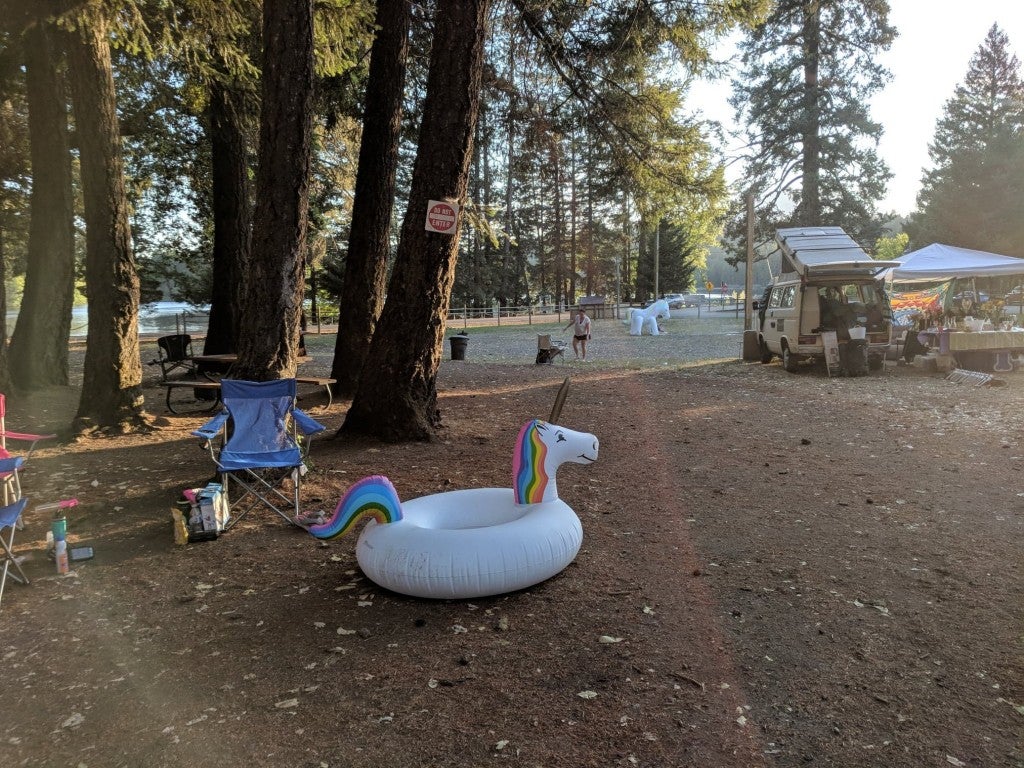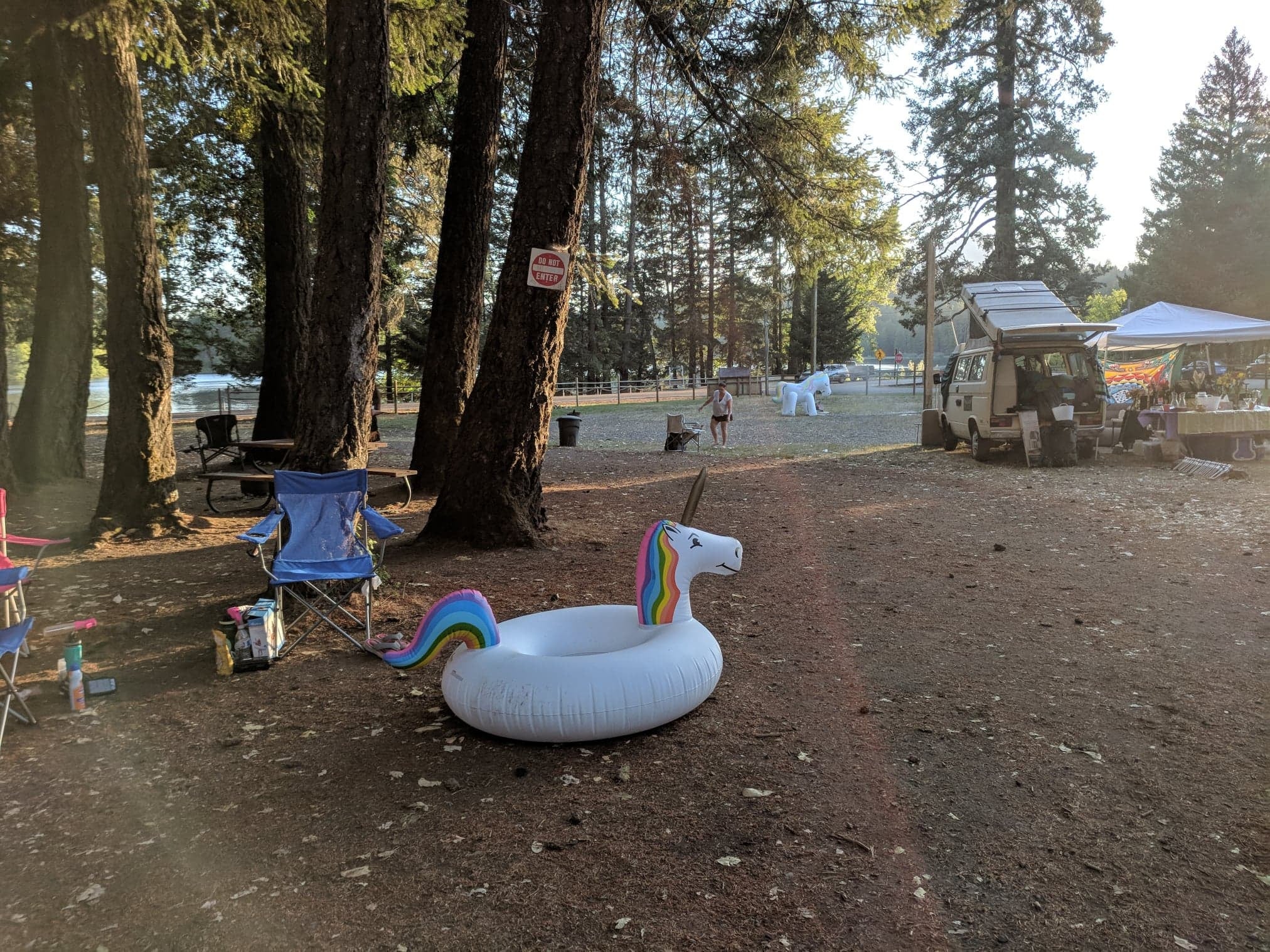 Smoke on the Water is the latest incarnation of the old lodge at Lake Selmac, Oregon. This cannabis-friendly campground has kayak, canoe, and SUP rentals like other lake resorts, as well as serious bass and trout fishing opportunities. It also has five acres upon which you can take in the scenery while enjoying your smoke. Not only do they have comfortable year-round accommodations and discounts for veterans, they sometimes host special events, too, like a women's-only marijuana retreat called the Glowing Goddess Getaway.
Not only is Smoke on the Water right across the road from Lake Selmac, it's also very close to the Rogue Siskiyou National Forest, which more than makes up for the lake of hiking trails on site. You can also rent motor boats, paddle boats, kayaks, and stand up paddle boards from the campground, and pick up any items or provisions you forgot, including beer, wine, and bait.
A dispensary is in the works, too, if regulations allow, so keep your eye on the ever-involving improvements here as they roll out, making it even easier for you to roll your own Oregon camping trip.
"This campground was very nice. They had a great family atmosphere, my kids loved running around here with other kids. They were nice and clean and just a minute walk from the lake. There are a lot of turkeys nearby so you might be woken up by them in the morning." –The Dyrt camper Kodi R.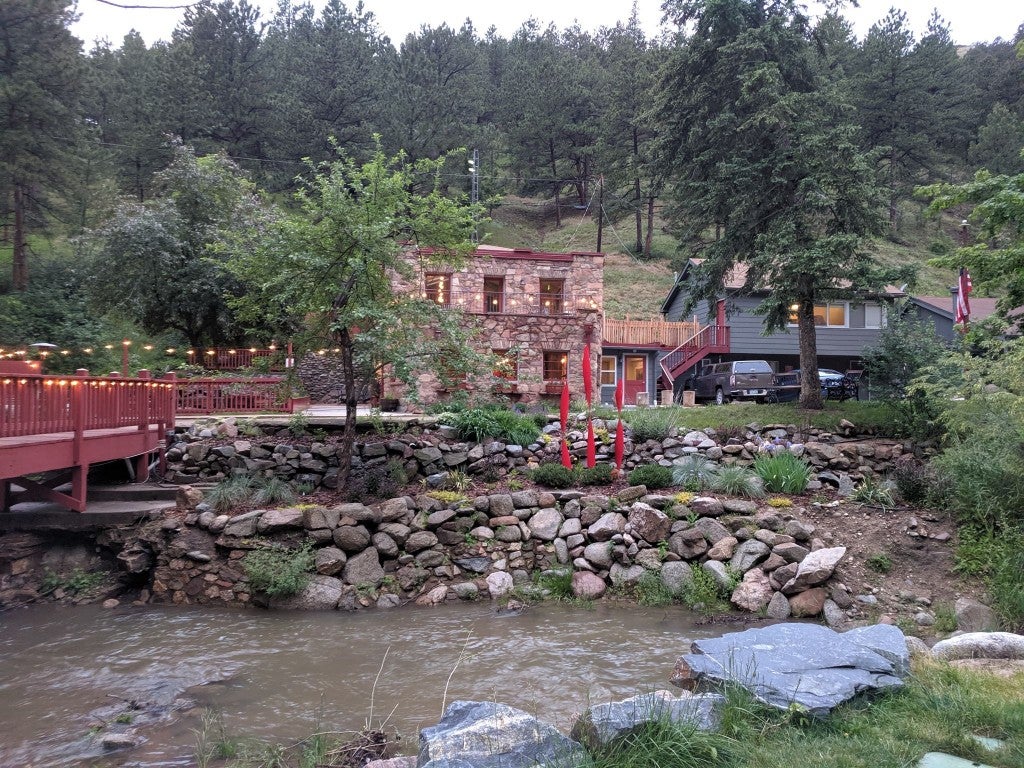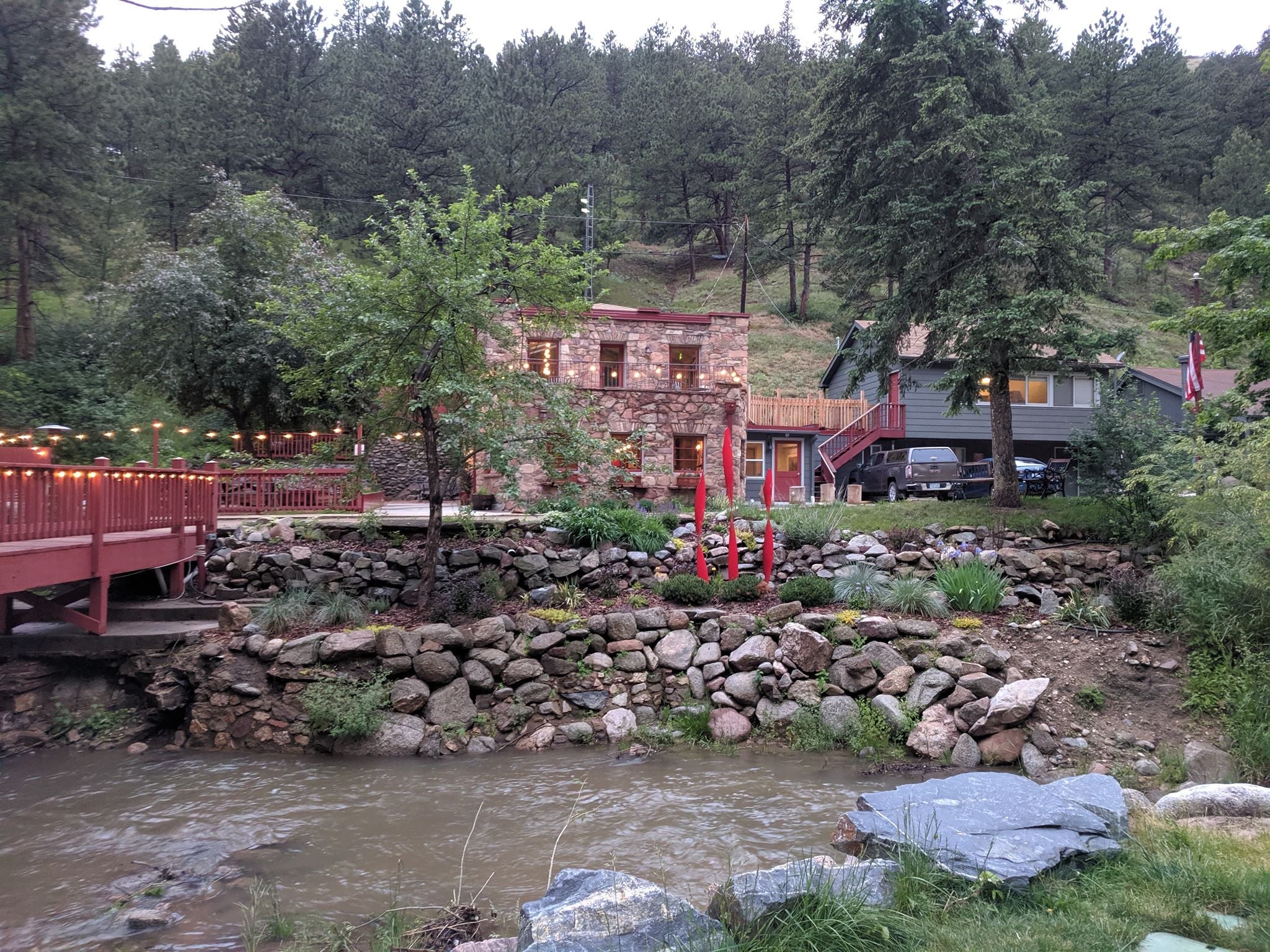 Tucked away in Boulder Canyon just minutes from your favorite 'burbs and breweries, the A-Lodge is part family-friendly motel, part campground, part climber hostel, and 100% cannabis friendly. This picturesque destination has a trail which connects to the larger Betasso Preserve trail network and is convenient to numerous other hiking and biking trails in the area. They also have camper vans for rent and offer guided expeditions, helping you get the most out of their excellent location.
A-Lodge also sits right on Fourmile Creek, with a pretty wooden bridge linking the lodging area and office to community sitting areas, a picnic pavilion, the RV parking area, and A-Lodge's own slackline park. Cannabis consumption is not allowed inside guest rooms, but it is allowed in designated smoking areas and outdoor community spaces. If you like a good cross-fade, A-Lodge also has a small tap room and cafe on-site. And there's few better ways to unwind after a hard Rocky Mountain hike than hopping into the hot tub before smoking a jay and calling it an early night.
Wilderness Bud & Breakfast in Pagosa Springs, Colorado features 420-friendly teepees and tent sites nestled in the forest near the Rio Blanco between Squaretop and Flattop mountains. Wilderness has nice amenities like a camp kitchen with a propane stove, sink, pots, pans, a charcoal grill, communal fire pit, composting toilet, and showers with hot water. True to the name, this rustic retreat includes breakfast in your reservation, and they also host a very green happy hour starting at 4:20 each day. As if all that weren't awesome enough, there are also llamas you can hang out with.
If you're craving something a little more refined, the nearby First Inn of Pagosa Springs is a weed-friendly hotel that is also close to the San Juan National Forest and South San Juan Wilderness Area, as well as the region's hot springs. They even have two pet-friendly rooms, which means you can bring your bud and your #DyrtDog. Just be smart and leave your stash when you venture off private property to hike in the adjacent San Juan National Forest.
Close to Estes Park and Colorado's Big Thompson River is a cluster of cabins built in the 1940s that now have the rather modern distinction of being cannabis-friendly. You are welcome to smoke marijuana anywhere on the property, as long as the cabins themselves stay smoke-free.
That said, you are welcome to enjoy edibles, vapes, and dabs inside, as long as you keep the flower on the front porch, down by the river, or anywhere else you wander on the property's 16 acres. You can stock up on whatever treats you prefer at Karing Kind, a Boulder dispensary that offers a 10% discount to Rustic River guests.
Rustic River is also pet-friendly, but does ask that you don't let your dog run free and that you practice Leave No Trace when it comes to the poop. There are lots of trails where you can walk or wear out your pup, though, with a map in each cabin of trails for every activity level. Some of the trails go down to the river, too, where you can enjoy swimming and fishing. You can also take advantage of off-roading in the area, and can even rent a Jeeps, ATVs, and snowmobiles from nearby Backbone Cycles. Just stay safe and don't partake and drive!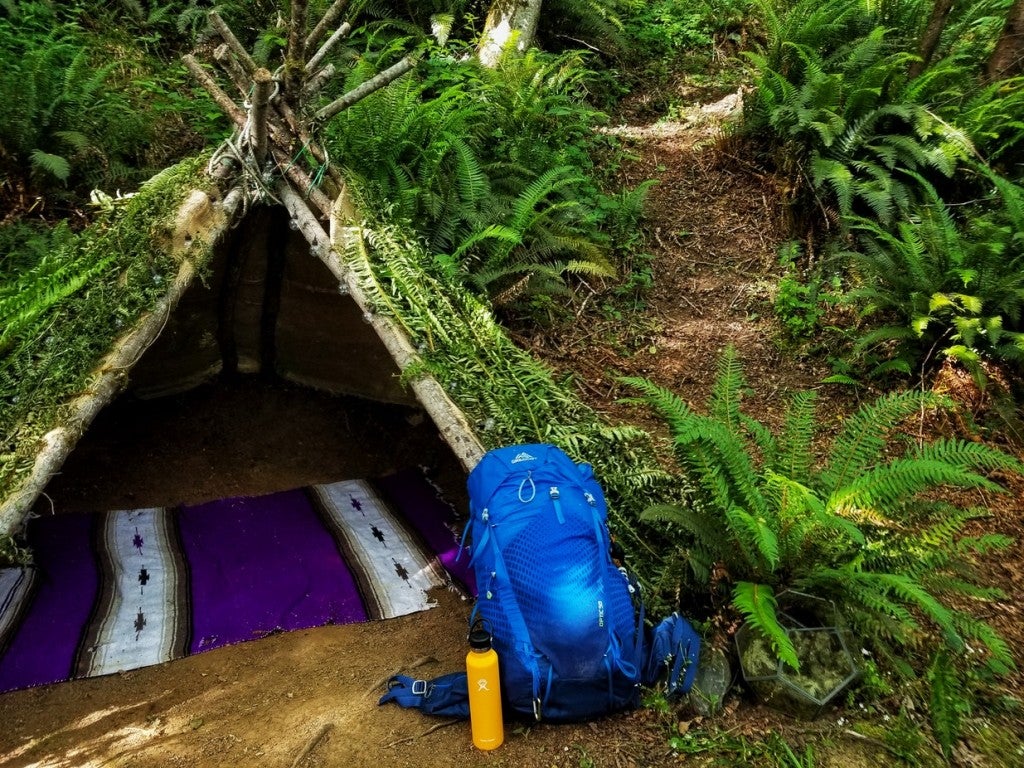 Rose Creek Retreat in Rosburg, Washington sits right on the Lower Columbia River and offers picturesque, secluded cannabis-friendly campsites surrounded by lush wildflowers. Sites are primitive and amenities are limited, but Rose Creek is perfect for a ganja getaway.
Pick up dabs, craft beer, and other provisions in nearby Astoria on your way in to Rosburg. You won't want to leave this little corner of paradise, where you can sleep in a handcrafted wikiup (they're kind of like a teepee made with branches and vegetation) covered in fresh ferns and surrounded by trillium, orchids, and roses.
Your hosts have worked hard to create not only whimsical accommodations, but also think of all the other details. Sol and his wife have created this space in part to help rehabilitate the land from past logging, and have made a real wilderness sanctuary and agro-forestry project.
The cabin has amenities including a phone charger, binoculars and books for birders, and even a memory phone mattress. The campsites that sit deeper in the gardens are decorated with twinkling solar lights, too, adding to the magical atmosphere.
"As the only site that allows wood campfires, sit around the fire pit overlooking the Columbia and watch eagles dive for fish,ships sail inland, and the sun set over the mouth of the mighty river. This site also includes a picnic table and THE CLEANEST Portapotty I have ever seen!" -The Dyrt camper Kayla H.
Wellness— that's the name of the game at Mountain Refuge Ranch, a still-evolving property where visitors can roll their own blend of time spent outdoors, equine therapy, and cannabis for a restorative retreat. There is a specific emphasis on veterans at Mountain Refuge, as the husband and wife duo who run it have their own military history. Their goal was to help fellow veterans and anyone in need of a little nature therapy have a safe, welcoming place to go and unwind.
Mountain Refuge is, like many cannabis-friendly campgrounds, still a work in progress. You can camp there for just $20 a site, or barter for your campsite by helping to clear the land for cabin construction. Tents, vans, and smaller RVs are welcome, though it's wise to check with the owners before you head up to make sure your rig will be able to navigate the property.
There's a lot to do in the area, including a nearby shooting range, hiking, and the Pend Oreille River. Film buffs will appreciate, too, that Metaline Falls is the location where portions of Benny and Joon, staring Johnny Depp and Aidan Quinn were shot, as well as The Postman, which starred Kevin Costner. There's even Gardner cave to explore, if you're a fan of camping near caves, as well as other waterfalls in Washington's classically moist, mossy landscape.
In December of 2018, the green wave reached the midwest when Michigan legalized recreational marijuana. It's still early days, and the new regulations have only been in effect for a few months. Already, however, some existing campgrounds in the KOA network have updated their smoking policies to include provisions for cannabis consumption.
Unlike some 420-friendly campgrounds, however, that interpret the no-smoking-in-public policy as one that applies only off private property, KOAs like the Covert/South Haven location are even more specific. Here you can consume cannabis only in your own RV, not in any cabins or KOA buildings, and certainly not while you wander around admiring the scenery.
This might sound pretty much like the way campers have been covertly (pun intended) using cannabis in the great outdoors for, well, forever. But it is a small step in the right direction, and legal eagles determined to stay precisely within the bounds of public policy can take comfort knowing exactly what's allowed.
"There are a lot of lodging options, tons of kids activities, both free and for a small fee, great pool, cafe and store! Lots of sports equipment to loan as well. Not too big, very clean and well taken care of. Bathrooms/showers are NICE! And it's only 10-15 minutes from the beach in South Haven-beautiful!"– The Dyrt camper Melissa B.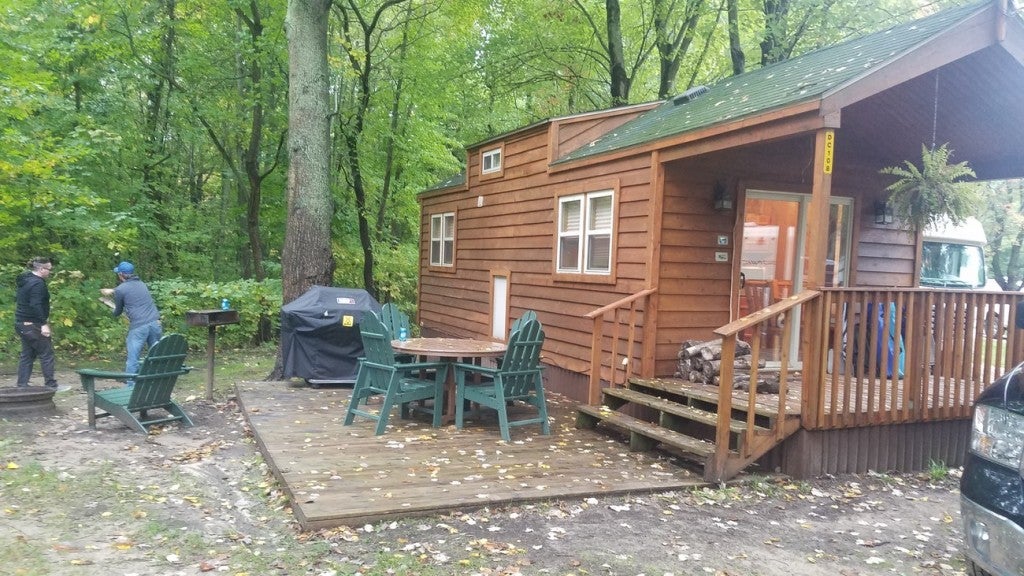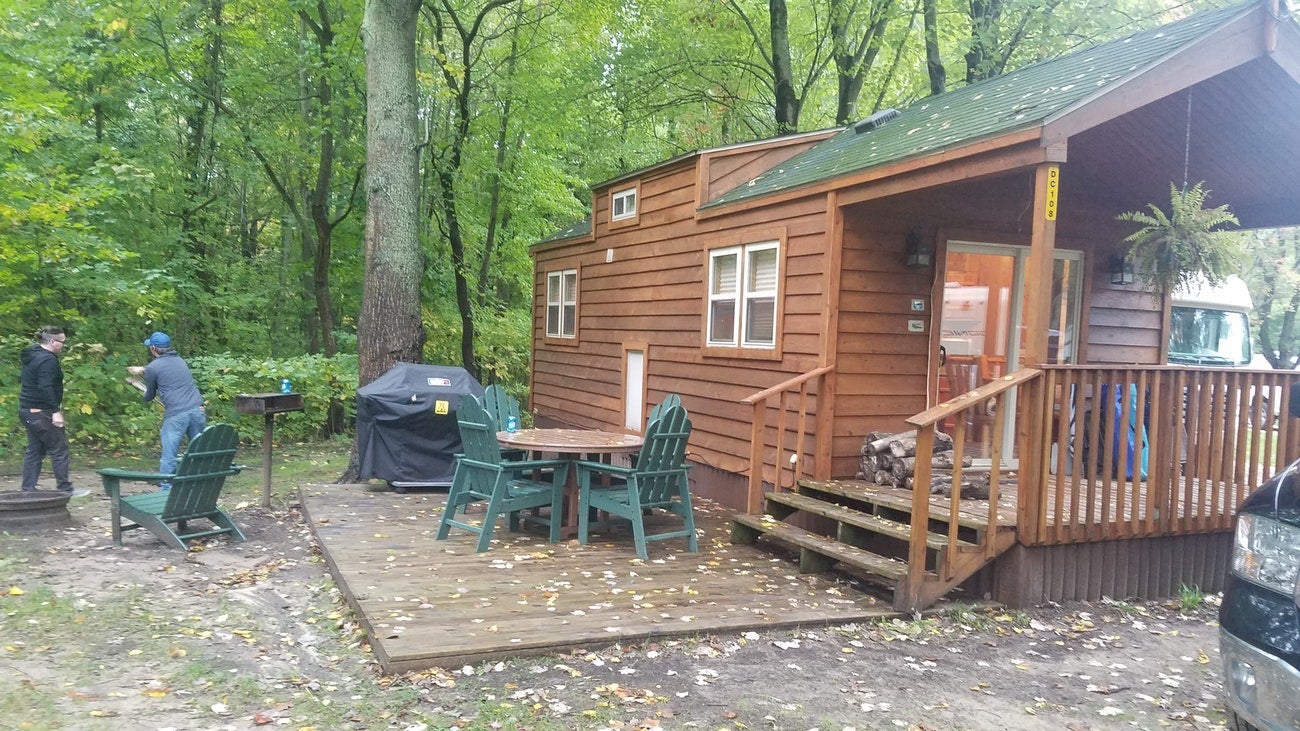 Another Michigan KOA that was quick to parse out its cannabis policy, Coloma/St. Joseph KOA notes that use of marijuana is prohibited in cabins (though the emphasis seems to be on any type of smokable cannabis), while tent or RV campers should keep in mind that consumption of marijuana in any form should be strictly limited to your immediate campsite.
As long as you stay within those guidelines and respect the family-friendly nature of most KOAs, you should be all set. There's lots to enjoy once you get past the ground rules, including a hot tub, gaga ball, bounce house-esque jumping pillow, heated pool, and mini golf. Plus there's lots to do in the area, including Silver Lake Beach. Those who like camping near wineries will appreciate proximity to the Lake Michigan Shore wine trail, and paddlers will love the Paw Paw River Trail.
"First impression on entering the KOA was that it was very clean, organized and well maintained. The owners and staff do a great job of keeping the campground safe, clean and inviting. Sites are well maintained, clean and spacious. The store has everything you could need and if they don't, there is a gas station right outside of entrance. Close to the lake, will visit again!" –The Dyrt camper Monica R.
If it seems like Oregon, Colorado, and Washington have a corner on the market for cannabis-friendly campgrounds, that makes sense—those states put an end to prohibition first. To see where other legal states are headed, just look at the new ganja glamping options cropping up in California, now that recreational marijuana use is legal.
Mike Tyson is reportedly working on a cannabis resort in the Mojave Desert, with 20 acres of grow land, an amphitheater, and an "upscale campground." Cannabis corporation American Green bought the entire California ghost town of Nipton, intending to turn it into as a destination for marijuana tourists by 2019. And those are just the two that have already dropped press releases.
Already up and running is Feeling Groovy at Eagle Creek Ranch, set on 116 acres of private mountain property surrounded by the Shasta/Trinity National Forest. Here you can enjoy not only a little wilderness toke, but also hiking, fishing, horseshoes, barbecuing, horseback riding, and outdoor yoga classes. The cottages also pleasantly ride the line between rustic cabins and a bed and breakfast vibe, making this a great place to come if you're a nature enthusiast who likes a little luxury.
It's easy to see why this has been such a popular destination for Californians looking to get outdoors ever since this was ranching country. Decades ago in another incarnation, Eagle Creek Ranch once hosted Errol Flynn and Bing Crosby!
Like its KOA cousins in Michigan, the Salmon Falls KOA was quick to adjust its marijuana policy as Maine gears up for full recreational legalization in 2019. There have been numerous delays in actually opening dispensaries in the Pine Tree State as the government tries to sort out the particulars of regulation. It's good to know, however, that there is a place for folks in the middle of the weed/camping Venn diagram to land once Maine figures itself out.
Regardless of Maine's cannabis kerfuffle, Salmon Falls is a wonderful outdoor destination. A full mile of the Salmon Falls River runs along KOA property, making this a great destination for anglers and anyone who likes floating or tubing. There are also three campgrounds, a craft barn, rentable kayaks, two heated swimming pools, and a hot tub.
This former church camp was converted to a cannabis-friendly campground 2018. Close to the famous Four Corners where Colorado, New Mexico, Arizona, and Utah meet,  it's a convenient location for outdoor enthusiasts hoping to soak up the Southwest.
Camp Kush provides easy access to Mesa Verde National Park, Canyon of the Ancients National Monument, and San Juan National Forest. With a blend of tent/RV sites, private cabins, and adventure hostel bunks, as well as a community kitchen, group gathering space, vault toilets, and showers, Camp Kush is a comfortable sage desert oasis close to the dispensaries of Cortez, Colorado.
Pick up some bud from area shops like the female-run Doobie Sisters and enjoy the panoramic views of the mountains. A breakfast of organic coffee, organic oatmeal and eggs laid by the owners' chickens is served each morning, too, so you'll have fuel for area hikes, or an answer to those wake-and-bake munchies.
Not All Weed In the Woods Is Good
Ironically, even as projects like these get off the ground, and as many cannabis enthusiasts find themselves barred from state and national parks, illegal marijuana farms are wreaking ecological havoc on public lands.
While you're looking for a place to toke up legally in the great outdoors, some campers in Northern California have been turned off by concerns about stumbling upon armed guards or dangerous situations. It's not only humans at risk, either— toxic chemicals used in illegal growing are doing serious harm to water quality and wildlife.
To stay out of trouble, stick to marked trails and campsites when you venture out into grow country. If you see hoses or other irrigation equipment, a lot of trash such as plastic bottles and rubber gloves, or other detritus that doesn't seem like your (unfortunately) standard trail litter, those are all signs you might have wandered close to an illegal grow site and should exercise caution. Leave as quickly and quietly as possible and find a safer place to camp.
The Future of Cannabis Camping
Issues like the illegal marijuana farms in Northern California are all the more reason to stay on the right side of the law while marijuana policy shifts one state at a time. In the next few years, expect to see more cannabis-friendly campgrounds opening up in other states where recreational cannabis use is legal, especially in scenic spots like Vermont and Massachusetts.
Supporting existing cannabis-friendly campgrounds can demonstrate demand for similar venues, and give other groovy outdoor entrepreneurs incentive to keep the good times rolling.
---
Do you know of a cannabis-friendly campground that we missed? Search for it on The Dyrt to add that information to our database, which is fastest growing resource for campers. If you don't see the campground in our database, you can use this form to add it! 
Cannabis-friendly or not, it's important to leave no trace, no matter where we camp. It doesn't matter that it's natural — don't leave your weed behind, in any form. #CampResponsibly 
---
Popular Articles: