As Oregon's only national park, Crater Lake National Park is arguably the state's star attraction. It's also among the most extraordinary national parks in America. Whether you're road-tripping along scenic Rim Drive, boating on the lake, exploring old-growth forests, or scouting for wildlife, there's plenty to keep you busy.
To do the park justice aim to stay for at least two days, preferably longer. It's about a two-hour drive from Bend, the closest major city in Oregon, so camping in the park is the best way to see it all. Crater Lake camping also allows you to enjoy the park's star-filled night sky. On clear, moonless nights, it's something you won't soon forget.
Your Guide to Crater Lake Camping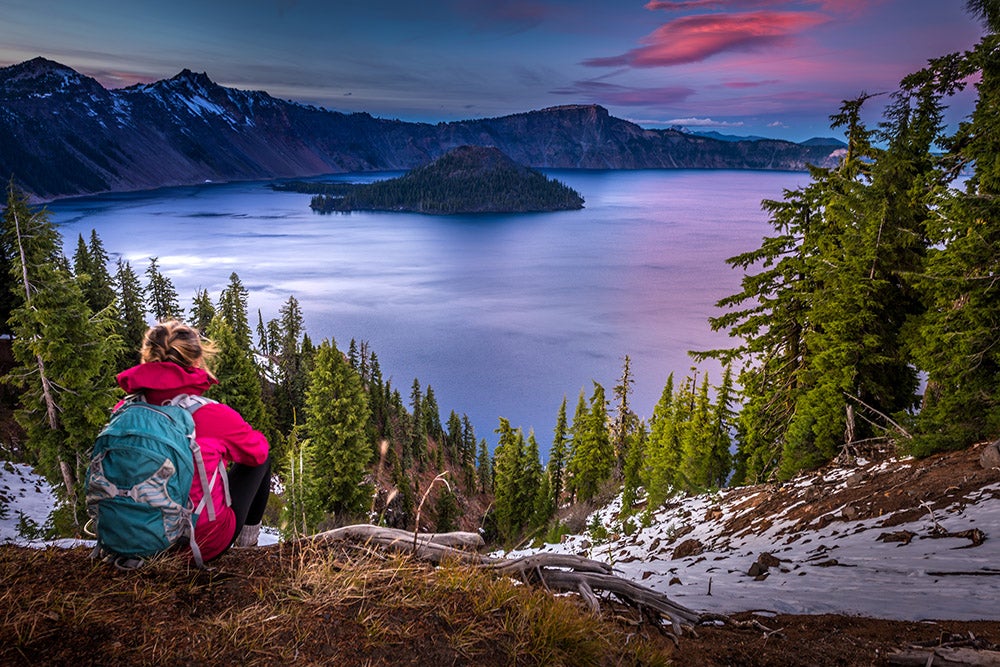 This guide covers the basics of camping in Crater Lake National Park. You'll learn about what makes this park one of a kind, where to pitch your tent, things to do, and sights to see.
A Brief History of Crater Lake National Park
When the first peoples arrived in North America more than 10,000 years ago, in what is now called the Pacific Northwest, there was no Crater Lake. Instead, they saw mighty Mount Mazama, a towering 12,000-foot volcano. Then, 7,700 years ago, catastrophe struck.
It was the largest eruption in the Cascade Volcanic Arc in a million years. As the volcano spewed rocks, pumice, and ash 30 miles into the sky, it could no longer support itself and collapsed. A ranger told me during my visit that the entire eruption lasted only three hours. In a geological blink of an eye, a massive volcano was gone.
Even more remarkable, Mount Mazama's eruption was witnessed by Native Americans. The event became part of legends and folklore. One ancient legend still told by the Klamath people strongly overlaps with modern geological evidence.

After the collapse, heavy rains and snowfall in the Cascade Mountains slowly filled up the exposed crater. The water didn't have anywhere to go, resulting in the deep blue lake now called Crater Lake.
Crater Lake is a lake with superior features. Not only is it almost perfectly round, its maximum depth of 1,949 feet makes it the deepest lake in the United States and the second-deepest in North America. It's fed solely by rainwater and snowmelt, giving it what is possibly the clearest and cleanest water of any lake in the world.
"The amazing thing about Crater Lake is that if you sit in front of it for any amount of time the entire thing changes. The colors, the way the clouds reflect on the lake, parts start to look like glass while other parts look frozen. It was unlike anything I have ever seen." —The Dyrt camper Dawnielle C.
Where to Camp at Crater Lake
Pitch your tent or hang up your hammock for a few days and create some unforgettable memories. You could also splurge on a stay at the historic Crater Lake Lodge, but Crater Lake camping is hard to beat.
There are only two developed campgrounds in Crater Lake National Park, one huge and well-equipped and the other tiny and basic. Note that both campgrounds are only open in summer.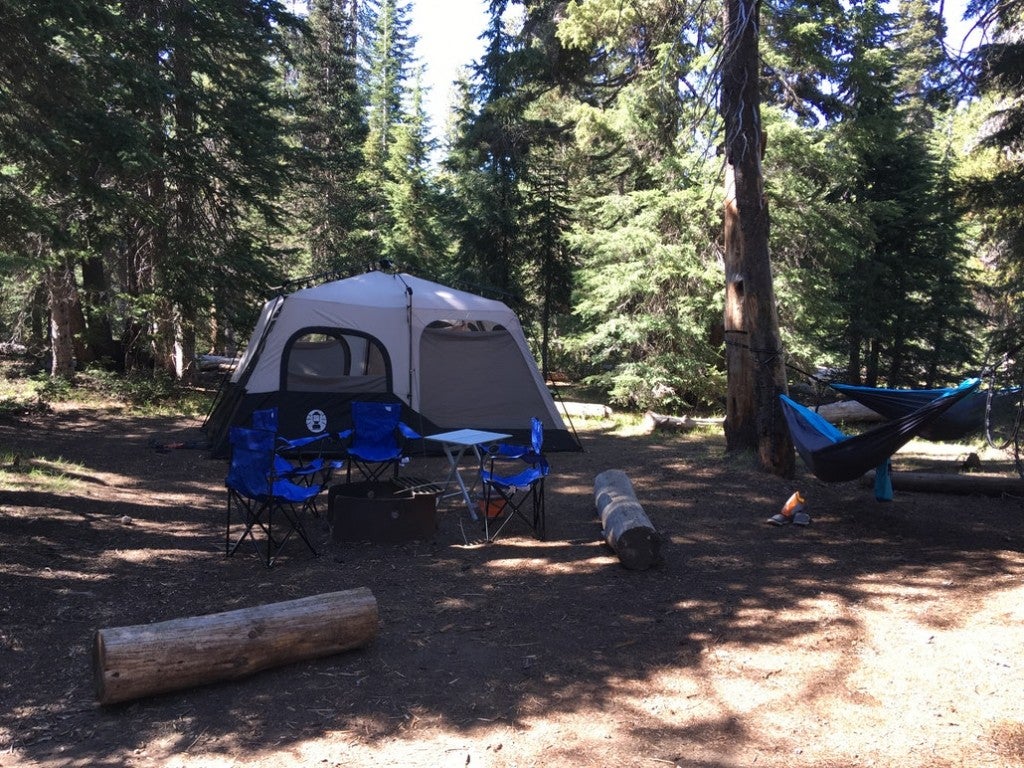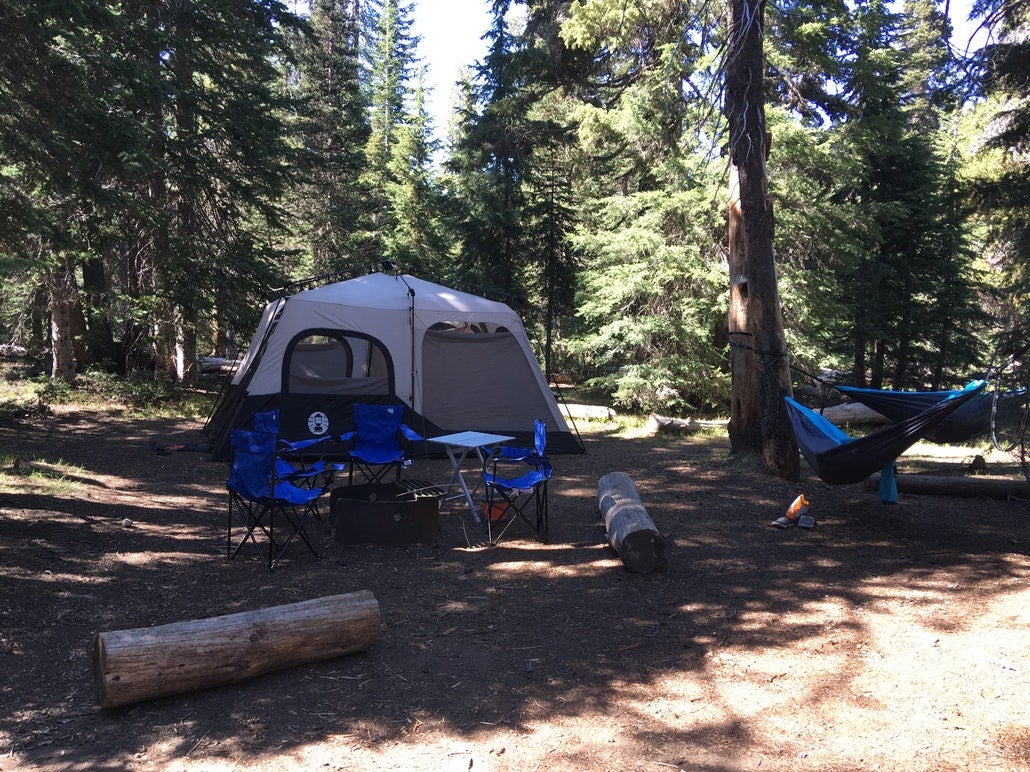 Mazama Campground, with both RV and tent sites, is seven miles south of the crater rim. It's open from mid-June through late September. In June, all 214 sites are available on a first-come, first-served basis, while in the other three months, 75% of the sites can be reserved. The other 25% sites remain first-come, first-served.
July and August are the peak months for Crater Lake camping and Mazama Campground typically fills up completely by mid-afternoon. If you aren't able to reserve a site in advance, arrive early. Check-out and check-in are both at noon, so that's when you'll have the best chances of scoring a first-come, first-served campsite.
Every site has a fire ring, picnic table and bear-resistant lockers for food storage. Flush toilets and potable water are available as well. Although it's a pretty large campground, its forested setting and spaced-out sites don't make you feel like you're surrounded by dozens of other campers.
Mazama Village has a convenience store, the park's only gas station, and a restaurant. The campground also has nightly ranger programs. Additionally, there are coin showers and laundry machines, popular amenities among Pacific Crest Trail thru-hikers.
"Our site was tent only and allowed for two cars. You could easily fit 2 (if not one more) tents in the spot. It was well equipped with a table, fire pit, and bear box all in good condition. " — The Dyrt camper Jenny R.
The other campground in Crater Lake National Park is the Lost Creek Campground. This tiny, 16-site campground is for tents only. Located three miles below the crater on the Pinnacles Overlook road, a spur road off Rim Drive, it's usually open from early June through mid-October.
This campground is always first-come, first-served. Upon arrival, campers must self-register and pay with exact cash or by check.
Note that this campground, too, tends to fill up completely by mid-afternoon in July and August. Lost Creek Campground is a basic campground with no potable water. Sites have a bear-resistant food locker and a picnic table.
"If you enjoy more primitive camping in smaller sites, then Lost Creek is your jam. There are only 16 tent-only sites and no reservations so they fill up! Don't roll in on a Friday afternoon and hope to get a spot in the summer." — The Dyrt camper Kayko S.
Backcountry Camping
More intrepid visitors might want to head into Crater Lake's backcountry for an overnight hike. Backcountry camping in Crater Lake National Park requires a permit—but don't worry, it's free. Hikers must obtain a permit in person at either the Canfield Ranger Station or the Steel Visitor Center.
Each free permit is valid for the specified dates, party size, and locations where you'd like to go hiking and camping in Crater Lake National Park. You do need to purchase a park entrance pass (which is something every visitor has to do anyway) that must be valid for the duration of your trip.
When camping in Crater Lake's backcountry, make sure you know what you're doing. Prepare for your trip by bringing sufficient clothing, food, and water, and store all scented items in a bearproof canister. Check the weather forecast, as the weather in this region can change rapidly—surprise rain showers and freak thunderstorms happen occasionally. In summer, check the wildfire updates.
When to Visit Crater Lake
Crater Lake National Park is open year-round and each season has something new to offer. Spring comes with thundering waterfalls, summer has glorious weather and wildflowers (but often also wildfires), fall features beautiful sunsets, and winter snowfall transforms the landscape to a white wonderland.
For Crater Lake camping, however, there is only one peak season: summer. In the summer, the park's two developed campgrounds and all other visitor facilities are open.
That's not to say that winter camping in Crater Lake National Park is not possible. Though Rim Drive is closed due to snowfall from early November, it becomes a popular destination for snowshoeing and cross-country skiing. In winter, you are allowed to camp on Rim Drive with a valid permit.
Explore These Highlights in Crater Lake National Park
A multitude of attractions dot the national park. The obvious main one—the park's namesake—is Crater Lake itself. But don't stop there; it's not the only sight to see in this multifaceted national park.
Circle the Lake on Rim Drive
Looping around the entire lake, the 33-mile Rim Drive is one of America's greatest short drives. Part of the Volcanic Legacy Scenic Byway, one of the many designated scenic byways in Oregon, the road is packed with overlooks, points of interest, and trailheads. Don't miss Discovery Point, the Watchman Overlook, and the Cloudcap Overlook.
Get Views and 'Parkitecture' at Crater Lake Lodge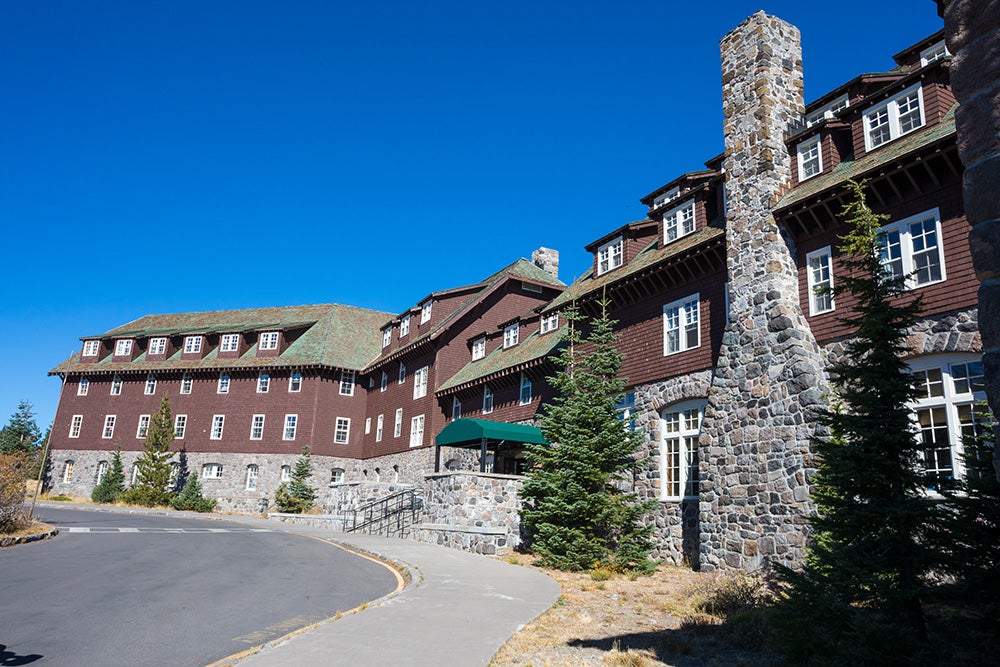 Built in 1915 to offer a place to stay to Crater Lake visitors, Crater Lake Lodge sits on the edge of the crater and provides amazing lake views. It's a superb example of so-called 'National Park Service rustic' or 'parkitecture,' which is an architectural style dating from the early and mid-1900s.
The style's purpose was to let buildings in national parks, including lodges and visitor centers, blend in with their natural surroundings. National Park Service rustic is found in many other western parks as well, such as Yellowstone National Park, Yosemite National Park and Mount Rainier National Park.
Hike Old-Growth Forest to Plaikni Falls
One of my personal favorites in Crater Lake National Park is Plaikni Falls. The trailhead is not too far from the Lost Creek Campground, a nice out-and-back hike through old-growth forest to a lush cascade surrounded by wildflowers.
Sail to the Magical Wizard Island
Crater Lake is one of very few places on Earth where you can see a volcano within a volcano. Wizard Island, seemingly a normal island, is actually a cinder cone rising up high from the bottom of the lake. Every overlook and pullout along the Rim Drive offers views of this remarkable island.
You can also visit Wizard Island on boat tours departing from Cleetwood Cove on the north side of the lake, which is the only access point to the lakeshore.
See Volcanic Rock at The Pinnacles
The Pinnacles were formed during the same volcanic eruption that created the lake. Situated in the park's far southeastern corner, these volcanic rock formations are an extraordinary sight.
Take On The Garfield Peak Hike
More than 90 miles of trails crisscross Crater Lake National Park, but the one that, in my opinion, offers the most bang for your buck is the Garfield Peak Trail. This 3.6-mile roundtrip hike starts just east of Crater Lake Lodge and leads to the barren summit of Garfield Peak. In exchange for a sweaty ascent, you'll get magnificent views the whole way to the top .
---
Related Articles:
---
Related Campground:
Popular Articles: