In the high desert region of central Oregon lies an unlikely, unexpected landscape. Dry agricultural lands, arid hills and riverbeds dominate the area, a geological wonderland unique in the Pacific Northwest. The star attraction is the Painted Hills, a region of ancient, colorful hills protected in the John Day Fossil Beds National Monument. Boasting sublime colors and gorgeous patterns, these hills truly do seem like they were hand-painted by mother nature herself.
Paying a visit to these hills can be done in a day, but turning this trip into an overnight camping experience is easy and worth it. Here's what to know and where to camp around Oregon's Painted Hills.
Discover The Artistry of Oregon's Painted Hills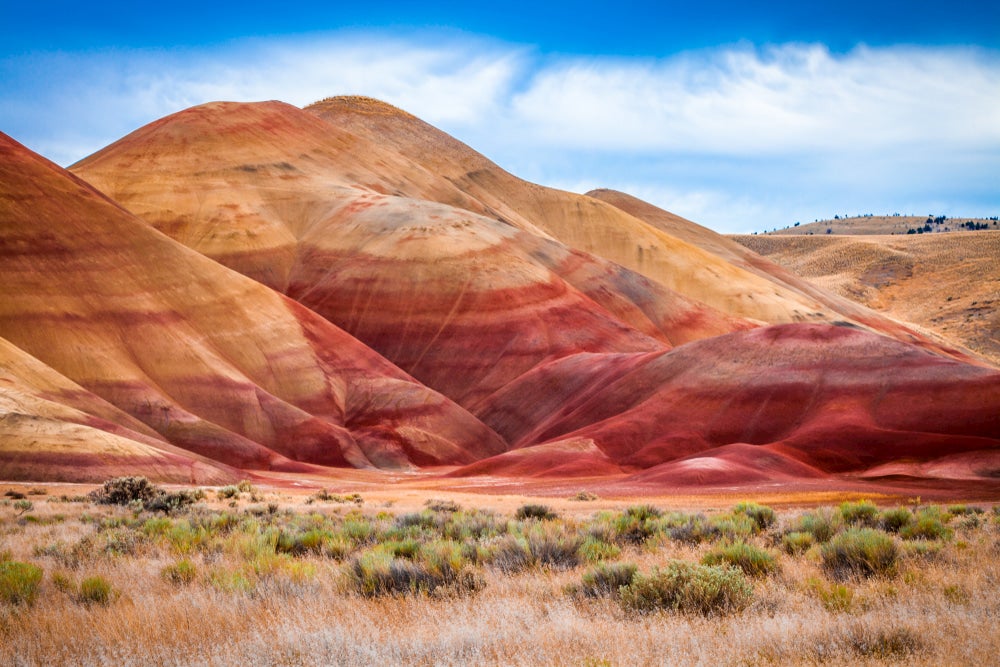 The Painted Hills are one of three units that comprise the John Day Fossil Beds National Monument, and tracing their history starts about 35 million years ago. Eons of climate change and a series of volcanic eruptions transformed the landscape. It once was a river flood plain, for example. Later on, the area became a lush tropical forest and home to numerous prehistoric animals.
Volcanic ash covered layers of decomposed vegetation, which was then topped by some more organic matter. Over time, this all created a multitude of geological layers, all boasting their own distinct colors, from red and orange to black and tan, and even a hint of purple. Fossils of numerous ancient animals and plants are found all across the area, including the Painted Hills, hence the"fossil beds" in the national monument's name.
While the Painted Hills are the undeniable highlight of the national monument, visiting the other two units (the Clarno and Sheep Rock units) is strongly recommended as well. Together, they'll give you a deeper insight in the immense geological and paleontological value of this extraordinary area.
All units have (short) hiking trails, allowing you to do some more in-depth exploring. None of them, however, are particularly large. You only need a few hours in each unit to see all you can see, do all you can do. Combined, they make for a fun and laidback weekend camping trip in Central Oregon.

---
The Dyrt PRO ensures easy trip planning and helps you deal with last-minute cancellations. With the upgraded version of The Dyrt app, you can access campgrounds, maps, and photos for offline use during outdoor adventures.
---
Visiting the Painted Hills Unit
The unit, located just north of Mitchell, offers a number of comforts for visitors, including information panels and restrooms. Drinking water is available from May into September. If you're looking for more than just the hills on your trip, April and May are the best months to view wildflower blooms.
When visiting the Painted Hills unit, there are a few ways you can walk and view their majesty. A handful of short trails wind their way through and along the Painted Hills, each offering a different perspective of these colorful hills. The most popular trail is the Painted Hills Overlook Trail, at 0.8 miles roundtrip and starting at the parking area. Additionally, the 0.4-mile Painted Cove Trail also makes for an excellent hike, a section of which is on an elevated boardwalk through the hills. The longest hike in the Painted Hills Unit is the Carroll Rim Trail, a roundtrip of 2.6 miles to an amazing viewpoint.
Where to Camp Near the Painted Hills
Whether you're exhausted from exploring every inch of these ancient relics, or you just want to see some of the best dark sky stargazing in Oregon, camping around the Painted Hills is one of the best ways to experience them. Here are a few of our campers' favorite spots near the John Day Fossil Beds National Monument.
"It's Bureau of Land Management land, which means all camping is free. We camped right on the banks of the John Day River and it was amazingly beautiful. The water was the perfect temperature for swimming and crystal clear. There were people a couple hundred yards from us on either side, so not too crowded." – The Dyrt camper Sarah W.
"Basic dry camp with only a couple actual spots. Right on the river. There is a vault (pit) toilet on the hill. Super-hot in the summer. My husband and I love to get away here each summer, no cell service for miles, very few other people. Great to just set up camp then fish, swim, read, or nap all day long." – The Dyrt camper Rachel R.
"Fossil is an awesome little town near the Clarno Unit of the John Day Fossil Beds. The Wheeler County Fairgrounds RV Park is super clean, with full hookups and decent size sites. There's a wonderful little trail right nearby the takes you up to the city water tank and 360 view of the town and area. Fossil also has the best grocery store in the area so stock up on fresh produce." – The Dyrt camper Jill R.
Getting to The Painted Hills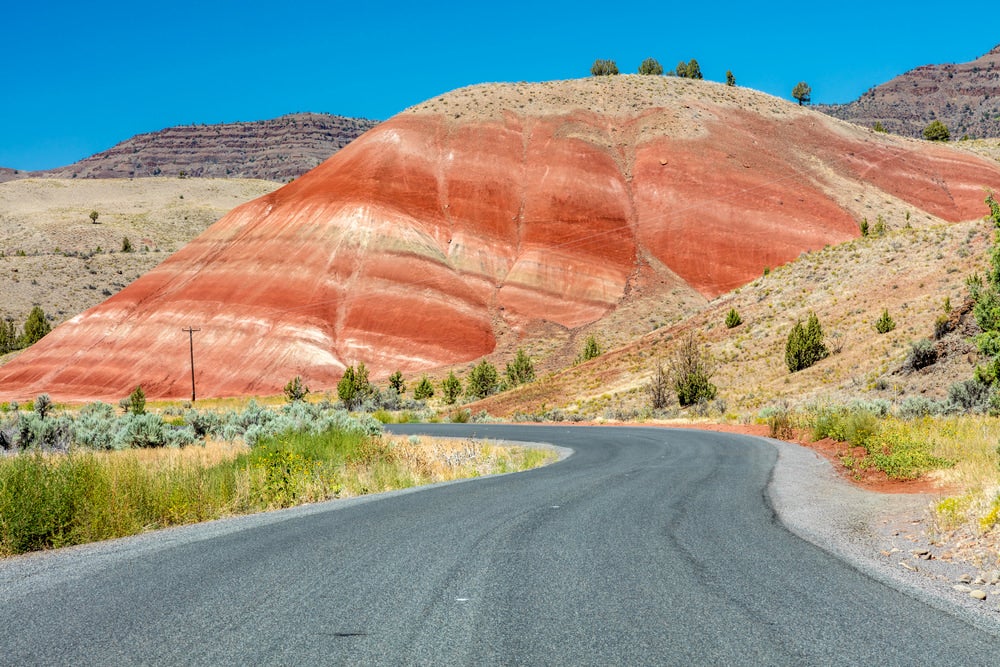 The Painted Hills lie 9 miles north of Mitchell, Oregon in Wheeler County.
Traveling from Portland in the west, you get there via the Journey Through Time Scenic Byway, one of the many scenic drives in Oregon. You'll drive through Shaniko, Oregon's best-preserved ghost town, and scenery dominated by dry agricultural lands, arid hills and canyons.
From Bend, head northeast toward Prineville, where you turn right onto Highway 26 to Mitchell. It's a 2-hour road trip from Bend to the Painted Hills. You can make a loop through the area, linking all three units together, by combining Highway 26 with Highway 19 and 218, the latter two of which are part of the Journey Through Time Scenic Byway.
Best Time to Visit the Painted Hills
The Painted Hills Unit and the two other units of John Day Fossil Beds National Monument are open all year. You can visit them during daylight hours. From spring to fall, potable water is available at picnic areas. Note that summers can get pretty hot, so make sure to wear a hat, put on sunscreen and drink plenty of water when exploring the area.
The Painted Hills are arguably at their most beautiful after a rain shower. Water flowing down intensifies the colors, highlighting the vibrant reds and yellows. Fall is therefore a good time to visit the Painted Hills. If you're lucky enough to be there when it stops raining and the sky clears just before dusk, the sunsets can be out of this world. In spring, on the other hand, purple and yellow wildflowers run along the base of the hills, creating a magical landscape that attracts a variety of landscape artists, photographers and painters alike.
Related Articles:
---
Related Campgrounds:
Popular Articles: