Flying over the Columbia River Gorge with Envi Adventures offers a fresh perspective on this treasured Oregon landscape. 
---
Whether you're a die-hard local or a first-time visitor, most of us experience wild places just a piece at a time, from the photos we see on social media to the trails we cover with our own two feet.
As a newcomer to Portland I discovered the Columbia River Gorge in lots of little fragments before I ever saw this famous destination in person. There was the model of Multnomah Falls made out of Legos at the airport. Then there was a local storytelling event, at which Unlikely Hikers founder Jenny Bruso recounted her first exhilarating hike up Angel's Rest. And of course, plenty of fellow readers and movie-goers also recall Cheryl Stayed's description of Bridge of the Gods at the end of Wild.
What if you could take in a famous wilderness all at once, though, instead of glimpsing it one 'gram and mile marker at a time? That's what Envi Adventures makes possible, with plane rides over the Columbia River Gorge.
Envi Adventures Offers Portland Area Aerial Tours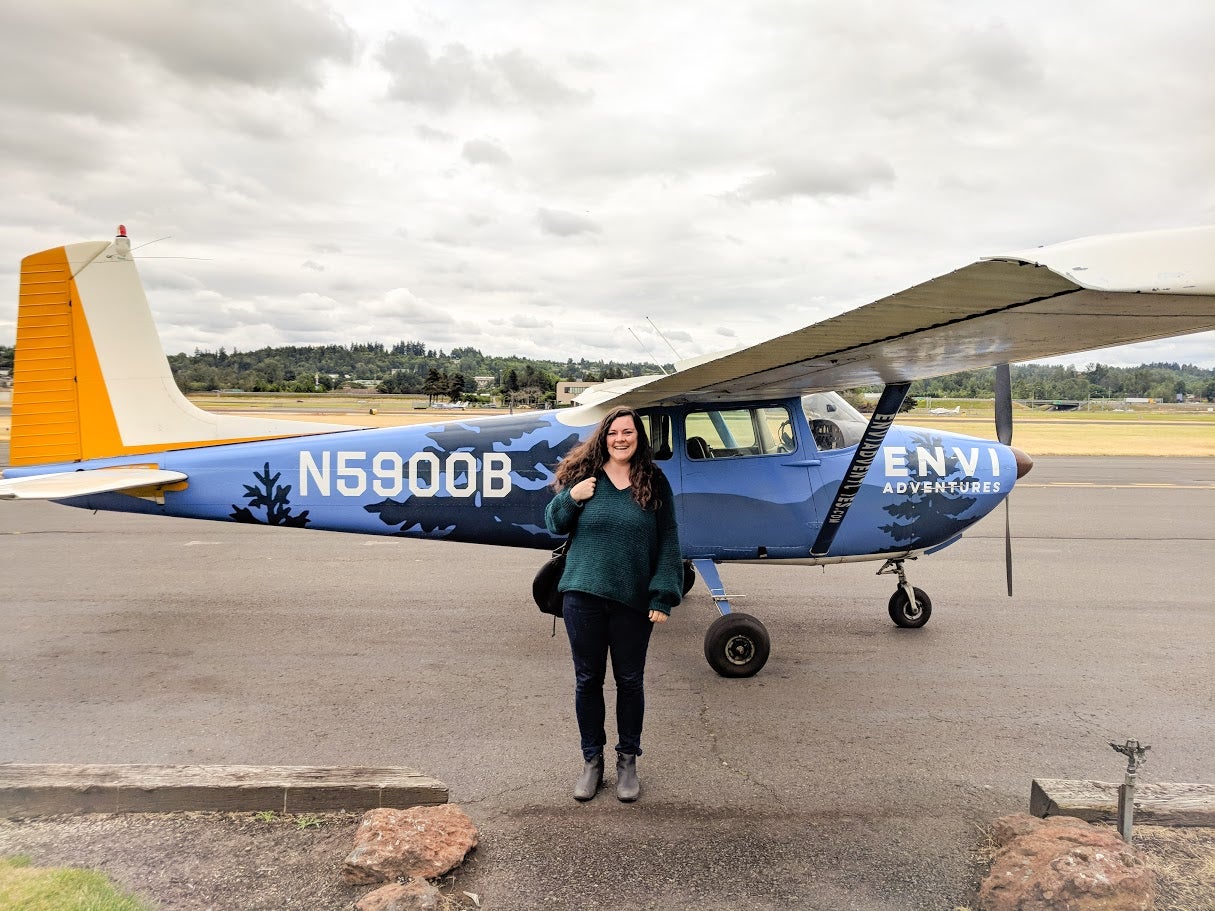 Before I ever set foot in the Columbia River Gorge (more often referred to as simply "The Gorge") I had a chance to see it with Envi Adventures from a four seat prop plane in all of its winding, misty, verdant glory. On their Waterfalls Tour, you have a chance to see everything from the famous Vista House to the Bonneville Dam from an unparalleled vantage point.
Not only does this let you pack fifty miles of sightseeing into a morning, it even converts the lemons of the infamous Eagle Creek Fire into a splash of lemonade. Of course, from land or air there is no missing the scars from the wildfire that burned almost 50,000 acres of this beloved wilderness in 2017. Indeed, just a few days before this writing, a smoldering hotspot managed to flare up even as Portland's notoriously wet winter and spring seasons come to a close. Many trails (or at least sections of trails) are still closed to hikers, including beginner favorites like Angel's Rest. The upside, though, is that many of the area's splendid waterfalls— which would normally be hard to see from the air with a full canopy— currently peek winningly out of the landscape when you view them from above.
I met Corey Rust, Envi Adventures' founder, at the Troutdale Airport, where he pulled his deep blue plane right up to where I waited outside the Gorge Winds Aviation Center, as if it were a taxi.
After shaking hands with Corey and his co-pilot, we discussed the basics: how we'd be able to communicate over the headset, the best vantage point for photos inside the plane, how far we'd be traveling up the Gorge, and the importance of wearing a seatbelt. I hopped into the backseat behind the cockpit, where a pair of puffy Rumpl Blankets were waiting in their stuffsacks in case things got chilly. It's not much of a concern in the summertime, but Envi Adventures flies year round, and Corey notes that their partnership with Rumpl really comes in handy during the winter months.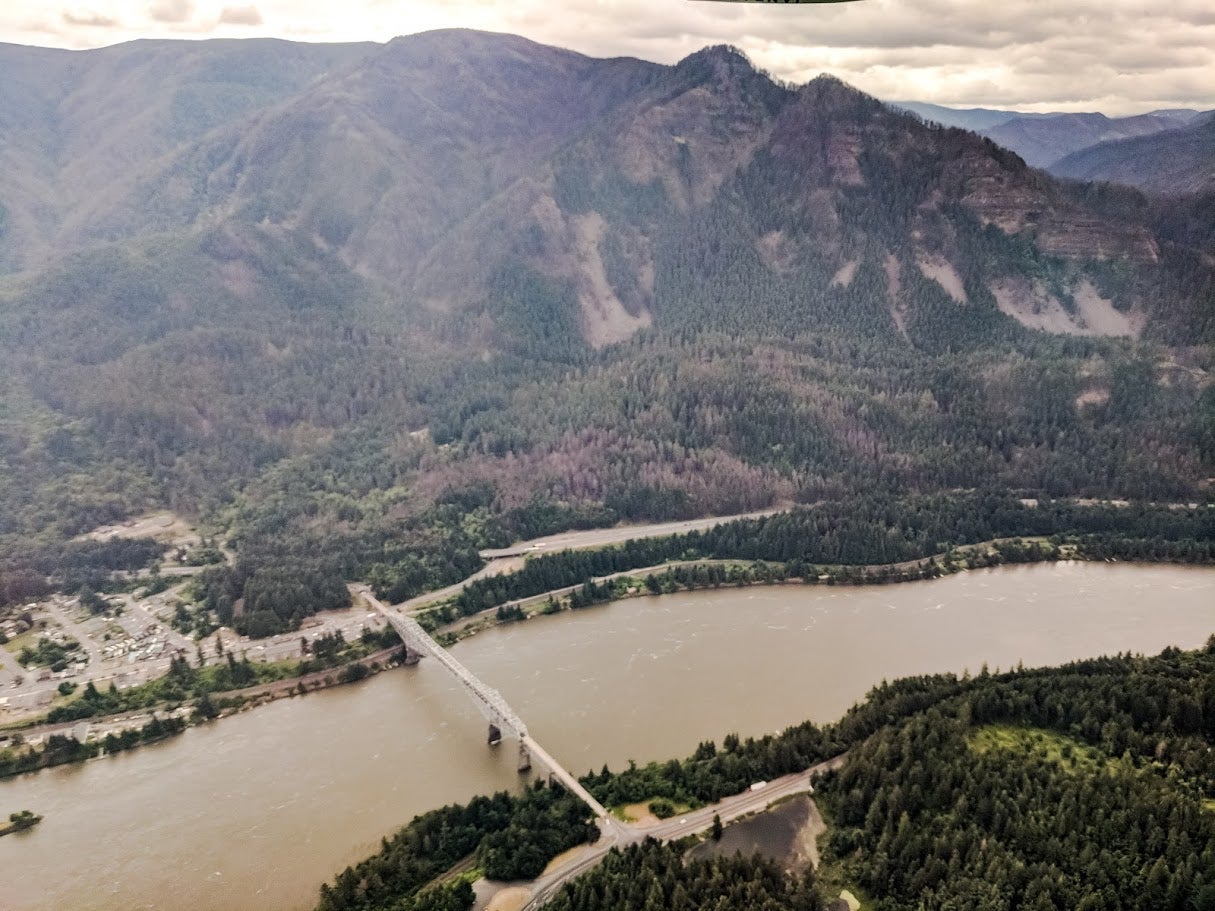 Corey flicks the controls and sends a few last messages to air traffic control. All of a sudden, we're airborne and climbing straight towards Portland before we bank right and climb above a thousand feet. Quickly the plane aligns with the Columbia River, which is shining a steely blue below us, streaks of bright green on the shore to either side.
On our right is the Oregon side of the Gorge, which is noticeably more mountainous and rugged. Over thousands of years, the Columbia River Gorge has been carved by a series of natural phenomena, including earthquakes, volcanic eruptions, landslides, and massive floods.
It's hard to believe, but the numerous waterfalls we see along our flightpath including Bridal Veil, Horsetail, Oneonta, and Elowah are tiny in comparison to the massive waterfalls that flowed here millions of years ago. By the same token, the magnificent Bridge of the Gods spanning the Columbia was once not a man-made steel span, but a rock crossing created when the face of the gorge crumbled into the river in the 1700s, before bursting in a flood that engulfed Troutdale hundreds of years ago.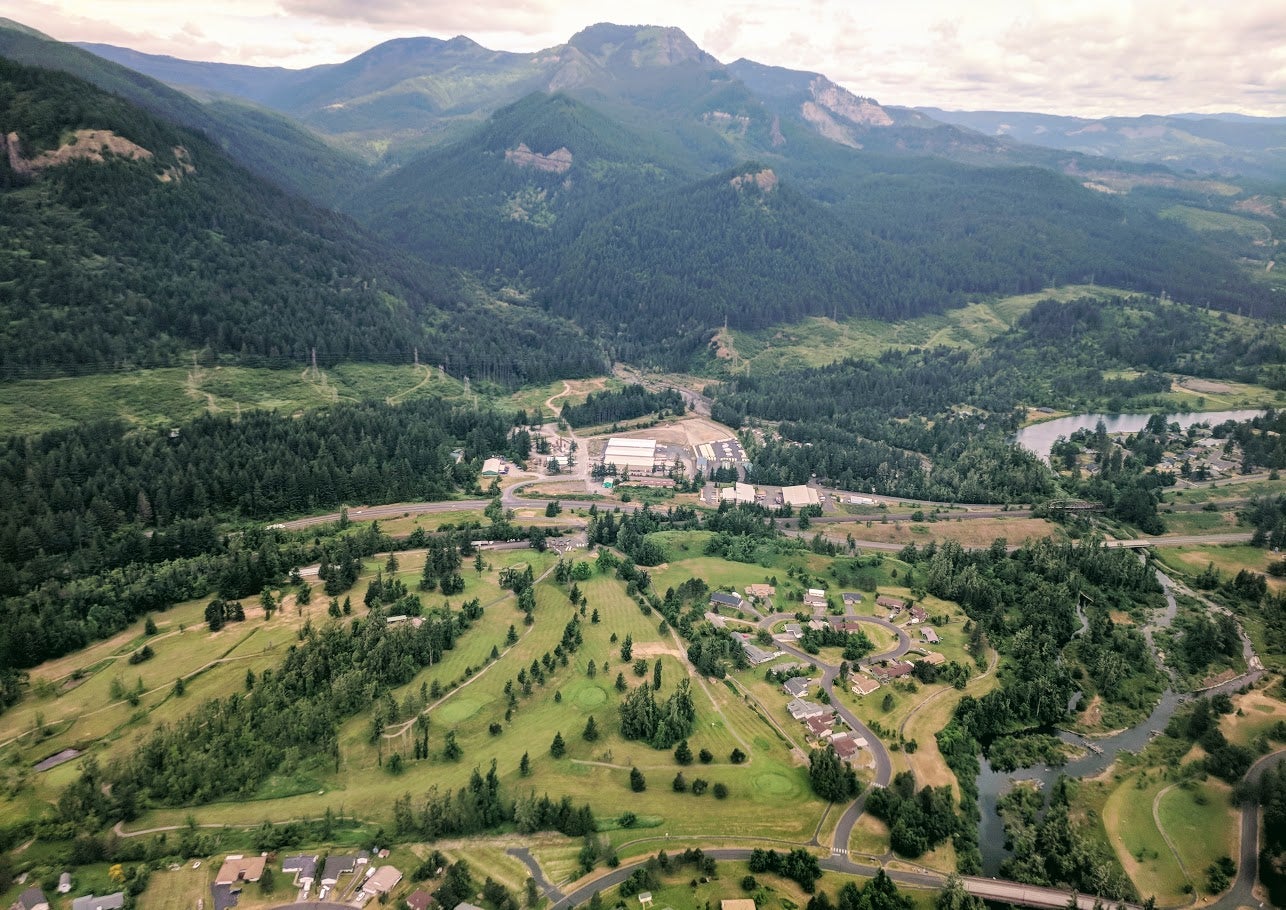 These are just a few of the stories Corey has to share as you fly up river. You can see the way the Eagle Creek fire hopped, skipped, and jumped along the Gorge, and you can also see the rivers that feed the falls and how they snake through this sculptural landscape.
The trails, trees, and rocks usually witnessed from ground level come together up here into one magnificent tableaux, with dramatic peaks and drops alternately crusted with deep green trees and left gaping with burnt, blackened trunks left standing on barren, rocky patches.
Roads and rails snake through the landscape, too, hugging the banks of the Columbia closely. As the plane turned back towards Troutdale near the end of our journey, I looked down on the Washington side of the river to see a mile-long train passing through a tunnel on the very lip of the water, its front and rear sections extending past either side of the hill like thread needling through deep emerald fabric. Somewhere below on the Oregon side, unseen hikers push along through the trees and greenery, perhaps hearing the low sound of our engine passing overhead.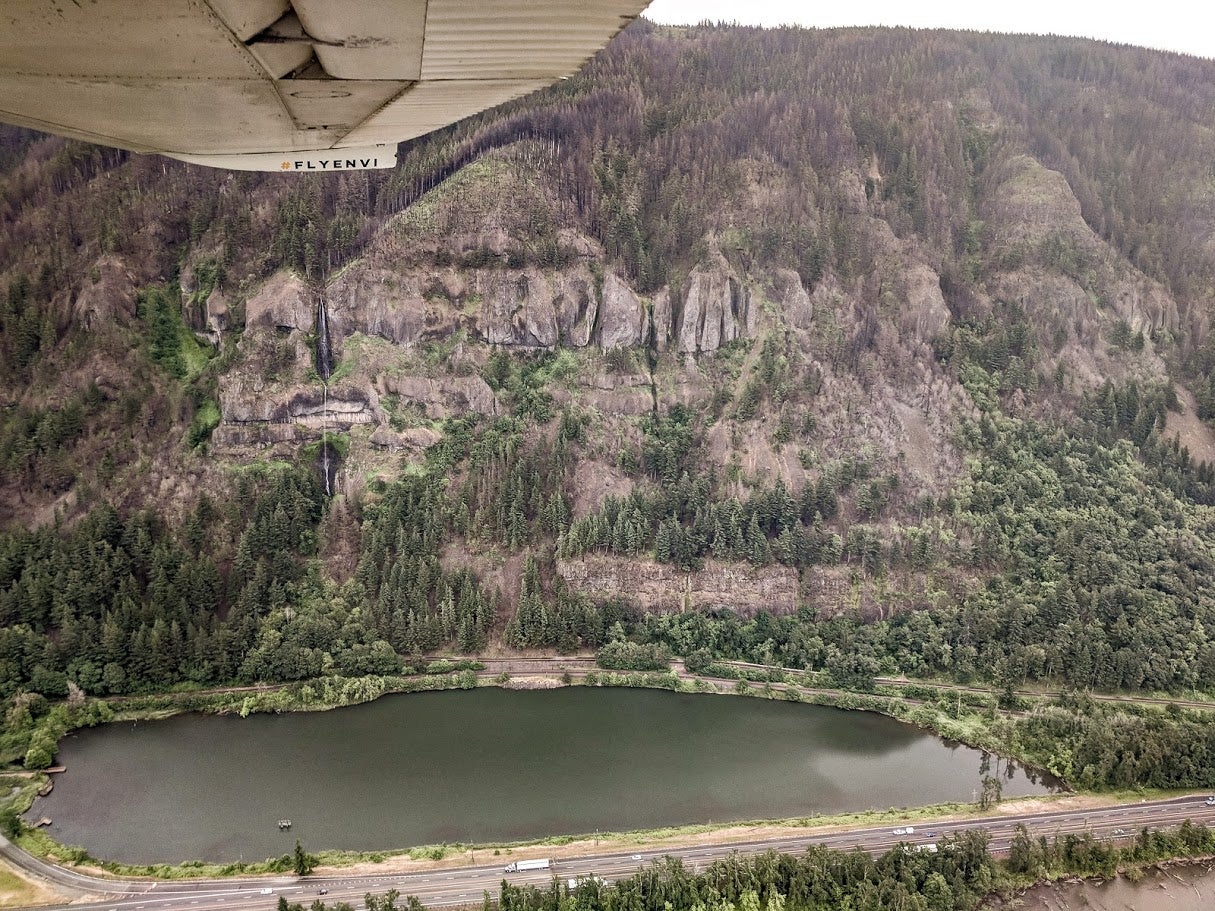 Eventually we reached the end of the Gorge's string of attractions, and Corey circled the plane around to follow the river back to Troutdale, the blue water spilling over Bonneville Dam, punctuated with white caps far below.
On the Washington side, deep turquoise lakes glitter up from the rolling hills and the famous Skamania Lodge slants through a large clearing in the pines. Every new thing I saw left me more eager than ever to explore the Gorge. From above you realize that, while the Eagle Creek Fire was certainly devastating, there is still so much of the Gorge that's untouched, or at the very least ready to be experienced in a whole new way. After taking in the whole beautiful expanse all at once, I can't wait to get out this summer and try the parts that are open on foot, up close and personal, one piece at a time.
How to Get to Envi Adventures and The Gorge
If you're interested in your own aerial tour with Envi Adventures, the Troutdale airport is just a thirty minute drive from downtown Portland. And if you don't have a car, you can still get there via public transportation like I did.
Take the number 20 bus from downtown Portland to Gresham Transit Center, and transfer to the 81. After your flight, if you want to head directly to the Gorge to see it from another angle, you can catch the 81 back to Gresham Transit and then take the Blue Line MAX train to the Gateway Transit center before picking up the Columbia Gorge Express, a seasonal shuttle that will get you to trailheads from Rooster Rock to Hood River.
Admittedly, taking the bus was a bit of a slog that took up a lot of my morning. You could also take an Uber or a Lyft for about $30, but an even better idea is to use a service like ReachNow or ZipCar. This summer, both car sharing services include Oregon State Park passes, which makes it super easy to hike and camp in the state parks that have reopened since the Eagle Creek Fire, including Rooster Rock (home to one of Oregon's only clothing-optional beaches), Starvation Creek, Guy Talbot, Bridal Veil, and Ainsworth State Park. You can make a quick 30-minute drive from Portland to Troutdale and enjoy your flight with Envi Adventures, followed by lunch at a brewery like Thunder Island or Grains of Wrath.
Then you'll be well fueled for hiking and camping the trails you just flew over.
---
Related Campgrounds:
Popular Articles: