What do you imagine when you think of stand-up paddle boarding? Floating idly around a lake, soaking in the sunshine? Doing laps and paddling for a great core workout? People are discovering all kinds of ways to have fun on a SUP, and some you might not even know about yet.
Take your SUP game to a new level by trying one (or more!) of these 8 unique SUP ideas…
Mix it up on Your SUP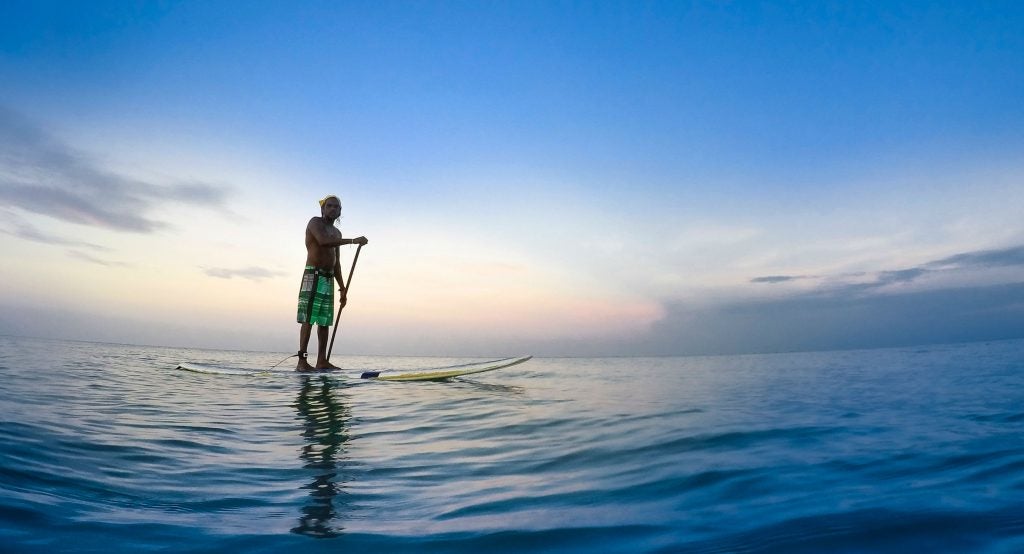 We have a feeling this list will continue to grow as the SUP continues to gain popularity. What will you try, first?
1. Stretch it Out
Okay, you've probably heard of this one. SUP yoga has become a sport of its own and people are loving it. If you haven't tried it yet, SUP yoga is challenging and fun. Make it social by signing up for a SUP yoga class, offered at many lakes around the country.

2. Catch a Fish
Want to catch your dinner or improve your catch-and-release? A SUP can take you way out to find those fish in deeper waters. Strap your tackle box to your board and paddle off to find the perfect, secluded fishing spot that you won't have to share with people on the dock.
3. Ride a Wave
You're already standing, so you don't have to worry about that part! Start with small waves and practice catching one for the ride in. Just be cautious of others in the water — SUPs are big!
4. Bring the Family
Anyone can paddle a SUP, and the little ones (and even pets!) can ride along, too. Pack snacks and paddle out for a picnic, explore islands, or arrange a shuttle and take a trip down a lazy river.
5. Enjoy a Meal

This one requires some careful balancing. But if you're comfortable on a SUP, it can allow you to enjoy dinner on the water (or possibly, in it). Make it a romantic event for two with a meal on your SUP at sunset.
6. Discover a New Camping Spot
You'd be surprised what a SUP can carry! Strap your camping gear down in dry bags and access remote campsites by water.
7. Go on an Adventure Trip
Love whitewater rafting but want to try something new? Go on a guided SUP trip through beautiful and remote wilderness. Our friends at KODI Rafting in Colorado offer full-day paddling adventures only a short drive away from Denver. And there are plenty of adventure outfitters all over the country offering guided trips with SUPs.
8. Conquer the SUP Beast with Your Friends!
What could be more fun and entertaining than a 10-person SUP? Grab a group of your friends, or your entire extended family, and rent The Beast from KODI Rafting. The Beast is an 18-foot SUP with a five foot deck that holds up to 10 people. Any occasion you can think of will be even more fun when you pile your friends on a giant SUP!
Popular Articles: