Free camping options can often leave campers with a not-so-serene view of the wilderness from a Walmart parking lot—but not so in Florida. Thanks to the U.S. Forest Service and the Florida Water Management Districts, free camping in Florida can be found from the Panhandle to the Everglades.
The United States Department of Agriculture National Forests in Florida include the Ocala, Apalachicola, and Osceola forests. This land spans 1.2 million acres across the state and draws in more than 1.1 million people annually. The landscape ranges from unspoiled wetlands and prairies to barrier islands, which means plenty of diverse ecosystems to choose from when planning your free Florida camping trip.
The Sunshine State also has five Water Management Districts operating under the Florida Department of Environmental Protection. While each district's core mission is to sustainably protect the water supply and quality, the protected land around these districts lends itself to free wilderness camping spots.
Where to Find Free Camping Across Florida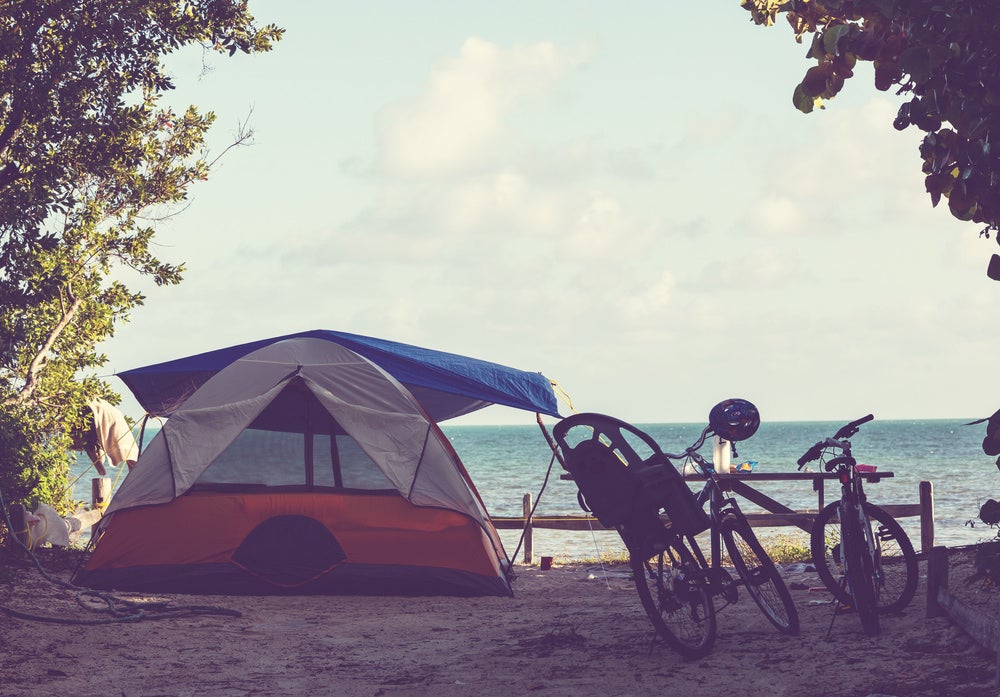 No matter which free camping location you choose in Florida, it's important to map out your trip in advance. Many of these camping spots are primitive and dispersed, meaning they may not have roadside access and can be found only after hiking through the wilderness.
Plan well in advance to avoid getting lost in an area where there are no amenities. You can bet that your primitive camping plot will not be equipped with water, toilets, food service, or Wi-Fi, so careful planning is essential. If you're in a pinch you can use the offline maps and campgrounds of The Dyrt PRO to find the free Florida camping near you.
Free Camping in Florida's National Forests
While there aren't any fees, camping in Florida's National Forests does come with regulations. The USDA reminds campers of the following courtesies when camping for free in the dispersed areas:
Always leave no trace
Be bear aware
Minimize waste
Do not camp within 100 feet of a water source
Select a previously used primitive site to minimize environmental impact whenever possible
Adhere to local campfire restrictions
Be aware of the rules of the national forest, such as the 14-day stay limit
Check in with the local ranger station to stay informed
Davenport Landing in Ocala National Forest, Central Florida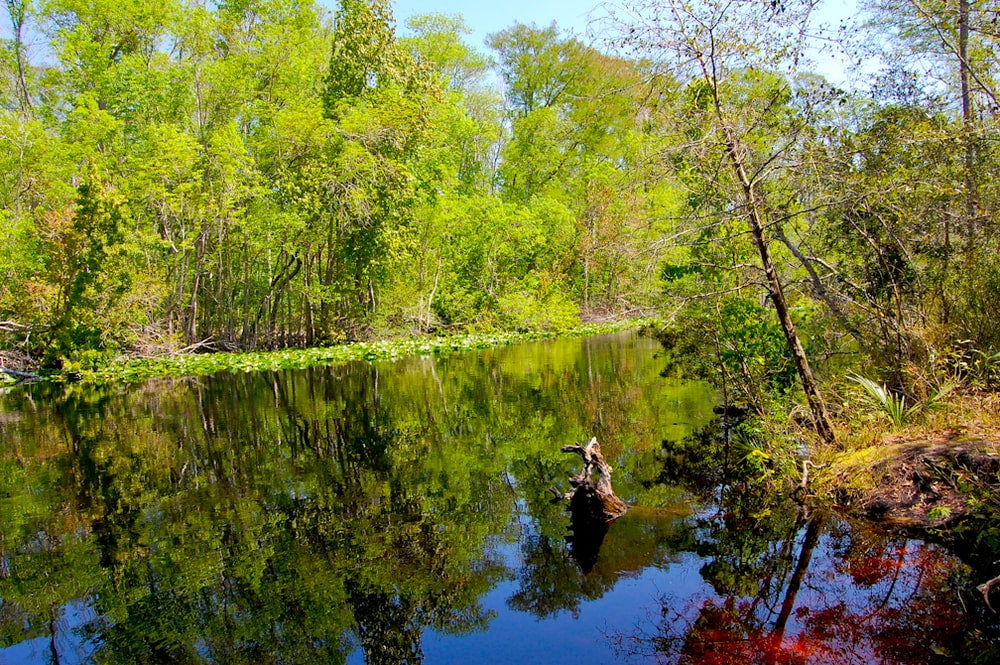 In the heart of Central Florida, the Ocala Wildlife Management Area spans 385,349 acres across the Lake, Marion, and Putnam counties. Davenport Landing is situated at the north edge of the Ocala National Forest, near the banks of the Ocklawaha River. While the area used to be a landing for steamboats, today the three primitive campsites remain fairly secluded and quiet.
The Davenport Landing Trailhead is near the sites and takes hikers on a moderate stroll through forest ecosystems, pine flatwoods, and sand pine scrub. The trail is only a quarter of a mile one-way and is not looped.
Davenport Landing limits groups to a maximum of 15 people and the maximum stay is four nights. While the campsites are truly primitive with no amenities, there is a community south of the campsite called Salt Springs, where campers can pick up groceries and supplies.
Pine Creek Landing in Apalachicola National Forest, Florida Panhandle
Pine Creek Landing is located in the Apalachicola National Forest and Wildlife Management Area, in the Florida Panhandle. Here, campers can set up their primitive camping shelter and gear on the banks of the Ochlockonee River. During Florida's hunting seasons, Pine Creek Landing is used as a hunting camp.
Typically campers have access to a boat ramp at Pine Creek Landing to launch small motor boats, kayaks, and canoes into the Ochlockonee River. But, for the time being, the boat ramp is closed for public safety precautions, due to severe damage.
Camping plots are first-come, first-served and are truly primitive. Campers should pack thoroughly and come prepared with all shelter, gear, food, and water. Other campers have recently reported access to a fire ring, but there is no potable water and the Port-a-John is sometimes out of service.
---
Find free Florida campgrounds from your car without WiFi. The Dyrt PRO lets you download maps and campgrounds without cell service. "My alternative to using pro would be to drive back out to cell service."
---
Seventeen Mile Hunt Camp in Osceola National Forest, Florida-Georgia Line
Osceola National Forest is located in Northern Florida and abuts the Florida-Georgia state line. Within the national forest, you'll find the Seventeen Mile Hunt Camp, along Seventeen Mile Hunt Road and State Highway 250.
The campsite is free and primitive. The Dyrt camper Aliyah B. favors Seventeen Mile Hunt Camp's convenience and road access:
"Loved this spot. It had tons of space with space between camp spots. Quiet. Lots of locals during the day but settles down at night. Has picnic tables. Would go again for sure!"
Just to the west of the Seventeen Mile Hunt Campsite is the Big Gum Swamp Wilderness. Big Gum Swamp is as boggy and humid as it sounds. This 13,600-acre freshwater swamp was protected by Congress in 1984, after the forest was nearly depleted by loggers from 1915-1920. Today, much of the land has returned to its natural state.
Free Florida Camping in the Water Districts
Some of Florida's best, unspoiled wilderness and free camping sites can be found in its Water Management Districts. The five Florida Water Management Districts include:
Each Water Management District comes with their own set of rules, so make sure to read up on the official district site before setting up your tent on that land. While camping is free for the most part, many campsites on the WMD land happily accept donations.
In central Florida, near the Withlacoochee River, Potts Preserve is open to campers. The Potts Preserve campsite sits atop protected land that plays an important role in the preservation of the region's groundwater recharge and wetland habitats.
If you choose to camp at Potts Preserve on your foray into the world of free camping in Florida, you'll have ample space to explore. The hiking includes 22 miles of trails, four of which are riverside. Waterproof boots are a must for the soggy wet season.
The backcountry campsites are separate from the equestrian sites and are only accessible on foot. A picnic table and fire ring can be found at each site.
One of the perks of camping on protected land is the opportunity to see the rare species that are safeguarded in the area. Keep an eye out for the small population of threatened Florida scrub-jays that call Potts Preserve home.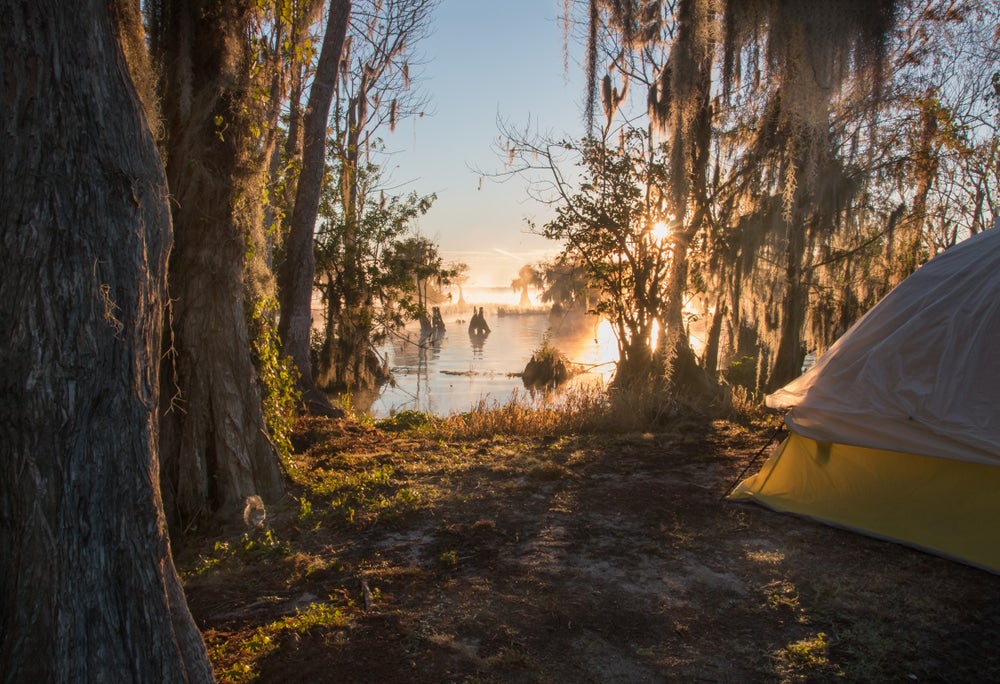 Within the St. Johns River WMD, where the St. Johns River and Dunns Creek converge, is a secluded campground known as Murphy Island. The quietness of this campsite is due, in part, to it only being accessible by boat.
The Murphy Creek Conservation Area is mostly hardwood swamp and wetlands formed by Murphy Creek and the St. Johns River. The muggy, Florida environment means that extra strength and liberally-applied bug spray is a must here.
Around the campsite and conservation area, campers can make use of more than six miles of hiking trails, as well as boating trails in the river. Campers on Murphy Island are roughing it in a secluded area, meaning that there is no staff to regularly check on visitors. It's imperative for campers to follow all safety signs and pack thoroughly for all food, shelter, water, and gear necessities. And, did we mention bug spray?
Bluff Springs is about as typical Florida Panhandle as you can get. Managed by the Northwest Florida Water Management District, it is located along the Escambia River, in the very corner of the Panhandle. In addition to being a free Florida camping getaway, Bluff Springs is an idyllic watering hole with two ramps for launching small boats into the river. Even though the camping is free, a reservation is required for the tent-only camping at this site.
There are only four camping plots available for reservation and the recreation area limits each camping group to eight per spot. Campers will find picnic tables, pedestal grills, fire rings, and portable toilets on site.
---
Related Articles:
---
Related Campgrounds:
Popular Articles: