This article about RV parks in South Florida was brought to you by Midland, a company known to make the best walkie talkie for all of your travels to warmer regions.
---
There's an abundance of RV parks in South Florida that cater to the nomadic snowbirds who head to warmer regions come winter. With an average temperature of 75 degrees Fahrenheit in winter, South Florida is a perfect location for both recreational opportunities and thriving cosmopolitan cities like Miami and Palm Beach, where you'll never have to worry about sharing the road with a snowplow. South Florida boasts over 147 RV parks with prime access to famously biodiverse landscapes such as the Florida Keys, Everglades National Park, and Lake Okeechobee. If you're looking for help planning your trip – we recommend The Dyrt PRO, which allows you to downloaded maps and campgrounds to use offline.
The retirement community of South Florida is strong, and many of the RV parks on this list celebrate seniors and help foster the communities that makeup snowbird culture. Many are equipped for long-term camping, and have amenities that make exploring South Florida a breeze.
The Snowbird's Guide to Camping at RV Parks in South Florida
Before embarking to one of these nine recommended RV parks in South Florida, you'll want to be prepared for the region you seek to spend warmer days. When in the Everglades for example, make sure to bring plenty of mosquito repellent. If considering island-hopping in the Keys, campers should consider towing a car behind their RV—navigating roads on the Key Largo can be tricky in a large vehicle.
The drive to Bahia Honda State Park is an enchanting experience. The Overseas Highway, which leads to the park, links mainland Miami to Key West with views of aqua blue water, white sand beaches, and mango trees along the string of islands that make up the Florida Keys.
Bahia Honda State Park sits at mile-marker 37 and is a list-topper for a reason. The beach at Bahia Honda State Park is noted as being one of the best beaches in Southern Florida and invites visitors to lounge on the natural white sand beaches, directly accessed from the campsite. This RV park is particularly known for some of the best scuba diving and beach combing available in the area. Amenities at the state park include a gift shop, a snack bar, kayak rentals, snorkeling tours, and the Looe Key National Marine Sanctuary.
There are 42 RV sites available with electric hookups and pets are allowed. Some notable attractions include a marina and boardwalk, a butterfly garden, canoeing, nature trails and a nature center.

"I love this place! I always go at the end of May (yes it is HOT, but NO it is not busy) and while the space itself is breathtaking, the location is great too and provides a lot of opportunity to explore all the keys. Be sure to catch the sunset on the bridge and get plenty of snorkeling in. The sand bar goes way out and there is SO much to see! Be prepared for heat, rain and bugs! The tent sites are pretty basic but there are RV options as well. There are showers and restrooms."—The Dyrt camper Ronnie M.
This 55+ RV resort is the perfect choice for long-term use and showcases the beauty of the Gulf of Mexico. The resort is located just 10 minutes south of the sandy beaches of Naples and Marco Island. You'll find year-round sunny skies and warm weather, along with many creature comforts. There are 305 pull-thru sites featuring full hookups and 30 amp service.
If you're interested in getting to know your community, there are tons of planned activities that include exercise classes, crafts, horseshoes, shuffleboard, and bocce ball. Don't miss out on the heated pool, aqua aerobics and the chance for poolside relaxation. Marco Naples is pet-friendly and includes a pet-facility with a play area.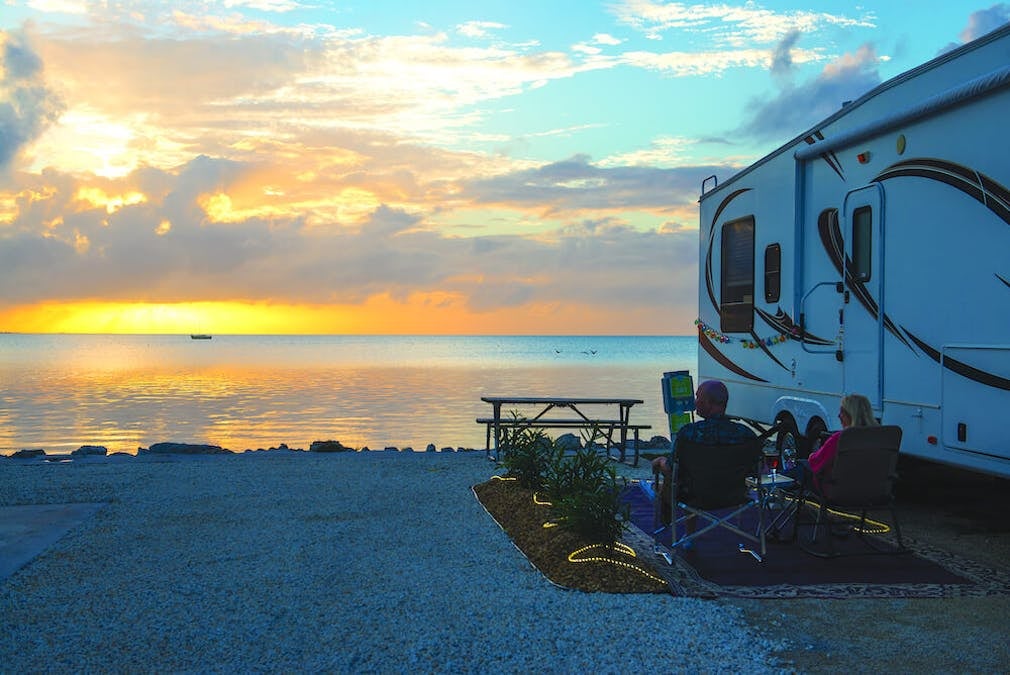 Fiesta Key is indisputably a snowbird's paradise. Located on 28 acres of land in the heart of the Florida keys, this south Florida RV park is surrounded by views of the Gulf of Mexico and has a tropical feel with lush greenery surrounding the park.
Amenities include an on-site restaurant, a beach bar, and even a spa and pool. There are scheduled group activities and events for guests that provide an opportunity to get to know your neighbors in the resort. Long Key State Park, Dolphin Research Center, and the world famous fishing marina known as Bud 'N' Mary's are easily accessed from the resort.
"Fabulous location midpoint on the keys. This enables day trips to Key West or Key Largo. The resort has a marina, a pool, and a beach bar and restaurant. A little pricey but you are on a private key. We enjoyed sleeping with our door open hearing the waves. Beautiful sunsets." — The Dyrt camper Michele W.
If you are interested in learning a bit of history and surrounding yourself with nature, while still having access to the beautiful beachside town of Naples, Koreshan State Park is the place to spend some days with your RV.
The park provides a glimpse at the eccentric pioneer group that settled here in 1893. There are 11 restored and national registered historic buildings that reflect the lives of the Dr. Cyrus R. Teed's vision of communal living and the belief that the universe existed on the inside of the Earth. The enterprising Koreshans established a farm, nursery and botanical gardens.
There are 39 RV/tent sites and 3 designated RV sites at the state park. There are countless amenities and activities offered at the park including biking, canoeing, fishing, kayaking, nature trails, volleyball and wildlife viewing. Showers, restrooms, and picnic tables are available for all guests.
---
Prepare for your Florida trip by downloading maps. The Dyrt PRO lets you download maps and campgrounds without cell service. "My alternative to using pro would be to drive back out to cell service."
---
Although this is a fantastic option to sample the nature and history of the region, this Koreshan Historic State Park is a short-term option. RVers can continuously stay for up to 56 nights at any state park in Florida. However, during periods of high demand, the length of stay may be limited to 14 days at a time, with the opportunity to come back after a three-day absence.
"We first came to Koreshan (core-resh-in) as a place to get near Naples to visit relatives. The campground is mainly two circles, one inside the other. Sites are small but manageable and have relatively good screening between sights. There's kayaking on the river and a little bit of hiking. The main attraction is the historic Koreshan commune. It's a short hike along the river. There's lots of wildlife snakes, gopher tortoises, etc to see and some very cool giant bamboo from the original gardens. If it's windy stop and listen to the bamboo! The historic buildings and information is very interesting, very odd beliefs and well kept." — The Dyrt camper Dave G.
Surrounded by mango, avocado, and palm trees, this RV resort boasts tropical floral nurseries and even farms. The resort is conveniently located 30 miles south of downtown Miami for access to city entertainment. Nature isn't far either, with Everglades National Park just 10 miles south and Key Largo 30 miles south.
Some highlights in the resort include movie nights, a pool and hot tub, water aerobics, pickleball, jam sessions and much more.
There are different deposits and payment schedules depending on the length of your stay, but stays operate on daily, monthly or annual policies.
"Miami Everglades RV Resort is in the Miami area but it doesn't feel like Miami at all. They have a really nice big pool, shuffleboard, putt putt golf, arcade and walking trail. It's off the beaten path but worth the drive. The front office staff was so helpful. We arrived after an afternoon storm had blown their power. They still checked us in with now problem. We stopped here for 2 nights while exploring The Everglades on our way to Key West. Close to Miami Everglades is a fruit stand called Robert Is Here. Don't miss it!" –The Dyrt camper Jennifer A.
This KOA is one of the largest in the country, and it's just a few minutes walking distance from the shores of Lake Okeechobee, the largest freshwater lake in Florida, a mecca for boating and fishing. Snowbirds flock to Okeechobee for its seemingly endless activities and the opportunity for extended stays. Flaunt your golf skills a the 9-hole golf course or driving range. Every snowbird needs a good soak in the pool. There are two large pools, one of which is for adults only.
For the athletes, the KOA has tennis, pickleball, and a recreation center. The avid hikers should check out the Big O trail, a 100-mile trail around Lake Okeechobee.
It's important to build community while living a seasonal lifestyle. The resort has a full social calendar with opportunities to attend parades, parties, holiday celebrations, or enjoy a drink at the Shany Lounge. Don't miss the festivals, rodeos, and cultural events that celebrate the rich agricultural and cattle ranching history of the area as well.
"…There is an adult only pool, and a family pool. The Shanty, a bar is right by the adult pool, with entertainment in season and mostly on weekends. I've been there many times in the past…The sites are mostly large enough for big rigs. There are upgrades to deluxe sites with brick patios, barbeques, fire pits and chairs. It's a very busy place during the holidays…If you want quiet those days, I don't suggest you go there…There is also a Golf Course, Golf Cart Rental, A nice updated store, A fenced in Dog park" —The Dyrt camper Mary M.
If you're dreaming of exploring Florida's celebrated nature areas, Monument Lake Campground is located conveniently near Big Cypress National Preserve. Explore the mixture of tropical and temperate plant species and the diverse range of wildlife located on the shores, and inside the swamps of Big Cyprus.
Monument Lake campground is open from August 15th to April 15th. Winter campers can stay for up to 14 days, though snowbirds can opt to move around the preserve and stay up to 180 days in a 12-month period. Monument Lake offers restrooms, drinking water, and 25 designated RV sites. This is a primitive campground, so there are no hookups for electricity, sewage or water. Reserve your site on www.recreation.gov.
"There are plenty of RV spots around a cute lake. We stayed in a tent only campsite which was a little farther from the lake. They were far apart from each other and did not seem too crowded. It seems every site was full the weekend we camped there. There is no shade in the tent only campgrounds and as this is south Florida, I recommend bringing some sort of pop-up or tarp to escape the sun. They had pretty great fire rings that were high with a grate across the top. There is one building with bathrooms and showers. It was pretty clean while we were there. There is also animal proof trash cans that are nearby as well." —The Dyrt camper Jessica S.
It's hard to avoid putting several of the Florida Keys campgrounds on this list, but they are truly an iconic part of the south Florida experience. Sunshine Key Resort is unique in that it has an adjoining marina and is a gateway for plenty of ocean activities. Bahia State Park is located on the next island south, so there is plenty of nature access as well.
There is a swimming pool, fitness center, pickleball court and tennis court available for guests. Don't forget to try out one of many exercise classes, creative arts and craft classes, and Bingo sessions. Guests can stay here daily, monthly or annually.
"I spent a month there in my fifth wheel with my mother and my kids. There was something for everyone. Good fishing on the old bridge, nice little marina and pool. The manatee like to hang out in the marina. Large spaces. Electric golf carts only if you have one. Bring the bicycles." —The Dyrt camper George S.
Experience the wild west at this south Florida RV park and rodeo, just an hour south of Orlando. The resort showcases the western heritage of "Old Florida," a state once dominated by cowboys and cattle ranchers. The ranch sits on 1,700 acres of land overlooking the shining Kissimmee River. The resort went through a multi-million dollar renovation in 2013, so you won't be roughing it during your days at Westgate. Guests can acquaint themselves with horseback rides and the award-winning Saturday night rodeo. Don't forget to check out the nearby Trap and Skeet Range with big sky views.
There are 15 RV sites available at the ranch, all with access to bathroom facilities and showers. Enjoy lunch with your friends or loved one at the picnic table that sit on every site. The resort conveniently carries firewood, charcoal and other camping supplies in the General Store.
"Westgate River Ranch Resort is an awesome destination with camping, skeet shooting range, rodeo, petting zoo, mini golf, swamp buggy rides, swimming, dining, lodge and much more. We were there several years ago and had a blast. The camping area is wooded with hookups. They recently renovated the whole place and I can't imagine it being better than it was. The boys loved the rodeo that was held on the weekend. They even got to participate in chasing the calf to win a prize. Would love to come back and visit again since I am a cowgirl at heart!" —The Dyrt camper Christy C.
---
This article about RV parks in south Florida was brought to you by Midland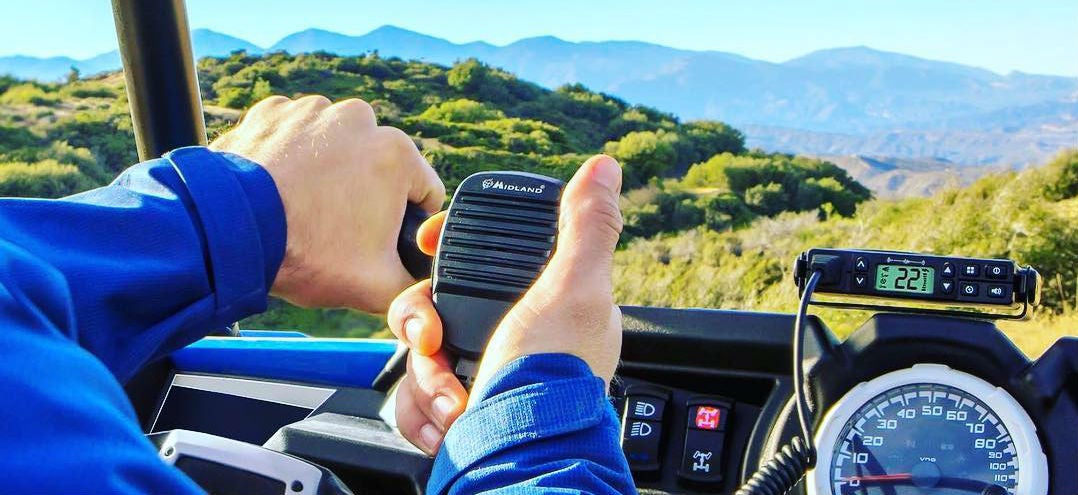 Midland's handheld CB radio is compact and powerful for two-way communication.
---
 Related Articles:
---
Related Campgrounds:
Popular Articles: