This article about the Tonto National Forest was brought to you by Gregory, the makers of water reservoir backpacks that make it comfortable to carry the hydration you need wherever you go. 
---
Lay on your back in of Arizona's Tonto National Forest, and you'll see the cosmos splayed out before you.
If you were to look the other way down at the earth, the view would be different. You'd see the reddish lip of the Colorado Plateau spilling out of Utah, Colorado, and New Mexico into northeastern Arizona.
From a distance, it looks as if the land is in motion, a timelapse of Arizona's complex geologic history. But the beauty of that transitional swath of desert, conserved as the Tonto National Forest, is best seen up close.
That's when you can take in the Saguaro cactus studded desert, Ponderosa pine trees, and ancient pueblos. The Mogollon Rim has captured the human imagination since the Apache first settled here thousands of years ago.
In the early 19th century, when writers including Zane Grey and Louis L'Amour experienced the captivating landscape nestled between the Superstition Mountains and the San Francisco Peaks for themselves, they were so captivated that they immortalized it in the then-emerging Western genre.
As the Phoenix metro area grew in the 1950's, Tonto National Forest became one of the country's largest urban forests. Each year Tonto hosts 5.8 million visitors. If you are planning to be one of them, we've got the scoop on the history of Tonto National Forest. Here's what to know before you visit, where to camp, and what to pack for your trio.

The History of Tonto National Forest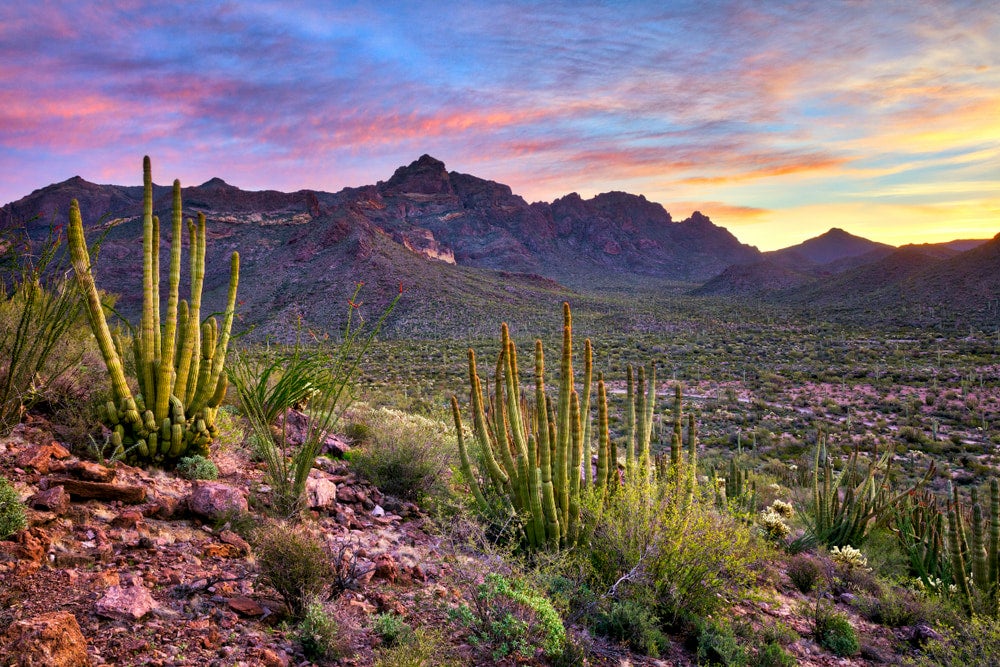 The Tonto National Forest forms a brownish green band against the rusty desert floor. All this was once obscured by shallow inland seas. These sea beds occasionally drained and were shot through with lava. That was millions of years ago, when the land now known as Arizona was located somewhere closer to Antarctica.
Eventually, Arizona drifted north and various supercontinents formed and broke apart. Those ancient coastal sand dunes froze into huge bluffs of Coconino sandstone. Which in turn eroded into caves and overhangs that remote bands of Apache would call home.
In 1880, a young woman named Adeline Mitchell arrived near Ute Mountain to begin work as a school teacher. She took her students to observe the cliff dwellings, by then abandoned, and wrote in her diary of the experience.
"Another room had on its eastern wall a hieroglyphic representing. Probably the sun and some other lines that might be anything. In several places are prints of fingers or of the hand complete. Perfect as the day ages ago when the hands were pressed into the plastic clay."
20th Century History
It was those cave dwellings that inspired Teddy Roosevelt to protect Tonto National Forest in 1907. Which was five years after he passed the National Reclamation Act, authorizing dams to be built on numerous western rivers. Those rivers included Tonto Creek, the Salt River, and several other sites within what became Tonto National Forest. These projects also resulted in the park's six vast man-made lakes.
Similar to the bargain made in Hetch Hetchy Valley, Roosevelt's goal was to strike a balance between tapping the natural resources of the west. All while preserving archaeological wonders like those found in what is now Tonto National Forest,
Indeed, visitors soon began to flock to the newly preserved wilderness. Traveling in on the Southern Pacific Railroad and by car along the winding Apache Trail.
Two such early visitors included writers Zane Grey and Louis L'Amour. Both Grey and L'Amour wrote several novels set here, becoming to Arizona what Owen Wister was to Wyoming.
In fact, Grey was so smitten that he built a cabin by the Mogollon Rim he described with such familiarity in his novels— a cabin that was eventually turned into a museum, though it burned down in one of the area's not-infrequent wildfires.
Today, you can see what this wild Sonoran corridor has to offer first hand with some of the best camping in Arizona. The Tonto National Forest is just a thirty minute drive from the Valley of the Sun. It is easily accessible from Highways 87, 188, and 260.
Even more of the park is connected by forest service and off-highway roads you'll need four-wheel drive to traverse. And tucked away in every corner of Tonto National Forest are campgrounds for every type of outdoor enthusiast.
What to Know Before Camping in Tonto National Forest
When to Go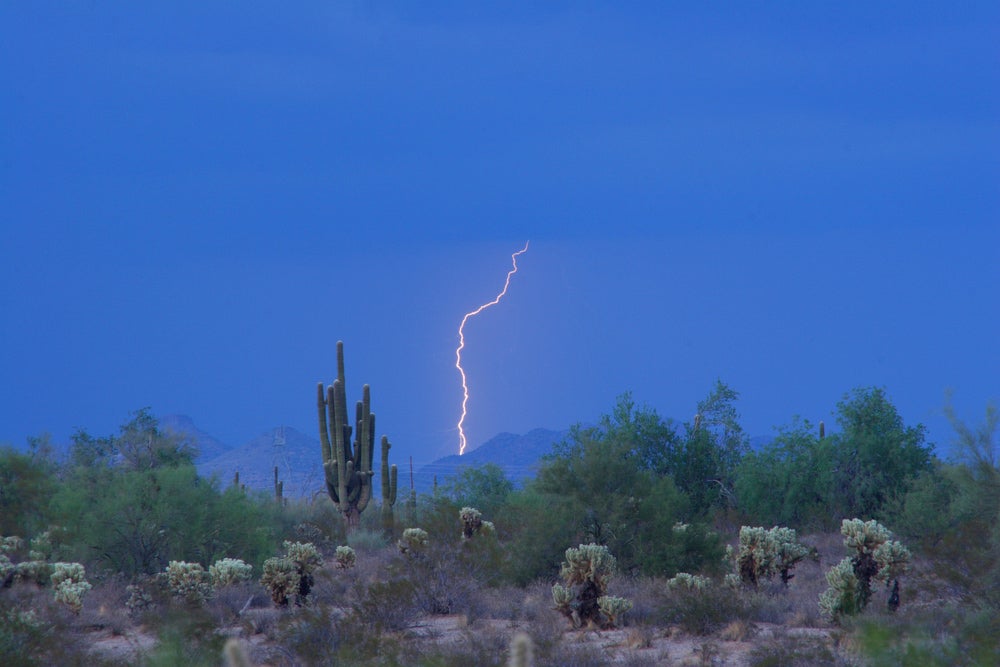 Tonto National Forest is popular year round, but if you aren't used to the Arizona climate, it might be best to avoid the summer months, when temperatures can sore well above 90 degrees on the regular.
In fact, it's wise to check the Tonto National Forest website for alerts and conditions pertaining to the weather. Trails are sometimes closed during Excessive Heat Warnings, particularly when temperatures are into the triple digits.
From January to April, however, you'll see much more comfortable hiking temperatures. Highs are in the upper 50s to low 80s and lows ranging from 30 to 60 degrees. Temperatures dip again from October through December. During this time period the highs range from 80 to the upper 50s and lows from 60 degrees to 30.
Precipitation is always relatively low with two to three inches in January, July, and August. That said, when it does rain, flash flooding is not uncommon and has been deadly in Tonto National Forest before. Always be cautious in bodies of water, crossing stream beds, rivers, and arroyos.
Also be mindful of burn bans and fire advisories during the summer wildfire season— remember that the vast majority of wildfires are started by humans, especially when it's hottest and driest. The other big cause of wildfires in Tonto National Forest, however, is lightening. T
he Copper State sees an especially high number of lightning strikes every year (particularly closer to Sedona, Arizona), which is a risk not only to dry tinder, but also humans at elevation and on or near water. Be especially careful of storms and mindful of the weather in Tonto National Forest.
Permit Requirements for Day Use & Activities
Permits for Day Use:
If you're planning a one-time visit to Tonto National Forest, an $8 Daily Pass will get you access to the park. Repeat visitors might want to consider an annual Tonto Discovery Pass for $80. That pass will get you and everyone who fits in your car into the park.
Seniors and those with disabilities can get their Tonto Discovery Pass for just $60 a year. You can also use your America the Beautiful Interagency Pass to access Tonto National Forest.
Permits For Camping:
The Tonto Daily Pass, Discovery Passes, and Interagency Passes are no longer accepted for camping within Tonto National Forest. Instead, America the Beautiful, Interagency Senior, or Access Pass holders receive a 50% discount on camping permits in Tonto National Forest.
There are kiosks at the Cave Creek District Office, Timber Camp Campground, Tortilla Camp Campground, Burnt Corral Campground, Cholla Campground, Windy Hill Campground, Schoolhouse Campground, and Windy Hill Campground where you can pay for your Tonto National Forest camping permit.
Permits for Boating: a $4 watercraft use sticker should be attached to any motorized watercraft coming in to Tonto National Forest. In addition, you'll want to get a Salt River Permit if you're planning a multi-day rafting trip through the Salt River Canyon Wilderness.
Permits for OHV: Bulldog Canyon OHV Permits— A free, six month permit valid for up to six people in a household, is required to operate motorized vehicles in the Bulldog Canyon OHV Area. Your permit will give you the code necessary to open the gates to the OHV area.
Popular Trails for Hiker and Bikers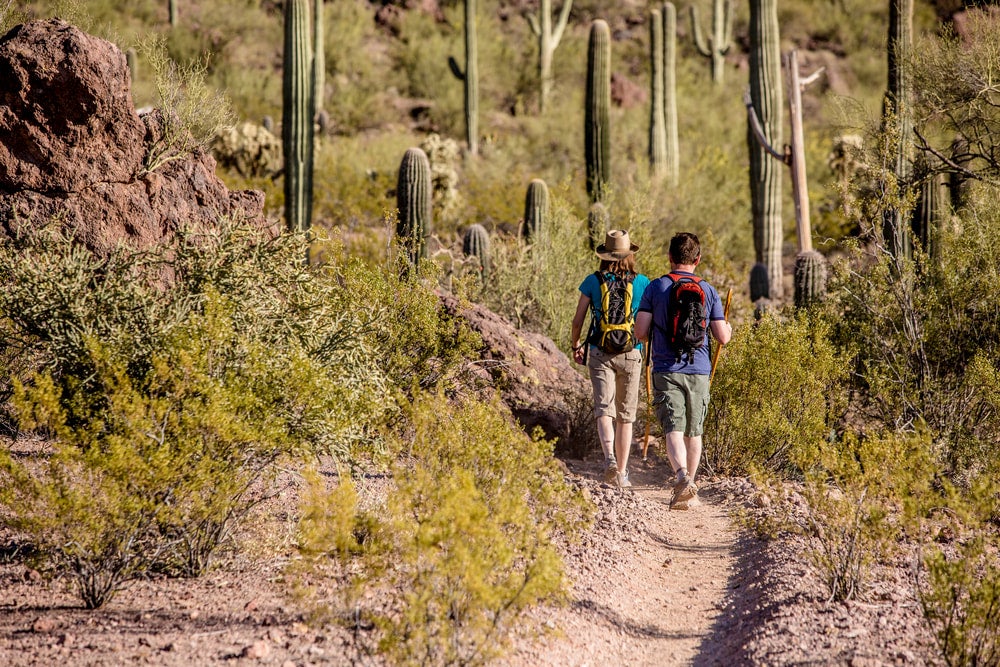 There are almost a thousand miles of trails within the Tonto National Forest's 2,873,200 acres. After all, this is the largest of the six national forests in Arizona and is the fifth largest national forest in the United States. To help narrow down where to begin, however, here are a few of the best:
Rim Lakes Vista Hiking Trail:
This is a nice, easy trail with some of the best views in Tonto National Forest, and even better, large portions are paved and accessible for outdoor enthusiasts with disabilities. If you're exploring Tonto National Forest in a wheelchair or with another mobility device, there's a great option for you. Get on the Rim Lakes Trail between Military Sinkhole Vista and Woods Canyon Lake Vista— the scenery is exquisite.
Horton Creek Trail:
This moderate eight mile round trip climbs 1,000 feet from the trailhead at Upper Tonto Creek Campground, where you can also pick up Derrick Trail 33 and the Highline National Recreation Trail. Take in the pretty sycamores and pine forested mountains beneath springs and waterfalls. All that shade and water makes this a favorite for Phoenicians trying to beat the heat
Bulldog Saddle and Pass Mountain Trail:
A loop trail just short of five miles that's full of hikers and trail runners in the winter months. Bulldog Saddle and Pass Mountain also explodes with color in the springtime when the wildflowers bloom.
Wind Cave Trail:
One of the more popular trails near Phoenix, in the Usery Mountain Regional Park that juts out from Tonto National Forest towards Scottsdale, Mesa, and Apache Junction, the Wind Cave Trail is a quick butt-buster that will give you a chance to catch a glimpse of the Sonoran Desert's native bats.
Hell's Gate Trail:
Backpackers will appreciate this challenging, but rewarding, sixteen mile out and back. With 3,339 feet of elevation gain and mixed terrain, only tackle this only if experienced with tough trails and desert environments. But if you do, you'll be treated to plenty of wildflowers in season, stream crossings, and the canyon cut by Tonto Creek.
The Fools Loop:
A nice challenge for bikepackers, this five day, 234 mile trail's name is a reference to the translation of "tonto" as stupid or foolish. The Fools Loop will carry you not only through portions of the Tonto National Forest, but also Agua Fria National Monument.
The Black Canyon Trail:
This 80 mile route through the desert that follows the same path as ancient Apache trails. You'll have a chance to see the Sonoran saguaro forests up close and personal. Part of the Fools Loop overlaps with the Black Canyon Trail, but this is an out-and-back or shuttle situation best attempted in the cooler months.
Your Tonto National Forest Packing List
A hydropack: A water reservoir backpack is an easy way to make sure you're prepared and stay well hydrated out there at any time of year.
SPF-rated clothing: You don't have to completely douse yourself in sunscreen to prevent sun damage. Sun protective clothing like sun sleeves and cooling neck gaiters can do a lot to keep you comfortable and unburnt.
Portable stove and firepit: A portable camp stove is wise in the desert whether or not there's an active fire advisory, as is as are portable fire pits that help you Leave No Trace and keep your embers contained.
Sunscreen: Even if you're wearing SPF-rated clothing, you'll still want to make sure your face, ears, hands, and other nooks and crannies are covered. A mineral sunscreen free of oxybenzone is better for your skin and delicate ecosystems than chemical sunscreens, and you can get these formulas in a lip balm with SPF, too.
Hydration powder: An electrolyte drink will help you feel and function your best in the heat, replacing salts and amino acids that water alone won't when you're working up a sweat.
Outdoor gear: Do bring your kayak roof rack, bike carrier, or SUP roof rack and make the most of killer trails, vast lakes, and ample opportunities for bikepacking, canoe camping, yakpacking, and multi-day rafting trips.
Binoculars: The Tonto National Forest is full of incredible wildlife, from the Salt River wild horses to bald eagles to bats, kangaroo rats, porcupines, foxes, and javelinas. Keep a safe distance and practice smart food storage, but absolutely enjoy observing!
Where To Camp in Tonto National Forest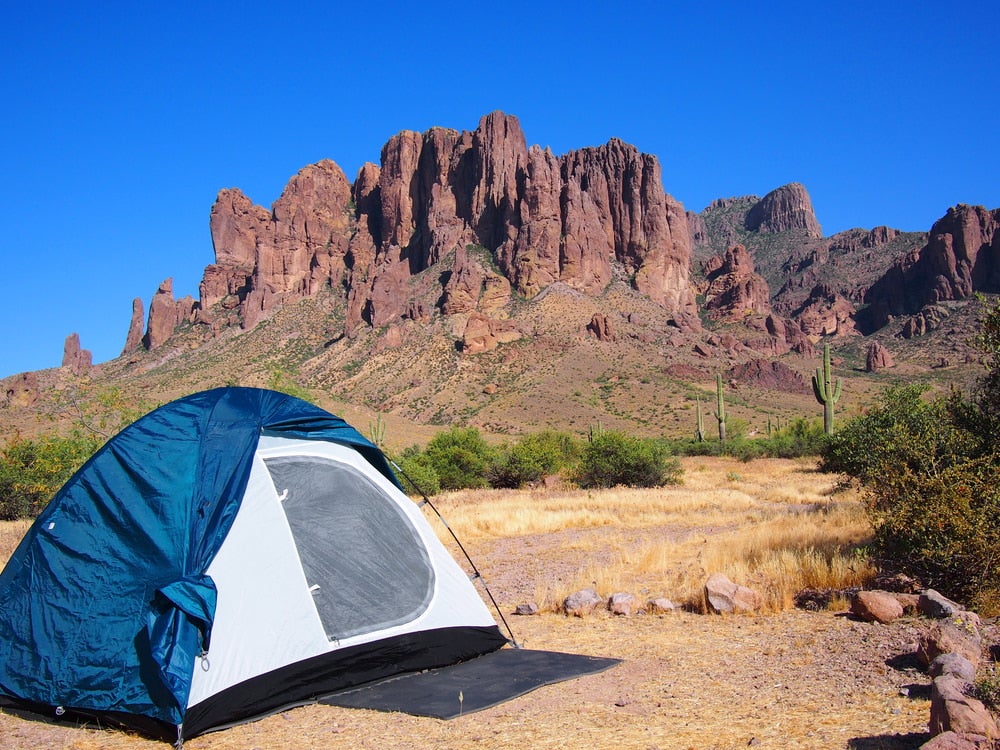 Near the south entrance to Tonto National Forest is Bulldog Canyon. This dispersed site popular with Phonecians driving up from the city for quick weekend campouts, and OHV enthusiasts testing their rigs against the desert. Permits are required, and include a code for the gate to get to the camping area.
That said, sites are free, and your pass also includes information about which trails are open to dirt bikes and quads. The Great Western Trail, for example, is a work-in-progress overlanding and OHV route that may eventually run from Arizona to Canada and runs close to Bulldog Canyon.
Past a certain point, the trails are only open to hikers and mountain bikers. You'll be able to connect to other, more regional trail systems from here, including the Pass Mountain loop. And whether you go far afield or stick close to the campsite, you have a chance of seeing all kinds of wildlife— including horses.
"Great place, close to civilization yet remote. No water or bathrooms. I've had wild horses walk by. Love it there." –The Dyrt camper Leanne S.
In sharp contrast to the dusty OHV trails of Bulldog Canyon are the lush riverbanks of Coon Bluff, a camping area pressed up against the curve of the Salt River. The slightly shaded sites are first-come first-served with limited amenities including restrooms with pit toilets.
There are many sites to choose from however, and the Salt River is attractive to the wild horses that roam Tonto National Forest. That's not the only creature who likes the Salt River— paddlers and rafters like camping here for easy access to the water.
"Overnight camping permitted on weekends only. lots of picnic areas and camping right next to the Salt River. Tonto Pass required. Majority of area is shaded throughout the day!" –The Dyrt camper Jacob W.
There are several man-made lakes within Tonto National Forest, created in the 1920s and '30s by daming portions of the Salt River, Verde River, and East Clear Creek for hydroelectric power. The Mormon Flat Dam, named for the pioneers who used to camp in this area on their way West, created a ten mile long reservoir named Canyon Lake. Today it's a great spot for bass fishing, boating, and even scuba diving.
Boaters and RV enthusiasts alike will enjoy Canyon Lake Marina and Campground, where there are 28 RV spots, including some with 50 amp hookups and pull-throughs. You can also camp on your boat thanks to several short-term wet slips with water and electric hookups. And car campers aren't left out, with eighteen sites set aside for tents. Dyrt campers who have visited before recommend trying to reserve sites in section C or D for the best lake views.
Not far from Canyon Lake Marina and Campground is Tortilla Campground, a winter destination open from October to April each year. It's popular with kayakers and climbers, as well as overlanding enthusiasts.
Nearby are the remnants of the old Canyon Lake Apache Trail Scenic Byway, a former stagecoach route that once served the Superstition Mountains. Now it's a rugged, heart-pumping overland route with stunning views, steep drops, and tight curves. There's decent beginner and intermediate level canyoneering in the area, too, often hidden away off the Apache Trail.
Cool your heels afterwards at the Tortilla Flat Superstition Saloon, or with a riverboat ride from one of a couple of companies in the area. Tortilla Campground is within walking distance of the town with which it shares a name, but that doesn't mean the scenery isn't stunning, with Dyrt campers noting that the views are "jaw dropping, from just about every angle."
"For the price of $12 per night, this National Forest campground in the Superstition Mountains can't be beat. Sites are medium-sized with no privacy in between, but each site has a water hookup and a sewer dump. There are a couple of bathrooms with running water as well. Just hook up your solar panel and you have everything you need for your RV."  –The Dyrt camper Shari G.
Built in 1939, the Bartlett Dam and the reservoir it created are yet another destination for anglers in Tonto National Forest and near Phoenix, Arizona. Catfish, bass, and carp are plentiful and occasionally break state records. Phonecians love coming up here to SUP, waterski, picnic, or go for hikes along the Jojoba Trail, Bartlett Reservoir Trail, Palo Verde Trail.
Cyclists enjoy the Bartlett Lake Road for its steady climbs, and it's just an hour from two climbing areas closer in to Phoenix proper, including Pinnacle Peak Park and McDowell Mountain Park.
You need a permit to camp at Bartlett Reservoir, but once you procure one from the marina, you're free to practice dispersed camping. The marina also offers boat, SUP, and kayak rentals, as well as classes in SUP yoga, long distance cardio paddles, and full moon night paddles to take in the Sonoran desert's wealth of plant and animal life.
Dogs are welcome to SUP and camp with you, too! You can drive, walk, or boat in, and once you're situated the sunsets and vistas of the surrounding mountains are well worth the drive or paddle!
"Great fishing lake! The drive is beautiful and towns of Carefree and Cave Creek are pleasant and unique. If you go in monsoon season, you're sure to see some amazing skies!" –The Dyrt camper Audry R.
Situated on the stretch of the Salt River between Mesa Flat and the Horse Mesa Dam, this is a popular spot for rafters to pull out and rest up. Birders and wildlife enthusiasts will also find plenty to keep them entertained, with bighorn sheep in the area, as well as the Tonto National Forest's wild horses, and numerous avian species, including kestrels, cactus wrens, hummingbirds, quail, goldfinches, and swifts.
Tonto National Forest keeps 4 official campsites at Point Boat Dock, complete with a covered picnic table and fire pit at each, composting toilets and the dock itself, which can accommodate larger vessels. That said, it's a smaller campground and therefore doesn't have all the niceties as some of its bigger, more trafficked neighbors— but it's free and first-come-first-served.
"The sites were in a bit of disrepair and the bathroom wasn't stocked and smelled a bit, but the views and location of this site can't be beat! Just come prepared with what you need. the journey upriver is absolutely gorgeous with fascinating geology and beautiful Sonoran Desert cactus!" –The Dyrt camper Shari G.
Deeper into Tonto National Forest than the Phoenix-facing campgrounds, Fremont Saddle is also better suited to backpackers than the more car-camping and RV focused sites in Tonto. To reach this campground, you'll need to hike 2.5 miles up the Peralta Trail, which can give hikers a run for their money.
You'll know you've arrived when you see the primitive fire rings previous campers have left— one of the few amenities at Fremont Saddle. This is absolutely a place to pack in extra water and practice your desert camping safety tips. In return, you'll get almost 360 views of Tonto National Forest, and can continue to explore along the Dutchman and Bluff Springs Trails.
"Overall, this is by far the best site I came across while hiking the Peralta Trail and is well worth the challenging trek to get here. Just remember to be prepared and give yourself plenty of time." –The Dyrt camper Asher K.
"It seemed she gazed down on an endless green slope of massed tree-tops, across a rolling basin black with forest, to a colossal wall of red rock, level and black fringed on top, but wildly broken along its face into gigantic cliffs, escarpments, points, and ledges, far as eye could see to east or west. A strong sweet breath of pine assailed her nostrils. Almost she tasted it."
So wrote Zane Grey in his 1926 novel Under the Tonto Rim, describing the countryside close to Bear Flats. Whether you're looking to do some hiking or backpacking, canyoneering, or fly fishing in Tonto Creek, you'll find an authentic backcountry experience here, so pack up your best rope and some caddis, hopper, and ant flies.
There's also an old Jeep trail that is now closed to off-roaders but open to hikers, mountain bikers, and equestrians, shaded by groves of pines.
"The campsites are fairly large with fire pits and soft ground for tents. The fishing by the river is fabulous and we caught quite a few nice size trout. Overall this campground is a great experience with much to offer for everyone of all ages." –The Dyrt camper Connor R.
Another great camping spot near the Mogollon Rim, Haigler Canyon is a place where you can experience for yourself the kind of peaceful distance from civilization Zane Grey described when he wrote "to one who had long been used to flat desert, the drab and yellow barrenness, how fertile and beautiful these miles and miles of rolling green!
That wild grand wall of rock seemed to shut in the basin, to bar it from what lay beyond. Lastly the loneliness, the solitude, gripped Lucy's heart."
If you like swimming holes, fishing for trout, or catching a glimpse of bald eagles, this is the right campground for you. Not as crowded as other water-adjacent camping spots on the man-made lakes closer to Phoenix, Haigler Canyon boasts 2 day use sites and 2 campground areas with a total of 14 overnight sites. Amenities are limited, and it's best for smaller rigs and travel trailers, or tent camping, but there are pit toilets and sites are first-come-first-served.
An excellent home base for day hikers hoping to explore the far eastern edge of Tonto National Forest, Pioneer Pass Camping area is close to an array of hiking and climbing options. The Squaw Springs Trail will lead you to the East Mountain Trail, as well as up the 7,848 foot summit of Pinal Peak. The Sixshooter Trail and Icehouse Trail are both popular, if challenging routes that wind past waterfalls in monsoon season and abandoned mines.
With over a dozen sites suitable for walk-in tent campers and a few that can fit smaller RVs or travel trailers, this isn't the busiest campground in Tonto National Forest. There are bathrooms, picnic tables, and fire rings, though it can't hurt to bring your own toilet paper just in case. You'll also definitely want a bear canister here and to be vigilant about your food storage— good advice to follow anywhere in Tonto National Forest but especially it's more remote corners like Pioneer Pass.
"I love that there is a free campground in the pines less than 2 hours from the valley. I wouldn't suggest trying to travel up without decent ground clearance [however]. There was a bit of wash boarding and obvious ruts in the road from where the road was traveled when muddy. Know your vehicle and your driving skills!" –The Dyrt camper Krista Z.
Located at the point where Haigler Creek cuts deeply into the rim of the Colorado Plateau. This portion of Tonto National Forest isdotted with swimming holes and hiking trails. A few popular routes near here are Hell's Gate Trail #37, Bear Flat Trail #178, and Pocket Trail #38, which wind through the Haigler Canyon and Hellsgate Wilderness Area that surround Alderwood. Trout abound, as do javelinas and other wildlife, including the occasional mountain lion.
"Exactly what we were looking for with much appreciated privacy and no one else around. Fires were allowed and there was a peaceful spring nearby. Definitely a spot to revisit." –The Dyrt camper Emm S.
Lake Roosevelt is one of the largest lakes in Arizona. Bermuda Flat is one of the best places to camp on Lake Roosevelt. I features sites shaded by mesquite trees and directly on the water. It's the closest thing you can get to the beach, short of driving to San Diego or La Jolla.
That said, watch the weather to avoid flash floods that can unexpectedly raise the level of the lake into the camping area. This campground is also occasionally closed to campers to mitigate risk during wildfire season. When it's open, however, you get stunning views of the Sierra Ancha Mountains and Four Peaks Wilderness in addition to a scenic place to beat the Arizona heat.
"Portajohns available but no potable water. Leave No Trace. Shoreline camping. Can get crowded and loud. Otherwise awesome." –The Dyrt camper Leanne S.
Kayak up the Salt River from Burnt Corral Campground and you'll see golden-hued hills lined with saguaro, like silent sentinels. In the distance, rocky prominatories jut up out of the desert, a reminder of the complex geologic history of Arizona.
Those cliffs across Lake Roosevelt from Burnt Corral were once home to Apache villages. You can still see their carved homes peering out across the Sonoran Desert. When these dwellings were originally occupied, Lake Roosevelt didn't exist.
Back then, it was just the Salt River here. Cutting through a low-lying valley between the Sierra Ancha Mountains, Mazatzal Mountains, and the Superstition Mountains. You can explore these homes on your own, however, or get the full scoop from a ranger-lead tour.
"For $12 per night, it offers many amenities: nice waterfront sites with picnic table, fire ring, boat ramp, drinking water, plenty of pit toilets (clean given the number of people at the campground that week), and group sites. There are some easy pull-thru sites for RV's." –The Dyrt camper Shari G.
Did you know that the Tonto National Forest is home to one of the largest solar-powered campgrounds in the United States? Cholla Campground offers outstanding recreational opportunities. It harnesses the sunshine that makes Arizona such a popular destination for snowbirds to generate lighting, air conditioning, and ventilation for the welcome center and bath houses, pump well water, and power the 41 RV sites with 30 amp hookups.
All the campgrounds come with shade ramadas, fire rings with grills, picnic tables, and water hydrants. Cholla Campground also has a playground, boat launch, and fish cleaning station. You'll also be in a prime location for exploring hiking trails in the Superstition Mountains and the Besh-Ba-Gowa Archaeological Park.
Besh-Ba-Gowa means "place of metal," a reference to the diverse number of metals found in Tonto National Forest, especially copper, that make this land an object of interest to mining companies. The Archaeological Park is dedicated to the ancient pueblo of the Salado people.
---
Related Articles:
---
Related Campgrounds:
Popular Articles: