This post was brought to you by our friends at IceMule Coolers. Their cooler products will have you feeling like summer will last forever, especially when you bring it to lakes, rivers, creeks, and swimming holes.
---
Diving into the chilled water of a deep blue hole brings your senses to life with an immediacy unmatched by most thrills. These deep sink holes are caverns full of water, carved into the Earth during past ice ages, and are treasured by those who know their locations on hot summer days.
Surrounding these rings of icy water, you'll often find a relaxing scene; picnic blankets, denim shorts, rock songs, tan lines, and cannonball squeals.
If you're lucky, you know exactly where to find your nearest local blue hole, or maybe more than one.  Blue holes make for popular swimming destinations. Then again, there are secluded, quieter options for those who are willing to find them. They're the places of cherished secrets — of the sort that launch geotagging debates on social media.
That's perhaps for good reason. Because blue holes tend to be on public lands, and because they tend to be popular places where people linger rather than moving through, they're often the scene of forgotten trash. The biggest threat to these classic summer spots are the visitors who frequent them. So remember when you go to pack out what you pack in.
These might not be the most secret of blue holes. But they still make for a great backdrop to a summer day. As long as we keep taking care of them:
Dive Into These Swimming Holes
It's impossible to narrow down all the incredible swimming holes in all fifty states to just the cream of the crop. The United States is just too full of clear waters and hidden treasures. But if we had to try, these would be on the list:
1. Parksland Retreat, AL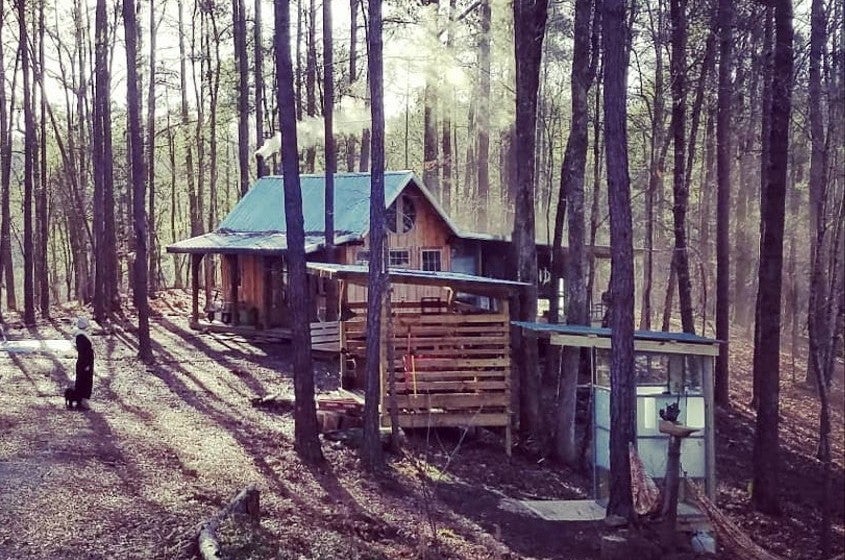 Alabamans have tailgating and NASCAR as defacto state sports, but they also have swimming. After all, the best way to cool off in the sticky Southern heat is to take a dip in one of the many blue holes dotting the landscape. And there are few better places to enjoy that regional past time than at a private blue hole fed by a lovely waterfall— which is just what you'll find at Parksland Retreat.
"Parksland Retreat is not like other campgrounds," notes the website of this private campground hidden away in rural Alabama— and the owners are right, Parksland is something special. More than just a campground, this "intentional conscious living" destination on the outskirts of Talladega National Forest is an off the grid eco-retreat with its own swimming hole.
Here your live-in hosts Dustin and Mandy welcome guests into a fairytale world of acroyoga classes on floating platforms in the middle of the forest, community meals, and outdoor experiences. You can also join in on activities like guided hikes lead by locals who know these woods as well as their own homes— in part because they're one and the same.
In addition to the forest yoga, and guided tours of some of Alabama's best hiking, there is also rock climbing, and paddling in the immediate area, which is about an hour from Birmingham, Alabama and around two from Atlanta. Or you can do the truly local thing, and head down to the blue hole for a nice cool dip. Book Now
---
Prepare for your next adventure by downloading maps. The Dyrt PRO lets you download maps and campgrounds without cell service. "My alternative to using pro would be to drive back out to cell service".
---
2. Peekamoose Blue Hole, NY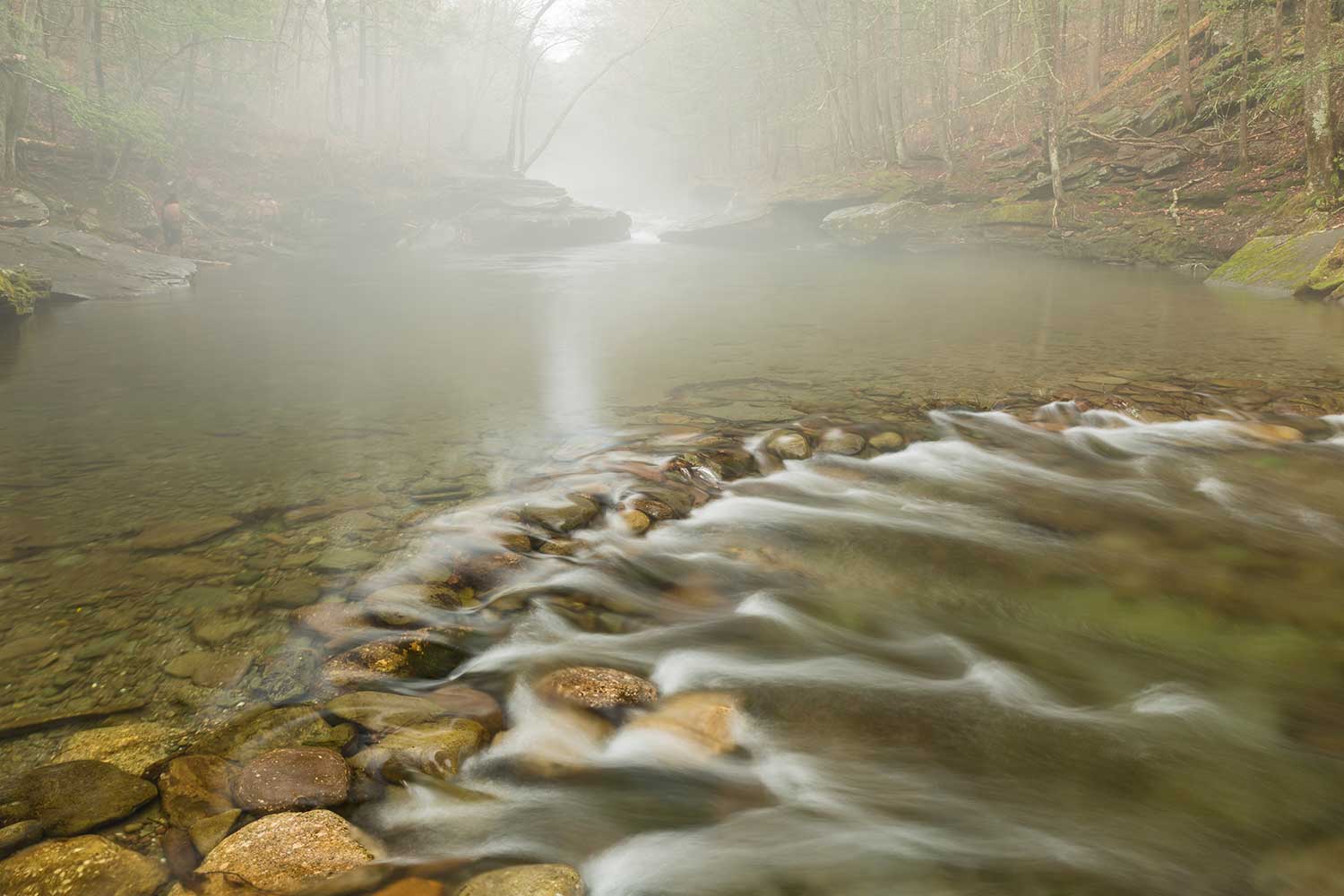 Hidden within Sundown Wild Forest, which is itself tucked in to the famous Catskill Mountains in upstate New York, Peekamoose is a little bit legendary. Close to Poughkeepsie and linked to the reservoir that provides half of New York City's drinking water, the Peekamoose Blue Hole isn't exactly remote. That lead to such an influx of visitors that park managers ended up with a major trash disaster on their hands.
Conservationists stepped in before the summer of 2018, however, and implemented a new plan to keep Peekamoose clean and pristine. Permits are now required to enjoy the swimming hole, but they don't cost a cent.
Instead, visitors stop and chat with a steward who issues the permit, offers reminders on Leave No Trace principles, and generally keeps a lid on things. That combined with efforts from a variety of state and local organizations to clean up liter has saved Peekamoose from being shut down completely.
You can enjoy the 10 foot deep pool surrounded by maples and firs, fed by Rondout Creek. While you can't camp at the swimming hole itself, you can camp nearby in Peekamoose Valley. These dispersed sites are free and first-come first-serve, but they do require camping permits, so call ahead. Most of the 24 spots available are walk-in tent sites, though there is also a trailer field. There are fire pits, picnic tables, and Port-o-Potties, but little else in the way of amenities, so come prepared.
A good cooler from IceMule will make it easy to keep your refreshments cold and schlep out the crushed cans and sandwich wrappers to the nearest dumpster. You might even have enough room to pick up after those who forgot to take the same courtesy.
3. Gunner Pool, AR
In a way, Arkansas is actually custom built for amazing swimming holes. The unique geography of the state lends itself to caves, cliffs, and, of course,  blue holes. Gunner Pool is a favorite thanks to the adjacent campsites and proximity to Blanchard Springs Caverns as well as the White and Buffalo Rivers, Mirror Lake, and two waterfalls.
Dyrt Ranger Brandie D. says that even aren't usually a fan of primitive camping, Gunner Pool is worth the exception. "Our family loves this area," she writes. "With the scenic rock wall along the creek, which is clear water, it has an awesome swimming hole. Hike the creek in both directions to discover the waterfall and other scenic views and unique swimming holes."
Don't bring your RV along, though— the road down to Gunner Pool can be a little gnarly. Brandie advises "Tents or pop ups only, no big rigs as this is a little off road. Campgrounds are primitive with no showers or water, however you can ride down the road to the Blanchard Springs Camp and get your showers there….or bathe in the creek! The camp sites are well kept and very roomy."
4. Cummins Falls, TN
Fed by the Blackburn Fork State Scenic River, Cummins Falls has been one of the more popular swimming holes for over a hundred years. It's location in a well-regulated State Park has kept it well preserved and maintained, with plenty of picnic facilities away from the actual falls, a designated swimming area, and no shortage of rangers on hand.
It's a bit of a hike to get to, reducing the amount of trash people are willing to carry near the base of the falls. If you're willing to scramble over rocks, you'll be well-rewarded for your effort with a cold, bubbling pool framed by a 75-foot waterfall fanning out over pleats of 350 million year old limestone. The beautiful geology gives you a little peak at the underlying structure of the Cumberland Plateau, here on the western edge of the Appalachian Mountains.
Because Cummins Falls State Park is day use only, you'll have to exit the park to camp nearby. Fortunately you don't have to go far. Old Mill Camp and General Store is right across the street. As can be expected next to such a major outdoor attraction, you won't get a ton of privacy or a backcountry experience here. Expect RVs and a little noise from your neighbors, but also some classic Southern hospitality.
The Dyrt Ranger Tonya P. writes, "This campground is one of the best! It has a general store on site that has some of the best hand scooped ice cream I've ever had. Owners are so kind and want to be sure that all the campers are taken care of. Very well kept and peaceful."
If you want a hearty dinner before you're s'mores, head to nearby Cookeville for dinner at Mauricio's, a family-run Italian restaurant in a charming old Victorian.
5. Matthews Creek, CA
There are several swimming holes that dot the area around the spot where Matthews Creek meets the south fork of the Salmon River, and plenty of camping nearby. Matthews Creek Campground is quite remote, too, wedged into prime Northern California countryside between the Shasta-Trinity National Forest, Klamath National Forest, and Six Rivers National Forest.
Dyrt Ranger JoJo H. notes that the stars at night are an incredible site and this is well-worth the drive.  You can glimpse the area wildlife, enjoy the peace and quiet, and take in the night sky from one of ten campsites. Plus the trek out there helps guarantee you won't be faced with big crowds like at other lovely blue holes.
6. Madison Blue Spring, FL
https://www.instagram.com/p/Bki0dcJgxfk/?utm_source=ig_embed&utm_campaign=embed_loading_state_control
Formed where the Withlacoochee River and a natural spring meet, Madison Blue Spring is extra special. Not only can you take a break from the Florida heat by jumping in to the 72 degree water, you can dive a little deeper— literally. The spring bubbles up from an underwater cave, one of the largest caves in the region, that you can reach with scuba gear if you are dive certified.
If tanks and flippers aren't in your repertoire, you can enjoy the clear turquoise water from a float or by snorkel, and you're still likely to spot fish and turtles. This is a very new feature in Florida's park system, so now's the time to check it out before the rest of the world finds out it's open!
Twenty minutes away there is prime camping at Suwanee River State Park, where you'll find even more opportunities to enjoy the local swimming holes. The Dyrt Ranger Laura C. spoke highly of the experience there. "Don't miss out on the hiking — really cool trails!" she writes. "We went on a 7 mile canoe trip recommended to us by our campground host. Cost was not too much and we were shuttled up stream. We loved staying here!"
7. Jacob's Well, Texas
On the fringes between East and Central Texas are a series of swimming holes fed by a long, thin aquifer that runs between Austin and San Antonio. Jacob's Well is one of these favorites (along with the Blue Hole in Wimberley), where rain water is pushed upward out of the water table to form these cold, deep blue holes. Like Madison Blue Spring in Florida, Jacob's Well is the entry point to an underground cave.
Unlike Madison, however, Jacob's Well poses dangerous diving conditions, with narrow passages and squeezes that shouldn't be attempted by recreationalists. Though it's perfectly safe for swimming (as much as any spot without a lifeguard can be), divers should resist the temptation to see what's deep below the surface, as a few curious hopefuls have perished on attempted tank and free dives.
Near Jacob's Well are several options for campers, including Shady Oaks RV Park, Green Acres RV Park, and Landa RV Parks and Campgrounds. Of the later, the Dyrt Ranger Lacie M. writes, "the staff are very friendly, always a great time here. You have multiple options on where you can camp you can have RV hook ups and primitive campsites as well all along the river area lots of shade spots as well." A great bonus is that pets are allowed, you can rent tubes to float the nearby Comal River, and there's WiFi included. Bring a dry-bag style insulated backpack cooler if you do tube down the river. There's nothing like a summertime float with a cold one in hand.
8. Deep Creek Campground, NC
The Smokey Mountains are great for a lot of things, and family camping is one of them. The kids will love Deep Creek Tube Center and Campground, where there are family-friendly activities out the wazoo, including frolicking on playgrounds, petting goats, mining for gemstones, and floating down the creek. Go in the springtime to see the abundant wildflowers and butterflies, in the fall for incredible leaf peeping in Great Smokey Mountains National Park, and in the summer for the area's perfect swimming holes and waterfalls.
"You can put in your tube at one side of campground and float to the end of tent sites to get out (15-20 minutes total float) or drive up the road a bit to Smoky Mountain Deep Creek entrance for a longer run of about 2-3 hours and end up back in camp," says Dyrt Ranger Christy C.
When you're worn out from swimming and ready to relax, Deep Creek has your back. There are tent and RV sites available, including some with full hookups and cable, some that are covered, and creek-front sites.
9. Blowing Springs, VA
https://www.instagram.com/p/BhiPl2bg-6X/?utm_source=ig_embed&utm_campaign=embed_loading_state_control
There aren't many outdoor destinations that can boast about their all-natural heating and air conditioning, but Blowing Springs is one. You know how caves are a steady temperature no matter the time of year, or how hot springs continuously produce water of a reasonably steady temperature? At Blowing Springs, a natural duct releases a stream of air from the rocks that is always 58 degrees. Like magic!
In addition to enjoying the strange geology and the swimming holes, you'll also find the Back Creek that flows through stocked with trout, as well as hunting opportunities throughout the George Washington & Jefferson National Forests. Like camping near other blue holes, the sites here are pretty primitive. Don't forget to pack TP! That said, Dyrt Ranger Jessica P. has come back two years in a row now, so it must be pretty good.
According to Jessica, you'll find "a primitive campground with large sites and access to the water (creek- for floating and baths, haha). Vault toilets, no lights, no sinks/showers. For water, we walk across the street from the entrance, and back in the woods there's a pipe coming out of the rocks with super cold, fresh water."
10. Tuckaleechee, TN
If there's one thing you should know at this point in our round up, it's that amazing swimming holes often form near equally amazing caves. Tuckaleechee Campground is no different, sharing a name with the lovely Tuckaleechee Caverns, which are home to the tallest subterranean waterfall in the United States and one chamber that's almost as big as your favorite football stadium.
As for the swimming, Tuckaleechee is home to a spot called The Townsend Wye, also know as The Townsend Y, or just the Wye or Y. This blue hole is popular enough to have its own parking lot. We'd hate for you to think all the locals were simply raving about the town's YMCA. The Wye is fed by the Little River and is close to some really fun Smokey Mountain tubing if you want to pick up more speed than you can get cooling off in a blue hole.
Dyrt Ranger Jeanene A. likes that Tuckaleechee Campground is "smaller than the state park campgrounds yet still close to Cades Cove." She adds that, "this pet friendly spot will feel like home shortly after you arrive."
11. Santa Rosa, NM
https://www.instagram.com/p/BiSswFTgtkn/?utm_source=ig_embed&utm_campaign=embed_loading_state_control
Right off the famous Mother Road, the Santa Rosa blue hole is famous among swimming holes for its extreme clarity— up to 100 feet. That's because the water is constantly refreshed by its source deep under ground, part of the famous Santa Rosa Sink. That's a geological phenomenon created as the Pecos River has slowly dissolved deposits of limestone underground, forming a basin six miles in diameter and up to 400 feet deep.
Like some of the other swimming holes on this list, it's open to scuba divers, though none have ever completely explored the cave system below. Below a certain depth, the caves are blocked to recreationalists by a grate. Professionals have attempted to clear and explore certain passages with little luck.
There's still plenty to see above the grate though, and the pool stays a refreshing 62 degrees no matter how much the sun bakes the surrounding desert.
You'll find camping 15-minutes away (by car) at Santa Rosa Lake State Park. The campground is suitable for RVs as well as tent camping. The Dyrt Ranger Esther H. writes, "The site was comfortable (we had an RV site with electricity) and a good amount of space." The Dyrt Ranger Nicole P. adds, "There is a nice little shoreline trail that takes you around the lake."
---
You can win free Icemule cooler products and gear from 19 other brands by reviewing campgrounds on The Dyrt. Share past camping experiences, photos, and videos to earn points towards monthly prizes in this year's camping contest!
---
Related Campgrounds:
Popular Articles: