At The Dyrt, we share camping tips from our community of campers and campgrounds. With so many campers staying home, we continue to share this info so you can plan future camping trips across the U.S.
---
Find campgrounds near and around Sedona, Arizona. Here are the Sedona campgrounds that campers love on The Dyrt. 
---
There's no doubt you'll be humbled by awe-inspiring rock formations and sweeping red rock landscapes on a Sedona Camping excursion. This unique town in Arizona possesses a special power. Pitching a tent on the dusty surfaces of Sedona campgrounds brings you even closer.
You can't see an energy vortex. But residents and travelers who flock to Sedona from all over the world will tell you that you can definitely feel them.
Sedona Camping Offers Healing and Solace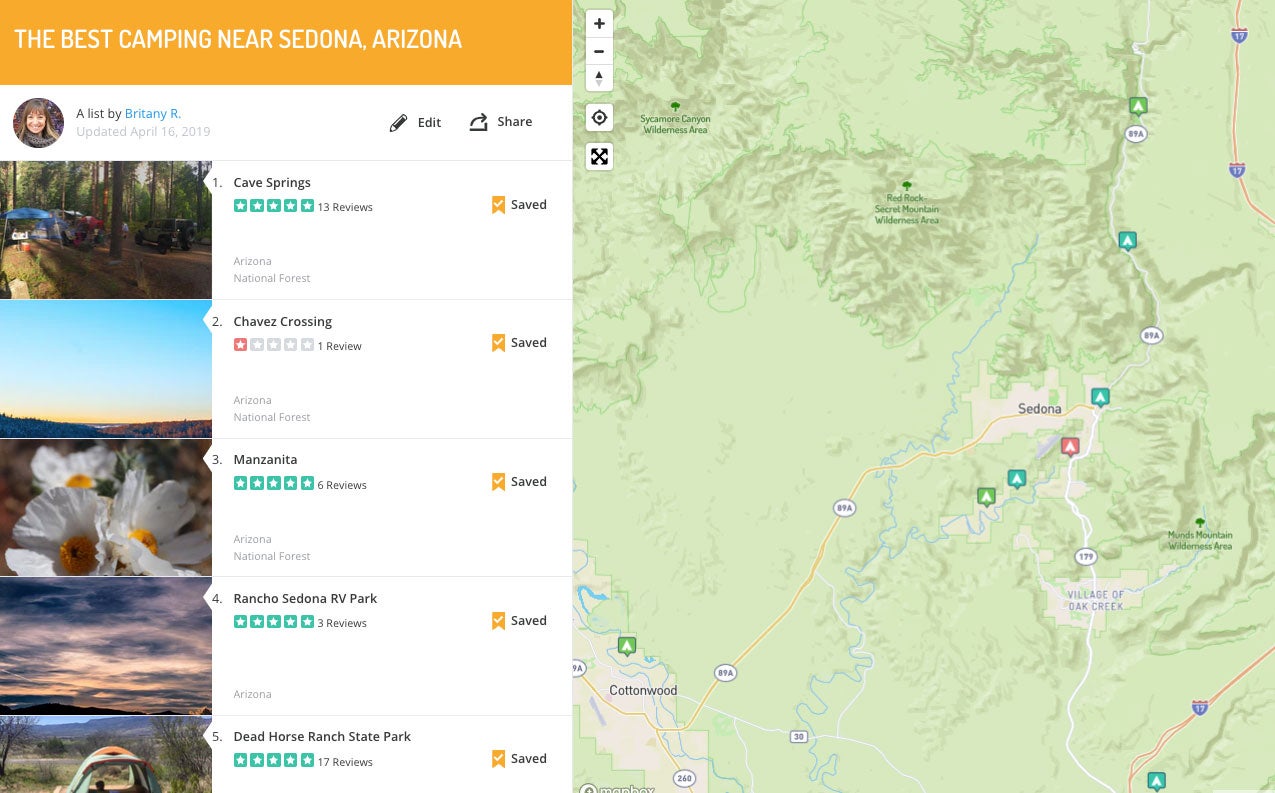 People camping in Sedona AZ often have questions about energy vortexes (rarely called vortices around here.) Many locals believe there are locations among the red rock spires where the Earth's energy is especially strong. As a result, camping in Sedona is considered conducive to healing, meditation, reflection, and personal growth.
Sedonda campers visit largely thanks to its "energy vortexes" with positive healing attributes throughout the land. That said, Sedona locals say there are four sites where the energy is most powerful: Airport Mesa, Cathedral Rock, Bell Rock, and Boynton Canyon.
While hikers and campers often come to embrace the natural landscape surrounding the boundaries Sedona, the busy sidewalks in town offer many "natural" experiences as well with a variety of healing, self-care, and new age services. You can visit a psychic, have your aura photographed, or enjoy a day at a luxurious spa. But no matter where you wander—even inside the many gift shops and restaurants—you're just steps away from jaw-dropping beauty in the form of red rock cliffs and spires.
The photos of Sedona might have you thinking that it's all red rock speckled with dark, shrubby trees out here. But the desert gives way quickly to lush forest when you drive north of Sedona on Route 89A, with hairpin turns through Oak Creek Canyon and Coconino National Forest. Here you can enjoy thick shade and swimming in rivers to escape the heat that blankets Arizona in lower elevations.
Speaking of shade and elevation changes, it's important for campers to prepare for fluctuation in temperatures when camping in Sedona, Arizona. The desert heat can be smothering, but temperatures in the nearby canyon and forests can drop drastically, especially at night. Pack layers and blankets so you'll be comfortable in a variety of temperatures awhile exploring the surrounding region.
Whether or not you buy into the idea of healing energy, Sedona, Arizona is an undeniably special place. Even skeptics leave here feeling a little better than when they came. How can you not with these views?
The Best Sedona Campgrounds
Sedona camping allows you to escape the crowds and the hefty price tags on lodging in the center of town. When you camp in Sedona, you immerse yourself in the energy of the region. And if you don't believe in the power of the vortexes, then you can immerse yourself in the peaceful forests and desert.
Here's a look at a few awesome Sedona, Arizona Campgrounds to experience the unique power of this place:
Arguably the most popular Sedona campground, it comes as no surprise that it is also one of the most beautiful. The area provides a great base camp for hiking, swimming, bird watching and more. Each campsite has shade from nearby Ponderosa Pines. Due to its popularity, it is best to reserve a spot at Cave Springs in advance.
"Tucked into Oak Creek canyon, surrounded by trees, red dirt mountain sides, and a creek this campground is stunning.  A short drive gets you to Flagstaff or Sedona and it is a gorgeous drive either way. One of my favorite campgrounds." – The Dyrt camper Krystil C.
---
Prepare for your next adventure by downloading maps. The Dyrt PRO lets you download maps and campgrounds without cell service. "My alternative to using pro would be to drive back out to cell service".
---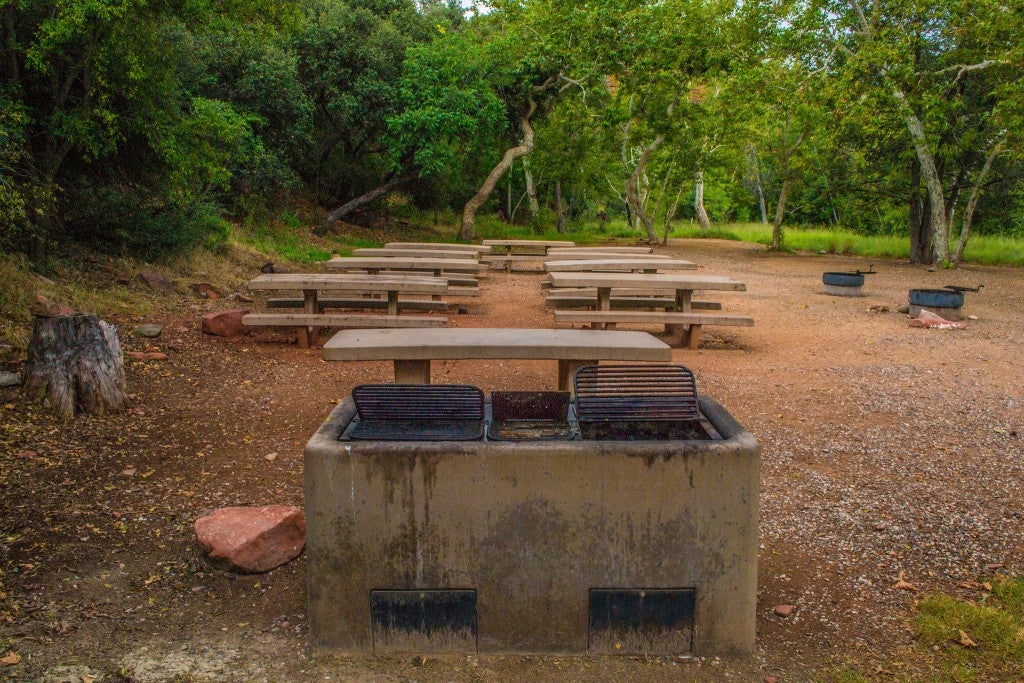 If you are the type of camper that likes to be closer to civilization without ditching your group of friends, consider Chavez Crossing. It's near golf courses and homes, and you're not far from town so you can easily restock on s'more supplies and beer. Thanks to the paved roads of Chavez Crossing, you'll have no time reaching nearby sites and attractions. This Sedona site is for larger groups only.
"A variety of hiking trails and swimming holes are a short drive away. Seek out your favorite panoramic views at Munds Mountain Wilderness, or explore the Red Rock/Secret Mountain Wilderness area in the heart of Oak Creek Canyon. Three group sites are available, and all three can be reserved for a total capacity of 110." –  The Dyrt Camper Ryan C.
---
This creekside campground has plenty of shade and spectacular scenery. You can fish right from your campspot. Since sites are small, Manzanita is reserved for tents only.
If you can't reserve your spot in advance, there are a handful of first-come-first-serve sites available. All access to the campground is paved, making it a viable option for those who don't have a 4WD automobile.
"Cool cliffs and just really neat scenery and the campground only accept tents so you get to sleep next to the creek among shady trees. This was too full the first time we tried to visit so you will want to make reservations! Try to get a site at the end that's close to the creek" – The Dyrt camper Irene. L
---
Enjoy the shade of sycamore and cottonwood trees at this centrally-located RV campground in Sedona. Rancho Sedona RV Park is just a short drive from Cathedral Rock and Airport Mesa, where you'll find red rock hiking and a concentration of that energy people come to Sedona for. You'll be surrounded by nature but also within walking distance of Sedona's galleries, shops, and restaurants.
"Very green and beautiful. Do watch out for poison ivy, or poison something.  Without even leaving camp you can hike a little strea9m/river to a little pool. " — The Dyrt camper Suzy H. 
---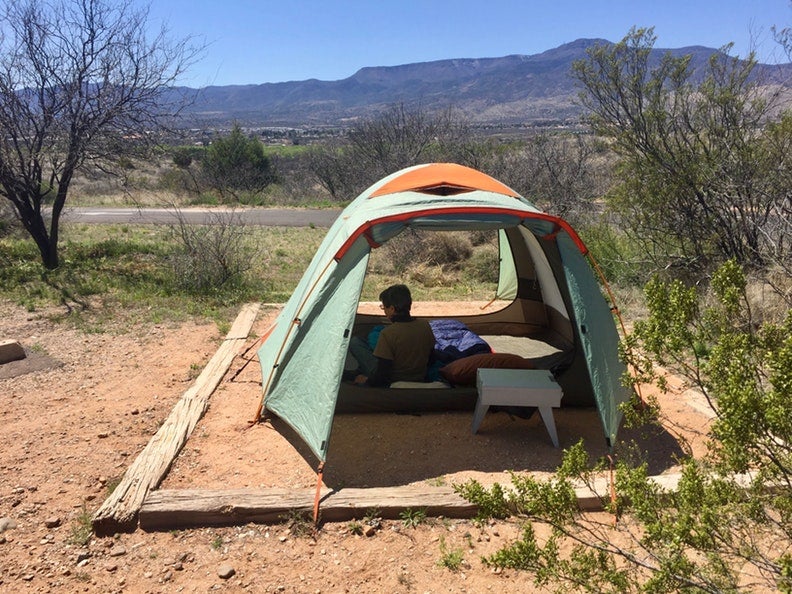 Dead Horse Ranch State Park is a popular destination for RV, tent, and cabin camping on the Verde River. There are over 100 large RV sites available, and campers enjoy a full menu of amenities. The Dead Horse Trail system are accessible from the campground and include over 20 miles of hiking and biking track.
"The campground in located in Cottonwood, AZ but far enough removed that you don't feel like you are in the city. For those of you that want to adventure there are numerous hikes and the Verde River allows several places to kayak." — The Dyrt camper Steve C. 
---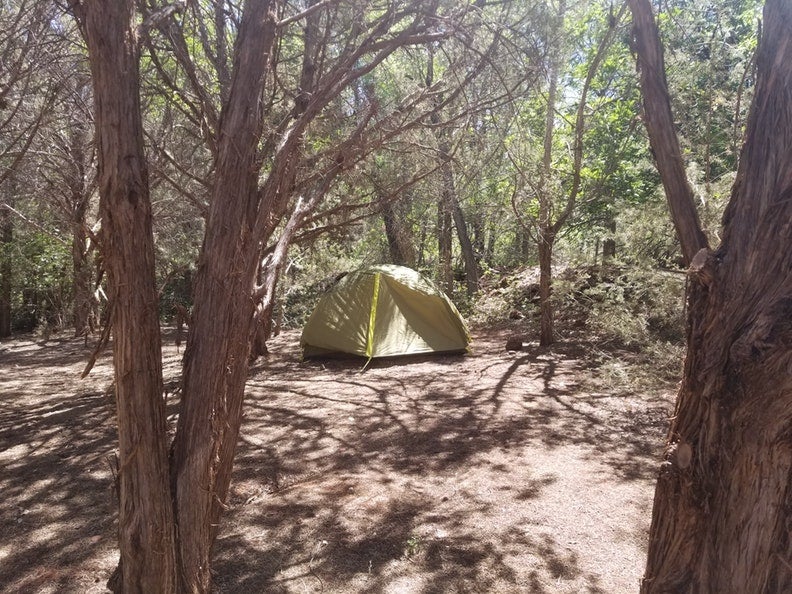 This is the only private creekside campground on Oak Creek in Sedona. Camp Avalon accommodates tent and hammock camping, as well as small to medium RVs, but there are no hookups available. You can come just for the camping, or participate in some of Camp Avalon's spiritual activities, including yoga classes, drum circles, guided meditation, and vision quests.
"The stars are astounding here. My daughter saw her first constellation and shooting star here last year." — The Dyrt camper Court M. 
Bask in the beauty of Cathedral Rock, one of Sedona's most striking landmarks, from your site at Crescent Moon Campground. The group picnic area can accommodate up to 50 guests for day use. Campers will need to book well in advance to enjoy an overnight stay.
"This was a neat little place, but too hot during the day." The Dyrt camper Evan W. 
When Sedona campgrounds are all booked, or you're simply looking for a little more privacy, consider dispersed camping in a national forest.
From ponderosa pine forests to barren expanses of stark red rock, the Coconino National Forest is one of the most diverse forests in the country, and it offers lots of space for dispersed camping if you're willing to look for it.
You can find your own secluded space, or make your way to a designated dispersed camping area like The Dyrt camper Rebecca O: "We camped here with a tent three nights this past March, and would have stayed longer. Felt very safe, always one or two other cars/trailers in the area, but plenty of trees to feel private. Existing fire pits were very nice!"
Be sure to check with the National Forest Service district offices for advice and maps that will help you find the perfect spot to camp, and check in on any current regulations, like campfire restrictions. Also, remember, camping on BLM land means you will have no services such as a water or bathrooms. Come prepared to be self-reliant and always follow Leave No Trace Principles.
---
Save a List of Sedona Campgrounds
Save this list of camping options in Sedona, Arizona for your next desert adventure.
---
Popular Articles:
---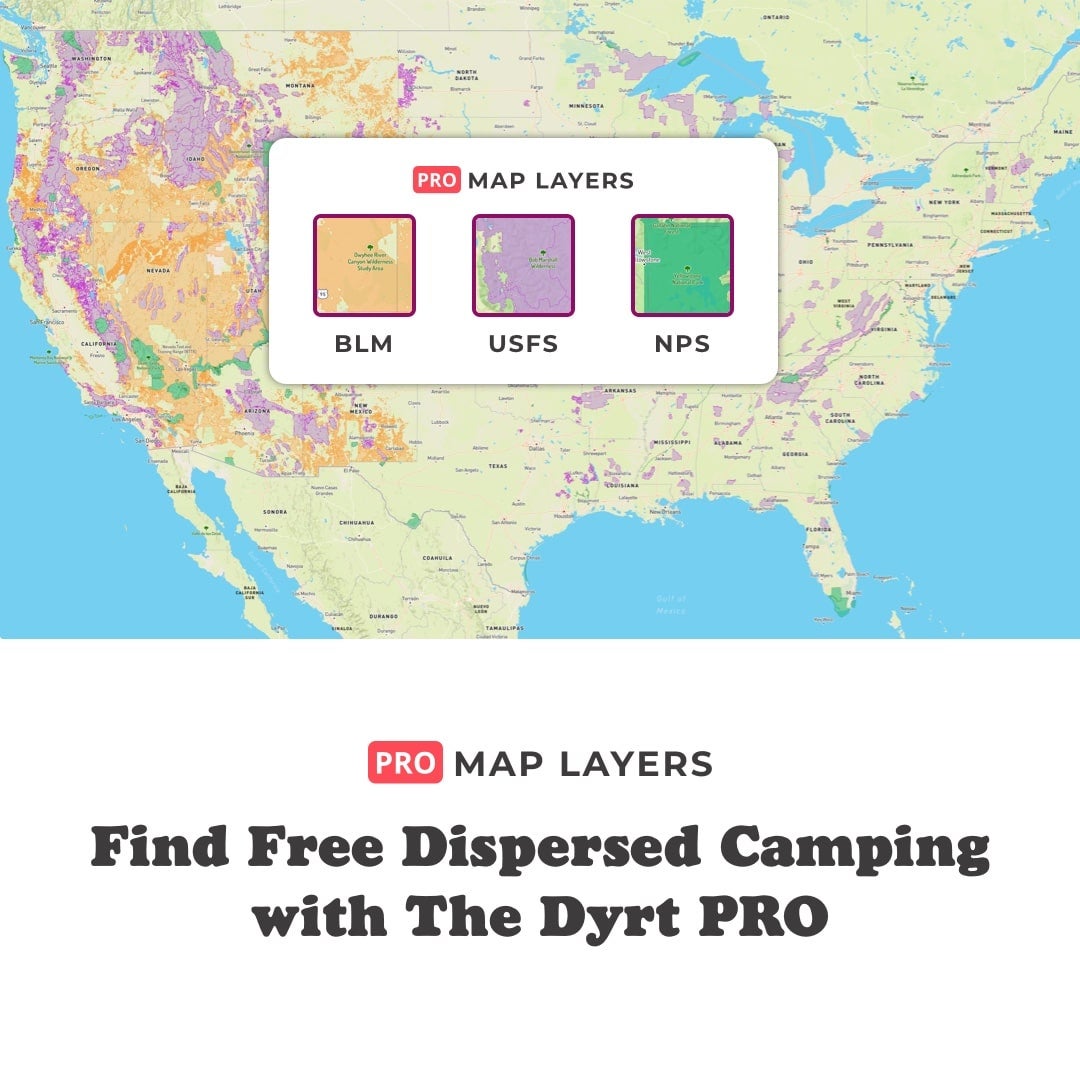 ---