This guide to staying dry in the outdoors is brought to you by Matador, whose wet bag is the perfect thing to pack for your next adventure, rainy or not!
---
You're a day away from the epic camping trip you've been planning for months, and the forecast moves from pleasant to pouring. You're tempted to cancel, but should you? Camping can be hard enough without a soaked campsite. But if you've spent a significant amount of time planning a trip, the disappointment of letting it go might be worse than the risk of getting wet.
How To Stay Dry While Camping In The Rain
For Pacific Northwesterners, rain lovers and haters, and any campers who are bold enough to brave the wet weather, we've created the go-to guide for keeping the stoke high while camping, even when it's pouring outside.
When the Wet Weather Hits Before You Leave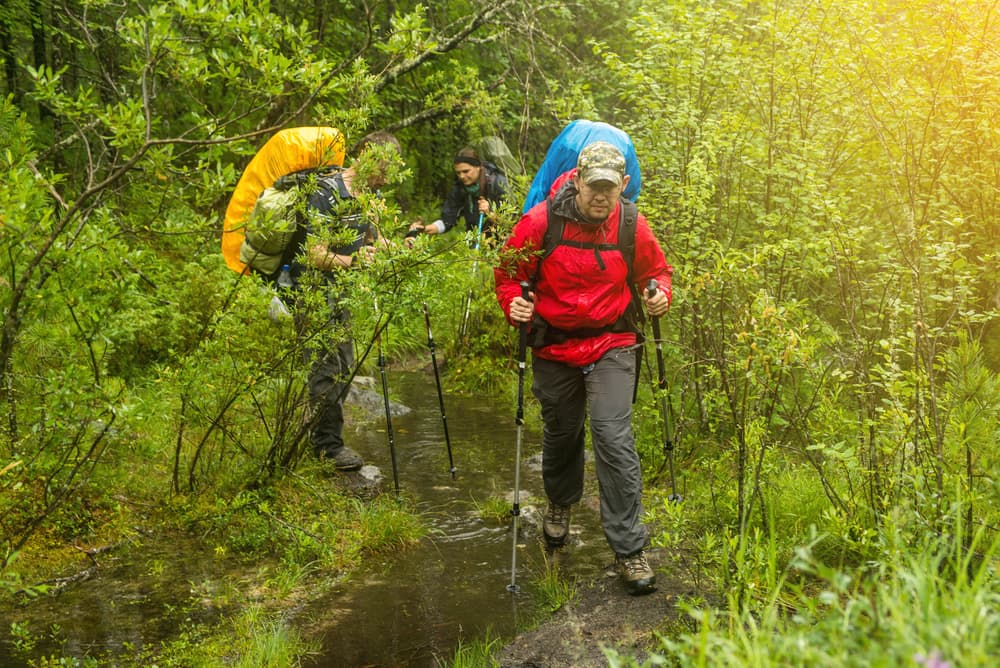 If you're lucky, you've had time to check the forecast before you leave, and for better or for worse you've accepted that your camping trip is about to involve some rain. If you have time to throw a few extra things in the car and adjust the setup of your campsite, here are some tips on how to prepare for the downpour:
1. Pack Your Must-Be-Dry Items First
If you're planning on setting up camp in the rain, you'll want to pack anything that should remain dry (think: clothes, sleeping bags, certain foods) first, so that it's the last thing to come out of the car as you unpack. Similarly, if you're planning on hiking into your campsite, keep your waterproof gear or anything that can get wet on the outside or in the top of your pack, and try to minimize the amount of times you have to open it in the rain.
2. Setup Your Campsite In a Water-free Location
When considering where to set up your tent, avoid areas downstream of obvious water flows, and always place your gear uphill of the direction the water is moving. If you're camping near water, avoid setting up near streams, dry creek beds, or other bodies of water that could potentially overflow.
One of the most effective ways of keeping your gear dry outside is to waterproof it, either with a quick spray or a rubdown that could help save your shoes, backpack, and other gear you'd hate to get soaked. Waterproofing products like Nikwax or Scotchgard are an excellent option, though depending on what type of product you choose, the process of waterproofing can take time. In addition to that, be sure to consider whether you want to fully waterproof your gear, or simply make it more water-resistant. Waterproofing, while effective, fully seals the material it's applied to, making it less breathable. Water-resistant spray will improve your jacket or shoes' durability and resistance to water without compromising on breathability. Below is a list of popular products, including their application methods.
Nikwax TX Direct Wash-In
Scotchgard Outdoor Water Shield
Gear Aid Seam Grip (for jacket seams only)
Otter Wax Leather Salve and Boot Wax (for boots only)
Note for Gore Tex users: If you have a jacket or pair of boots that's made with Gore Tex, there are a couple of strategies you can employ prior to spraying it with a product or salve. Washing your Gore Tex can replenish some of its original waterproof membrane, since dirt, oils, and other contaminants affect its ability to breathe and perform as it should. For frequent wearers, it's recommended that high-end breathable / waterproof materials are washed every five or six uses. After you wash it, drying your Gore Tex product can also reactivate the water repellent treatments, though make sure you follow the manufacturer's guidelines prior to throwing it in the dryer. If neither of these strategies are effective in reviving your waterproof clothing, then try a DWR (durable water-repellent) spray or salve as listed above.
4. Dry Bags Are Your Friend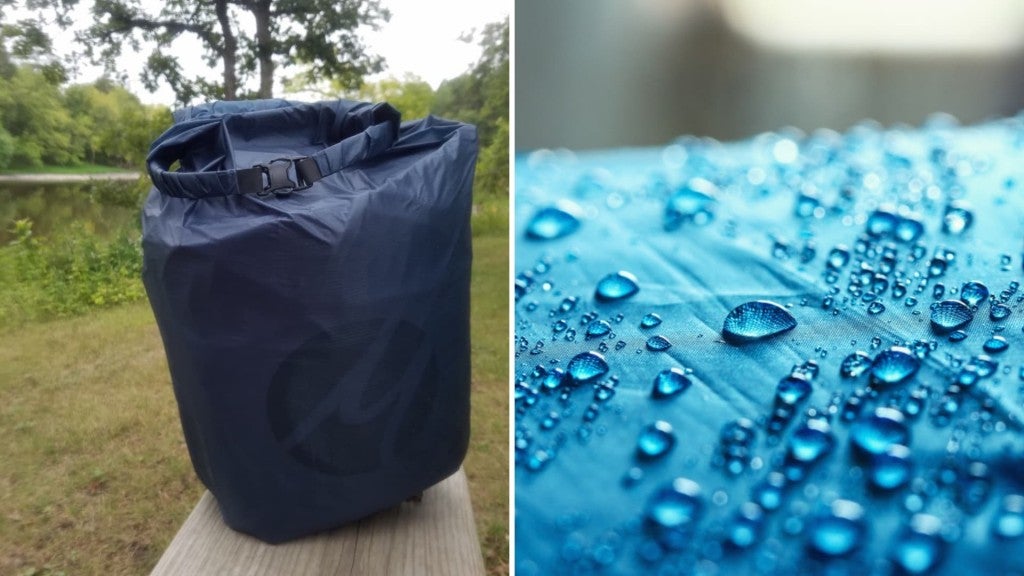 Always pack a dry bag. Matador offers dry bags that are as packable as they are useful, with a storage case that you can easily clip onto your pack along with your usual gear. As with packing your backpack, dry bags should be used to store your least waterproof gear, such as the clothes you need to keep dry or specific food items that might be perishable when exposed to moisture.
Bonus: check out Matador's waterproof, insulated camera bag, the perfect solution to keeping your photography skills up, even on a rain-soaked camping trip.
5. Pack a Weatherproof Fire Starter
Ever tried starting a fire with wet matches? Hint: It doesn't work. If you're able to swing by your local outdoor affiliate or REI, try a fire starter that can be effective even in the wet weather. Waterproof matches can be bought at REI for as little as $8, and this handy Fire Starter Kit (retailing for $14.95) includes flint, a striking block, and WetFire Tinder, which will ignite almost immediately in any most weather conditions.
6. Layers, Layers, Layers
Layering is always important when you're spending time outside, but it's especially crucial in wet weather. Layering will save you from being soaked to the bone and getting too cold to enjoy your trip.
Packing an optimal amount of layers is a must, from a waterproof shell to an insulating layer that should stay dry at all costs. In extremely wet conditions, consider packing a couple of tarps to serve as extra layers over your campsite.
7. Bring Along Some Trash Bags
Might not be the first thing you think to grab when the weather hits, but garbage bags work wonders when it comes to shielding your gear and clothing from the rain. Whether your dry bag is packed full or you want to double bag something extra sensitive, having a few traditional garbage bags on hand is never a bad choice. If they're big enough, you can even make them into ponchos to provide some additional cover for you and your pack.
8. Pack a Clothesline
If you have some rope (fishing line can work in a pinch) or thread lying around, packing some clothespins can allow you to craft a clothesline, where you can dry your clothes and other essentials once the rain has stopped.
9. Throw in Some Towels / Fast Drying Clothes
If you're car camping, bring a couple towels along to help soak up the moisture and dry things like picnic tables, chairs, and other camp essentials once the rain has stopped. Or, bring along clothes made of material that dries exceptionally fast (think polyester or polypropylene), to make wiping down your gear and campsite less of a hassle.
When the Rain Starts After You've Arrived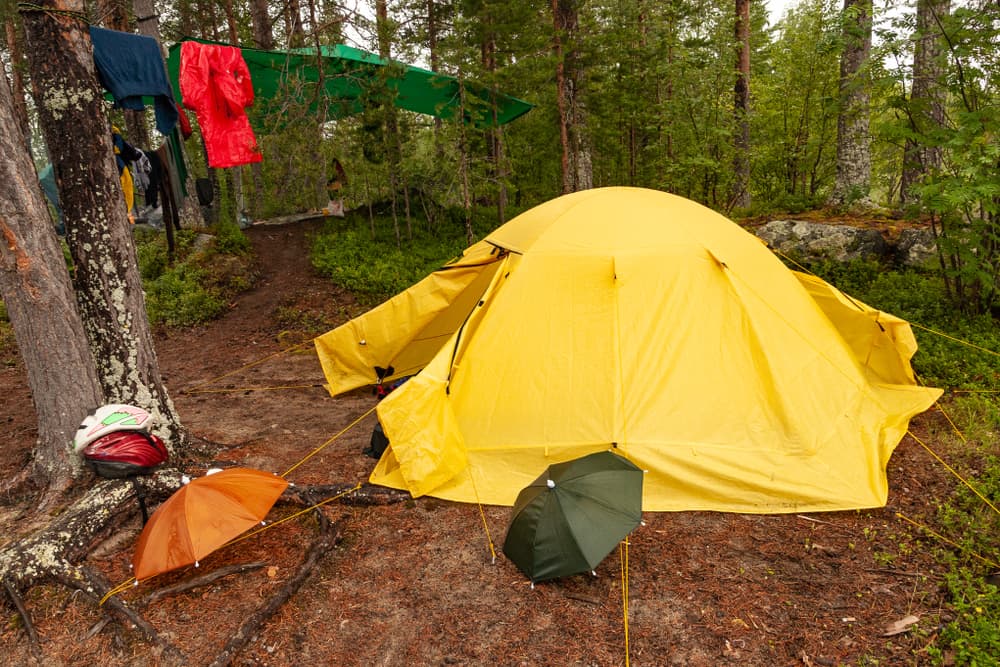 Okay, okay, so we're not all planners. Whether you forgot to check the forecast, or the rain comes out of the blue, there are a number of things you can do to combat the unexpected moisture.
1. Keep the Fire Going
If you've already started a fire when the rain hits, try to keep it going for as long as possible with bigger logs on top of the already hot coals. Unless the conditions are extreme, keeping the fire up will pay dividends when you're trying to get warm and dry after the storm has passed.
2. Setup the Tent (but keep the inside dry)
If you're mid-setup when rain arrives, make sure to keep the innermost portion of the tent as dry as possible. Utilize the rain fly. In severely wet conditions, setup your tent without staking it into the ground, making it easy to move if the ground underneath you starts to shift. Make sure your rainfly is securely taut as this will allow for air circulation throughout the storm, and will prevent additional condensation from developing on the inside of the tent.
3. Bring Out the Tarps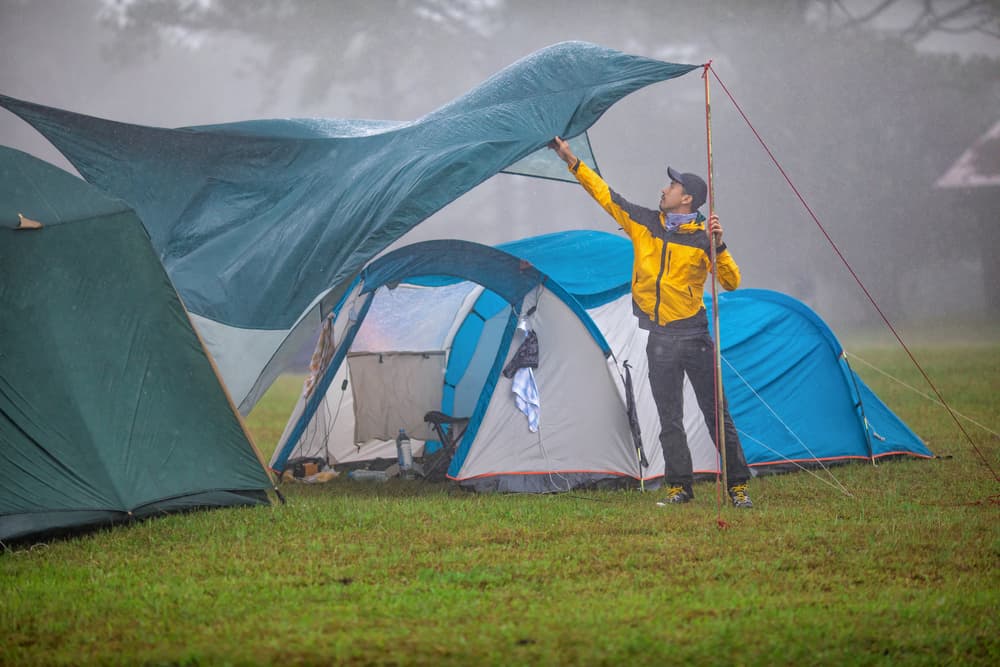 If you have them, put up your tarps as soon as the rain hits, and create a makeshift shelter over your picnic table. If you're camping at a primitive site, try using a stick or hiking pole as a centerpiece for your waterproof home. Use any other waterproof gear you have to protect the things that need to stay dry.
To hang tarps above your tent, make use of any trees or surrounding waypoints that could serve as posts for your shelter. Make sure you angle your tarps toward the ground and away from your footprint, to ensure the excess moisture doesn't collect at the base of your tent.
4. Compromise On Non-Essentials
If it's really pouring, it may come down to a decision on what to save rather than preserving everything. Pick items and clothing that you're willing to let get soaked in exchange for prioritizing the things that should stay dry at all costs.
Hint: don't sacrifice anything you need to sleep in. Having a list of the essentials will help you to make the split-second decisions necessary in the event of a sudden bout of torrential rain.
If worse comes to worst, make sure you're preserving at least what you need to sleep in, as well as the food that you need to make it through the next couple of days. Most clothing items, food packages, and other miscellaneous pieces of gear will dry off and be usable within 6-12 hours, depending on when the rain stops.
Spread Out Your Gear to Dry at Home
As soon as you're back from your rainy adventure, be sure to spread out your gear to fully dry before packing it away. Packing gear while it's still wet can lead to mold and mildew build-up, which can create problems for future trips, from a smelly tent to a malfunctioning stove.
If you're camping regularly in wet weather (we're looking at you Pacific Northwesterners), Matador's products are a must-buy. All of the gear they produce is completely waterproof, featuring ripstop materials and impermeable seams, ensuring that whatever you bring along stays dry throughout your trip. Our personal favorites include the Freerain24 2.0 and the Transit30 2.0.
---
This post was brought to you by Matador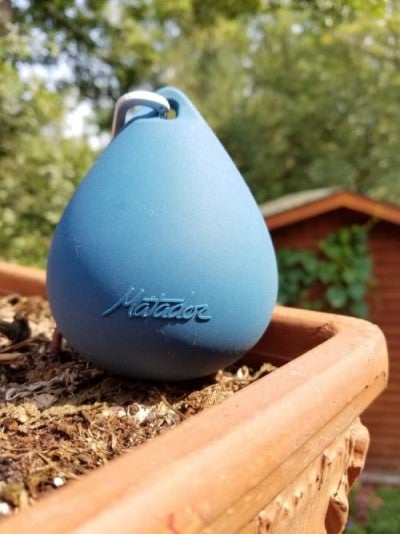 Matador's waterproof backpack is the perfect thing to pack for your next adventure, rainy or not!
Popular Articles: