This post is brought to you by our friends at Body Glove which produces top of the line women's and men's wetsuits for scuba diving.
---
The crown jewels of this country, our national parks, are visited with frequency for their endless beauty, varied terrain, and plethora of activities. Many tourists who yearn to be in the outdoor space can camp, hike, and backpack in these wonderfully wild places.
While exploring our national parks might begin via vast trail systems found on land, some of these places offer adventures from other points of view: the water.
Sports like rafting and kayaking down rivers and across lakes are great ways to see hidden parts of these parks, but there's an even deeper way to explore: Scuba diving.
According to NPS.gov, "Almost all of the 61 National Park Service areas with significant water holdings are of some interest to divers, although scuba diving receives little publicity." The Park Service encourages visitors to Dive Your Park, and provides a guide to diving these treasured places.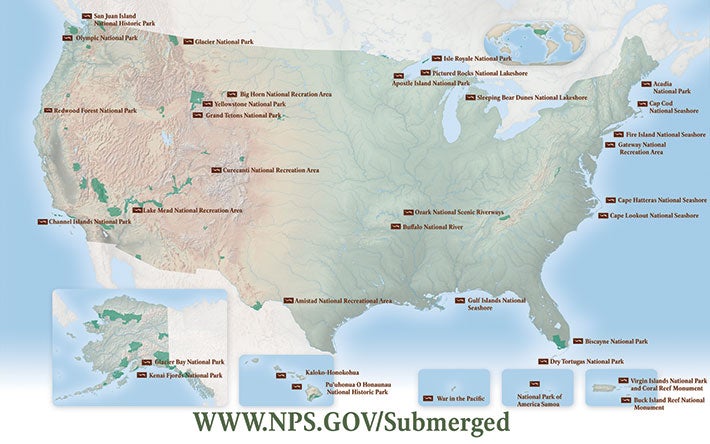 What's not brought to the surface as frequently is how the National Park System protects millions of acres of submerged lands. So much of those "lands" remain unexplored by divers. While this list only encompasses five parks, there are still plenty of underwater trails awaiting exploration by divers and snorkelers from all over.
Underwater Trails and Scuba Diving at National Parks
There are roughly four million divers that live in the U.S. And even if you are not currently a diver, you can still register for a diving tour at some of these national parks. So pack up your camping gear and get ready to dive into these mysterious places.
Channel Islands National Park, California
The eight Channel Islands lie off the coast of California, and five of them make up Channel Islands National Park, including: Santa Rosa, Santa Barbara, Santa Cruz, San Miguel, and Anacapa. These islands are close to Ventura, California yet are not as frequently visited as many other national parks across the country, with under 400,000 visitors in 2016.
The Channel Islands are known for their extensive and stunning sea caves, which can be explored by divers along with kelp forests and coves. Strong currents can occur around some of the islands, so it's important to be an experienced diver before you explore here. Camp Nearby
---
Glacier National Park, Montana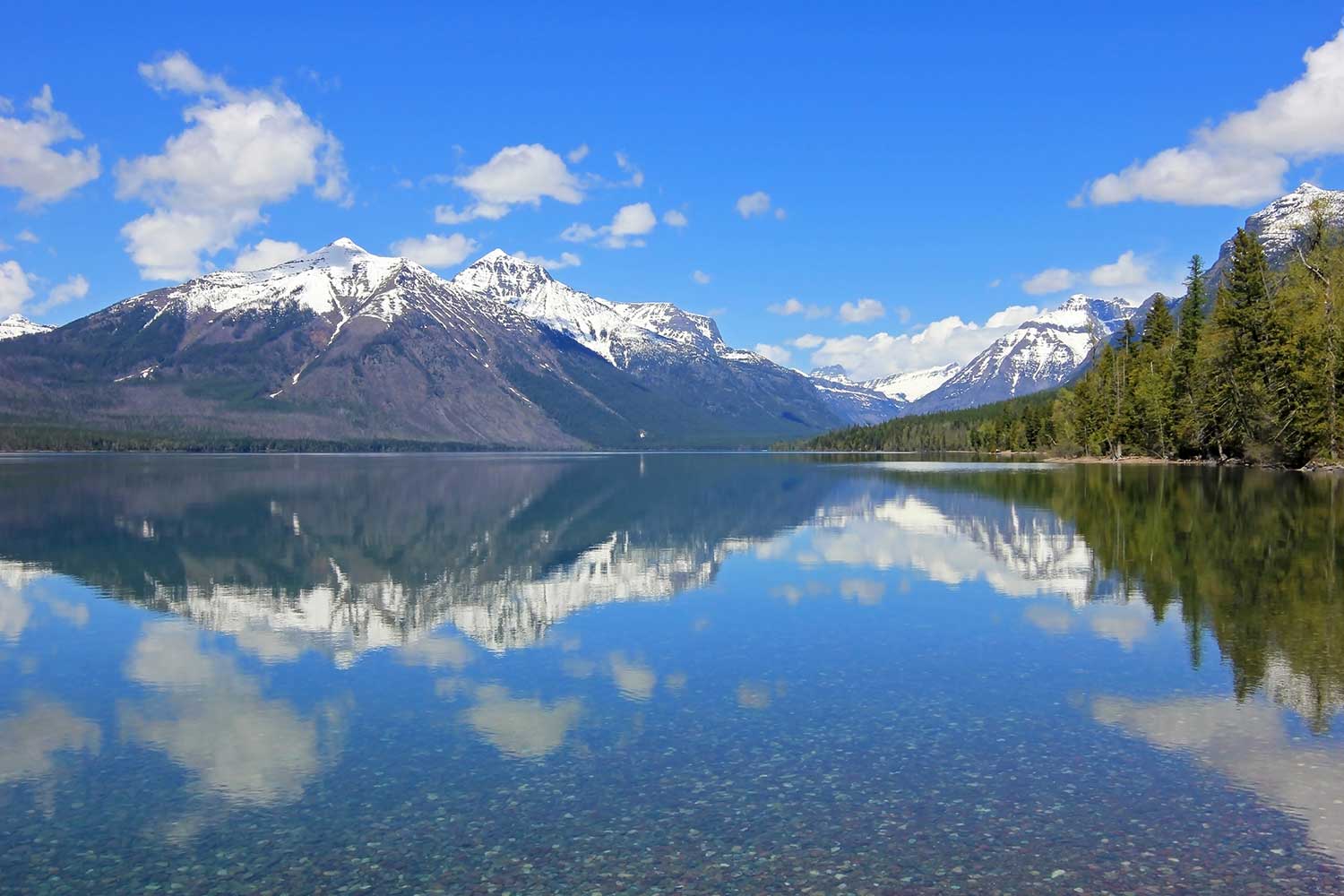 Between the Pacific Ocean and Montana lie two states: Oregon and Idaho. So you can imagine that when someone suggests scuba diving in Montana, it might sound strange. But scuba diving is very possible in Glacier National Park.
While Glacier is known for hiking, backpacking, and sightseeing, the park's picturesque Lake McDonald offers more than just a pretty picture. Below the surface divers can find remnants of sunken boats and docks. Lake McDonald is also home to "Pitch Fork Forest" where numerous pitchforks, rakes, axes, and other debris can be found upright thanks to other divers. If you plan to go scuba diving in Glacier, book your trip for the late summer to early fall when the water is warmest. Camp Nearby
---
Dry Tortugas National Park, Florida
Encompassing a protected fort and a group of islands, this national park is atypical. Fort Jefferson, a giant manmade brick masonry is a significant historical artifact. While the rest of the park is mostly an undisturbed tropical ecosystem. These islands are located west of the Florida Keys in the Gulf of Mexico, and are roughly 68 miles from Key West.
Dry Tortugas is perfect for divers of all skill levels, including beginners. With its warm temperatures and clear blue water, many divers can get the chance to explore coral reefs teaming with marine life. So if swimming with sea turtles or the Goliath Grouper is on your to-do list, better get to Florida's aqua underwater trails. Camp Nearby
---
Olympic National Park, Washington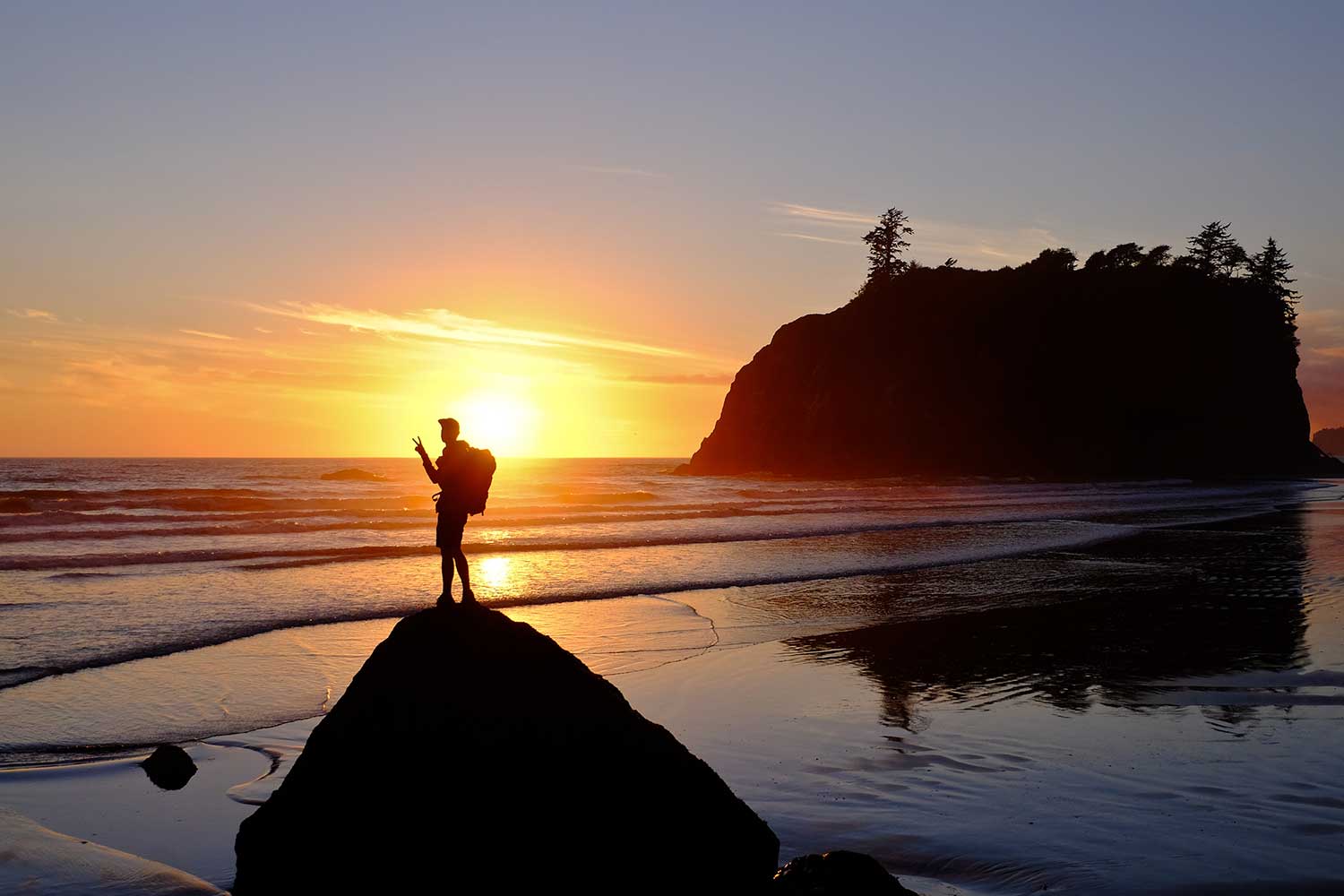 The Olympic Peninsula boasts a beautiful coast, the Hoh Rainforest, and lush mountains. Those forests continue into the waters off Olympic National Park in the form of kelp. Guided excursions are available where divers can swing among plenty of marine life. This area is also home to many shipwrecks and historical sites that can be explored underwater. If you're not ready to scuba dive in the ocean, visitors can also dive in Lake Crescent within the park. Camp Nearby
---
Virgin Islands National Park, U.S. Virgin Islands
The Virgin Islands are a wonderful place to unwind, play at the beach, and enjoy a piña colada at sunset. But if island time can feel a little slow to you, it might be worth your while to visit Virgin Islands National Park.
With more than 40% of the park's land submerged, one of the best ways to explore this place if through scuba diving and snorkeling. The park is home to one of the first underwater trails in the world, Trunk Bay, which sadly has suffered a lot of damage from human activity, according to the Park Service. There are other areas of the park where divers can experience lush reefs and vibrant marine life. Just remember that Leave No Trace applies underwater just as much as above. Camp Nearby
Popular Articles: