At The Dyrt, we share camping tips from our community of campers and campgrounds. With so many campers staying home, we continue to share this info so you can plan future camping trips across the U.S.
---
This article was brought to you by RovR, the makers of rugged rolling coolers on wheels that can follow you anywhere, from the side of the pool to the sandy shores of your favorite beach.
---
After a long, hot car ride or a dusty hike, it's lovely being able to slip into the water for a nice soak and a chance to splash around. From blue holes and waterfalls to beaches and hot springs, it's no wonder that so many campers seek out campgrounds with pools. As picturesque and soothing as those natural water sources can be, however, sometimes it's nice to have a swimming pool to count on.
It's not hard to find great campgrounds with pools —you'll often see swimming pools included in the list of amenities of private campgrounds like KOAs, Good Sams, and Thousand Trails. State- and federally-owned campgrounds with pools aren't quite as common, and campgrounds with pools are pretty much nonexistent at more primitive camping areas.
11 Campgrounds With Pools Coast to Coast
That's why we rounded up some of the best public and private campgrounds with pools around the country. This summer, you can camp and cool off with a convenient pool right outside your tent or RV.

Surrounded by Bald Eagle State Forest, Snyder-Middleswarth Natural Area, and White Mountain Natural Area, Sunsational Family Campground is an easy place to relax and take a load off. The area is popular with hunters and anglers, surrounded by game lands and fishing streams, as well as families looking for campgrounds with pools (and plenty of other fun activities.)
Within a morning's drive of New York City, Philadelphia, and Pittsburgh— not to mention smaller, family-friendly destinations like Hershey, Pennsylvania, it's an accessible place to get back to nature, without having to sacrifice too much comfort. Sunsational Family Campground offers tent sites (including some right on Penn's Creek, which runs through the property), RV sites with water and electrical hookups, as well as pump-out services and cabins.
There is also a brand-new bathhouse, as well as a camp store, activity hall with pool tables and arcade, ATV trails, propane fill-up station, and the pièce de résistance, a large chemical-free saltwater pool. It's available for private parties, as is a large 16 acre field and group pavilion that can be rented for family reunions, weddings, and other events.
Book Now
One hundred and twenty miles of the Appalachian Trail weaves through the Blue Ridge Mountains near Roanoke, Virginia, and Middle Creek Campground is an oasis for hikers on that stretch. This 42 site campground can accommodate tents, hammock campers, RVs, and even tour buses, with lots of welcoming extras that will either help you forget the long trek from Amicalola Falls if you're a northbound thru-hiker or settle right into your outdoor getaway if you're a casual camper.
The Blue Ridge Mountains are a magnet for anglers, cyclists, paddlers, hikers, and anyone who loves picturesque scenery—being in close proximity to metropolitan areas of Virginia and Washington, D.C. makes this a one-stop shop for all kinds of outdoor fun.This is not only one of Virginia's finest campgrounds with pools— you'll also find easy access to kayaking the upper James River, mountain biking up hills and curves along the Blue Ridge Parkway, and exploring the nearby George Washington and Jefferson National Forest. History buffs will appreciate the nearby Rapidan Camp, built as a retreat by President Herbert Hoover, not to mention the trails on Fork Mountain that were once trafficked by legendary moonshine runners.
Whatever you get into during your time in the Blue Ridge Mountains, it's nice knowing you can cool off in the on-site campground pool at Middle Creek. Beyond the pool, you'll also find a swimming pond that has two slides and a small beach. Site 21 and 22 overlook both the pool and playground, too, making them a great request for families. The swimming pond is separate from the fishing lake closer to the front of the campground, too, so no one has to worry about their activities overlapping.
"All of the staff that we came into contact with were super friendly and helpful. We were immediately made to feel welcome. It felt like spending the weekend with friends and neighbors instead of strangers. Check-in is at the fully stocked camp store where you'll likely be greeted by the two resident dogs. The RV sites are directly across from the camp store, but the tent sites were tucked back into the woods."—The Dyrt camper Andrea N.
Book Now
The tallest sand dunes in the United States aren't on North Carolina's Outer Banks, nor on the fringes of southern Oregon's coast. In fact, they're no where near the ocean, smack dab in the middle of the country in south central Colorado. The dunes are the result of tens of thousands of years of natural erosion and sand accumulation in the San Luis Valley, an area roughly the size of Connecticut.
About a minute ago in geologic time, the Sangre de Cristo Range and San Luis Valley were shaped not by wind and water as they are now, but by volcanic activity. You can still experience a little of that legacy by soaking in the natural hot springs that still dot the area, including some at Sand Dunes RV Park. Here, the owners have turned those natural springs into a campground with pools, plural. The swimming pools come in various temperatures and purposes— some used for community swim classes or as lap lanes, some for aqua yoga classes, other as indoor, adults-only soaking with a full bar.
In addition to all those campground pools out in a sea of sand and scrub grass and stunning mountain views, Sand Dunes RV Park also offers camping with amenities like water and electric hookups, coin operated showers and laundry, an on-site store with essentials (including swimsuits!), sandboard rentals, and even a basketball court.
"Easy pull in spots for your RV and campers. Well maintained bathrooms and facilities to use after a sandy day at the dunes. Relatively close to the dunes (About a 15 minute drive to the parking lot from the campsites). Would recommend staying here!" —The Dyrt camper Brock H.
Gone are the days of "Borscht Belt" summer resorts in New York's Catskill Mountains where families would escape the heat of the city to spend months hula hooping, boating, and playing Simon Says at campgrounds with pools, a la Dirty Dancing and The Marvelous Mrs. Maisel. But you can get a little taste of that old school summer tradition at Adirondack Camping Village, where you can camp in tents, RVs, hammocks, or cabins. Best of all are the daily family-friendly activities like hay rides, movie nights, and marshmallow roasts, as well as amenities like playground, and heated campground pools.
There's even more to do nearby. In addition to the stunning beauty of the Adirondacks, there's also Lake George. A popular tourist destination for well over a hundred years, it was once home to Millionaires Row— an enclave of summer homes built by such wealthy families as the Roosevelts, Vanderbuilts, Whitneys, and Rockerfellers.
Now Lake George is beloved for a different million-dollar moniker, a state swimming and sunbathing spot named Million Dollar Beach for its 1953 price tag. Not only is there plenty of hiking, paddling, and boating to be had in the area, you can also take in views from the air, as hot air balloon rides are also fun pastime in the Adirondacks.
"We fell in love with this campground. It's how camping should be. The sites are tucked away in the tall pines of the Adirondack mountains and provide privacy even if you have a neighbor." —The Dyrt camper Kerrie F.
Over four million people visited Zion National Park last year, making it the fourth most popular park in the federal system. If you want to see what makes Zion so magical in person, but also beat the heat and some of the crowds, consider staying just outside the park at Zion Ponderosa Ranch Resort. You'll find extra amenities that make your outdoor getaway feel like a full-blown vacation.
There are several styles of lodging for every taste, from luxury vacation homes to cabins, deluxe Conestoga wagons, RV sites, tent sites, and glamping accommodations. You'll also find sunset yoga, an on-site restaurant and coffee bar, horse stables, Jeep tours, mini golf, indoor climbing wall, hot tub, and a two-tiered campground pool with a slide.
Whether you're in the area to hike Zion National Park's many pretty trails, on a Utah National Park road trip, or wanted a chance to try canyoneering the Narrows for yourself, Zion Ponderosa Ranch Resort is one of the finest campgrounds with pools, and a fantastic place to unwind after putting your feet and legs to the test.
"Great tent sites for a great price. The tent sites are well spaced and surrounded by trees. The showers were clean and plenty of hot water. . . The pool and hot tubs were an awesome bonus. Great place to stay you really can't beat it at 14 bucks a night!" —The Dyrt camper Cheryl B.
South and central Georgia don't get nearly as much outdoor love as the northern part of the state where the Appalachian Trail begins, and that's a darn shame. Situated near Macon along the Fall Line, where the Piedmont plateau meets the coastal plains that run to the Atlantic, this part of Georgia is full of surprises—like campgrounds with pools including the Scenic Mountain RV Park.
Nearby you'll find Mississippian earthen mounds built by the indigenous peoples who lived here for 13,000 years before white settlers arrived. The red clay earth contrasts with the bright white cherry blossoms in springtime—so many cherry blossoms that Japanese tourists have been known to come here to take in the show. And there is something about this place and landscape that has inspired a number of notable musicians, including the legendary Allman Brothers, Otis Redding, Little Richard, and R.E.M. drummer-cum-farmer Bill Berry.
Take in everything that the Fall Line has to offer from Scenic Mountain RV Park in Milledgeville, halfway between Macon and Augusta. You'll have easy access to Bartram Forest, Lake Sinclaire, the Oconee River, and lots of Civil War and antebellum history. Milledgeville was also home to Flannery O'Conner, the famed godmother of the Southern gothic literary genre.
Scenic Mountain is a perfect homebase for exploring whatever aspects of history, culture, or the great outdoors brought you to Milledgeville. They have 60 sites with full hookups that can accommodate even the biggest rigs and toy-haulers, a dog run, dog wash station, a playground, and more. Perhaps the best feature on site, though, is the campground pool and unheated Jaccuzi where you can cool off from the sultry Georgia heat.
"This was a great little campground!! Not to mention clean!! They were updating the campground and adding more sites. Toffice has a few necessities–the staff was fabulous!" —The Dyrt camper Kelly W.
Usually Acadia National Park inspires visions of scoured beaches, windswept rocks, and rugged natural beauty—not exactly cozy campgrounds with pools. But you can get the best of both at Bass Harbor, a comfortable campground on the quiet southern tip of Mount Desert Island. You're in walking distance of New England treats like the Bass Harbor Lighthouse, and are removed from the comparative hustle and bustle further north at Bar Harbor.
From trekking up Cadillac Mountain—the highest point on the North Atlantic Seaboard— to sea kayaking, hiking the Ship Harbor Nature Trail, or exploring the tracks left behind by glaciers thousands of years ago, this is an exciting place to get outside.
Bass Harbor makes it easy to unwind after your adventures, with a free shuttle that runs to and from Acadia National Park, a heated campground pool, and convenience to the village itself, as well as a nearby lake. You'll find tent and RV sites, WiFi, a laundromat, pet-friendly accommodations, and plenty of shade from the birch and spruce trees dotting the campground and Maine headlands.
"Tent campers have a much prettier space than RV, as with most campgrounds. We really liked it here. It has a pool, which my daughter loved, but I much preferred going down the road to the lake to swim. The owners were very accommodating." —The Dyrt camper Melissa N.
A welcoming equestrian campground just off Virginia's biggest body of water—the epic Buggs Island Lake—Staunton River State Park is not only one of the state's few publicly-owned campgrounds with pools, but is also Virginia's first designated International Dark Sky Park. There are ten multi-use trails weaving through the park open to mountain bikers, hikers, and horseback riders, as well as a boat launch— although there aren't any boat rentals, so you'll want to bring your own watercraft. And last but certainly not least, Staunton River State Park is also home to the only disc golf course in the Virginia state park system.
When the days activities are done and your cooler is full of fish or your hamstrings have cried uncle, slide into the Olympic-size campground pool via The Moccasin, a 70-foot water slide, or the smaller log slide at the shallow end. There's also a swimming area just for smaller children, the Pollywog Pond, which has its own slide, too. All of these water features are open for the summer season from Memorial Day to Labor Day, and can be rented after-hours for special events.
"In nature but with a great pool! Large, flat and level spots were great. The pool here is amazing and it's a designated star watching area and they even "rent" (no charge!) telescopes from the very nice Visitor's Center!" —The Dyrt camper Carrie A.
At the far edge of Western North Carolina, Morrow Mountain is a lovely blend of the mountain culture you find in the thick of the Smoky Mountains and the mellow Piedmont of the central Carolinas. The park is home to the Yadkin-Pee Dee River, one of central North Carolina's largest river systems, as well as Lake Tillery, a popular spot for boating. Perhaps the park's most stunning feature, however, is a hidden one— the very Uwharrie Mountains on which Morrow Mountain State Park is perched.
Thousands and thousands of years ago, the Uwharrie Mountains were as tall as Denali and Mt St Elias, reaching close to 20,000 feet. They didn't overlook the Piedmont plains, either, but instead loomed over the ocean at a time when the North Carolina coastline sat a good three hundred miles west of where it is today.
Since their heyday, however, the Uwharrie have eroded down to a humbler height, but they're still dotted with history. From the old mines leftover from the first gold rush in the United States in the 1700s to the reconstructed Kron house, which celebrates a pioneer physician who worked in the area in the 1800s, there's as much to learn about near Morrow Mountain as there are trails to tackle. There's also all the modern comforts, too, like bathrooms and showers, not to mention that this is one of North Carolina's finest campgrounds with pools.
"The facilities and activities at Morrow Mountain are awesome – a huge, clean pool; canoe rental from a well-maintained boathouse; hikes of various lengths; slightly aged but clean and cared for bath houses; and (our favorite) a gorgeous mountain top picnic shelter, which we rented due to a rainy forecast. Great place for family camping." —The Dyrt camper Sarah G.
In the late 1930s, two new state parks were built side by side on the shores of Chickamauga Lake, a brand new body of water created when TVA dammed the Tennessee River to protect Chattanooga from routine floods that kept threatening its booming downtown. If it seems curious to have two distinct state parks right next to one another, there's a simple reason rooted in the complex history of the American South.
Constructed by the Civilian Conservation Corps, Harrison Bay State Park and its downstream neighbor Booker T. Washington State Park were originally racially segregated. Even the CCC units that built the parks were divided by race. Long past those days, these campgrounds with pools have slightly different amenities that give visitors a lot to look forward to. Especially since the parks have essentially blended together, meaning there are not one but two campgrounds with pools close to the lake.
Harrison Bay also boasts a robust marina, an on-site restaurant, an 18-hole golf course designed by Jack Nicklaus, rentals for canoes, kayaks, and SUPs, and, of course, an Olympic-size pool. You can drive in or boat in, and either approach broadens your dining options to include the nearby Amigos Mexican Restaurant and Lake Shore Grille. It's easy to work up an appetite, too, with hiking trails that snake out to small islands, shoreline mountain biking along the Bay Point Loop, fishing, birding, and more. Pack some snacks and soft drinks in your rolling cooler with wheels— after all, you're in the first city in the country to have a Coca Cola bottling plant.
"One of the best amenities for our kids is the Olympic size swimming pool. After the kids have enjoyed fishing and biking they spend the rest of the day playing & splashing. We really enjoy [it] because a lot of campgrounds do not offer a pool & we take full advantage." —The Dyrt camper Susan S.
Floridians are no strangers to campgrounds with pools —after all, the state's average annual low temperature hovers around the mid fifties. That said, some swimming pools are more magnificent than others, like the one at Juniper Springs Campground. This campground offers some welcome shade, and a variety of other ways to cool off, too.
Ocala National Forest is dotted with lakes, swimming holes, canoe trails, an ATV network, and hiking trails past ancient sinkholes. The forest is home to three first-magnitude springs, which means a spring where at least 100 cubic feet of water bubbles up from the ground per second.
You'll definitely get a lot of use out of your snorkel in this neck of the woods, as well as your canoe.
Don't fret if you don't have a water craft, as Juniper Springs does offer rental canoes, as well as a convenience store where you can buy camping and beach supplies. And while this is technically a natural spring, it's so nicely done up with concrete decking, we'll let it count as a campground with a swimming pool. After all, what's better when you're camping than the right blend of mother nature and human ingenuity?
"The springs/swimming area is really beautiful! Huge with room for lots of people, deep diving areas, shallows children's areas. It's really great. And cold, it's around 72 all year, so if its hot SWIM!" —The Dyrt camper Zanny M.
---
This post is brought to you by RovR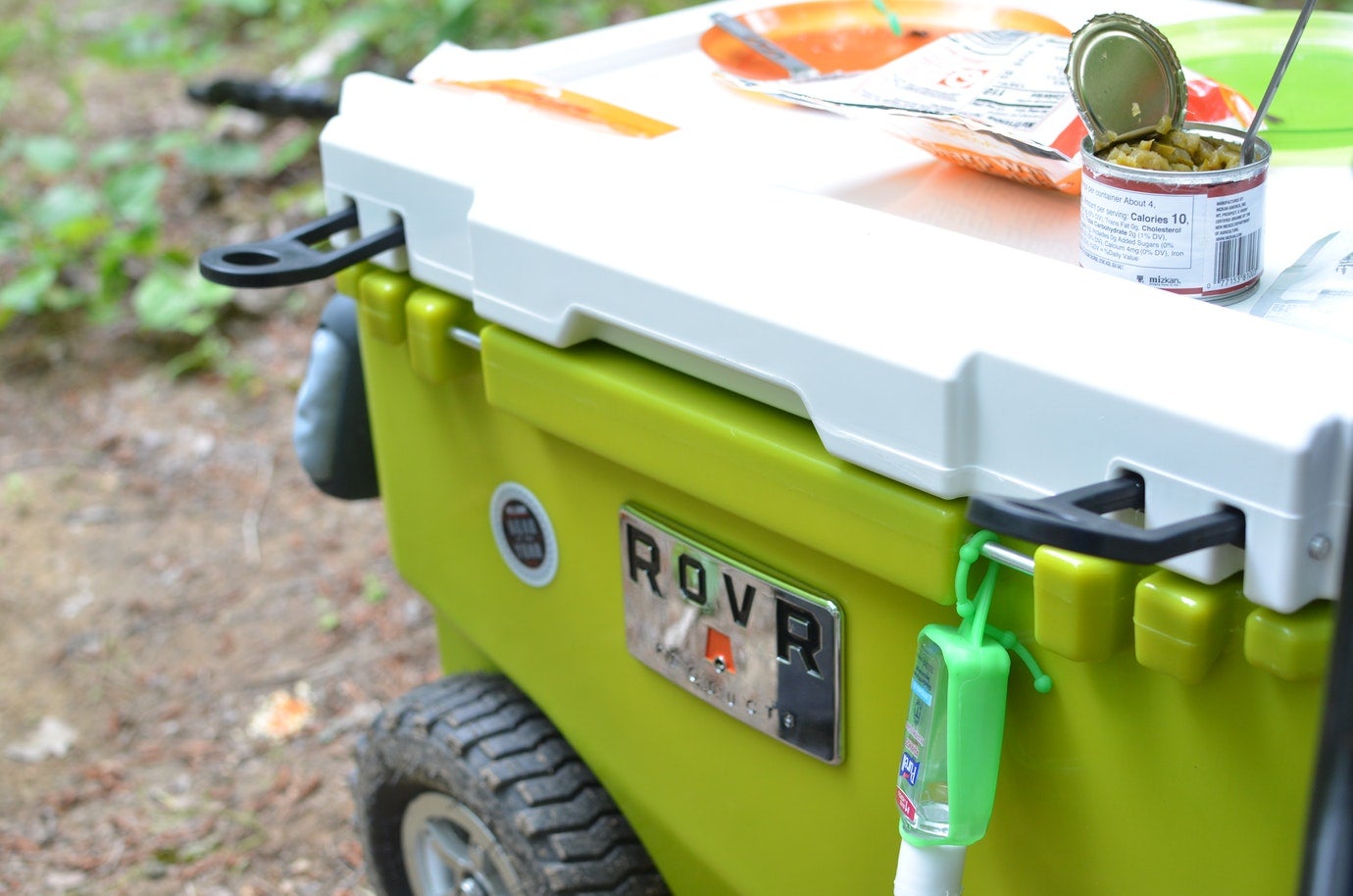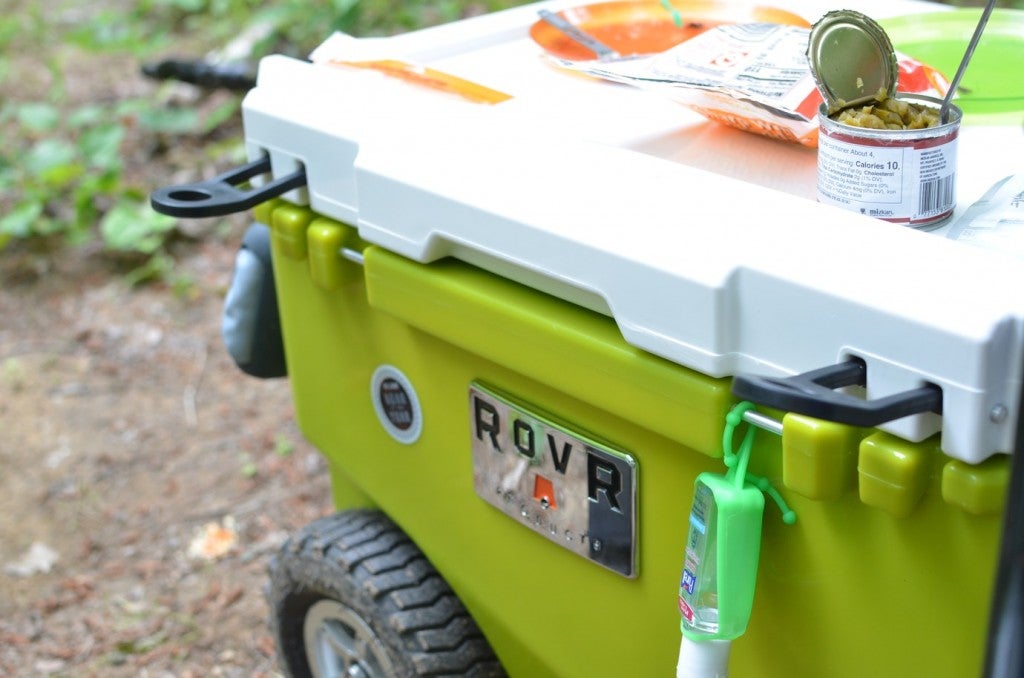 RovR's ice cooler on wheels is the answer to all of your summer cooling needs. Bring one along on your next camping trip to these campgrounds with pools!
---
Related Campgrounds:
Popular Articles:
[UPDATED] Camping Closures in State Parks & National Parks Across the U.S. Due to COVID-19
Best Travel Trailer Accessories of 2020