Tips for hiking The Narrows comes from our friends at Body Glove. Hiking soon? Don't forget to pick up a trusty pair of water shoes before you go!
---
In Zion National Park, the Virgin River continues to slowly whittle away the sandstone walls of Zion Canyon. The hike passes through this canyon, The Narrows. It is by far one of the most popular excursions in all of Utah's National Parks.
The hike can start at either the base or mouth of the canyon, and has various options that are suitable for all types of hikers. But there's a lot to consider for this hike–unlike most desert hikes where water is rare, in The Narrows, hikers will wade through the Virgin River, leaving them with some things to keep in mind before embarking on the trail. We have included a few things you should think over below.
Prime Time for Hiking the Narrows
Generally The Narrows hike is closed from March until May (sometimes even until July), depending on winter runoff. If the surrounding foothills and plateau's experience a snowfall-heavy winter, runoff into the Virgin River can reach critical, and often deadly, levels.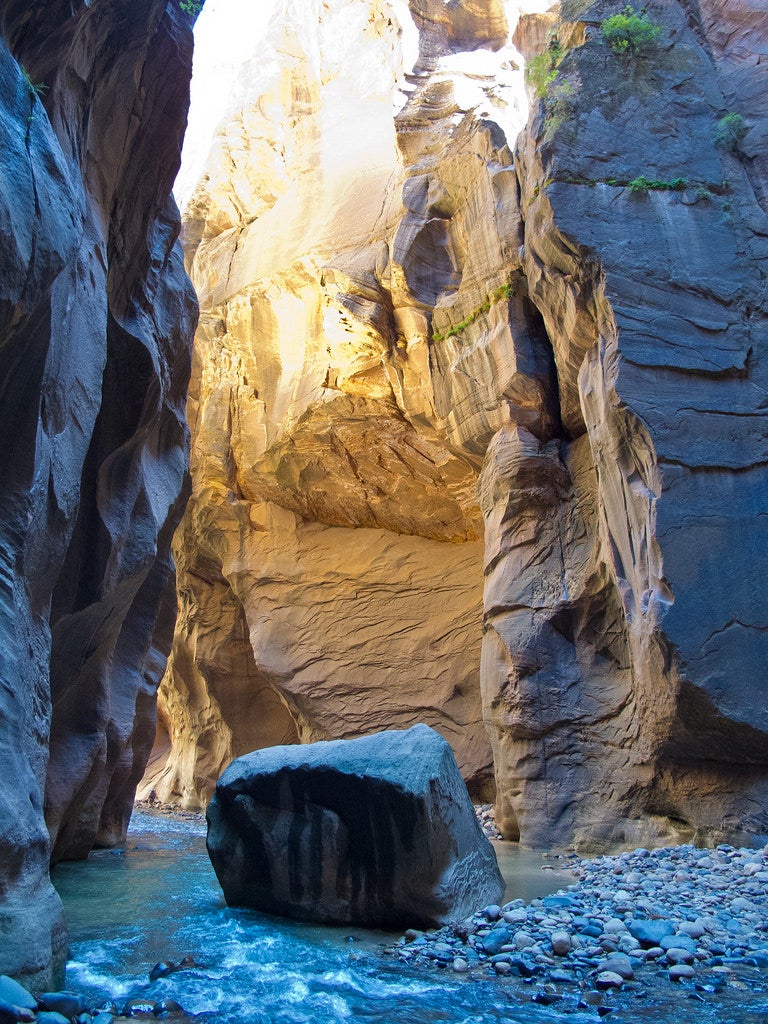 Ask the ranger station about current water levels. Typically, the hike is more enjoyable when cfs (cubic feet per second) levels are around 50. Once cfs levels hit 70, hikers need to withstand a current reaching their knees or waist. At 150 cfs, Park Rangers shut down access to the canyon.
For the best experience, plan on hiking The Narrows in late summer or early fall when the air and water temperatures are the most manageable.

Choosing the Best Hiking Options
There are three options for hiking The Narrows:
Bottom Up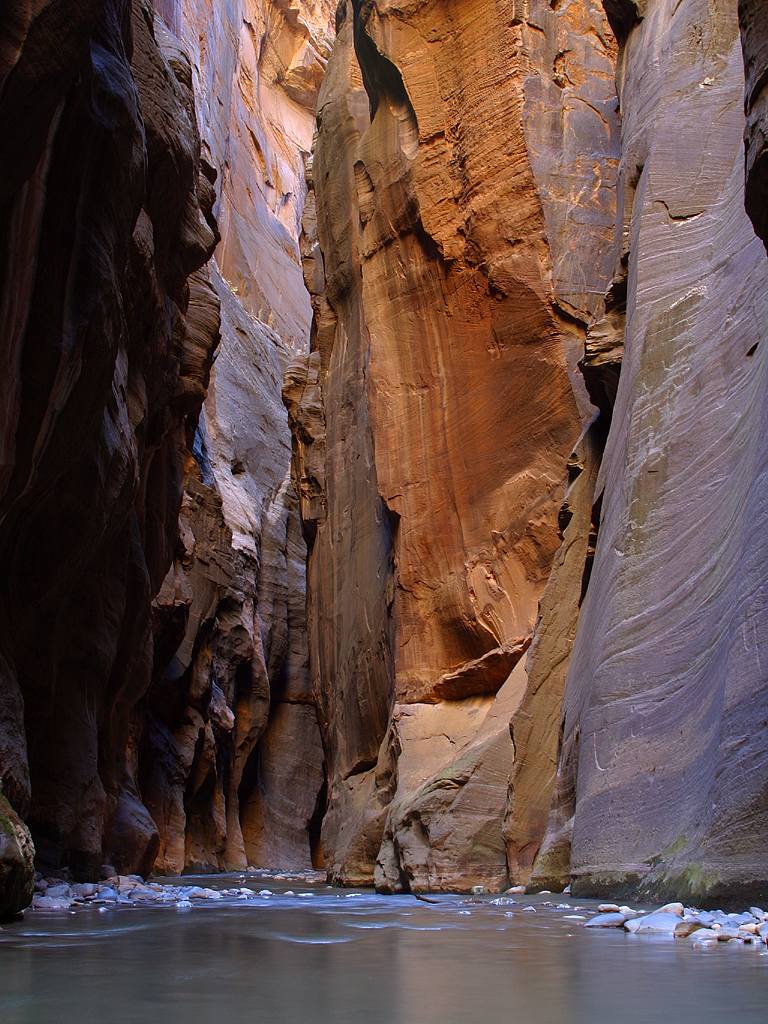 Bottom up is the most popular way to experience The Narrows. Take the shuttle to The Temple of Sinawava and walk one mile up the Riverside Walk until you come to the mouth of the canyon. Hikers can choose to hike as far up as they'd like. Many turn around at Orderville Canyon, which is approximately 2.5 miles upstream.
---
Prepare for your next adventure by downloading maps. The Dyrt PRO lets you download maps and campgrounds without cell service. "My alternative to using pro would be to drive back out to cell service".
---
Top Down in One Day
Hikers can choose to hike The Narrows top down in one day. This hike requires a hiking permit from the Ranger Station, and begins at Chamberlain Ranch. Hikers should arrange a shuttle ahead of time as the ranch sits about an hour and a half away from the park. The trek through The Narrows from the top down is 16 miles one way and requires a head lamp in case hikers are out past dark.
Top Down Overnight
The Narrows can also be done as a one-night backpacking trip. Like the top down one day hike, backpacking The Narrows starts at Chamberlain Ranch (where there are twelve campsites), and requires an overnight permit. This option is preferred by many to avoid an early drive to Chamberlain and a long day of hiking to follow.
Choosing the Best Hiking Outfit
Wading through the Virgin River is what makes The Narrows hike so unique. You will encounter water, and if you are prepared for that it is a lot of fun. Hikers should consider wearing clothing that wicks well and won't cling if water levels are higher than expected. Many outfitters in Springdale offer canyoneering packages for hiking The Narrows, however, unless you're hiking during the winter, foot protection (like Dynamo Water Shoes from Body Glove) work the best for navigating the river bed.
Neoprene socks also come recommended for hikers who choose to wear socks with their water shoes. Walking sticks are free and available at the trailhead, but sometimes can be picked through by midday, so bring your own just in case. Take a drybag to keep your valuables safe, and a headlamp, just in case the hike takes longer than expected (especially the top-down day hike).
Securing Permits for The Narrows
Only hikers wishing to hike The Narrows from the top down require a permit. The permit system is entirely online and opens three months ahead on the 5th day at 10am MST. For example: June reservations open March 5th at 10am.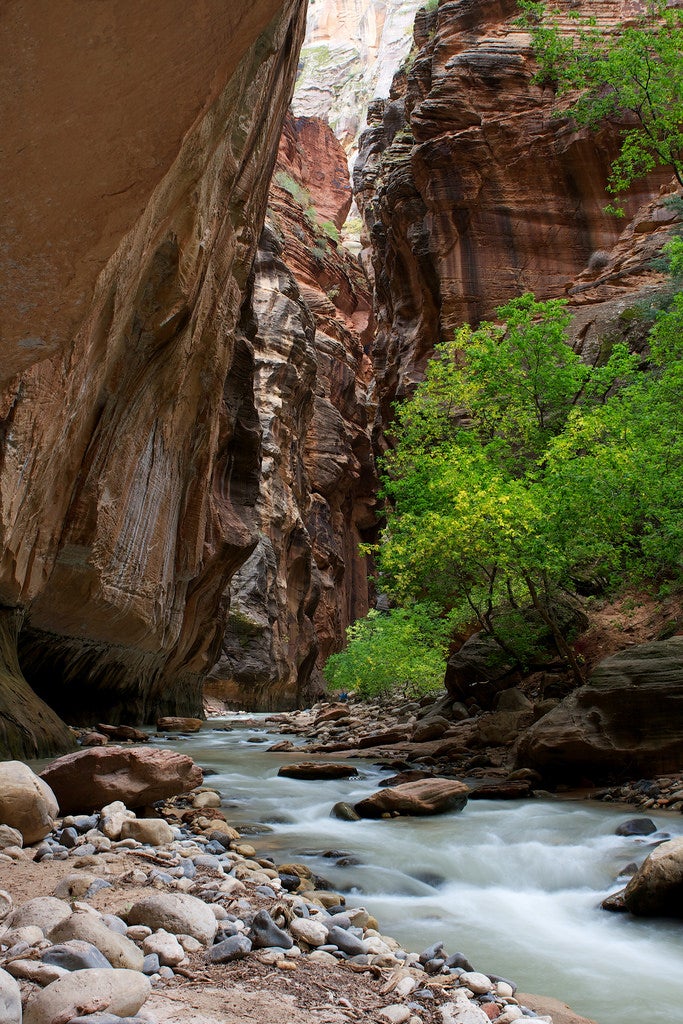 For those unable to reserve their preferred hiking date, Zion National Park also holds a last minute drawing for hikes starting in 2-7 days. Permits are $15 for 1-2 people, $20 for 2-7 people, and $25 for 8-12 people.
Beware of the Flash Flood Warning
Flash floods are one of the greatest dangers in Zion National Park. Though most occur in early spring from a combination of rainfall and mountain runoff, flash floods can also occur during the summer months from rainstorms across the region. Within minutes water levels can rise and become a real danger to hikers.
If flash floods are in the forecast when you're hiking The Narrows, Rangers will shut down access to Zion Canyon. Hikers can also check current conditions on the Zion National Park website.
Stay awhile at these campgrounds in Zion National Park.
---
You can win free gear from Body Glove and 19 other brands by reviewing campgrounds on The Dyrt. Share past camping experiences, photos, and videos to earn points towards monthly prizes in The 2018 Great Camping Giveaway!
Popular Articles: