Idaho hot springs are a lovely way to enjoy the outdoors. But we must show them love in return. 
---
Moonlight reflects off the creek and steam rises around our faces. Besides the sound of water flowing, the night is silent. The Milky Way stretches overhead above the scruffy silhouetted ponderosa pines. My friends and I are soaking in one of our favorite Idaho hot springs, but only locals know how to find this particular creekside soak.
Lucky for us, we have this pool to ourselves tonight. Previous guests left empty beer cans on the edge of the stone pool, but we will hike them out with us when we leave. For now, all we're concerned with is enjoying the blissful warmth that wraps itself around us and a big starry sky.
Idaho Hot Springs: What to Know Before You Go
Idaho is located over the same geologic hot spot that fuels the geysers of Yellowstone National Park. There are 340 hot springs throughout the Gem State, and 130 of those are "soakable"—the most of any state. Native Americans throughout Idaho have long revered mineral springs as sacred healing places, and the hot springs remain places of historical and cultural tribal importance.
Idaho hot springs can be categorized in two ways: public and private. The public springs are somewhat rustic, usually free, but not maintained by any entity beyond its users. Stewardship and respectful use is very important when visiting public hot springs.
Private or commercial hot springs are located on private land, typically have been modified or upgraded in some way (like having full pools or bath houses), and a fee is usually required. They're generally well-kept, easy to access, safe, clean, and they can be less crowded, thanks to the entry fee. Some private springs also offer on-site camping or accommodation, along with other amenities like showers and stores.
How to Pack and Prep for your Idaho Hot Springs Trip
Pack a swimsuit and bring your own towel. If you're going to a riverside spring or more primitive pool, bring water-friendly shoes to wear until you're soaking (and during, if you feel like it) because the rocks can be slippery!

Summer is the most popular season to visit hot springs in Idaho, so be mindful of overcrowding (at public springs especially). If you do run into a crowd, be respectful about sharing the place with other visitors.
All the hot springs will be busiest on weekends (particularly in July) and holidays throughout summer months. The crowds also impact camping. Many of the popular Idaho campgrounds book out weeks (or months) in advance, so plan accordingly.
If you're looking for more solitude, opt for weekdays and try for early morning soaks. Seasonally, the early fall is a great time to plan a trip with less likelihood of crowds. Even as the weather begins to cool, the springs will stay nice and toasty. Many of the springs are great to visit in winter too—although camping might not be ideal during the coldest months.
11 Hot Springs in Idaho with Camping Nearby
Before your Idaho hot springs trip, brush up on Leave No Trace principles. It'll be helpful both for camping and hot spring adventures, no matter which one(s) you choose to visit.
1. Kirkham Hot Springs
Location: Off Highway 55 between Lowman and Grandjean
Type: Public
Hot Springs Fee: $5 day use fee for parking (included if you're camping at Kirkham Campground)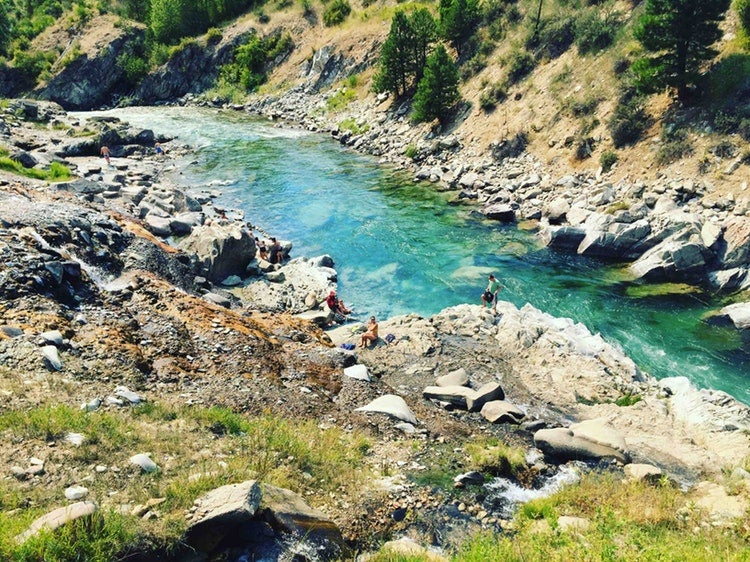 Overlooking the Payette River, Kirkham might be Idaho's most well-known spring. Because of the popularity of both the springs and the Kirkham campground, these geothermal pools can be busy in high season (summer). Prepare to engage with other soakers, because the pools are somewhat cozy. With that said, their popularity is well garnered because of the waterfalls and open view of the river and surrounding hills.
Hot water cascades over the rocky hillside into rock-walled pools. At the bottom of a wooden staircase there are numerous pools of varying temperature that flow into the cool water of the Payette.
Shoes are recommended here! Regular hot springs hours are from 6:00am to 10:00pm and are closed at night. Pit toilets and picnic tables are available on site.
Kirkham Campground is right at the hot springs and is open during the summer months each year. There are several single-family sites ($15/night) and one double site ($30/night) and vault toilets, drinking water, and trash collection is included. Sites can be booked online up to six months in advance.
2. Gold Fork Hot Springs
Location: Donnelly
Type: Private
Hot Springs Fee: $10/adult $5/children ages 2-9, Cash Only
At the end of a potholed dirt road, Gold Fork is like a spa oasis. The water is luxuriously soft from its mineral quality and high alkalinity—making it great for the skin and body.
There are six pools with gradually decreasing temperatures. One of the pools has a sand bottom, which is good for kids. It's a good mix between rustic and developed. The upper pool is built into the rocky side of a hill, and the other pools are built of cement and smooth river rock.
There is natural wooden decking between the pools, and the changing rooms and other amenities are run out of canvas-sided yurts.
While there is no on-site camping at Gold Fork, there is nearby camping in the National Forests. Rapid Creek Camping Area and Paddy Flat Guard Station are in Payette National Forest. You can also camp in Boise National Forest at Amanita Campground and Rainbow Point Campground.
3. Burgdorf Hot Springs
Location: Payette National Forest north of McCall
Type: Private
Hot Springs Fee: Day use $10/adult $5/children under 12. On-site overnight cabins are $40 with swimming included.
Burgdorf Hot Springs is called a "rustic resort" meaning it's been developed, but it's still pretty primitive and has an old west vibe to it. While they have 15 cabins on site, their mineral-fed hot pools are open to day-use guests as well. Their large swimming pool remains at a balmy 100°F year-round and two smaller box baths hover around 113°F.
Burgdorf was first established as we know it in 1870, so visiting this Idaho favorite is like stepping back in time. Some of the log buildings are well over 100 years old, and the lodge is home to an old piano. In winter months, Burgdorf is only accessible by snowmobile.
Tent campers can try Burgdorf Campground, though there are only five sites with water available and you'll need to pack out your trash. Upper Payette Lake Campground is 19 miles north of McCall, and has 10 RV or tent sites and two group sites. Campers can access the lake for fishing and canoeing, or walk along the paved trails.
4. Mountain Village Resort Hot Spring
Location: Stanley
Type: Private/Commercial
Hot Springs Fee: $27 per hour for 8 people (free for Mountain Village Resort guests)
Right off the bank of the Valley Creek, yet still within Stanley city limits, this spring has arguably the best view of any Idaho hot springs, anywhere. This pool is owned and operated by the Mountain Village Resort and works on a reservation system. That means it takes a little more planning, but you'll end up with a whole hour of uninterrupted zen. The pool itself is an in-ground cement pool with ledge benches and a sandy bottom, located inside a wood-walled cabin with changing rooms.
There is camping on site at the Mountain Village RV Park, which has six RV sites with full hook-ups and 10 tent sites. Alternatively, there are several other camping options close to the city of Stanley. Sunny Gulch Campground is four miles south on Highway 75, with several campsites between the road and the Salmon River. Stanley rv + camp (formerly Elk Mountain RV) is just east of town and there are also multiple campgrounds at Redfish Lake.
5. Sunbeam Hot Springs
Location: Off Highway 75 between Lower Stanley and Challis
Type: Public
Hot Springs Fee: free
This is one of the more primitive springs, but it's easy to access and includes a historic stone bathhouse that the CCC built in 1937. The bath house used to contain pools and tubs, but the soaking here now is done in river pools.
There is a walkway that leads down to the banks of the Salmon River where a pipe of steaming water flows through rock pools and mixes with cold river water. The pools are simple, movable, user-created soaking spots made of river rock and gravel, which means you can adjust your own temperature flow.
Note: these hot springs aren't usable in springtime when the river flow is high. The river is usually low enough by late June that the pools are exposed again.
There are several campgrounds in the Sunbeam/Yankee Fork area, although none right at the hot springs because the valley is so narrow. Check out Mormon Bend or the Salmon River Campground.
6. Easley Hot Springs
Location: Off Highway 75 between Stanley and Ketchum
Type: Private
Hot Springs Fee: $8 adults, $7 children under 15
Easley Hot Springs is a family-friendly, full-sized swimming pool, with two smaller warmer tubs. It's been in business for over 80 years, with a few upgrades over the years, of course. There is a lodge and store at the pools, and the multi-tiered deck has a nice view of Boulder Mountain.
There are also several camping options at and around Easley, and this wooded river valley is a beautiful and peaceful place to be. Easley is open during the summer months only, from Memorial to Labor Day.
This is one of the cooler hot springs in Idaho, which is perfect for kids or other swimmers who don't like to overheat. Some people complain that the water isn't hot enough, but forget that it's flowing straight from the ground. It's pretty marvellous that a pool can be totally chemical-free and 85°F, just because a warm spring is bubbling up from the depths of the earth. The smaller pools uphill from the large swimming pool are also warmer, closer to 100°F.
Easley Campground is a less than 1/4th of a mile from the lodge and pools, and Wood River and Prairie Creek Campgrounds are a short driving distance away.
7. Lava Hot Springs Mineral Pools
Location: Lava Hot Springs
Type: Private
Hot Springs Fee: $6 adults Monday-Thursday, $8 adults Friday-Sunday and Holidays, varied lower prices for children and there are also different family group rates
The mineral pools of Lava Hot Springs are notable Idaho hot springs because they don't have sulfur, and therefore don't have the rotten egg smell that many springs normally do. A whole town was built around these healing waters. And because of that, the mineral pools are developed, beautifully maintained, and right off of Main Street in the small town of Lava Hot Springs, in a bend of the Portneuf River.
This is probably the least rustic/natural of the Idaho hot springs on this list, but the water quality is exceptional and the pools are large enough that there is always room for everyone. There are five outdoor gravel or rock bottomed pools with a natural water temperature ranging from 102° to 112°F—open all year.
There are two KOAs in close proximity to each other: Lava Hotsprings KOA and Lava Hot Springs/City Centre KOA. Both have RV and tent sites, along with amenities like wifi, a camp kitchen, and firewood. Portneuf Bend Campground and Lava Campground are on the edge of town, but still within walking distance from the hot springs, while Mary's Place Campground is quiet but closer to town.
8. Zim's / Chinook Meadows Hot Springs
Location: New Meadows
Type: Private
Disclaimer: this hot spring is currently closed while transitioning to new ownership. However, this location has long been an Idaho staple, so it's worth mentioning and flagging for future camping trips.
Hot Springs Fee: TBD
These hot springs are located within the Nez Perce aboriginal lands and have historical tribal importance. In March 2019 the Nez Perce tribe purchased the property from the Dixon family, who operated Zim's since 1976.
It features two outdoor pools fed by natural mineral water that are cooled by the waters of the Little Salmon River. The pools have typically been open year-round, with relatively easy access off of Highway 75. It'll be interesting to see how the Nez Perce Tribe utilizes and updates this significant location.
The property features a lodge, RV park, and campsites. There are additional camping options near the towns of New Meadows and McCall, including dispersed camping at Smokey Boulder Camping Area or Brundage Reservoir, and Last Chance Campground in Payette National Forest.
9. Challis Hot Springs
Location: Challis
Type: Private
Hot Springs Fee: $10 adult day use, included with camping
Located in the Salmon River Valley, Challis Hot Springs is a 5th generation family-owned campground with hot mineral spring-fed hot pools. This is an all-in-one hot springs camping destination with RV and tent camping on site, plus nearby hiking, fishing, kayaking, and river rafting. The landscape in this part of the state is wide open, with rocky bare hills, and these pools mirror that clean simplicity.
Both pools are gravel-bottomed and constantly filling with fresh, natural mineral water. The temperature of the large pool is between 100 and 102°F, and the therapy springs pool is slightly smaller but hotter, between 105 and 107°F.
You can camp on site at Challis Hot Springs Campground and RV Park, which has 13 tent sites ($27/night) and 33 pull-through or back-up RV sites ($38/night). Water and electric is included with all RV sites. The campground has boat access to the river, ATV trails, free wifi at the office, and a pump house for drinking water.
10. The Springs in Idaho City
Location: Idaho City
Type: Private
Hot Springs Fee: $17/adult $11/children day passes
The Springs in Idaho City are an indulgence of a camping trip. The lodge feels swanky since this operates like a spa resort. It is pricier than other locations on our list of Idaho hot springs, but it's also pretty luxe. Included with your day pass is access to locker rooms, steam room, showers with provided spa toiletries, complimentary tea or coffee, and a plush spa towel to dry off after your relaxing dip.
The Springs operate on a reservation system to prevent overcrowding. Reservations are mandatory on weekends and recommended during the week, but you can still try drop-in if it's off-season or a weekday. They're open year-round but closed on Tuesdays for cleaning.
There is one huge soaking pool and a smaller (but still pretty large) hot tub, both with a stunning view of Boise National Forest. There are also four private pools that can be rented by the hour; if you get hungry or thirsty, there's a cafe and bar that serves craft beer and wine poolside.
While there is no on-site camping, you'll find stellar National Forest camping in the Boise National Forest. Try the recently re-opened Greyback Gulch, or Bad Bear Campground. Idaho City also has scattered yurts operated by Boise Parks & Rec that offer off-grid bliss. So even if your hot springs experience isn't very "wild," your camping experience can be.
11. Sawtooth Lodge at Grandjean Hot Springs
Location: Grandjean, between Lowman and Stanley accessed off Highway 21
Type: Private
Hot Springs Fee: Day use: $10/adult, $5/children under 12.
The Sawtooth Lodge at Grandjean has a long history, and recently changed ownership. This spot is the total package for summer camping. The lodge built for these popular Idaho hot springs features a 104°F geothermal heated pool, lots of campsites, hiking trails, horseback riding, cute log cabins you can rent—all located on the west side of the Sawtooth peaks, in the shadow of massive ponderosa pines.
Rumor has it there are natural hot springs somewhere on the property, but you'll have to ask at the lodge for directions to find them…otherwise, enjoy the natural heat of the geothermal pool and soak up the view of the craggy Sawtooths.
There are two tent campgrounds on site—Upper Meadow and Lower Meadow—in addition to an RV park. All have access to toilets and showers, trails, and the lodge. There are also ten log cabins for rent of varying size.
The Importance of Leave No Trace at Idaho Hot Springs
Social media has made finding many of the once-secret hot springs easier, but the surge of visitors can also cause overcrowding. Not only do larger crowds make for less-enjoyable visits, but they also put a strain on the springs and their surrounding environments.
Hot springs in Idaho (and elsewhere) are fragile environments. Natural geothermal pools are home to a delicate balance of minerals and underwater flora, and more importantly, they are connected to the watershed. Overuse can affect water chemistry, surrounding wildlife, and whatever is downstream.
Disrespectful practices like litter and vandalism led to the permanent closure of one of Idaho's famous hot springs near Banks called Skinnydipper.
It's important to remember that while private pools are maintained by staff, public hot springs are kept up by their users. So, we must all care for these places together.
 Hot Springs Etiquette
To be a responsible hot springs visitor (anywhere, public or private) do things like:
Avoid using soap. Yes, you're technically "bathing" but the spring and the bodies of water downstream can't handle those suds—even the biodegradable kind.
Stay on trails or designated walkways.
Follow posted instructions about showering before soaking/swimming.
Be respectful of other people. You might love a loud and rowdy hot spring adventure, but respect visitors who are there for a quiet, relaxing soak. Respect for other people also includes wearing a bathing suit. Clothing-optional hot springs do exist, but they are not the default.
Pack out what you pack in.
Leave it better than you found it. Maybe this means bringing a bag with you to pack out any litter you find from previous not-so-respectful soakers, cleaning up any residual litter or mess, turning off (or on) faucets for warm water flow, or draining a tub when you're done. Use your best judgment!
And if you do venture off the beaten path to find hot springs not on this list, consider keeping your discovery to yourself. Some of these hot springs are heavily-guarded secrets, after all. While social media and other online posts can increase access and help us find new places to explore, it's always a double-edged sword of sharing the love for places, and also dealing with the impacts of overuse.
---
Related Campgrounds:
---
Related Campgrounds:
Popular Articles: