This article was brought to you by Eclipse Glove, the makers of sun protection sleeves that keep you safe from the sun's rays, whether you're in one of the sunniest places in the U.S. or elsewhere.
---
More Americans are catching on to what snowbird RVers have known for a long time: The southern third of the country—the Sun Belt—is the place to be. With bright skies, warm temperatures, and mild winters, it's hard to argue against camping in the sunniest places in the U.S., where it's almost always outdoor season.
There's just one catch—chasing the sunshine, whether on a quick backpacking trip or a cross-country move, does mean increasing your likelihood of UV exposure. So stock up on some oxybenzone-free sunscreen, slip on your sun protection sleeves, and hit the road to camp in these sunniest places in America.
11 Sun-sational Campgrounds in the Sunniest Places Around America
If you want to catch some rays, you won't be lacking at Tierra Del Sol, a pretty little campground equidistant between Big Bend National Park and Big Bend Ranch State Park.
Tierra Del Sol literally translates to "land of the sun," which describes exactly what you'll get here. It's a primitive campground on private land, with few amenities other than the sun-drenched desert, so pack in plenty of water and sunscreen. For just $20 a night, you'll also get access to a stellar planetarium, courtesy of the very dark skies in this corner of Texas.
"It's 3 miles off Hwy 118 and 20 miles to the entrance to Big Bend NP. Very remote, but easy drive to sites. Totally open desert with no one else around and in the official dark sky country, so expect amazing stars at night." — The Dyrt camper Paul F.
It's no surprise that Florida tops the list of sunniest places in the U.S.—it's called the Sunshine State for a reason. You'll find a pleasant mixture of sun and shade at Suwannee River Hideaway, thanks to beautiful boardwalks that wind their way through the wetlands near the Gulf Coast. It's also near the Nature Coast State Trail, a rail-to-trail conversion running across 32 miles of Florida's most scenic countryside.

In addition to primitive tent sites and RV sites with 30 and 50 amp hookups, as well as pull-through sites, Suwannee River has a pool, WiFi hotspot, camp store, and club house. The real standout, however, is all-natural, locally-grown, grain-fed beef at affordable prices. And with rates for sites starting at $26 a night, you may even have cash left over for a New York Strip or T-Bone.
In the spring of 2019, a Mobile County woman saw an ultra-rare yellow cardinal at one of her birdfeeders, and named him "Mr. Sunshine"—an appropriate name in a state that gets over two hundred sunny days per year.
Take in that sunshine at Alabama Coast, where moss-draped live oaks shade the campground's acre-wide Savanna Square green. Laze on lawn chairs around the sandbox while the little ones build sand castles, or let your pup run wild at the dog park. There are also grills, picnic tables, shady hiking trails, and free WiFi for digital nomads. Not bad for sites from just $26 a night!
California's Agua Caliente is a warm, glowing oasis in the midst of the beautiful Anza-Borego Desert. Not only is it located in San Diego County, which is one of the sunniest places in the U.S. year-round, you have access to the natural mineral springs that give this campground its name.
Enjoy the indoor, adults-only pool, as well as two kid-friendly pools outside, one of which is shallow enough for your littlest campers. There are tent and RV sites, including some with hookups, as well as a general store and games like horseshoes. This is a large campground that gets busy, especially when school is out.
"Great hikes, shorter in length but plenty challenging and gorgeous views. No cell service so you really get to unwind. Cute general store onsite for necessities but no more propane fills, closest is 30 Miles away- plan ahead. Well staffed and sparkling clean restrooms/showers." — The Dyrt camper Lindy C.
Pima County Gilbert Ray Campground is right in the Arizona Sun Corridor, near Saguaro National Park. With 125 RV sites and 15 tent sites there's room to spread out. You'll find fresh water, hookups, and friendly camp hosts to make your stay easier in one of the sunniest places in America. Just show up early to get your pick of sites—this campground is understandably quite popular with sunseekers and hikers.
Cyclists, bring your bikes, because the Arizona Sun Corridor Trail is now complete, stretching for 1,400 miles from Las Vegas to Douglas, Arizona.
"Very quiet and peaceful. Most sites have tables and are close to water and restrooms. The restrooms were very clean. Heads up there are no showers at this campground. I felt very safe there and actually left my campsite unattended for about 10-12 hours and not a thing was out of place." — The Dyrt camper Cody B.
Louisiana doesn't have quite the snowbird and sun worshipper reputation as, say, Arizona and Florida. That said, Louisiana does score high on annual days of sunshine per year, which you can enjoy while fishing and sunbathing on the beaches of Cypermort Point State Park.
These man-made beaches and fishing piers give you access to Louisiana's section of the Gulf. Unusual in that there are cabins available, but no tent or RV sites, it's easy to get comfortable here. Two of the cabins are ADA-accessible, and all come equipped with basics like cookware, cooking utensils, dinnerware, silverware, towels and linens. All you need to do is bring personal items like food, fishing tackle, clothes, and a swimsuit.
"We loved this park. There are 3 swimming beach areas and bathrooms with outside showers to wash the salt water and sand off. There are picnic tables, grills, covered areas, lots of trash cans throughout the park. There is a separate sailboat launch area and an overflow area for fishing. Remember sunscreen, bug spray, camera, and…have fun, you're playing in the Gulf of Mexico!" — The Dyrt camper Paula W.
The Peach State ranks among the sunniest places in the U.S. with sunshine beaming for 217 days per year. Head southwest of Hotlanta to Sweetwater Creek State Park, popular with hikers, bikers, kayakers, and anyone looking to unwind.
With tent sites, RV sites, yurts, and several camping areas, there really is a little something for everyone here. Sweetwater Creek—yes, the one that inspired the name of Atlanta's favorite brewery—is fantastic for paddlers, with kayak and canoe rentals available on site. If you prefer to enjoy the water from the shore, fifteen miles of hiking trails loop around the creek banks. There's even the ruins of an old mill that appeal to photographers and fans of decaying destinations.
"The campgrounds are nice and across the road from the park through you can also take other trails from there that go down and around the reservoir. The amenities are nice and the whole park is well taken care of. I would highly suggest staying the night since it is such a short trek from the Atlanta area." — The Dyrt camper Asher K.
Arizona has pride of place on a list of the sunniest places in America. Not only that, Yuma County is one of the sunniest in the whole state, racking up 4,000 sunlight hours per year, according to the World Meteorological Society.
Cool off at Mittry Lake with a swim, paddle, or turn by motorboat. This is a dispersed BLM campground that's pretty primitive, but popular for SUPs, kayaks, and fishing boats. You'll find a launch and trash collection, but RVers will need to boondock, and tent campers might want to consider a pop-up shade to protect from the sun and mosquitoes.
"There are lots of birds! Also a few trails around the area through rocky hills. I thoroughly enjoyed my time staying here, and it was just a few minutes from town. It is just far enough outside of town to not have cell service. There are well maintained facilities. My dog loved getting to swim everyday! Overall I can't recommend this place enough. I loved it and the convenience of it." — The Dyrt camper Becca H.
Arkansas may not be the place that leaps to mind when you think of the sunniest places in the U.S., but the Ozarks get sunshine up to 72% of the year. Take advantage of the sun at Maumelle Campground, a lakefront spot excellent for backpackers, hikers, boaters, and anglers.
Just two miles from Pinnacle Mountain State Park, you'll find everything from paved trails to the epic, multi-state Ouachita National Hiking Trail. Pinnacle Mountain is also home to some fun, challenging mountain bike trails like the twisty, turny Jackfork Trail. For beginning mountain bikers, start at Rabbit Ridge and connect to Jackfork if you decide you're ready for greater difficulty.
At Maumelle Campground itself, you'll find tent sites, electric hookups, a dump station, full hookup RV sites, hot showers, a boat launch, several day-use pavilions, a playground, and basketball courts. Despite being a large campground close to Little Rock, the sites are spacious, and it doesn't feel too hemmed in.
"This really is a very nice place to camp! It is well maintained and operated and is in a great location being near Little Rock. Caters well to the big RVers. Well shaded and several sites right near the water's edge." — The Dyrt camper John C.
With 236 days of sunshine a year, Red Rock Canyon Adventure Park definitely sees more UVA and UVB than the national average. Once a state park, Oklahoma decommissioned Red Rock Canyon due to budget cuts. Fortunately, it launched a new chapter as the privately-run Red Rock Canyon Adventure Park.
True to its name, this is a popular place for activities like rappelling, hiking, and fishing, with extra niceties like being a campground with a swimming pool. There are three campgrounds in the park: Canyon Campground, California Road Campground, and Walnut Grove Campground.
Tent sites are available with or without fire rings; RV sites can all have water and electric, some have sewer. Pay hot showers are available in Canyon and California Road, and there's a dump station at Canyon.
"New management of the park has lots of plans. Cleaning this already great park, adding mountain bike trails to go along with the hiking trails. Has a small fishing pond for kids, swimming pool open during the summer months. When you drop down into this park you are in another world just beautiful and serene." — The Dyrt camper Rick T.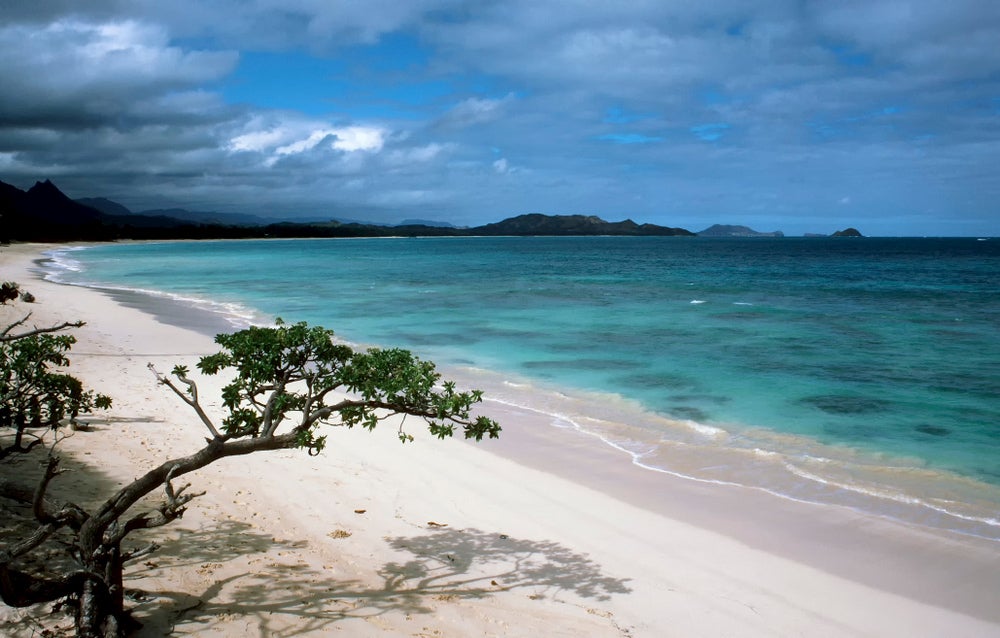 It should be no surprise that America's South Pacific paradise would be one of the sunniest places in the country. There's plenty of fun to be had at Sand Island State Recreation Area in Hawaii, an off-the-beaten-path beach that won't be as crowded as others nearby.
Campsite fees start at $12 per night, cheaper than you might expect so close to Honolulu, in part because it's tucked away in an industrial area under the airport flight path. That said, it's a solid place for RVers to set up for the weekend, especially if you're hoping to make use of the Sand Island Off Highway Vehicle (OHV) day use riding area nearby.
Facilities include picnic tables, showers, and restrooms. Don't let the urban elements deter you either—you still have killer views of Honolulu Bay and the setting sun. Note that camping is only available on weekends.
"Not a lot of people go to this beach because it's not so popular. It's tucked far back behind a coast guard base mixed with old commercial buildings and businesses. It's not the prettiest beach, but if you'd like to go somewhere relatively quiet and not much going on, this would be the beach for you." — The Dyrt camper Sandy S.
---
This article was brought to you by Eclipse Glove.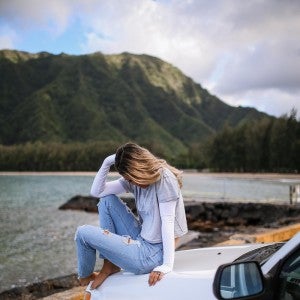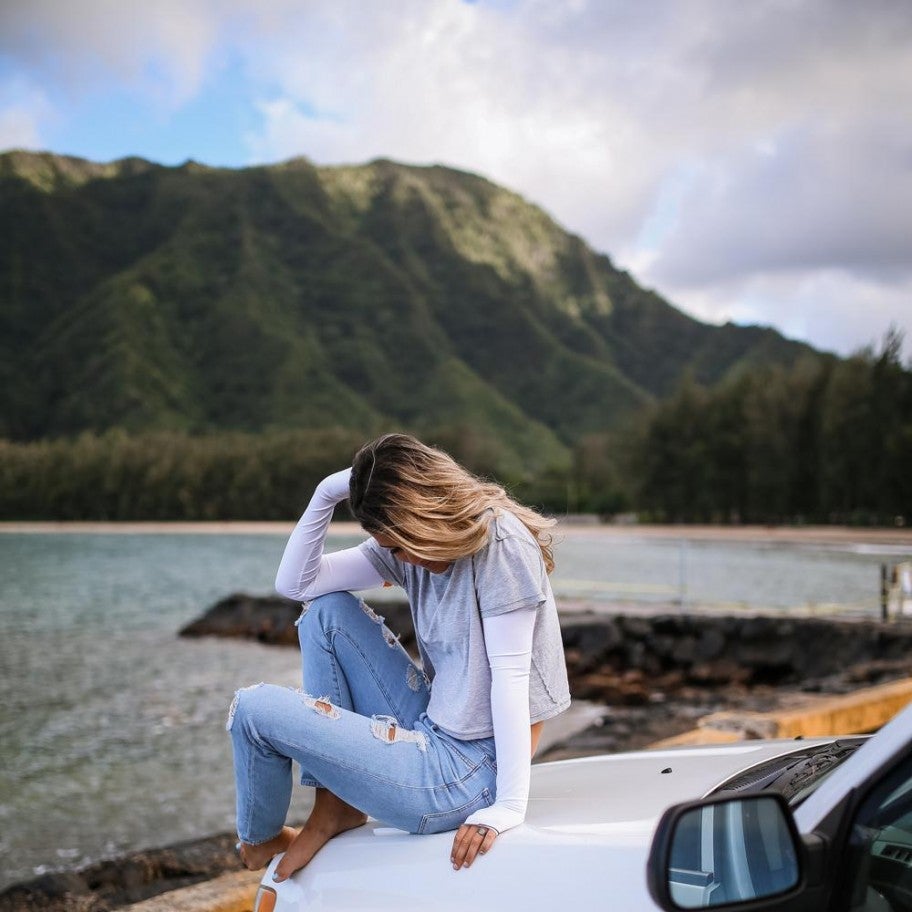 Grab a pair of their sun protection sleeves before embarking on your next trip to the sunniest places in the U.S.!
---
Related Campgrounds:
Popular Articles: