We recently asked our Facebook Campfire group for advice on camping with kids, and the responses flooded in with everything from let them help with dinner to DON'T DO IT. But for the most part, it was clear that camping with the whole family, even the littlest ones, is a cherished way to make memories, disconnect from our busy lives, reconnect with each other, and introduce our kids to an appreciation for the outdoors.
For new parents (or new campers), the prospect of camping with kids can be daunting. Packing can be complicated, sleep patterns will change—and oh dear, will they have to poop in the woods?! But good news. Advice from fellow campers is the best thing you can bring. And we have LOTS of advice…
A Big List of Tips for Camping with Kids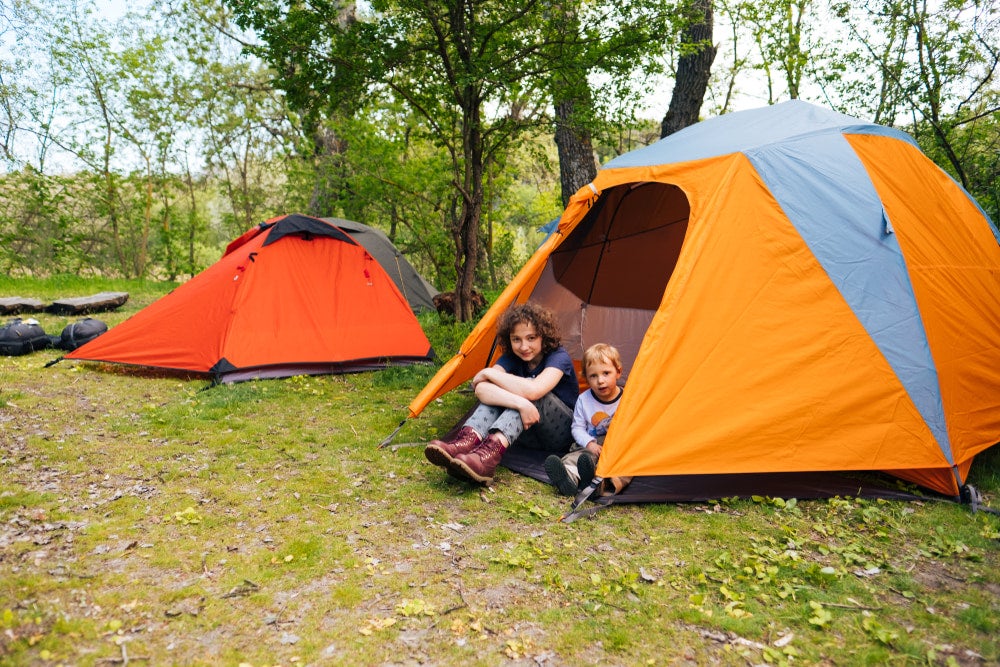 No matter what age, camping with kids can be a wild success. The best advice I can offer, personally? Have fun with it and let go of any expectations. Do what works for you and your family. As for me, camping with our kid is a favorite family pastime. I hope it will be one of yours, too.
1. Involve them in the planning process
When you're planning a family camping trip, ask for input from your children, even if they're young. Look at a map together and ask questions: What are they looking forward to doing on this trip? Knowing the must-dos for even the youngest of campers means that the whole family will have a great time.
2. Practice camping at home
Bring out the gear and go for a few practice runs. Setting your tent up in your living room or backyard allows your kiddos to get used to camping and sleeping in the tent.
3. Don't be afraid of trying and failing
Camping with kids is rarely a complete bust…but even if it is, so what? You tried, and that's teaching your young ones a valuable lesson. If you're truly worried about your camping trip being cut short due to things getting wildly out of hand, explore a park that's close to home. Or start small, with a short one-night stay.

4. Leave the electronics at home
I know, I know. But hear us out: Just like you, kids need a break from the constant bombardment of gear, games, and noise from phones, television, and media. There's no better place to unplug than in the outdoors. If your kids whine a bit, let them. While this might sound harsh, and maybe hard on you, in the long run it'll be well worth it. They'll learn to value their time in nature, and truly connect to the natural world around them.
Here are some kid-approved ideas for electronic-free camping activities:
"Nature treasure hunt, books, card games, simple art supplies, build fairy houses in the woods, hammocks." — The Dyrt camper Jen.
"If there are other kids, dirt, sticks, rocks and water, you really don't need to bring toys or organize activities. It's one of the things I love best about camping!" — The Dyrt camper Morgan.
5. Practice Leaving No Trace
Or, one step further, leaving it better than you found it. Responsible camping means picking up whatever trash you find, whether it's yours or not. It means not stacking rocks, breaking sticks, or wandering from paths. It means existing in nature in a way that is respectful.
"Leave it better than you found it, take only pictures and leave only footprints. If you absolutely MUST paint rocks and leave them behind, please put them in spaces near the buildings like camp stores. I think the idea is cute but it's gotten out of hand to the point it's now litter. Pack it in and pack it out. My daughter is 2 ½ and she knows this so there's no excuse." — The Dyrt camper Brandy.
6. Plan easy meals and snacks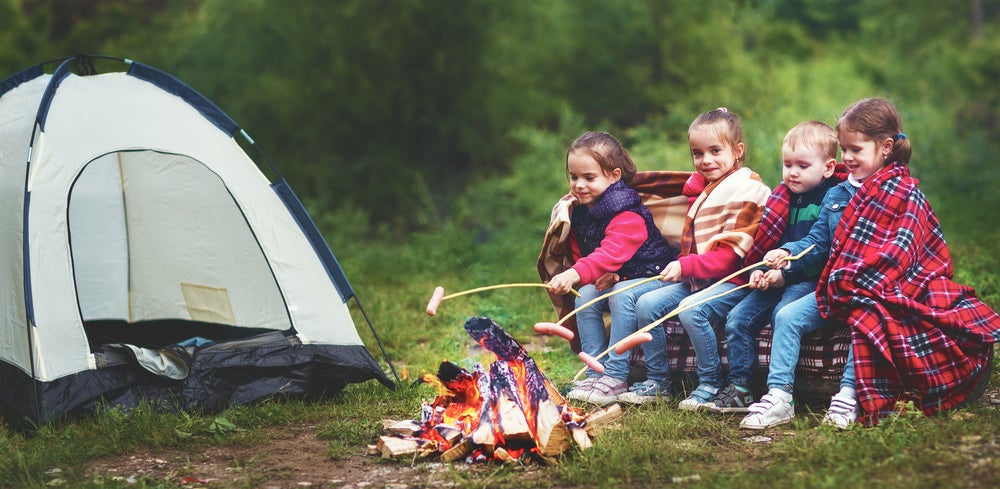 All that biking, hiking, swimming, and fresh air makes for ravenous young campers. Having plenty of easy camping meals and snacks for your kids to chow down can be the difference between meltdowns and happy campers.
"I always have a lot of easy snacks packed like grapes, apples, bananas, cheese sticks, crackers, sliced cucumbers, raisins, baby carrots…They seem to eat much more when we are camping." — The Dyrt camper Houston.
7. Keep it simple
While it might be tempting to pack favorite toys, extra games, and a stack of books, keeping it simple is the easier, better option. No stress and fewer items allows kids to just relax into their surroundings and up the ante on their imagination.
"Do not stress! Seriously! My boys LOVE camping and have been going out since they were infants!! My youngest was [2 months old on] his first camping trip. We bring [a] car and truck with us and they just enjoy the dirt and nature!" — The Dyrt camper Chandra.
8. Be ready to snuggle
The woods at night can be scary to kids. Eventually, they'll learn to love that starry sky as much as you do. But for now, invest in sleeping gear that's still comfortable when the kids want to crawl in next to you.
"Get an extra wide (or double) sleeping bag to share if they have any type of fears of the dark." — The Dyrt camper Daniel.
9. Camp at a resort
If roughing it isn't your thing, or you're stressing about introducing your young ones to the wilderness, why force it? Camping resorts are a fantastic place to start, with pretty much every extra amenity you can imagine, like swimming pools, arcades, arts and crafts, and movie night events.
10. Check out park programs
Junior Ranger Programs, run by the NPS, is an activity program in almost all national parks across the U.S. There are a range of activities appropriate for five to 13 year olds, and they all have an accompanying ranger book so your child can earn badges after completion.
If you're not camping at a national park, local state campgrounds often have staff-led children's activities that are just as fun, and educational too!
11. Try something new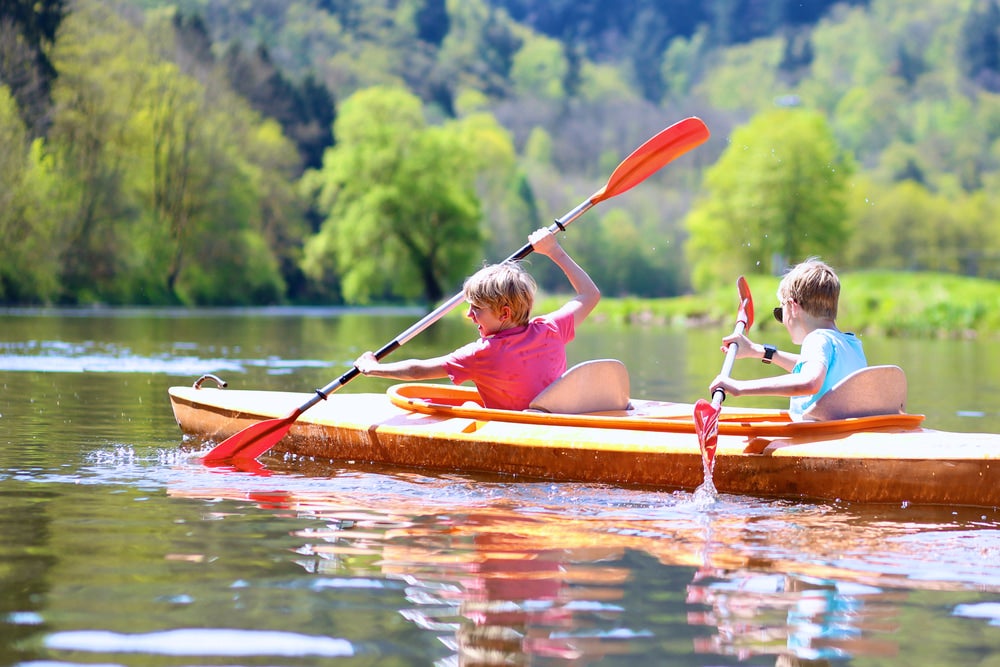 Use this opportunity to jump into something new as a family. Maybe this means trying out kayaking, or a beginner's ropes course, or fishing. It's a chance to model what it looks like to get out of your comfort zone, try something new, and have fun with it—an invaluable lesson for your kids.
12. Larger family? Get a larger tent
My husband and I have one kid, a dog, and one tiny little tent that we picked up during a camping trip in the Tetons close to a decade ago. It has served us well, and it works for our family. However, last summer we camped with friends who have three kids and a three-room mansion of a tent, which the older kids loved.
Having space for a pack-n-play and toys made all the difference to a larger family's camping experience. So if you have older kids and/or need a bit more room, don't be afraid to upgrade to a bigger tent.
13. Pack first aid items
Pack your first aid kit, sunscreen, bug spray, and a tick puller. Keeping these items handy, and always in the same spot, is key to staying calm when the need arises: you know exactly what you need, where it is, and what you're doing.
And lest this causes any anxiety, remember that you'll most likely only be applying sunscreen and bug spray…and maybe a band-aid or two.
14. Go to the beach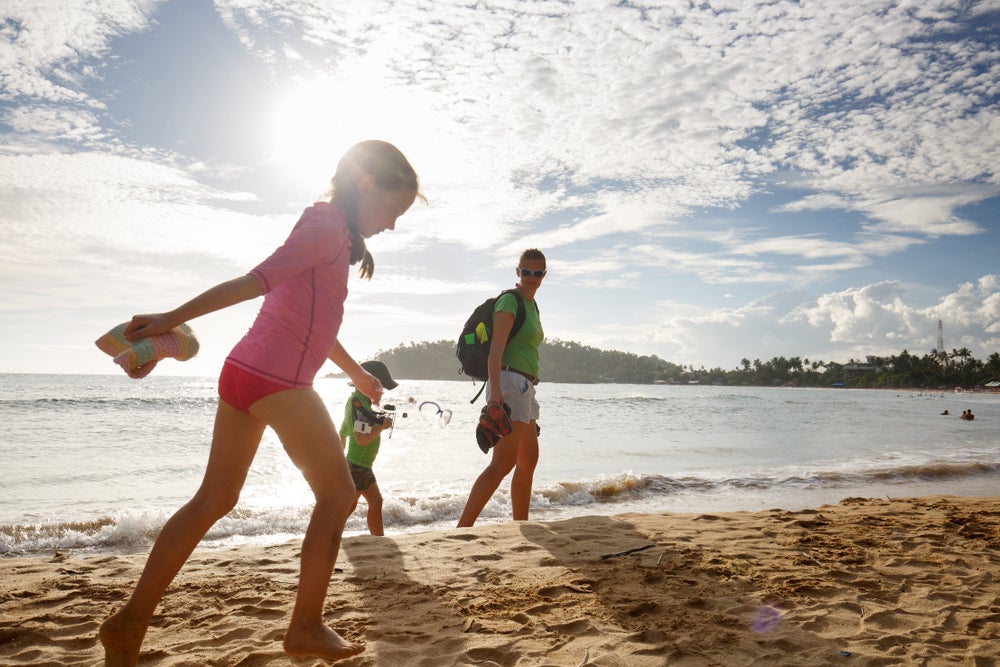 If you're in a landlocked state, and an ocean is a reasonable road trip away, make it happen. Camping with kids on the ocean is worth every bit of sand you're going to have in your tent. Sunsets, strolls, swimming, play, and wildlife sightings are that much more special on a coastal beach campground.
15. Learn about your surroundings
Go over the campground together, making note of poisonous plants or animals that may be in the area. This activity has the potential to alarm your child, so turn it into a game. Make flashcards, and create a scavenger-like checklist for the campground. If you spy something on your list, your child can check it off.
Bring a notepad, pencils, magnifying glasses, camera, and binoculars to turn any fear into a fun learning opportunity.
"Imma big nerd but…I loved when my parents brought binoculars and field manuals so I could explore nature. And books. It's a great opportunity to just have quiet and read." — The Dyrt camper Angela.
16. Identify area attractions
Research area attractions for camping with kids, family-friendly hikes, and more. Planning some fun family outings beyond the campground will keep boredom at bay.
17. Pick your tent site carefully
Sun and shade? Check. Not too close to other sites? Check. Are the bathhouses nearby? Check. Making sure that your campsite hits all of your family's must-have amenities can make your camping trip successful.
"Get the campsite next to the playground! You can still watch them and get stuff done. [And] if they are old enough to ride bicycles, that is the easiest way to get to a bathhouse." — The Dyrt camper Julie.
18. Allow freedom
This one can be hard for parents, but it's an important one: allow your children freedom. Freedom to explore, discover, and learn about the natural world in which they're temporarily inhabiting.
"Teach, guide, and protect but above all allow them the freedom to take risks and get very, very dirty!!!" — The Dyrt camper John.
19. Pack an extra tent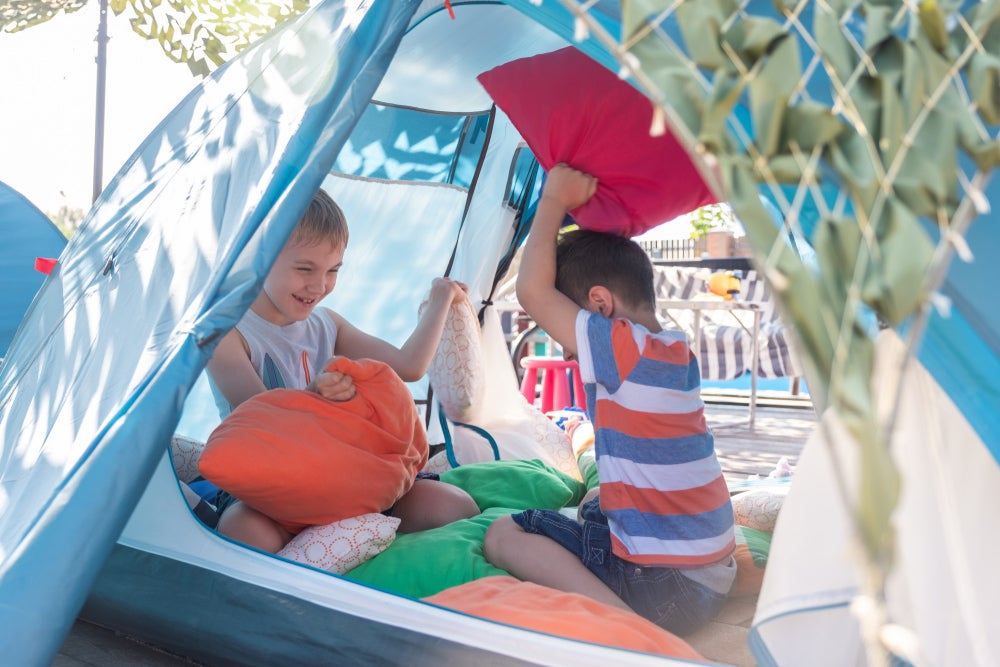 I was recently advised to pack a small extra tent for a kid's playspace, and it has stuck with me. The sleeping area stays clean and specific for sleep, and kids love having their own play tent. And it's especially handy if you experience rainy weather.
20. Respect quiet hours
It pains me to admit, but prior to having my daughter I didn't enjoy going to places where there were kids. Don't get me wrong, I love kids. But it can be kind of a buzzkill when you're enjoying the peace of the outdoors and kids swoop in, yelling at high volumes. Teach your children how to be respectful when sharing the outdoors with others, animals and humans alike.
"Please make sure they are mindful of quiet hours! Other than that let them explore and have fun!" — The Dyrt camper Annetta.
21. Try Geocaching
Geocaching is a fun outdoor activity that uses an app or mobile phone to find hidden treasures. When you stay in a state or national park, you'll likely have an opportunity to geocache. Now, these are objects placed in nature that don't belong there, so there is that. But in national parks, they must be authorized, so there is some amount of monitoring. If you want to hide a geocache yourself, only do so where allowed, and try to put the object where it won't disrupt plant and animal life.
22. Keep a few secrets
Pack a few things without telling your kids, and pull them out at key moments (like when there's a pre-dinner meltdown).
"Never let them know you have snacks or games until they're bored. Make it a surprise." — The Dyrt camper Jessie.
And this directly contradicts number 4 on our list, but it's sound advice:
"We also carried a tiny DVD player (you all probably have other devices now) & if weather got bad or if she was exhausted but not wanting to sleep, we had a new movie & a movie snack pack hidden away for a big treat at bedtime after s'mores, esp. helpful if adults are staying up later." — The Dyrt camper Vicki.
23. Bring the bikes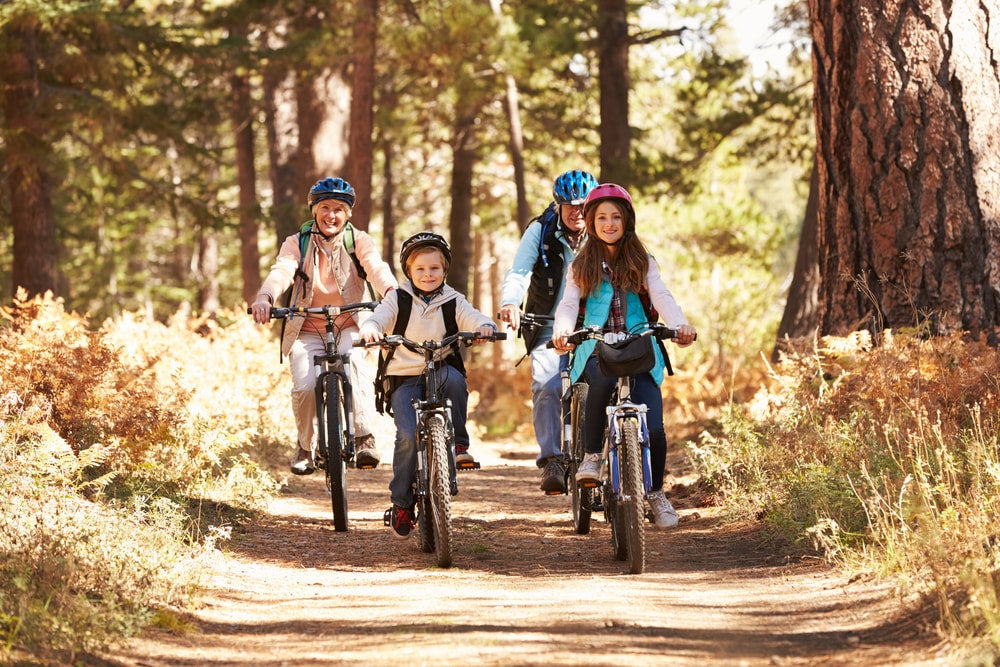 If you're bringing bikes (highly recommended), go over the rules before letting them loose. For starters: wear helmets, watch for traffic in roadways, and be respectful of other campers and their spaces. Another tip? Safety lights.
"Put lights on their bike wheels. I am more comfortable with evening freedom when I can see them and know that they can be seen by those driving through the campground." — The Dyrt camper Kathy.
24. Read about camping first
Head to your local library before your trip and check out books about camping with kids, the outdoors, nature, animals, and whatever else piques your child's interest. Books can be an incredibly valuable tool for easing any camping-related anxiety your child might be experiencing.
25. Invest in some gear
Bike trailers, backpack carriers, hammocks…these bits of camping gear can make camping with kids easier and more fun. Look for used gear online or at gear exchange sales to find quality gear at a fraction of the cost.
26. Start a night sky journal
Bring a mini telescope and a book about the night sky to engage children in a part of our world they might not get to otherwise experience. Build the anticipation by introducing a night sky journal prior to your camping trip.
Additionally, meteorology books for beginners and a notepad and pencil are a huge hit. Noticing weather, cloud formations, and other meteorological phenomena is an educational benefit to being out in the elements.
27. Encourage respect for nature
"It's important to understand and respect that everything has its place and purpose. A blank notebook and some colored pencils will do wonders for learning, creativity and fun. You could have them write and sketch a story while on a hike. Or take photos of things and make a story when they're back at home using the photos. Make a bingo game of things they could find. Use it to teach basic plant identification." — The Dyrt camper Brandy.
28. Give them responsibility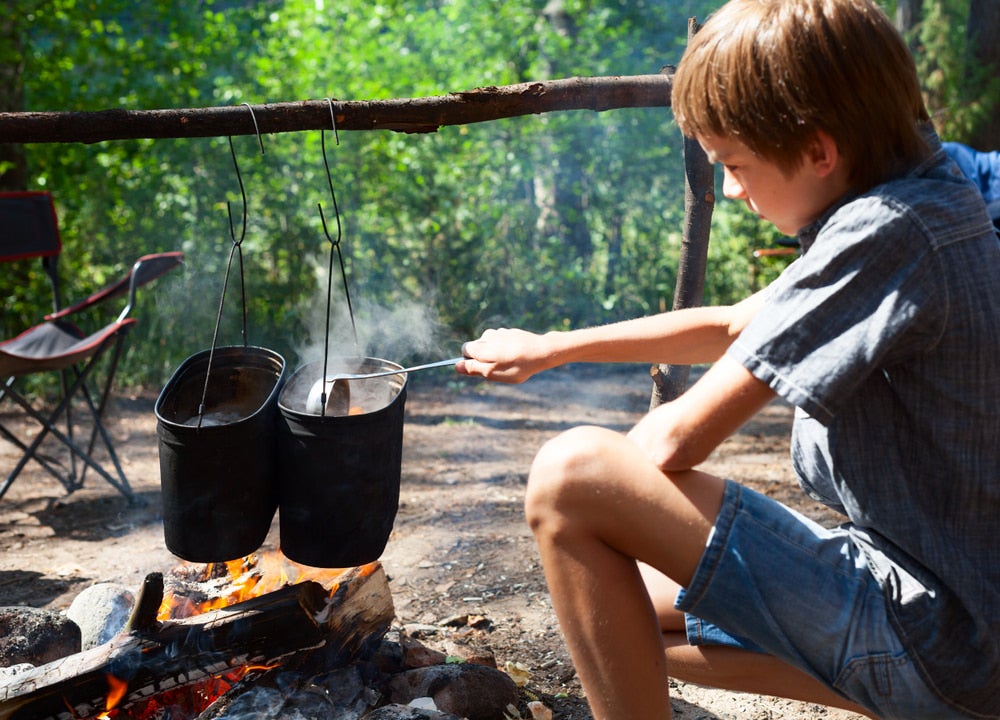 Camp chores are not like regular chores. Setting up the tent, building a fire, cooking, washing dishes, gathering potable water…these are all jobs that kids can help with on the campground. Give children ownership of their experience to build confidence through cooperation and collaboration.
29. Bring extra clothes
A warm sleeping bag is key any time you go camping, but so are extra layers. It can be hard for small bodies to generate enough heat to stay warm when continually in the outdoors. Make sure there are plenty of extra, dry layers to keep warm while camping with kids. Don't forget a pair of shoes and warm socks, especially for evenings, when the temperatures can drop and little feet get cold.
30. Allow risky play
The definition of 'risky play' depends on the risk, age, and abilities of your child, but here's why it's important: it teaches adaptability, confidence, attention, managing fear, and self-control. Camping is an excellent place to encourage (supervised) risky play: climbing trees, exploring new elements, and pushing themselves to their limits.
"DO NOT I repeat DO NOT try to control much. Let them run amuck (within reason). Let them be kids, discover new fun things and teach them something cool, like how to start a fire or let them start one if they're mature enough." — The Dyrt camper Kevin.
31. Take delight in the moment
No matter what happens on this first (or second, or third…) time camping with kids, this is a moment in your parental experience that's pretty special. It's a chance to share one of your favorite activities with your children, and hopefully foster a lifelong love for being in nature.
"Enjoy every minute, the first time camping with your kids will only happen once." — The Dyrt camper Tim.
Popular Articles: