This guide to UV protection clothing is brought to you by éclipse, whose sun sleeves and clothing keep campers safe and stylish.
---
The sun offers powerful benefits for our mental and physical health. That's why so many snowbirds head south in their RVs each winter. When your home is on the road, your home is also the great outdoors. And cooking dinner on the grill is a lot more comfortable when the sun is out—until it's not.
Overexposure to the sun can cause serious health problems and pain. So while the urge to point your RV towards the desert and soak up the warm ways is perfectly understandable, RV campers should be extra careful when it comes to the sun.
Being outside becomes such a natural state when you live and travel in an RV—you might not always think about sun protection. You're just drinking your coffee in your favorite camp chair, eating dinner at the picnic table, or exploring a roadside attraction.
UV protection clothing is one way to add extra sun protection to your day to day life in an RV.
How UV Protection Clothing Works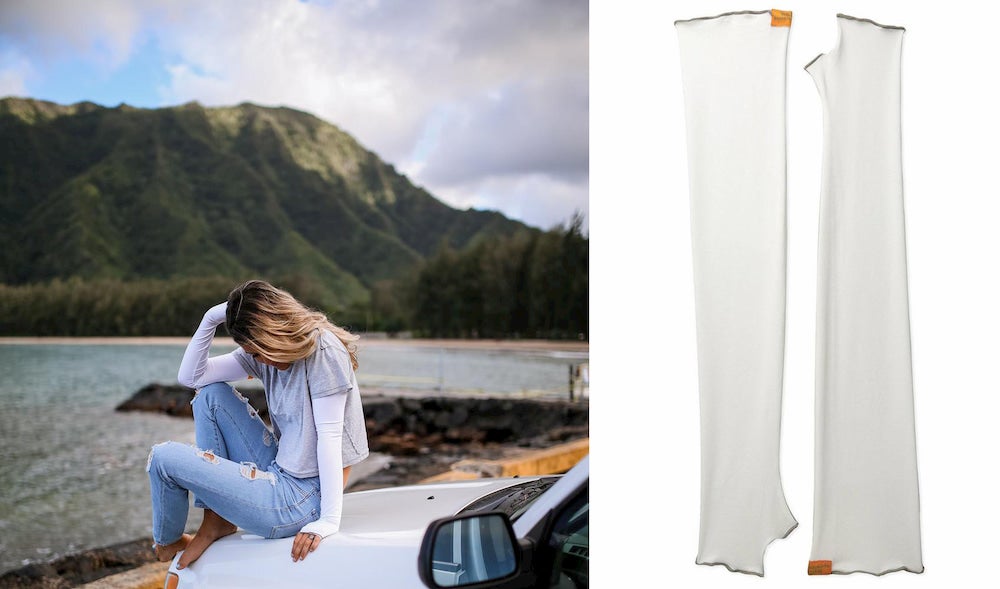 UV protection clothing comes in many forms, from sun sleeves for your arms to a lightweight hoodie you can throw on when there's no shade in sight. It might seem like a regular cover up, but these are not ordinary clothes.
When shopping for UV protection clothing, look out for the UPF rating. This stands for Ultraviolet Protection Rating, and gives you an indication of how much sun protection a piece of clothing can provide against both UVA and UVB rays. The UPF rating number tells you what percentage of UV rays the clothing can prevent from passing through. As with SPF ratings on sunscreen, the higher the number, the better.
For example, UPF 15 prevents 94% of UV rays from passing through to your skin. UPF 25 prevents 96%, and UPF 50 prevents 98%. By comparison, a regular cotton t-shirt generally has a UPF rating of about 5, meaning 20% of UV rays can pass through the fabric to reach your skin.
The rating is determined by the weave of the fabric, the type of fabric, and the chemical treatment used in the making of the garment. The tighter the weave, the more effective it will be at protecting your skin against UV rays. Once a fabric becomes stretched out, it's time to replace it with a newer, tighter weave for full protection when you're camping in the summer sun.
Most UV protective clothing is made from polyester or nylon because of the fabric's ability to stretch, then return to its previous form. In some cases, polyester, when wet, may even provide more protection—making it perfect for active anglers and boaters. Both of these fabrics are also excellent moisture managers, wicking away sweat when things heat up.
UV protective clothing is sometimes treated with sunscreen chemicals or dyes, because of their ability to absorb UV rays. When manufacturers combine tight weave with an effective fabric, then integrate chemical properties into the woven garment, they create a piece of clothing that's highly resistant to harmful UV rays.
Why UV Protection Matters to RVers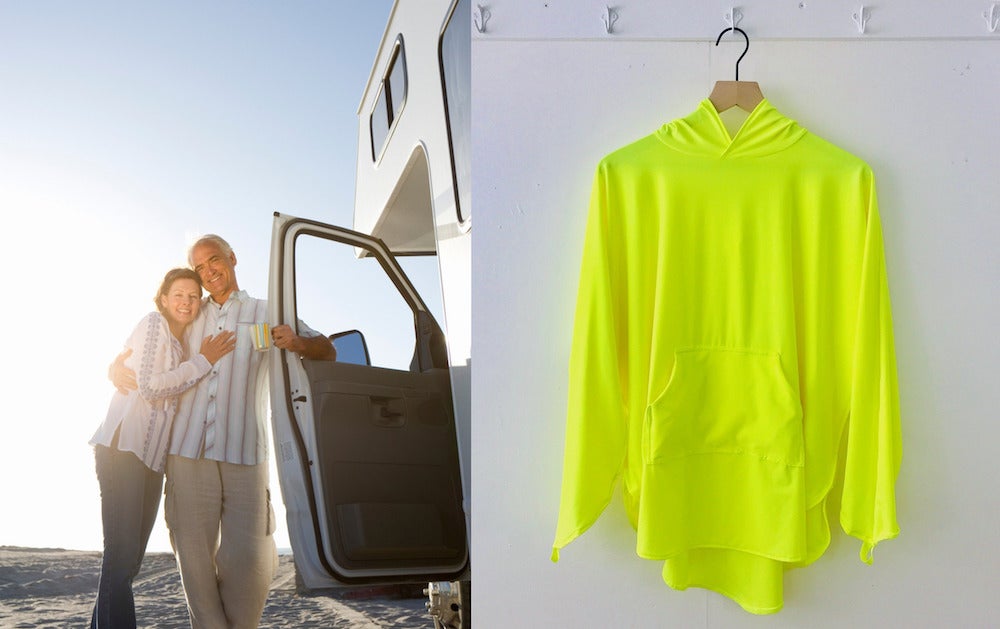 There are a number of reasons RVers should take extra precautions when it comes to sun control. Not only do these nomads naturally spend more time outdoors than most of the population (lucky them!), they also tend to do it in environments with a relentless UV index.
We've all seen that intimidating photo of the delivery driver who experienced rapid aging on one side of his face, right? You know the one. Bill McElligott's face was made famous after the Toronto Star ran a story about the effects of UV rays through vehicle windows in 2012. McElligott experienced unilateral aging thanks to sun rays that made their way into his truck cab on delivery routes throughout his career. Unfortunately, this is a problem many long-distance RVers will experience in their lives as well.
RVers face additional risk as they're often drawn to parts of the country with increased UV indexes. From the diverse landscapes found within the sunbelt to exposed alpine destinations, those rays are ready to strike. For snowbirds seeking the sun, this is especially true.
As skin naturally ages, it loses its defenses against diseases. According to SkinCancer.org, seasoned explorers like snowbirds should take care to protect their skin from UV damage because their "reduced immune systems, poorer healing capacity, thinner skin, and [years of] damage," are all factors that could put them at risk for skin cancer. These factors should be considered whether or not you've led an active, outdoor lifestyle for several decades. Fortunately, it is never too late to protect your skin.
When to Wear UV Protection Clothing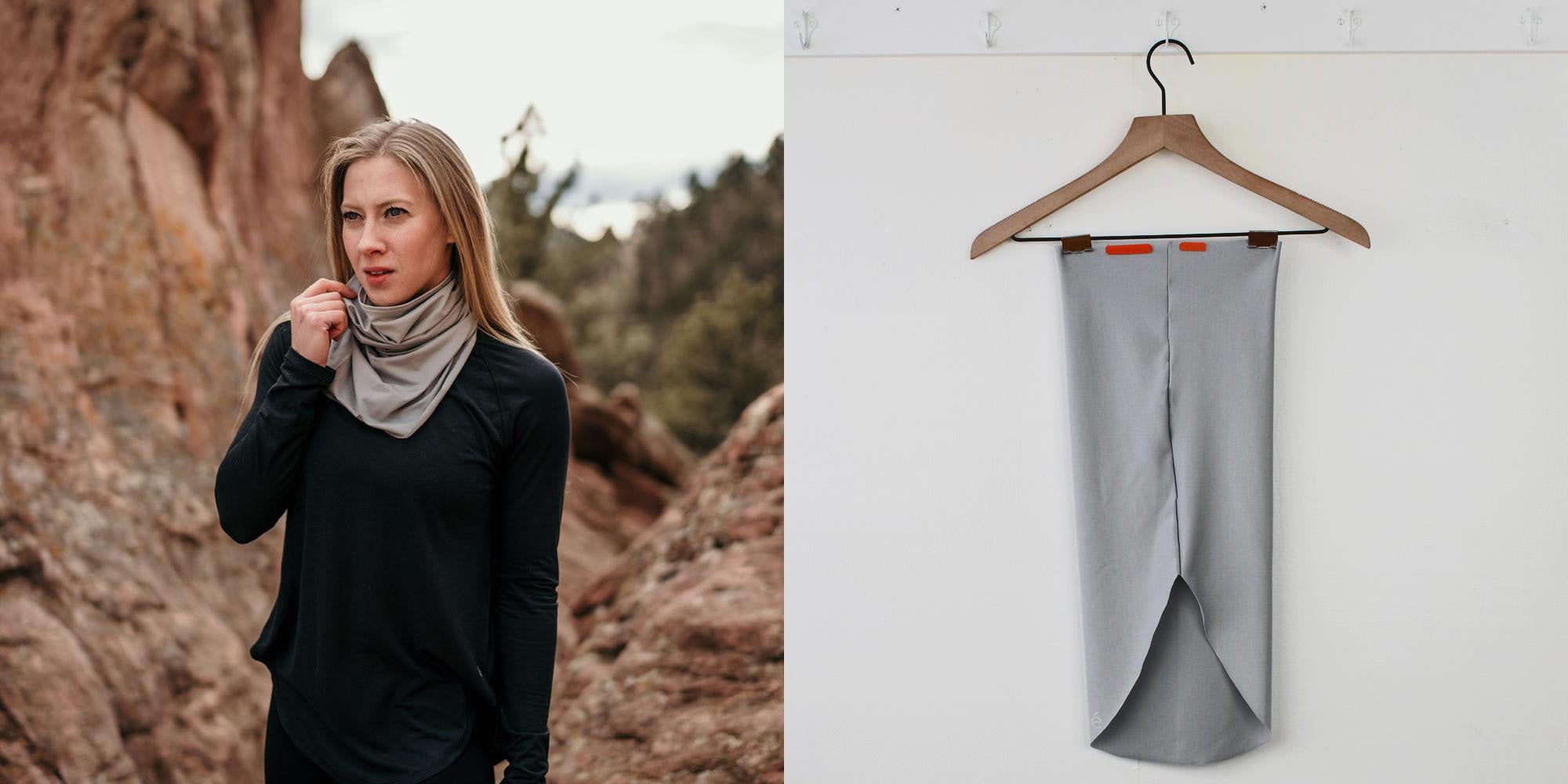 Whether you're an RVer, #VanLifer, or car camper you probably enjoy spending time outside. Wearing UV protection clothing can enhance the experience by making it easy to be sun safe. UPF-rated clothing can be suitable for almost any outdoor activity—if you normally apply sunscreen in a situation, you can wear UV protection clothing, too.
Many UPF shirts and pants offer full protection on your arms and legs, but their lightweight nature won't make you too warm. The material composition usually has wicking properties to release any moisture build-up.
UV protection clothing keeps you protected without making you too warm, and can be used for most outdoor activities like boating, fishing, hiking, golfing, picnicking, and taking the grandkids to the beach. So throw on a UV cover up and enjoy your time outside—without worrying about sun damage.
Benefits of UV Protection Clothing
So why would you choose UV protection clothing over sunscreen? The good news is that you don't have to choose one over the other; they both can be used in tandem. Sun protection comes from a combination of factors in the outdoors, like wearing UV protection clothing, applying sunscreen, wearing a hat, and seeking shade.
Without protection, you're susceptible to burns and radiation that can lead to sun spots and melanoma, so don't skip it!
UV Protection Clothing Provides an Additional Sun Barrier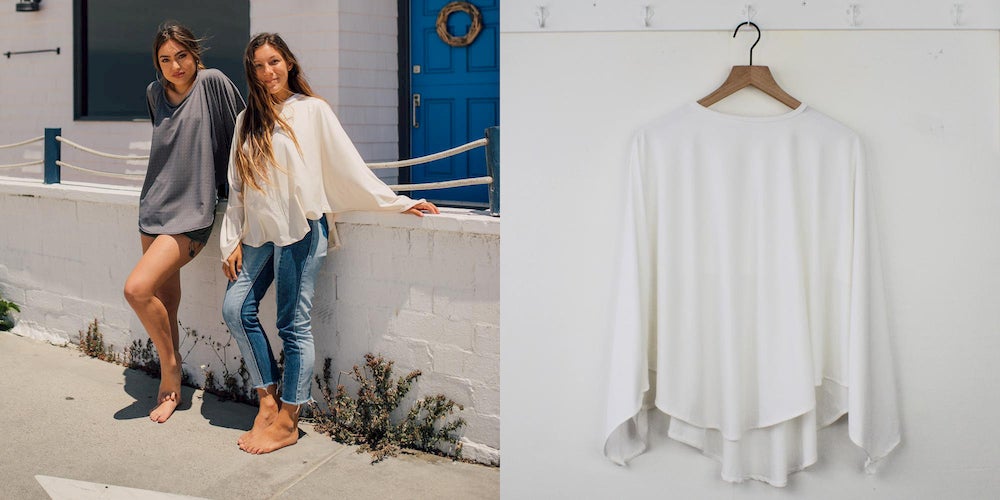 Beyond applying sunscreen to keep your skin protected, you can also don UV protection clothing to prevent rays from penetrating your clothing and burning your skin beneath.
UV protection clothing is generally loose-fitting, so you can wear it over a tank top or t-shirt without having to worry about applying sunscreen. In fact, UV clothing can be more reliable than sunscreen, as it doesn't need to be reapplied after a particularly sweaty hike or lengthy pool session. And the best part is, a protective shirt or sun sleeves are way easier to store in your RV or your pack than a greasy bottle of sunscreen.
UPF-Rated Clothing Keeps Chemicals Off Your Skin
Because the chemicals are woven into the material, you don't have to apply chemical-laden sunscreen onto your skin, which also reduces oily build-up that can act as a dust and dirt magnet. You can also enjoy the peace of mind that comes from keeping those harsh chemicals away from the environment you're working so hard to celebrate.
UV protection clothing is easy to use—just throw on your UPF-rated jacket and hit the trail. Lightweight UV protection clothing takes up very little space, making it suitable even for the most compact RVs.
UV Protection Clothing is Reusable
When your travels call for long stretches of time on the road, it's important to have clothes and items that will go the distance with you. UV protective clothing doesn't "run out," and can be worn repeatedly to protect you from dangerous ultraviolet rays.
Some brands give a wash rating for their clothes; once you reach the suggested limit you may need to replace the garment for the best protection. Until then, you should be able to enjoy your piece of clothing for dozens of hikes, river floats, and rounds of golf.
---
This article was brought to you by éclipse.
Popular Articles: