This article about the Wenatchee National Forest was brought to you by LiquidIV, the makers of electrolyte powder designed to help you stay hydrated, even on the glute-busting uphills and heart-pounding downhills of your favorite outdoor playgrounds.
---
Walk through any of the 2,711 square miles of Wenatchee National Forest or even glance at a map of central Washington, and you'll inadvertently find yourself strolling through the travel journal of a man named Albert H. Sylvester. That's because, during his 30 years exploring every inch of the Cascades with the U.S. Geological Survey, he had a chance to name as many as 3,000 features and places in and around what is now Wenatchee National Forest.
Climb Overcoat Peak, for example, and you'll be walking into an amusing anecdote from 1897, when Sylvester left his coat at the top after his first summit. Or consider the Enchantments region, so popular with backpackers now that a competitive lottery takes place for permits every summer. The basins, lakes and peaks of this corner of the Stuart Range were so enchanting to Sylvester he named them, well, you know.
There's more to Wenatchee National Forest than the sometimes whimsical impressions of a 19th- century surveyor, though. Running for 137 miles on the eastern side of the Cascade Mountains, Wenatchee National Forest is full of unexpected surprises. Waptus Lake, for example, is a two-mile long alpine beauty that cannot be accessed by road, only by trail. In fact, 33,400 acres of Wenatchee National Forest are entirely uninterrupted by roads, containing part of the largest roadless area in Washington State.
Even the Enchantments continue to surprise as the Snow Creek Glacier melts away, revealing more of the Upper Basin. But Wenatchee National Forest is far more than its most famous pocket of backcountry splendor.
It's also home to some or all of the Alpine Lakes Wilderness, the Middle Fork Snoqualmie and Pratt rivers, Glacier Peaks Wilderness, Goat Rocks Wilderness, the Henry M. Jackson Wilderness and the William O. Douglas Wilderness. And as of 2000, when Wenatchee National Forest was officially combined with Okanogan National Forest, it includes the Lake Chelan-Sawtooth Wilderness, too.
That's a lot of land, and fun, to cover. That's why we've rounded up what you need to know about hiking, biking, climbing, rafting, camping and otherwise exploring one of Central Washington's best-kept secrets.
Popular Trails in Wenatchee National Forest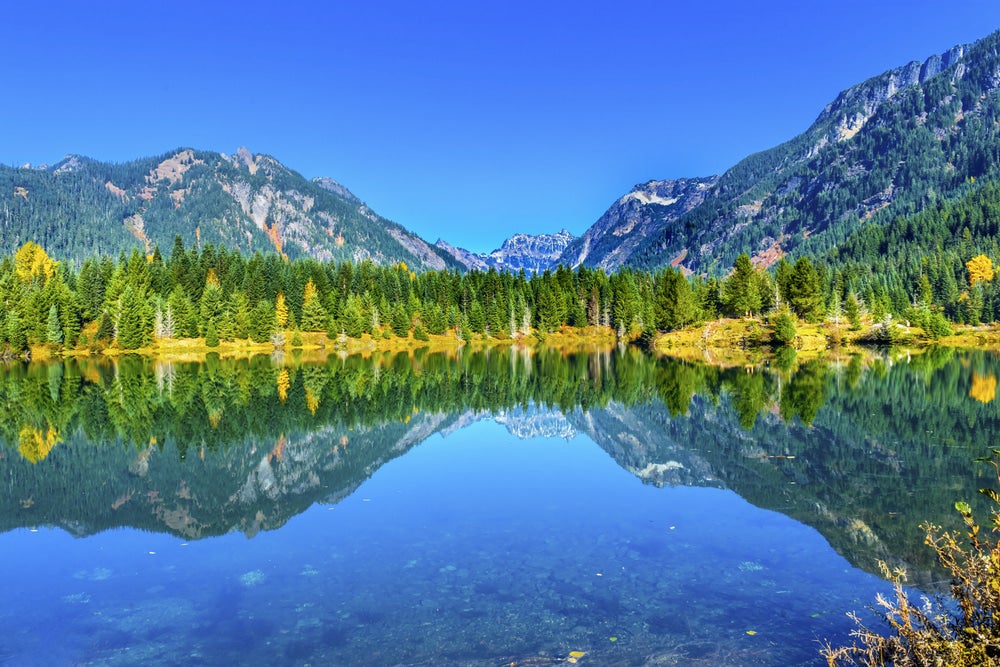 There are more excellent trails in Wenatchee National Forest than we have room in this article. Here are a few favorites in each area of the forest, but for more information, consult the passionate local experts at Wenatchee Outdoors. They have digital guidebooks for participants in a slew of outdoor sports, from hiking and mountain biking to climbing, rafting, snowshoeing, Nordic skiing and more.
Wenatchee National Forest Hiking Trails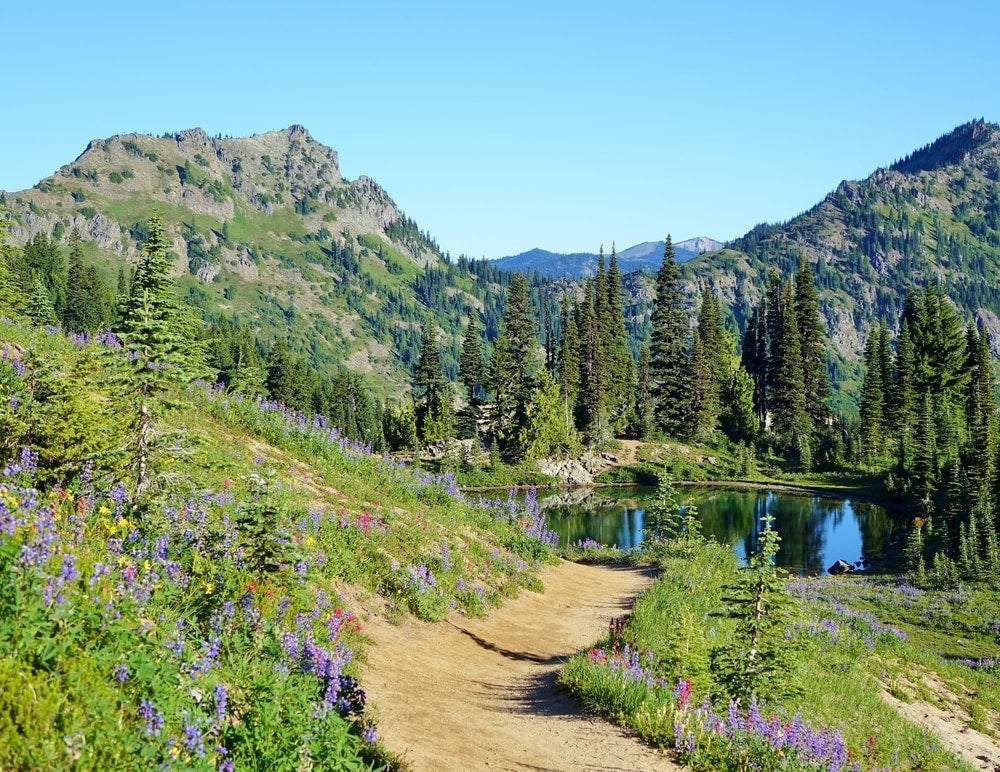 The Pacific Crest Trail: The famed PCT forms the western-most boundary of Wenatchee National Forest, and specifically the Cle Elum Ranger District. One of the prettiest (and more strenuous) pieces of the PCT you can tackle is the almost 120-mile stretch between Stevens Pass and Rainy Pass. If you've got the time and technical skills for a backpacking trip, it's hard to beat Section K.
Silver Falls: Tucked away in the Entiat Valley is Silver Falls, a 140-foot bridal veil easily reached via a mile-and-a-half-long trail. Even better, Silver Falls Campground is right nearby, making this one of the easiest wonders of Wenatchee National Forest to access, even with kids in tow.
Foggy Dew Creek: If you like wide-ranging mountain views, waterfalls and wildflowers, you'll love the Foggy Dew Creek hiking trail. It's 14 miles of North Cascades goodness in the Methow Valley Ranger District, as popular with equestrians, mountain bikers and motorcyclists as it is with hikers. Deep in the Sawtooth Mountains, though, there's plenty of room for everyone in these classic stands of pines. Camping close by is easy, too, at the Foggy Dew campground that shares a name with this trail (and waterway).
Rainy Lake: A two-mile paved trail that's accessible for hikers and campers with disabilities, but doesn't skimp on stellar views, Rainy Lake is a sweet spot in the Chelan Ranger District. You'll have a chance to wind through old growth forest carpeted with wildflowers and approach the titular Rainy Lake, a deep blue basin carved by glaciers long ago. If you want to lengthen or increase the difficulty of your hike, branch off to the Lake Ann and Maple Pass trails that connect to this trail part way to Rainy Lake. Camp nearby at Lone Fir, where you'll also find ADA accessible pit toilets, tent and RV sites and even more natural beauty.
Colchuck Lake: This is one of the most iconic trails in Wenatchee National Forest, close to both the charmingly faux-Bavarian town of Leavenworth and in the heart of the area Albert Sylvester found so enchanting. You'll need an Enchantments permit to camp along this route, which runs 9 mile round-trip, from mid-June until mid-October, and a Northwest Forest Pass for trailhead parking. Don't let those hoops deter you, though. There's a reason everyone compares the Enchantments to "Lord of the Rings."
Icicle Gorge Nature Loop: If you want to get a look at both the big picture of Wenatchee National Forest's gorges and geology but also up-close to the details of its flora and fauna, head to Icicle Gorge. You'll have a chance to take it all in over a 4.2-mile loop with minimal elevation gain and maximum birding, bridges and berries.
Mountain Biking in Wenatchee National Forest
Devil's Gulch: A great ride for mountain bikers trying to level up from intermediate to more difficult trails, Devil's Gulch is also popular for its stunning views of the surrounding mountains. Anticipate some tough switchbacks as you climb up the evergreen-strewn Mission Ridge before slipping into single track descents that flow like the Mission Creek it runs alongside. Camp at nearby Swaulk Campground and Sno Park, which is conveniently located near almost 60 miles of backcountry ski trails in the winter.
Mad River Trail: This is prime alpine mountain biking that travels over creeks and saddles up to Klone Peak. You can really roll your own experience, too, since there are so many sections that add up to the larger Mad River and Mad Lake network. Pedal the upper and lower Mad River trails, connect to Maverick Saddle or Marble Meadows, or circle around to Tyee Ridge. You can easily make this a bikepacking trip by departing from Pine Flats Group Camp and seeing where the ponderosas lead you.
Devil's Backbone: Not to be confused with Devil's Gulch (what is it with the great outdoors and naming everything the Devil's bathtub or the Devil's Den, etc.?) Devil's Backbone also isn't the same geologic feature that the famous brewery is named after. Rather, it's a 10-mile out-and-back with almost 3,000 feet of elevation gain that will challenge even seasoned riders.
Lake Creek: Not too far from Devil's Backbone, Lake Creek is a treat for anyone who loves to climb. You'll be rewarded with views of the Entiat Valley and can easily turn this 10-mile out-and-back ride into a bikepacking expedition if you connect to other area trails, including Four Mile Ridge. And like many of the mountain bike trails in Wenatchee National Forest, you can start or finish your Lake Creek ride by pitching your tent at the adjacent Lake Creek Campground.
Echo Ridge: Close to Chelan, Echo Ridge is a network of trails for all levels that continues to be lovingly expanded by the Evergreen Mountain BIke Alliance and the local Wenatchee National Forest Chelan Ranger District. Seven miles of trails were recently added, with plenty of technical features. You'll find several long top-to-bottom ascent trails here, along with a fun area called Switchback Alley.
Where to Camp in Wenatchee National Forest
Free camping in national forests is abundant—and that holds true in Wenatchee National Forest. Drive down a forest access road and as long as it isn't marked otherwise, you can camp for free for up to 14 days. But if you go this route, expect zero amenities. If you're looking for a little more comfort, there are lots of established campgrounds in Wenatchee National Forest, too.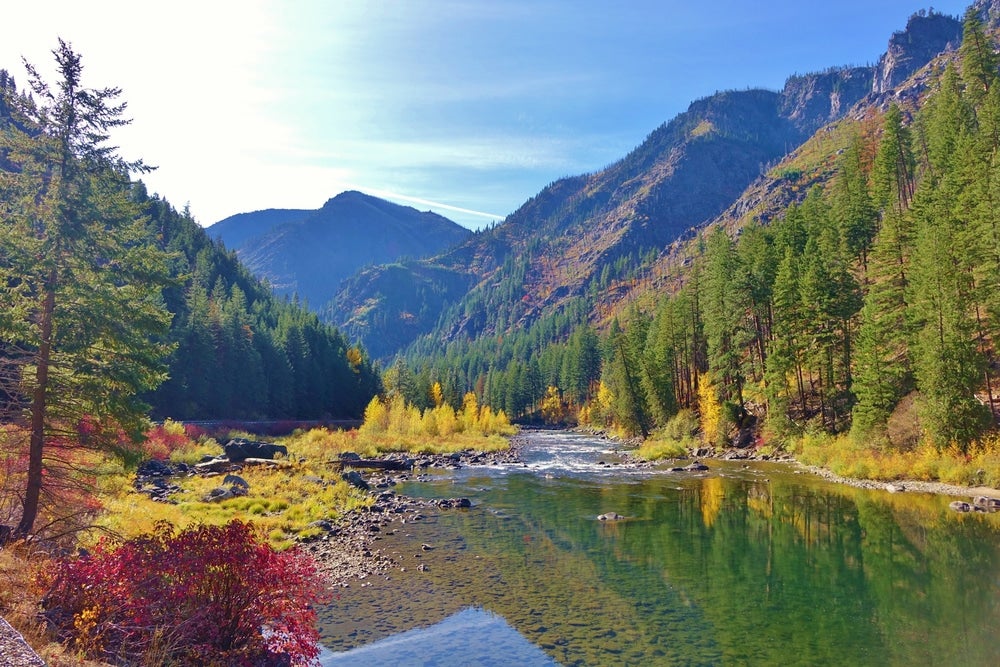 Next to the patriotically named American River, this campground is named for the lodgepole pines that stand watch over its bucolic sites. But Lodgepole isn't just a pretty face — it's also the front door to a lot of Wenatchee National Forest's finest trails and activities. You'll have easy access to Crow Lake, Swamp Lake, Cougar Valley and Union Creek Trails, as well as the Pacific Crest Trail and Boulder Cave National Recreation Trail. A little further afield, you'll find that Lodgepole campground is right in between Mt. St. Helens National Park and Mt. Rainier National Park, as well as the Goat Rocks Wilderness.
"We stayed at sites 34 and 32, both of which back up to the American River. This campground is well maintained by Hoodoo Recreation and has recently undergone some improvements. The ADA accessible sites have paved picnic/fire areas and several sites have steps down to the river." —The Dyrt camper Brianna C.
Close to the popular Icicle Gorge area where hiking abounds, Bridge Creek is another excellent home base from which to explore Wenatchee National Forest. You'll also have easy access to the Pacific Crest Trail from here. Though it's remote, it's extremely popular, especially with climbers hoping to boulder in Icicle and Tumwater canyons. That can be tough since the individual sites are on a first come, first served basis; only the 75-plus person group site can be reserved ahead of time.
"Six campsites are located at Bridge Creek, which makes it private, secluded and quiet. (The first site) was right by the water, which was great. There's a pit toilet, which the camp host keeps impeccably clean, and there was plenty of hand sanitizer in the dispenser. If we planned to stay in Leavenworth another night we would have been lucky to stay here!" —The Dyrt camper Megan W.
About an hour from Seattle and even closer to Snoqualmie Pass, Kachess is in a very pretty part of Central Washington. It also fills up quickly thanks to its location, despite having 150 sites in addition to a spacious group campground not far away. If you can snag a spot, though, you're in for a real treat. It's popular with anglers (the name Kachess means "more fish" in the Yakima language) as well as boaters. Hikers will be happy with easy access to the Pacific Crest Trail, as well as easier trails along the shore.
"Incredible spot with memorable views. This park is amazing to explore, and the campground lets you stay close to the beauty. There are a few loops within walking distance of the beach that are best, otherwise you may have to take a longer walk to get to the water. It was mostly full in April a few years ago, but didn't feel crowded, and it was extremely well maintained." —The Dyrt camper Justin S.
A more alpine camping experience, Indian Creek is popular year-round thanks to its proximity to area ski slopes and snowshoe trails, Mt. Rainier, Round Mountain and Bear Creek Mountain. Kayakers like paddling the nearby Rimrock Lake, while in the fall rafters come to experience the Tieton River when it's opened up by the Bureau of Reclamation, which manages Rimrock Lake as part of the Yakima hydrology project. Once you're done shooting these Class 3 rapids, the water goes on to irrigate Central Washington's famous hop fields.
"We love camping around White Pass, WA, because it is so close to great hikes and White Pass Ski Resort. We have actually camped here in our RV and then went up skiing in the morning. My husband has also stayed here in the fall and hunts in the mornings and evenings. The campground is good, small spots and VERY busy in the summer! Love this place." — The Dyrt camper Sasha W.
Another campground popular with rafters, Sawmill Flat sits on the Naches River, above the Tieton and Yakima rivers. That means you can put in here and decide how far you want to shoot, from fun day runs to a long pack-rafting trip. Hikers will like being close to the Frost Mountain Lookout Trail, which boasts such panoramic views that it was once the location of a fire tower. Nearby, Jeep and Forest Service roads also wind through the mountains into the Taneum Manastash Area.
"Some of the best features are the accessibility to the Little Naches River, plenty of hiking trails for all experiences, and (my favorite) a road that leads up to a ghost town called Lester that's bridge was washed out, leaving only four-wheelers able to access its hidden treasures. For adventure and some relaxing, I would recommend Sawmill Flat Campground…but remember to bring your off-road vehicle for a great adventure." –The Dyrt camper Dani H.
Pack your Lodge Cook-It-All or favorite skillet — this is a campground prime for foragers. With a name that translates to "fish bag," you know you'll find good rainbow and cutthroat trout and Kokanee salmon in abundance. But the hills are also full of blueberry bushes and, if you know where to look, morel mushrooms. You'll need a permit for the latter in the right season, depending on how many you want to collect. But it's safe to say that if you enjoy morels at Seattle-area restaurants like Heartwood Provisions or Sitka and Spruce, they were found somewhere similar to Salmon La Sac.
Foraging for fungus isn't the only way to have fun here, however. Hike the Waptus River Trail, which starts at Salmon La Sac and ends in a junction with the Pacific Crest Trail. You can go tubing on the Cooper and Cle Elum rivers in the summer, and either hike to or canoe upon Cooper Lake. In the winter, the area trails convert to snowshoe and snowmobile use, so as long as you're ready for winter camping, you can enjoy this spot year-round.
"Beautiful, tranquil and relaxing. Lots of hiking, and as for amenities, they've got water pumps and vault toilets. On the site, there's a fire pit and picnic table. The campsites are large. While there, make sure to stop in Roslyn, WA, and have a beverage at the Brick. Roslyn is where Northern Exposure was shot." –The Dyrt camper iloveitontop R.
Bumping Lake, like much of the North Cascades, was the setting of some of Supreme Court Justice William O. Douglas' happiest days, lovingly described in his autobiography "Of Mountains and Men." In it, he writes of camping trips along its shores, sleeping on beds of tree boughs and amongst wildflowers. He also describes the remarkable, decades-long love story of Jack and Kitty Nelson, two of the earliest caretakers of the Bumping Lake resort and campground.
Much of the area looks just the same as it did back then. Due east of Mt. Rainier, Bumping Lake Campground is a family-friendly spot with dramatic views of mountains jutting up from deep blue waters. It's got a little something for everyone, from boating and hiking to wildlife viewing.
"We stayed for three nights. Our campsite was right on the water side, which made swimming and playing in the water so easy. The camp also has boats to rent. So we rented one to get a geocache that was on an island on the lake. The lake is five miles long with lots of camping spots along the lake. They also have cabins you can rent." —The Dyrt camper Becky R.
Not far from Bumping Lake and set on the river that shares its name is Cedar Springs. This campground is connected to the Pacific Crest Trail by the American Ridge Trail, which runs for 26 miles from the Bumping River to the West's most famous thru-hike. You might prefer watching the scenery pass from the Chinook Scenic Byway, however, with its stunning views of Mt. Rainier and the surrounding Cascades landscape unlike anywhere else on earth.
Some of the best views on the Chinook Byway are just 20 minutes up the road from Cedar Springs. Boulder Caves are in the area, too, a volcanic cavern eroded by Devil Creek that gives you an up-close glimpse at the Pacific Northwest's volatile history. Just be mindful of the extra steps you need to take in order to Leave No Trace when camping near caves in order to protect the colonies of Pacific western big-eared bats.
"The Bumping River was just off this site. Mosquitos were not bad. It was quiet despite a full campground. Bumping Lake and hiking nearby. Note: The camp host is a few miles up at Soda Springs Campground for firewood bundles." —The Dyrt camper Sarah S.
A haven for hikers and backpackers 20 miles north of Leavenworth, Nason Creek nevertheless has extra niceties like flush toilets. With proximity to Stevens Pass Ski Resort and intense rides for everyone from day hikers to mountain motorbikers and equestrians, this is a place sure to entertain and give you a workout year-round. You can even attempt the tough trail to Alpine Lookout, an old fire lookout structure and vantage point from which you can peer down into the Enchantments, as well as Lake Wenatchee and panoramic views of the Cascades.
"Being surrounded by the tall Washington trees and a distant sound of the babbling creek felt like a dream. An easy 10-minute walk led you to Lake Wenatchee, the most amazing alpine lake with a great beach and camp store where you can rent kayaks and paddleboards and get ice cream. The campground hosts were very friendly, and there are flush toilets and running water as well." —The Dyrt camper Amanda E.
Another great campground for river rats, there's ample rafting and paddling at Little Naches, which is named for the river it sits on. Wenatchee National Forest is laced with tributaries to the Yakima River, and Little Naches is close to more than a few. There's fun to be had on land, as well. The Frost Mountain Lookout Trail and Kaner Flat Trail both have trailheads in the area, linking Little Naches to Sawmill Flat Campground. And just an hour away, the Norse Peak Wilderness offers a summit over just 5.2 miles with stunning panoramic views. Dirt biking is another popular activity, so don't be surprised to see campers with two wheels at their sites instead of the usual four.
"I've camped Naches numerous times. To say the least, it's never a let down! Naches is very popular especially in the warmer months, but there are still always open sites available. If you like target shooting, wildlife and beautiful views, this is the place!" –The Dyrt camper Jess G.
Wenatchee National Forest is beautiful year-round but has special charms in the fall — a season that sometimes gets short shrift in the Pacific Northwest. If you want to experience a true Central Washington autumn, head to Cle Elum River Campground, beloved by multiple Dyrt rangers for its fall foliage and the epic Lake Ingalls Hike.
One of the most popular destinations in the Alpine Lakes Wilderness, the Lake Ingalls hike will provide unbeatable views of Mt. Stuart and the Esmeralda Peaks even as you hike switchbacks deeper into the alpine landscape. You have a good chance of seeing wildlife, too, including the area's famous mountain goats. Cool off afterwards at Speelyi Beach or by kayaking in Lake Ingalls itself.
"Really loved this campground mainly because there is an awesome hike nearby! We found our site easily and set up our tent for the night. There were actually more people than I thought, but it was because it was also hunting season during this time. The fall colors are perfect. The campground was great, although we didn't stay long. Would definitely come back again!" —The Dyrt camper Drew W.
Most of the campgrounds in Wenatchee National Forest are made up of simple tent and RV sites. Just north of Cle Elum, the Teanaway Guard Station offers something a little different, with a cabin built in 1950 by Washington goldminer Archie Redding and later moved to this location by the Forest Service. In the summer you can book it and just drive up, but in the winter it turns into a low-key version of the beloved Colorado 10th division mountain huts, accessible by a 2.2-mile snowshoe hike, Nordic ski or snowmobile. It's available for rent from early May through mid-November and from mid-December through early April.
"I will definitely come back, and next time I will be better prepared. I enjoyed the brief glimpse of life in a remote cabin: splitting wood and kindling, needing to keep the wood stove going through the night, etc. But I'm grateful someone else cut the wood and stocked the shed, and that I had access to modern winter clothing and recreation devices like lightweight snowshoes and waxless skis." –The Dyrt camper Kim K.
What to Pack for Visiting Wenatchee National Forest
Because Wenatchee National Forest is so roadless, and because so many parts of the area are quite remote and contain challenging terrain, it's extra important to be prepared and to pack with self-sufficiency in mind. You certainly don't have to be an avid outdoor survivalist to enjoy Wenatchee National Forest — especially at the more established campgrounds in its bounds. But you might consider including some of the following gear in your pack.
Hydration multiplier: No one likes waking up on a camping trip with a case of dry mouth in the morning. But staying adequately hydrated is important for reasons other than a fuzzy tongue. Don't forget that Wenatchee National Forest is a lot drier than the rest of Washington State, especially at altitude. Carrying electrolyte drinks to add to your hydropack or water bottle can help you replenish the salts, sugars and electrolytes lost to sweat and a dry environment.
A SPOT locator: It's always a good idea to carry an emergency locator beacon when you're traveling into the backcountry — or the front country for that matter. If you press your emergency button, the SPOT will send your GPS coordinates to the nearest commercial satellites, which in turn relay your SOS to search and rescue and/or your pre-programed emergency contacts. You won't have to hang your peace of mind on cell phone service again.
A topographic map: A compass and topographic map are always a good idea to tote along on any outdoor excursion. For one, it's a fun way to learn more about the landscape you're exploring. Topographic maps can also be essential for strategizing what else to pack, assessing the difficulty of your planned hiking routes — especially in the Wenatchee National Forest's varied terrain.
Sunscreen: Wenatchee National Forest is a year-round outdoor destination, and in any weather and at any elevation it's important to protect your skin. Because the Wenatchee area is in the rain shadow of the Cascades, you can expect many more sunny days than in, say, Seattle. Bring a formula free of ingredients like avobenzone that can be harmful when absorbed through the skin.
A bear canister: Wenatchee National Forest is home to not only bears and the occasional mountain lion, but at least one wolf pack, too. While it's unlikely you'll actually encounter any predators, you can decrease those chances by properly storing your food and any gear that smells like food, using the same techniques you should anywhere that wild beasties with a taste for human snacks share space with hikers and campers.
A water purifier: There's no shortage of water in Wenatchee National Forest, what with its many rivers and alpine lakes. Though less rain falls here than closer to the Washington coast, it's not exactly a desert either. Instead of caching water or weighing yourself down with enough for your entire trip, bring a lightweight water purifier for backpackers.
Light layers: In Wenatchee National Forest, temperatures (especially at elevation) run colder than in Wenatchee or Cashmere proper. In the winter, average temperatures hover between the freezing and the mid-teens. Even in July, lows routinely dip to the mid-40s. Packing layers is a must, and it's important to always pack light layers in preparation for unexpected weather, including late snow in the Enchantments to wildfires in the summer and fall.
---
This article was brought to you by Liquid I.V.
Check out Liquid I.V. for a new way to stay hydrated on your next beach adventure.
---
Related Campgrounds:
Popular Articles: