Every year, hopeful hikers cross their fingers and enter the lottery for the coveted opportunity to visit The Enchantments. Visitors to gain overnight access to the rugged alpine peaks and glacial-blue lakes of this central Washington region with lottery-based Enchantments permits.
The Enchantments are part of the Okanogan-Wenatchee National Forest in the Cascade Mountains of Washington state. You can explore The Enchantments by day hikes, but the most striking landscapes require challenging, multi-day hikes — and a backpacking permit.
The combination of granite peaks, mountain goats, towering conifers, and crystal clear lakes make the journey worthwhile. Here's how to make it happen:
How to Get Enchantments Permits

The Enchantments are a delicate ecosystem that could easily become run down and overcrowded if camping was not regulated during busy periods. For a chance to secure an overnight permit between May 15 and October 31, campers should apply in advance during the annual permit lottery.
Enchantments permits zones are divided between five sections, and you can apply for your preferred zone plus two alternatives. Applications are usually accepted between mid-February and early March, and winning applications are then drawn at random.
Campers can apply for the lottery at recreation.gov. Once the lottery has been drawn, applicants must go online to check the results. Successful applicants need to accept their Enchantments permits and confirm further information, such as dates and number of people in the party.
Not all permits are issued during the lottery, so unsuccessful applicants have the opportunity to go online and claim a remaining available date. The final option for securing a permit is to get a daily permit in the walk-in lottery. These permits are extremely limited and are drawn daily Monday through Saturday at 7:45am at the Wenatchee River Ranger District Office in Leavenworth.
Day use passes are free and unlimited, though it is difficult to reach the most stunning sections of The Enchantments in a single day. But for a taste of the terrain, (which will be beautiful no matter how far you go) just fill out a day-use permit at any of the trailheads going into The Enchantment Permit Area.
Apply Now
How to Reach The Enchantments

Now that you have your Enchantments permits, take US2 to Icicle Creek Road. Follow it for 8 miles, then turn left onto Forest Service Road 7601. From there it's a bumpy 4 miles to the Stuart Lake trailhead, where your adventure begins.
The hike from the Stuart Lake trailhead to the Snow Lake trailhead is about 19 miles long. If you're planning a one-way hike you'll need a car at each end. Otherwise, set up camp in your permit zone and spend three or four days exploring the area.
Info and Fees for The Enchantments Permits and Camping
The 2018 overnight Enchantments permit lottery is conducted online and opens on February 15 and closes March 2.
Lottery results are available to view online around 9PM PT on March 13.
Successful applicants must confirm their acceptance by 11:59PM PT on March 31, 2018.
The lottery fee is $10 per application, paid on application.
Successful permits are $5 per person per day, paid on confirmation of the permit.
The maximum group size is 8, and no dogs are allowed.
Core Enchantment Zone permit-holders are allowed to camp in any of the five permit zones.
You will also need a Northwest Forest Pass to access the area, which can be purchased at National Forest offices, visitor centers, or online. Cost is $30 for an annual pass or $5 per day.
Camping in The Enchantments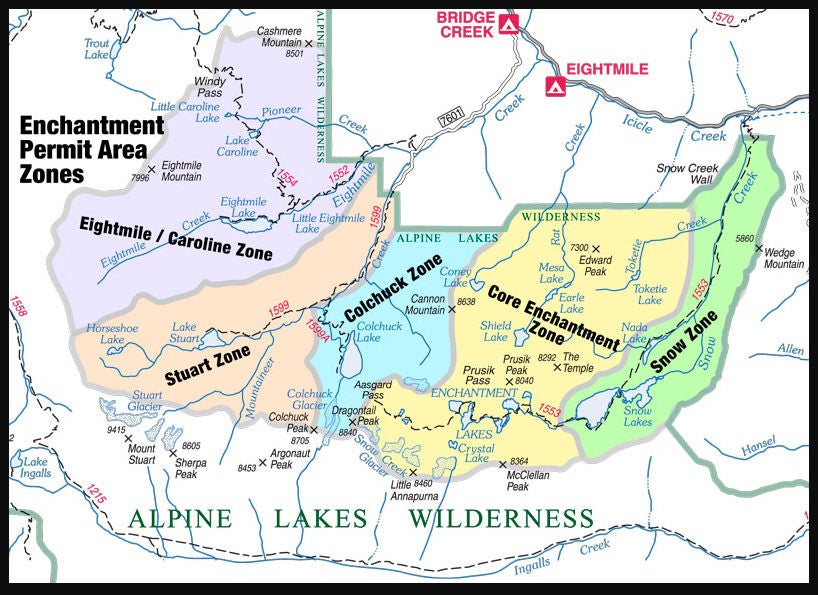 If you're lucky enough to land a permit, you must camp within the permit zone for which you applied. The exception is those who apply for the Core Enchantments permit; you may park in any of the surrounding zones as well. Everyone is permitted to hike around all permit areas, but when it comes to camping, you must have a Core Enchantments permit, or stick to your specific permitted area.
Campgrounds Around The Enchantments
For those who don't luck out and land a permit — or those who want to get a jump start on their trip by camping nearby — there are lots of stunning campgrounds around the permitted region of The Enchantments.
Eightmile campground will get your closest to the Snowlakes Trailhead, which is a popular starting point for backpacking in. Ida Creek Campground on Icicle Creek is great for those looking for swimming holes.
We've created a complete list of campgrounds near The Enchantments. Click below to view them all, and save them to your own list for future reference.
View the List
Advice from Campers Who Have Been
Make a plan before hiking.
"If you are hiking the enchantments don't confuse the Eight Mile campground with the Eight Mile/Caroline Zone zone that's actually several miles away and the other end of the wilderness zone. But camping the night before at Eight Mile then backpacking in from Snow Lake trail head is a great plan and what we did last summer." — The Dyrt Camper Kayko S.
Check out Rock Island Campground.
"Most people get distracted by the Eightmile campground and Johnny Creek on the way up the Icicle, but this is far enough away that most people don't come all the way up! Right on the creek and at night it is perfect to fall asleep to! The bridge located near the site is perfect to stargaze on!! It is very romantic. There is a well nearby and a toilet that was kept up while we were there. Highly recommend over the closer campsites!" — The Dyrt Camper Kimberly U.
---
Good luck in your quest to experience The Enchantments, whether it's with a backpacking permit or a day hike. Either way, remember to follow Leave No Trace principles so this pristine wilderness can remain just that for future generations. #CampResponsibly
---