Looking for dog friendly beaches for you and your pooch this summer? We've got you covered. 
---
There is nothing cuter than a dog tromping through salty surf as their ears flop with total abandon, except maybe when they attempt to clamp their jaws around a shipwreck-sized piece of driftwood to play fetch.
Unfortunately, not everyone thinks your dog is as cute as you do. (Rest assured, I do think your dog is adorable.)
As someone who snaps roughly 10-15 photos of her dog on a daily basis, I can say that wherever I go, my pup Nala goes, too. This works out well in dog-friendly areas, but beaches can be tricky.
Thankfully, for all of our water loving pooches, there are hundreds of dog friendly beaches across the United States.
Your Dogs Will Love These Dog Friendly Beaches
We understand the importance of "No Dog Left Behind," so we found some of the most dog-friendly beaches across the country so your dog can enjoy the sea and surf as much as you do.
1. Fort De Soto Dog Beach Park—St. Petersburg, FL
Fort De Soto Dog Beach Park offers multiple options for pets to enjoy the sun and sand. The smaller fenced area welcomes smaller dogs while the bigger fenced area grants medium to large dogs more room to run. There's also an off-leash area of the beach, known as the "Paw Playground" for dogs to run off-leash, in and around the ocean.
While dogs are allowed on all parts of Fort De Soto beach, they must be on a 6' leash when not in the Paw Playground. Near the park, there's an old abandoned Spanish Fort to explore and plenty of picnic areas for afternoon snacking. If your pup gets too hot, there's a dog shower onsite to cool them down.
2. 8th Avenue Dog Beach—Asbury Park, NJ
Locals rave about the 8th Avenue Dog Beach as a friendly, welcoming piece of New Jersey for non-aggressive off-leash dogs. During the off-season (October 1-May 5th) dogs are allowed on the beach any time of day to swim and play as they wish. When the beach picks up in the summer, dogs are only allowed from 6pm-8:30am.
Doggie bags are provided to keep the beach clean and easy to use and there are plenty of dog friendly cafe's nearby to grab food or a drink before or after your beach excursion. On Halloween, there's a magical and adorable parade with dogs dressed to impress.
3. Union Reservoir Dog Beach—Longmont, CO
After a leashed walk through this large reserve, head to the south side for some quality off-leash time among the trees and in the lake. While some dog friendly lakes turn into bacteria-breeding grounds, Union Reservoir is large enough to keep water flowing, allowing you to swim along with your dog if the day gets too warm.
The only downsides are the dirt road that travels behind the reservoir which can kick up dust and the $8 parking fee. But if you're going to make a day out of it, the entrance fee is well worth the cost.
4. Norman F. Kruse Park—Muskegon, MI
In the Great Lakes region, the Norman F. Kruse Park stands out. While the beach itself requires dogs to be on a leash, dogs can be free once in the water. The recently updated dog policy has excellent signage so you know if and when you can let your pup off their leash. Dogs are only allowed on the northern end of the beach (the signs will let you know), and it's important to follow the guidelines otherwise you could face fines.
When it's time to cool down, stroll over to Hannah Bananas to give yourself a treat. Then don't forget to order a Doggie Sunday for your four-legged friend! Head back to the space you've set up for yourself along the water and enjoy your time in the sun.
5. Fiesta Island Off-Leash Dog Park—San Diego, CA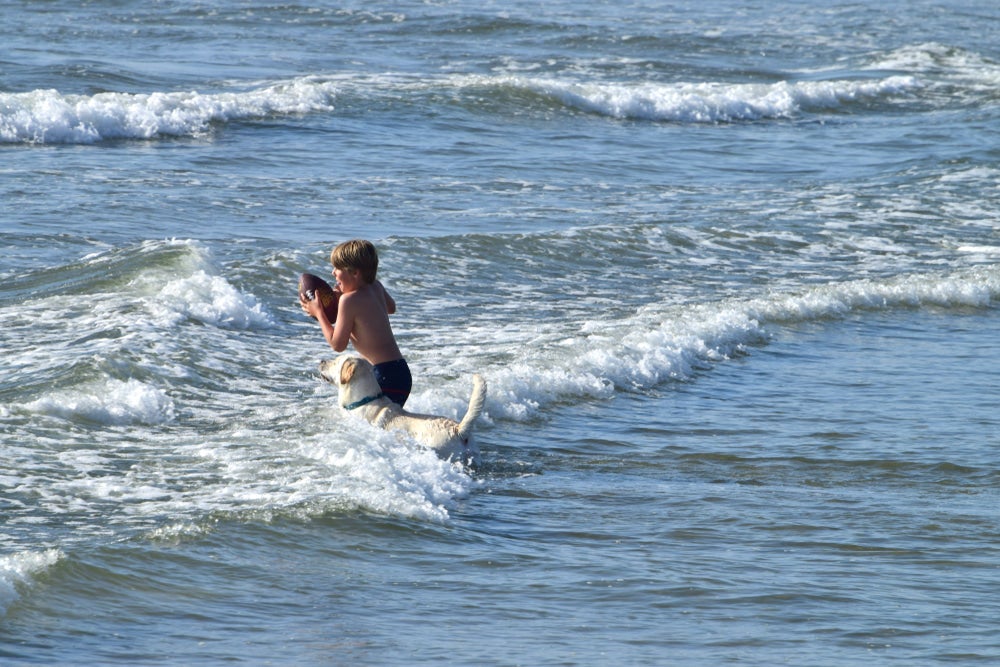 Dogs and their owners love Fiesta Island Off-Leash Dog Park for its proximity to the water and the 1.25-mile walking loop to work off the zoomies and snag a bit of exercise. The leash-free area is located on the eastern side of Fiesta Island (across from Sea World) and there are plenty of dunes for the dogs to expend their energy.
If you're interested in giving back, there's a membership group called FIDO (Fiesta Island Dog Owners) which regularly cleans the island from missed and "sorta missed" doggy doo to keep the place beautiful and useful for years to come.
6. Grand Mere State Park—Stevensville, MI
For those looking for a more active outing with their pet, check out Grand Mere State Park along the shores of Lake Michigan. Along the shore, sand dunes rise up for your dogs to run through and there are three lakes behind the shoreline for additional water time. The beach itself is pretty secluded and hard to find so be prepared for an adventure.
Bring your own beach attire and gear to make an entire day of your outing. Since this location can be relatively difficult to find, you'll likely have the entire place to yourself.
7. North Zephyr Cove Beach—Zephyr Cove, NV
Zephyr Cove draws in a lot of tourists on the weekends and after work for some R&R along the sandy shorelines of Lake Tahoe. If your pup is an adventurous water lover, bring along your kayak or SUP to get further out into the water (and equip your pup with a doggie life vest if you can). The views from the center of the lake are fantastic and worth the extra effort.
Dogs are allowed off-leash north of the marina so they won't get in the way of other users at Zephyr Cove. Parking is free across from Highway 50 if you aren't able to find a spot near the marina.
8. Fairport Harbor Dog Beach—Fairport Harbor, OH
While this beach on Lake Erie remains rockier than it is sandy, it still offers plenty of space for your pet to stretch their legs along the shoreline or play fetch in the water. The dog area is clearly marked and when you're not in the dog area, make sure to keep your dog leashed, and, as always, pick up any deposits he or she decides to leave throughout the day.
When you've run your pup into the ground and sapped (most) of their energy, head down the pier for a drink or dinner at one of the many restaurants that have dog friendly patios.
9. Myrtle Beach—Myrtle Beach, SC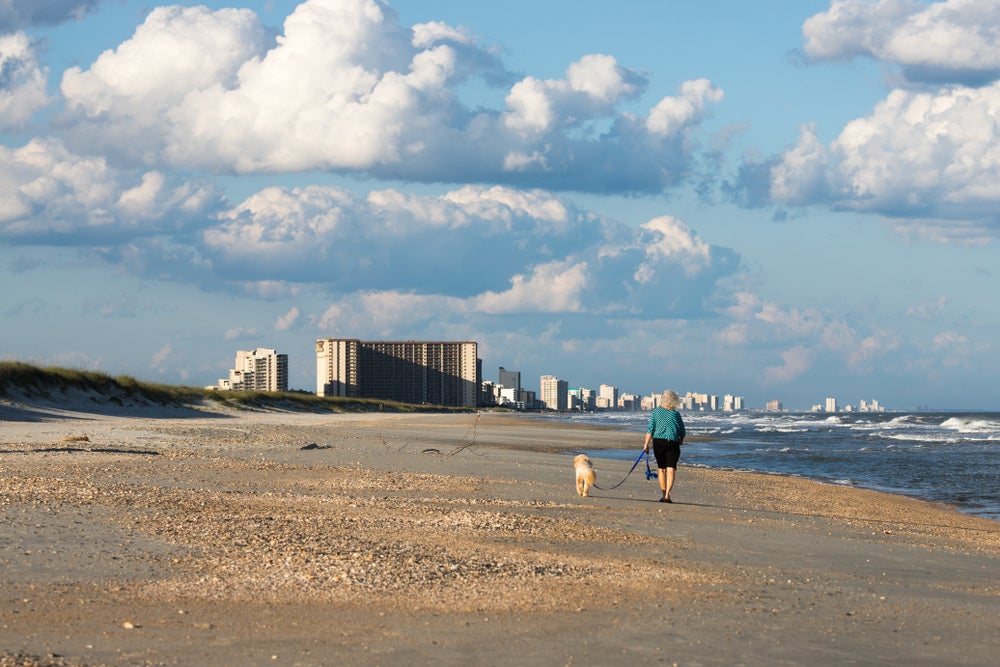 For the miles of sand that stretch along the Myrtle Beach township, they all have the same "Dog on Beach Policy," meaning dogs must be on a leash when on a beach at all times, and the leashes must be 7' or shorter. During the summer (May 1-Labor Day), dogs are restricted to using the beach before 10am or after 5pm.
Even though you won't be able to let your pup off-leash on the dog friendly beaches of Myrtle, they'll still be able to accompany you for a day of fun in the sun. Afterward treat them to some off-leash time at Myrtle Beach Barc Parc North or South, a couple dog parks located just behind the beach.
10. Thornberry Dog Park—Iowa City, IA
This 11-acre dog park has more than enough room for you and your pup to roam and run free. Located just outside Iowa City, Thornberry features three separate areas for dogs of all sizes–an area for small dogs, the Lucky Pawz Playground for any sized dog, and the Emma's Run Training and Agility Area.
The pond at Thornberry runs about 15' deep and has shallow wading waters for smaller pups. Dog tags are required to enter Thornberry and cost $52 annually for Iowa City residents ($57 for non-residents) or can be purchased for $5 per day.
11. Canine Beach at Bozeman Pond—Bozeman, MT
Fenced on three sides with the pond bordering the fourth, canines of all shapes and sizes will enjoy the cool waters of the Canine Beach at Bozeman Pond. Surrounded by trees and walking paths, the beach allows users to take their canine friends on a jaunt around the natural area before taking a dip in the pond.
For four-legged creatures, benches line the pond so you can relax while your pup makes friends at the pond.
12. Smith Springs Recreation Area—Antioch, TN
The shores of Smith Springs Recreational Area are roughly a 15-minute drive from downtown Nashville making it a popular choice for dog-lovers, anglers, kayakers, and wildlife enthusiasts. During the weekend the area can get crowded so if you plan to come for the day make an early start to secure your spot on the beach.
Dogs are allowed on-leash here and when they grow tired of flopping around in the water, you can take to the surrounding trails for some exercise with your pet.
13. Ocean Springs Beach—Ocean Springs, MS
This private beach along the Gulf Coast is a shining hotspot of the many dog friendly beaches along the Gulf Coast. While you're playing in the sand and the surf, make sure your pet stays on-leash and to pick up after them to ensure dogs are welcome for years to come. Bags and fresh water aren't provided at Ocean Springs so make sure you're prepared to care for your pup throughout the day.
14. Huntington Dog Beach—Huntington, CA
Huntington Dog Beach is, hands-down, dog-heaven-on-earth. Moderate year-round temperatures aside, Huntington Dog Beach offers miles of pristine sandy beaches for off-leash pets to run and roam both in the surf and out. There are plenty of doggy-doo stations to pick-up and dispose of your pup's business which helps ensure the cleanliness of this sandy stretch. Beyond the nice amenities, the beach hosts a dog surfing contest, where talented pets can show off their stuff on the waves.
Parking spaces near the beach can fill up quickly on weekends, so if you plan to take your pet out for a weekend swim session, consider an early-morning start for a full day of fun.
15. Abiquiu Dam and Lake—Abiquiu, NM
Dog friendly beaches are perfect respite during the heat of a New Mexico summer, and this 5,200-acre reservoir might be the best of them. While your pup needs to stay on-leash as you explore the Abiquiu Dam and the surrounding area, he or she will be happy to dip their paws in the cool water of the reservoir and go for a hike with their favorite human.
There's also a campground along the shores of the Abiquiu Dam and Lake if you want to enjoy some RV beach camping for an extended amount of time.
16. Dog Beach Park—Sandpoint, ID
Though a little more difficult to find than other dog friendly beaches, Dog Beach Park in Sandpoint is a great area to spend some quality time with your pup along the shores of the Pend Oreille River. From the parking area, it takes about 15 minutes to reach the beach by foot and none of the area is fenced so make sure your dog has good recall before you venture out.
There's also a paved bikeway just before the beach which sees heavy amounts of traffic. Consider taking a walk along the pathway before or after letting your pup cool off in the river.
17. Point Beach State Forest—Two Rivers, WI
Point Beach Dog Beach is the perfect place to relax and play with dogs in tow. This one of many off-leash dog friendly beaches that allows canines to roam free both along the shoreline and into the waters of Lake Michigan; the park also offers clean-up bags and plenty of beach parking.
Along the shore, you'll also find sand dunes to play in and a lighthouse for an even better aesthetic. When it gets too warm you can jump in the water with your pups for all-around family fun.
18. Montrose Dog Beach—Chicago, IL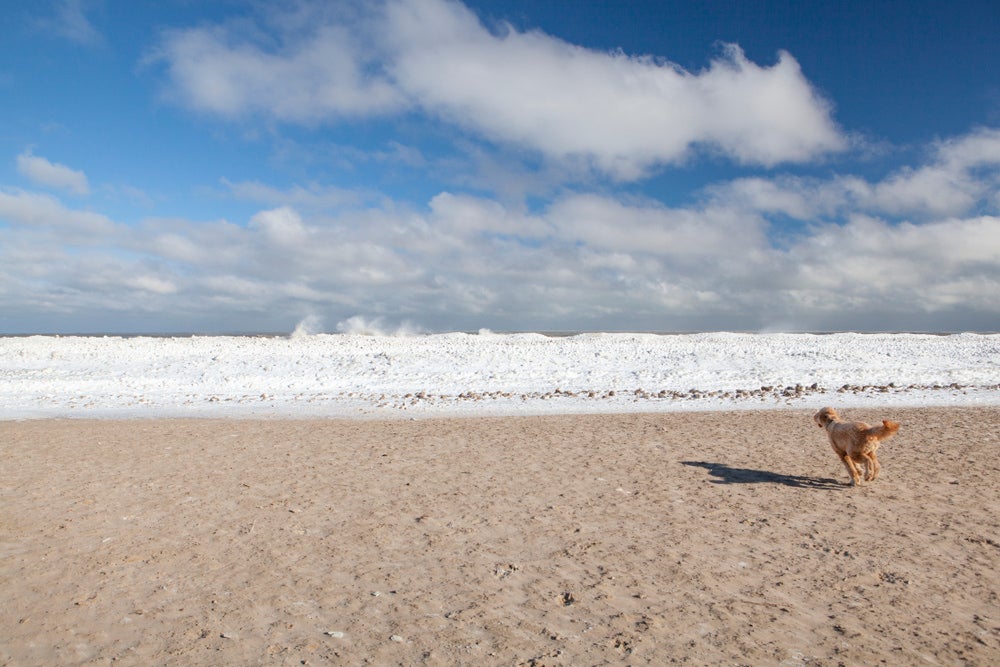 If you're looking for the perfect place to take your dog in Chi-Town, check out the first dog beach in the Windy City for a few hours of swimming, fetching, and pure puppy bliss. If your pet needs to go number two, there are plenty of doggie bags to go around; and when they're done with their business, they can take off into the sunset with more than enough space to roam free.
At this and other dog friendly beaches in the Chicago area, parking is cheap and readily available. Montrose Dog Beach is an ideal location to play fetch with your pup or let them swim for the first time.
19. Richmond Beach Saltwater Park—Shoreline, WA
For incredible views while your dog runs off some energy, head to Richmond Beach Saltwater Park along the Washington coastline. There's not a lot of sandy shore between the water and the mainland, but it's enough to throw a tennis ball and let your pup smell all the smelly smells.
Richmond beach provides clean-up bags for your pup's business and public facilities for yours. Be aware that there isn't a fence here to keep dogs in, so if your dog is antsy, make sure you keep eyes on them at all times.
20. Cannon Beach—Cannon Beach, OR
As one of the most popular dog friendly beaches in the region, and even one of the most popular stretches along the entire Oregon coastline, Cannon Beach allows off-leash dogs as well as vehicles onto its sandy shore. With views of the haystack and the Pacific Ocean, you'll enjoy the scenery and the extensive amount of space to play with your dog. This is an ideal outing for the whole family so make sure to pack up the rig and enjoy an entire day at the beach.
When you've had enough of sun and sea for the day, head to one of the many dog friendly patios in the area to grab food and drinks with your family and your four-legged friend.
21. Montauk Beach—Montauk, NY
Off-leash dog friendly beaches can be hard to find on the crowded east coast, but Montauk Beach is the exception. There's plenty of shoreline and beach for the pups to run at their will and plenty of access points to find more secluded areas for yourself.
Dogs are allowed on Montauk Beach all year long, but from mid-May through September, visiting with dogs is restricted to before 10am and after 6pm.
---
Related Campgrounds:
Popular Articles:
---

---