This article about camping near a Devil's Bathtub is brought to you by Matador, the makers of ultralight hydration backpacks with built in filtration systems, helping you get the most out of every hike without weighing you down.
---
In the deep South, a rain shower during sunny weather supposedly means the devil is beating his wife. In Wyoming, the butte once known as Bear's Lodge is better known as Devil's Tower. South Carolina's Devils Fork State Park has seen huge increases in visitors in recent years, despite its spooky name.
No matter where you go, it seems you'll bump into some kind of devilish reference— either The Enemy is an avid outdoorsman, or we all have big imaginations by the campfire after dark. It also seems that, for evil personified, the Devil is deep into hygiene. At least that's one way to interpret the surprising number of scenic spots called "Devil's Bathtub," each well worth a visit whether you want to snap a photo or go for a swim.
A Devil's Bathtub tends to consist of old whirlpools, places where weaker rock like limestone eventually washes out of surrounding sandstone, forming deep pools or odd-shaped waterfalls that eventually break through. Others are hot springs surrounded by steam and sulphur, evoking all kinds of diabolical visions of the underworld. Still others are large, scenic lakes that are definitely full of water, not fire and brimstone.
Five Devil's Bathtubs and Where To Camp Nearby
If you want to check out these special little blue holes, waterfalls, lakes, and cenotes for yourself, you don't need to stand in front of a mirror after midnight or get your hands on a Ouija board in the attic. You can just visit these beautiful, natural destinations.
Hocking Hills State Park, Ohio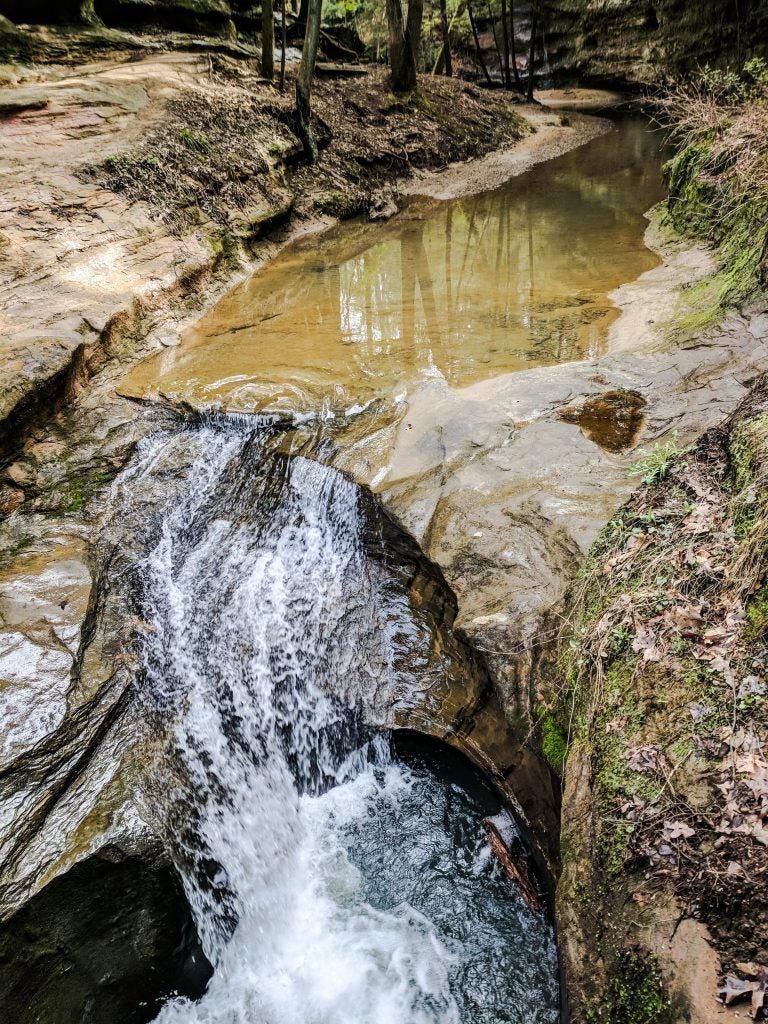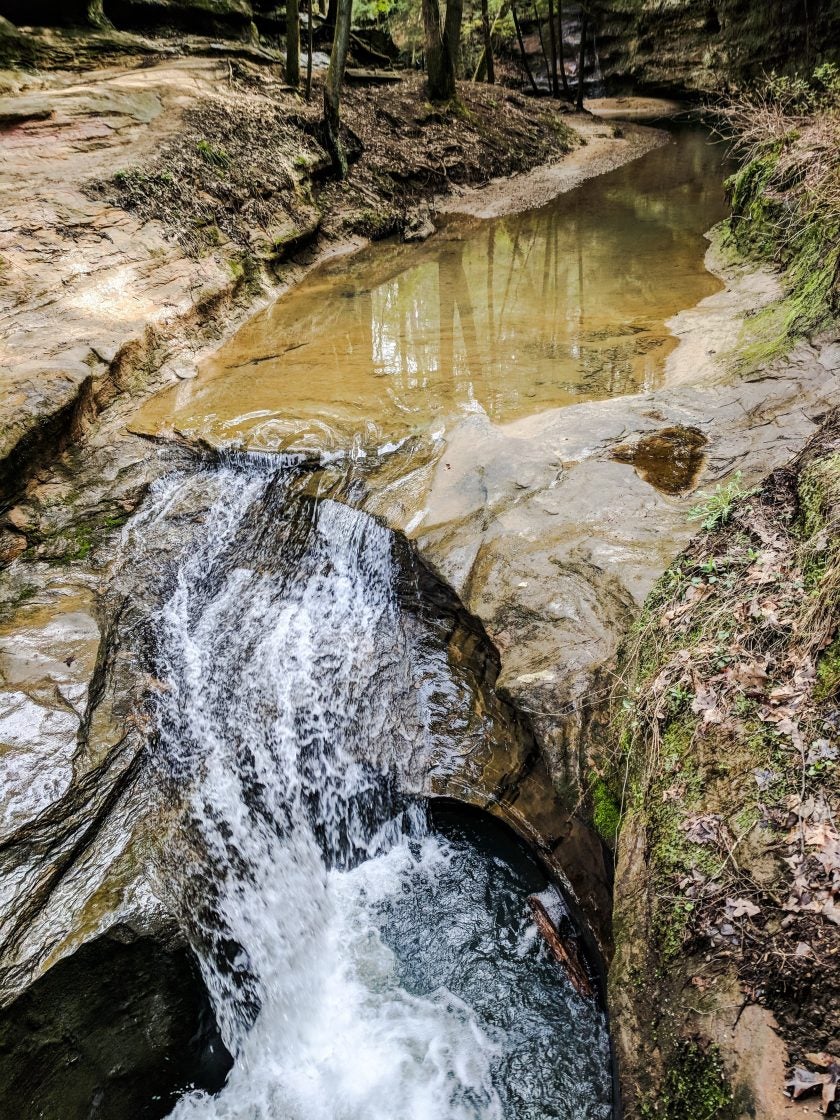 This picturesque pocket between Appalachia and the Midwest was formed when glacial floods carved through the black hand sandstone in the area, forming massive gorges and spectacular waterfalls. While Hocking Hills State Park is most famous for the vast overhangs of Old Man's Cave and Ash Cave, Devil's Bathtub also draws numerous visitors.
As Old Man's Creek spills over the Upper Falls and churns towards the Lower Falls, it gets caught in a tight basin where the water forms a whirlpool rather than another waterfall. The result is a spectacular show, in miniature, of how this whole region was formed thousands of years ago when all that Ice Age melt cut the park's most popular features.
As for camping nearby, visitors rave about Hocking Hills State Park, and for good reason— the state of Ohio has really thrown some weight behind helping Hocking Hills keep up with its own popularity and has renovated the park in recent years.
The Dyrt Ranger Kayla H. calls it her "all time favorite campground in Ohio." For the best possible experience, The Dyrt Ranger Ashleigh M. says to reserve one of the more secluded hike-in sites. "I stayed in site H31 which is one of the closest sites to the parking lot you can reserve ahead of time. It wasn't a bad walk back to the car and it was close to the outhouses. The hike-in sites also have access to the showers and pool at the main campground which is a short drive from the hike in sites," she writes. "It is one of the most beautiful places I've ever visited."
Fort Blackmore, Virginia
Once upon a time, the Devil's Bathtub in Fort Blackmore, Virginia was one of the area's best kept secrets. Word got out eventually though, and even the tough 7-mile hike with 1,614 feet of elevation gain hasn't been enough to keep this beauty under wraps.
The water becomes a brilliant aquamarine color after it cuts through the layers and layers of rock to whorl into a deep pool just the size of an old cast iron tub or two. Like Hocking Hills, this region was carved by ancient waters in a similar way, and was originally settled because of its proximity to Big Stony Creek and the Clinch River, both important to trade when Appalachia was still the frontier. Now you can reward your long hike with a dip in The Swimming Hole, just up the trail, before continuing on to see the Devil's Bathtub for yourself.
Rangers at nearby Natural Tunnel State Park offer guided tours to the area's natural phenomena. You can camp at Natural Tunnel State Park and enjoy those excursions yourself, or just enjoy the cabins and campsites and choose your own adventure.
The Dyrt Ranger Teresa K. notes that there's something for everyone here: "This place is absolutely breathtaking. A must go. Cabins, yurts, RV camping, primitive camping. Excellently maintained. The are so many activities for everyone of all ages."
Mono Hot Springs, California
https://www.instagram.com/p/Bl8tCy3Hpfk/?utm_source=ig_embed&utm_campaign=embed_loading_state_control
As you might expect from a place called Devil's Bathtub sitting in the shadow of a towering mountain called Graveyard Peak, this isn't the easiest destination to reach. It requires an eight-mile round-trip hike from Edison Lake to the Cunningham High Sierra Pack Station through canyons and mountain meadows, with some uphill scrambles as you approach the Tub and the postcard-ready views that surround it. You'll want to bring water along for sure, along with a pump to refill  for the journey back. Save a little space and weight and bring a hydration backpack that has a Sawyer® MINI water filter already built in, like Matador's Hydrolite. Simplifying your water purification process means you can keep sipping and worry about nothing more than the scenery.
The Dyrt Ranger Coleen C. spoke highly of Mono Hot Springs Campground, as an ideal base camp in the Sierras from which to explore the Devil's Bathtub, and beyond.
"This place is amazing!" said Coleen. "My boyfriend and I recently camped at the Mono Hot Springs Campground, and absolutely loved it. You get a fire pit, bear bin, and tent area. There are bathrooms (outhouses, essentially) very close and running water via spigot up the hill. Our campground was right next to the river, and hiking trails to lakes, meadows and hot springs run directly off of the campground. Just remember to bring bug spray!"
Ash Meadows National Wildlife Refuge, Nevada
https://www.instagram.com/p/Bba-D_BF0TK/?utm_source=ig_embed&utm_campaign=embed_loading_state_control
Devil's Hole has a different in name from the other bathtubs on this list; it's not a lake or whirlpool, but a hole that leads down to an underground aquifer. In some ways, though, Devil's Hole is the most legitimate devilish bathtub of them all. When an earthquake hits on the other side of the world, that Asian geologic activity has been known to shake the groundwater in Devil's Hole back and forth.
Devil's Hole is home to a species of fish that have been isolated from any bodies of water outside Death Valley for 10,000 to 20,000 years. Despite their long existence in this unlikely environment, however, the Devils Hole Pupfish is now unfortunately on the endangered species list.
There are a number of camping options within an hour's drive from Devil's Hole. Texas Spring sits on the California side of the state line that runs up against the boundaries of the pocket where Devil's Hole sits in Death Valley National Park.
The Dyrt Ranger Brian W. notes that it boasts "very cool natural features included with this campground. On the lower level (reserved for tent camping) has some shade trees, rock formations, flush toilettes, water, fire pits, tables and grills. The upper portion of the camp (where I stayed) is set up the same as lower, only difference is RV's can camp here." If you bring your RV, however, note you won't be allowed to use a generator here.
Another option is Mack's Canyon, a dispersed camping site that lovers of remote wilderness will appreciate. The Dyrt Ranger Deacon J. says "one of the top things to see is the bat colonies who come out at sunset and stay the evening. The stargazing is great as the forest is bristlecone and the canopy does not block the view of the Milky Way." You might find the weather more bearable, too. Deacon notes that temperatures run tens of degrees cooler up here than down in Death Valley itself.
Spearfish Canyon, South Dakota
https://www.instagram.com/p/BmDwLGUhse2/?utm_source=ig_embed&utm_campaign=embed_loading_state_control
Another one of those best kept secrets long guarded by locals, the Devil's Bathtub at Spearfish Canyon is still a little off the beaten path. It's not far from Bridal Veil Falls or from the Black Hills, which means tourists have mostly been diverted away, leaving those in the know to play.
The pull off for the hike is on a road called Cleopatra Place. Once you're there, you won't have much signage to go off of, but hopefully can follow the trail or a few friendly swimmers. This is going to be a bit of a hike, so prepare accordingly with good water shoes meant to give you lots of traction, as you will need to cross streams. Don't stop short either— it's possible you might miss the actual Devil's Bathtub if you mistake the wrong pool of water for the famous swirl. That means there is plenty of room to spread out once you've seen the Tub, if you still want to cool off away from the crowds.
For great family-friendly camping close at hand, Chris' Campground is a private property with friendly owners. The Dyrt Ranger Theresa H. says this spot "offers beautiful grassy sites for tents and campers (RVs) of all sizes. They have 3 heated pools, a basketball court, recreation room, playground, & petting zoo for the kids, as well as a camp store, laundry facility, free WiFi and fire pits. They are close to Spearfish Canyon which has wonderful hiking trails and trout fishing. The area is beautiful. There are also close to Deadwood and Lead, both of which are worth exploring!"
Be an Angel at Your Local Devil's Bathtub
Not only are all these Devil's Bathtubs geological wonders and a great way to cool off after your hike, most have some history to them as well, or at least nearby. After all, these swimming holes have been enjoyed by humans for hundreds and thousands of years. By keeping them clean and practicing Leave No Trace principles, we can go on enjoying them even longer — adding our own history to these swimming holes and whirlpools.
Devil's Bathtubs are more likely to lead to underground springs and caves than gateways to the underworld, but like the saying goes, there's a special place for those who turn beloved local treasures into trash piles.
Popular Articles: