Have you ever wanted to escape the demands of modern life and spend weeks (or months) in the woods? Two long-distance hikers are sharing their journey on the AT and the PCT, and showing how you can do it, too.
Join us for first-hand accounts as they tackle the country's most iconic long-distance trails; the Pacific Crest Trail and the Appalachian Trail. Jenny R. and Shelly B. are each testing out a backpacking backpack to see how it holds up for long-distance hikers.
---
Thru-hiking one of our country's iconic trails is a bucket-list item for many enthusiastic hikers. But not everyone has the time (or the desire) to spend months on a trail.
This summer, two of The Dyrt rangers tackled thru-hikes in more manageable sections. Shelly B. hiked on the Appalachian Trail, crossing New York from the border of New Jersey to just south of Vermont, and Jenny R. (along with her husband, Jeremy, and their dog, Delilah) tackled the Oregon section of the Pacific Crest Trail.
Section Hiking the Pacific Crest and Appalachian Trails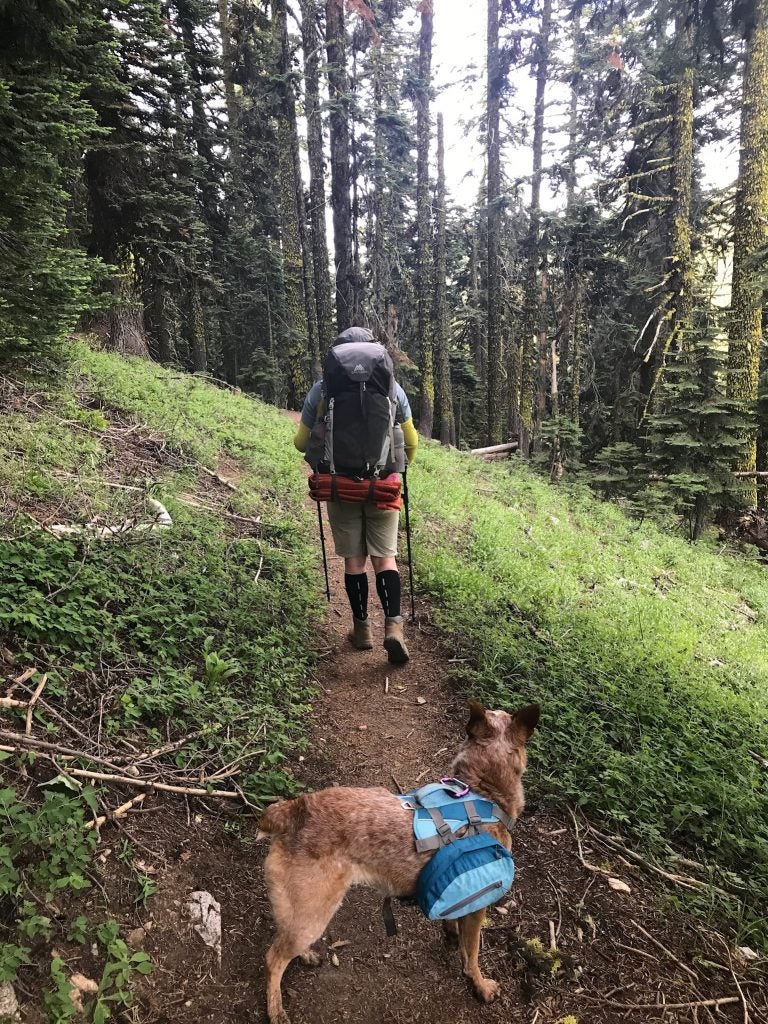 Don't fool yourself — just because you're not going end to end, doesn't mean a section hike won't be a challenge. You'll still be packing food, water, and supplies for days or weeks of hiking. But as Shelly and Jenny both tell us, hiking a section is plenty of time to fall in love with these trails — and to want more.
Preparing to hike a section of a long-distance trail
Many thru-hikers will tell you, the only way to be ready for the trail is to get on the trail. But if you're not spending months trying to cram hundreds of miles into one season before snow arrives, then you have more freedom to hike at a comfortable pace and select a section that speaks to you.
We asked Shelly and Jenny how they prepared to hike sections of these trails.
Shelly: "The first time I tackled the A.T. through the state of Maryland, I did not train beforehand and I hiked 5-8 miles a day, which was very physically challenging at the time. Since then, I have wanted to do higher mileage, so I train more. The following year, I walked a lot prior to the hike; however, that did not prepare me for the climbs — although I did increase my mileage to 5-13 miles a day.
"The AT is different than walking at home. At home, I can walk 15 miles a day; however, that means I can do less than that on the AT when I factor in my pack and the climbs. This is no biggie for the hiker who plans on doing 4-10 miles a day. Unfortunately, I see a lot of hikers who think they can walk 10-20 miles a day but end up failing miserably because they have no experience in the mountains with a heavy pack.
"My advice to the inexperienced AT hiker? Plan on 5-10 miles a day for your first hike. Then, change it up from there."
Jenny: "[Our] physical training included hikes of varying distances and difficulty (i.e. elevation changes) with full or relatively full pack weights. Every hike we have taken has been with packs of at least 28 lbs.
"Jeremy and I have also been in decent shape and were able to do 11 mile hikes with day packs relatively easily or with not too much difficulty before we decided to hike across Oregon so we just needed to get used to carrying heavy packs longer distances. This also allowed us to constantly check in to see what gear we wanted to keep and what gear needed to be replaced, updated, or left out. Our hikes started out without full food for multiple days, but as we got stronger we included full water as well as full food in our packs. We also did some physical therapy to prepare."
What's the most important step before you hit the trail?
Being physically prepared is important in avoiding injury and enjoying your hike. But there are many other things to think about. We asked Shelly and Jenny what they did, outside of training, that made them feel ready.
Shelly: "I have a spreadsheet to track what I'm packing. In the early years, I had to work at cutting back on items. I used to overpack so much, especially regarding clothing! The less I have, the lighter I am, the easier it is to hike! Even so, I still find myself adding things occasionally.
"After my backpacking weekend just prior to the trip, I decided to add a beanie hat to my pack to wear on cold nights. This can also serve as a food cozy when I have my food rehydrating in hot water in a bag."
Jenny: "Physical therapy has been important in helping me to reinforce good habits in posture. Also laying out my gear and food and taking pictures. I am a very visual person so a photo helps me to see where I need to add or subtract things. I will always have the feeling that I am forgetting something but that is life!"
Why hike a section of a long-distance trail?
Jenny and Shelly are not professional athletes or extreme hikers. But they both love to be outside, pushing their boundaries. And they each had their own reasons for taking on their respective challenges on the Appalachian Trail and the Pacific Crest Trail.
Before they began, we asked Jenny and Shelly: What inspired you to do this?
Shelly: "I wish to be rejuvenated! Life at work and home has stress. As a teacher, I may have my summer off, but I have other things going on. My mother who has Alzheimer's has been living with us, and it is difficult to see her progression.
"I also enjoy the physical challenge of the hike. The stress I put my body through on the hike has a cleansing influence on my mind."
Jenny: "I hope to gain a new perspective on my life and what I want to do in the future. Jeremy and I are at a life crossroads and this hike will really allow us to discuss and develop a plan for life once we return. We know the plan may get shot to shit, but it is nice to have a direction.
I also want to get more physically in shape–which will obviously happen as a byproduct of walking 10+ miles a day. I really want to enjoy this experience, not just survive it. Think of it as a skiing comparison: I want to actually ski the double black diamond runs, not just make it down the mountain."
What is one thing you're looking forward to on the trail?
Shelly: "On previous AT hikes I've discovered that each part of the trail offers something different. Maryland had views and historical areas. Smokey Mountains had nature. Parts of the trail in New York supposedly offer views of the Hudson River and New York City. Since I have never seen those places, I look forward to being in the woods and seeing civilization from afar."
Jenny: "All of it! I have lived in Oregon for 8 years off and on but really haven't explored many parts of the state. I love the mountains but am a little nervous of hitting lots of snow.
"Also, I am really looking forward to the Trail Supply Co. replenishment boxes! Jeremy and I are trying to be as healthy as possible on this trip and we let loose a little bit with our Trail Supply boxes with Mountain House desserts, fruit leathers, and jerky!" 
Follow along as their hikes unfold and find out what Shelly and Jenny thought of their Gregory Maven backpacks. Stay tuned for more from the AT and PCT! 
Popular Articles: