One year after college, I found myself curious about Madison, Wisconsin. It was a long way from my home in Little Rock, Arkansas, but I wanted to experience the crisp air, beautiful hiking trails and upbeat energy of State Street for myself. There were other places I was curious about, too. So, I packed everything I owned into a 26-foot travel trailer and redesigned my entire lifestyle.
As a recent college graduate, I'd been comfortable in the two-bedroom house I rented in a cozy neighborhood with friendly faces. My dog had plenty of room to roam in the backyard. Life was everything it was supposed to be, but like many young people exploring the new freedom of "adulthood" without school, I craved an adventure bigger than my hometown.
I bought the 2014 Jayco travel trailer from my brother on a whim. And then I set my sights on Madison—but I tried to keep an open mind and flexible schedule. My intent was to explore the U.S. while embracing a slower lifestyle. I wanted to enjoy the journey as much as the destination.
After a few days of camping at the Viking Village Campground in Stoughton, Wisconsin, I realized that while some people called me crazy, this nomadic lifestyle worked great for me. I started to picture myself camping and moving through other states like Colorado, Utah, Arizona, and California. With the new freedom of a home on wheels, I began to do just that.
The RV Lifestyle Offers More Freedom for Recent Graduates
I'm currently in the middle of my journey to visit the breathtaking state of Colorado. Two weeks ago, I was in Amarillo, Texas hiking in the Palo Duro Canyon, and next week I'll be hiking in the Garden of the Gods in Colorado Springs.
Because I now work full-time as a marketing specialist and freelance writer, my travel style looks a little different than how I first pictured it would. I tend to stay in each place for about two to three months, and I pick the campgrounds I stay at based on their monthly rates. Once I'm settled in a comfortable campground, I have to focus on my work while saving up for the next move.
After obsessing over all of the van life posts on Instagram and re-reading Into the Wild and Vagabonding: An Uncommon Guide to the Art of Long-Term Travel over and over again, I was determined to make full-time travel work for me. At first I envisioned myself boondocking in isolated natural areas. But, considering my need for dependable Wifi, this has yet to happen. I've still been able to enjoy scenic hikes at places like Tettegouche State Park and Devil's Lake State Park. I've walked across the rushing headwaters of the Mississippi in Minnesota. And because of the leisurely way I travel, I've been able to connect with the locals in each and every place.
I've always valued experiences and adventure over material items. This lifestyle has allowed me to lean into that focus even more. As it turns out, a lot of Generation Z is looking for the same kind of thing.
The Gen Z Gurus, David Stillman and his Gen Z son, Jonah Stillman, define Gen Z as anyone born between 1995-2012. This means Gen Zers are anywhere between ages 7-24—many haven't had enough experience to define what they value about travel just yet.
Millennials took over the travel scene by overloading Instagram with #vanlife, but where will my generation stand when it comes to travel, camping, and the outdoors? I've landed at the cross-section of all three.
Gen Zers Will Likely Be Thrifty Travelers
Generation experts like Jonah Stillman think Gen Zers are picking up on the full-time camping travel trend.
"Not a large percentage of Gen Zers have money to go spend and travel, but I think it will appeal to Gen Z because we are very much into experiential events; we spend money on experiences way more than we do on products, so I think [camping] could be something that they tap into or use," explained Jonah. "The experience of getting to see different parts of the U.S. or the world will definitely be something that will appeal to Gen Z."
Although Gen Zers aren't bringing in the big bucks yet, they still find time to travel 29 days out of the year. It's safe to assume this number will only increase over the years. While this urge for travel and adventure may seem comparable to Millennials' outlook on life, Gen Z is a considerably different generation when it comes to their positioning on college, finances and future jobs. Gen Zers are putting their finances first to avoid the mountainous piles of debt that still plague Millenials.
"I think college is obviously still important; however, we watched the Millennials graduate college and be crippled by college debt, so Gen Z is absolutely more open to alternative learning solutions," said Jonah. "We're open to doing online school, trade school, taking gap years."
Camping is an affordable way to travel and explore. Living in a travel trailer or van can be an affordable way to live. It makes sense that we'll start to see Gen Zers gravitating towards these trends for financial reasons.
Not only is Generation Z more careful with their money, but they also have a more entrepreneurial mindset and desire flexible work schedules. Forty-one percent of Gen Zers say they already own their own business or plan on becoming entrepreneurs.
After receiving my bachelor's degree in mass communications, I had a tough decision to make. I could go after my dream of being my own boss and freelance or I could apply to work for someone else. I chose to stick with what I really wanted out of my work. Sometimes I think it would be a lot easier to just punch a clock and forget about it, but the flexibility of my schedule is too good to give up.
Since Gen Z values autonomy with their schedules, they will most likely allow more time to work while on the road. This combined with Gen Z's urge to travel, means the cheaper route of living and traveling in an RV or van makes the most sense for this thrifty, experiential hungry generation. The "unconventional" choice to live and work in an RV as I do, may become much more conventional as the Gen Z generation comes into their own.
What Full-Time Camping Really Looks Like for Gen Z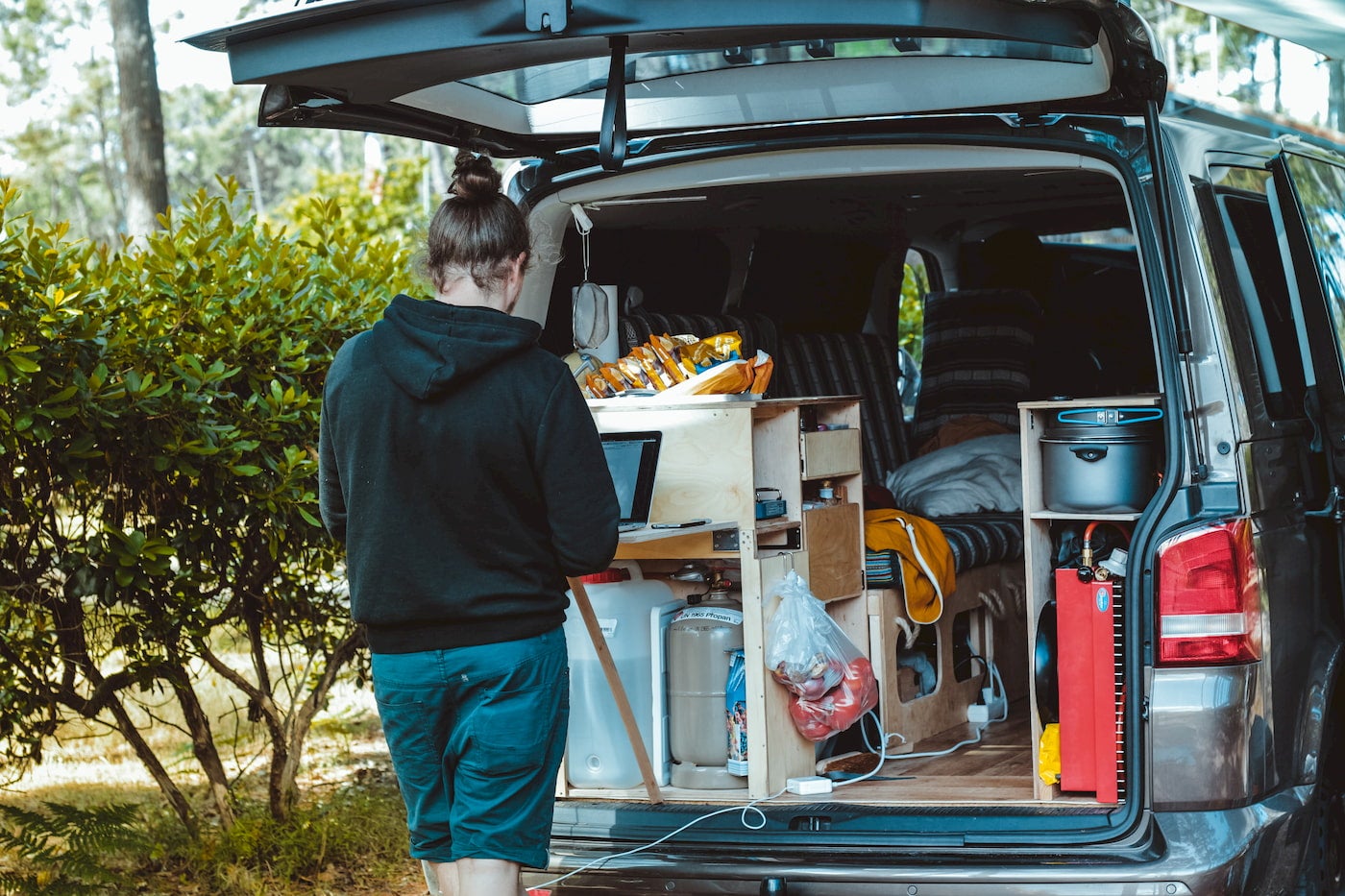 During my first week of RV living, I woke up in a gorgeous and spacious campground in an unfamiliar state I had yet to explore. Without a set schedule and a job to get to on time, I relished my morning cup of coffee while sitting at the weather-beaten campground picnic table. I finished the book I hadn't had time to read in months and eventually polished off the coffee pot.
That afternoon, I connected with the couple camping beside me. By nightfall, we were all sitting around a campfire sharing s'mores and campfire stories. My age along with the fact that I was traveling across the country by myself came up as it tends to do.
Two complete strangers were surprised and impressed by the decisions I've made that brought me here. And they shared their stories with me, too. It's connections like these that remind me why I chose to travel and camp in the first place. The people you meet and the places you discover on this kind of journey stick with you. Even if it's for a short period of time, they all become part of you and your story.
Personally, I'm excited for more Gen Zers to discover this lifestyle.
Because Gen Z has grown up with technology, a lot of people don't expect camping or outdoor activities to be of interest to this generation. But instead of playing video games or constantly binging the latest Netflix show, Gen Zers tend to enjoy spending time outdoors and exploring off-the-beaten-path places. Eighty-three percent of Gen Zers said they enjoy traveling to locations that allow them to explore the outdoors and be active.
"Unfortunately, I think that a lot of people just assume that we're always indoors on tech devices, etc., however, I think that we don't necessarily know enough about camping yet," explained Jonah. "We don't know about the resources that are available to rent equipment that we don't have, we don't know about a lot of that stuff, so I think before we can judge whether or not Gen Z is camping, we have to give us the opportunity to learn about it."
While Generation Z may not be fully aware of the camping resources available to them, they have noted that camping and spending time outdoors brings them more balance and improves their overall emotional well-being and health. Ninety percent of Gen Zers say they expect to camp as adults.
Speaking from my own experience on the road, full-time travel pushes your boundaries and opens up possibilities. When I think about my future, I see full-time travel as being part of the equation. Even if it does sound nice to take a break, rent a place, and relax in one area for a while, it would be hard to give up the complete freedom and control that I've found on the road between campgrounds.
---
Related Campgrounds:
Popular Articles: