This article on Washington fly fishing is brought to you by AfterShokz. AfterShokz' wireless headphones use bone-conduction technology, so you can stay safe and still listen to your music, podcasts, or audiobooks while out on the river.
---
Given its position in the Pacific Northwest, Washington's access to waters both small and large is abundant. For those who enjoy fly fishing, Washington provides the water, the fish, and the lush green scenery that lulls you into that coveted state of fly fishing peace; just cast and chill.
For the fishing fanatics among us, we've compiled a quick list of our favorite spots to fly fish throughout the state of Washington, and where you can park your rig (or tent) nearby.
Plan Your Next Fishing Trip Around these Prime Washington Fly Fishing Spots
When it comes to Washington fly fishing spots, streams range from easy-flowing tricklers to massive, steelhead-filled rivers. Whether you're interested in rainbows, salmon, or the native steelhead trout, Washington's fisheries have a little something for everyone.
1. The Skagit River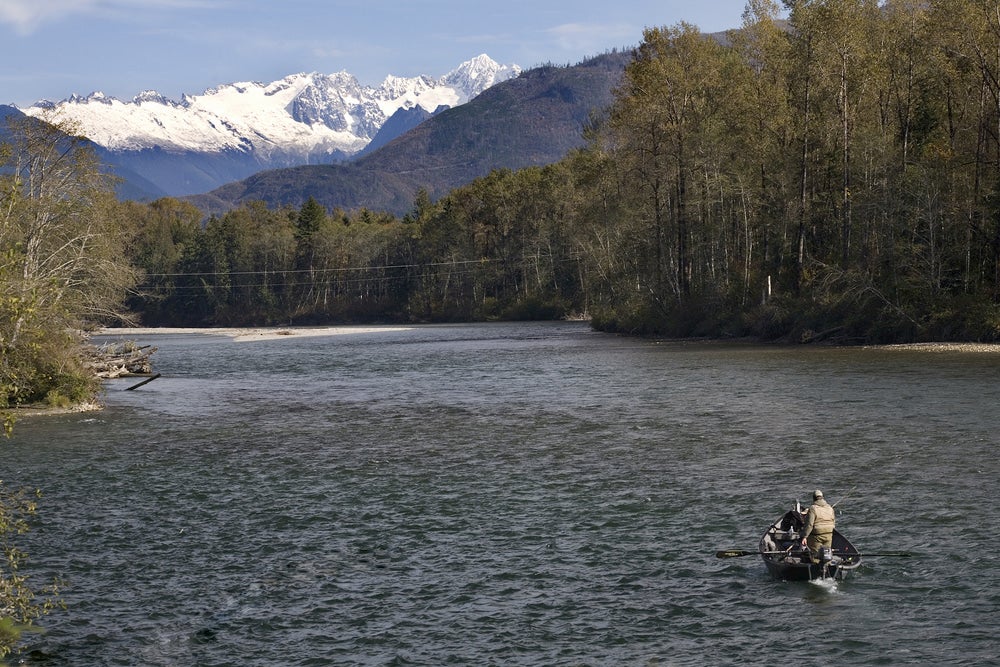 Made famous due to its heavy population of salmon and steelhead, the Skagit starts in Canada before winding its way through the state of Washington. Since the river is home to both hatchery raised steelhead and wild fish, the running months are in both the summer and the winter, meaning that its season extends far past other steelhead fisheries in the state.
Anyone who has fished steelhead before knows that they can grow to be quite large, and fly fishing for steelhead has gained an infamous reputation as one of the most difficult sports in the Pacific Northwest. That said, bank access to the Skagit is a tough get, particularly because the river runs so wide in some parts, so fly fishing from a raft or boat is usually your best bet.
This campground offers a variety of activities for anglers and families. The interpretive center, riverside trail, and well-spaced campsites make it a great place for larger groups with a few folks interested in fishing the Skagit. While being well spread out, each tent site is close to the riverbank, so RV noise won't be a concern, and some of the state's best salmon fishing can be had just steps from your tent. The campground includes 10 tent-only sites and 50 RV sites with full hook-ups, as well as two cabins located near the campground entrance.
"It's one of my favorite spots because of the fishing access. The tent sites are right on the waterfront behind a row of foliage. The Skagit is a fishable river and spectacular when the salmon pinks run every other year. You can hear them jumping and splashing from your campsite. It's amazing."— The Dyrt camper Kayko S.
2. The Skykomish River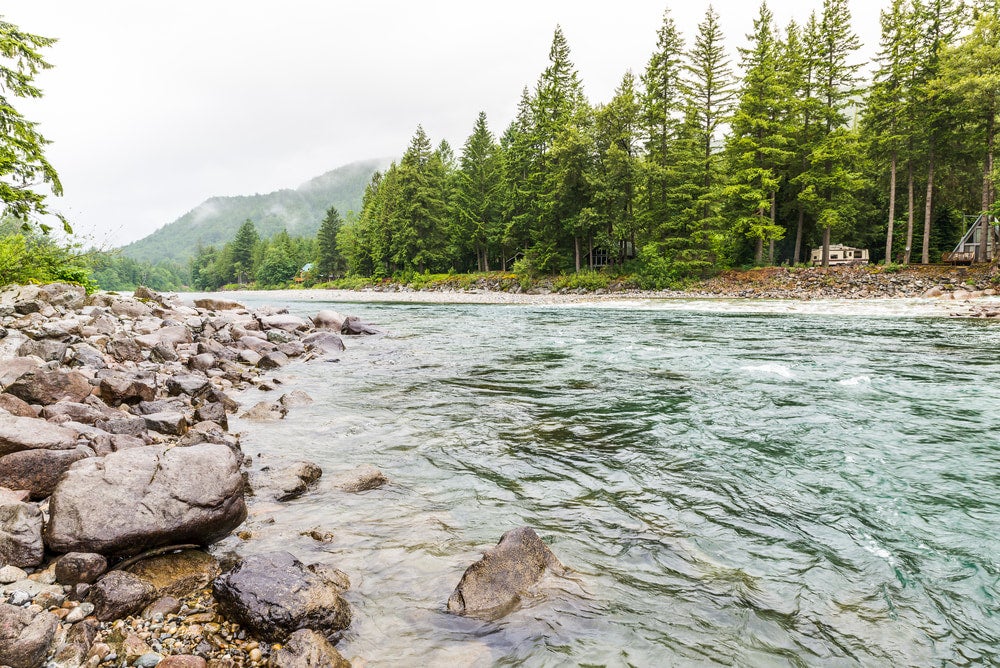 The Skykomish is quite close to the city of Seattle, making it a popular place for urban anglers to wet a line throughout the year. Like most rivers in the Pacific Northwest, this water is chock-full of salmon and steelhead. With both winter and summer runs of steelhead and four species of salmon to boot, the river provides adequate opportunities for anglers to hook into some larger fish.
That said, due to water levels, flow patterns, and a number of other environmental and biological factors, the Skykomish can be a notoriously tricky spot. Check with local guiding companies prior to going out—they'll let you know if it's hot (or maybe they won't).
Located on the shores of the South Fork Skykomish River, Money Creek offers 24 campsites of the standard, nonelectric variety, and includes both towering old-growth trees and a plethora of excellent hiking options. Since it's a convenient drive not too far from interstate 2, the campground gets popular in the summer months, particularly amongst anglers hoping to wade into the Skykomish, so reservations are highly recommended.
"Money Creek is a great place for easy and new campers. It's not a long drive from the city of Seattle. You have the river to play with in the hot summer days and have enough room to play around your site." – The Dyrt camper Nikki R.
3. Wenatchee River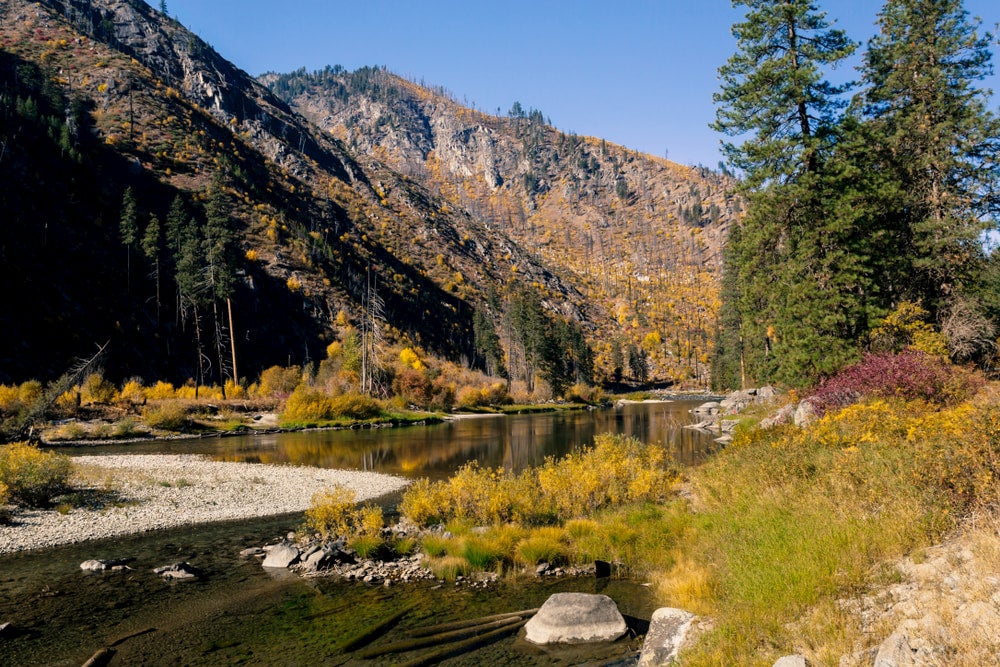 Located about 2 hours outside of Seattle, this river offers some of the top Washington fly fishing habitat and plays host to both hatchery raised and wild steelhead. The river's access points vary, but most visitors eventually find their way to Lake Wenatchee State Park or the Wenatchee Confluence State Park, where the fishing and camping are tough to beat amidst the gorgeous Washington wilderness.
Camping Near this River: Wenatchee Confluence State Park
A year-round camping locale at the intersection of the Columbia and Wenatchee Rivers, this state park is a prime location for any angler hoping to have easy access to the Wenatchee's solid waters. The park is an active one, offering several sports facilities and cycling venues, as well as a variety of water sports. The popular Apple Capital Loop Trail forms a 10-mile loop that runs along the Columbia River. The campground here offers eight tent sites and 52 full-hookup sites, as well as restrooms and showers. The state park is literally on the Wenatchee River, making angling an easy win while you camp.
"Park is located on the Wenatchee River. Nice sites, some shaded. Tents and yurts available for camping and RV sites for your RV." – The Dyrt camper Sue H.
4. The Spokane River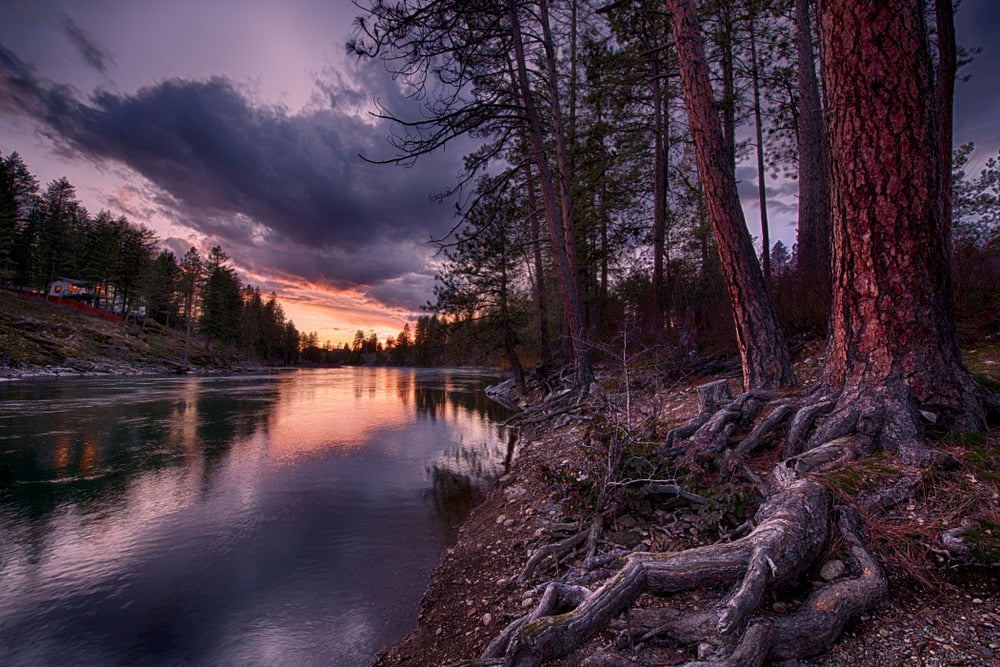 Beginning in the lovely lakeside town of Coeur d'Alene, the Spokane River is a massive flow that ends up dumping straight into the Columbia. Since it crosses so much territory along the way, the river is hindered and helped by six dams and the annual accumulation of snowmelt, which heavily dictate its flow and fishability.
Typically, since the river relies on the alpine snowmelt, July is the start of the best fishing season on the Spokane. There are a few salmon here and there, but the main catch in the Spokane is rainbow trout, along with a brownies as well. Once the water's high, anglers can expect pretty decent catches between the mid summer and early fall. Anglers should be aware that snowmelt can create rapid water or deep conditions along the river, so wading is ill-advised unless you've measured the depth.
Spokane's most notable state park, Riverside includes almost 60 miles of hiking trails, a horse-friendly campground, and almost 600 acres of terrain open to off-road vehicles. Between the Spokane River, the Little Spokane River, and Lake Spokane, this park offers nearly 200,000 feet of shoreline to visitors.
The Bowl and Pitcher Campground offers 16 standard tent sites and 16 partial-hookup sites. The Nine Mile Recreation Area has three tent sites and 21 sites offering full-hookups. The Little Spokane campground includes 11 primitive campsites and four unique yet ever-popular boat-in sites on Lake Spokane available on a first-come, first-served basis. Depending on where you decide to stay, Riverside offers walk-up access to the Spokane River.
"This is a perfect getaway for people looking to unplug as no cell service (tested on sprint, verizon, and google fi) is available. There is tons of wildlife and lots of trails and riverbank to explore…lots of space for swimming and fishing!"— The Dyrt camper Mary C.
5. Pass Lake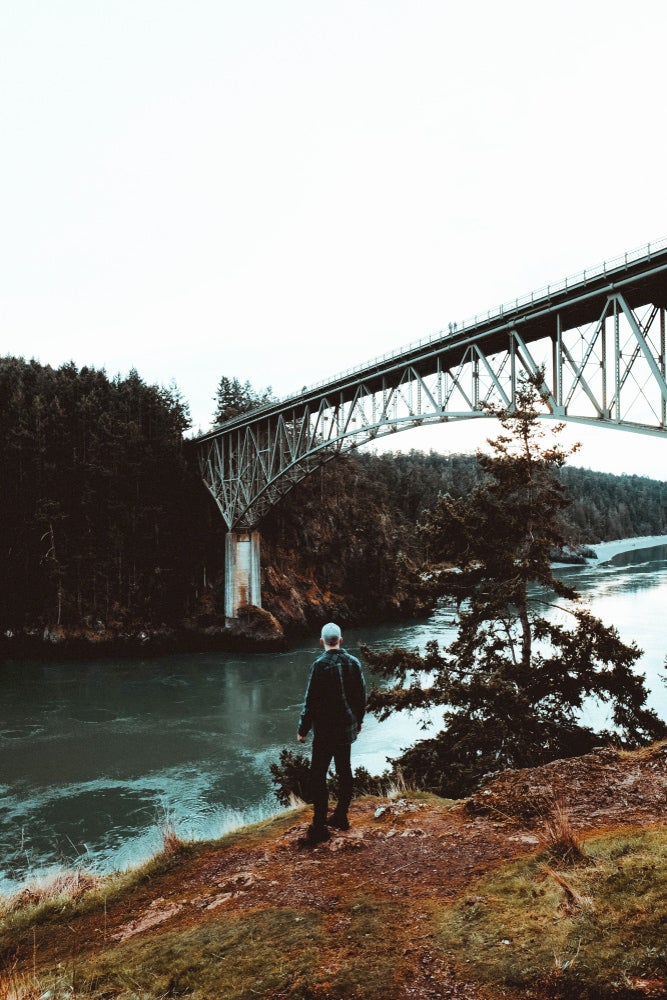 A slightly smaller lake that sits just over an hour from Seattle, Pass Lake is a great place for anglers new to the sport of fly fishing in Washington. Unlike the tumultuous river waters spread throughout the state, Pass Lake is a placid, fly-only body of water that is stocked with rainbow and brown trout, which tend to run a little smaller than their steelhead counterparts.
Because the lake is restricted to flies only, testing your skills is much easier here than a lake where bait, spinners, and other non-fly contraptions are used to catch fish. Overall, it's an excellent place to find your casting stroke without risking it all on a 20-pound steelhead.
Washington's most-visited state park featuring big water, expansive vistas, and an array of local scenery that attracts visitors of all kinds. The park offers access to Cranberry Lake and a long stretch of beach along the Puget Sound, as well as access to historic old-growth forests.
The campground offers 172 tent sites, 134 sites with partial hook-ups, and up to 20 restrooms onsite, spread between three different campgrounds. The main campground is at Cranberry Lake (147 tent sites, 83 partial-hookup sites). Pass Lake is a mere 8-minute drive from the Cranberry Lake campground, and is walkable from Bowman Bay campground.
"Boy did this campground have it all! Fishing, kayaking, biking, hiking, swimming, showers, coffee, you name it! Very popular area, our site was pretty small but managed to fit 3 tents and two vehicles. All sites had picnic areas. Great beach spots and trails." – The Dyrt camper Jess G.
6. The Yakima River
One of Washington's longest rivers is also a haven for Washington fly fishing. While pulling double duty as a major tourist destination, the Yakima offers anglers a multitude of banks, cuts, and deep waters on which to fish for some of the finest chinook salmon on the planet. One of the best parts of the river? It's fishable virtually year-round, with 4 reservoirs that absorb what would be unfishable snowmelt runoff.
In addition to chinook, the 214-mile long river also supports a flourishing population of rainbow, brown, and cutthroat trout, which feed on the chinook's eggs and thus grow to excellent sizes. With bank fishing opportunities galore, the Yakima is fit for almost any angler, and certainly has ample space enough for the wide crowds that flock to it each year.
This park offers a family-friendly atmosphere complete with access to the lake, a swim beach, a playground, and several other water activities. Includes 90 standard campsites and 45 sites with full hook-ups. Two sites are reserved for hikers and bikers with no vehicles. Most of the tent sites at Lake Easton are within walking distance to the Yakima River.
"This was a lovely campsite. It was smaller, yet felt large enough so you had your own privacy and space. There were clean facilities available, as well as drinking water and trash bins. Our lot was spacious with a nice picnic table, fire pit, and area for our two person tent . . . I would definitely stay here again for a longer period of time!"— The Dyrt camper Jenna K.
7. Sauk River
A haven for wild steelhead, the Sauk River has garnered a reputation for its crystal clear waters, which trickle down from glaciers spread throughout the Glacial Peak Wilderness. It can be a tricky river to fish, however, as the clarity of the water is often spoiled in the rain, and the steelhead tend to run during the rainiest seasons of the year in the Pacific Northwest (March and April).
Thus, the Sauk is likely not the place for a beginner to the world of Washington fly fishing, but is no doubt a murky challenge for those who've mastered some of the techniques needed to nab the big ones. That said, the Sauk is a tributary of the Skagit, so if you skunked in this territory, try fishing its cousin for a little better luck.
Just 10 minutes away from the town of Darlington, Clear Creek campground features 13 sites available via reservations or on a walk-in basis. Each site has a fire pit and is close to the banks of the Sauk River. It is ideal for anglers in that it offers quiet, secluded campsites in close proximity to the water and the nearest town.
"10 minutes outside of Darlington city limits is the 13-site Clear Creek Campground located right along the rocky shores of the Sauk River. For being so near to town, we felt rather far away from civilization with the canopy of green and blue above us and the river only yards away"—The Dyrt camper Victoria C.
8. Hoh River

Perhaps the most iconic of Washington fly fishing destinations, the Hoh River is located on the Olympic Peninsula, where it trickles down from the glacier of the same name before making its way all the way to the Pacific Ocean. On the way to the ocean, the river runs right through Olympic National Park, making it a must-see destination for anglers and outdoor enthusiasts alike. Most of the steelhead that make their home in the Hoh are native to Washington, and can grow to massive sizes, though hatchery steelhead have been introduced in recent years to assist with population control and growth.
Like the Skagit, the hatchery fish tend to run in November, with the native fish running a few months later in January or early February. The lore of the Hoh River are the king salmon, which are scarce to be found while fly fishing in Washington, but crop up every once in awhile (usually in the fall) in the neighborhood of 45 pounds. Best access to the Hoh is via drift boat, though wading is possible on the smaller, southern sections of the water.
One of the most beautiful places to camp in the country, Olympic National Park offers a plethora of options for the eager angler hoping to get a jumpstart on the Hoh River's notoriously fishy waters. Reservations are available at Kalaloch and Sol Duc, and fill up quickly in the summer months due to their obviously incredible scenery and location.
"Ocean views, quick stroll to the beach, clean campgrounds and bathrooms. Could it get any better? This was my top favorite campground I've been to and will definitely return!" – The Dyrt camper Molly A.
9. Puget Sound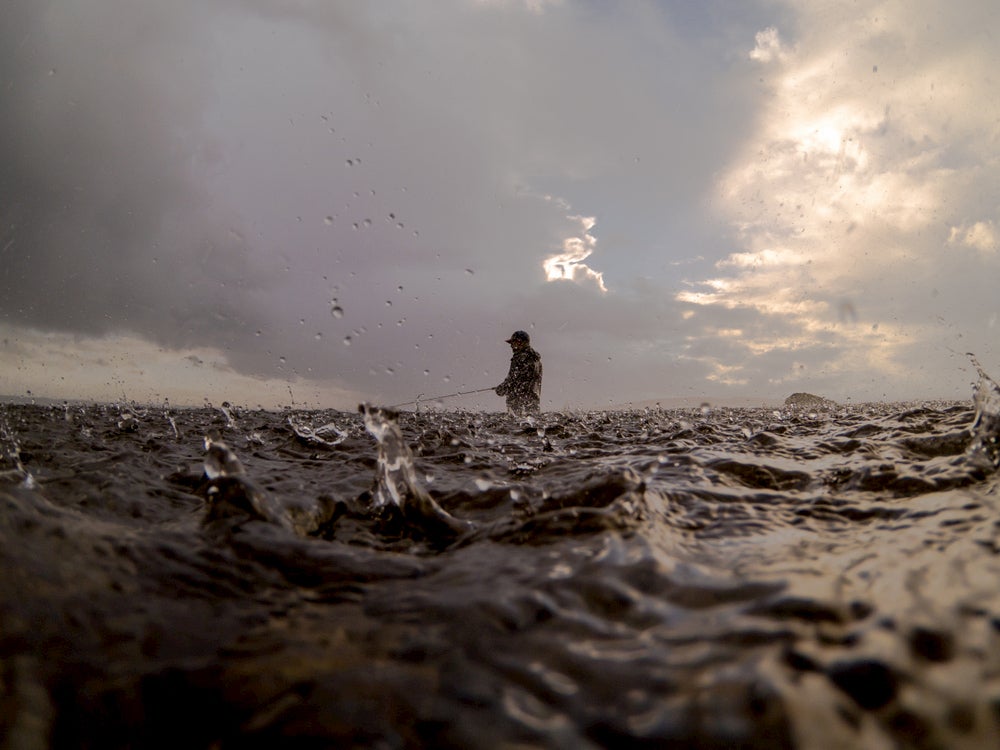 One of the largest bodies of water on the list, the Puget Sound offers an abundance of opportunities when it comes to Washington fly fishing. While not technically the open ocean, it certainly can feel like it to an angler that chooses to wade out into its expansive waters. That said, the Sound enjoys large populations of salmon, including coho, pink salmon, and chinook (as well as some sockeye), but many anglers find excitement in chasing the rare sea run cutthroat trout.
Sea-run cutthroats differ from their freshwater brethren in that they've been feeding in the saltwater territory, which enhances their feeding patterns and creates a frenzy of activity around beachfront watering holes. While there's a bit of a technique to grabbing these sea-faring trout, it's a blast for anglers used to basic river fishing. On the other hand, fly fishing in the Sound can also yield coho, which can range up to 20 pounds, making them one of the most exciting fish in the world to land on a fly rod.
This well-placed state park offers all the traditional amenities of highly-visited state parks, on top of easy access to some of the best fly fishing in Washington. Located just a short walk to the beach of the Puget Sound (otherwise known as casting waters to anglers), Joemma Beach is a premier place to park your tent for close access to fishing, kayaking, and wildlife watching. A little out-of-the-way, Joemma State Park remains a relatively secluded campground that's perfect for those seeking a quieter experience.
"It's really quiet and peaceful here. You cannot reserve this state campsite online and so it is first come first serve. If you have a boat or a kayak, they have sites set aside in addition to the ones mentioned above that you can kayak to and stay. Love this place….will be back to enjoy it for sure!" – The Dyrt camper Dana R.
10. Klickitat River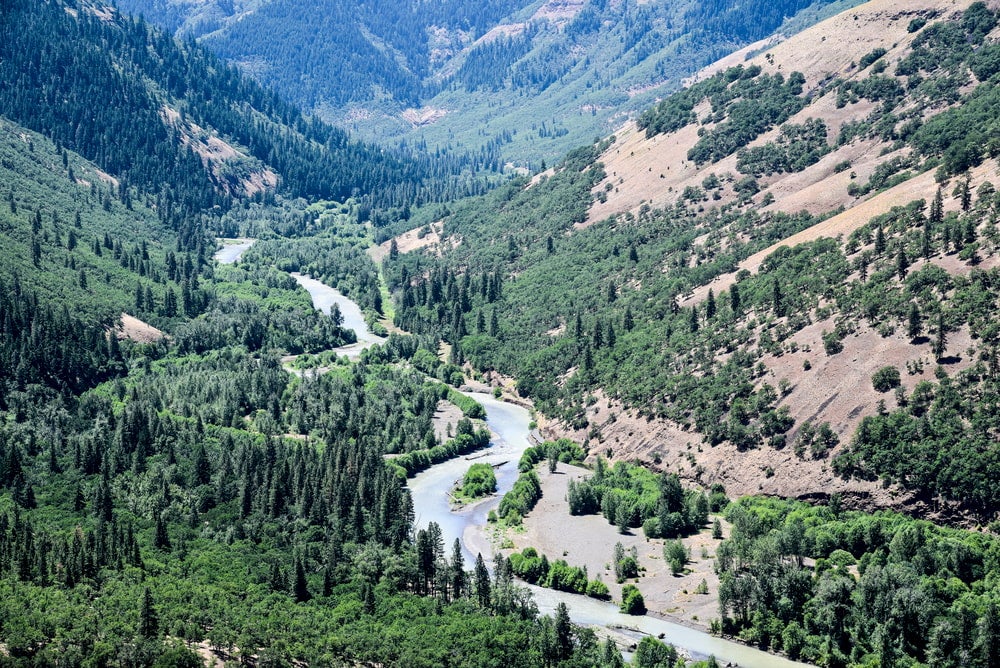 Another tributary of the Columbia, the "Klick" is a fast-moving, glacier-fed river that can be difficult for Washington fly fishing, but rewards those brave enough to stick it out. With several pools mixed into pockets of heavy whitewater, fly fishing here can be a technical challenge, but the steelhead run between August and November is an excellent time to test your skills. The river is also tucked beneath the Mount Adams volcano, so getting there for just a day might be difficult.
Most local guides recommend an overnighter camping trip to allow you ample time to get to know the fish. With smaller sections of the river presenting more close-up opportunities for fly fishing than some of the longer, wider rivers on this list, the Klickitat is in a Washington fly fishing class all unto its own. As with many of the Washington rivers and lakes we've highlighted, the chance for a 15-pound wild steelhead is the reward for those willing to hunt for the perfect pool or tail-out.
This campground is rarely filled up due to its secluded location and large variety of sites. There are full amenities including flush toilets and showers, and sites are large and roomy, accommodating up to 5 vehicles per campsite. It's a bit more of a drive than some other camping spots to get to the Klickitat, but the scenery, hiking terrain, and overall seclusion are well worth the miles.
"This campground is well maintained and clean. There are showers, bring quarters if you want to take advantage of them. We enjoyed pitching our tent right next to the stream that runs through the camp, and checking out Goose Lake, about 6 miles away, as well as the natural bridges and ice cave."— The Dyrt camper Ana T.
---
This article was brought to you by AfterShokz

Pick up a pair of AfterShokz's open ear headphones today!
---
Related Campgrounds:
Popular Articles:
---

---