Historic flooding in the midwestern United States began this past March and has continued into June, impacting more than seven states resting along the Missouri and Mississippi Rivers. The tributaries of this enormous drainage—the Illinois, Arkansas, and Ohio Rivers—have also flooded extensively this year. The damage from these floods so far has hurt rural farms and river towns, slowed industry along the rivers, and has even taken lives in its wake.
The intensity of this flooding is the result of heavy snowpack from winter blizzards, followed by a spring with frozen and saturated grounds, above-average precipitation, and warm temperatures. As snow began to melt and rainfall began to increase, the excess water hit the saturated grounds and had nowhere to go, overflowing many rivers and streams. With this, management from local, state and national organizations has begun to curb flood waters to prevent further damage, but true recovery efforts could still be months away. Here's the latest on the midwest floods and what outdoors enthusiasts need to know.
The Latest on Severe Flooding in the Midwest and Its Impact on the Outdoors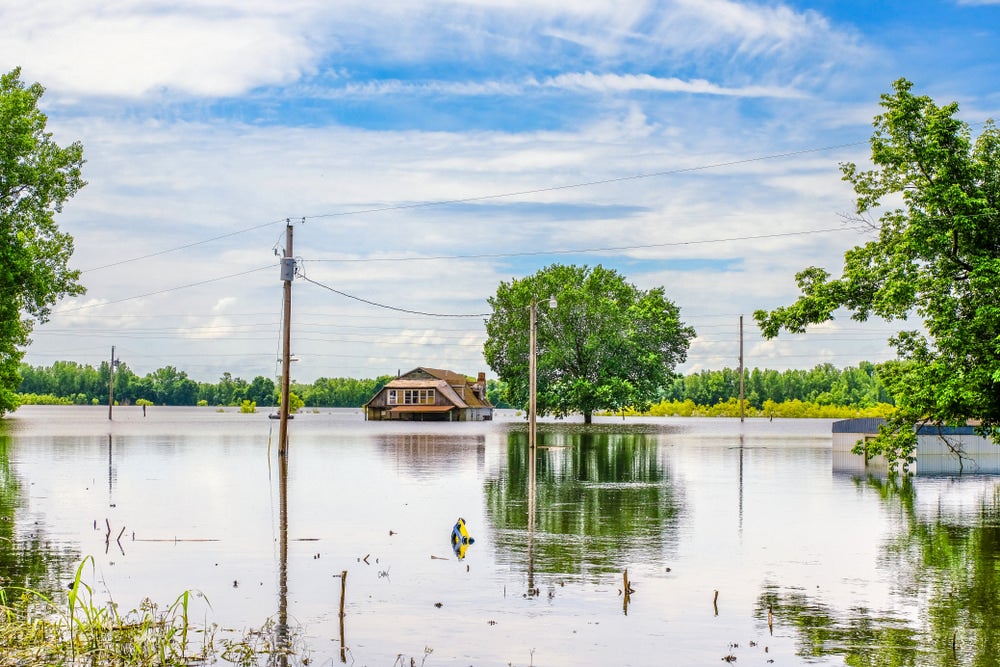 While high peaks of flood waters were first measured on the Missouri and Mississippi Rivers more than three months ago, much of the affected areas still face serious flood conditions.
As of June 13, 2019, the U.S. Coast Guard's Marine Safety Information Bulletin still declared the Missouri River to be at moderate or major flood levels.
According to the National Weather Service, the Mississippi River crested at 46.02 feet in St. Louis, Missouri on June 8, 2019. This was its second highest crest in recorded history, just 3.5 feet short of the record set in 1993. For several communities along the Mississippi River, this has been the longest lasting flood since 1927.
What do these high water measures mean for an expected recovery for surrounding communities? For the Missouri, the Army Corps of Engineers stated that they expect to be managing flood waters throughout the summer and potentially into November, due to the continued heavy rain and remaining snowpack. Water being released at Gavins Point Dam on the Nebraska/South Dakota border currently measures at 75,000 cubic feet per second, or twice the average for this time of year.
Predictions for the recovery of the Mississippi River Basin region are less clear, although current flood levels remain in a moderate to major flood state from the northern Iowa/Illinois border down to Louisiana, and according to the National Weather Service, those water levels are expected to rise further for the next 1-2 weeks.
Educating the Public on Floods in a Complex Watershed
Steve Schnarr is the Executive Director of Missouri River Relief, a nonprofit focused on river clean-up and education along the Missouri River with a mission of connecting people to the watershed. Based in Columbia, Missouri, the group has seen its fair share of high waters this year.
"The difficulty about understanding a flood like this is that the Missouri River is a very large and complicated watershed," Schnarr shared with The Dyrt. "The channelized and leveed lower river contrasts to the impounded middle river. A water flow that causes a massive flood in Iowa might barely impact Jefferson City, Missouri…It takes a basin-wide view to understand what's going on, and that's hard to get!"
During the flooding, Missouri River Relief has paused its river clean-up events and focused on providing information about the flood and distributing calls for volunteer needs. The group also has some boats they've been able to lend for local evacuations and residential clean-up in areas that can't be reached by roads.
Schnarr emphasized the importance of outreach during times when communities are put under natural stress, as public understanding can lead to actionable recovery. "We use our social media feed to provide long-term education on Missouri River issues, history, and management," Schnarr said.
What Outdoors Enthusiasts Need to Know about the Midwest Floods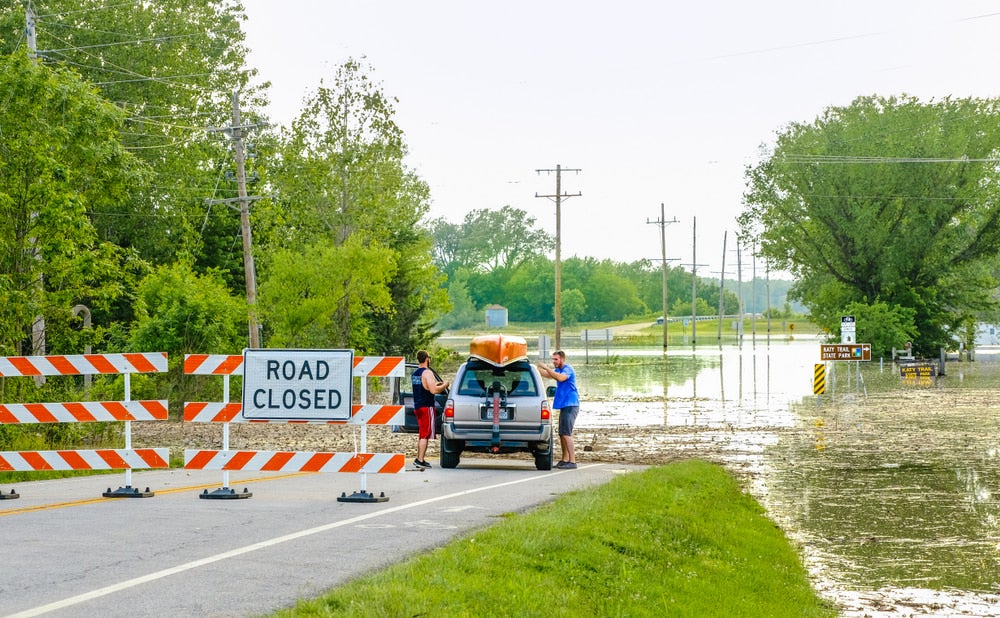 If you're going to be traveling and camping in the Midwest this season, the most important thing to do is research the area you're heading beforehand. Conditions along these rivers can vary greatly by location, and while the flooding shouldn't keep you away from the region this season, it should caution you to remain alert and be flexible in your plans in case you need to select a different campsite or activity for the day.
Some resources to consider in your planning include:
If you're planning to do any recreational boating along the Missouri or Mississippi rivers, check the U.S. Coast Guard Sector Upper Mississippi River's Facebook page for the most up-to-date notices of any closures. After closing the majority of the Missouri River during the spring to commercial and recreational boating, the U.S. Coast Guard had re-opened the river as of June 13, 2019, but with no wake zones between Plattsmouth, Nebraska and South Sioux City, Iowa.
If near flood waters, campers and boaters should avoid direct contact with the water, as it may have elevated levels of contaminants, including raw sewage and other toxic substances. Flood water may also have hidden debris that can be hazardous to boaters, so remain vigilant if on the water.
Other flood safety tips from the Department of Homeland Security include:
Listen to the Emergency Alert System, National Oceanic and Atmospheric Administration Weather Radio, or local alerting systems for current emergency information and instructions.
Do not walk, swim, or drive through flood waters. Just six inches of moving water can knock you down, and one foot of moving water can sweep your vehicle away.
Stay off bridges over fast-moving water. Fast-moving water can wash bridges away without warning.
Evacuate if told to do so.
If your vehicle is trapped in rapidly moving water, then stay inside. If water is rising inside the vehicle, then seek refuge on the roof.
If trapped in a building, then go to its highest level. Do not climb into a closed attic. You may become trapped by rising flood water. Go on the roof only if necessary. Once there, signal for help.
Be aware of the risk of electrocution. Do not touch electrical equipment if it is wet or if you are standing in water. If it is safe to do so, turn off the electricity to prevent electric shock.
How You Can Help Those Affected by the Midwest Floods
If you're traveling this year near communities impacted by the Midwest floods, consider scheduling in some time to lend a hand to the people who really need it. If you can't help onsite, consider making a donation to an organization positioned to help in the recovery. You can find a list of various community efforts on the Missouri River Relief's flood resources page.
"Volunteering with supplies, time, skills, and equipment can really help," stated Schnarr. "In smaller towns, there may be no organized efforts, but it's still helpful for people to show up and ask who needs help. In larger communities, churches, the Red Cross, and other civic organizations can help you find volunteer opportunities. Donating money and food to local organizations is very helpful. It can be nice to pick a small town and do some social media research to find ways to help."
Campers and outdoor enthusiasts will also play a vital role in supporting the public lands, campgrounds, marinas, and other amenities along the rivers as they re-open. These local businesses and recreation areas often rely on travelers and river users for their livelihood, so consider supporting them, as well, with your wallet, time, and empathy in the aftermath of these Midwest floods.
"The impacts of the flooding on smaller agricultural communities has been very intense, with homes, fields, roads, and other infrastructure destroyed," Schnarr explained. "It will take awhile for some of these flooded areas to drain. For many farmers, there will be no crops this year at all. The economic ripples of that can be profound. [Smaller communities] often feel ignored or abandoned by the country as a whole…but, when people from other communities come to help, it builds goodwill and understanding. Tragedies provide opportunities for people to show their best."
---
Related Campground:
Popular Articles: