Your first time camping is a memorable milestone, often marked by confusion and mistakes—but that's half the fun. I had no idea what to expect for my first time, which made it exciting and scary. All I knew for sure was that I was going to have an adventure.
I had an endless stream of questions running through my head before and during my first camping trip: What if I didn't pack enough food? What if it rains? What about bears? I found it hard to prepare for the unexpected without going overboard.
Whether you're a seasoned camper or a first-timer, know that you're not the only one thinking these things. We asked fellow outdoor enthusiasts on The Dyrt's Facebook Campfire group to provide us with insights on their first time in the wilderness.
Here are 10 questions you might have on your first camping trip—and how to find a solution.
10 Things To Know Before Your First Time Camping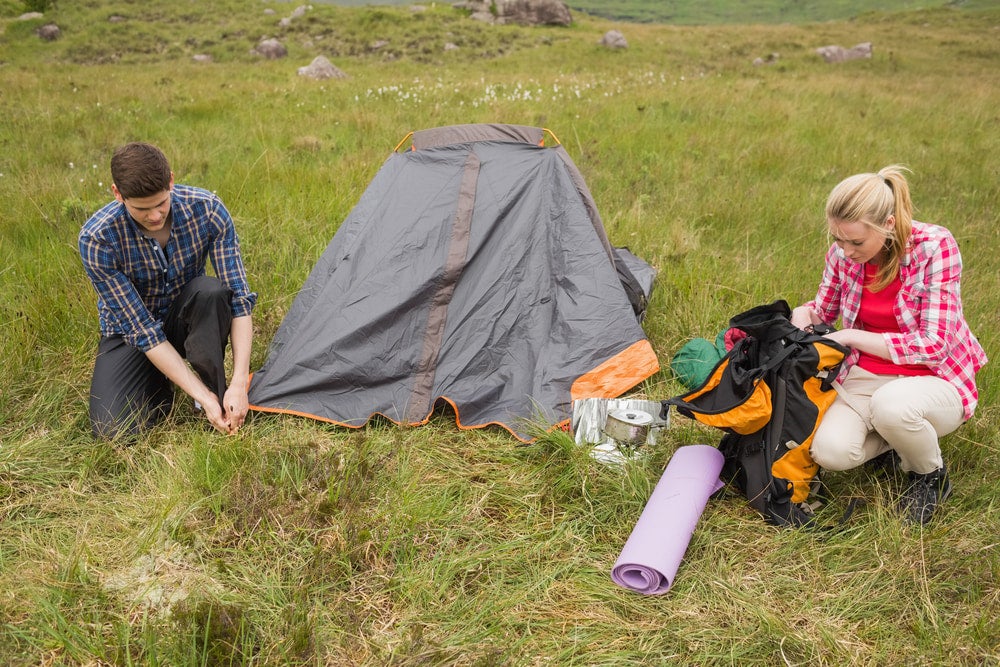 1. How do I pitch a tent?
I knew my first time pitching a tent would be no walk in the park. If I struggle to put together IKEA furniture, how the heck am I supposed to pitch a tent? After my first time camping, I learned that it's easier than it looks. My biggest takeaway: be patient when reading the instructions.
Here's some advice on tents from our readers:

"Tent guylines are a good thing. Knowing how to properly guy out your rainfly is even better." — The Dyrt camper Lori L.
"Invest in a good tent! Spend more on a quality tent that will keep you dry in a storm! It's your shelter!" — The Dyrt camper Annetta W.
"Upgrade your tent stakes!" — The Dyrt camper Mark C.
"Make sure the tent stakes you use are high-visibility, or at least, use lines that are painted a bright color. Those hurt!" —The Dyrt camper Shashta L.
"Don't pitch your tent at the bottom of a hill. We woke up floating on our airbed…" —The Dyrt camper Alan D.
2. How do I prepare for unpredictable weather?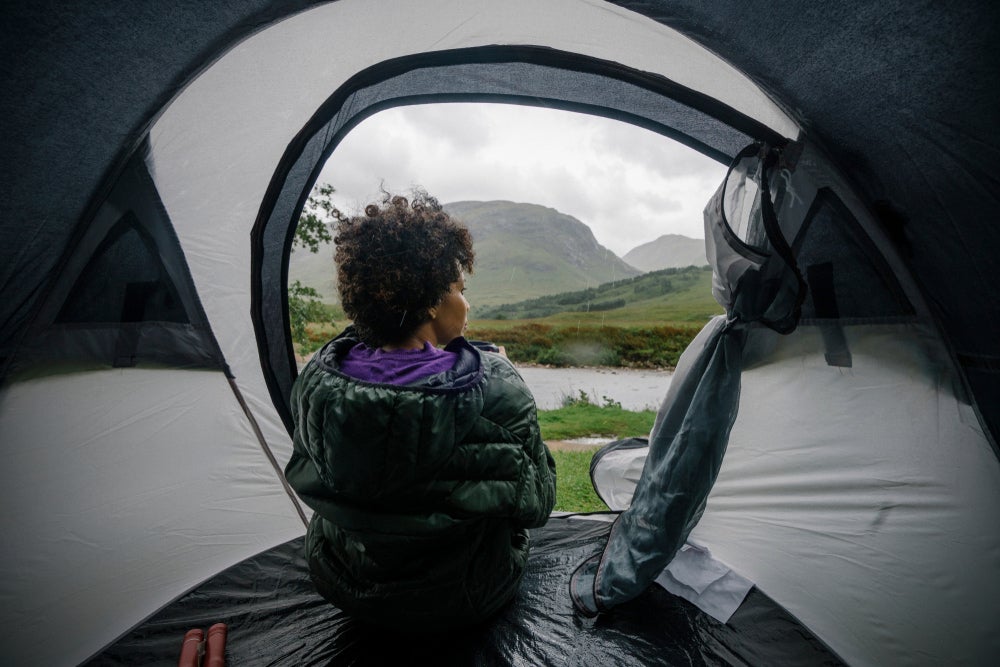 One of the biggest questions looming in my head during my first time camping was, what if it rains? And guess what? It rained. Temperatures also dropped to 28 degrees Fahrenheit at night. Obviously, the show must go on. Check the overnight weather, pack a rain jacket, set up a good tarp, and have fun anyway.
Here's what campers had to say about unpredictable weather:
"The weatherman is usually wrong." — The Dyrt camper Denise J.
"I checked the weather but didn't take note of the overnight temps. It was July in Wisconsin and I was not prepared with blankets, sweatpants, or a sweatshirt. It dropped to the 50s at night and we only had a sheet. We were freezing." — The Dyrt camper Nikol D.
"A rubber mallet is your friend. Even if it says zero chance of rain, prepare for rain. Better safe than soggy." —The Dyrt camper Sarah H.
"Enjoy the trip even if it rains." — The Dyrt camper Amber H.
3. How do you build a solid campfire?
First, make sure that campfires are permitted at the campground, and follow safe campfire practices. But what if all the tinder is wet? What if you run out of fire starter? Here's one solution:
"Learn how to use wax and sawdust as wet firewood starters." —The Dyrt camper Cindi M.
Before your trip, melt candle wax in a pot and put sawdust in ice cube trays. Then pour the wax over the sawdust and stick it in the freezer. Bring the tray with you on your trip. You can light this with a match if there are high winds or moist conditions at your campsite.
4. What's the best approach to cooking on a camping trip?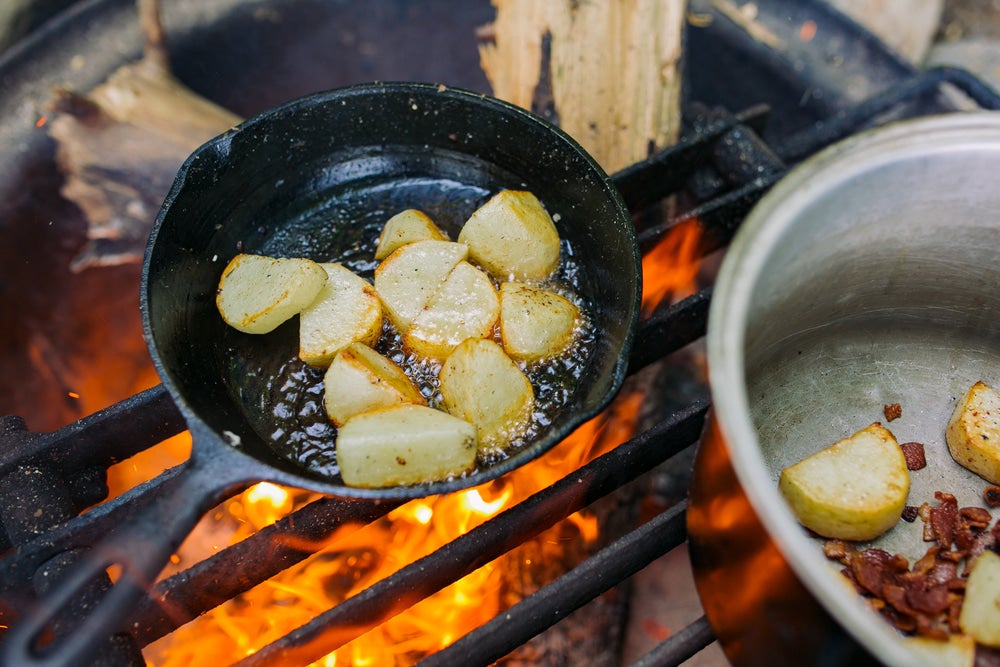 During my first time camping, I learned that the food situation is entirely up to you. I wasn't sure if I would be fishing for food, foraging, or packing my bag with cans of tuna. Do I make enough sandwiches for the entire trip, or should I bring some pasta? It's your call. Just don't forget basic cooking utensils (and beer).
"Pack a meal that doesn't need to be cooked in case you can't fire up the stove or fire pit. If it needs a can opener, bring one." —The Dyrt camper Kym C.
"Always pack an extra can and bottle opener, potato peeler, and utility knife!" —The Dyrt camper Rae W.
"Cook and clean up while it is still light out." —The Dyrt camper Michele I.
"Bring wayyyyy more beer than you think you'll need." —The Dyrt camper Kevin D.
5. What if I get lost?
I expected the worst on my first camping trip: that I would wander aimlessly around the woods, get lost, and be swallowed up by the forest (thanks, Hollywood). Forget the fact that there are maps, phones, GPS, and marked trails to help you find your way—I was convinced I would become Jane with no Tarzan. Turns out, it's harder to get lost than it is to find the right path.
"It's best to go with an experienced camper for the first time. Learn all you can. Learn to tie a good knot, how to start a fire, how to pitch a tent, and where to pitch it. Know where you're going and take the right sleeping bag and clothing." —The Dyrt camper Curtiss S.
"Don't overbook yourself and plan a big trip your first time out. Plan something relatively close to home/civilization." —The Dyrt camper Krista C.
6. What's the most comfortable way to sleep?
As someone who had never slept in a tent before, I had never slept on the ground either. I know it can be hard to get comfortable during your first time camping, but are there any tips and tricks to getting some shut-eye? It seems that if you have a good tarp to protect you from the rain and wet ground, all will be okay.
"Clean the ground before you pitch your tent so you are not on rocks and it's level-ish." —The Dyrt camper Ruth M.
"Check your air mattresses at home to see if they stay inflated. If you don't sleep, enjoyment is lost." —The Dyrt camper Paul F.
"A tarp has so many uses! It's good to have a tarp as ground cover under your tent. It's good to have a tarp over your food area. It's good to have a tarp for shade. It's also good to have a tarp in case it rains. To sum up, it's good to have a tarp!" —The Dyrt camper Sarah M.
"Wish I had known about hammocks instead of laying on the ground." —The Dyrt camper Bobby H.
7. What's the most efficient way to pack?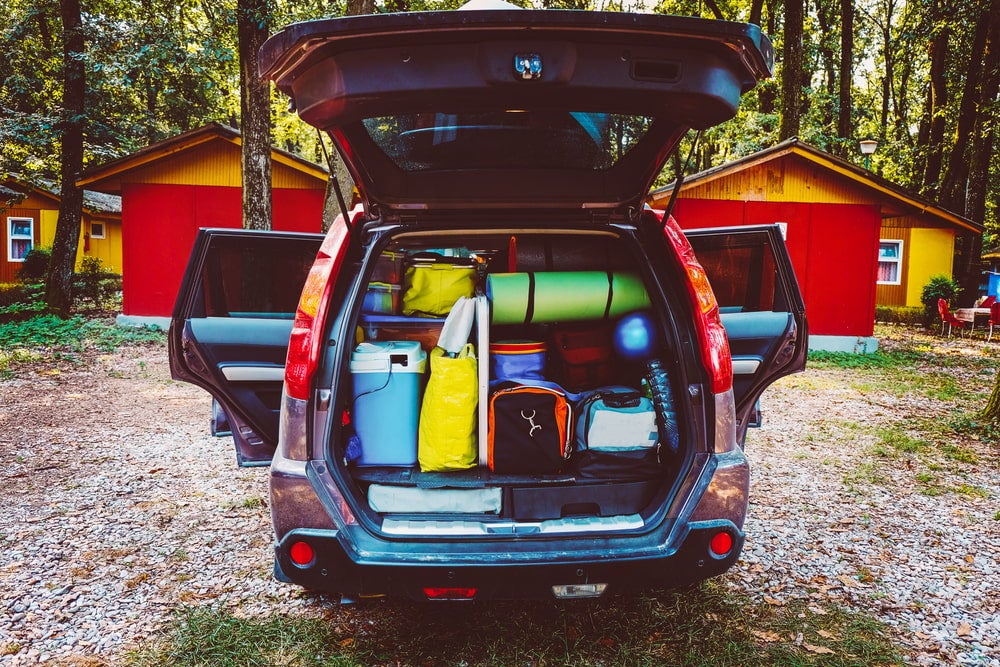 There are many ways to approach first-time camping, but if you decide to do a trek, what's the best way to lug everything? The answer: pack only what you need and what you're willing to carry on your back. Otherwise, leave it at home.
"I wish I knew that I didn't need to bring so much stuff." —The Dyrt camper Adam K.
"Organize all gear in totes of various sizes, including clothes. Ditch the suitcases and use packing cubes." —The Dyrt camper Diane N.
8. How do I get help if I hurt myself?
If you haven't noticed by now, I'm a worrywart. I'm also very clumsy. What if I hurt myself during a hike or get really sick? Is there a way to get help when you're in the wilderness? First things first—pack a first aid kit.
If your intention is to disconnect by leaving the phone at home, pack a personal locator beacon (PLB) or satellite messenger instead. It lets you call for help regardless of cell service. These devices use a network of satellites that notify national search authorities and the closest first responders of your GPS location within 3-5 minutes.
9. Where do I go to the bathroom?
Specifically, what's the protocol for going number two?
Most official campsites have toilets and showers. But if you're in the wilderness and really need to go, find a secluded spot, dig a cathole, and cover it up when you're done. You can bury the toilet paper with the poo or store it in a wag bag to dispose of later. Don't forget to check for critters and poison ivy before you squat!
10. OK, but what about bears?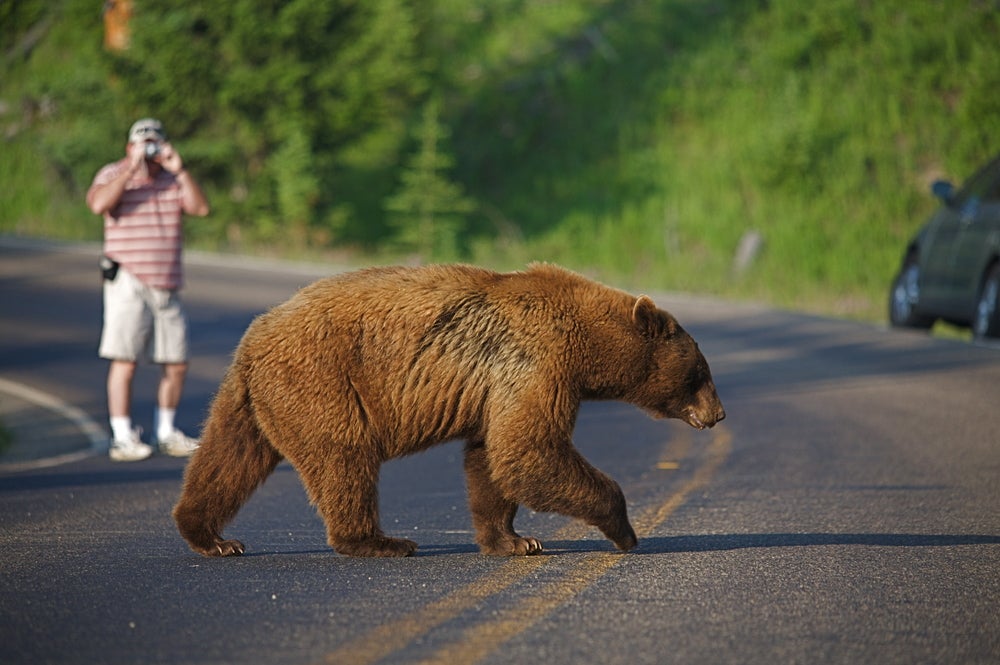 There was one first-time camping question flashing in my head with neon colored lights: what about bears? Well, if you're in bear country, they're out there. Make noise when you hike so that you don't take one by surprise, but don't whistle or scream. Never leave food out and seal up all your belongings before going to sleep. Visit the Get Bear Smart Safety Society for more tips. The more you know about bear safety, the safer you'll feel on your first time camping in bear country.
"Bears like entering tents during thunderstorms." —The Dyrt camper Evelyn J.
"You can relax and sleep well despite being in bear country." —The Dyrt camper Dalia G.
"If you're not in bear country and you want to leave your cooler out, ratchet straps are good to keep out smaller creatures." —The Dyrt camper Sarah H.
Curious about anything and everything camping? Join the conversation in the Facebook Campfire.
---
Related Campground:
Popular Articles: