With over 1 million campground reviews and tips, The Dyrt is all about helping people discover new campgrounds. Every day our camping community posts breathtaking photos that make us want to plan a road trip immediately. With camping season in full swing, we've created The Dyrt's Top 10 U.S. Campgrounds of 2021 to pitch your tent or park your RV.
We created a special algorithm to comb through our 45,000 campgrounds that have been reviewed on The Dyrt to select the top 10. These rose to the top based on a combination of user ratings, number of ratings, and the quality, length and character of reviews.
From red rock canyons to lakeside lighthouses, glamping to dispersed, these 10 destinations truly have it all. Just don't forget to put out the fire when you're done.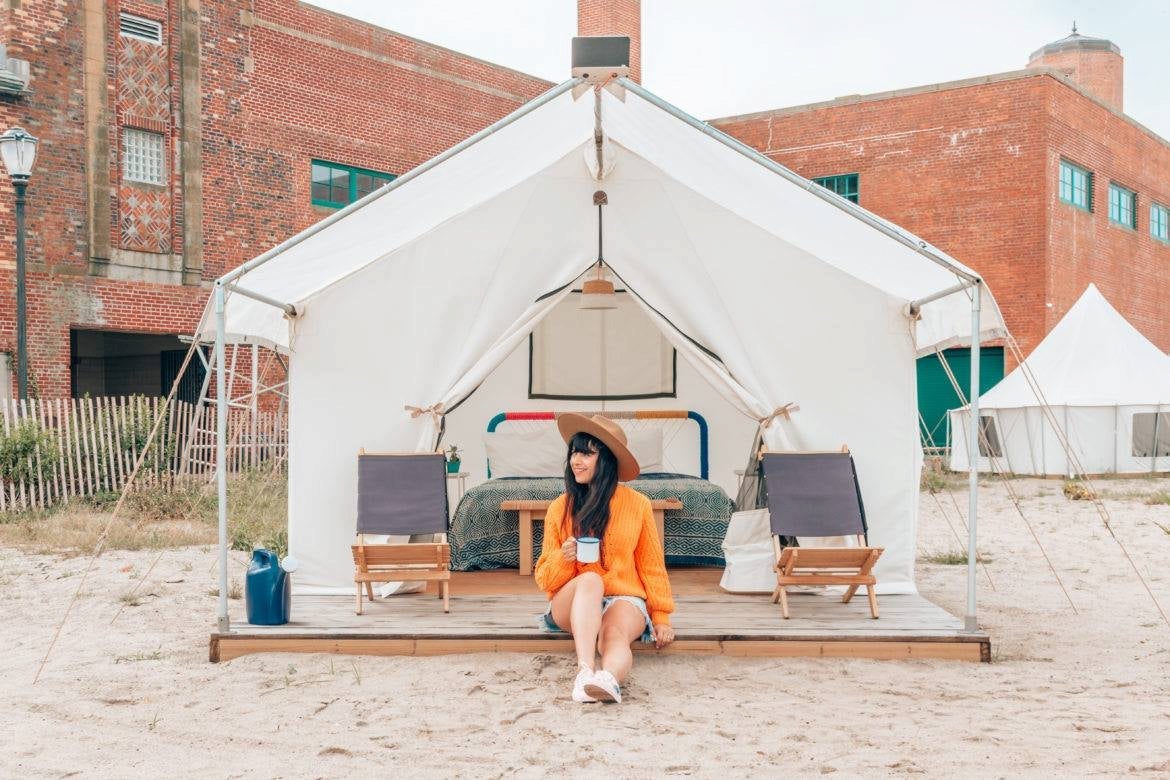 Campground Details:
Price: $30-289
Number of sites: 7
RV sites: No, tent only
Fires allowed: Yes
Pets allowed: No
Camping by subway? That's the unique promise of Camp Rockaway in Queens, NY. This beachside glampsite is the perfect summer weekend spot for swimming, surfing and camping in comfort. Surrounded by local fare, this camping experience will offer a unique urban twist. Camp Rockaway is probably one of the most unique camping experiences you can get, The Dyrt camper Allura H. paints a picture of this experience in here review writing, "Who would guess in the middle of New York, you could walk the beach in solitude, ride a bike along the boardwalk for a lobster dinner or just relax in a comfy bed falling asleep to the sound of waves breaking on the shore? You can take a ferry ride past the Statue of Liberty and Coney Island over to the 911 Memorial or go shopping in downtown New York, then head back to a camp- fire with s'mores to watch the sunset over the ocean".
Camp Rockaway at Fort Tilden offers platform tents along the ocean equipped with beds, linens and camp chairs, as well as a communal fire pit, hammocks, games and all you need to enjoy a weekend away. This campsite also allows bring-your-own-tent sites, which are $30 a night.
Campground Details:
Price: $12-26
Number of sites: 124
RV sites: Yes, full hookups
Fires allowed: No
Pets allowed: Yes
Camp, hike and explore the second largest canyon in the country at Palo Duro State Park. Fall asleep to star-studded night skies and wake up to the red rock canyon walls of "The Grand Canyon of Texas." With 30-plus miles of hiking, biking and equestrian trails there are tons of activities in this Texas Panhandle gem. The Dyrt camper Megan B. recommends spending a few nights to explore this massive canyon saying, "We only stayed for two nights–not nearly enough to explore this incredible park".

Camp at one of the 124 campsites of Palo Duro Canyon, most of which are equipped with electricity and RV hookups, as well as a handful of backcountry sites if you would rather backpack through the canyon to your campsite.
Campground Details:
Price: $14-30
Number of sites: 90
RV sites: Yes, full hookups
Fires allowed: Yes
Pets allowed: Yes
Explore the lush and forested 1,107 acres of Monte Sano State Park by camping below the park's namesake Monte Sano Mountain. This park is chock-full of activities, making it perfect for families. From hiking and waterfalls to their Japanese garden complete with a teahouse and a planetarium! The Dyrt camper Bryony C. says, "I've camped in many other places and it has truly given me appreciation for Monte Sano."
This Northern Alabama campground is fully equipped with 89 modern campsites as well as a dispersed camping area and camp store. Reservations can be made online or over the phone.
Campground Details:
Price: $28-50
Number of sites: 81
RV sites: Yes, full hook ups
Fires allowed: Yes
Pets allowed: No
If you are looking for the all-in-one Pacific Northwest Experience, look no further than Sol Duc Hot Springs Resort. Located in the lush moss-covered valley forests of the Olympic Peninsula, you will pitch your tent or park your camper between the thick trunks of old-growth evergreens. The Dyrt Camper Sable calls this campground "magical", saying "Sleeping in the rainforest was absolutely spectacular". Sol Duc Hot Springs offers bathing in the natural geothermal springs as well as hiking trails giving you access to the varied landscape of Olympic National Park from snowfields and rugged mountains to the temperate Hoh Rainforest.
Sol Duc Hot Springs Resort offers tent camping, cabin camping, and RV sites as well as a restaurant and a general store.
Campground Details:
Price: $34-45
Number of sites: 233
RV sites: Yes, full hookups
Fires allowed: Yes
Pets allowed: Yes
Looking for a getaway during the winter? Park your RV or pitch your tent on the white sand beaches of the Gulf Coast of Florida at Fort De Soto Campground. Located within the Fort De Soto County Park in the string of islands south of St. Petersburg, this campground is the perfect spot to watch the sunset. Campsites are placed along the water for a premier ocean-camping experience. Rent kayaks to be dropped off at your site or fish directly from your camp chair. Fort De Soto County Park also offers bicycle paths so you can bike along the coast.
Fort De Soto Campground has 233 waterside campsites side by side along the coast. While you will be situated close to your neighbors, there tend to be enough brush and palm trees between sites for it to feel secluded. These campsites are broken down into three sections, tent and car/van, all camper types with pets, and all camper types without pets. Fort De Soto Campground is very popular and it is recommended that you book in advance. The Dyrt Camper Burton M. says, "If you like quiet camping, fishing from your site, biking, kayaking from your site, and great beaches, then reserve your spot now".
Campground Details:
Price: $22
Number of sites: 26
RV sites: No, tent only
Fires allowed: Yes
Pets allowed: Yes
Camp along the rugged shores of Lake Superior at these hike-in campsites with views of Split Rock Lighthouse, one of the most photographed views in Minnesota. Split Rock's campsite is the perfect summer getaway with trails leading down to the beach so you can cool off along a secluded coastline. The hike in allows for a private beach experience as The Dyrt camper Scott M. said, "We were able to enjoy the beach all to ourselves".
Split Rock State Park has 26 sites: 20 walk-in sites, two drive-in sites for ADA access, and four backpack-in sites (0.7 miles). Our trusty campers recommend sites 18, 19, and C1 for the best views of the lighthouse and coastline. Split Rock is open year-round, in case you're also looking for a scenic winter camping experience.
Campground Details:
Price: $35
Number of sites: 27
RV sites: Yes, full hookups
Fires allowed: Yes
Pets allowed: Yes
Originally named for its unique hoodoos, once called goblins, Goblin Valley State Park is a geological feat that all campers can appreciate. Pitch a tent between the red rock canyon walls and explore the surrounding arches and rock formations. At night, Goblin Valley is known for pristine stargazing below the silhouettes of the desert hoodoos. The Dyrt camper Stacy R. reminds those looking to stargaze to, "be sure to book your nights during a new moon so you can see the milky way galaxy". Surrounded by "The Mighty Five", Utah's five national parks, Goblin Valley is a not-to-be-missed stop on any Southwest Utah road trip.
Goblin Valley State Park offers 10 tent platforms, 14 RV sites, one group site, and two glamping yurts.
Campground Details:
Price: Free
Number of sites: N/A
RV sites: Yes, No hookups
Fires allowed: Yes
Pets allowed: Yes
If you are looking to try dispersed camping or are a seasoned van lifer, Alabama Hills is probably on your radar. This spot offers 30,000 acres of public land, so chances are you will be able to find a spot. The breathtaking scene of the snow-capped Sierras behind the golden boulder formations of Alabama Hills is well worth the drive to Eastern California.
Alabama Hills is a dispersed camping site located at 4,500 feet. There are no amenities, stores or bathrooms in the vicinity. While this area is popular with overlanders, The Dyrt camper Brett L. reminds campers that "A 4×4 is not needed, nor is a high clearance vehicle.  All of the camping spots in the dispersed area are either off the the side of the main road, or down small roads branching from the main". Prepare for colder temperatures at this elevation, especially at night, and make sure to leave no trace.
Campground Details:
Price: $100-125
Number of sites: N/A
RV sites: No, tent only
Fires allowed: No
Pets allowed: No
Located on the Havasupai Indian Reservation, Havasu Falls is a breathtaking oasis in Arizona's Grand Canyon. The falls are sacred ground for the Havasupai tribe as well as a highly fragile ecosystem. Camping below the cascading turquoise waters of the 90-foot waterfall is a once-in-a-lifetime experience. The Havasu camping and hiking permits are infamously hard to acquire and the entire area is strictly permitted. To camp at the falls, you must backpack in all your supplies on a 10-mile trek through the desert. Once arriving with your permit in hand, you will select a site on a first come first serve basis below the falls. Surrounded by other scenic hikes, The Dyrt camper Chris M. recommends that you "leave at least three days for out and back trips to the other waterfalls in the other places to see on the res".
To visit Havasu Falls you will need to purchase a permit and to camp there you will need a second permit. To learn more about the competitive permit system, check out our guide here. The campsite at Havasu Falls has no amenities and you will need to bring your own gear.
Campground Details:
Price: $36
Number of sites: 51
RV sites: No, tent only
Fires allowed: Yes
Pets allowed: Yes
Camp lakeside below one of the most iconic mountain ranges in the United States by pitching a tent at Jenny Lake. This area is the perfect basecamp for Grand Teton National Park. Allow yourself to be fully immersed in nature by accessing kayaking, fishing, biking, and hiking without needing a vehicle to get there. Some bikepackers and backpackers use Jenny Lake as a stopover during trips.
These spacious and secluded sights are tent only so make sure to pack appropriately and being in bear country you will need spray although the campsite provides bear-safe food lockers. As The Dyrt camper Shane P. said, "You absolutely need to camp at Jenny Lake once in your life. Yes it's tent only so you will be "roughing it". But the being lakeside at the base of the Grand Teton is nothing short of spectacular".
Popular Articles: