This article was brought to you by GCI Outdoor, the makers of the best outdoor rocking chair to enjoy lounging while at the campsite or on a road trip.
---
Whether you are on a family vacation, a personal retreat, or an ambitious trip to visit all the national parklands across the country, the Grand Teton National Park makes an ideal destination. The Teton Mountain Range in the western part of Wyoming is so picturesque that it looks almost too perfect to be natural. It's a beautiful backdrop to a restorative getaway in the still-wild West.
With all that the Grand Teton National Park has to offer, the choices can be overwhelming. Camping, hiking, fishing, wildlife watching, and incredible scenery are all at your fingertips in the park.
What to do and Where to Stay in Grand Teton National Park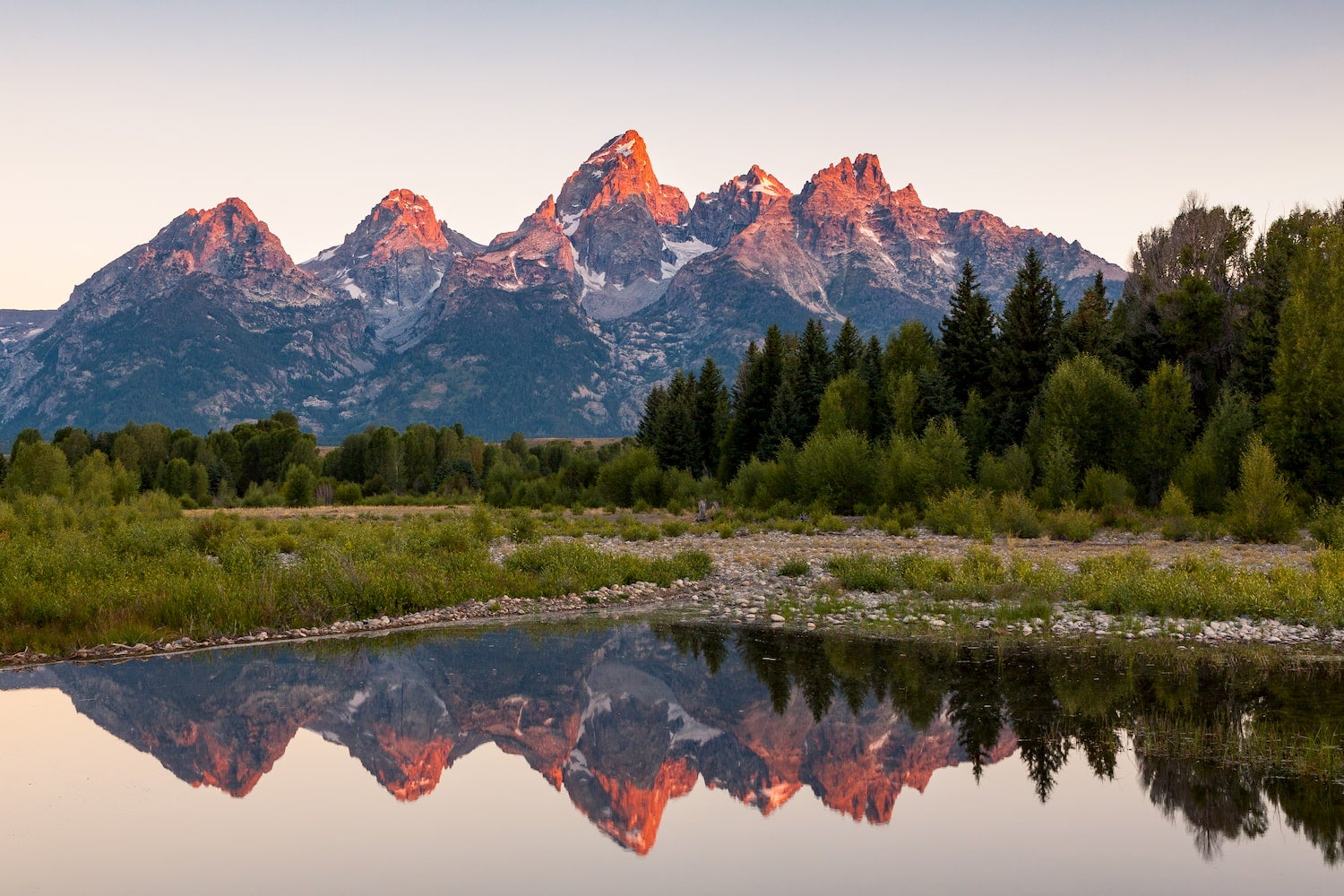 To help you plan your perfect trip, we've compiled a list of the ideal Grand Teton camping spots and things to do. Here's our guide to the best locations and activities in the Grand Teton National Park for an idyllic getaway.
Where to Stay
The numerous beautiful campsites available in Grand Teton National Park offer a variety of experiences. All of them provide a number of amenities for comfort and convenience and boast incredible views. The basis of every adventure is where you'll be staying during your trip. Here are some great campgrounds to put on your list.
Open May to September, this campground is located off of Jackson Lake, 25 miles away from Moose, Wyoming. There are 350 reservable sites in total on this campground. Colter Bay has electric and sewer hookups for RVs, toilets, and drinking water. It also has a place to buy supplies, Wi-Fi, and showers among its many amenities.
At Colter Bay Campground, alcohol, fires, and pets are permitted on the premises, and there are trash receptacles provided. The maximum stay is 14 days per party.
For a smaller, more intimate and rustic camping experience, Jenny Lake Campground is a wonderful site to explore. It is located off the eastern shore of Jenny Lake with less than 60 total sites, 10 of which are for those hiking and biking in.
This campground is tent-camping only. It is possible to find a spot that is closer to or more isolated from other campers, whichever you prefer. There are toilets, drinking water, and picnic tables available on the campground and locations are first-come-first-serve. Jenny Lake acts as the perfect hub for scenic hiking and mountain climbing in the Grand Teton National Park.
Alcohol, fires, and pets are permitted at Jenny Lake Campground. Trash receptacles are also provided. The maximum stay at this campground is 7 days.
Located in the Gros Ventre Wilderness Area Northeast of Jackson, Wyoming, the Gros Ventre campground is an absolutely beautiful place to stay. It's situated right on the bank of the Gros Ventre River south of the Grand Teton National Park and has spots for both tent campers and RVs on a first-come-first-serve basis.
The views are stunning, and there are plenty of wildlife viewing opportunities. This means that safe food and trash storage practices are a must, but the sights are worth the effort. There are electric, sewer, and water hookups for RVs, toilets, and drinking water available on site.
At Gros Ventre Campground, alcohol, campfires, and pets are all allowed. There are trash dumpsters on-site, and generators are permitted at designated spots. There are no stay duration limits listed for this campground.
What to Do
The 310,000 acres of the Grand Teton National Park hosts a wealth of activity for all interest levels from casual to ambitious. The park offers plenty of outdoor sports opportunities, hiking trails, and sightseeing adventures.
Hiking Trails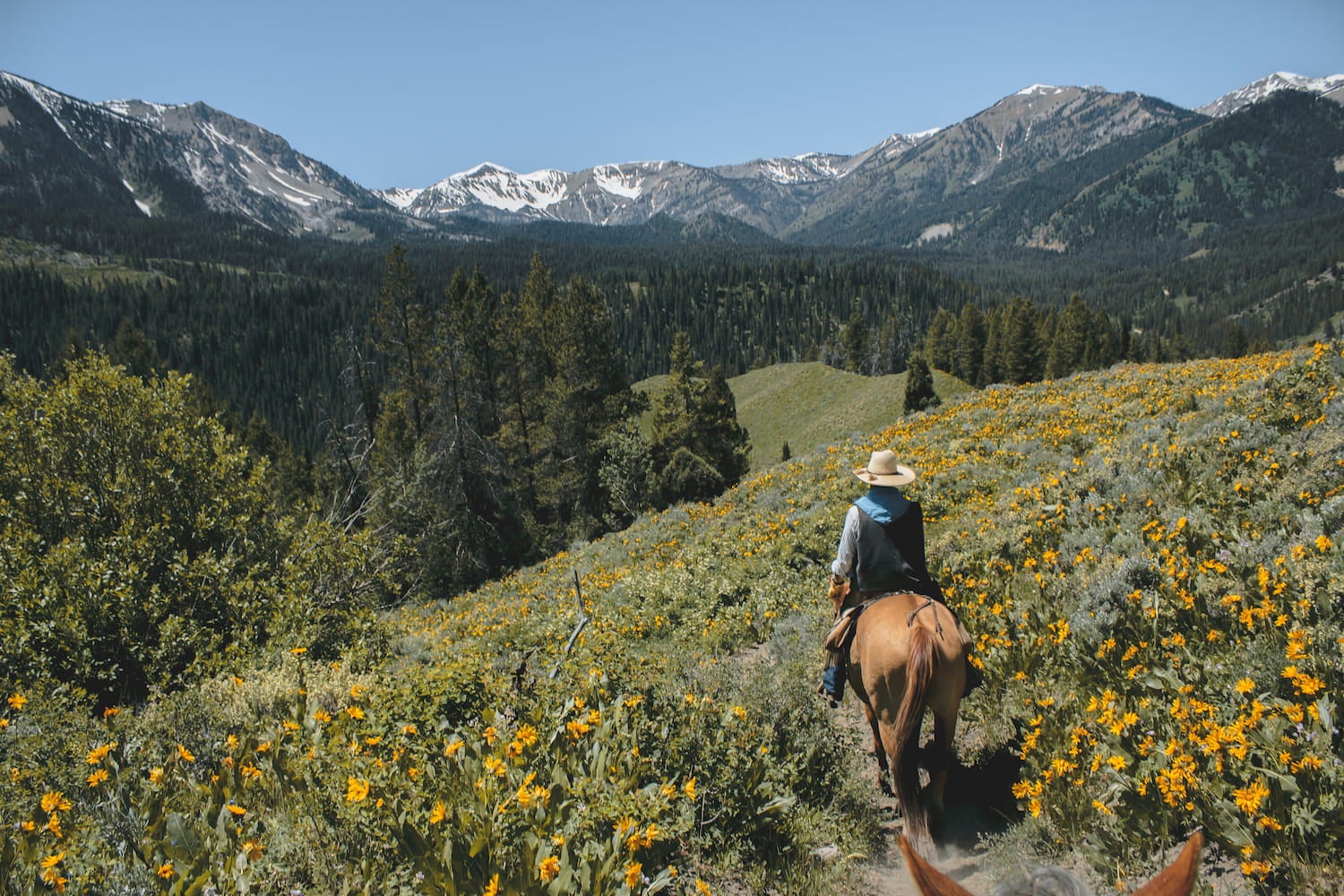 There are over 200 miles of hiking trails in the Grand Teton National Park. For easy access to the best hiking in the park, head to Jenny Lake and, from there, into Cascade Canyon. The nine-mile day-hike takes you through some lovely wilderness and into the canyon with relatively mellow trails.
You can also reach Amphitheater Lake from the trails beginning at Jenny Lake and enjoy the view of some of the largest mountains in the Teton Range. Taking the Moose-Wilson Road from Teton Village on the south side of the Grand Teton National Park will bring you to another hiking gem. Death Canyon, despite its intimidating name, provides unique and exquisite views to reward your effort, including waterfalls and a natural hot spring.
Sightseeing
The myriad scenic viewpoints in Grand Teton National Park are a photographer's dreamscape. There are many opportunities to photograph wildlife with an incredible backdrop. Wolves, moose, bears, and other spectacular animals can be found throughout the year.
The awe-inspiring peaks of the mountain range reflected in the park's lakes are a huge draw for park visitors. The Moulton Barn on Mormon Row is another picture-perfect sight to add to your itinerary. Antelope Flats Road off of US-191 will take you there, and you can get some great wildlife pictures on the way.
Outdoor Sports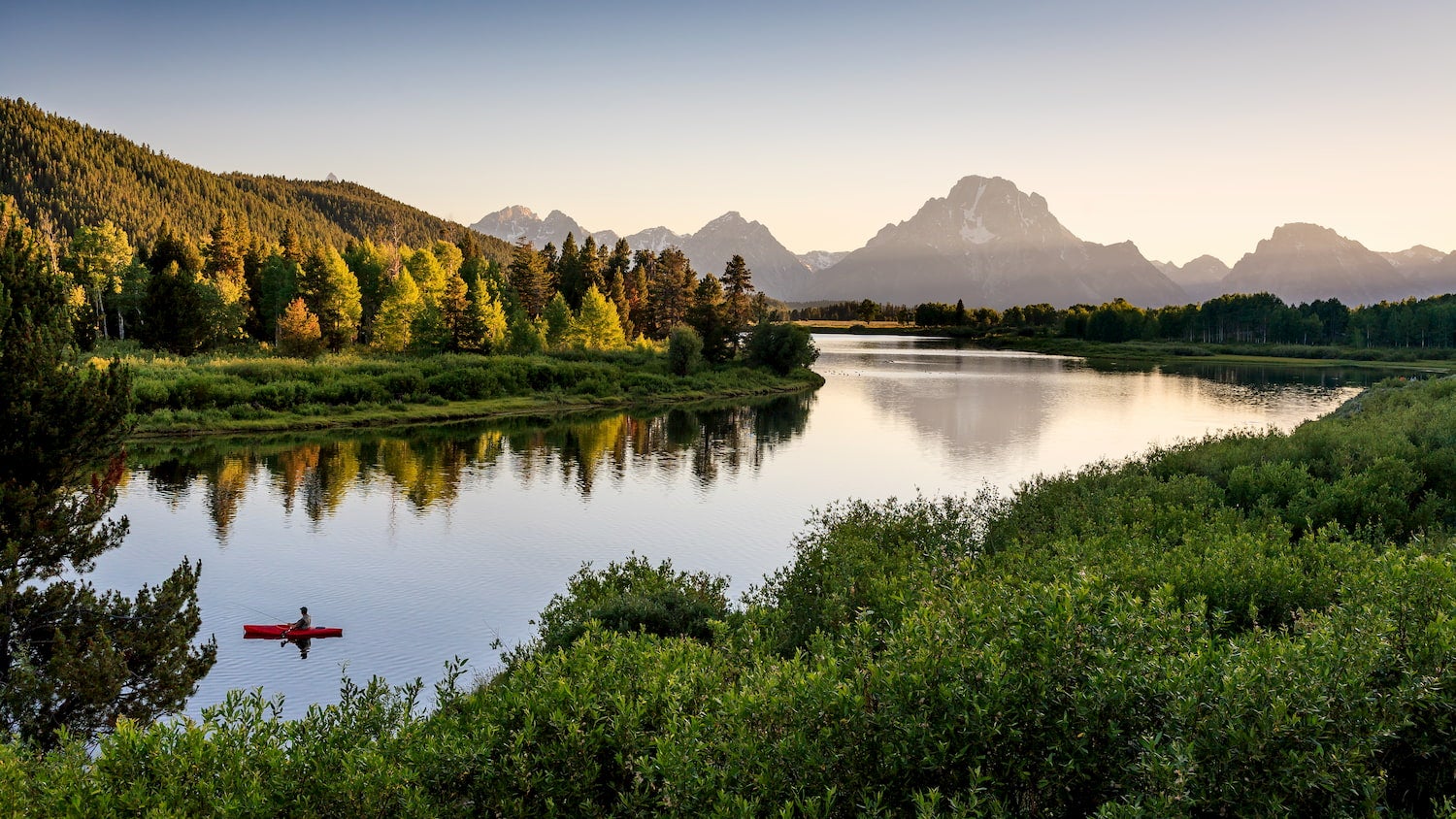 Boating, paddle sports, fishing, and swimming are some of the outdoor sports options for wilderness lovers visiting the park. Jackson Lake is a massive glacial lake with lots of options, including motorized boating.
With a little effort, you can also reach the more secluded, but beautiful, Leigh Lake for kayaking after a short walk from String Lake. If skiing or snowboarding during the winter is more your style, the world-class runs at Teton Village will test your mettle.
Before You Go
To make the best of your time at the park, it would serve potential visitors to equip themselves with information and appropriate gear in advance. As with many places in the Rocky Mountains, The weather can, and will, change quickly. Scoping out your itinerary can help you make the best use of your visit.
Gear
Jackson Hole offers an abundance of shops and quality rental options all year round for visitors in all seasons. It's also the best place to sign up for guided tours of Grand Teton National Park and surrounding areas if you are short on time or just want to enjoy the park's highlights.
Be Prepared
Ensure you've packed appropriate cold/wet weather gear for the season, even if you don't believe it will rain or snow. Bring good footwear with you, especially if you're hiking. Do not attempt challenging trails or climbs without them. Bring adequate food for your trip and come to the park with knowledge about how to store and pack out your food and trash. Stay hydrated throughout your trip.
Wyoming's Best Features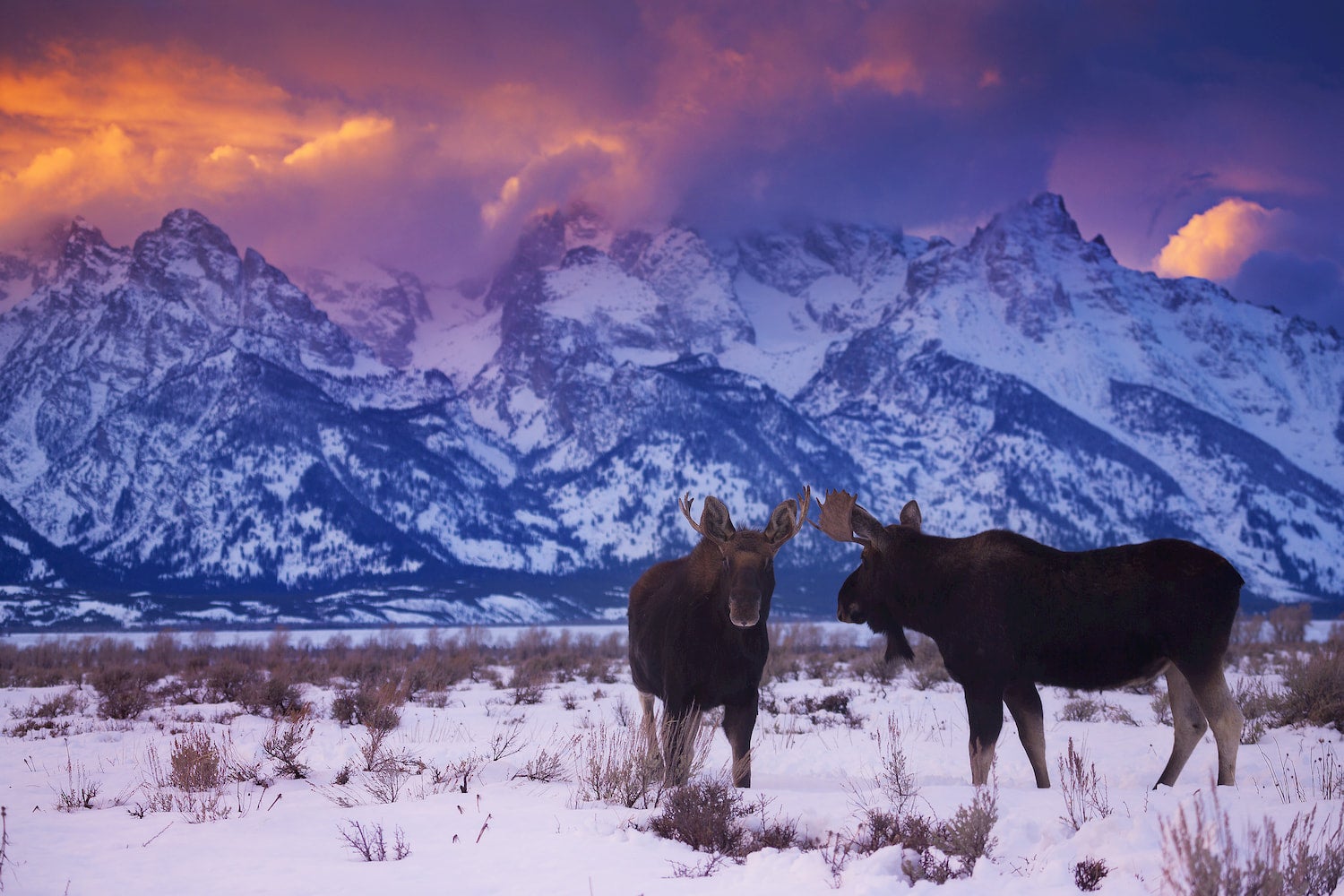 The imposing, soaring peaks that tower over valleys and plains, the wildlife, and the impossibly crisp air are just a few of Wyoming's most notable features.
Perhaps its finest attribute is the breathtaking and unimpeded view of the stars at night that you won't find anywhere else. There's no substitute for the majesty of the Wyoming wilderness. It's no wonder the Grand Teton National Park draws millions of visitors annually.
The Grand Teton National Park adjoins Yellowstone National Park, and you can save money on the park entry fees by visiting them back-to-back.
Final Thoughts
Much of Wyoming is national parkland, with a total of six parks, including Yellowstone and Grand Teton National Park. Wyoming's parks draw millions of visitors annually for very good reasons. The diverse, unique, and refreshing experiences found there are sure to have a lasting impression. Use The Dyrt to plan your next getaway and fall in love with this still-wild landscape.
Popular Articles: