This article on camping near Billings Montana was brought to you by Growlerwerks. Growlerwerks pressurized containers allow you to bring carbonated beverages to the campsite including their new hard seltzer maker.
---
Montana is a state with wide-open skies and breathtaking natural splendor. Big Sky Country has captivated visitors for centuries with its variety of wildlife and natural rock formations. Its capital city, Billings, is known as "Montana's Trailhead" because it is the place to start your journey into Montana's great outdoors. From canyons to lakes to sprawling forests, the wilderness near Billings is truly incredible to behold.
When camping near Billings, there is no shortage of campsites to choose from. Take a look at these 7 spots for camping near Billings, Montana, while planning your trip to "Montana's Trailhead" so you don't miss out on the natural wonders in the area.
This award-winning campground provides families with a great location to park their RVs for summer fun. Billings KOA Holiday features several nearby sources of entertainment, including the Trailhead Adventure Golf course, Yellowstone Yum Yum ice cream parlor, and a heated swimming pool located on the banks of the Yellowstone River.
This site also houses a horseshoe pit, basketball court, and barn-themed playground. Families can spend the day enjoying the surrounding natural area while fishing and boating, then return to the campsite to enjoy their revamped amenities.
"Beautiful setting among trees. On the backside of campground several spots around a small pond. There's a public swimming pool and a nice small general store with laundry. Downtown Billings is minutes away." – Kathi F.
Campground Details:
Price: $30-75
Number of sites: 147
RV sites: Yes
Fires allowed: Yes
Pets allowed: Yes
The Itch-Kep-Pe Park campsite is a first-come, first-serve campground. Reservations are not available, so this site is for those who don't mind a bit of adventure. The campsites are set up for tents or camper trailers and are equipped with fire rings. Most campers bring their boat along, as there is a boat ramp into the lake on the southeast side of the campground.
Enjoy tubing, skiing, and other water activities while staying at Itch-Kep-Pe Park. This is a no-fee campground, but donations are greatly appreciated. Additionally, the campsite asks that you limit your stay to 14 days to allow more campers the opportunity to stay at this lovely, peaceful location.
"Met a lot of friendly folks during my stay. Just 5 minutes from town, and I had 3 bars of LTE via AT&T. Definitely would stay here again!" – Abby M.
Campground Details:
Price: Free
Number of sites: 30
RV sites: Yes
Fires allowed: Yes
Pets allowed: Yes
Located just off the I-90 Billings exit, the Yellowstone River RV Park and Campground are just a skip away from all the beautiful sites Billings, and the surrounding countryside have to offer. This campground is family-owned and operated in a peaceful setting and offers antique farm machinery for campers to view as they walk the grounds.
When you stay at Yellowstone River Campground, you are close to notable Billings' attractions such as the Little Bighorn National Park, the Pictograph Caves, and entrances to Yellowstone National Park.
"We stayed here on our way through in 2019. One night. 37' 5th wheel. Fit with room to spare. Big tree cover. Shaded. Kids loved the pool. Bathrooms are single person and locked/gated. Sites are closer together but roomy." – Tracy O.
Campground Details:
Price: $40-80
Number of sites: 136
RV sites: Yes
Fires allowed: Yes
Pets allowed: Yes
Red Lodge KOA offers campers the ability to jump on the Beartooth Highway with ease. The 69-mile highway is known for its scenic views, allowing motorists to view glaciers and alpine lakes in Yellowstone National Park. Once you have driven the scenic route, return to Red Lodge KOA, where you can relax in your tent or one-room cabin.
Red Lodge also offers amenities. You'll find a heated swimming pool, banana peel bike rentals, and a playground available for the kids. You can also relax and do some stream fishing on Rock Creek.
Red Lodge is now open year-round. Summer campers can attend the festivals hosted near the site, like the Cruisen Red Lodge Car and Bike Show and the Festival of Nations, while fall and winter visitors can hunt, ski, and snowboard.
"Is a good spot to set up if you're looking to explore Red Lodge or the Beartooth Mountains. Nothing fancy but has more amenities than most tent sites." – Alan B.
Campground Details:
Price: $45
Number of sites: 72
RV sites: Yes
Fires allowed: Yes
Pets allowed: Yes
---
This article was brought to you by Growlerwerks.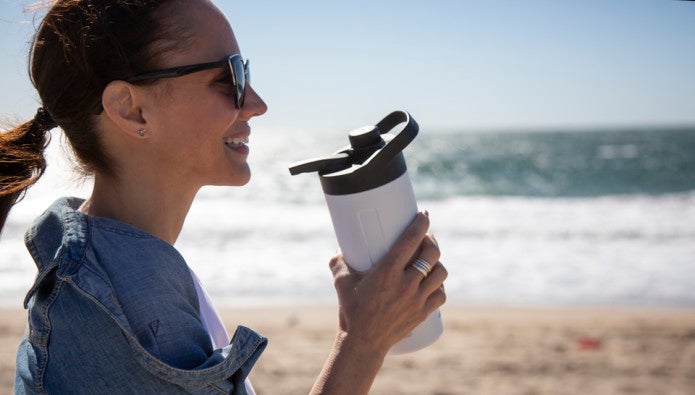 Their new U-Keg twist allows you to make your own hard seltzer right at the campsite.
---
With 82 sites available, Cooney State Park is a great place to set up camp during the summer. Just 40 minutes south of Billings, this campground is located near Cooney State Park Reservoir and offers campers the opportunity to swim and fish.
There are three boat ramps available on the lake for your convenience. The lake is stocked with walleye and rainbow trout for those who enjoy fishing. Sit on the dock and enjoy the sunset over the lake after spending the day on the water. Cooney offers many biking and walking trails for you to spend the day exploring if you prefer activities outside of the water.
"Stayed on the north shore side of the reservoir. Did the "camp in the truck bed" thing. There's a neighborhood on the north shore, so it becomes an early morning of mid-week since cars start leaving to head to work. The lake is a nice sight in the morning. The dog loved it." – Jeff K.
Campground Details:
Price: $15-30
Number of sites: 82
RV sites: Yes
Fires allowed: Yes
Pets allowed: Yes
Lake Elmo County Park Reserve is a magnificent 2,165-acre location that hosts both hike-in and RV camping. In an attempt to return the land to the condition it was in before European settlers arrived, 80% of the reserve has been set aside for preservation. Campers at the reserve can see various wildlife such as woodpeckers, cottontail rabbits, white-tailed deer, and pheasants, whose numbers are growing due to protection measures.
Back-in and hike-in campsites have various amenities, but most contain a picnic table, fire ring, and grill at each site. Equestrians are welcome on the west side trails at Lake Elmo Park Reserve, as the trails are now open to the public for horseback riding. However, it is important to note that pets are not allowed at Lake Elmo campgrounds.
"Nature surrounds, spring is a great time to visit too! The birdsong and birding is awesome, nice, and quiet this May!" – Jaime N.
Campground Details:
Price: $25-50
Number of sites: 80
RV sites: Yes
Fires allowed: Yes
Pets allowed: No
The Billings Village RV Park offers non-rustic campers a convenient, trustworthy spot to park their RV or trailer while exploring Billings and the surrounding area. This RV park has been in operation for 47 years and offers campers showers, two laundry rooms, free cable, and free Wi-Fi. The sites fit any size RV, so large trailers are welcome.
When you visit Billings Village RV Park, you can park your RV and explore the shopping and dining available in "Montana's Trailhead" or bike and hike on the nearby trails. You get the best of both worlds at this RV park; you can spend your day out under "Big Sky Country" and return to the park to relax in modern comfort.
"Clean, cheerful, easy to get in and out- convenient to the highway- highly recommend. Only hiccup was how low to the ground the electric was- we had to bend the cord to connect." – Kimberly L.
Price: $25-75
Number of sites: 75
RV sites: Yes
Fires allowed: Yes
Pets allowed: Yes
---
These 7 campsites are just the tip of the iceberg for exploring "Montana's Trailhead" and the surrounding nature areas. Check out The Dyrt's complete list of camping near Billings, Montana, for more camping options.