Havasu Falls camping is extremely popular as this is arguably one of the most magical places to visit within the region. Consequently, Havasu Falls permits are notoriously difficult to obtain.
That being said, Havasu Falls is easily located on the Havasupai Indian Reservation, within the Grand Canyon. Havasu Falls camping is unforgettable thanks its 90-foot chute that falls into a clear blue pool below. It's this combination of red rocks and blue water that makes this spot fit for the cover of a travel magazine.
*New in 2020* Anyone who is interested in camping Havasupai Falls in 2020 will need to create an account on Havasupaireservations.com. Reservations open on February 1, 2019 at 8 am, and you will need an account in order to obtain a reservation.
Havasu Falls Camping Permits: The Complete Guide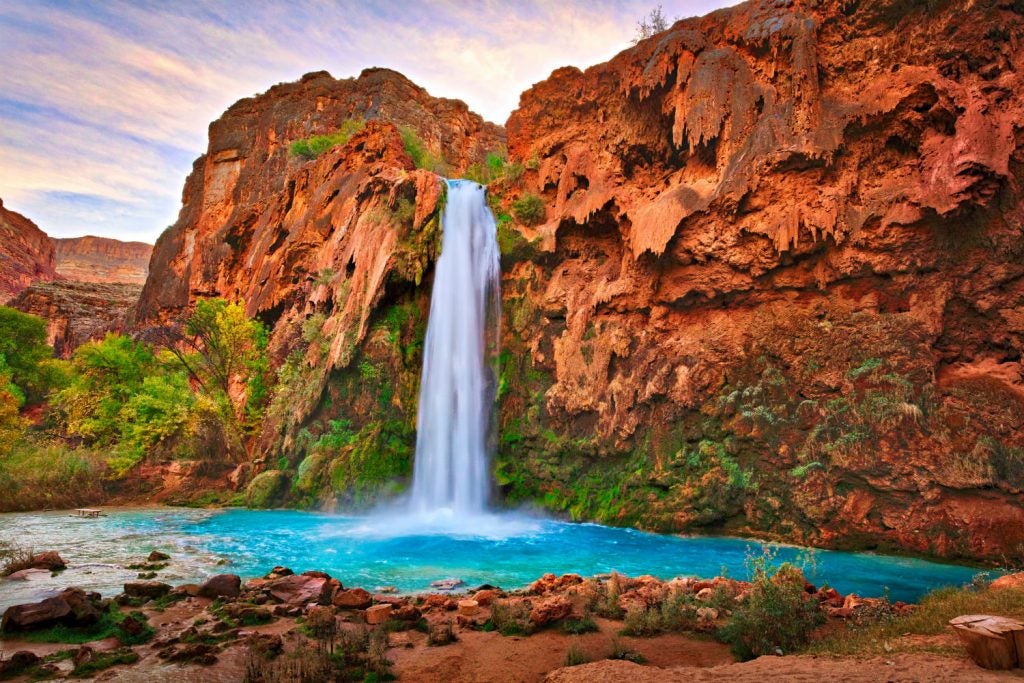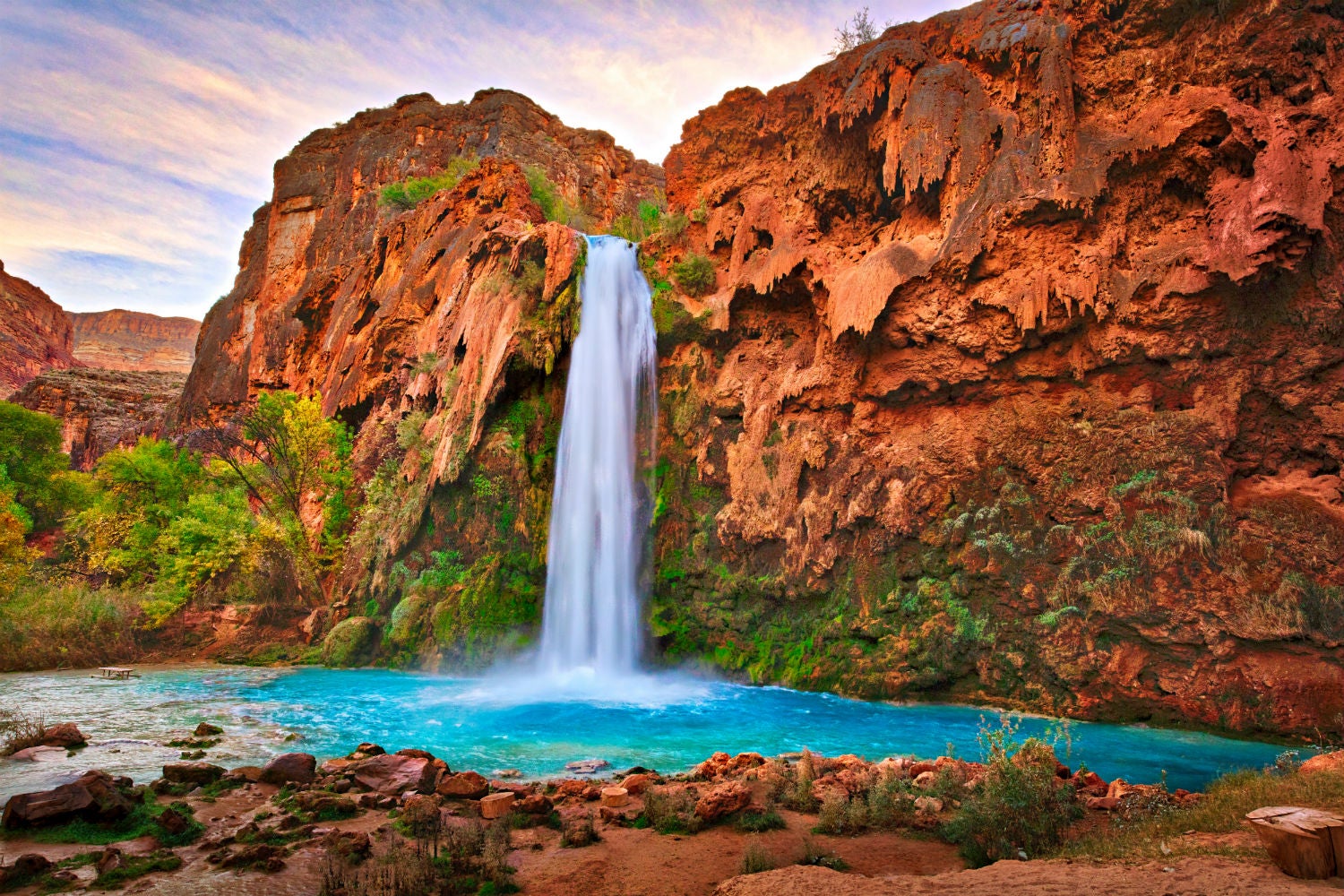 Havasu Falls is located amidst a vulnerable landscape that is sacred to the Havasupai tribe. We mentioned that obtaining a Havasu Falls permit is difficult; but for good reason. Basically, the Havasu permit system ensures that this magical landscape is preserved and respected. Those who wish to visit the home of "the people of the blue-green waters" should be aware that Havasu Falls camping requires some diligent legwork, as well as respect for the significance of this beautiful place.
To obtain permits for Havasu Falls camping, you can call the tourism office at (928) 448-2121, or visit the Supai Campground website. The office is open 9 am to 3 pm, Monday through Friday. The office begins taking reservations for the year on February 1st, and camping reservations for the entire year fill up quickly within the first few days of booking.
The reservation lines are often busy once they open. But don't give up! You may have to call back many times to get through. But every person who camps in Havasu Falls will tell you — it's worth it!
---
Prepare for your next adventure by downloading maps. The Dyrt PRO lets you download maps and campgrounds without cell service. "My alternative to using pro would be to drive back out to cell service".
---
Directions to Havasu Falls
The Havasupai Reservation is located in the southwest corner of Grand Canyon National Park.
Getting there:
Take Highway 66 to Indian Route 18 to reach the reservation entrance. After 64 miles, you reach the Hualapai Hilltop. And the journey has just begun.
From the hilltop, it's an 8 mile hike to reach the Supai Village. From there, it's another 2 miles to the campground.
Campers should be aware that there is very little shade on this hike, and the Arizona heat can make the miles seem much longer. Take extra precaution and plenty of water along with you.
Havasu Falls Camping Information & Fees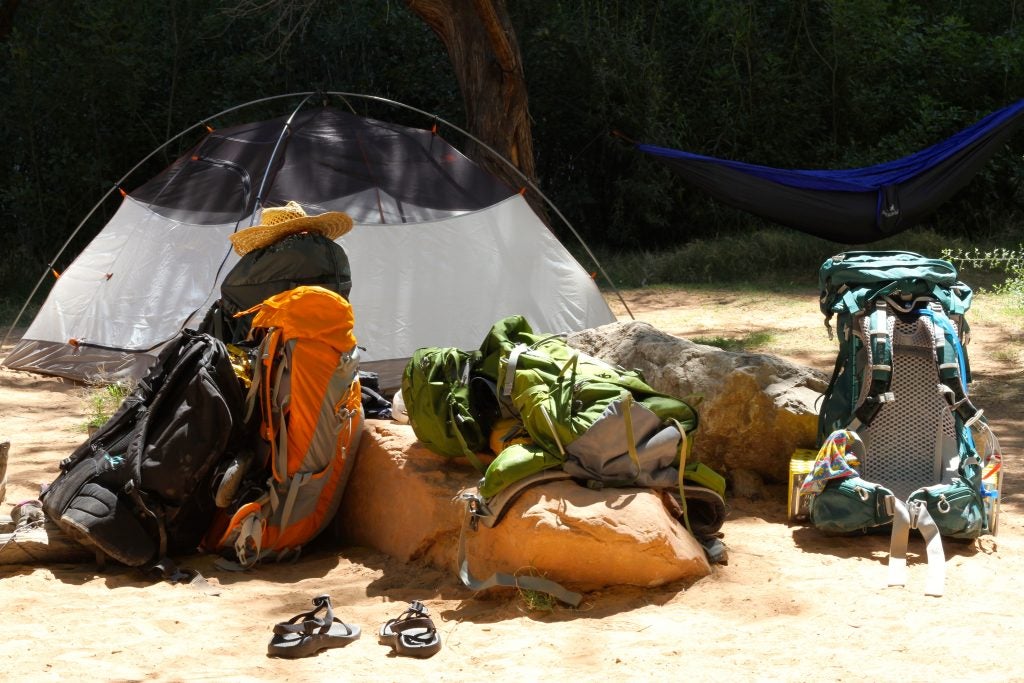 Havasu Falls Camping reservations for the year open on February 1.
Call (928) 448-2121, or visit the Supai Campground website to make reservations.
 $50 entrance fee, plus 10% tax, per person to enter the Havasupai Reservation.
$10 environmental fee, per person.
$25/person/night for camping.
All fees are paid at the time of reservation.
No refunds.
Drones are prohibited at the Havasu Falls campground.
Words of Wisdom from Havasu Campers
The Dyrt campers LOVE camping in Havasu Falls. And their reviews offer invaluable advice for anyone who's interested in camping there.
The permit process is worth it. 
You might not get one this year. And you might not get one next year. But The Dyrt campers will convince you to keep trying for that coveted access to Havasu Falls camping.
"The gem tone waters against the vibrant red rock, you can't find it anywhere else. It's jaw-dropping. The campground is situated along the creek, spread out for a good distance. For having a lot of campsites, the place is quiet and privacy is pretty decent. The permit process is tough. Very tough. But hang in there! Be sure to bring plenty of water to get you into the campground, I brought 3 L. There is a refill spring in the campground so you can fill up before hiking back out." — The Dyrt Camper Larayna Y.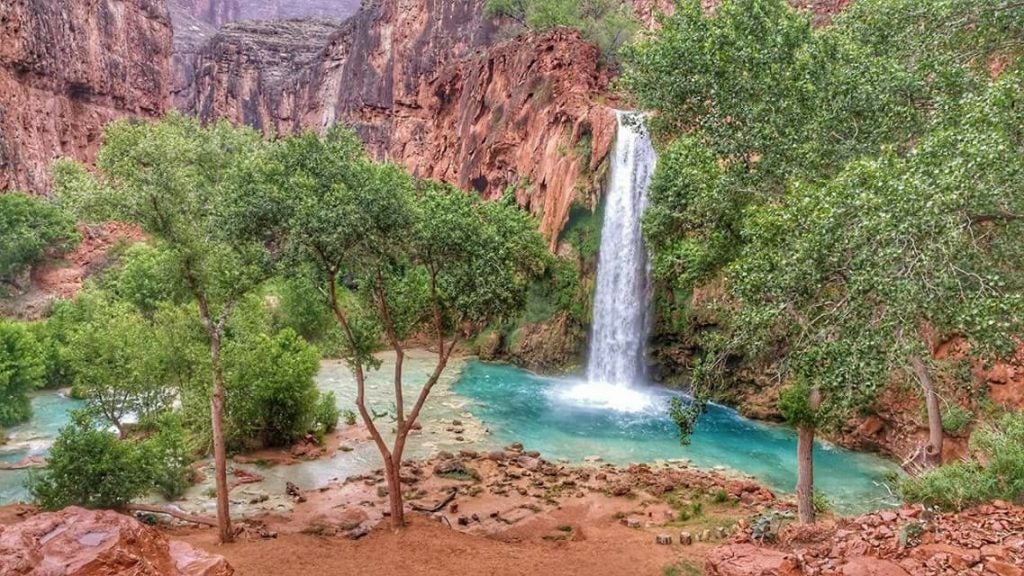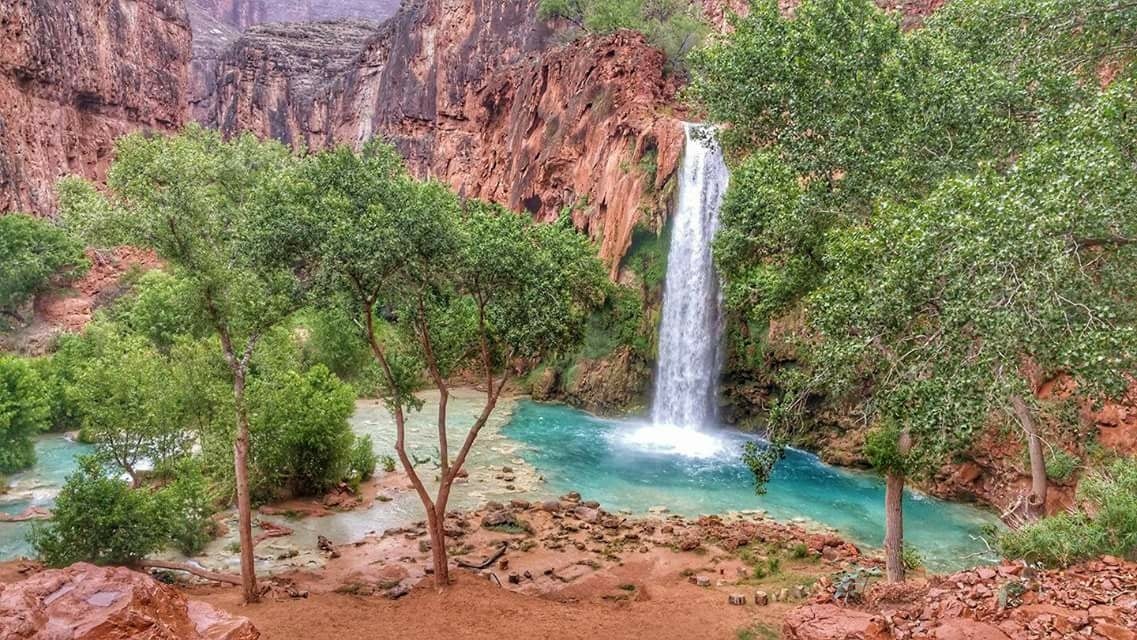 Havasu Falls Camping Gets HOT
You might anticipate a tropical paradise, however this oasis in hiding still boasts desert heat. Temperatures can easily climb into the 100's, even during the winter months. Spring is a great time to go, but it's also more competitive for permits. As a result, you should prepare for summer heat before coming.
"The hike in was terribly hot. Although we were lucky and had some overcast for parts of the hike. every part of the hike is a photo opportunity. And every photo looked fake. The background in every photo looked like it was photoshopped in. It's really hard to put into words. " — The Dyrt Camper Kuo G.
Start hiking in the dark. 
To avoid hiking in the peak of the afternoon hike, come prepared with headlamps and get started extra early.
"The hike can be brutal so make sure you not only have all of your gear, but you're prepared to hike when it's dark to avoid the heat. Headlamps, walking sticks, and water are a must, in my opinion. Mules will take your heavier gear down (you must have a permit to do this and previous reservations). Once you make it, your tiredness and pain from the hike will instantly disappear when you see the views and get inside of that turquoise water." — The Dyrt camper Erin G. 
You have the option to travel by helicopter, instead of hiking. 
Airwest Helicopters provides helicopter rides to Havasupai daily, depending on the weather. They're located in Glendale, Arizona, and charge $85 for a one-way trip.
"We had a group member who injured her knee on the hike down so we decided to take the helicopter from the Supai village back to the hilltop the next day. Although the hike out would have been a fun adventure, the helicopter ended up being a treat! For $85, a strenuous hike turned into a sightseeing tour above the Grand Canyon with ourselves and our bags zipped up to our car in a matter of minutes."  — The Dyrt Camper Isabelle K. 
There Are No Guaranteed Havasu Falls Camping Spots 
If you are one of the lucky recipients of a Havasu Falls camping permit, you will choose your site when you arrive. Individual campsites are not reservable in advance.
"I have gone every year for the past few years and I am never disappointed. it's a 10-mile trek from the car down the canyon and through the town to get to the campgrounds. the campsites are not numbered, you pick a spot that looks ideal and set up camp." — The Dyrt camper Katie O.
Watch out for those squirrels. 
"The squirrels will dig, chew and scratch through all of your belongings to scavenge for food the moment you turn your back. We brought a heavy duty dry bag and hung it on a clothesline between two trees which worked wonderfully!" — The Dyrt camper Isabelle K. 
Learn More about Havasu Falls Camping
There's no doubt that this is a visit most people dream to make. If you're one of them, you're definitely not going to regret it. Camping in Havasu Falls brings tons of fun in the sun with swims, hikes, and waterfalls unlike anywhere else. Still, we don't blame you if you're not completely sold.
Don't take our word for it. To learn more about Havasu Falls permits and camping, check out all 40+ camper reviews of Havasu Falls on The Dyrt. Read More Reviews
Mark your calendars for February 1, when the 2020 Havasu Falls permits become available.
Popular Articles: